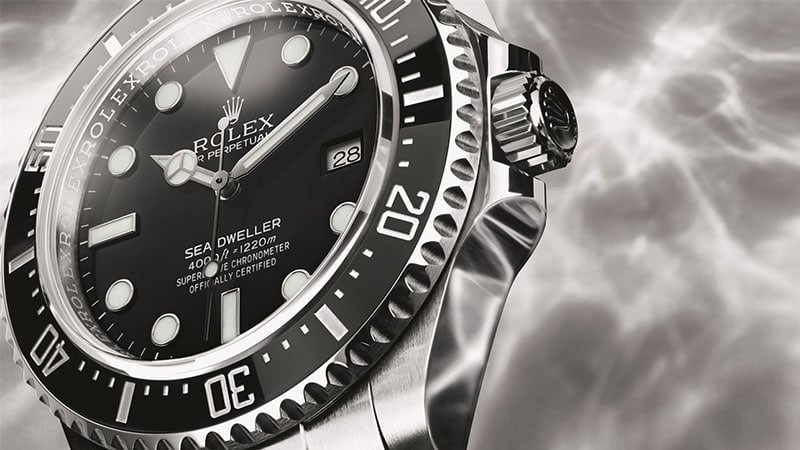 Since its founding in 1905, Rolex has been setting the bar extremely high for watches and making a world-famous name for itself during the process. Creating not only stylish designs but also exceptional pieces of technology, this luxury label has taken horology to a new level. From the revolutionary Day-Date to the iconic Submariner, Rolex wristwatches are undoubtedly some of the best timepieces in the world and to own one is certainly a great privilege. Here are the best Rolex watches for men so that you can see why this masterful watchmaker is as revered as it is.
1. Rolex Day-Date II President 18K Yellow Gold Watch
The Rolex Day-Date made its debut in 1956 and was the first wristwatch to display both the date and the day of the week spelled out in full in windows on the dial. Today, the Day-Date is available in numerous variations including this 18k Yellow Gold style. Ideal for influential gents, this timepiece is luxurious and highly precise. Its 40mm case features a fluted 18k gold bezel and houses a champagne dial with diamond hour markers. The bracelet, known as the President bracelet, was created for the launch and represents the ultimate in refinement and comfort. This model is also equipped with a 3255 caliber automatic movement and is water-resistant to 100 meters.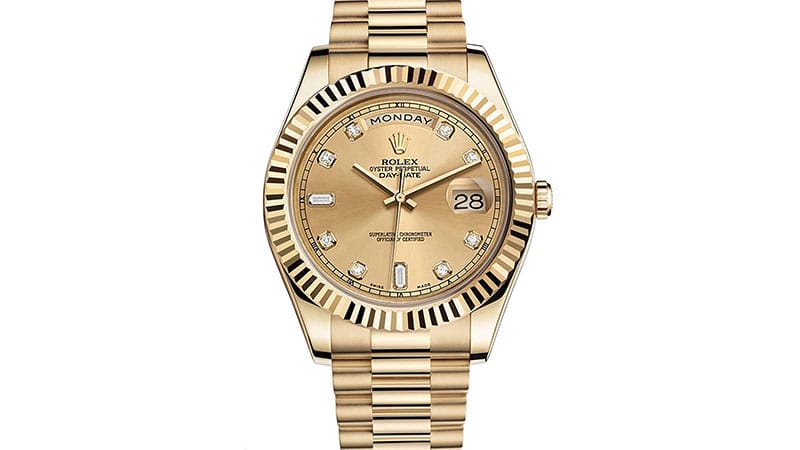 2. Rolex Explorer II White Automatic Stainless Steel Watch
Embodying the relationship between Rolex and exploration, this Rolex Explorer II is precise, reliable, and clear. The stylish design features a stainless steel case and stainless steel Oyster bracelet. Additionally, the fixed bezel is made of stainless steel and features 24-hour markings. The minimalistic yet boldface features a clean white dial with shaped hour markers, luminescent hands, and a date display at the 3 o'clock position. It also features minute markers around the outer rim to tell you exactly what the time is. This functional and fashionable watch, which boasts an automatic movement, is water-resistant to 100m, meaning that it's suitable for swimming and snorkeling but not diving.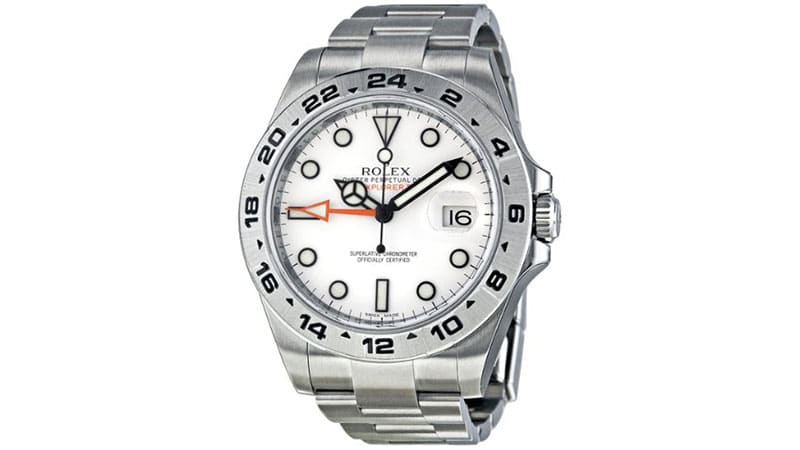 3. Rolex Submariner Black Dial Stainless Steel Automatic Watch
The Submariner is a popular type of Rolex, and this Black Dial Stainless Steel version is one of the best. The automatic movement watch boasts a polished stainless steel case and Oyster bracelet with a deployment buckle. Its 40mm case features a black ceramic rotating bezel and houses a stylish black dial with luminescent hands and hour markers. The dial window is made from scratch-resistant sapphire crystal to ensure the longevity of this timepiece. As well as a durable window, this hard-wearing piece also boasts a water resistance of 300m (hence the name), making it ideal for not only swimming but also diving.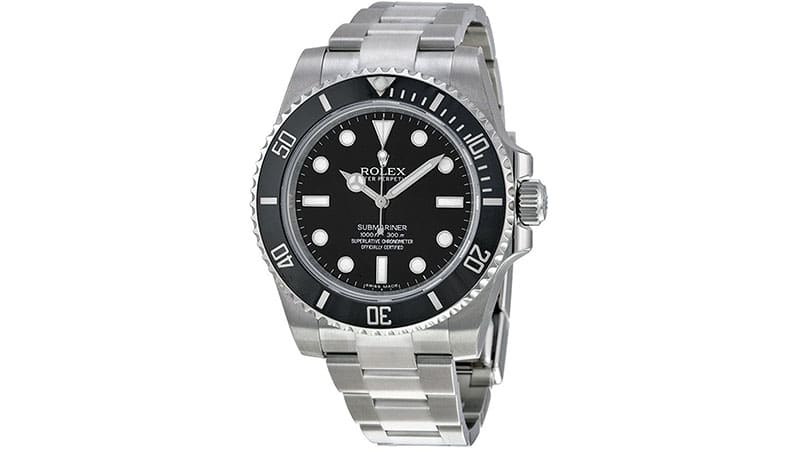 4. Rolex Yacht-Master II White Dial 18K White Gold Watch
For the gent with style, flair, and a love of the high seas, this Rolex Yacht-Master II is the ultimate timepiece. This fashionable and practical watch, which was built for yachting competitions, embodies the spirit of the sailor and was inspired by the rich heritage that has bound Rolex to the world of sailing since the 1950s. The watch, which is known as a regatta chronograph, features a mechanical, self-winding movement that boasts precise and reliable timekeeping. Whether you're a sailor or not, you'll also be able to appreciate the stylish, nautical-inspired design of this 18k white gold timepiece and its blue, ceramic bezel with gold-coated numbers.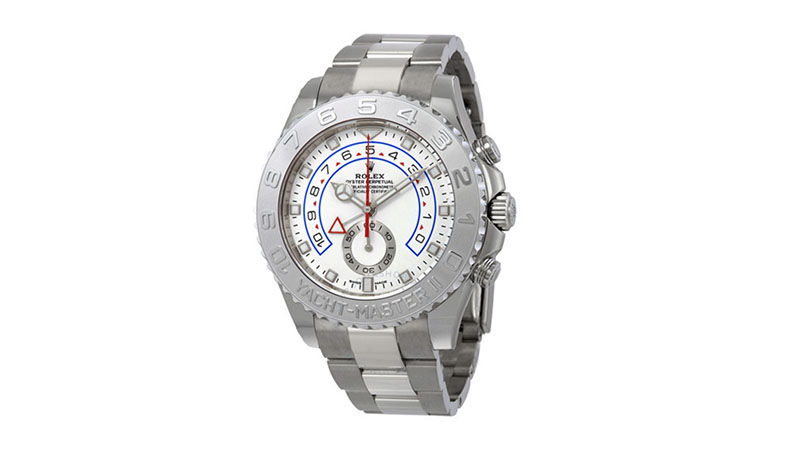 5. Rolex Cellini 50525 Multiple Time Zone Watch in 18K Rose Gold
The Cellini may just be one of the most stylish Rolex watches ever made. The label touts the collection as a contemporary celebration of classicism and the eternal elegance of traditional timepieces. This model sticks to that refreshed heritage aesthetic and features an 18k rose gold case and black alligator leather band. Its dial is a sharp black design with stick markers and features a subdial for a secondary time zone display. On top of that, this polished and sophisticated piece of design boasts the high standard of perfection for which Rolex is known with a Swiss automatic movement and 50 meters of water resistance.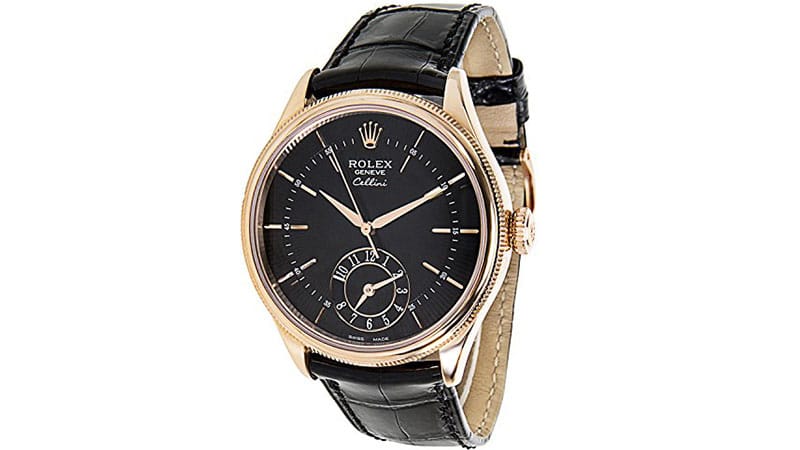 6. Rolex Cosmograph Daytona Ice Blue Dial Platinum Watch
The Rolex Cosmograph Daytona is a supreme chronograph watch. Since its introduction in 1963, this iconic timepiece has been tied in both name and function to the high-performance world of motorsports. Designed to meet the intense demands of professional racing drivers, the Cosmograph Daytona is a top timekeeping device. With its highly reliable chronograph and bezel with tachymetric scale, this watch allows drivers to perfectly measure average speeds up to 400 kilometers or miles per hour. To add to this timepiece's already impressive list of features, this particular model boasts a chic platinum case and band with an Ice Blue dial.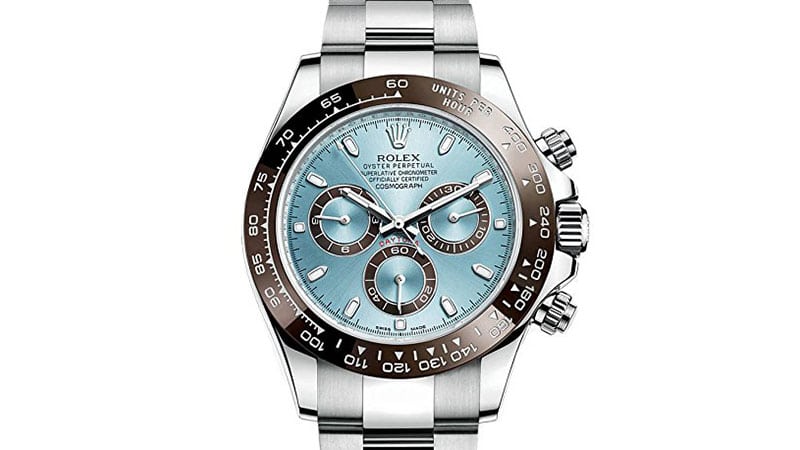 7. Rolex Submariner Date Black Dial Steel Watch
Since its launch in 1953, the Rolex Submariner has become an iconic timepiece known for its stylish and functional design. Today, the new generation of Submariner and Submariner Date watches pay homage to the original model and feature a subtly redesigned Oyster case. They also boast a distinctive dial with large luminescent hour markers and rotatable Cerachrom bezel. This particular model is a Submariner Date and features a date display on its stylish and easy-to-read black dial, which is housed within a 40mm case. Perfect for gents who like to go diving, the Submariner is water-resistant to 300m.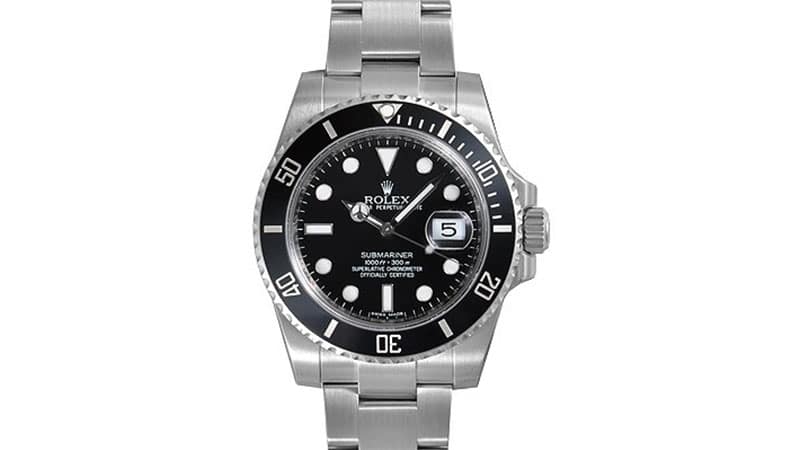 8. Rolex Day-Date Automatic Champagne Dial 18K Yellow Gold Watch
Thanks to Rolex's operation of its own exclusive foundry, the label can cast the highest quality 18k gold alloys, such as with this incredible watch. The Rolex Day-Date Automatic timepiece, which features stunning yellow gold, is one of the best Rolex watches ever made. Also adding to its luxury design is a champagne dial with gold-tone hands, diamond hour markers, and windows for both the day and date. The watch's bracelet is also made of 18k gold and features a concealed folding Crownclasp. The movement is a calibre 3155, which is a certified Swiss chronometer and highly precise.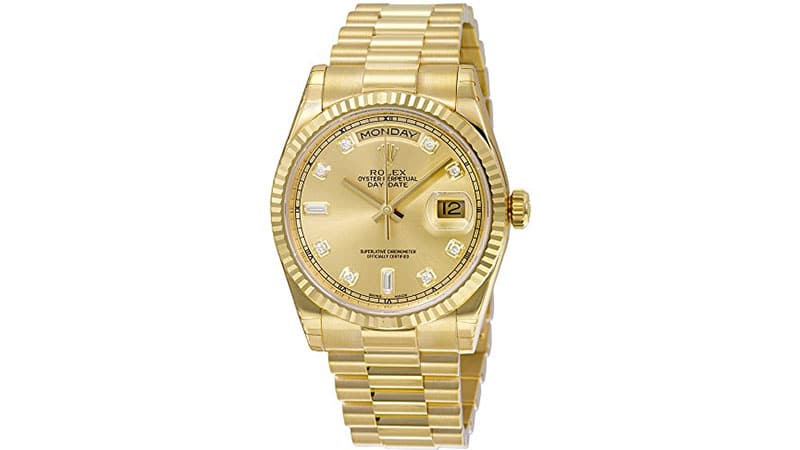 9. Rolex Milgauss Black Dial Stainless Steel Watch
Thanks to its unique design, the Rolex Milgauss is instantly recognizable. The timepiece, which the label launched in 1956, also has an unusual story behind its creation and name, making it an intriguing and iconic watch. Although the reliability and precision of ordinary mechanical watches can be affected by a magnetic field of 50 to 100 gauss, the Milgauss is protected much more intensely. The timepiece, which Rolex designed as a solution for the many scientists exposed to high levels of magnetic fields during their work, was the first of its kind. Today, the watch is still one of the best timepieces on offer, and its Black Dial Stainless Steel model is just as fashionable as it is functional.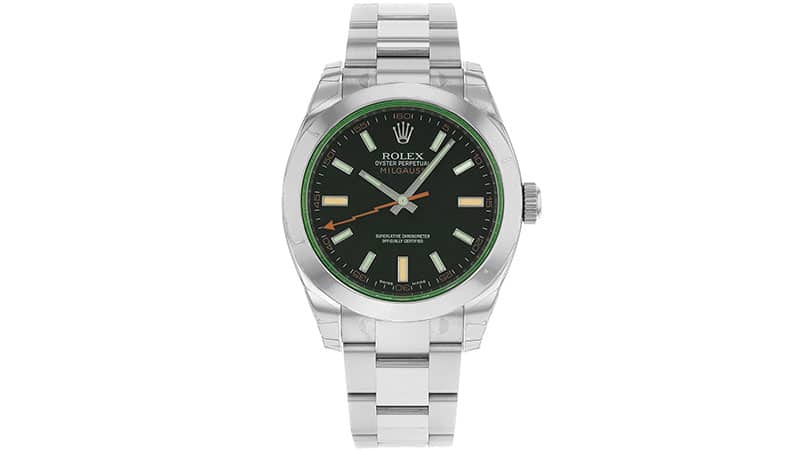 10. Rolex Sky-Dweller Sundust Dial 18K Everose Gold Watch
Blending mechanical sophistication with ease of use, the Rolex Sky-Dweller is a technological masterpiece. Protected by up to 14 patents, this revolutionary watch offers the information that global travelers need to keep track of time at a glance. As well as being easily able to tell the time of the primary location, the wearer of this watch can also reference a secondary time zone, thanks to a rotating 24-hour disc, and the date. The distinctive design of the 18k Everose Gold Sky-Dweller with Sundust Dial model also ensures an elegant look for its wearer. The timepiece, which features Roman numeral hour markers fashioned from 18k gold, boasts a timeless aesthetic.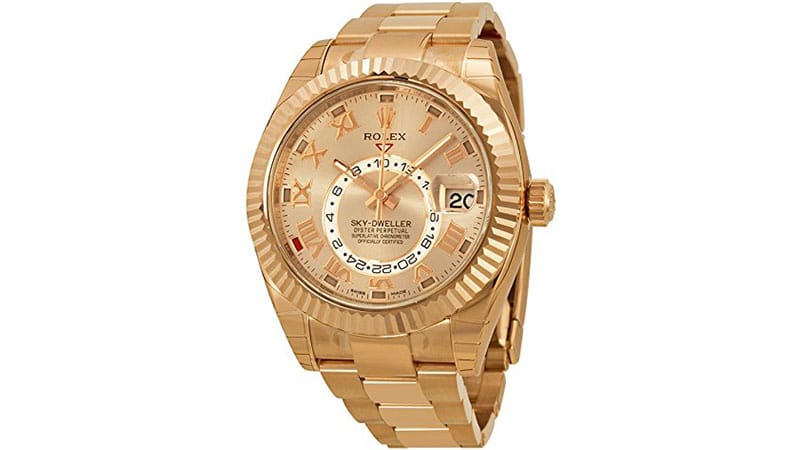 If you like this read, take a look at our best luxury watch brands article you need to know!
FAQs
Why is Rolex so expensive?
Rolex watches are expensive because they are extremely high quality, and there is a limited supply. The Rolex company uses only the best materials to manufacture their timepieces and even has a research and development department to ensure each watch is at the cutting edge of technology. At the same time, Rolex watches are incredibly popular and many models sell out quickly, meaning people are prepared to pay top dollar to get one. 
Should I wear my Rolex every day?
You can wear your Rolex every day – in fact, you won't need to wind it if you do so. Rolex watches are designed to be water-resistant, meaning you can wear yours in the shower, swimming, and when washing your hands – just ensure the crown is screwed down tightly, particularly after you reset the time or date.
Which Rolex is best to buy?
The best Rolex to buy depends on your personal taste and your reason for buying. For your first Rolex, the best choice may be a less expensive entry-level model such as an Oyster Perpetual. Perhaps the most coveted Rolex model is the Submariner. This iconic watch is versatile and timelessly stylish. It is always in demand and frequently has a long waitlist. 
Is a Rolex a good investment?
Rolex is undoubtedly a prestige watch brand and there are many collectors and enthusiasts willing to pay top dollar for specific models. For that reason, it is possible to buy certain Rolex models as an investment, rather than for personal wear. If you are planning to buy an investment watch – that is, buying it for its increased resale value – it is critical to research which Rolexes have historically appreciated in value and those that will be limited in supply but in high demand in the future. 
How much is the cheapest Rolex watch?
The cheapest Rolex watch is the Oyster Perpetual, which retails for around $5,000.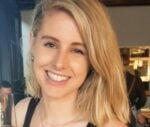 Taylah Brewer holds a bachelor's degree in fashion and business and is a skilled writer with several years of experience in the world of online content creation and copywriting. She is passionate about fashion, beauty, and all things lifestyle-related and has been writing for The Trend Spotter since 2016. She currently works as the Head of Digital & Ecommerce at White & Co.
SUBSCRIBE TO OUR NEWSLETTER
Subscribe to our mailing list and get interesting stuff and updates to your email inbox.