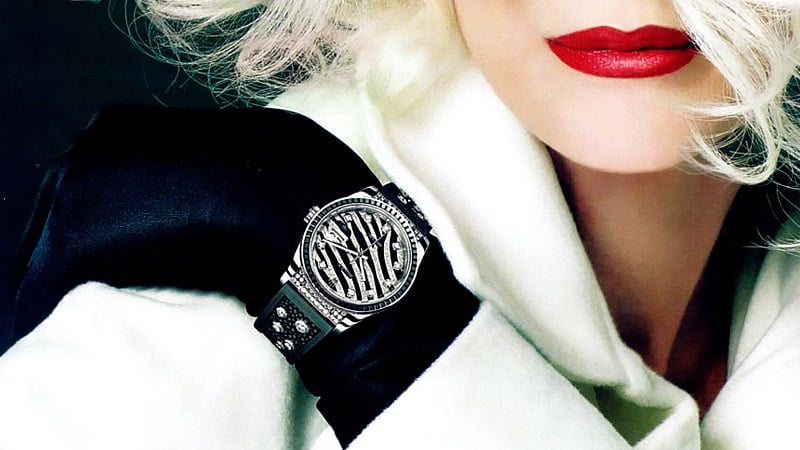 Every woman needs a signature watch, and nothing says sophistication and timeless elegance like a Rolex. These iconic Swiss watches are incredibly stylish, luxurious, and durable, with a sense of prestige that's second to none. It's no wonder that Rolex is loved by the likes of Rihanna, Selena Gomez, Victoria Beckham, Kim Kardashian West, and Kylie Jenner. Here are the best Rolex watches for women and why they're well worth the investment.
RELATED: 30 Top Luxury Watch Brands You Should Know
1. Lady Datejust 31 Silver Diamond Dial Steel and Everose Gold Jubilee Watch
For those who love the combination of silver and steel with rose gold, this design has the wow factor. The band shows off Rolex's signature Rolesor link style, which combines two different metals for a beautiful and eye-catching contrast. Like all Rolexes, this model is water-resistant to 100m and has a scratch-proof sapphire crystal dial. The final, ultra-luxurious touch is the diamond hour markers.
2. Lady Datejust 28 Chocolate Diamond Dial Jubilee Watch
Rolex debuted the Lady Datejust – a smaller, more refined version of the original men's Datejust – in 1957. This version features the winning combination of stainless steel, rose gold, and a chocolate dial, with the added glamour of a diamond bezel and hour markers. These elements complement the ultra-feminine feel of the Lady Datejust design.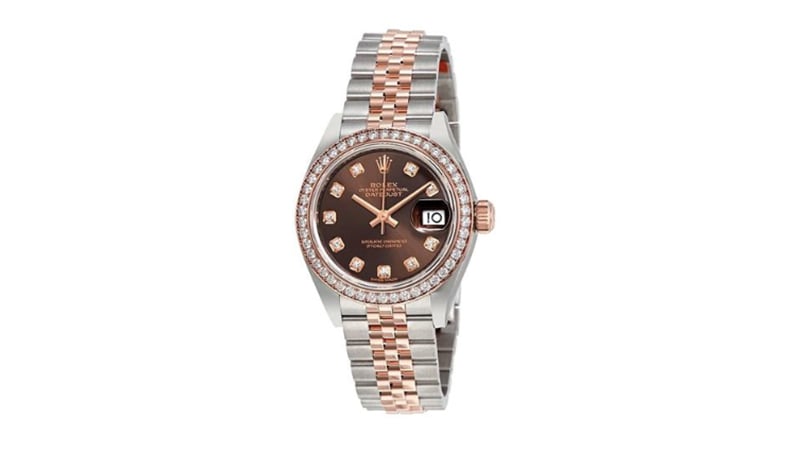 3. Lady Datejust 26 Black Dial Stainless Steel Oyster Watch
A slim watch is perfect if you have small wrists or merely want a more delicate-looking timepiece. Hollywood icon Grace Kelly – aka Princess Grace of Monaco – loved wearing a gold version of the 26mm Lady Datejust. This stainless steel version has a sophistication all of its own. Plus the combination of 18-karat white gold and black dial makes it look incredibly professional.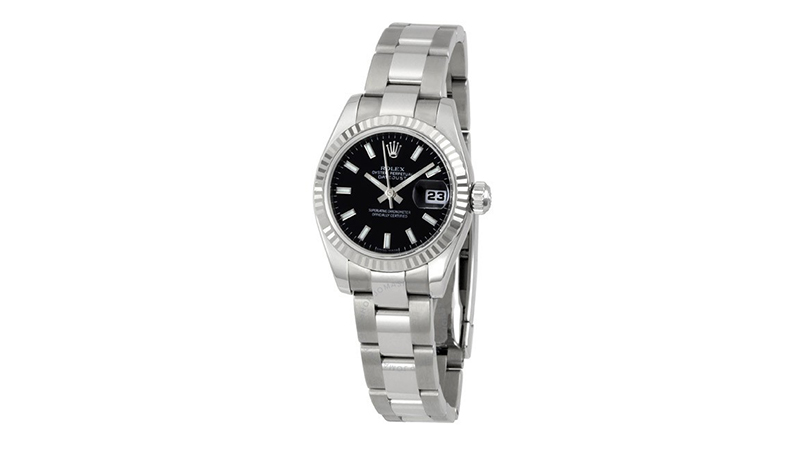 4. Lady Datejust 31 Pink Dial Stainless Steel and Everose Gold Jubilee Bracelet Watch
Lady Datejust is a classic Rolex style, and this modern version combines strength and beauty. The rose gold dial and diamond hour markers add a gorgeous feminine contrast to the stainless steel elements. All Rolex rose gold watches have patented Everose alloy, which won't tarnish under even the harshest circumstances. The Jubilee bracelet is another Rolex signature, combining five links for extra comfortable wear.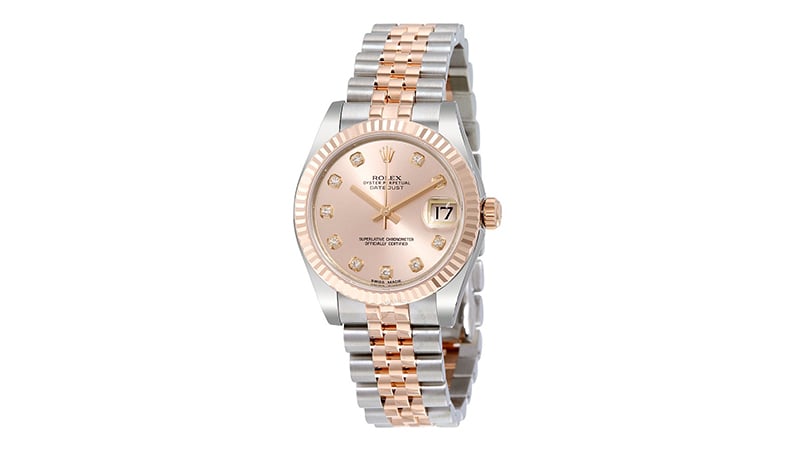 5. Datejust 36 Mother of Pearl Dial Watch
While Rolex is known for the linked metal bands on its watches, their first models came with leather straps. This Datejust model keeps the tradition alive, using black leather to contrast with the white gold case and diamond bezel. The other standout design feature is the dial made from mother-of-pearl. Rolex has long been associated with the sea, so it's fitting that this watch continues the nautical theme.
BUY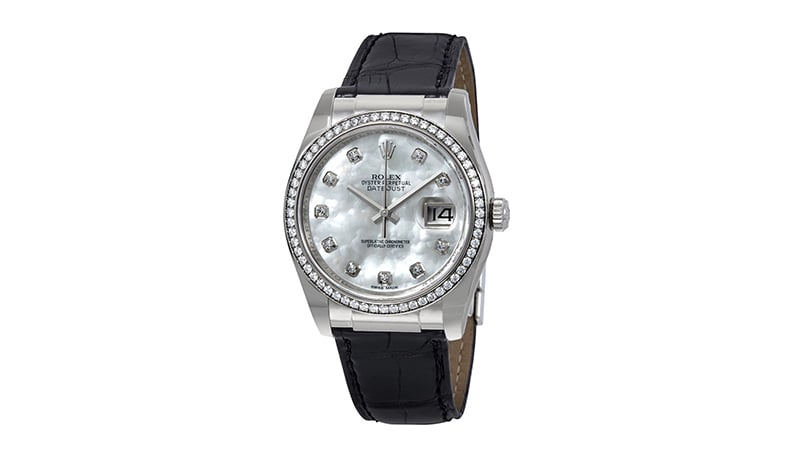 6. Yacht-Master 37 Chocolate Dial Steel and Everose Gold Oyster Bracelet Watch
Form meets function in this modern update of the Rolex Yacht-Master, first introduced in 1992. The most distinctive feature is the rotating outer bezel; this was initially used by elite sailors to calculate the distance between two points while out on the sea. In this model, it's finished in beautiful Everose gold which complements the chocolate brown dial.
BUY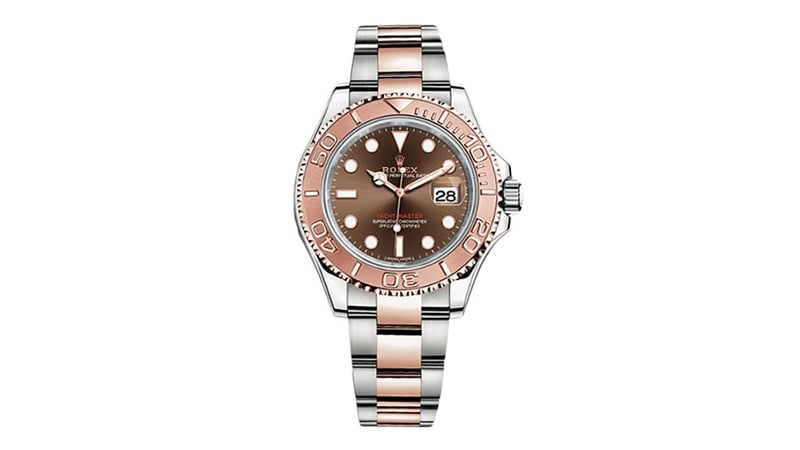 7. Lady Datejust 31 Pink Diamond Dial Stainless Steel Oyster Bracelet Watch
This stunning stainless steel watch features Rolex's three-link Oyster band, which is very durable and secure. The subtle design combines polished and brushed steel for an elegant two-tone finish. Complementing the bracelet is an 18-karat white gold bezel alongside a stylish pink dial with diamond accents. This timepiece is glamorous and feminine without being over the top. Ideal for both day and night, it will take you from the boardroom to the black-tie gala with ease.
BUY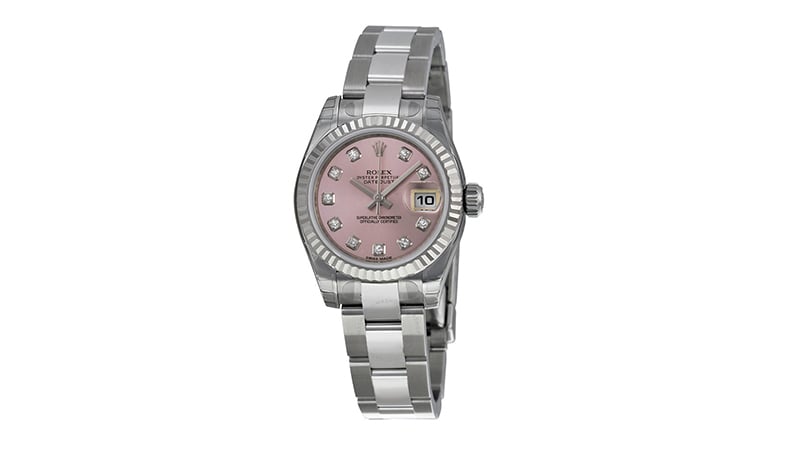 8. Lady Datejust 31 Yellow Gold President Watch
The bold Lady Datejust31 Yellow Gold President Watch commands attention immediately – as such, it takes an equally bold personality to pull it off. Luckily, it doesn't have too many extra bells and whistles, so it's perfect to wear daily. A yellow gold watch is a little more delicate than stainless steel, so it's best not to wear it layered with other jewelry.

BUY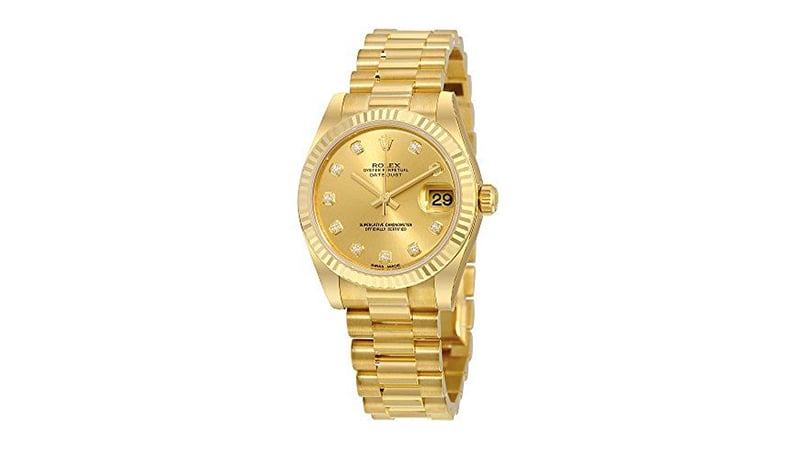 9. Yacht-Master 37 Everose Gold Oysterflex Watch
The Yacht-Master 37 Everose Gold Oysterflex Watch is sporty and has plenty of attitude. Because it's a unisex design, the dial is a little bigger than most ladies' watches – which is ideal if you love the oversized look. It features the classic Yacht-Master rotating bezel and luminous hands, but the real draw is the color combination. The Everose gold contrasts beautifully with the black dial and matching Oysterflex band. Oysterflex was developed by Rolex to combine the strength of its metal straps with the flexibility of rubber. Due to its unique cushioning system, it offers total comfort and stability.
BUY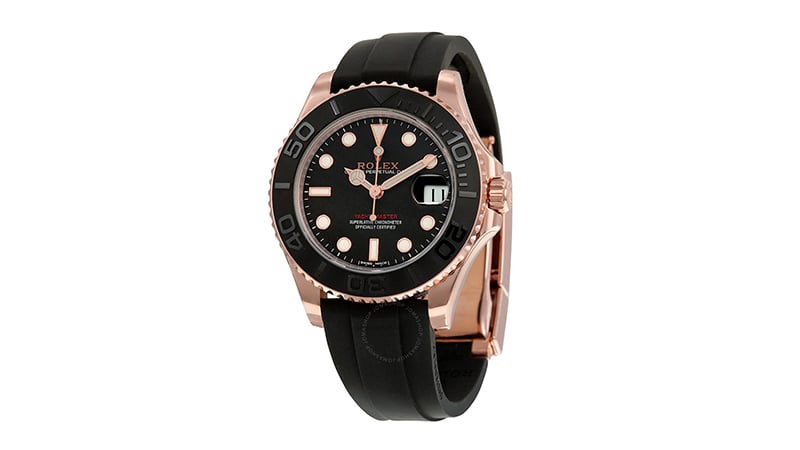 10. Lady Datejust 31 Jubilee Rolex Watch
If you love the look of a more masculine, minimalist watch, you'll fall in love with the Lady Datejust 31 Jubilee Rolex. The combination of stainless steel with an 18-karat white gold bezel and black dial is the epitome of chic. It's all about understated elegance. Meanwhile, the luminous silver-toned hands ensure the timepiece is as practical as it is beautiful.
BUY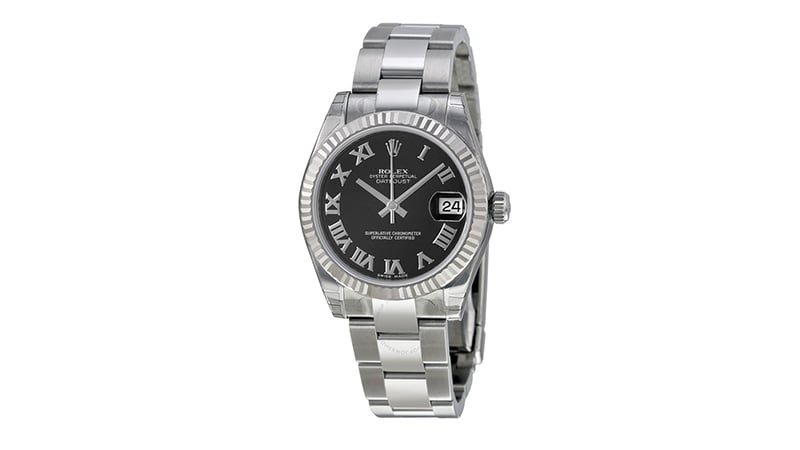 11. Datejust 36 Stainless Steel and Yellow Gold Jubilee Watch
Stainless steel meets yellow gold and a touch of sparkle in this ultra-elegant Datejust36 Rolex Watch. Its 36mm dial shows off the diamond-accented bezel and hour markers, which give it the ultimate feminine touch and also form a beautiful halo effect. Because this Datejust is a classically romantic watch to treasure, it's the ideal choice for a bridal or anniversary gift.
BUY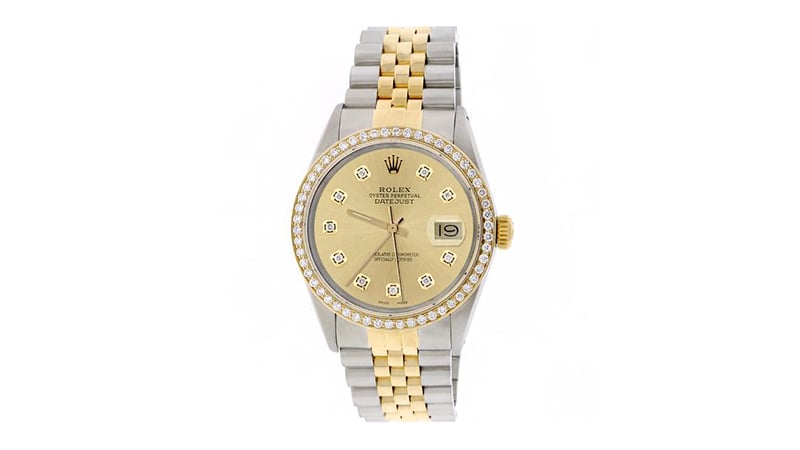 12. Lady Datejust 36 Blue Dial Stainless Steel Oyster Watch
True to form, the Rolex Lady Datejust 36 Watch has ultra-durable, medical-grade steel alloy. This style features both brushed and polished versions. Even more eye-catching is the deep blue dial which beautifully sets off the diamonds in the face.

BUY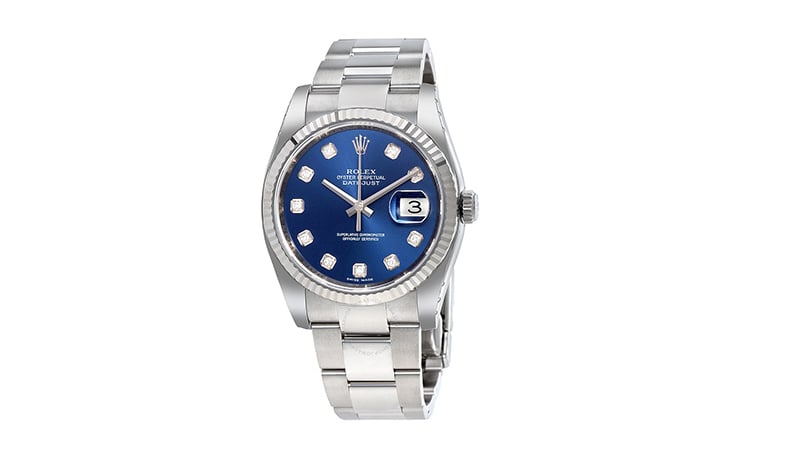 13. Datejust 36 Mother of Pearl Dial Stainless Steel Oyster Watch
The ultimate ethereal combination, this white gold, stainless steel, and mother-of-pearl watch almost glows. Add in the white diamond hour markers, and you've got a standout piece that will never go out of style. This unisex design is a little larger than a traditional ladies' watch, but the size makes it a real statement piece that's perfect for stacking with other jewelry.
BUY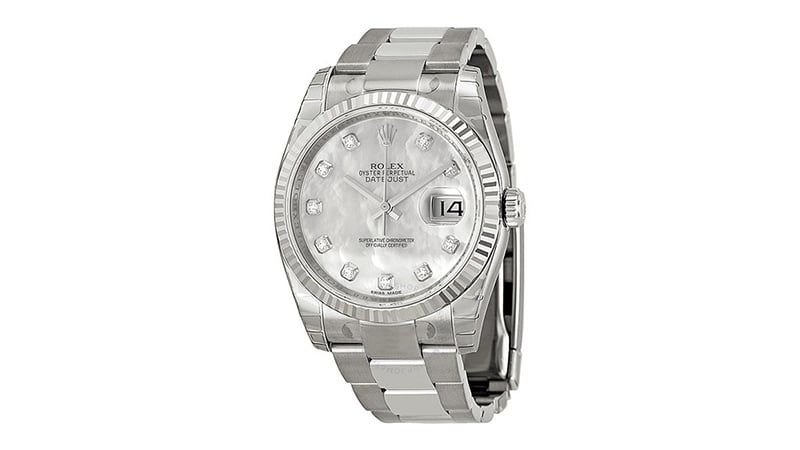 14. Datejust 36 Pink Floral Dial Stainless Steel Oyster Watch
This stainless steel Rolex features an unusual pink dial with floral details that make you think of cherry blossoms; for this reason, it's a perfect watch to wear in spring or summer. It's elegant and sophisticated, but unapologetically feminine – making it the ideal accessory for a woman with the same characteristics.

15. Yacht-Master 37 Black Dial Steel and Everose Gold Oyster Watch
Fierce and functional, this mid-size timepiece fuses masculine and feminine design. As well as stainless steel links and a black dial, it also features rose gold, which makes it stand out. The signature Yacht-Master bezel means this watch also marries precision with beauty. You'll never want to stop wearing it because it's more than a watch – it's an accessory for any occasion.
BUY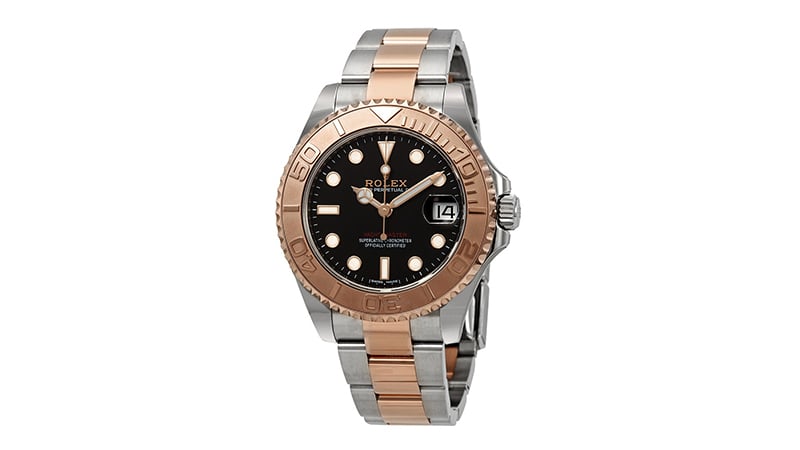 FAQs
How much is a Rolex for a woman?
There is a wide selection of ladies' Rolex watches to choose from, with varying features and costs. They are timeless and known for their quality and classy designs. That said, the cheapest price to own one of these timepieces is around $5000.
What is the best Rolex for a lady?
There are several great Rolex watch options for ladies, depending on your personal style, preference, fit, and price range. Some of the best include Lady Datejust 31 Silver Diamond Dial Steel, Everose Gold Jubilee Watch, and Datejust 36 Mother of Pearl Dial Watch. Yacht-Master 37 Chocolate Dial Steel and Everose Gold Oyster Bracelet Watch are also good choices. This is a brand founded in 1905 and is well-established and trusted, so there are many options.
Is Rolex worth the money?
Rolex is a trusted and loved brand because of its high-quality watches, timeless designs, and attention to detail. They also have an air of prestige and sophistication. The timepieces are expensive, but they are an investment and one that is well worth the money. These are watches that you can expect to have for years.
Do ladies' Rolex hold value?
The Rolex brand's excellent workmanship coupled with the attention to detail and high-quality materials ensure that this is a timepiece that retains its value. They are designed to last for years, although a woman's Rolex does not hold its worth in the same way that a men's one would.
SUBSCRIBE TO OUR NEWSLETTER
Subscribe to our mailing list and get interesting stuff and updates to your email inbox.