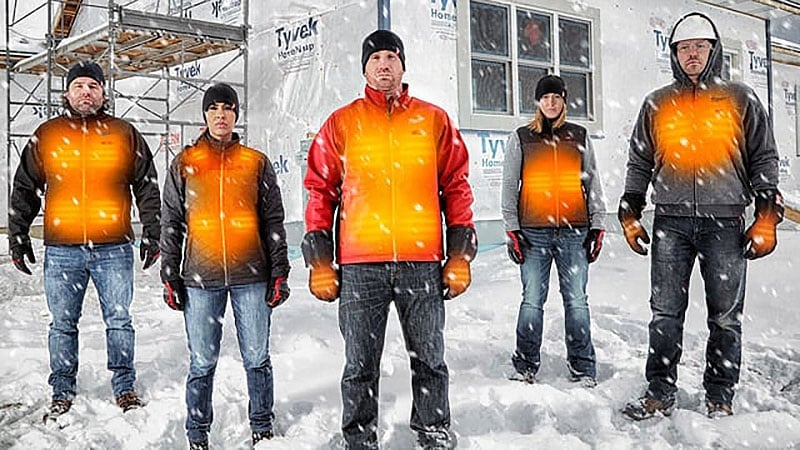 There are a few key things you need to keep warm in the freezing cold. From beanies to a pair of wooly socks, arguably the most important is a heated jacket. This innovative outerwear provides warmth to the entire top half of the body using heated panels and a battery, keeping you snug for hours on end. From a motorcycle ride in the rain to a day out in the snow, heated jackets provide protection from the elements, while keeping your body heat regulated for optimum performance. Below, we have reviewed different heated jackets for men and women, evaluating temperature readings, battery life, and the effectiveness of the waterproofing.
Best Heated Jackets
ORORO Men's Soft Shell Heated Jacket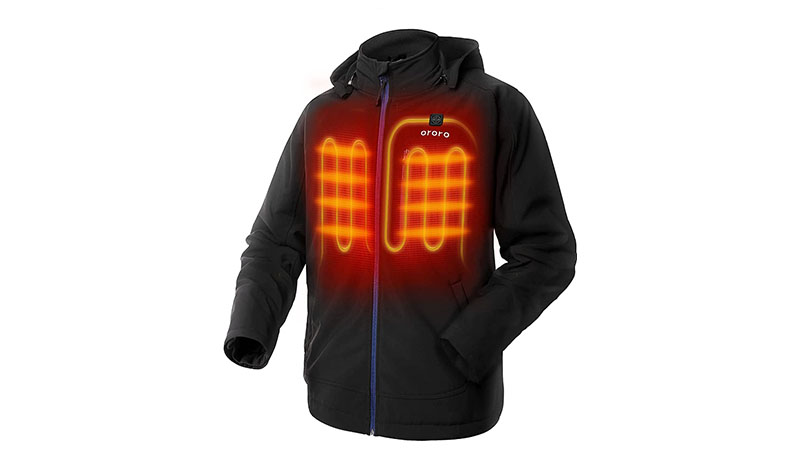 What we Like
Quick warm-up
Retains heat and resists water
Flattering shape with removable hood
Easy to clean in the washing machine
What we Don't Like
When turned on, the small LED light is visible from the outside.
When it comes to keeping warm during the colder months, the ORORO Heated Jacket reigns supreme. Our testers were impressed with its fast heating capabilities, heat retention, user-friendly design, and overall features that make it the top buy.
During testing, the jacket maintained a comfortable temperature of 76°F (24 °C) even without using the heater. And when the heater was activated, it reached a toasty maximum temperature of 115°F (46°C) in under 60 seconds. While some other jackets may heat up faster, the ORORO Heated Jacket's speed is more than sufficient for most individuals. It also excelled in retaining heat, with a temperature of 109°F (42°C) even 15 minutes after turning off the heater.
Featuring three heat settings, each distinctly noticeable, this jacket concentrates the warmth in the back and chest areas, providing an overall cozy experience. Additionally, it showcases excellent water resistance, repelling droplets and keeping the inside dry (although some slight dampness was felt in the sleeve after a few minutes).
The jacket's instructions are straightforward and accompanied by illustrations, making it effortless to understand. With a single button to control the heater and adjust heat settings, simplicity is at the forefront. Beyond exceptional heating capabilities, the ORORO Heated Jacket offers practicality, including two spacious side pockets, a chest pocket, and a detachable hood. Despite the inclusion of a heat pack, the jacket remains lightweight, and the women's fit accentuates the waist for a flattering silhouette. Plus, it's machine washable for added convenience.
Of course, no product is without its flaws. Our only complaint lies in the small LED light on the left chest, which illuminates when the heater is on and can be seen from the outside. Despite this minor inconvenience, the ORORO Heated Jacket's numerous advantages far outweigh this drawback.
In conclusion, the ORORO Heated Jacket stands as a winter essential. Its superior warmth, efficient design, and practical features make it the ultimate choice when it comes to heated jackets.
Tidewe Camo Soft Shell Men's Heated Jacket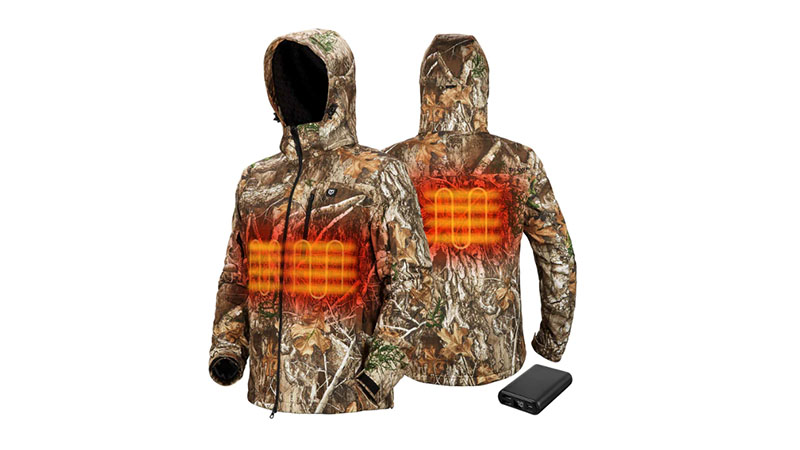 What we Like
Quick heating
Completely waterproof and windproof
Abundance of pockets
Thoughtful details, such as a brimmed hood to prevent water entry
Battery also functions as a phone charger
What we Don't Like
Shorter individuals may find a long silhouette less ideal
No instructions
The TIDEWE Heated Jacket, the most affordable on our list, is packed with features that make it a great choice. It heats up quickly, reaching 117°F (47°C) in under 25 seconds, and retains the heat even after the battery is off. The battery itself has a second USB port, allowing you to charge your phone while wearing the jacket.
Our testing confirmed that the jacket is fully DWR waterproof and windproof. It also includes a hood with a stiff brim to keep water away from your eyes. Additionally, it offers plenty of storage space with a total of eight pockets, both inside and outside. This makes it perfect for winter sports and long days outdoors.
While the jacket has many positives, there are a few minor drawbacks to consider. The silhouette is somewhat long, which may not be ideal for shorter individuals or those looking for a cropped fit. Our tester also found the zipper to be a bit cheap and finicky. Lastly, it does not come with instructions, although our tester found it relatively easy to figure out. However, this could be frustrating for some.
Overall, considering its impressive heating capabilities and technical features, the TIDEWE Heated Jacket offers excellent value for the price.
DEWBU Men's Heated Jacket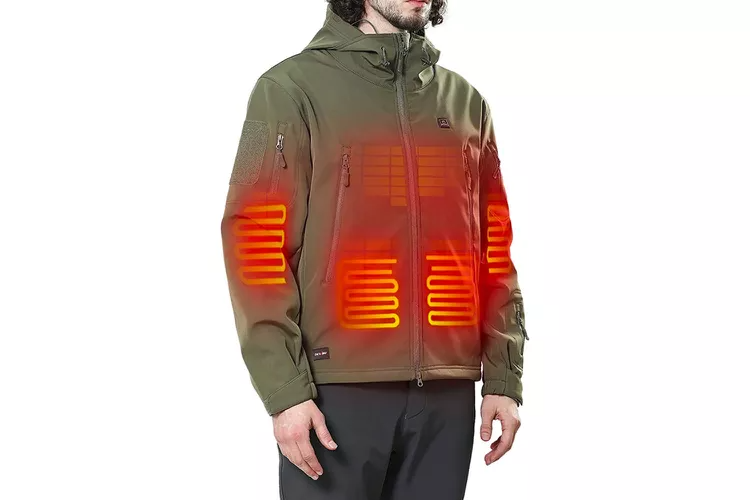 What we Like
Choose from nine colors available
Charge the 2V battery pack from anywhere
What we Don't Like
Visible water marks on the exterior
The DEWBU Heated Jacket has a stylish design that blends in seamlessly for running errands in the city. Despite its cute rain parka silhouette, it offers impressive functionality. Available in nine vibrant colors, it stands out as the only jacket on our list with such variety.
Surprisingly, this lightweight parka does an excellent job of keeping you warm, even without the heater turned on. During our tests, we found that it provides ample warmth for fall days while still allowing room for layering. Once the battery is activated, this heated jacket quickly reaches temperatures between 80°F (26°C) and 117°C (47°C) in just over a minute. Thanks to its five heating zones, which cover the entire torso and arms, it remains exceptionally toasty over time.
The 12V battery of this jacket is not only powerful but also offers multiple power supply options (cords not included). You can conveniently charge it using a power station, ATV, snowmobile, or even a boat during your adventures.
Furthermore, this jacket is equipped with ample pockets and features an adjustable and removable hood. Our tests confirmed that the DEWBU Heated Jacket is sufficiently waterproof, although water beads off the surface, leaving a visible wet spot. Nevertheless, the interior of the sleeves remained dry. Additionally, it is windproof and can be easily machine washed.
ActionHeat 5V Men's Battery Heated Jacket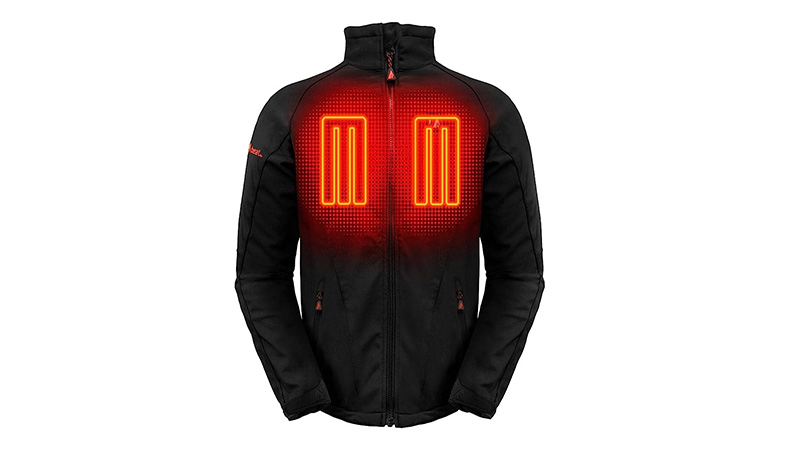 What we Like
Embodying a rugged, workwear-inspired aesthetic
Retains warmth long after the heat source is removed
Provides ample warmth and durability for outdoor adventures
What we Don't Like
The battery life is shorter compared to other devices.
It is not completely waterproof.
The heat distribution is uneven
ActionHeat's Heated Work Jacket is crafted with durable canvas and features rib-knit cuffs and a waistband to prevent wind from penetrating. The jacket boasts a wind-resistant outer shell and a sturdy zipper. Equipped with three heating panels, our tests have shown that it takes approximately 2 minutes and 30 seconds for the jacket's interior temperature to rise from 79°F (26°C) to 120°F (48°C). While it may take a bit longer to warm up compared to other jackets on this list, it still provides ample warmth in a practical time frame. Our tester also noted that the jacket effectively retains heat, making it ideal for outdoor work.
The majority of the heat is concentrated in the upper back, with some warmth also distributed in the front. One minor drawback is the absence of an auto turn-off or temperature adjustment feature, which means you need to manually manage the jacket's heat settings.
Although this jacket claims to be waterproof, our tests revealed that the outer canvas layer tends to absorb water rather than repel it. However, we found that the moisture did not penetrate through to the inner layers. This suggests that the jacket should keep you dry in light rain but may not withstand heavy downpours.
Conqueco Women's Slim-fit Heated Jacket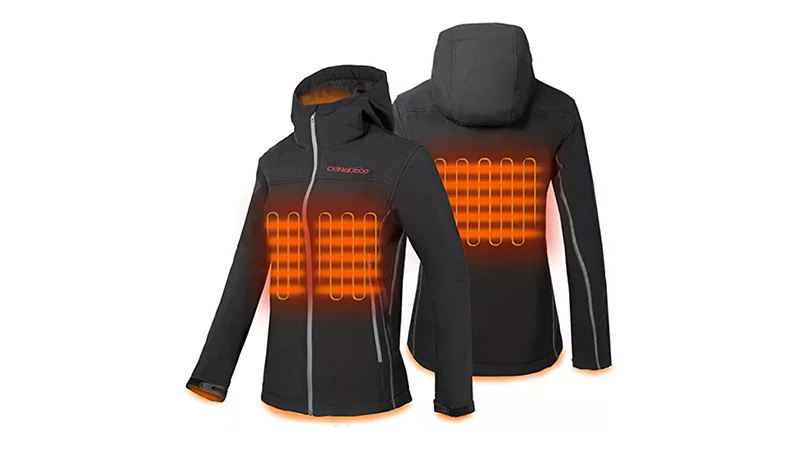 What we Like
The fitted appearance adds style
Accent seams give it a touch of personality
It heats up efficiently.
What we Don't Like
Limited sizing available.
While waterproof, it tends to absorb moisture
If you're in search of a jacket that is both unique and subtly stylish while providing warmth during cold winter days, the CONQUECO is the perfect choice. This fitted and inconspicuous jacket boasts a sporty look, complemented by accent seams in gray or orange, which adds a touch of individuality.
What sets this jacket apart is its use of body-safe carbon fiber heating technology in the chest and back areas, ensuring lightweight comfort. Our tests revealed that this jacket took slightly longer than others to reach its maximum heating temperature, clocking in at 1 minute and 26 seconds. However, it still achieved a temperature of 106°F (41°C) in under 90 seconds, making it more than suitable for most individuals.
Featuring a waterproof exterior and a cozy velvet inner lining, this jacket effectively shields you from wind and water. Although our tester noted that saturating the sleeve could result in a cold sensation and a damp outer layer, the jacket does keep water from reaching your skin.
What is a Heated Jacket?
Heated jackets are perfect for the person who spends a lot of time outdoors. As the name suggests, they're a piece of clothing that is heated, usually with in-built panels, aimed to protect you against the elements. Using batteries, the outerwear is designed to trap heat inside and prevent you from getting cold. Depending on the brand you choose, you can find a design that heats up the front parts of the chest, you back, and even your shoulders. Most jackets have a battery life of anywhere from three to ten hours, but again, this depends on the brand you choose.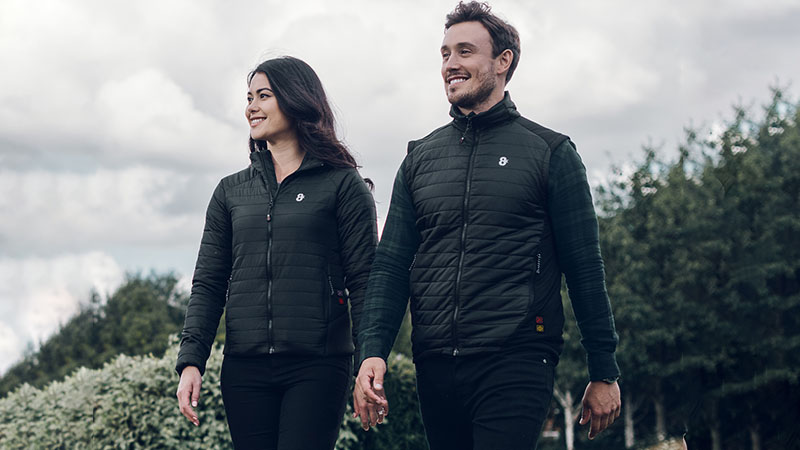 Heated Jacket Buying Guide
There are plenty of things you need to know before buying a heated jacket. From the perfect temperature settings to battery life, it's important to have a better understanding of the outerwear's potential before committing to purchase.
Voltage
Heated jackets will typically come with a battery to create warmth. Before you make a decision, you need to check the voltage of the battery. If it has a higher voltage, it will heat for a longer period of time and get to the desired temperature faster. The most common voltage sizes for heated clothing are anywhere from 5-20V. To stay warm for eight hours, opt for a 7V battery, but if you want anything longer than that, your best bet is 12V.

Battery Life
As with most things that run on batteries, the more you use the battery, the faster it will deplete. Many jackets feature a rechargeable battery, which can take a few hours to fully charge. For longer-lasting life and ultimate power reliability, it's best to choose a jacket with a lithium battery.

Run Time
The type of voltage will determine how long your battery is expected to last. Essentially, the larger the voltage, the longer it will last. If you want to stay warm for an entire day, opt for a battery that is 7-12V. It's also important to remember that the life of your battery also depends on the heat setting you choose. If you want to keep it on 'high' the entire time, you can expect to stay warm for around three hours. Whereas keeping it on 'low' can see the battery last all day long.

Charging Time
The charging time for a heated jacket depends entirely on the size of the battery. For example, you can expect to fully charge a 12V jacket within ten hours. There are other alternatives that offer fast charging – here, you can expect to wait only a few hours before taking it out for an adventure.

Wind and Water Resistant
The beauty behind a heated piece of clothing is its versatility. These jackets often feature a water-repellent and wind-resistant fabric to protect the wearer from the elements. This makes it a fantastic choice if you plan to go hiking, hunting, or even taking a motorbike ride.
Material
While there are many different styles of heated jackets, the most popular material choice is water-resistant carbon fiber or polyester. These will repel water and shield you from the harsh wind while preventing you from sweating and overheating. If you're in the snow, your best option is Gore-Tex, as it repels the chilliest temperatures and shields from rough winds. You can also find alternative fabrics that are perfect for motorbike riding, such as leather. Be on the lookout for the right material for you and how it can help you while you're outside.

Safety
Heated jackets are pretty safe and are a great option if you need to keep the chill at bay. Most jackets that have heated panels built-in often don't reach a voltage level higher than 10. They're also safe from EMF radiations, thanks to the low voltage. But as always, be sure to check all reviews of the brand before you commit – there are companies that specialize in heated clothing, which will be the best option.

Other Features
Not only are heated jackets a great way to keep warm in the coldest weather, but they're also an amazing source of electricity. Certain jackets offer a USB port, so you can charge your phone while you're out. If you can, opt for a jacket that has a spare battery that you can take anywhere with you. Other extra features include plenty of pockets, hoods, and high-neck designs for maximum protection.

Heated Jacket FAQs
Are heated jackets good for you?
Heated jackets are a safe and effective way to stay warm. The battery is a low enough voltage making it perfectly safe to wear. What's more, those who suffer from sore joints and muscles may also benefit from wearing a heated jacket.
Are heated jackets safe?
Yes, heated jackets are a safe choice. Thanks to their low voltage, it generates a frequency of 0Hz, so there is no risk of radiation. With this low voltage, there's also no risk of electrocution. Plus, due to its water-repelling fabric, they won't catch fire, either. 
How should a heated jacket fit?
When it comes to sizing, make sure the heated fabric sits close to your body, but not close enough to cause discomfort. As they generate a bit of heat, it's also best to make sure you can fit at least one layer of clothing underneath, but avoid wearing too many as you may run the risk of overheating. 
Are heated jackets safe from EMF Radiation?
You will not get exposed to EMF radiation if you wear a heated jacket. This is because the most common battery voltages are no larger than 12V, which creates 0Hz.
Are panels used in the heated jacket fireproof?
Each heated jacket s created to prevent from catching fire. The panels inside the outerwear will not exceed a maximum heat, and will not catch fire even if set at the highest temperature level. 
Is a heated jacket machine washable?
Yes, you can wash most heated jackets. The amazing technology allows you to wash in the washing machine, but it is not possible to dry clean. When washing heated clothing, place it in a mesh bag before placing it in the washing machine, and then let it dry on a line or laying flat. 
Who makes the best heated jacket?
There are a few brands that are the best for heated clothing. Ororo is a leading brand that provides clothing that can heat up in as little as ten seconds. They specialize in outerwear designed for the outdoor elements, such as snow and rough wind. Other great brands include ProSmart, Milwaukee, and DEWBU, as they provide warmth in key areas of the body and last for hours on end. 
Are heated jackets TSA-approved?
You can pack heated jackets without batteries in your carry-on or checked luggage just like any regular coat. Nevertheless, it's important to note that airlines generally impose restrictions on lithium batteries. Only battery packs with a capacity of 100-watt hours or less are allowed in checked or carry-on luggage. Before heading to the airport, make sure to check with both your airline and the manufacturer of your coat to confirm if you can bring the battery pack along.
SUBSCRIBE TO OUR NEWSLETTER
Subscribe to our mailing list and get interesting stuff and updates to your email inbox.