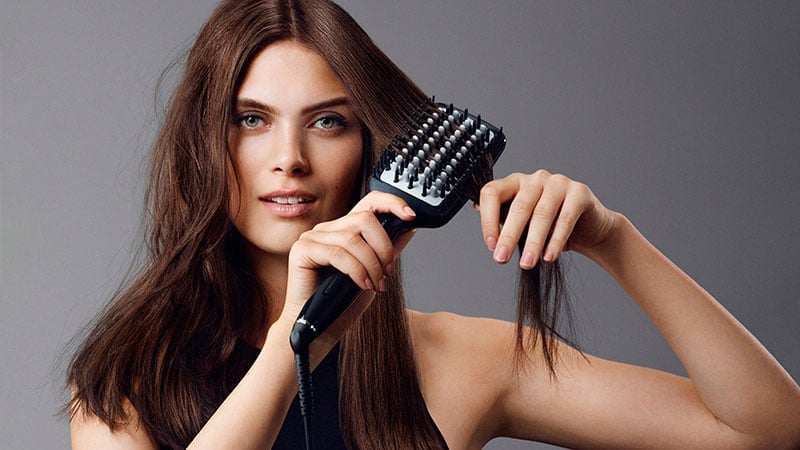 There's no denying that the hair straightener brush has revolutionized the way that women style their hair. Since their launch in the market in 2015, these easy-to-use tools have been helping ladies to tame their tresses with ease. While they may not leave you with poker-straight locks like your flat iron, straightener brushes are perfect for quickly smoothing out kinks and curls and banishing excess frizz. They're also less damaging than traditional straighteners and help eliminate the need for blow-drying. So, if you're yet to try out this new heat styling heavyweight, what are you waiting for? Here are the best hair straightening brushes and you'll soon wonder how you ever lived without it.
RELATED: 15 Best Hair Straighteners & Flat Irons
What is a Hair Straightening Brush?
There are plenty of different styling tools to help you achieve salon-quality hairstyles, but it's hard to replicate them at home. While flat-irons have been favored for several years, a hair straightening brush is an easier way to get your hair looking shiny without having to use multiple devices. Also known as hot brushes, these tools look just like a regular hairbrush but feature heated ceramic or hot air that creates smooth locks. Thanks to its bristles, it can also add a bit of extra volume to the roots, giving you full and luscious hair in half the time of usual styling. It works well for all hair types and lengths.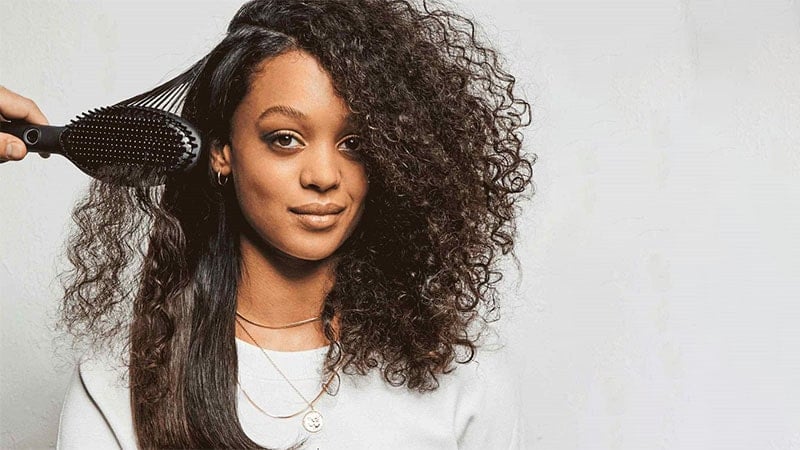 How Does a Hair Straightening Brush Work?
Unlike traditional flat irons, which press the hair between two hot ceramic plates, a hair straightening brush relaxes the molecular bonds that make your hair curl. The brush pushes out hot air between the bristles, and the combination of the combing and heat work together to straighten your locks without sizzling them on the hot plates. If you have extensive damage, thin or thick hair, this is a great option – it is far less harmful to the ends of your hair than traditional tools, but make sure you always prep and prime your hair before styling.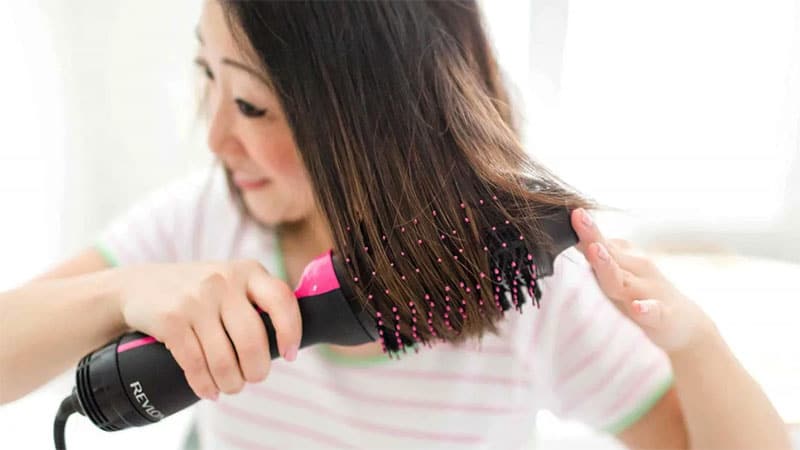 What to Look for When Buying a Hair Straightening Brush
Just like every hair tool, you must do your research before buying one. Not every hair straightening brush was born equal, and some will offer better results than others. When on the lookout for a new brush, keep in mind the types of hot plates used between the bristles, the quality of the brush itself, and the heat time. A ceramic plate will help reduce frizz as you brush through the locks and speed up the drying process if you have damp hair. Many tools will heat up relatively fast, with the average temperature reaching 450℉ (230°C), but this may be too hot for your hair type. If you have thick or curly locks, opt for something with multiple heat settings to find the perfect balance for you.
Bristle Quality
Did you know that different brush bristles can give you different results? The most popular option is a ball-tipped bristle, which can prevent pulling and breakage. They will also help straighten your hair with every brush, making it easier if you need to style your hair in a rush. If you have thick hair or plenty of layers, we suggest you find a brush with varying bristle lengths – this will reach every level of your scalp, adding volume and shine to the touch. Widely spaced bristles will distribute heat more evenly, speeding up the styling process and smooth out potential frizz. When looking at a new brush, check out the materials used to coat each bristle – nylon, silicone, and ceramic will work best to prevent any damage and improve the overall quality of the brush.
Plate Material
Just as the bristles can determine the shine and volume of your hair, the type of plate can further enhance the desired result. The most common and popular type of heated plate is made from ceramic, which glides through your hair easier than others. Why is this so important? The ceramic prevents pulling and tugging, which stops breakage and further damage. In combination with the right bristles, you can end up with glossy, healthy, and voluminous hair. Other options available can produce similar results, such as ion technology, which distributes heat more event and prevents frizz to the ends. However, you may end up reversing the process if you use the maximum heat – this can actually strip away the keratin in your tresses, doing more harm than good.

Heat Time
Whether you're on the go or taking your time getting ready, the speed at which your hair straightening brush heats up is an important factor to consider before purchasing. Typically, you will find tools that heat up in a time frame of 30-60 seconds, depending on the temperature you set. It's best to find an option that includes an LED screen, so you can track how much time you need to reach your ideal heat preference.

Temperature Setting
While most hair straighteners will be the perfect temperature to prevent damage, you must first consider the type of hair you have. Anyone with thin or fine tresses should not opt for anything higher than a temperature setting of 390℉ (198°C). The thinner the locks, the easier it is to strip away the essential nutrients from the cuticles, leaving behind frizzy and brittle hair. Owners of thick, curly, or 4C hair should not apply anything hotter than 410℉ (210°C) – any higher, and you will start damaging the ends. When searching for the perfect tool, it's best to choose something with multiple different settings and a ceramic plate to distribute the heat and prevent any damage evenly.

Handle Design
Getting a grip on the best handle for your next hair straightening brush is important. Not only does it help the way you move your wrist, but it can also help you reach harder spots, such as the back of your head. Some options include a swivel handle, which moves the cord out of the way, letting you focus on the task at hand. Opt for a handle design that features an LED screen – these often indicate the heat time, temperature, and different settings for the perfect blowout.

Portability
Size is important, especially when it comes to hair straightener brushes. While all of these tools are portable, some are better suited to travel than others. You can find miniature versions of your favorite device, but this may impact the overall output of the styling. The larger the brush is, the better the outcome for those with thick, curly, or 4C tresses. A small brush is ideal for spot applications, including the hairline, the nape of the neck, or for those with shorter locks. If you choose a small brush, you may need to pass through the hair a few times to get the desired results. However, these are a great option if you are traveling and need an easy styling brush.

Aesthetic Design
Every great hairbrush comes with its own aesthetic design. While the look of the device may not contribute to the overall effect it has on your hair, it can make a big difference when you decide to purchase. Brands such as Tymo and Dyson have included various colors and patterns and other design elements that make them look extra cute. Options like brushes from Drybar and Babewaves often come in bright shades, making them the perfect summer accessory.

Best Hair Straightener Brushes
1. TYMO Ionic Straightening Brush
Say goodbye to frizz and hello to luscious locks with the Tymo brush. Its ionic plate provides a salon-quality finish, promoting healthy locks with every swipe. Plus, its two-toned bristles work to distribute the heat evenly and stop any risk of pulling or tugging. The purple teeth provide flexible heat distribution, whereas the black teeth offer a cool shield for your scalp, leaving you with soft and photo-ready results. It comes with a whipping 16 heating modes, making it perfect for a wide variety of hair types and lengths. Plus, with more than 5,000 reviews and its affordable price, this device can do it all.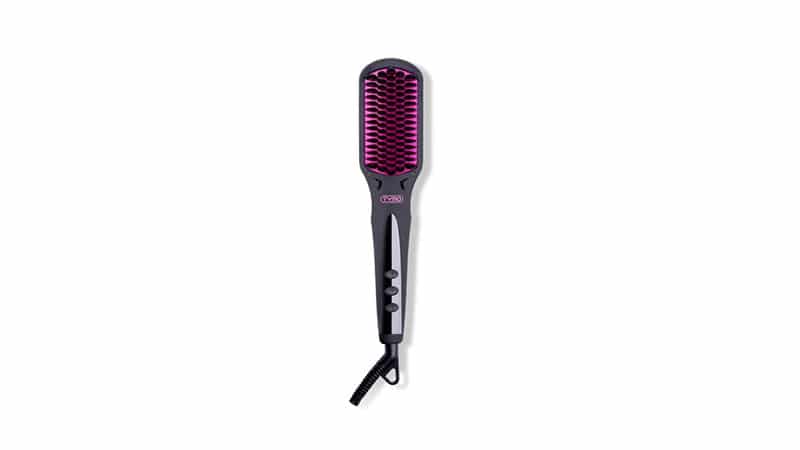 2. Graphene Times Ionic Straightening Brush
Want the straight hair without the damage? This brush from Graphene gives you the feeling of being in a salon, even if you're at home. Thanks to its 15 temperature settings, you can prevent any frizz or frying to your hair, all while giving the locks an extra sleek and shiny finish. With its ionic ceramic plate, the continuous heat distribution will lock in the hair's natural keratin, keeping your tresses as healthy as possible. Never panic if you forget to turn it off, as this tool auto turns off after 60 minutes of non-use.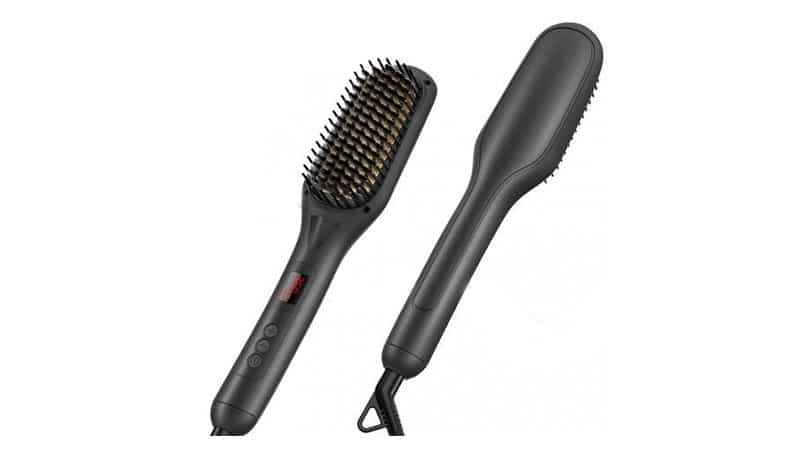 3. Ceecol Portable USB Hair Straightening Brush
Beautiful hair is just a swipe away, no matter where you are. This two-in-one comb provides a smoothing finish to your tresses, all while offering a cordless function, meaning you can take it with you anywhere. Perfect for those with short hair, you can smooth, control and prevent damage to your locks in a few minutes. Plus, thanks to its ionic construction, it seals your hair's natural keratin and won't scald your scalp. The device heats up in as little as 90 seconds and is perfect for different hair types.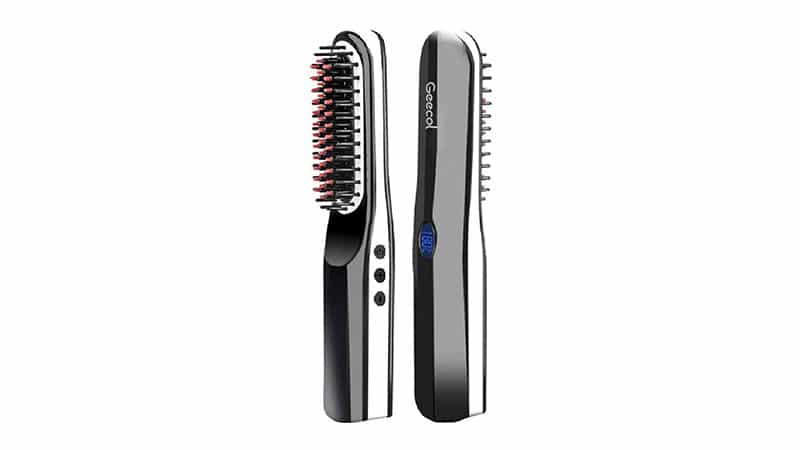 4. TYMO Pink Straightener Brush
Explore the cherry trees of Tokyo from your bathroom with this pink hair straightening brush from Tymo. With its trusted heat distribution design, you can enjoy salon-quality hairstyles without the fuss or the cost. It features dense bristles, which evenly distribute the heat and detangle even the toughest knots without tugging at the ends. In a rush in the morning? Thanks to its record heating time of only 20 seconds, you can get your desired style in a flash without hurting your hair in the process.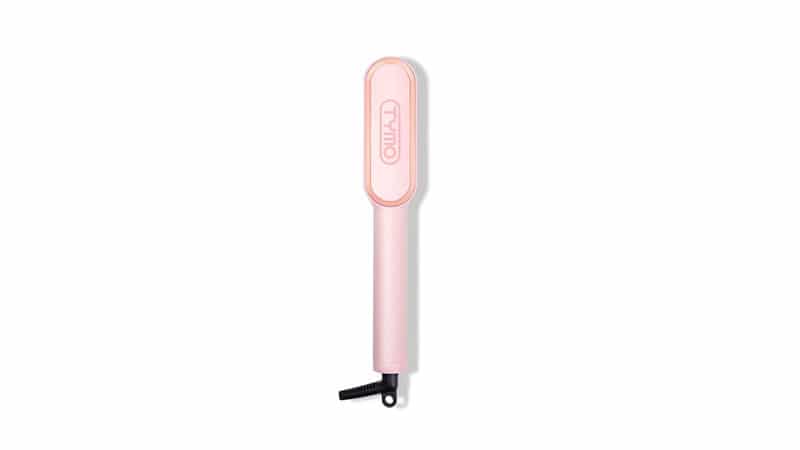 5. BeKind 30-in-1 Straightener Brush
Your hair is your crowning glory, so why not give it the love it deserves? This hair straightening brush features 30 settings and MCH heat technology to prevent damage to your locks. The temperature memory setting automatically heats to the exact setting you prefer, meaning you can focus on the amazing results in a flash. The LED screen shows you the change in settings in real-time and works well for all different hair types. From 4C to thin, short hair, you can achieve your favorite hairstyle at home instantly.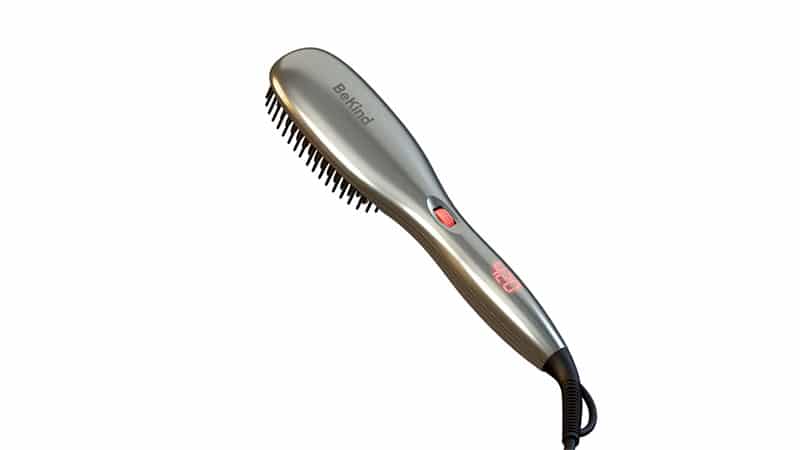 6. InStyler Ceramic Straightening Brush
The InStyler hair straightening brush is a cult favorite, and it's easy to see why. With 65 ceramic plates, heat is evenly distributed across your hair, leaving behind silky and shiny locks. Thanks to its smaller size, it's perfect for face-framing bangs or layers and makes for a great travel companion. It even offers seven heat settings to prevent any harm to your scalp and tresses, plus its auto switch-off mode will have you resting easy, even once you've left the house. For maximum results, use this on dry hair with a heat protectant – the plates may cause damage to wet hair.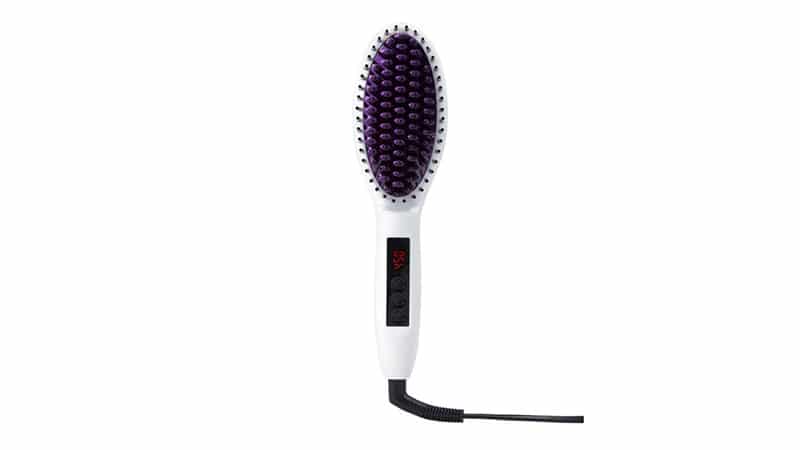 7. Revlon One-Step Hot Air Brush
Have you ever wanted to recreate a red carpet style but don't know where to start? This Revlon One-Step can get you there faster, with its nylon bristles and round brush shape. Designed to recreate a blow wave style, you can add volume, shine, and full body in a single sweep. Ideal for towel-dried hair, you can try out all three settings to find something perfect for your hair length, texture, and desired outcome. Now you can try those TikTok trends and perfect them in no time.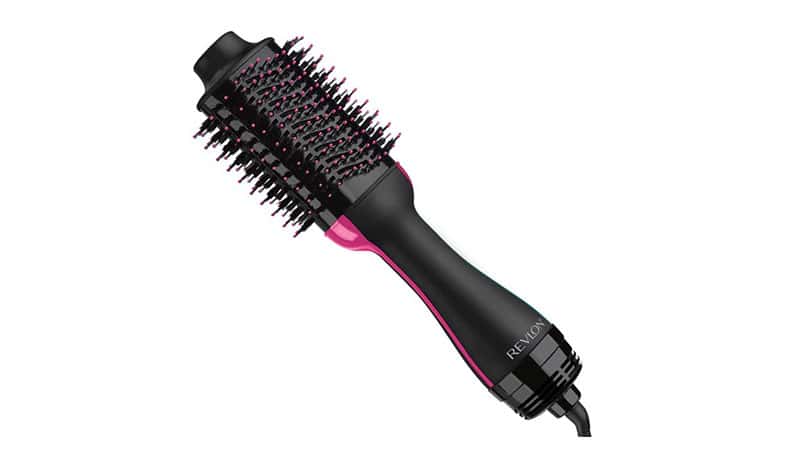 8. Enyopro Hot Air Brush
Those with thick hair rejoice. This hair straightening brush from Enyopro is perfect for untangling the knottiest tresses to reveal shiny, healthy, and smooth locks. Thanks to its nylon-tipped bristles, it will work through every strand and leave it better than it was found. If you want to create the ultimate Rapunzel fantasy, apply a leave-in conditioner to damp hair and work the brush through from root to ends.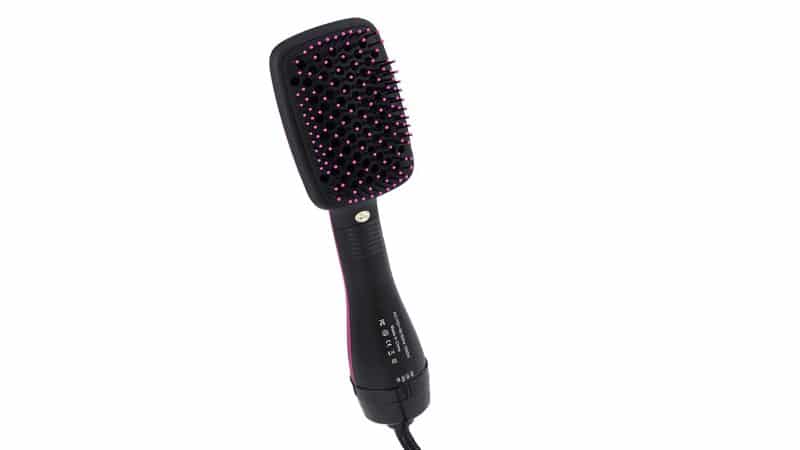 9. Remington Pro Pearl Straightening Brush
Is your hair a little hard to handle? This Pro Pearl straightening brush from Remington will leave you feeling like a Disney princess, due to its smoothing properties and ceramic plates. With heated bristles, each brush will separate your hair into smooth and sleek sections. It features three heat settings, reaching a maximum temperature of 450°F, but thanks to its crushed pearl ceramic coating, it will protect your scalp from any nasty burns or damage.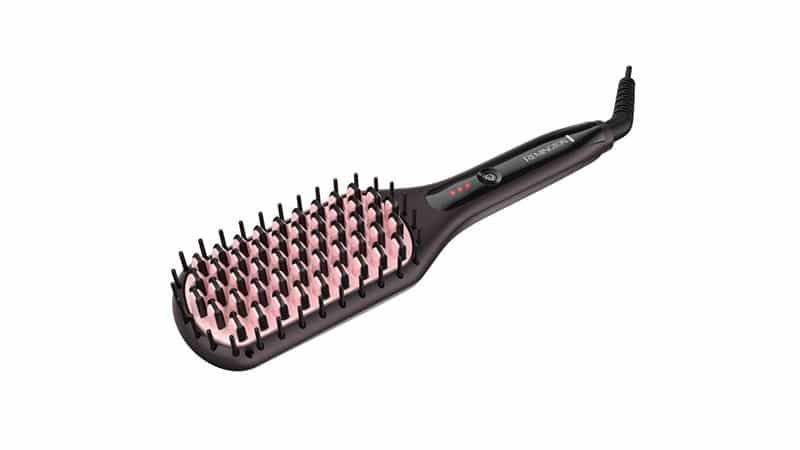 10. Veru Eternity Straightening Brush
Heating up in a quick 60 seconds, you can get supermodel hair in the blink of an eye. You can cut out 40% of your getting-ready time with this nifty tool. This traditional hair straightening brush features touch-proof negative ion technology, which can actually nourish your hair as you style it. Choose the ideal temperature for your hair type – it ranges from 250°F to 390°F, giving you the best balance of heat and protection for a silky smooth finish.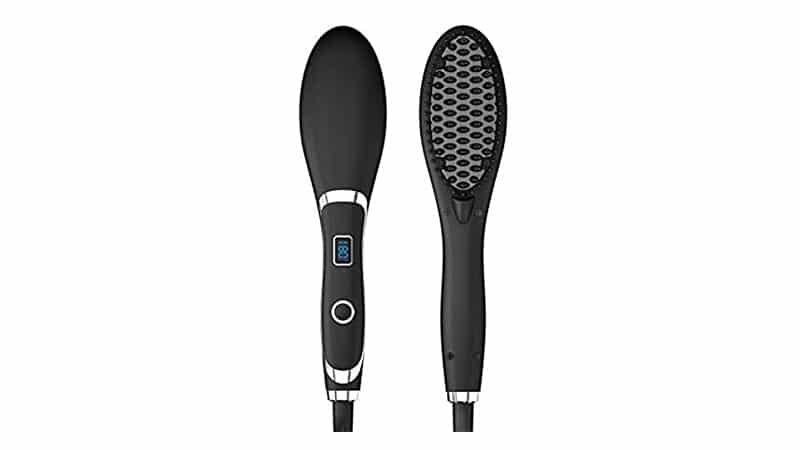 11. Philips ProCare Airstyler
For those who love a touch of versatility with their hair, look no further than the Philips ProCare Airstyler. This styler can create smooth and luscious locks in a few minutes, featuring more than just a brush. Swap out the interchangeable heads for a more precise finish and add volume or frame your bangs perfectly. Its ion thermal coating and three flexible settings will de-frizz and condition the ends of your hair, protecting the natural keratin in every cuticle.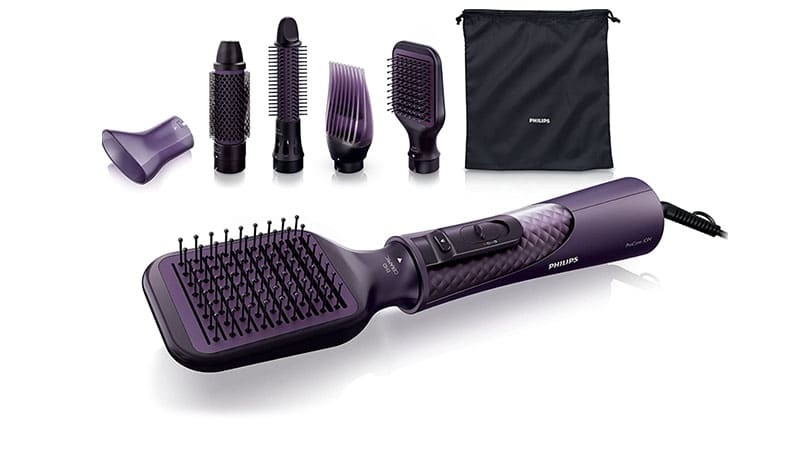 12. Drybar The Double Shot Blow Dryer Brush
Want to get that salon feeling every time you leave the house but don't want to put in the extra work? The cult favorite from Drybar just got an upgrade, and it's here to give you the perfect blowout from anywhere. The oval shape adds extra bounce to your tresses, and its ionic technology protects each strand from the heat. Easy to use and lightweight to hold, you can cover your whole head with shine and volume and adjust the temperature based on your preferences.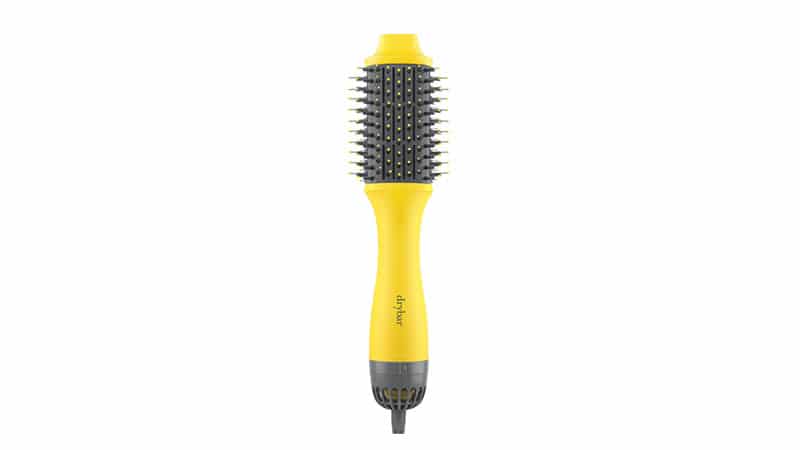 13. InfinitiPro The Knot Dr. Brush
If you want to give the "I woke up like this" vibe every time you leave the house, this straightening brush is perfect for you. The all-in-one tool can be used on wet, dry, thin, and thick hair. With its Flexilate bristles, it can effortlessly work out every tangle – it's ideal for those with medium to long hair. The added accessories can provide a bit of extra bounce for the days where you want to live out your Studio 54 fantasy or frame your face with perfectly sculpted layers.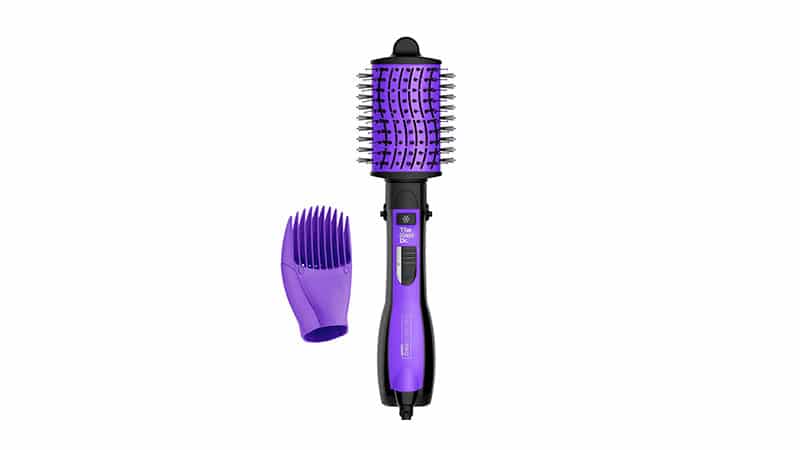 14. Babe Waves Easy Blo Hot Air Brush
Get the hair of your dreams in half the time with the Babe Waves Easy Blo hot air brush. Complete with four features, you can use this as a traditional brush, a blow dryer, a straightener, or a curling iron. From thin, lifeless hair to thick and full 4C curls, this brush will work its magic to give you glossy and healthy locks. For second-day hair, skip the dry shampoo and turn straight to this multi-tool device. Whether you're going out with friends or jumping on a plane for a holiday, you can have a good hair day seven days a week.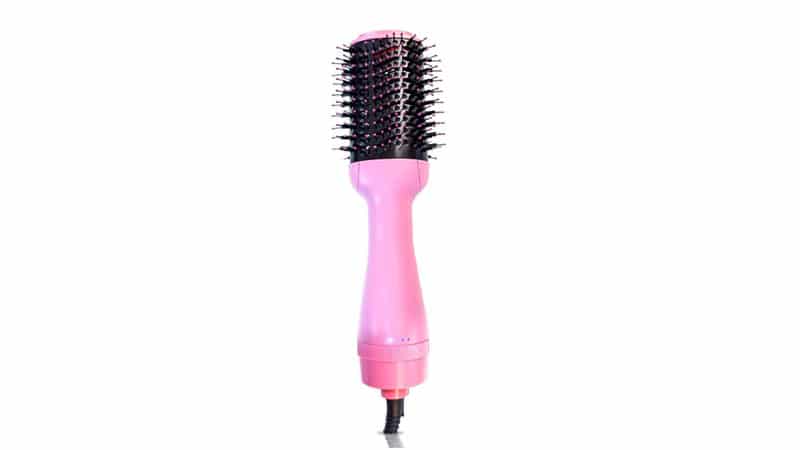 15. GHD Glide Smoothing Hot Brush
For effortless and time-saving hairstyling, you can't go wrong with GHD. Best used for second-day hair, you walk right past the dry shampoo and add your extra volume shine with this hot brush. Heating up to 365°F, you can use this on every hair type and length without risking any damage to the locks. The combination of short and high-density bristles reaches in and hugs each strand, leaving it with a protected shine and a healthy finish.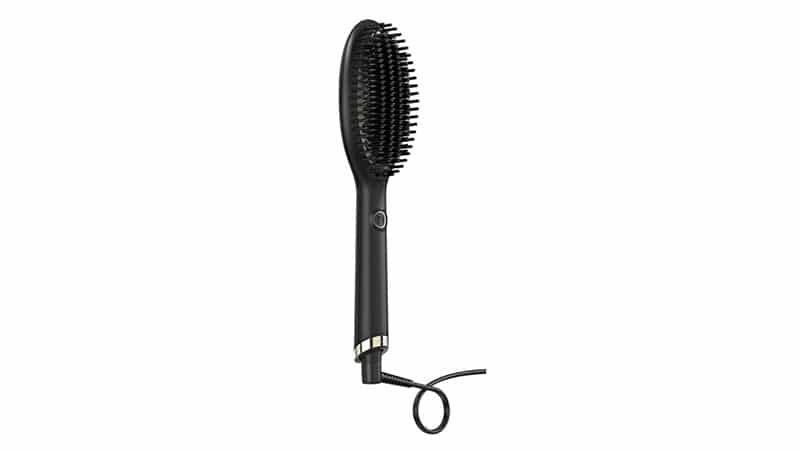 16. AsaVea Portable Electric Hair Straightening Brush
AsaVea is already on to its third generation of hair straightening brushes, and they just keep getting better. As such, it comes as no surprise that its current version is a best seller in its category. The straightening brush, which consistently receives great reviews, is small but super powerful. Thanks to its design with 23 ceramic heating pieces, the brush can quickly and easily straighten and smooth large sections of hair at a time. Its adjustable temperature, which features six settings, ensures that you can choose the right heat for your hair, meaning that you can get the best results without excess damage.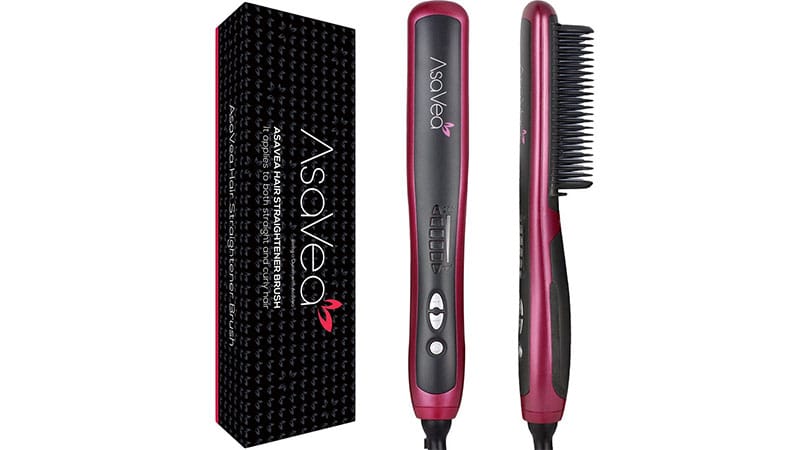 17. MiroPure 2 in 1 Ionic Hair Straightener Brush
Like the AsaVea, the MicroPure 2 in 1 Ionic Hair Straightener Brush is another top seller in its field. Along with straightening your locks, this excellent electric brush is adept at diminishing frizz, smoothing flyaways, and enhancing shine. On top of that, this tool boasts an incredible 16 different heat settings, which range between 300℉ and 450℉. So, whether your locks are thin or thick, you'll be able to choose the perfect temperature for your tresses. Don't worry if you're the forgetful type either. This straightener's helpful automatic shut-off after 60 minutes means that you'll have peace of mind every time that you leave the house.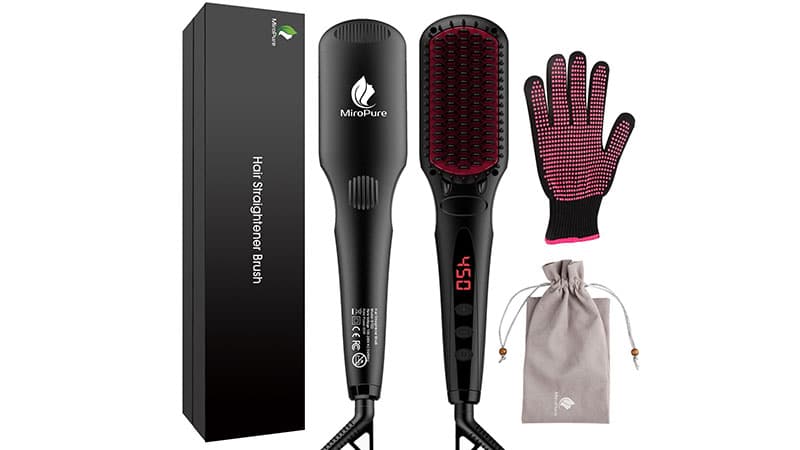 18. Magictec Hair Straightener Brush
While a brush that quickly and easily straightens your hair is great, one that massages your scalp at the same time is even better. That's exactly what the Magictec Hair Straightener Brush does, and while it feels awesome, this massaging effect also stimulates hair follicles. There's no need to be careful about burning your head either. Although the brush can heat up to 430℉, its anti-scald technology and heat-resistant bristle nibs will ensure that your scalp is safe from its high temperature.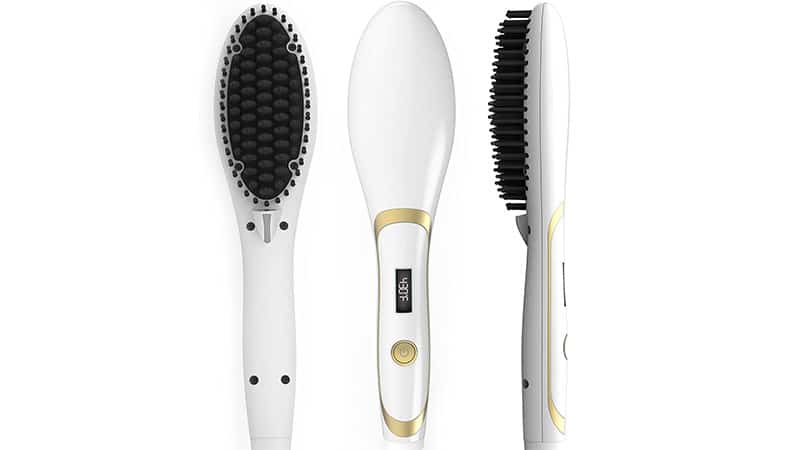 19. BearMoo Hair Straightening Brush
Whether you're in a hurry to get to work or are late for a date, the BearMoo Hair Straightening Brush can help you get out the door quicker. The electric brush can heat up in just 30 seconds and features multiple temperature settings for more control. Thanks to its broad and densely toothed design, you'll be able to brush through your hair in minutes, allowing you to get going quickly, unlike your traditional flat iron. As well as being fast to use, the BearMoo brush is also effective. While straightening your hair, it utilizes ionic technology to eliminate frizz and add shine.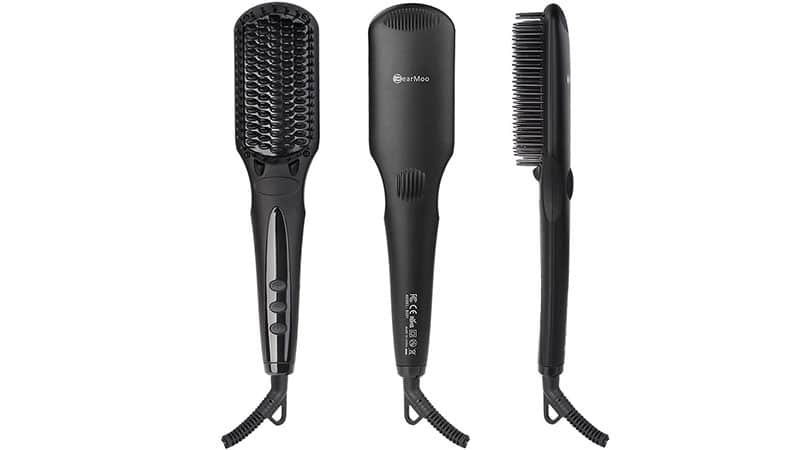 20. SalonChain Hair Straightening Brush
Forget about going to the salon to have your hair blow-dried straight. You can achieve the same results at home. By allowing your hair to dry naturally before running the SalonChain Hair Straightening Brush through it, you can save time, money, the hassle, and your hair. As well as reducing the minutes spent heat styling your locks, which can be severely damaging, this straightening brush is also made to be safer for strands than other tools. So, thanks to its superior technology, you can regularly heat style your hair without stressing about breakage, split ends, or tangles.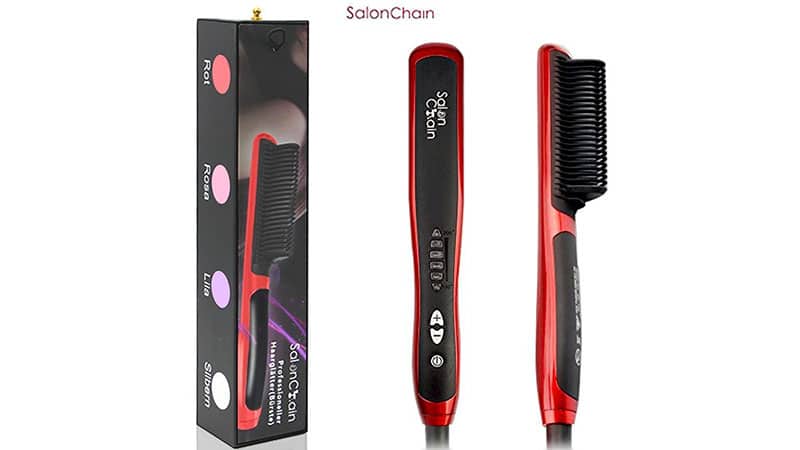 21. Kingdom Cares Hair Straightener Brush
One of the great things about the Kingdom Cares Hair Straightener Brush is its small and portable size. As such, you can easily take it and its great benefits with you wherever you go. Whether you want to be able to quickly straighten your strands while traveling or simply need to fix up kinks after a day of work or a session at the gym, this brush can help. As well as being convenient to carry, the Kingdom Cares brush is also practical. The ceramic design works to smooth and add shine while ionic technology helps to speed up straightening and lock in moisture.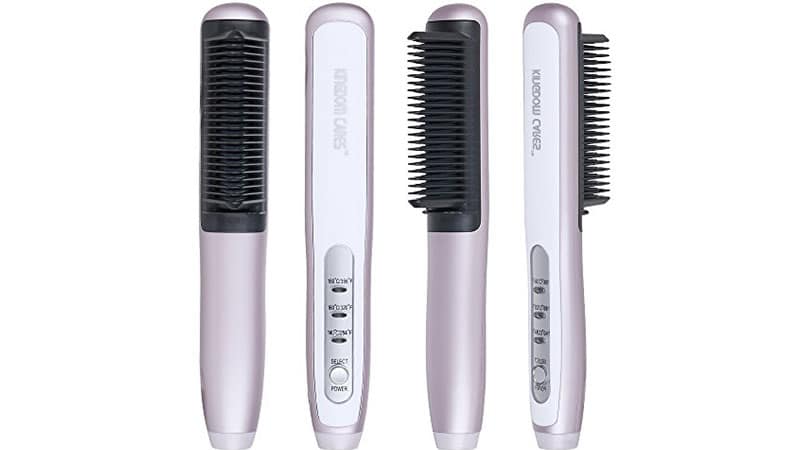 22. Acevivi 2 in 1 Ionic Hair Straightening Brush
When it comes to hair straightening brushes, Acevivi is a well-known name, and it's easy to see why. The beauty brand's electric brushes are loved by users with positive reviews consistently popping up online. In particular, the label's 2 in 1 Ionic Hair Straightening Brush is a favourite amongst customers thanks to its great results. Ideal for all hair types, the handy heat tool gives hair a smooth, silky, and lustrous look by sealing the hair cuticles to reduce frizz, split ends, and knotting. As such, it's perfect for anyone who finds that their flat iron leaves their locks with a flat and limp look.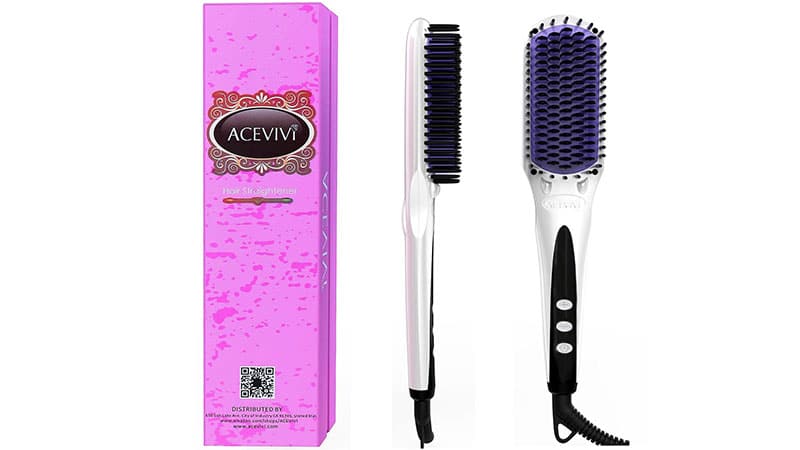 23. Perfectday Hair Straightener Brush
The Perfectday Hair Straightener Brush is a ceramic iron straightener, detangling comb, and scalp massager all rolled into one. If you're looking to save time during your daily beauty routine, this brush is the perfect tool to purchase. As well as saving time, you'll also be saving money as this straightener has a very reasonable price tag. It's also seriously easy to use and features precision temperature-control settings on a LED screen so you can see exactly how hot it is. Just be careful about where you place your hands, though. Multiple users have found that accidentally pressing buttons can be a problem.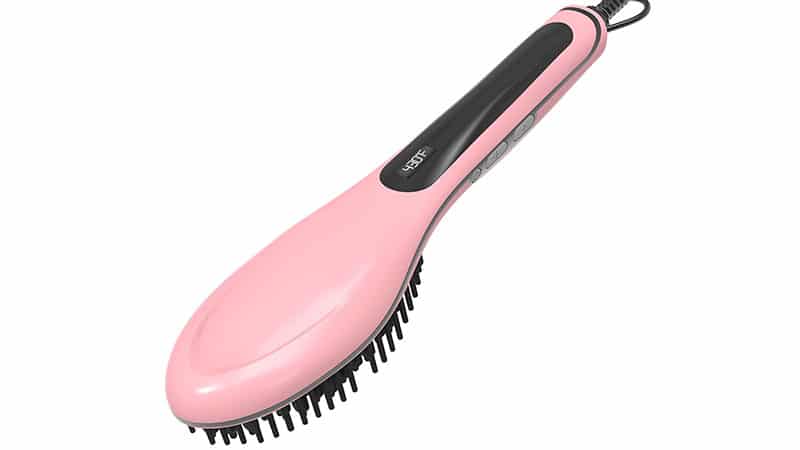 24. Kipozi Ceramic Hair Straightener Brush
The Ceramic Hair Straightener Brush from Kipozi releases nano anions from its heating plate to help make your hair silky and shiny without any excess damage. As such, it's a great alternative to flat irons, which can fry your locks. The brush, which boasts 23 ceramic heating pieces, uses PTC (Positive Temperature Coefficient) heating technology to distribute heat evenly for better results. On top of that, the tool takes less than 60 seconds to heat up and features six temperature settings, which range from 130°C to 200°C.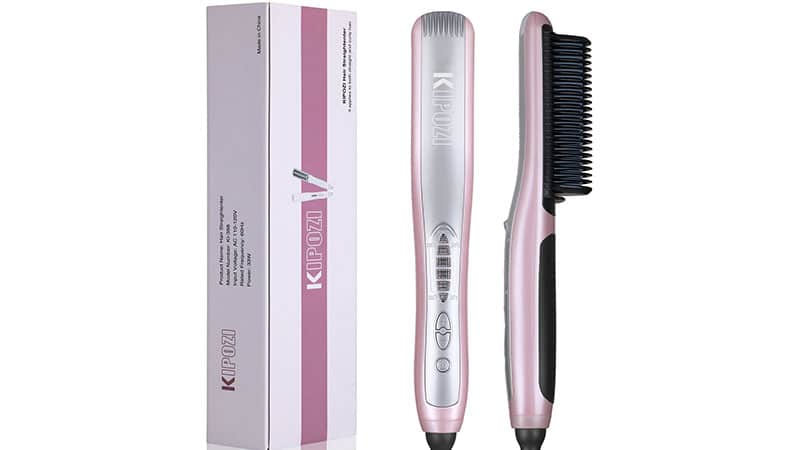 25. Bestope Hair Straightener Brush
If you're sick of tangled hair and tangled cords, you can beat both with one affordable purchase. The Bestope Hair Straightener Brush is perfect for combing through locks as you straighten and features a handy rotating wire. As such, it's a great option for easily styling your hair on a budget. Don't let the price fool you, though. This brush still packs a punch with a ceramic design and ionic technology to lock in moisture for healthy straight hair. It also features anti-scald technology to banish burns and a 60-minute automatic shut-off for safety.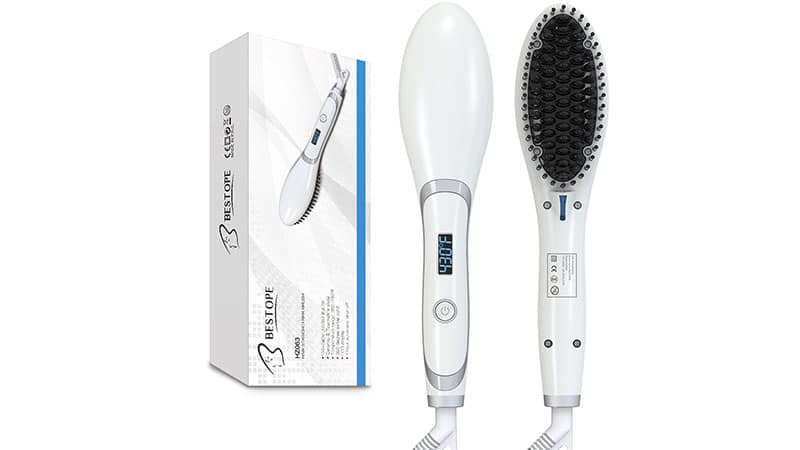 FAQs
Which hair brush straightener is best?
Some of the best hair straightening brushes are the AsaVea Portable Electric Hair Straightening Brush, the MiroPure 2 in 1 Ionic Hair Straightener Brush, and the Magictec Hair Straightener Brush.
Do straightening brushes really work?
Yes, they do work, although they won't get your hair as poker straight as a flat iron will. However, they're brilliant for taming frizz and smoothing out kinks and curls.
What should I look for in a straightening brush?
The biggest thing to look for is quality heating plates made from ceramic or tourmaline to reduce damage and friction. When it comes to bristles, make sure they're firmly set in the base. Ball-tipped bristles are perfect if your hair gets tangled easily, while nylon ones are good for sensitive scalps. Ideally, an adjustable heat setting is also a useful feature, so you can tailor it to your hair's needs, thereby reducing heat damage.
Can I use a straightening brush on wet hair?
It's best not to use a straightening brush on wet hair unless it's specifically designed for wet/dry use. Applying this kind of heat to wet hair can damage both your strands and the device.
Do straightening brushes work on thick curly hair?
Yes, a straightening brush will work on thick curly hair. Keep in mind, due to the thickness, you'll probably need to use the highest heat setting for the best results, and you may need a couple of passes.  
Do hair straightening brushes work on short hair?
Yes, they do work on short hair and can be safer than using a flat iron, as it's less likely to burn your scalp. Ideally, you'll choose a brush that's a bit smaller, with shorter bristles, as this will make the process easier and produce better results.
SUBSCRIBE TO OUR NEWSLETTER
Subscribe to our mailing list and get interesting stuff and updates to your email inbox.