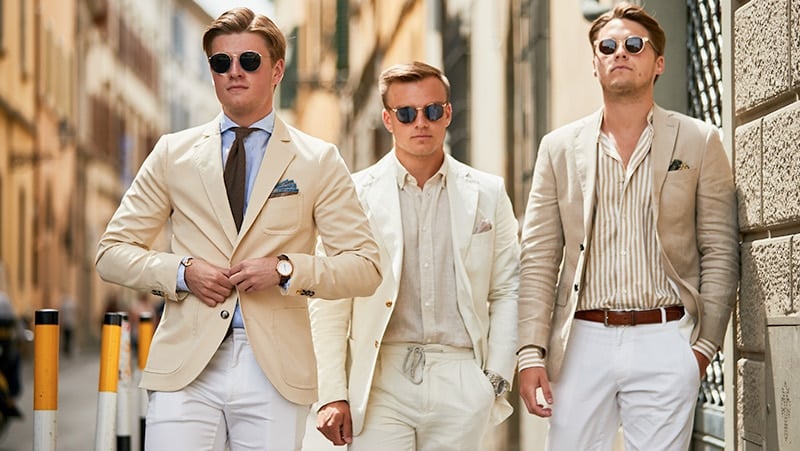 Twice a year, the Italian city of Florence is inundated with a hoard of seriously stylish men. Travelling from all over the world to attend the famous Pitti Uomo menswear tradeshow, these gents always bring their fashion A-game. This season was certainly no exception and has left us with a new list of looks to try immediately. From bold stripes and boater hats to '90s throwbacks and ultra-thin sunglasses, the styles coming out of Florence this past week have been exciting and eye-catching. So, if you're in need of a wardrobe revamp, look no further for inspiration. Here's our roundup of the best fashion trends from Pitti Uomo 2019.
1. Linen Suits
The sun was shining in Florence this week, giving gents the perfect opportunity to show off their summer fashions. To cope with the heat while remaining suitably polished, the Pitti Uomo crowd turned to linen for help. Comfortable and breathable, linen makes an excellent choice for the warmer months. It's also perfect for achieving a stylish, smart casual appearance when worn in the form of a suit.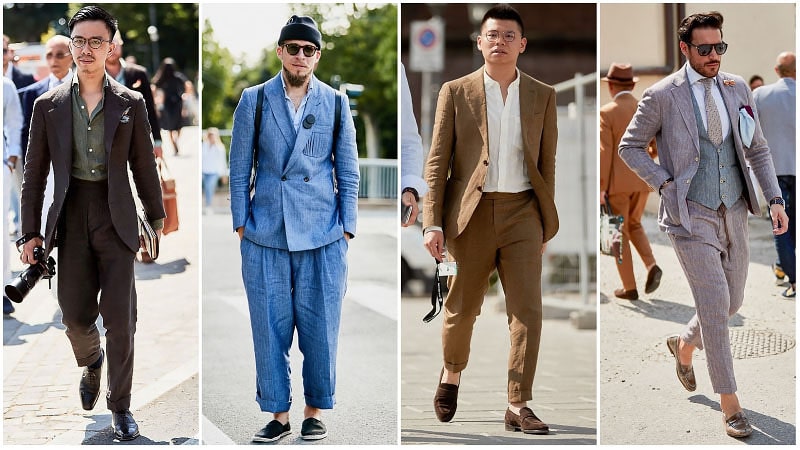 SHOP THE LOOK
2. Printed Shirts Over T-Shirts
Not all trends are new. This Pitti Uomo saw the return of one look that many gents will remember wearing in their youth. That's right, rocking a shirt over a T-shirt is cool once again. To wear the trend in 2018, make like the stylish Pitti Uomo attendees and pick an oversized short-sleeve shirt in a bold print. Whether it's striped, checked, floral or abstract is up to you. Then, just throw it on over a basic, white, crew-neck tee, leaving the buttons undone either half or all the way.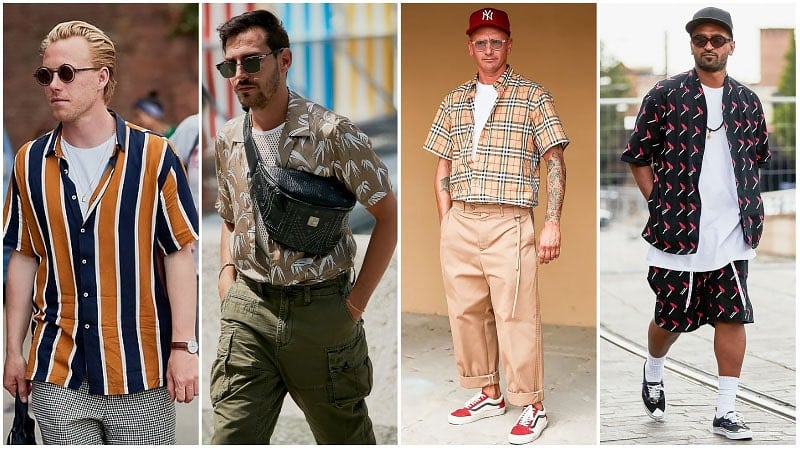 SHOP THE LOOK
3. Statement Stripes
For Pitti Uomo 2019, the gents turned the dial up on stripes. Far from the classic pinstripe, these lines were thick, bright and bold. They were also spotted everywhere from tops and jackets to suits and trousers. To try the look for yourself, all you need to do is decide how strong you want your statement stripes to be. If you're going to ease into things, opt for a top with eye-catching stripes and pair it with plain pants. To take things to the next level, choose a suit with thick and unmissable stripes from head to toe.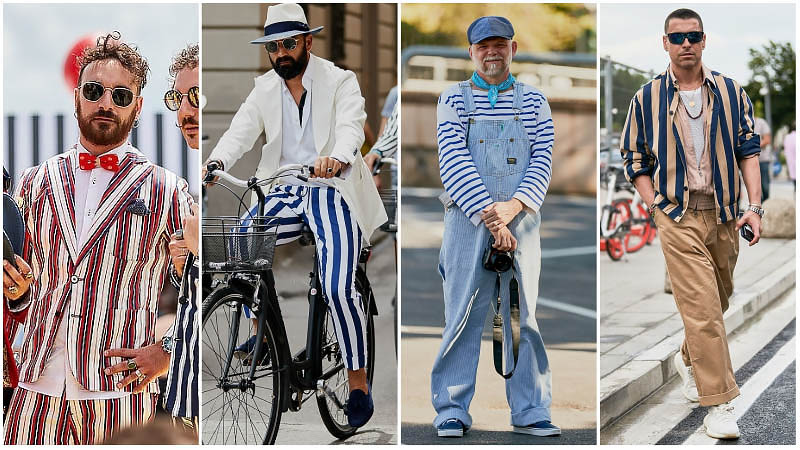 SHOP THE LOOK
4. Straw Boater Hats
There's nothing quite like a dapper hat to top off a man's outfit, and this season, the style of choice is the classic straw boater. Perfect for summer, these lightweight hats can shield your face from the sun while keeping your head reasonably cool. They also appear seriously sleek thanks to their straight brim and flat crown design. As such, you can easily wear one with a suit or smart casual outfit for a playful yet polished appearance.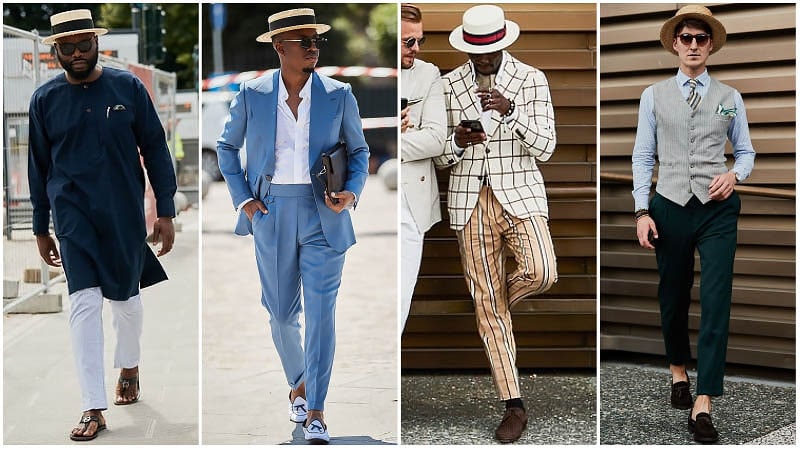 SHOP THE LOOK
5. Tonal Beige Outfits
Creating a fashionable statement doesn't always require a bold dose of colour. Don't believe us? Just look to Florence for proof. The gents in town for Pitti Uomo '19 created some seriously striking outfits with no other colour than beige. Decked out from head to toe in the hue, these gents appeared far from boring. In fact, they looked downright stylish and exciting. To try their unique style for yourself, opt for a variety of beige tones to create some much-needed contrast.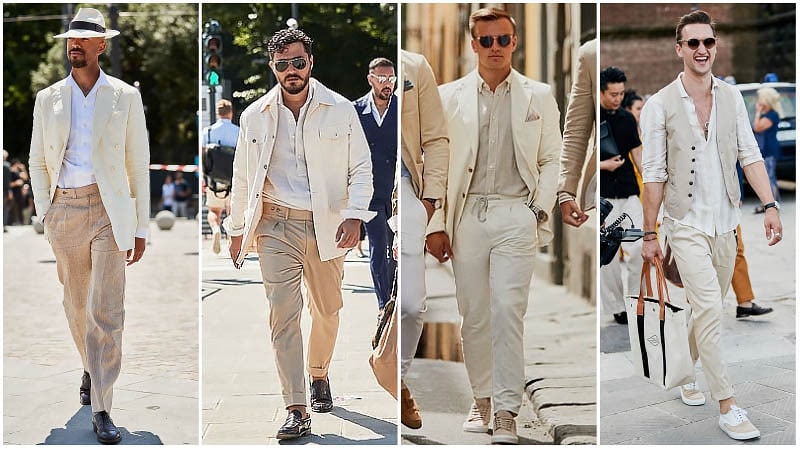 SHOP THE LOOK
6. 90s Nostalgia
If you had any doubt left about the return of '90s fashion, one look at this season's Pitti Uomo street style would set you straight. From windbreakers and wallet chains to overalls and bumbags, major trends from the 1990s have risen from the dead to be the height of fashion once again. Of course, there are a few critical changes that have brought these items into 2018. For one, your bumbag should now be hung across your body instead of worn around your waist.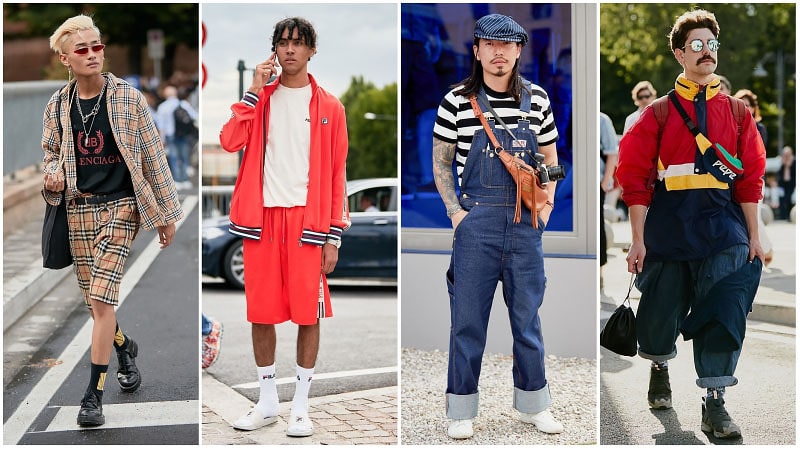 SHOP THE LOOK
7. Large Leather Clutch Bags
In recent years, gents have begun embracing bags more and more, and rightfully so. With the size of phones and the number of cards we all have these days, sometimes pockets just don't cut it. To safely and stylishly carry your essentials this season, look no further than a large leather clutch or pouch. Not only can these bags tote everything you need for an outing, but they also look great doing it. In fact, their simple yet sleek style even makes them the ideal bag to pair with a suit.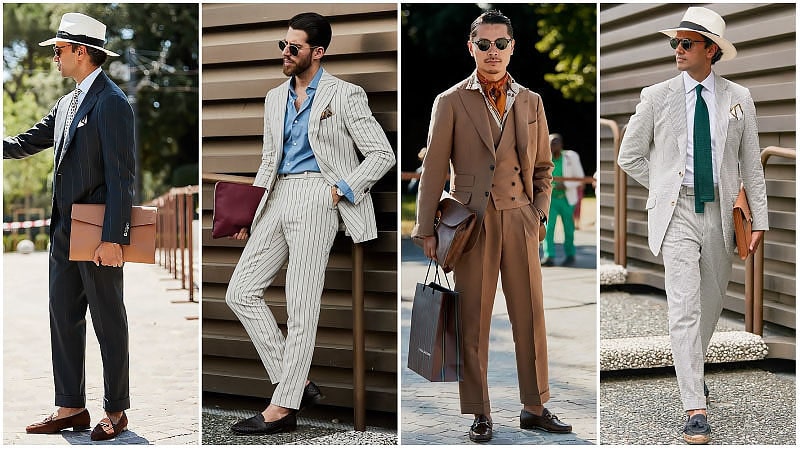 SHOP THE LOOK
8. Pastel Colour Palettes
While beige was a favourite colour at Pitti Uomo 2019, it wasn't the only standout hue. Pastel colour palettes also made their mark at the menswear tradeshow. Colours like light pink and sky blue were spotted in the form of suits and tops, adding a stylishly soft touch to masculine silhouettes. These looks, which appeared light and bright in the summer sun, projected a resort vibe and proved an excellent option for elegant, modern men.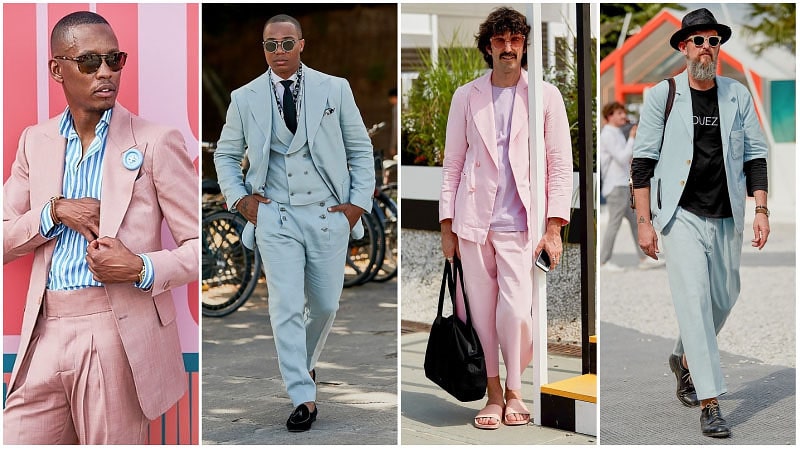 SHOP THE LOOK
9. Ultra-Slim Sunglasses
While the ultra-slim sunglasses trend may have started with the ladies, it's now the gents' turn to rock the look. Sharp, sleek and seriously skinny, these sunglasses are more about making a style statement than shielding your eyes from the sun. As such, they make an excellent option for fashion-forward men who like to look good. All you need to do is find the right slender shape for your face. Cat eye, oval and rectangle styles are some of the most popular options.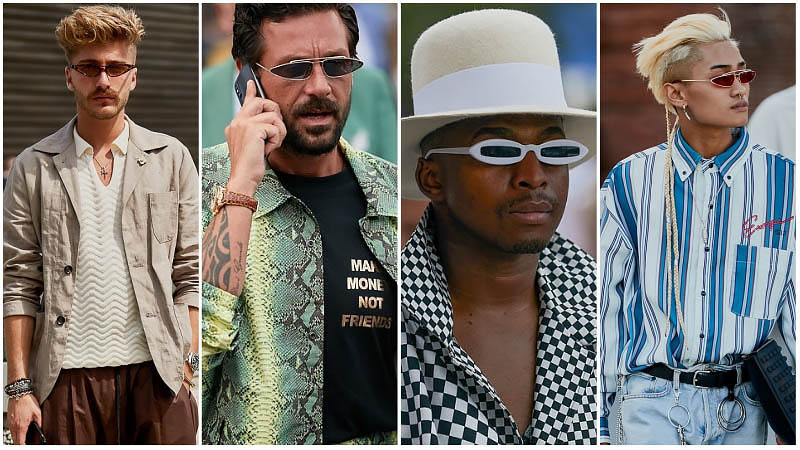 SHOP THE LOOK
10. Woven Brown Leather Loafers
When pounding the Florence pavement for Pitti Uomo this week, showgoers donned woven brown leather loafers. Paired with suits and smart trousers, these shoes provided the perfect finishing touch to a range of ensembles. To try the look for yourself, we recommend teaming a pair with a linen suit for an easygoing yet elegant appearance. Unlike traditional loafers, the woven design will add an eye-catching, textural element to your outfit.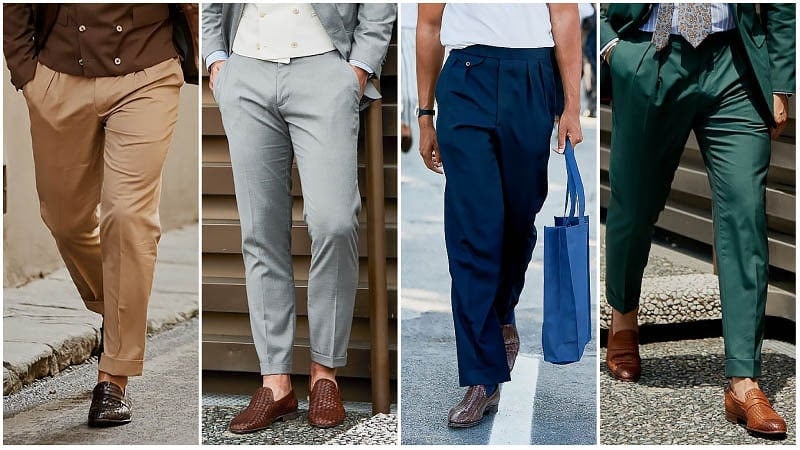 SHOP THE LOOK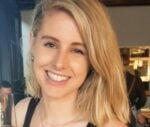 Taylah Brewer holds a bachelor's degree in fashion and business and is a skilled writer with several years of experience in the world of online content creation and copywriting. She is passionate about fashion, beauty, and all things lifestyle-related and has been writing for The Trend Spotter since 2016. She currently works as the Head of Digital & Ecommerce at White & Co.
SUBSCRIBE TO OUR NEWSLETTER
Subscribe to our mailing list and get interesting stuff and updates to your email inbox.