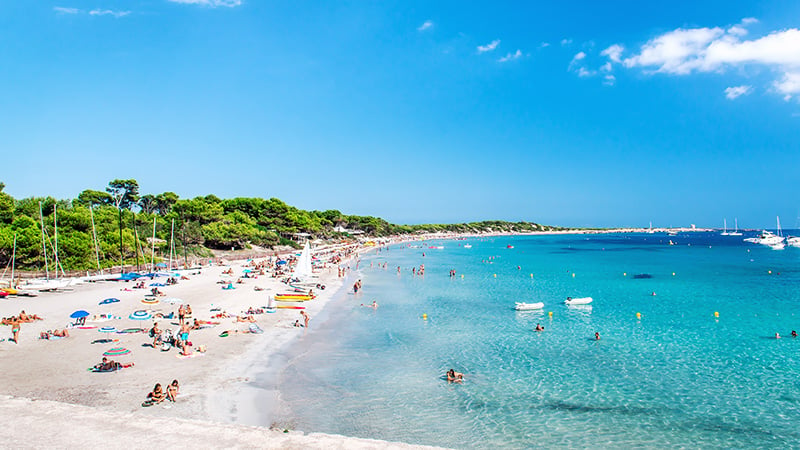 Soaking up the sun on the best beaches in Ibiza is the perfect way to spend a European vacation. While the island is renowned for its party scene, it's also UNESCO World Heritage-listed for its marine and coastal ecosystems. It sits in the middle of the Mediterranean and has over 80 beaches dotted around the coastline. As such, it offers plenty of sparkling Mediterranean water to cool off in. These amazing beaches range from hidden gems less than half a football field in length to sprawling stretches of white sand backed by promenades, luxury hotels, and quality restaurants. Many also offer excellent amenities, easy access, and stunning scenery (including breathtaking sunsets from the western beaches!). Get ready to pack your sunscreen, swimmers, and towels for a sensational seaside experience!
1. Cala d'Hort
Situated in the southwest, Cala d'Hort is one of the best beaches in Ibiza for its fantastic views. It looks across to the mysterious islet of Es Vedra, the world's third most magnetic place and rumored to be the tip of the mythical Lost City of Atlantis. Plus, being on the west coast, it offers breathtaking sunsets. The beach itself sits at the end of a steep road, with limited free street parking. It's 150 meters long, with a mix of sand and pebbles both onshore and in the water, so reef shoes are advised. You can also hire a lounge and umbrella from one of the two restaurant bars on the beach for around 30 euros. There's also a third cliffside restaurant located at the bay's northern end. Finally, the whole beach is smoke-free and offers access for people with reduced mobility.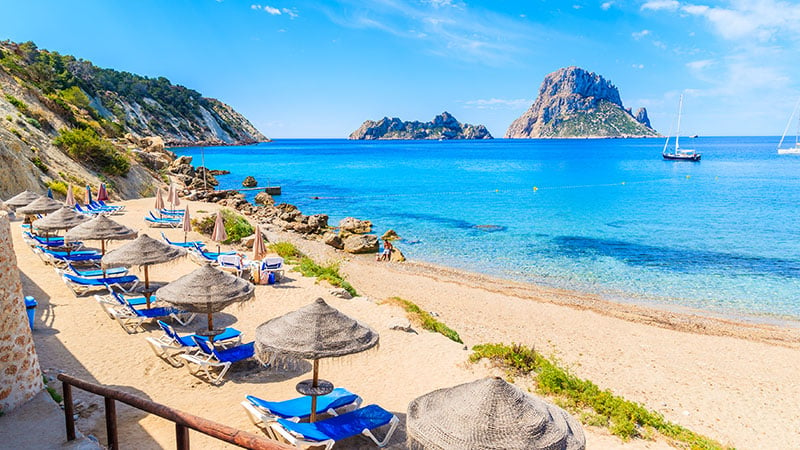 2. Cala Vadella
The whole family will love a trip to Cala Vadella. As one of the most picturesque and family-friendly beaches in Ibiza, you'll be greeted with a 275-meter stretch of fine sand and calm shallow waters in a bay surrounded by pine-clad hills. As it backs onto the resort village, there are many facilities, including bathrooms, showers, and reduced mobility access. Hire water sports equipment such as pedalos, SUPs, and kayaks. Go snorkeling or even diving with rock caves & marine life to discover, or just cool off in the clear turquoise waters. There is paid beachside parking for 3.5 euros per day, plus umbrella and lounge hire for 30 euros. The beach backs onto a range of restaurants and bars, so you're spoilt for choice when it comes to refreshments. Finally, while it does get busy, especially in summer, you'll still generally find room to settle in.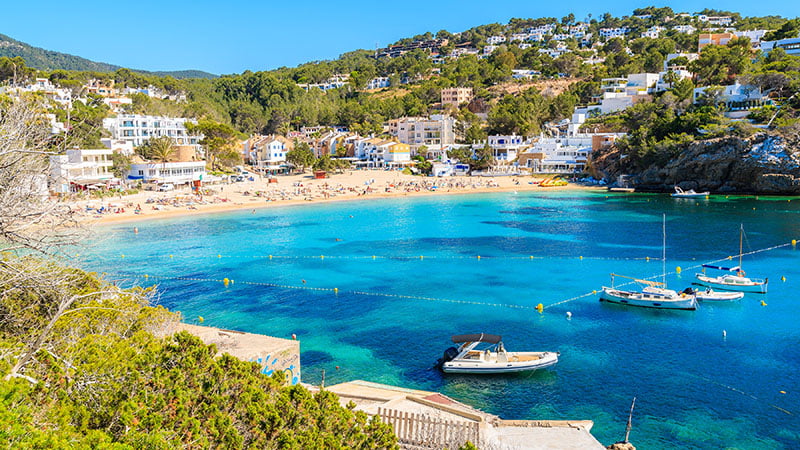 3. Platges de Comte
If you're looking for exceptional sunsets, the Platges de Comte is a must-visit. It sits on the west coast, around 20 minutes from Sant Antoni de Portmany. It's not located in a cove, so it has uninterrupted views of the sun setting below the horizon. It's a photographer's dream! This popular beach, which overlooks Illa des Bosc, does get busy in the summer but offers two stretches of fine sand and rocky shelves. The water is shallow and clear but can have waves and currents depending on the conditions. There is, however, excellent snorkeling around the rocky outcrops. Relax on a sun lounge under an umbrella for ten euros each, and parking is free but limited. There are two popular beach bars offering food, drinks, and even DJ sets into the evening, but it's best to make a reservation in advance.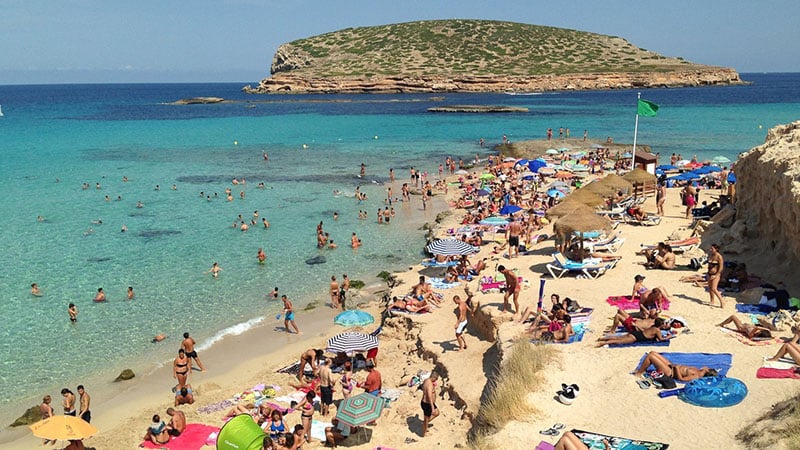 4. Cala Benirrás
Cala Benirrás is another excellent beach in Ibiza with incredible sunsets, especially on a Sunday when the locals have a drumming circle. It's located on the north shore but with a western aspect looking out of the cove. This boho beach has a chilled vibe, a mix of pebbles and sand, and plenty of water sports. Hire a kayak, pedalo, or SUP, or go snorkeling to spot marine life. The water is stunning but gets deep quickly and has submerged rocks, so bring your reef shoes. If you prefer to relax, you can hire two beach lounges and an umbrella for 21 euros. Then, when you get hungry, there are multiple beach bars and restaurants. Parking is free but gets busy early in summer. Parking is generally unavailable on Sunday due to the crowds, but there's a special bus service from Sa Plana car park near Can Curune.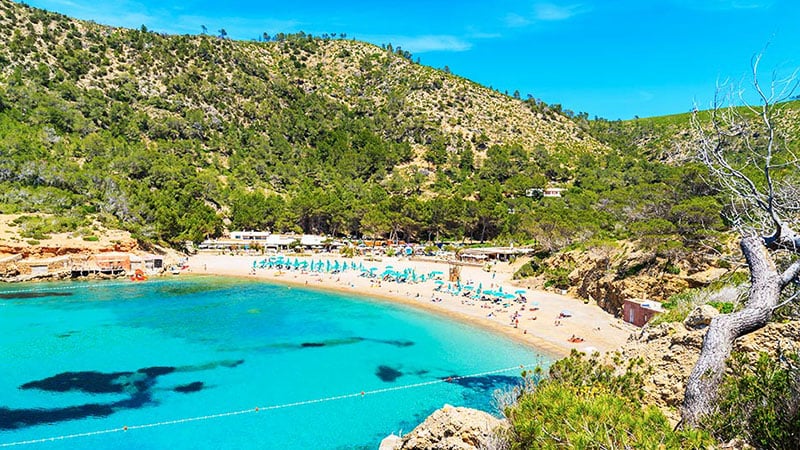 5. Platja de Cala Xarraca
Make sure you pack your snorkel & flippers when visiting Platja de Cala Xarraca. This stunning cove has some beautiful underwater rock formations that are great for exploring and spotting marine life. The striking natural surroundings are also popular with photographers and hikers. Access is by car only from Portinax, down a steep access road with limited free parking. The beach itself is a mix of sand, pebbles, and rocks and is split into three sections. The middle section is the most popular, while the smaller, secluded sections attract nudists. There's also a natural mud bath to the left of the bay that's said to have healing properties. Facilities are limited, but there is one restaurant, and you can hire an umbrella or sunbed for around ten euros each. Because this beach is more remote, it doesn't get as overcrowded as other beaches in Ibiza.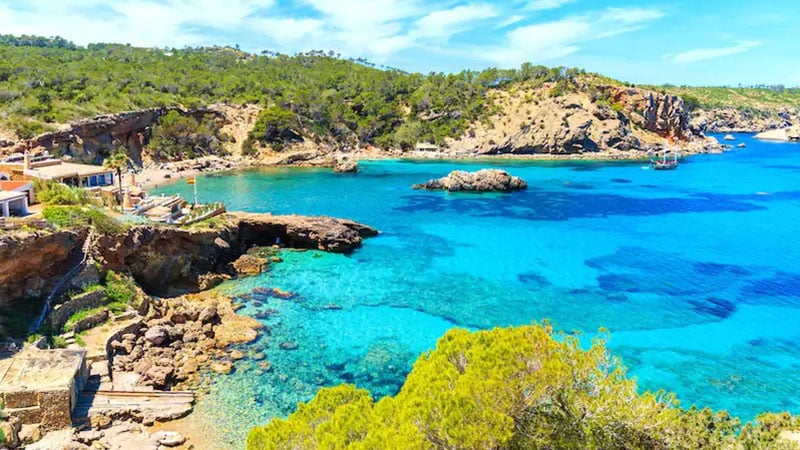 6. Cala Portinatx
The quaint resort area of Portinatx, in the northeast of Ibiza, has two sandy beaches very close to each other. One is S'Arenal Gros which is 170 meters long, and just beyond a rocky promontory is the 80-meter S'Arenal Petit. As they're both in the heart of the resort area, there are multiple parking options, plus plenty of shops and restaurants along the promenade that connects the two. You can hire two sun loungers and an umbrella for around 21 euros. Plus, there are also lots of water sports hire options such as SUP, pedalos, kayaks, and even boat hire. Other facilities include showers, toilets, disabled access, and lifeguards at S'Arenal Gros. Both are great for kids and families, with calm, clear blue waters, a gentle slope, and excellent snorkeling around the rocky shoreline. Finally, the area also has lovely scenic walks and photo opportunities.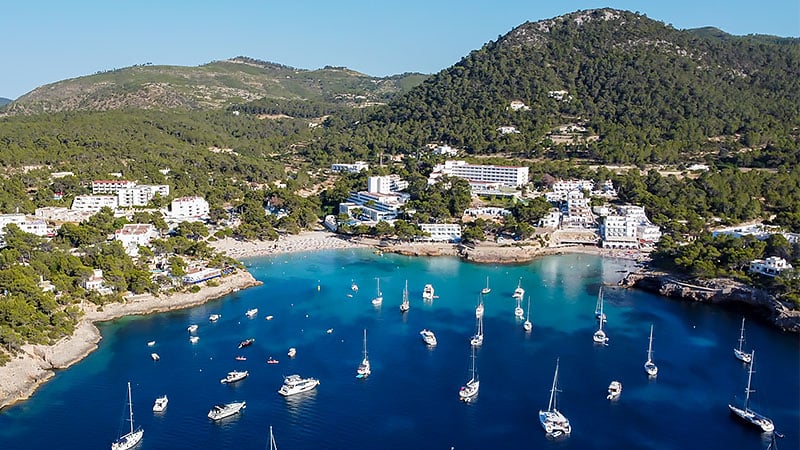 7. Cala Codolar
Not to be confused with the beach of the same name in Costa Brava, Cala Codolar is a hidden gem on Ibiza's west coast. It's located near a residential area and can be tricky to get to. It's 15 kilometers from San Antonio but isn't well signposted and is down a gravel track that arrives at a free parking area. However, once you're there, you'll be rewarded with a laid-back beach that's rarely crowded. Bring your reef shoes and snorkels, as the beach is a mix of sand and gravel, with a rocky shoreline, but the water is cool and clear with excellent visibility. There's a seasonal beach bar for snacks, drinks, and lounge and umbrella hire for around 15 euros each. As with the other beaches on the west coast, it offers spectacular sunset views, so don't be afraid to linger into the evening to watch the changing colors.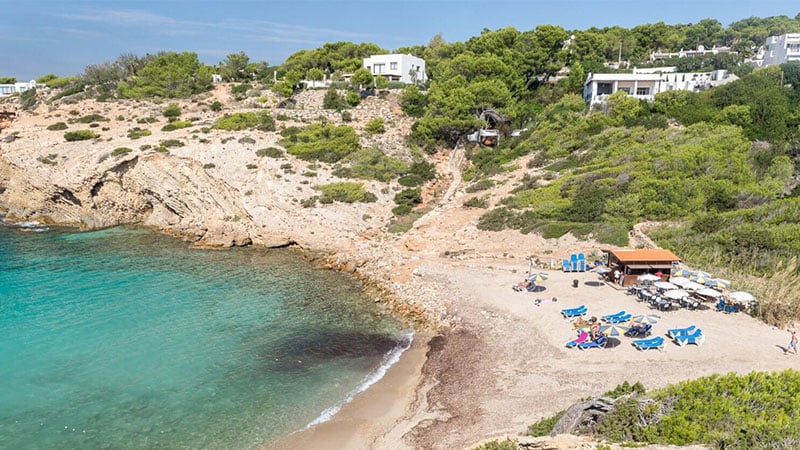 8. Cala Escondida
Just down the coastline from Platges de Comte, you'll find Cala Escondida, a tiny cove with awe-inspiring sunset views. During summer, it has a pop-up restaurant that is one of the most environmentally sensitive and sustainable beach bars in Ibiza. It offers bar bites and a cocktail menu and operates as walk-ins only. Consequently, if you want to watch the sunset with a drink in hand, arrive early. When it comes to the beach, there's a small area of fine sand, as well as rocky flats. The clear, azure water is excellent for snorkeling as there is a mix of sand and submerged rocks that the local marine life calls home. It's also more protected than Platges de Comte, so it can be better for children. However, the limited room means less space for little ones to play, and no sun bed hire facilities.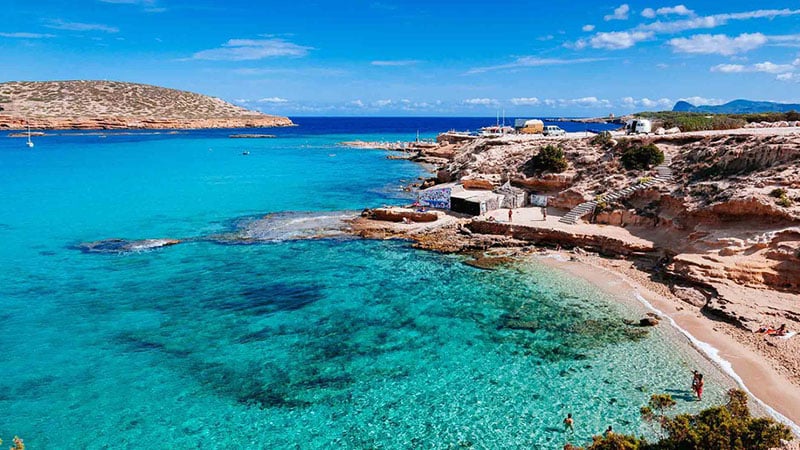 9. Cala Gració
If you're staying in San Antonio, ditch the car and take the 15-minute walk to the beautiful Cala Gració. The distance helps keep crowd numbers lower; however, if you do drive, there is limited parking for a small fee or free for restaurant customers. Cala Gració is great for children, as the sand is soft and the water has a gentle incline. The deep cove also provides protection from big waves and strong currents. In summer, there is access for people with reduced mobility and lifeguards on duty. You can hire a beach umbrella and lounge for 21 euros and grab snacks and drinks from the summer kiosk. There's also a restaurant and bar for fresh seafood and beer. Venture a little further around the coast, and you can visit the smaller, even more secluded sister beach of Cala Gracioneta.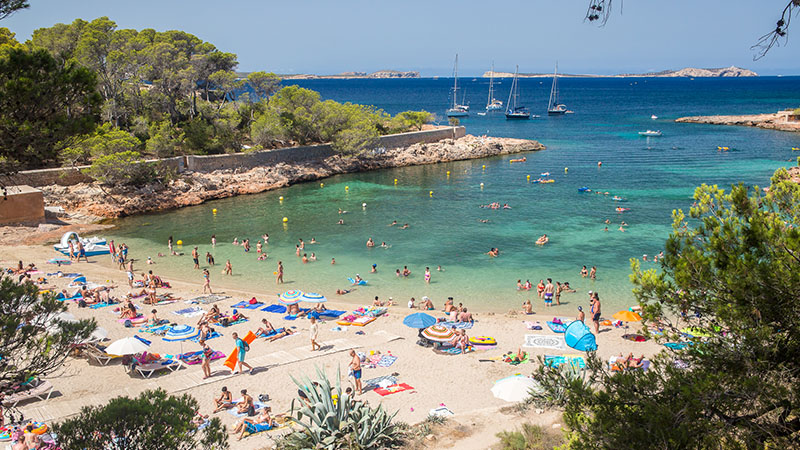 10. Cala Salada
North of San Antonio, you'll find the beautiful bay of Cala Salada. It's home to two of the best beaches in Ibiza – Cala Salada & Cala Saladeta. They're both a mix of soft sand and pebbles, separated by a stretch of rocky sea cliffs. Meanwhile, the beautiful water is clear and turquoise with a primarily sandy seafloor, which is perfect for a refreshing swim. It also has a gentle slope that's great for kids. Parking is limited and controlled in the peak season, but you can take a shuttle from the park and ride in nearby Can Coix. Sun lounge and umbrella hire are available for seven euros each, and there's a restaurant at the main beach, with snack vendors at the smaller one in summer. Finally, if you feel like delving into history, The Caves at Ses Fontanelles are nearby, which are home to Bronze Age cave paintings.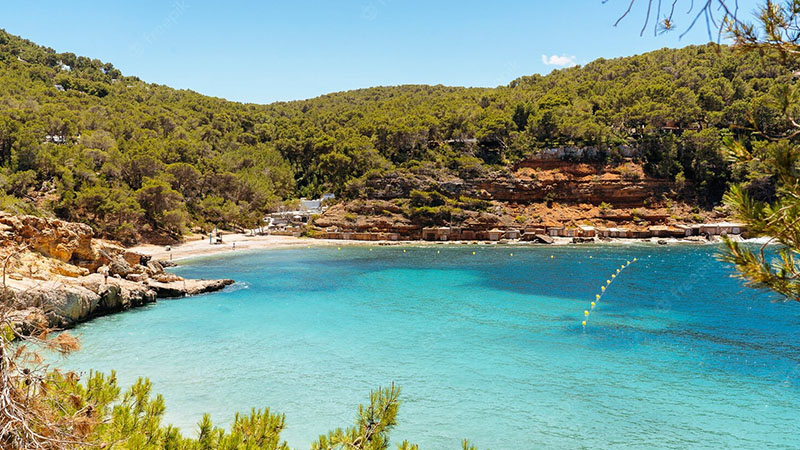 11. Platja de Ses Salines
Platja de Ses Salines, near Ibiza Town, is the place to be seen. This 1,500-metre stretch of fine white sand is one of the most popular beaches in Ibiza. It boasts crystalline blue water with an energetic, party vibe thanks to the many beach clubs, restaurants, and bars along the sand. Some even offer beach service, so you can hire a double sunbed and umbrella for 50 euros and enjoy a refreshing drink. Kids will also enjoy the shallow water with gently sloping seabed and water sports. Access is simple, with plenty of covered parking right behind the beach for just seven euros per day. Keep in mind that there is a lot of music and wandering vendors selling various wares, so it's not the best choice for a quiet escape. However, the beach's southern end is a bit more peaceful but is also popular for nude bathing.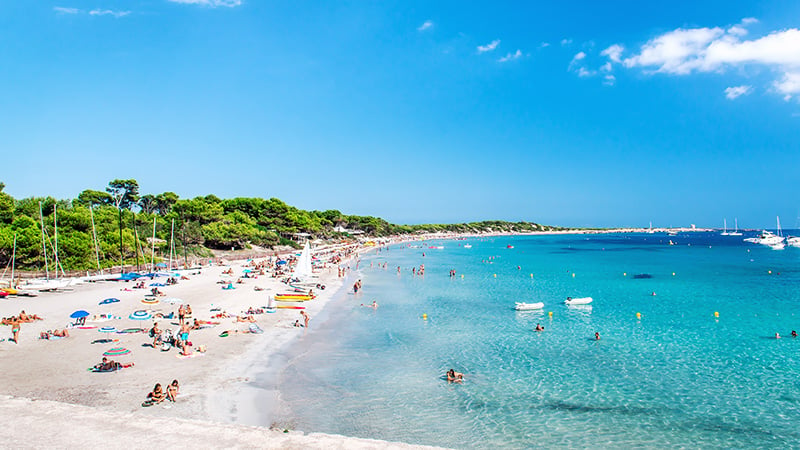 12. Cala de Sant Vicent
Escape the overcrowded beaches of Ibiza with a trip to Cala de Sant Vicent. Located in the northeast, it's a large swathe of golden sand that slopes gently into stunning azure waters. It's popular with families as it's considered one of the safest beaches, although it can get choppy on windy days. It also has excellent limited mobility access. You can hire sunbeds for eight euros per day, but unlike some other beaches, they're well-spaced, and there's still room if you want to just put a towel down. The beach backs onto a pretty, traffic-free promenade that has an array of restaurants, bars, a couple of hotels, and a supermarket. As such, you'll be spoilt for choice when you get hungry. Finally, parking is also easy, with large, free spaces at each end of the beach.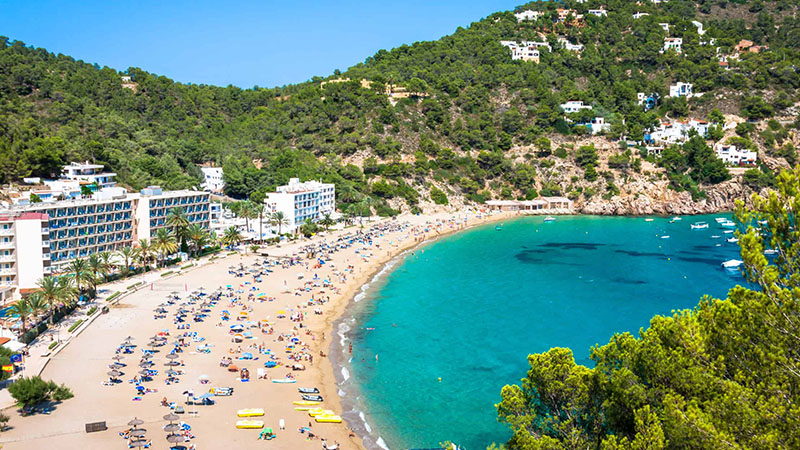 13. Cala Tarida
There's heaps of room to spread out on the 900 meters of golden sand at Cala Tarida, one of the best family beaches in Ibiza. Situated in a built-up area with resorts, it's a popular destination with great amenities. There is a range of water sports such as SUP, kayaks, and a diving center, plus an array of shops, restaurants, bars, and a beach club to indulge in a drink or delicious meal. You can hire sunbeds and an umbrella for 40 euro and the beautiful clear waters are ideal for swimming. One end has a gentle slope and shallow water that's ideal for kids, while the other is rockier and deeper. There's also a smaller, more secluded cove that's popular with nudists. Plus, parking is free though it does fill up early in the peak season.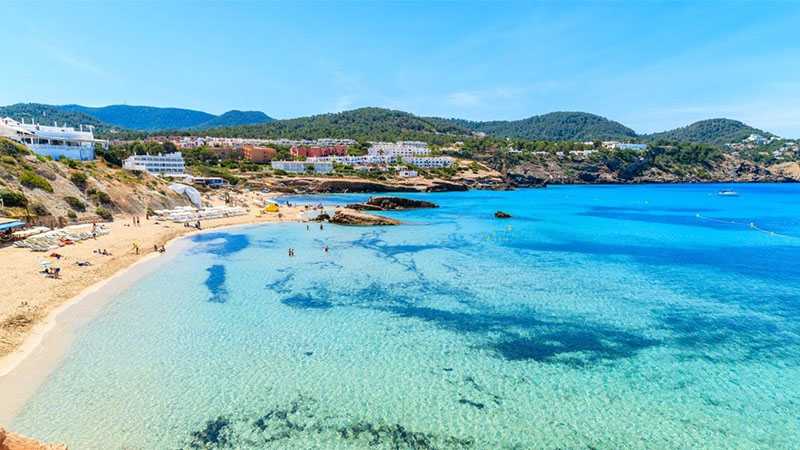 14. Platja des Figueral
Platja des Figueral has something for everyone. Located in a resort village on the east coast, there are several all-inclusive hotels nearby, as well as restaurants and bars. As such, there's some excellent limited mobility access to the beach and amenities such as wheelchair-accessible bathrooms. The soft sand and shallow turquoise waters are welcoming for families, though the beach and seabed are a little rockier on the left. You'll also find people practicing nudism as they soak up the sun. You can join an array of watersports such as SUP, pedalos, and kayaks, or simply relax on a sun bed under an umbrella for ten euros each. Parking is free with street spaces and a sandy lot close to the beach.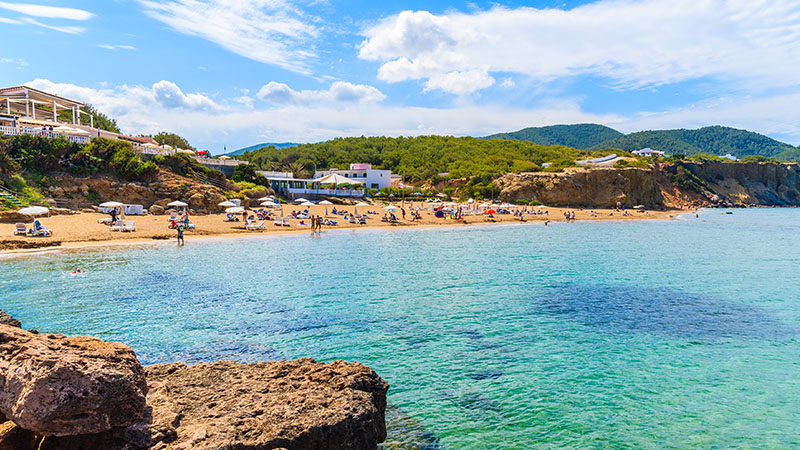 15. Playa Niu Blau
Around halfway between Santa Eulalia and Es Caná, you'll find Playa Niu Blau. This flat beach stretches for 100 meters, and you can walk there from either of the aforementioned towns. Alternatively, you can drive and park for free; however, space is limited. The mix of fine sand and pebbles is fringed by verdant green pine trees, with an estuary running to the sea at one end. There are a couple of restaurants for refreshments plus a sun lounge and umbrella hire for approximately 10 euros per day. The crystalline waters beckon and are family-friendly, with few waves or strong currents. However, it does have a combination of sand, boulders, and rocks on the sea bed, so reef shoes are a good idea.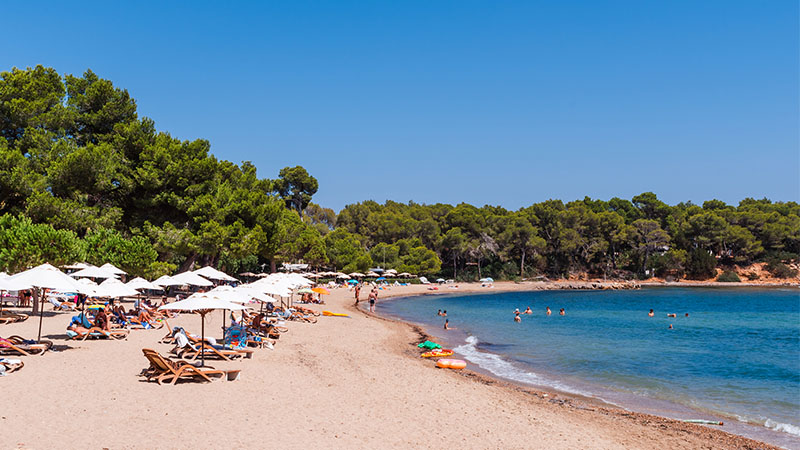 16. Playa De Santa Eulalia
Relish the relaxed atmosphere of Playa De Santa Eulalia, the main beach of the resort town Santa Eulalia. It's a family-friendly destination with fine white sand and a gently sloping seabed that provides perfect swimming for beachgoers of all ages. Access is easy from anywhere as it sits right in front of the town and is backed by a palm-lined promenade. There's also free parking if you're driving from a nearby resort. Opt into an array of water sports such as sailing, kayaking, SUP, pedalos, or simply sunbathing on a beach lounge. Then, pick from any number of restaurants and bars along the waterfront. At one end of the beach, you'll also find a marina, then at the other, Platja des Riu de Santa Eulalia – another stunning urban oasis. Finally, this beach in Ibiza is also ISO certified for environmental management and universal accessibility!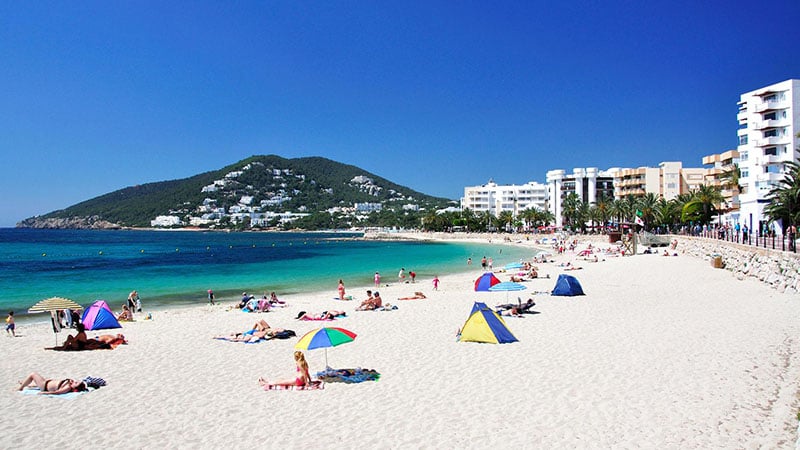 17. Cala Llonga
If you're looking for a family-friendly beach with lots of facilities, Cala Llonga is the perfect pick. This lovely beach with soft white sand is 180 meters long and 100 meters wide, with plenty of space to spread out. It's located a short drive from both Santa Eulalia and Ibiza Town with free street parking, plus ferry and bus access. The crystal-clear cerulean waters are welcoming, with a gently sloping seabed that's perfect for kids. There's also a playground, fitness equipment, and a promenade. You can hire a pedalo, as well as beach lounges and umbrellas for around ten euros each. Having worked up an appetite, wander over to one of the several nearby restaurants and bars for refreshments. Of course, you could also opt to extend your trip and stay at one of the local hotels that make up this stunning beach resort in Ibiza.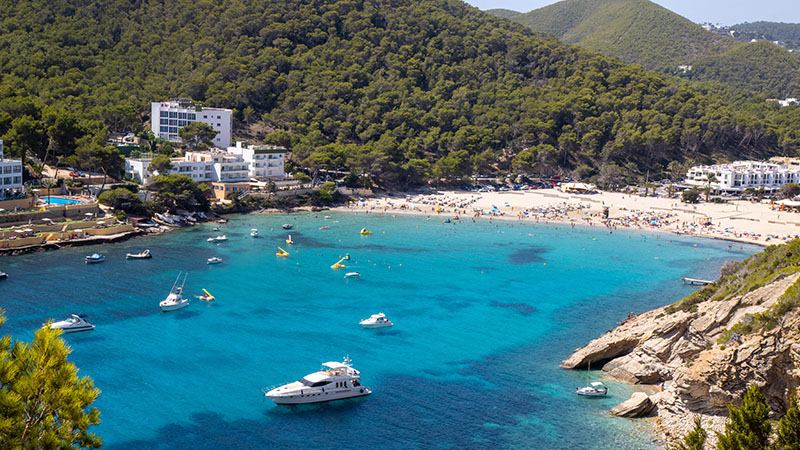 18. Cala Olivera
Depart the beaten track and take a dirt road drive down to this hidden beach. Cala Olivera is a tiny and secluded gem measuring just 30 meters by ten meters. The beach consists of sand, pebbles, and rock, as does the seabed, so don't forget your reef shoes. In the high season, there's a quaint beach bar serving cold beer, wine, and fresh seafood; however, that's all the amenities available. As such, it doesn't draw such large crowds, so it's perfect for relaxing in the sun and is a favorite of nude sunbathers. Like most beaches in Ibiza, the water is a stunning clear blue, and there are rock shelves you can (carefully! – always check the depth) jump off. Parking is by the side of the road and free.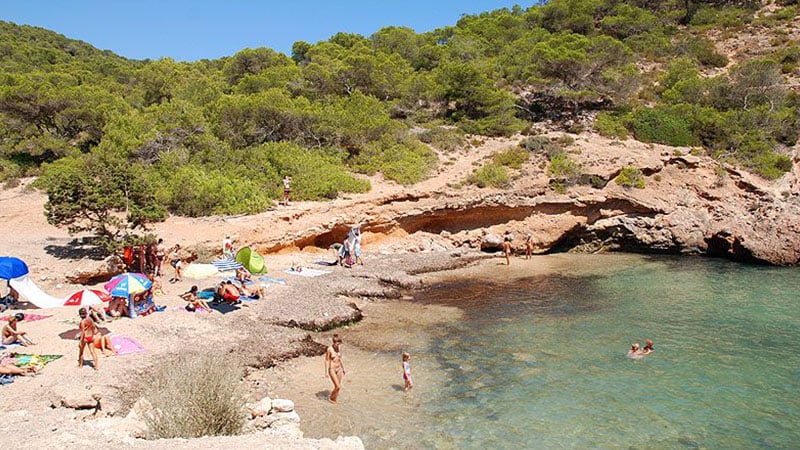 19. Playa de Talamanca
Escape some of the excitement of Ibiza Town with a trip to Playa de Talamanca, just a few kilometers east. This 900-meter stretch of soft sand has a wooden walkway most of the way along. It also has a series of hotels, restaurants, and bars mixed with natural plots of land. The former offer great lunch, drinks, or even dinner options, and some are also open year-round, making this an excellent destination for winter walks in the sun. Other amenities include free parking at the western end, sunbeds and umbrellas for hire (ten euros each), and public bathrooms. There is also limited mobility access. The seabed slopes gently for the first few meters with a fine sandy bottom. However, there are seagrass beds along most of this beach, so swimming deeper isn't as desirable, and it can wash ashore in certain conditions.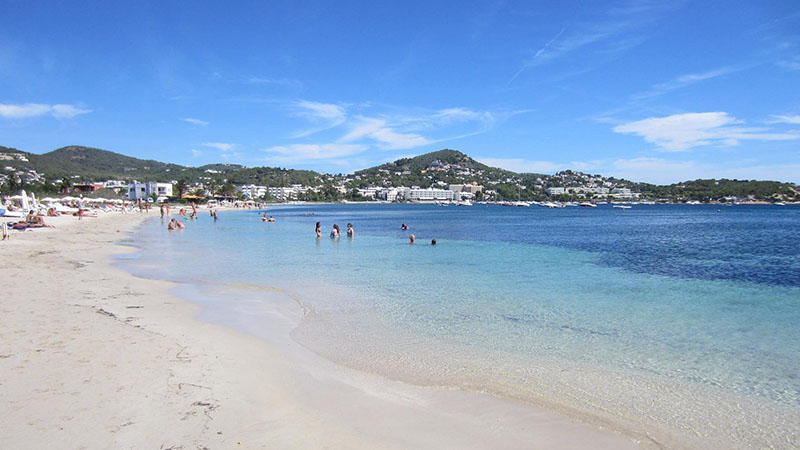 20. Platja de ses Figueretes
Platja de ses Figueretes sits in the heart of the resort of Figueretas. It's close to Ibiza Town, and you can walk there in just 15 minutes. If you drive, though, there is plenty of street parking. The beach is sandy and divided by rocky piers, which allows calm swimming during the day and excellent fishing at night. They also act as ferry stops for party and tour boats. During the day, you can hire a beach umbrella and sun loungers for around 30 euros or partake in water sports such as kayaking and SUP. The water is refreshing, but there are seagrass beds as you get deeper. Along the top of the beach runs a luxurious, palm-lined promenade that backs onto a range of hotels, restaurants, and bars. The area really comes alive at night as vendors set up night markets and the restaurants fill with diners.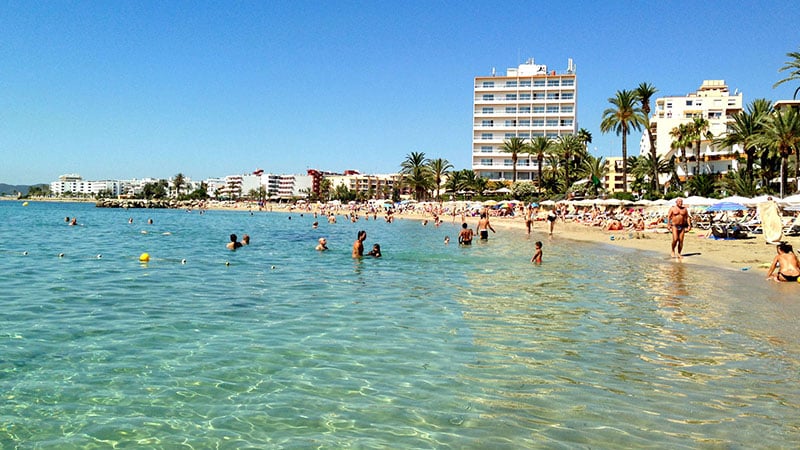 Fun Ibiza Activities
Best Ibiza Beaches FAQs
Which part of Ibiza has the best beaches?
There are lovely beaches the whole way around the island of Ibiza. However, if you want something truly exceptional, the beaches on the west coast, such as Cala d'Hort, Cala Vadella, and Cala Benirrás, offer breathtaking sunset views. It's the perfect end to a day soaking up the sun in paradise. 
Are there nice beaches in Ibiza?
There are some really nice beaches in Ibiza. They range from a few hundred meters to only a couple of dozen meters long, with various outlooks and views. Some have fine, soft sand, while others are rocky and surrounded by rugged cliffs. One thing most of them have in common is stunning azure waters that just beckon you to cool off from the summer sun. Keep in mind that many beaches in Ibiza (like most beaches in Europe) are seasonal, with amenities such as beach bars only open in the peak summer season to cater to the increase in both international and local tourists.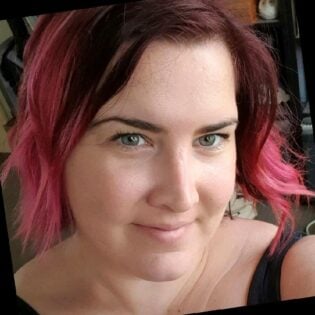 Alexandra Linde is an experienced writer holding a bachelor's degree in Journalism. She is the owner of Alexandra McKiterick Creative and has expertise in travel, fashion, fitness and lifestyle. Alex has previously written for Flightcenter, Travello, and Backpacker Deals.
SUBSCRIBE TO OUR NEWSLETTER
Subscribe to our mailing list and get interesting stuff and updates to your email inbox.