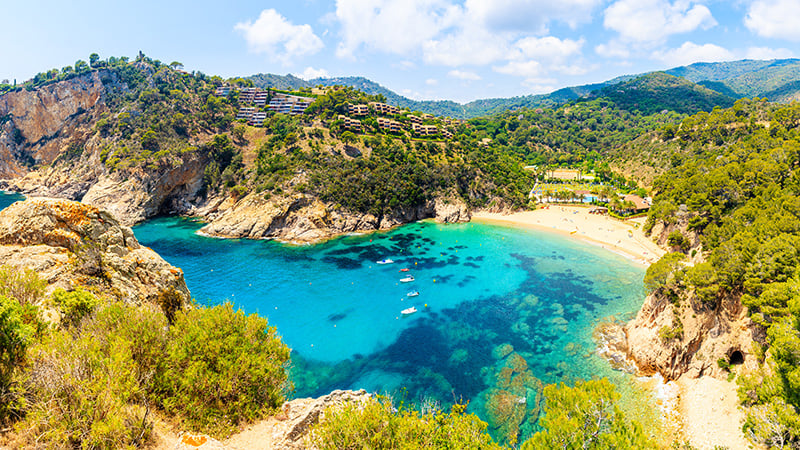 The beaches in Costa Brava make the perfect European summer getaway. You'll be welcomed by clear waters in every shade of blue and green, rugged coastlines, quaint villages, and plenty of sunshine. The region extends along the northeast coast of Spain in the Catalonia region. It starts in Blanes in the south running up to Port Bou near the French Border. Along the coast, you'll find plenty of bays and coves with beaches tucked between cliffs. Alternatively, long stretches of sand provide space to relax and soak in the sun. The towns along this part of Spain vary from quaint and traditional hamlets to bustling resort cities with luxury hotels. As such, there's something to cater to every holidaymaker's tastes!
1. Playa Santa Cristina
The turquoise waters of Playa Santa Cristina are roughly halfway between Lloret de Mar and Blanes and are easily accessed by car. There's parking onsite for a daily fee of around eight to ten euros, with a dirt track from the parking lot to the beach. Keep in mind that there are some steep sections, so it can be a slightly tricky walk. With a long 450-meter expanse that's up to 40 meters wide, there's plenty of space to relax, though it still gets busy in the peak season. Hire a beach umbrella or sun lounger for around seven euros each, or enjoy a meal at a nearby restaurant. Finally, the water has a gentle slope, is protected from big waves, and offers excellent snorkeling, so it's great for families. When swimming, keep an eye out for the hidden image of Santa Cristina hidden on the sea bottom!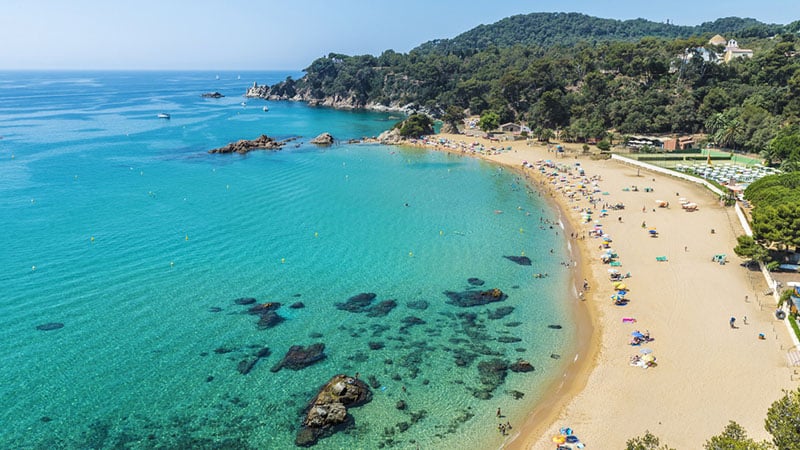 2. Cala Treumal
Situated right next to Playa Santa Cristina is Cala Treumal, one of the best beaches in Costa Brava. It's a smaller cove featuring soft sand, wild vegetation, and rocky surrounds. You can access it via the nearby parking lot (around ten euros per day) or by walking along the sand from Santa Cristina and through a rocky formation. It's smaller than its neighbor, stretching 200 meters long, but with the same gradually sloping beach and clear turquoise waters. As such, it's excellent for families with protected swimming and snorkeling. However, like many European beaches, it gets busy during summer, especially in August and on weekends. Facilities include a beach bar serving food, umbrella and sun lounge hire (around seven euros each), and showers to rinse off.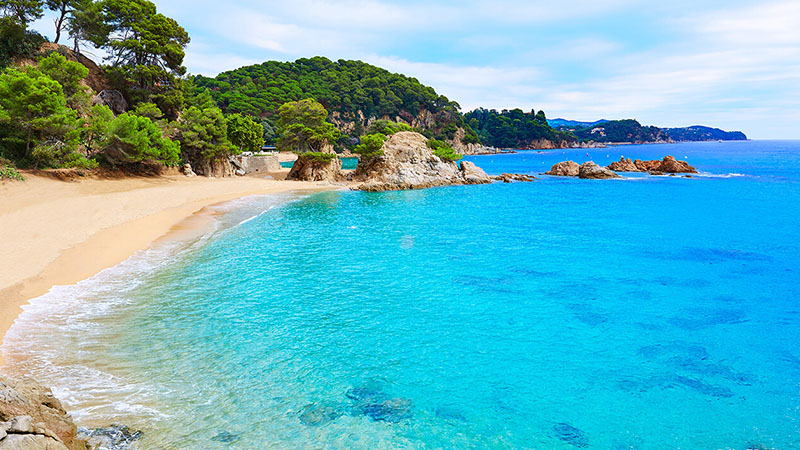 3. Cala Boadella
If you're looking for a more secluded beach near Lloret de Mar, the Cala Boadella is an excellent option. Located near the Jardins de Santa Clothilde, it's tucked beneath a rocky, pine-covered escarpment with two sections separated by a rocky outcrop. This beautiful cove boasts deep, crystalline water, soft sands, and marine life, making it great for snorkeling, swimming, and sunbathing. Access is via a dirt track that's quite steep, so it can be challenging and is not recommended for strollers or people with mobility issues. There's only street parking available, and during the peak season, it gets quite busy. However, in summer, there's a beach bar serving food, plus showers and toilets year round. While this Costa Brava beach is traditionally a nudist location, it still welcomes textile visitors.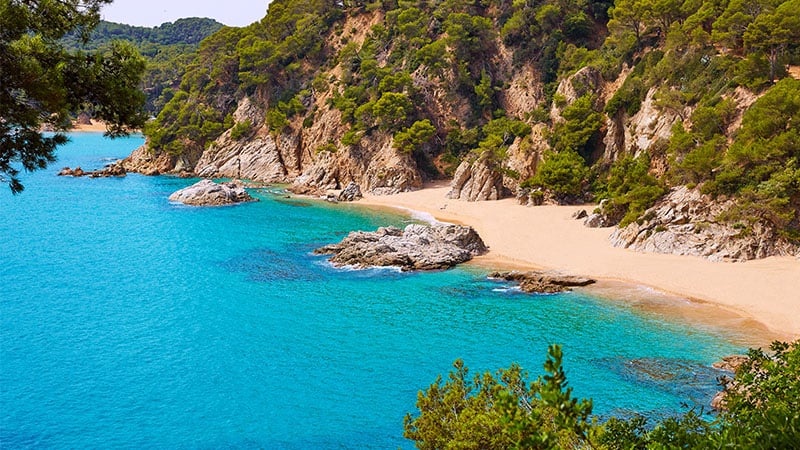 4. Playa de Fenals
Playa de Fenals is one of the main beaches close to Lloret de Mar in Costa Brava. It's the second largest beach in the area, stretching 700 meters long with coarse sand. Access is easy as it's within walking distance to many hotels, has street parking nearby, and a boardwalk along the top. As an urban beach, it has plenty of facilities. This includes wheelchair access, restaurants, umbrella and sun lounge hire (seven euros each), bathrooms, and activities such as kayaking or pedal boats. Combined with the azure waters, this beach is popular with families and couples. Once in the water, it can have a steep slope but is also great for snorkeling with marine life around the rocky areas. During the peak of summer, it can still get crowded especially being so close to the tourist area.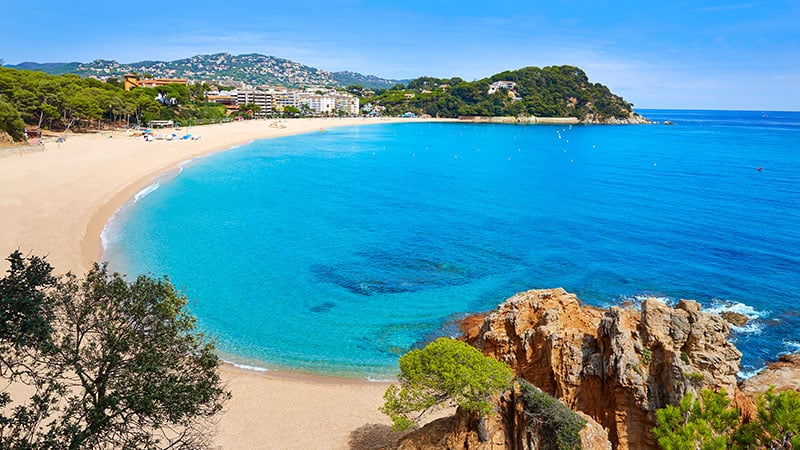 5. Platja de Canyelles
Located in a residential area of Costa Brava is Platja de Canyelles. This protected cove has coarse golden sand, turquoise waters with a shallow slope, and plenty of facilities. This includes bathrooms, showers, a playground, an accessibility boardwalk, a beach bar, a nearby restaurant, water activities, umbrella hire, plus the only marina in Lloret de Mar. Some of these are seasonal and only operate during the summer months. You will need a car to get here, and it's a 10-minute drive from Lloret de Mar. There is limited free parking in the off-season, plus paid parking (20 euros). The rocky area to the northeast is excellent for snorkeling, while the 450-meter-long stretch of sand is perfect for soaking up the sun. It gets busy in summer but is generally less crowded than other beaches in the area.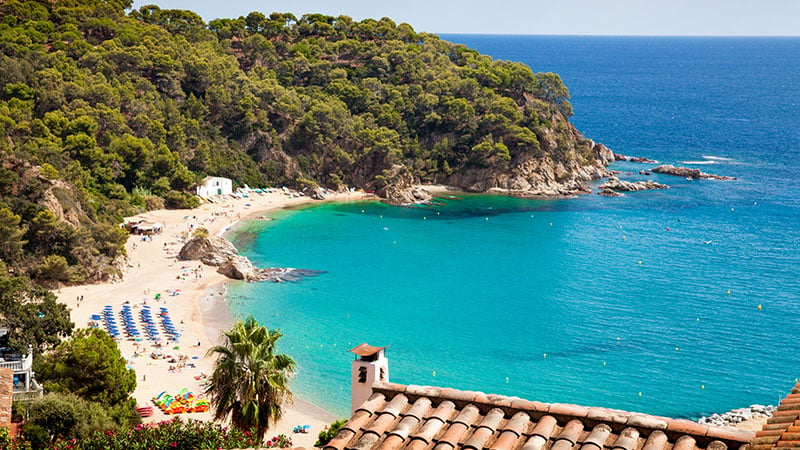 6. Cala Es Codolar
You'll find Cala Es Codolar in Tossa de Mar, nestled beneath cliffs and the 12th-century Muralles de Tossa de Mar. This small cove has a mix of coarse sand and pebbles, so hire a sun lounge and umbrella from the local vendor (seven euros). The clear waters are great for swimming, with schools of fish hanging around the submerged rocks. You'll need to take the stairs to get to the beach, so it's not as accessible for strollers or people with mobility limitations. There is also no parking nearby, so you'll have to walk through the old town to get here. This can mean fewer crowds, though it's still busy and fills up early in the peak of summer. Finally, during the high season, there is a beach bar for drinks and ice cream so that you can enjoy a sweet treat between swims.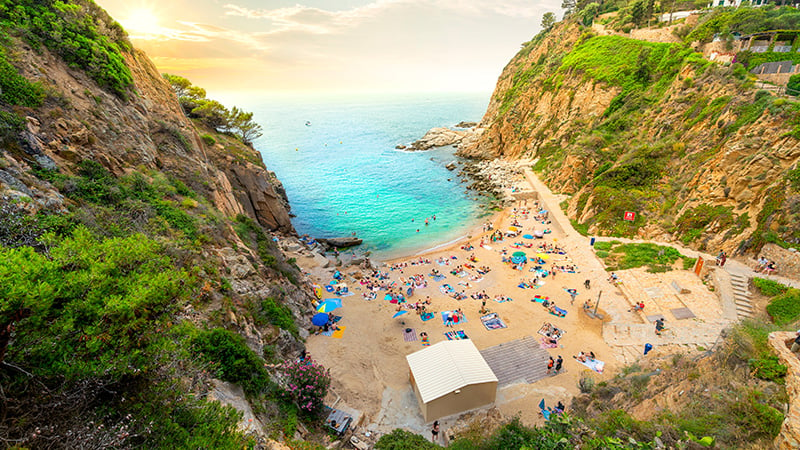 7. Platja Gran
The main beach of Tossa De Mar, in Costa Brava, is Platja Gran. It's located in the city and within walking distance of most central hotels. At one end is the medieval old town and a promenade runs along the top. This urban beach has plenty of facilities, including beach chairs and umbrella hire (seven euros each), showers, toilets, wheelchair access ramps, and water activities. If you're coming from out of town, there is paid parking for around 4 euros per hour. The sand is coarse and pebbly, while the slope into the water is quite steep, so it may not be great for small children. However, there is plenty of room, with the beach spanning 350 meters long and up to 75 meters wide. When you get hungry, there are numerous restaurants and bars on the promenade for a drink and meal.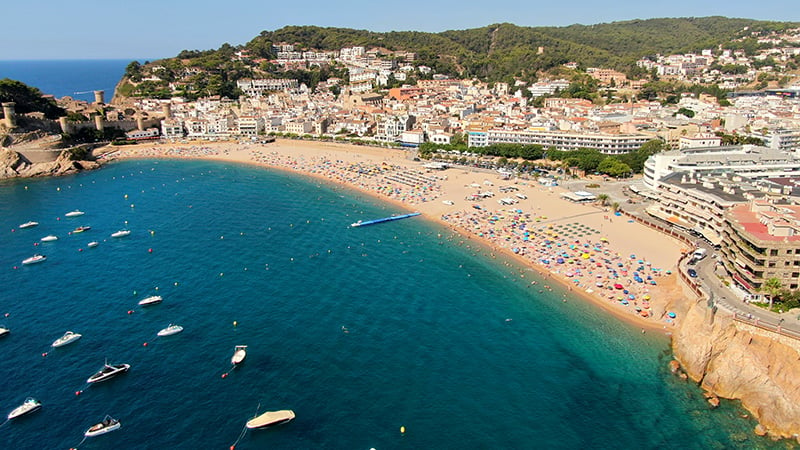 8. Platja Mar Menuda
Slightly away from the center of Tossa de Mar is Platja Mar Menuda. This coarse sand beach is popular for families as it offers excellent snorkeling with abundant marine life around the point. There is quite a steep drop around one meter off the shore, so it's not as suitable for small children. However, there is shallower, protected water near the rocks at the eastern end. Make use of umbrella and sun lounge hire for around seven euros, grab a drink from the beach bar, or enjoy lunch at one of the nearby restaurants. There are also showers, boat rental, and even a scuba diving school. The proximity to the city center means it does get busy, especially on the weekend in summer. Finally, it's walking distance from most hotels; otherwise, there's paid parking for 27 euros for a full day.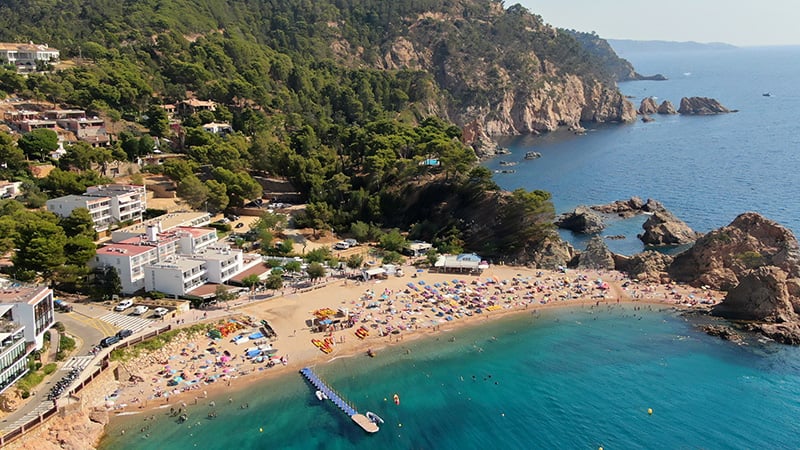 9. Cala Bona
Stretch your legs with a hike to Cala Bona. This tiny, rocky cove is three kilometers north of Tossa de Mar and offers beautiful views from the cliffs. There's very little sand, but you can set your towel up on the rocks while you swim in the clear, cool water. Being so small, services are limited, so there's no umbrella hire or parking, but there is a bar serving drinks and food in the high season. While the waters are shallow, there's not a lot of room to play, and boats often anchor up nearby, so it's not the best choice for families. Early morning is the best time to visit to avoid the crowds, but it's also great in the late afternoon or evening.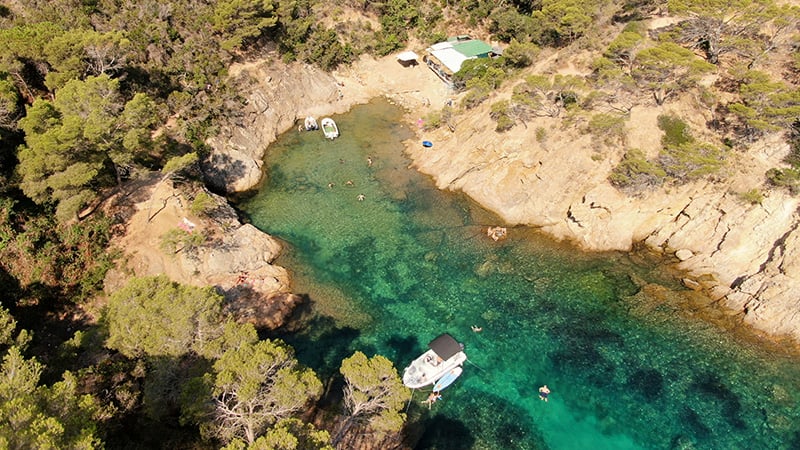 10. Cala Pola
Continue a couple of kilometers further along the coast from Cala Bona, and you'll find another small cove – Cala Pola. It's beautiful, with clear waters and coarse sand nestled into the coastline. The water does get deep fast, so it's not ideal for small children but great for adults. Access can be a little tricky; however, it still attracts crowds in summer. There's a nice hiking trail that takes an hour from Tossa de Mar or very limited parking on the road with a 10 to 15-minute walk down some stairs or through the campsite. Like other coves and beaches in Costa Brava, it's a popular boat mooring spot for day trippers, so the water gets busy. The facilities are limited, so bring your own snacks and umbrellas.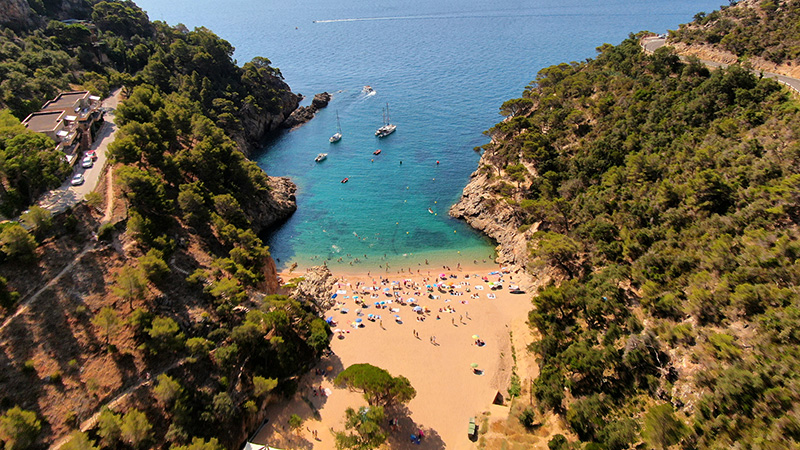 11. Cala Giverola
Discover the natural beauty of Cala Giverola. This beach in Costa Brava is tucked into the coastline around six kilometers northeast of Tossa de Mar. It's just under 200 meters long and 25 meters wide, with coarse sand and clear waters. The sea gets deep fast, so it's best if you're a strong swimmer. There is parking onsite, though it is comparatively quite expensive (20 euros). However, it's only a short walk to the beach from the parking lot, which is helpful as you need to take your own umbrellas, towels, or lounges, as there's no hire facility. An alternative to arriving by car is hiking or taking a glass-bottom boat tour from Tossa de Mar, which drops you off for the day. When you're not swimming, enjoy a meal or a drink from one of the restaurants or the beach bars.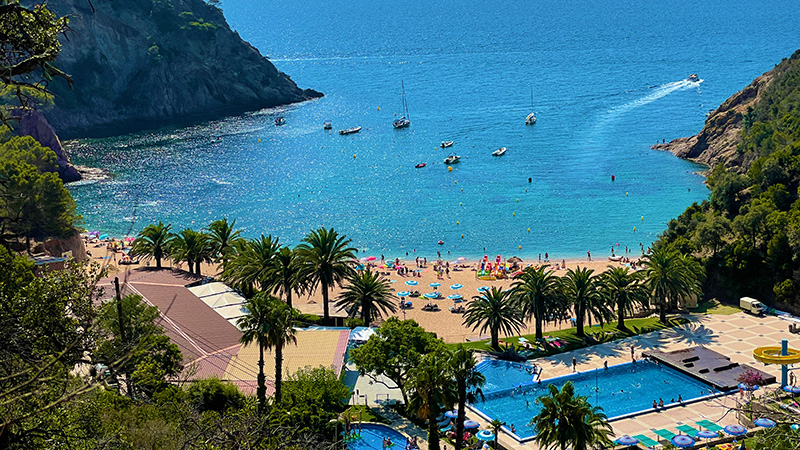 12. Cala Futadera
Across the headland from Cala Giverola is the stunning, barely touched beauty of Cala Futadera. It's known as the cove of 300 steps, thanks to the somewhat precarious descent to the sand. However, it's worth the effort. The small stretch of coarse sand is surrounded by pine trees and rocks, while the stunning clear waters run through many shades of blue. Because it's one of the more challenging beaches in Costa Brava to access from land, you'll instead see plenty of boats moored in the calm waters, taking advantage of its remote nature. Nudity is also acceptable here. At the peak of summer, though, it can get quite crowded with determined beachgoers. There are no facilities, so you'll need to take your own snacks, umbrellas or towels. The parking is also limited to road shoulder parking, and it's quite a distance to get onto the sand.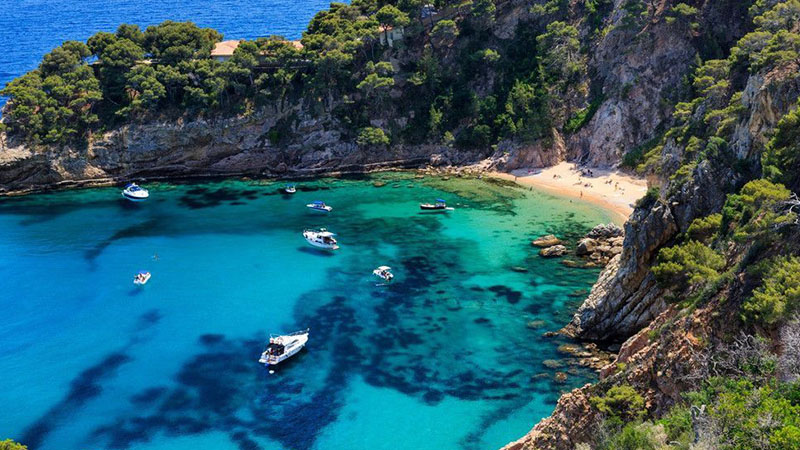 13. Cala del Senyor Ramon
If you're looking for a beach in Costa Brava that's off the tourist track, then Cala de Senyor Ramon is ideal. It's not very tourist-focused or crowded and permits nudity so you can soak up the sun without the tan lines. Access is difficult as the coarse sand beach backs onto cliffs, and the access trail is steep. As such, it's not well suited for families with children or people with mobility issues. There are also occasionally temporary closures to the trail due to rock falls, so always check before you go. Bring your own towels, umbrellas, and lunch, as there are no facilities or parking. However, you will be rewarded with stunning blue waters and plenty of room to relax and enjoy the coastal beauty.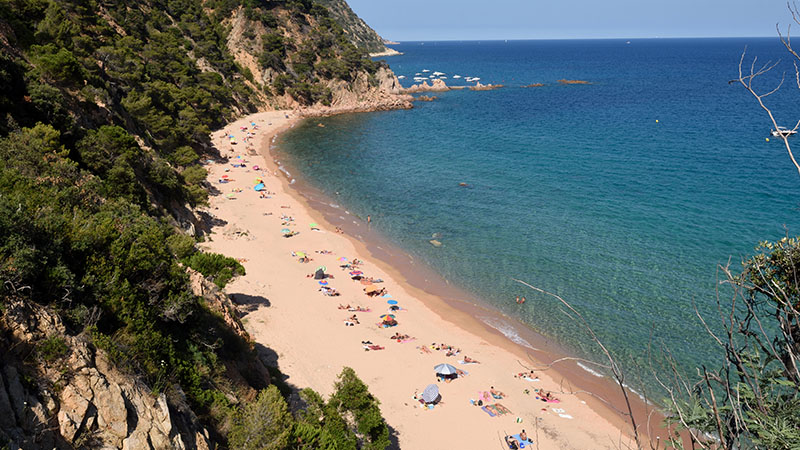 14. Cala Sa Conca
Situated in a primarily residential area is Cala Sa Conca. This stunning 400-meter stretch of beach in Costa Brava is split in two, with a rocky islet in the middle. Both have coarse golden sand; however, one has more rocks on the seabed, making it a brilliant destination for snorkeling – remember to pack your goggles! The water does get deep quickly, so be wary if you're traveling with small children. Parking in the area is restricted, but you can take the beautiful coastal walk along the Cami de Ronda from the more touristy area of San Pol. It's a roughly 30-minute walk along a paved promenade with stunning views. Finally, because it is a residential area, there are no facilities such as bathrooms, umbrella hire, or watersports, but there is a beach bar in the warmer months.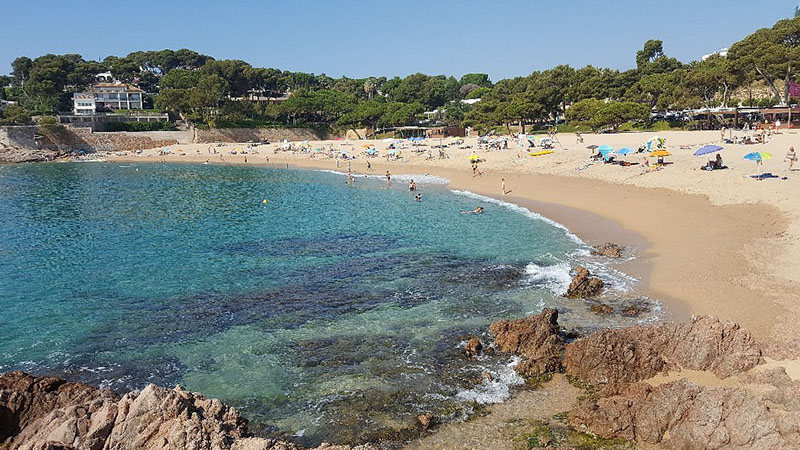 15. Cala Cap Roig
One of the many beautiful coves that sit along the Costa Brava includes Cala Cap Roig. It's around two kilometers north of Platja D'Aro and can be accessed by foot along the Cami de Ronda coastal trail. If you're arriving by car, there is also limited free parking along the Platja d'Aro road to Calonge-Sant Antoni. The coarse sand beach takes on a reddish hue from the islet that splits the beach into two distinct parts. In the water, you'll be greeted by a rocky seabed that makes for great snorkeling, but it's best to wear reef shoes to protect your feet. Cap Roig is a relatively uncrowded beach, and the only facility available is a beach bar in summer. If you're staying in the area, try to get down to the sand for sunrise, as the views here are extra special.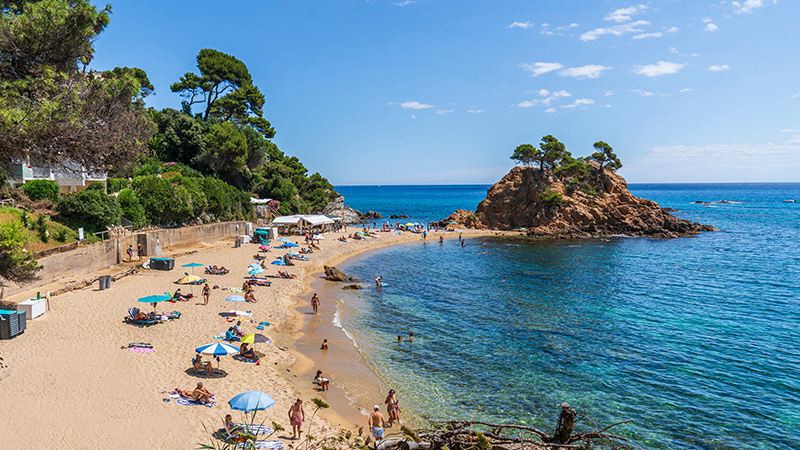 16. Platja Torre Valentina
Platja Torre Valentina is an urban beach that takes its name from the 16th-century watchtower that looks out over the coast from the headland. It consists of several manmade breakwaters that create calm and peaceful lagoons for safe swimming. The beach is primarily coarse sand, with some gravel and a smooth, gradual slope into the turquoise water suitable for families. As it's in the heart of Sant Antoni de Cologne, there is a beautiful promenade along the top with hotels, shops, and restaurants within a very short walk. If you're driving from out of town, there's a mix of paid and free parking on the street or in designated lots. You can also arrive by foot on the Cami de Ronda. Even though it's the town's main beach, there's plenty of room, and most of the time remains uncrowded.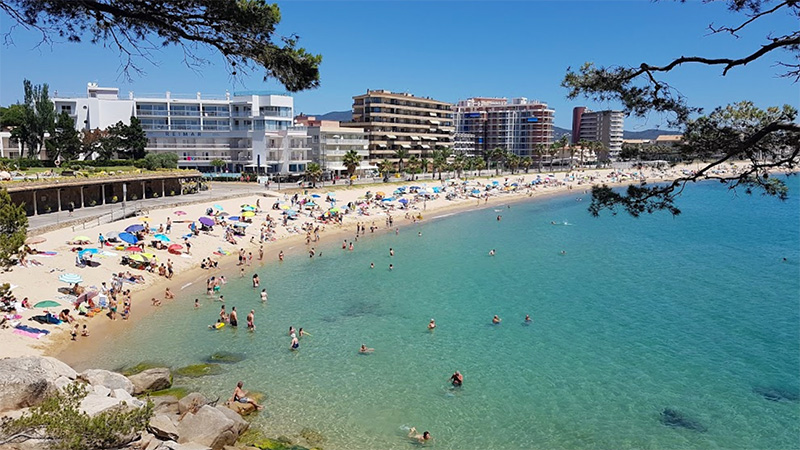 17. Platja de La Fosca
North of Palamos, you'll find the pretty Cala de la Fosca. As one of the best beaches in Costa Brava, it boasts some of the finest sand you'll see along the coast. Combined with a long and gentle entry to the water, it's a popular destination for families. The beach itself is split by a rocky islet in the middle and presided over by the Castelle de Sant Esteve. Above the beach sits a combination of residential homes, low-rise hotels, restaurants, bars, and a beach club. There are also a few beach bars on the sand, plus a place where you can hire water sports or sun beds (15 euros). Parking varies with street and lot available, and prices range from free to three euros per hour. During the off-season and weekdays, you'll have plenty of room. However, do expect the usual crowds on weekends in summer.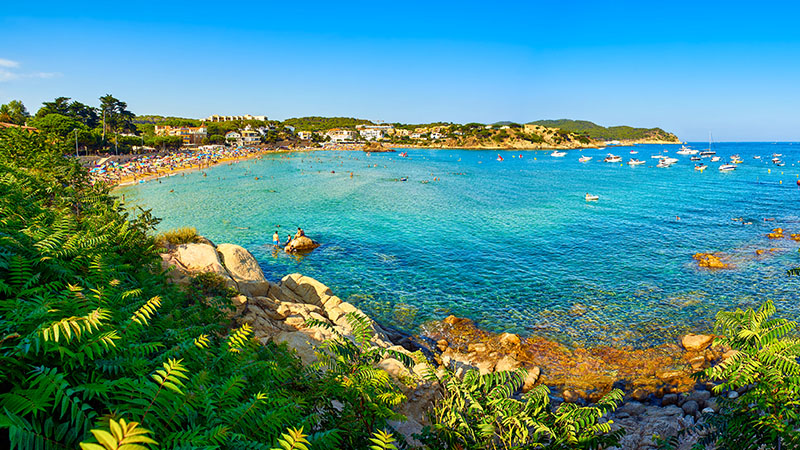 18. Playa El Castell
History and nature combine at Playa El Castell, a beach in Costa Brava just 30 minutes drive from Palamos. The area around the beach is relatively undeveloped thanks to an effort from the locals to preserve the natural beauty and historic Iberian settlement nearby. As such, you'll enjoy a peaceful escape on the fine sand. The clear, calm waters are great for kids, while the snorkeling around the rocks is excellent. Parking is located around five minutes walk from the beach and costs ten euros for the day, with proceeds going to the conservation of the area. In summer, you can hire water sports equipment or enjoy a drink and meal from one of the beach bars. If you really want to be at one with nature, Playa El Castell is also a nude beach, with most nudity contained to the far west end of the beach.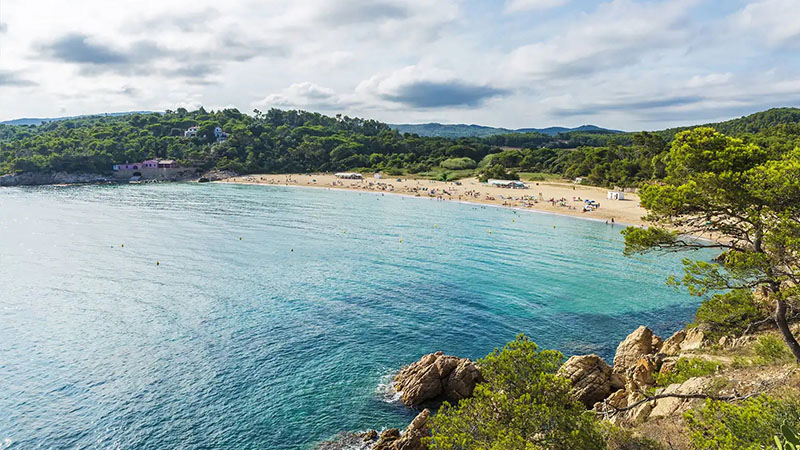 19. Platja de Llafranc
Platja de Llafranc is one of the main features of the quaint tourist village of Llafranc. It has beautiful, soft sand and offers excellent swimming; however, the decline into the water can be quite steep. Otherwise, you can just soak up the sun or stay cool with umbrella hire for nine euros. Other facilities include showers, boat hire, and accessibility adaptations for people with reduced mobility. It's an urban beach, so it's close to plenty of shops, restaurants, bars, and a few hotels. At the eastern end, there's also a marina. There's no parking close to the beach, but you can pay around three euros for parking approximately 400 meters from the beach. Like most beaches in Costa Brava in summer, there are large crowds. However, you'll have plenty of room in the off-season and on weekdays.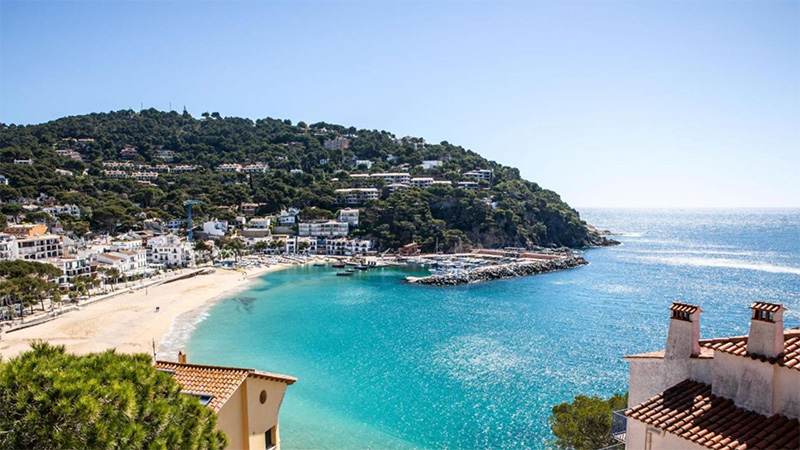 20. Platja de Tamariu
Revel in the natural beauty of Platja de Tamariu. This small but stunning beach is located in a former fishing village, which retains its original charm, having avoided overdevelopment. It boasts coarse golden sand, clear blue waters, and a moderate slope that's wonderful for swimming. Facilities are limited to showers and public bathrooms, so don't forget to bring your own beach umbrellas and towels. There are, however, ramps onto the sand and adaptable showers for people with restricted mobility. In summer, you can also hire watersport equipment such as kayaks and paddleboards. Along the top of the beach, there's a promenade where you can stroll to find a range of bars and restaurants. Parking around the streets near the beach is limited, but there are parking lots further away (around 400 meters) for just three euros per day.

21. Platja d'Aiguablava
If you're looking for a summer oasis, then Platja d'Aiguablava near Begur on the Costa Brava is stunning. The 80-meter-long beach is surrounded by rocky cliffs covered in greenery. It's a popular and busy destination in summer thanks to its bright turquoise waters and excellent facilities. You can swim, snorkel or sunbathe, as well as hire kayaks, pedalos, and paddleboards from the dive shop onsite. The waters are calm and protected with a mix of sand and rocky seabed, so it's ideal for families. Once you've worked up an appetite, there are multiple restaurants and a takeaway place. Finally, it's only a five-kilometer drive from Begur, and the main parking lot costs three euros per hour but is a short walk to the beach.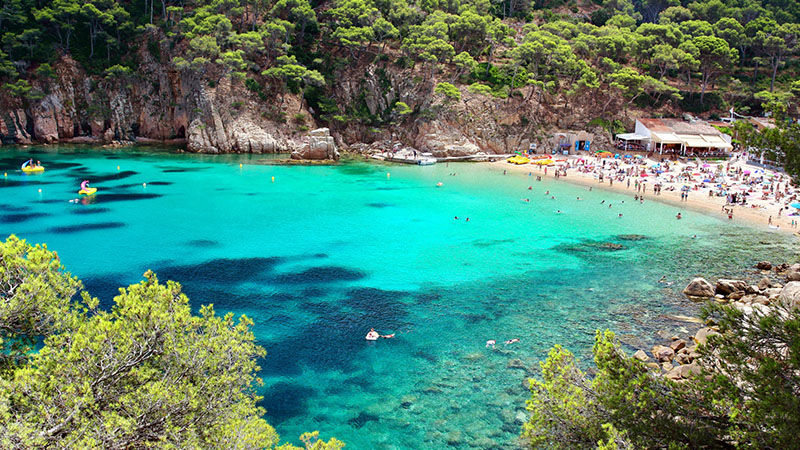 22. Platja Sa Tuna – San Tuna
In scenery reminiscent of Italy's Cinque Terre is Platja Sa Tuna. This small pebbly beach is nestled into a seaside village full of white-washed houses. You can get here via a winding road, with parking a short distance away and costing three euros. Alternatively, walk along the coastal track from Cala d'Aiguiafreda (and if you continue, you'll reach the otherwise inaccessible Cala S'eixugador). There are a couple of restaurants for lunch, and you can hire a beach lounge for 50 euros for a full day. Other facilities include reduced mobility access and showers. The calm blue waters beckon, though with the pebbles, it's best to bring your reef shoes. It's not a very large beach, so it can get crowded in the summer, but it's delightful in the shoulder-season.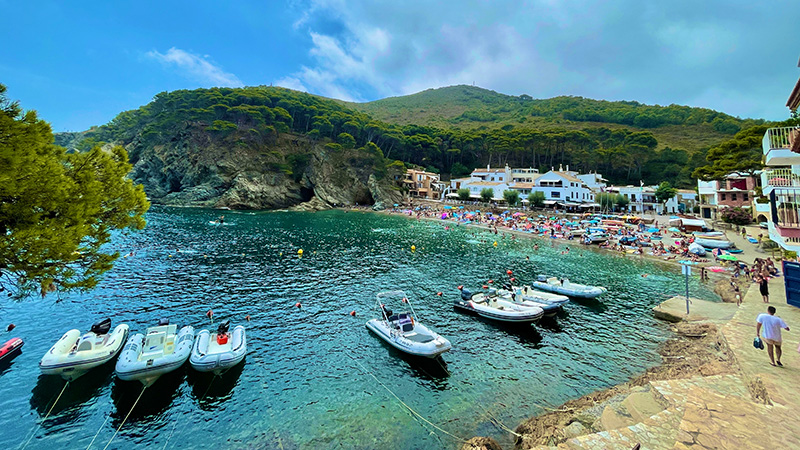 23. Platja de Sa Riera
Platja de Sa Riera is the largest of the three Begur beaches in Costa Brava. It's 230 meters long and 75 meters wide, with coarse golden sand. The mostly protected bay has excellent swimming with a gentle slope and submerged rocks to the west, perfect for snorkeling. Amenities include water sports hire (pedalos, kayaks, paddleboards), showers, toilers, reduced mobility access, and beach chairs and umbrellas available for hire (21 euros). You can walk here from Platja del Racó along the coastal track or drive via the winding road. Most of the parking is on the street, with fees ranging from free to three euros per hour. The beach is also framed by rocky cliffs dotted with luxury villas and a handful of seasonal restaurants and bars that cater to the summer crowds.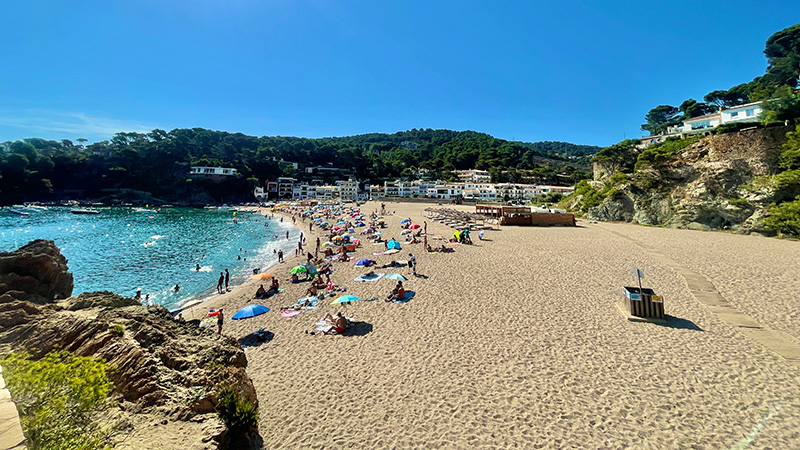 24. Platja de l'Illa Roja
Discover a Costa Brava hidden gem with Platja de l'Illa Roja. This nudist-friendly beach is only accessible from Platja de Sa Riera via the coastal track that winds along the cliff top and down to the beach. The coarse golden sand has a reddish hue, and the 150-meter length is split in two by a cliff. When the tide is low, it's easy to walk between the sections through the cliff and a rocky islet. There is a summer beach bar, but this is the only facility, so make sure to bring your own towels and umbrellas (and food in the off-season). The stunning turquoise water offers lovely swimming conditions; however, it's a steep slope from the beach into the water. Finally, unlike some of the other beaches in Costa Brava, the position of this one means it has limited sunshine hours.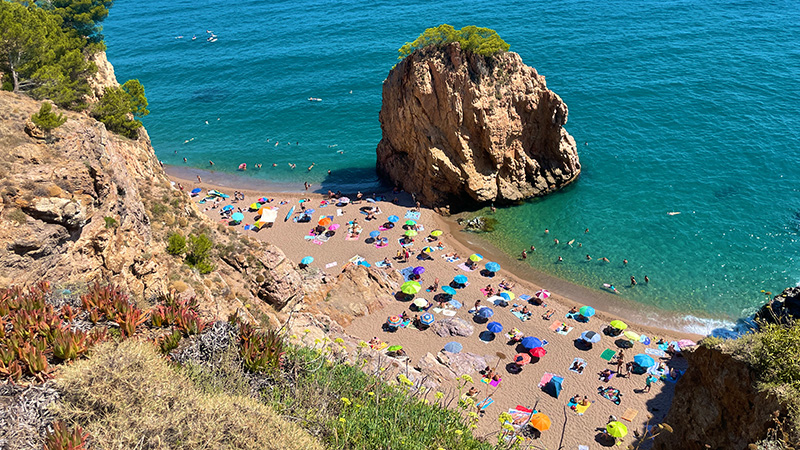 25. Platja de Pals
Platja de Pals is easily one of the largest and least crowded beaches in Costa Brava. It runs for nearly two and a half kilometers long and encompasses both a built-up area and an undeveloped stretch that previously housed Cold War radio antennae. It also has fine sand, dunes, paths, and wetlands along its length. Depending on where you pull up your towel, there are multiple parking spaces – some free and some costing around six euros for the day. There's a nudist section, limited mobility access, and plenty of places to join water sports such as boat or kayak hire. Other amenities include bathrooms, showers, and waste bins. The beautiful clear water does have a steep drop from the beach, so be aware when taking the plunge. If you're hungry, there are restaurants closer to the built-up end and multiple summer beach bars.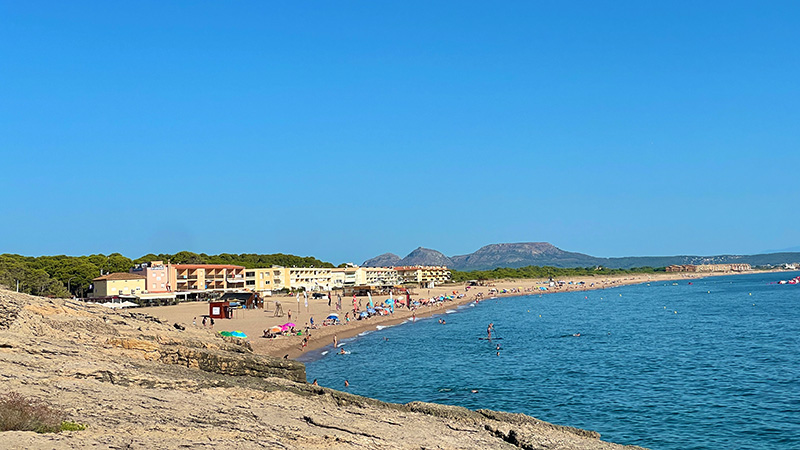 26. Platja de Montgó
If you're seeking fine sand and sheltered waters, then look no further than Platja de Montgó. This crescent-shaped beach sits in an urban area on the border between L'Escala and L'Estartit. On one side, you have a headland built up with houses, hotels, and the historic watch tower. Then on the other side are more hotels, greenery, and a walking trail. Enjoy a meal at the nearby restaurants, hire a sun lounge (seven euros), or water sports equipment. The beach has mobility access, and the shallow, gently sloping waters are ideal for children. However, there are rocky sections, so reef shoes are recommended. It's generally less crowded than other beaches in Costa Brava; however, it still draws numbers in summer. There's a mix of paid and free parking in various locations around the town.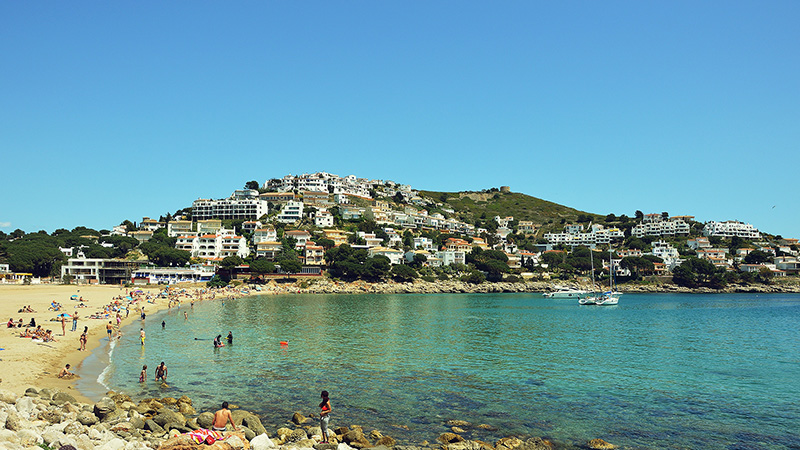 27. Platja del Rec del Molí
Dog lovers will enjoy a visit to Platja El Rec del Moli in L'Escala. This fine sand beach is 300 meters long and split in half, with one section dedicated to humans and the other to their four-legged friends. It's often uncrowded, and there's a lot of space to relax. While the fine sand is soft and the water has a gentle slope, there are rocks on the seabed, so it's best to paddle with reef shoes. Additionally, the southern (doggo) end has a creek running into the water, which can cause cloudy water. While there's a walking path through the pine woods along the sand dunes, there aren't many facilities other than a seasonal beach bar. Parking is close by and costs five euros for six hours; otherwise, you can also walk from the northern end of L'Escala along a coastal track.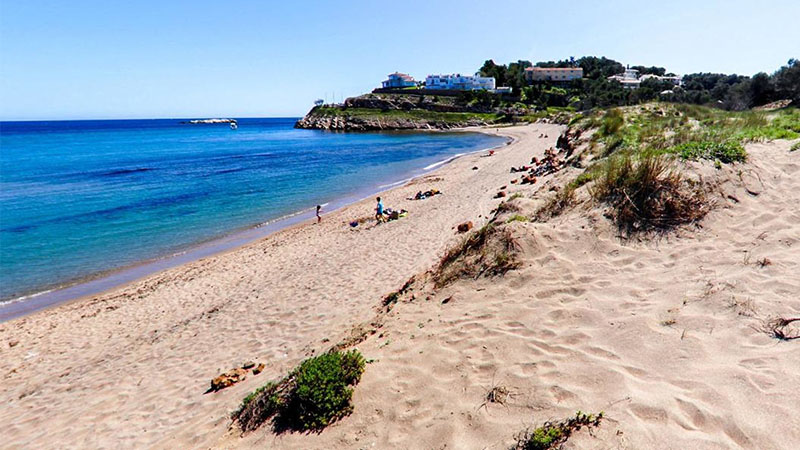 28. Les Muscleres Platja
At the southern end of the Gulf of Roses and five kilometers from the L'Escala city center is Les Muscleres Platja. It lies in front of the Ruïnes d'Empúries, an ancient, excavated Greco-Roman city. Besides this, it's also famed for the pine trees that grow right to the beach, the clear blue water, and the sandy beach. The water is calm and safe in good weather, but when the winds pick up, it can get quite choppy with strong currents. Bring your snorkel gear to explore submerged rocks and marine life. There is a beach bar open in summer and a restaurant nearby; however, you'll need to bring your own umbrellas or chairs as there are no hire facilities. Parking is available for 15 euros per day, or 1.5 euros per hour. Alternatively, you can walk along the pretty track from Platja del Rec, where there's more parking.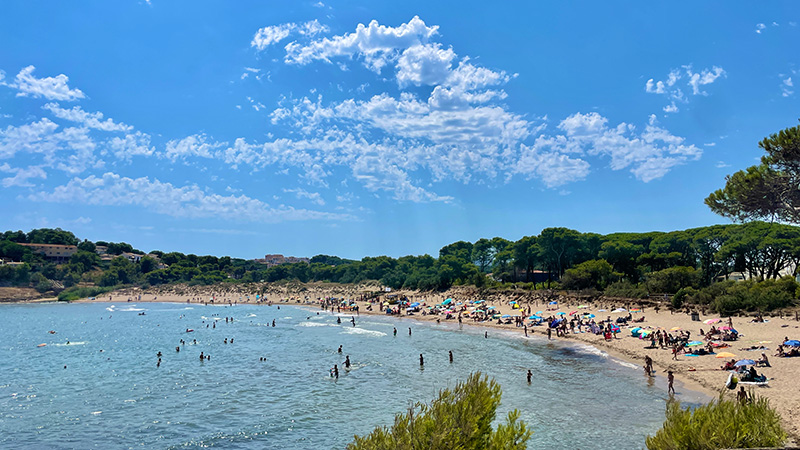 29. Platja Nova
Towards the northern end of the Costa Brava, you'll find Platja Nova in the coastal town of Roses. It measures 460 meters long and 35 meters wide with fine golden sand. That means there's plenty of space to spread out and relax, even in summer. It's an urban beach backed by a wide, palm-tree dotted promenade that adds a laid-back tropical feel. Across the road, you'll find hotels, restaurants, bars, and shops. Meanwhile, beach facilities include showers, bathrooms, sun lounge hire, boat hire, and reduced mobility access with ramps and walkways. When it comes to swimming, it's a gentle slope into the sea, making it ideal for little oens. Lastly, there's a mix of free and metered parking on the streets near the beach, plus parking lots further back.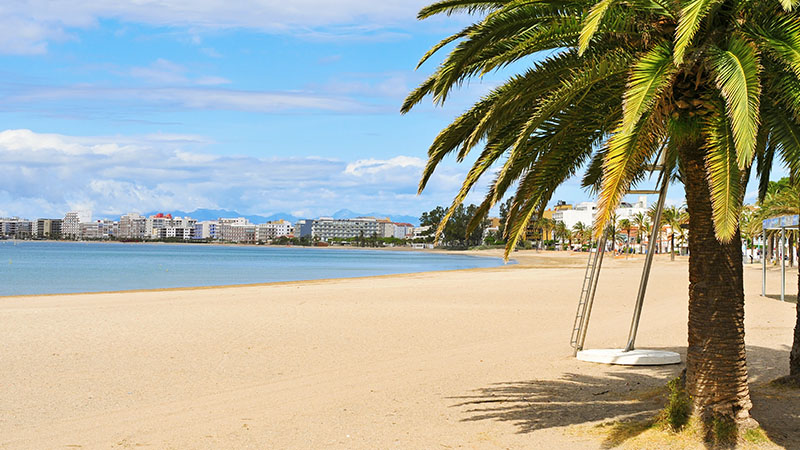 30. Platja del Ros
If you're in Cadaqués and looking for a local beach, then Platja del Ros is perfect. It's a residential beach located one kilometer from the town center and can be accessed by a path along the seafront. There's also free parking close by, so it can get crowded during the peak season. The protected waters, which have a shallow slope, are great for kids. The beach is a mix of sand and pebbles, while the seabed has larger rocks. Finally, there are very few facilities; however, at the other end of the same bay, less than 300 meters away, there is a beach bar operating in the summer.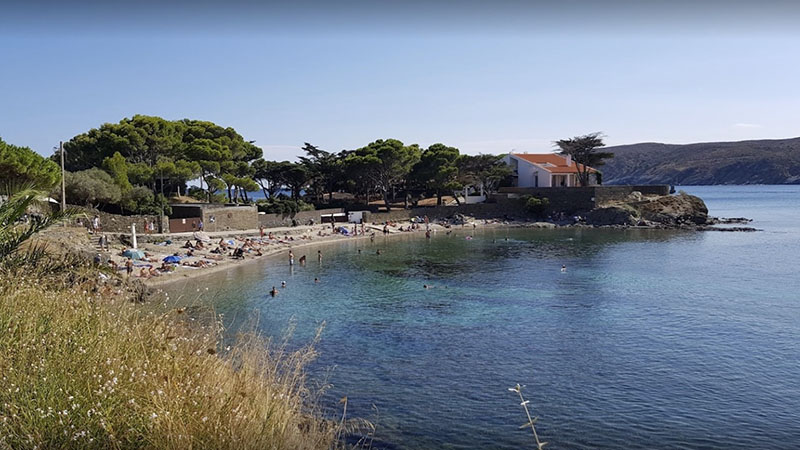 Costa Brava Beach Map
Costa Brava Beaches FAQs
Are the beaches nice in Costa Brava?
The beaches in Costa Brava a lovely. Many have crystalline blue waters that are perfect for swimming. Like many European beaches, the sand will generally be coarse and grainy or pebbly, so it's good to know what to expect. Most of the beaches in Costa Brava are connected by the Cami de Ronda, a coastal track built in the 19th century. Keep in mind that summer is the busiest time at the beach, especially in August when many locals take holidays on the coast. 
Does Costa Brava have sandy beaches?
Costa Brava does have some sandy beaches, though it's not the fine silica white sand you'd find in other places around the world like Australia, the Maldives, or Pacific Islands. Instead, it tends to be coarser and more golden in color. However, some beaches, such as Platja de La Fosca and Platja de Pals, offer finer sand. 
Can you swim in Costa Brava?
Yes, you can swim in Costa Brava. Many of the best beaches are located in protected bays or coves, so they have few waves or currents. However, some beaches can have a steep drop from the beach into the water, so be mindful when entering or exiting. There are also a lot of beaches that are patrolled by lifeguards in the summer to keep everyone extra safe. 
Where does Costa Brava start and end?
Costa Brava starts in the south at the town of Blanes, northeast of Barcelona. It extends all the way up to Port Bou in the north at the French Border. 
SUBSCRIBE TO OUR NEWSLETTER
Subscribe to our mailing list and get interesting stuff and updates to your email inbox.