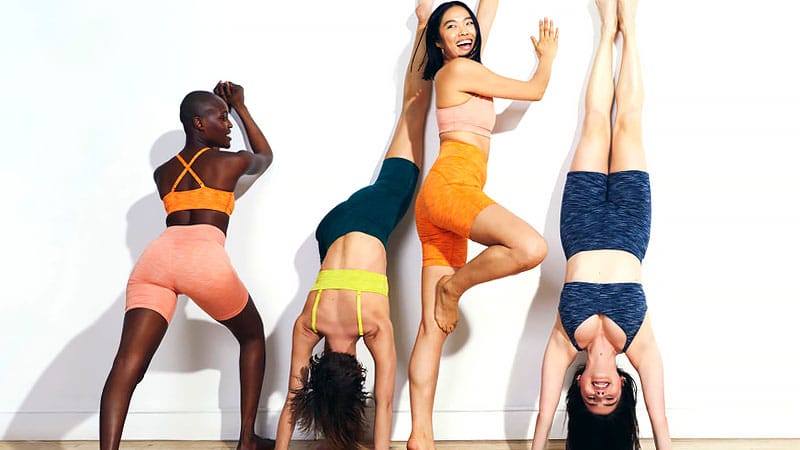 It's one of the oldest forms of practice of human civilization from the East but has only recently hit the Western mainstream as a form of exercise in the last few centuries. Not only does it improve your flexibility, balance, and strength, but it can help you relax and unwind – many people use it as a form of self-care. There are many forms to try, such as Bikram, Kundalini, Aerial, and Hatha, all with their own benefits and levels of intricacy. When it comes to working out, you need to make sure you've dressed appropriately, and the same can be said for yoga. It's important you are wearing clothes that allow you to move freely, stretch and stay cool at the same time. Get ready to work up a sweat and do it in style with one of these yoga shorts for women.
1. Beyond Yoga
Feeling good in your skin is an essential part of overall health, and Beyond Yoga aims to empower that with its selection of shorts. These pieces are created in California with a buttery soft touch and compression to help you move freely. The brand often crafts its yoga apparel with Spacedye performance fabric, which offers four-way stretch and a unique texture. This means you can work up a sweat without the wet feeling – it wicks moisture away to help you stay cool. With a size-inclusive range of designs and lengths, you'll perfect your sun salutations in pure comfort and effortless style.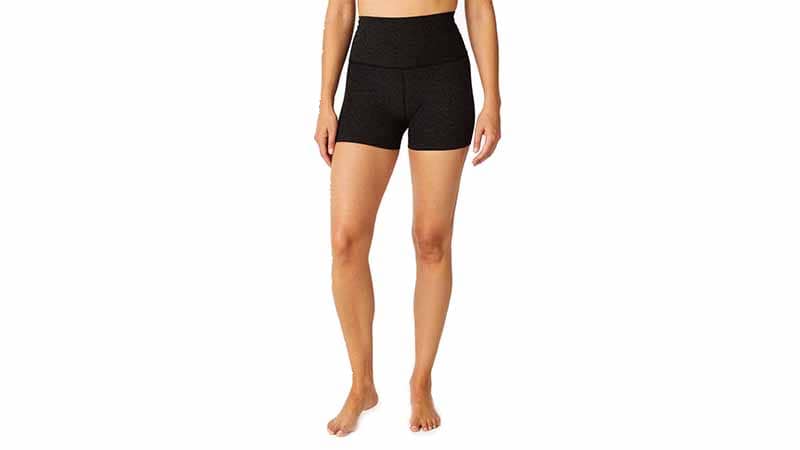 2. Lululemon
Lululemon has become a staple in the wardrobe of yogis worldwide, thanks to its soft and weightless athleticwear. These pieces were designed to move with your body, often featuring high-rise waistbands that stay with you as you change positions. Specifically designed with yoga in mind, you can take your mind off the clothing and focus on your movement. Keep your stuff safe thanks to the in-built hidden pockets. With four-way stretch, Lycra fiber, and a breathable Nula fabric, it wicks away sweat for a more comfortable flow.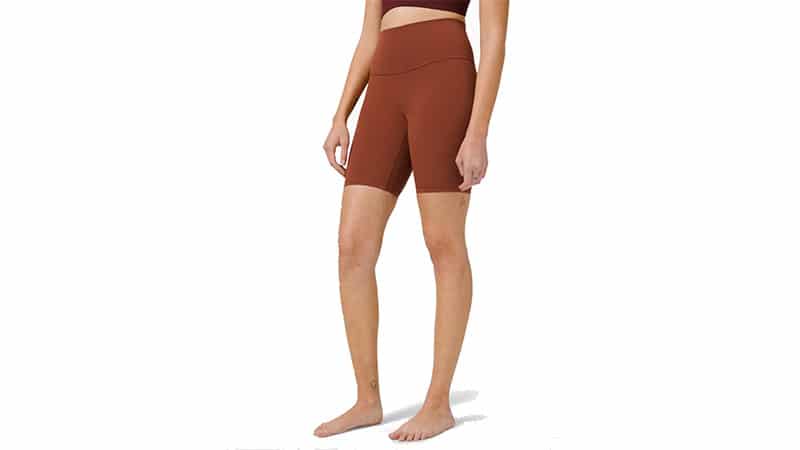 3. Carbon 38
The core philosophy of Core38 apparel is fit, fabric, and function – these shorts offer it all. With a high waist and seamfree exterior, this yoga apparel includes Spacedye fabric so you can move and stretch with comfort. The added style benefits mean you can look incredible while working out and feel effortlessly fashionable while you go for a post-flow coffee. You can choose from a wide selection of shades to suit your wardrobe, and there are varying lengths to try. Trust us when we say you'll be adding these to your daily routine.
4. Nike
Nike is made to move, and with these yoga shorts, you'll be stretching to your best ability. The recycled fiber construction is earth-friendly and ultra smoothing, made from plastic bottles that get turned into new yarn – it also produces up to 30% lower carbon emissions, meaning you're reducing waste while looking your best. You can find pieces that feature Dri-FIT technology, which keeps you feeling fresh and comfortable as you find your flow.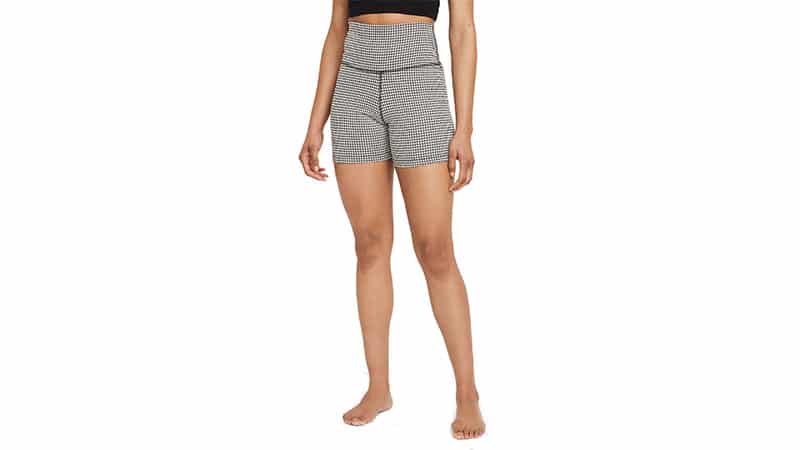 5. Alo
It's a fave of supermodels like Kendall Jenner, and we can see why. These yogi-approved shorts from Alo will help you find balance and can elevate your practice. The on-trend silhouettes keep you secure while you move, and its lightweight fabric feels like a second skin, meaning you can focus on the performance. For lovers of Bikram, rejoice – its Vapor fabric features quick-dry properties and compresses the body, keeping you in control of every asana.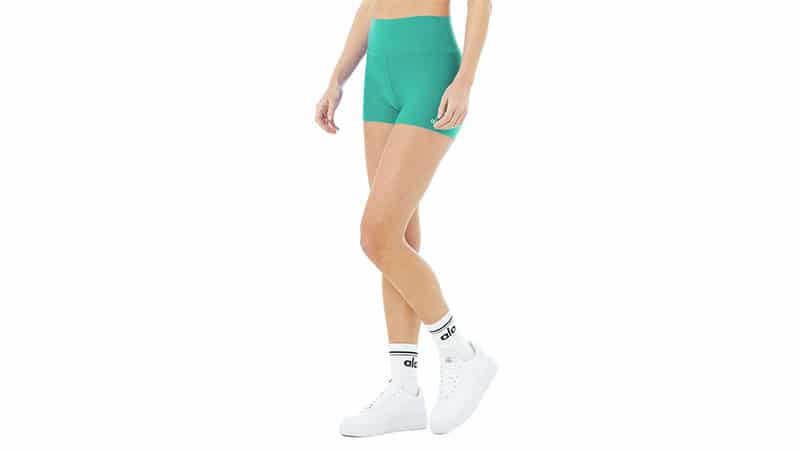 6. Uniqlo
UNIQLO understands the power of performance, and its yoga shorts prove this. Its soft and stretchy construction will keep your balance in check, and you will feel cool to the touch, thanks to its state-of-the-art technology. Run, stretch and practice a new pose knowing you are in full control of your body, not just focussing on what you're wearing. These bottoms are squat proof and aren't see-through so that you can rock them anywhere after your class.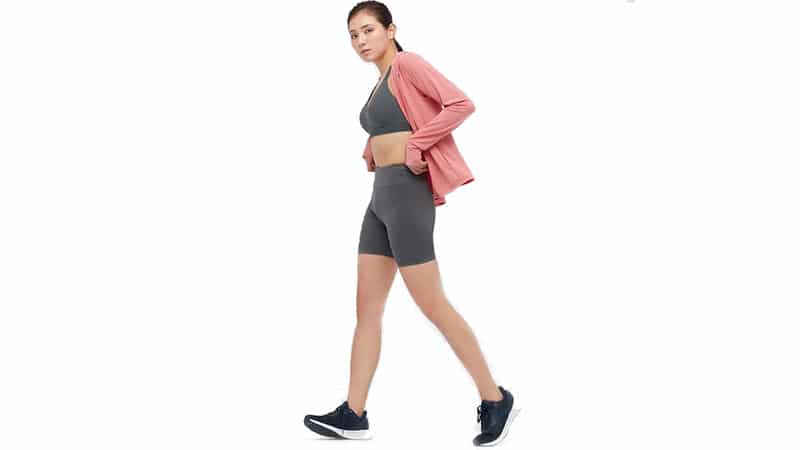 7. Free People
Reach a new goal with ease in these stylish and sleek shorts from Free People. Designed with a carefree and confident person in mind, you can twist your body without feeling uncomfortable in your clothing. The performance-ready activewear moves with you and looks super cute at the same time. So you can make your way to the class and come out feeling fresh as a daisy, knowing you worked hard and felt incredible.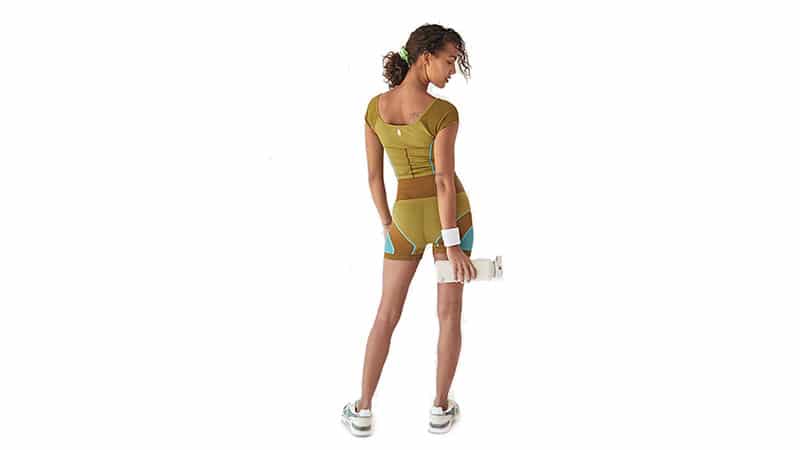 8. Yoga Outlet
Perfect for yogis of all experience levels, you can connect with your body and enjoy pure comfort with Yoga Outlet. The Spandex and Polyester fabric mix offers a great stretch, and the ergonomic seaming is comfortable for all-day wear. These pieces are high-waisted, so you can secure your core as you move, and its secret inside pocket will secure your things to keep you focussed on the movement at hand.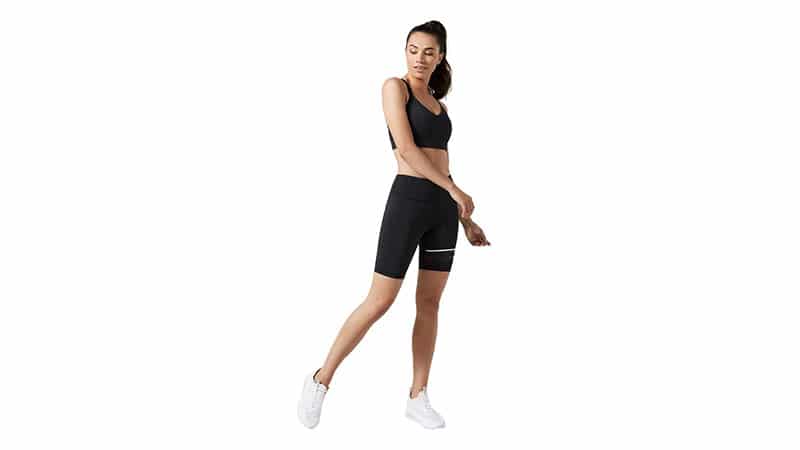 9. Baleaf
Your body was made to move, so why not get it pumping in Baleaf? These shorts are designed to keep your body secure with compression and a high waistband so you can bend and stretch with maximum coverage. Even in the heat, you can forget about chafing, thanks to its long inseam and gusseted crotch. You may be attending your first class or you're a seasoned yogi, this apparel deserves a spot in your wardrobe.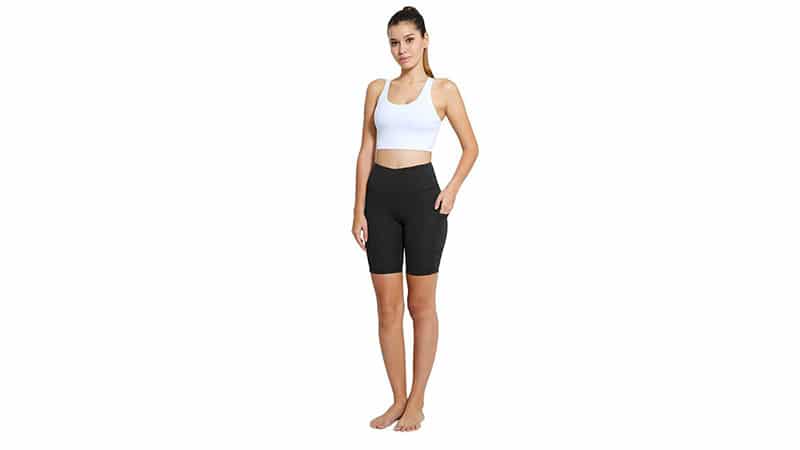 10. The Gym People
From hot yoga classes to a day out in the sunshine, you can stay cool and dry with a pair of shorts from The Gym People. The moisture-wicking technology allows your skin to breathe, and its interlocking stitching enhances your movement for a better flow. It even keeps your tummy in place, thanks to its compression waistband, so you can wear it under clothes when you're not working out for better control.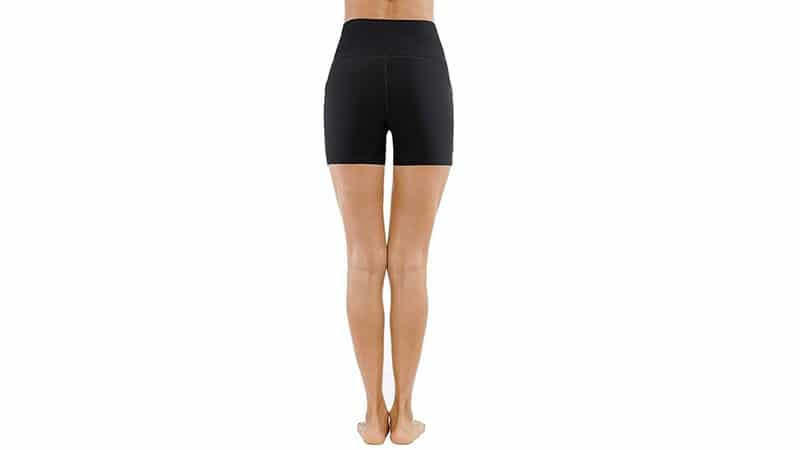 11. Colosseum Women's
Life is fast-moving, so you need activewear that keeps up with your jam-packed schedule. When you have time for a workout, let these shorts lead the way. With elevated seams and double-layered cotton and polyester fabric, it's the ideal companion for a yoga class or home workout. They're a great addition to anyone's closet, no matter how often you hit the gym or yoga class.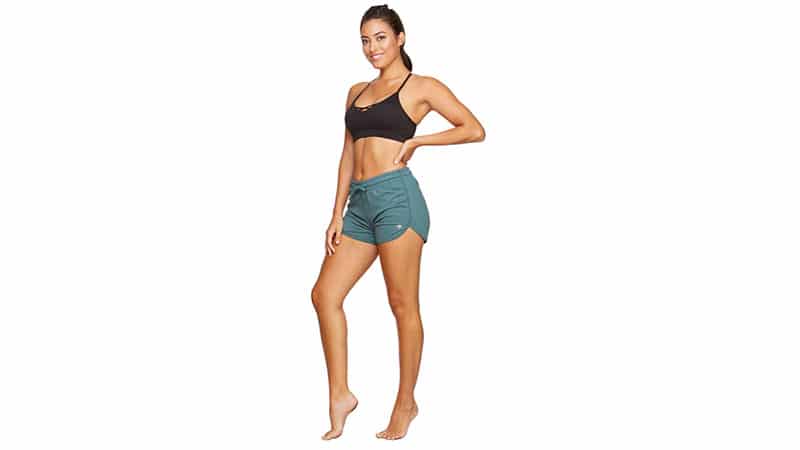 12. Amazon Essentials
Every yogi needs to have a few core pieces in their closet, and these shorts from Amazon Essentials do the trick. They offer a wide range of support for optimum movement, and the designs match anyone's style. Replicate the TikTok trend with a booty scrunch design, or keep it simple with mesh inserts and a high waistband. You can squat, stretch and sit easily – these are moisture-wicking and feature four-way stretch so you can better engage your Mula Bandha.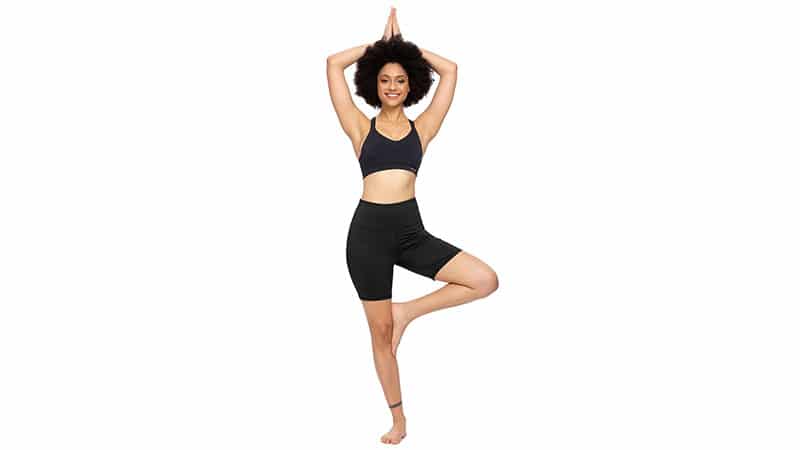 13. ASOS
Finding all of your favorite athleisure and workout gear in one place can be tricky, but ASOS is here to help. With brands like Nike, South Beach, and its own label 4505 under its belt, you can find something that works best for you. The range includes running shorts, mid-thigh, and short lengths in a wide range of colors and styles – there's something for everyone. You can even find pieces made from recycled fabric so you can reduce the impact on the planet while you harness your energy for the session.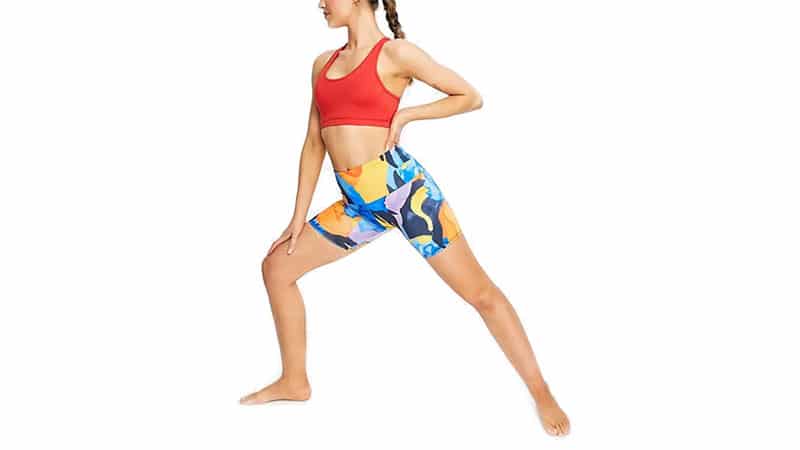 14. Onzie
Timeless, classic, and effortless – the Onzie shorts offer it all. With a funky bunch of designs to choose from, you can move more freely and do it in style. Its designs are often figure-hugging, meaning you can feel in control of your movement and stay secure as you bend and stretch. The fabrics are chlorine and salt-water resistant, so you can move from the beach to the gym without worrying about your clothing.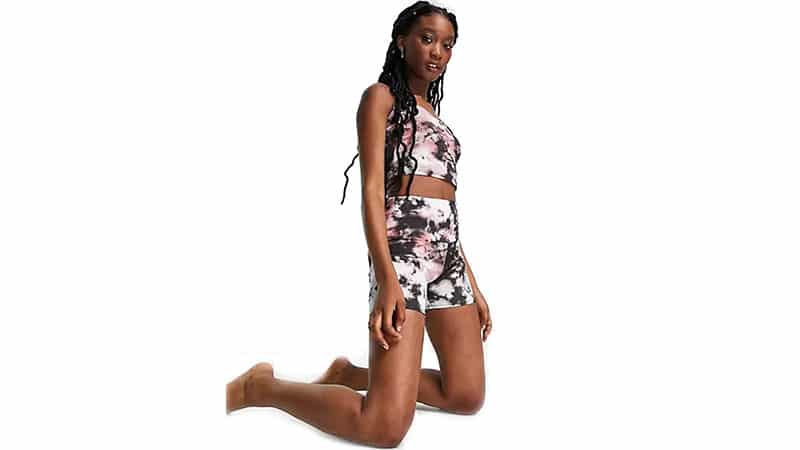 15. Prism2
If you want to look as if you've stepped right off the runway at fashion week as you enter your yoga class, then Prism2 is the perfect brand for you. These super-trendy and performance-ready shorts offer the control and comfort of a fitted silhouette while simultaneously elevating your overall outfit game. The fabric is stretchy and comes in stylish hues like taupe and chocolate so that you can strike a yoga pose effortlessly.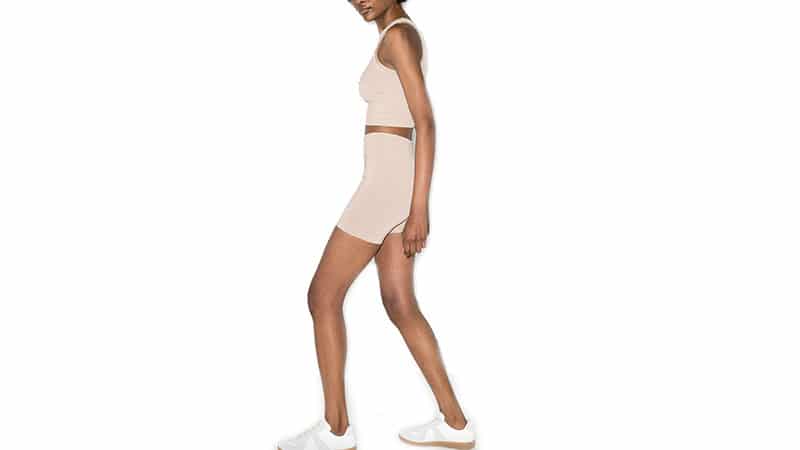 16. The Upside
Seeking out the 'cool' in yoga apparel, The Upside aims to channel the on-trend and fashionable side of yoga, all while delivering performance-ready technology. These shorts offer stability to the wearer and give off the instant impression of a fashion-forward mover. Some of these pieces include specialty jacquard fabric, while others feature form-fitting and breathable tech fibers for a moisture-wicking workout. You can choose from a wide range of styles that suit your wardrobe, and you'll be back for more pairs once you give them a try.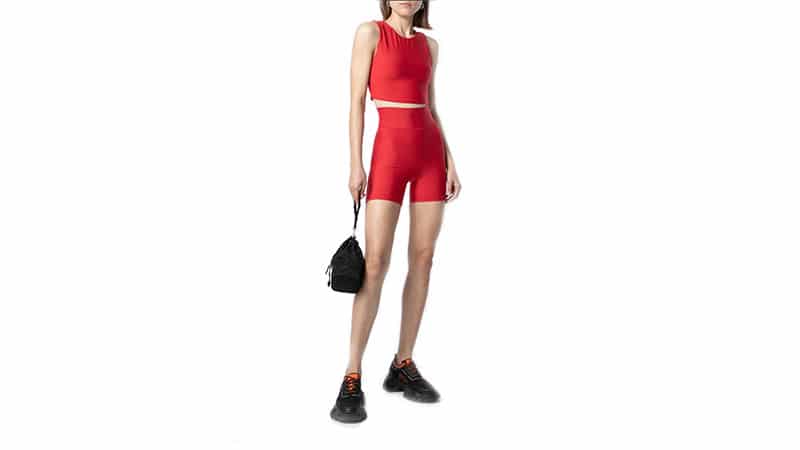 17. Off-White
The brainchild of Virgil Abloh is here to define the gray area between black and white, thus creating the perfect pair of yoga shorts. The moisture-wicking and stylish bottoms offer compression along the waist and legs, meaning you can stretch and move freely. The fabric skims the skin for a soft and breathable finish, and the funky patterns will help you stand out amongst the crowd at your practice.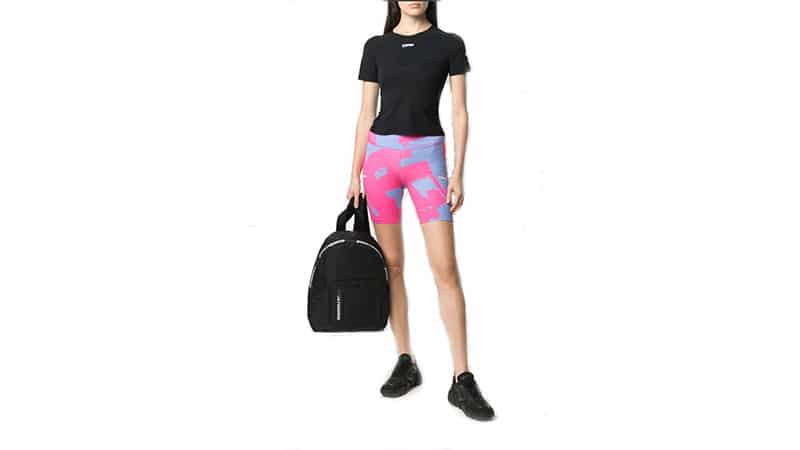 18. Year of Ours
From the home gym to a yoga class, you should feel comfortable and ready to connect with your prana. That's where these shorts from Year of Ours comes in. The fabric hugs your body as you move for better flow but still leaves enough room so you can enhance your stretches and improve flexibility. The active jersey locks away moisture so you can focus on the session. It doesn't hurt that the prints and colors are cute, too – you'll want to add a few to your cart.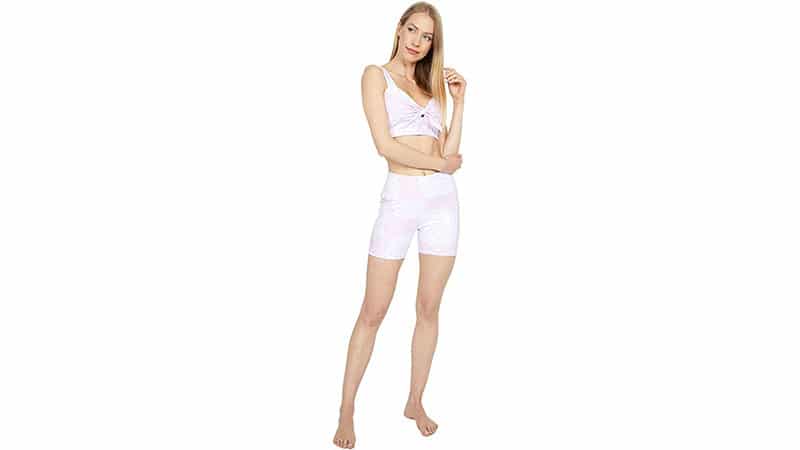 19. Kappa
With its iconic logo and extensive heritage, the Italian sportswear brand Kappa knows how to make great athletic gear. Its yoga shorts provide optimum movement, which is perfect for those of all levels of flexibility. You can stretch, lay down and work up a sweat in these, and look incredibly cute while you do it. The highrise stretch waistband allows you to activate your core and prevents slips while you bend down. Get ready to be in the best shape of your life with these amazing bottoms.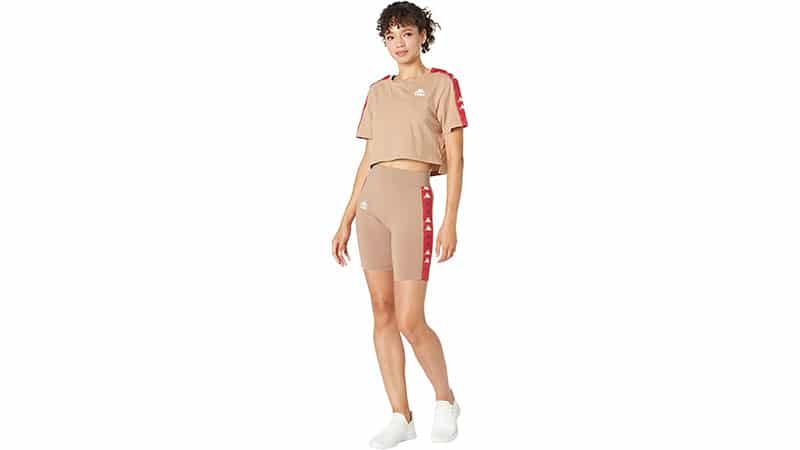 20. Sweaty Betty
The power behind Sweaty Betty is its understanding of the female body. Designed by women for women, Sweaty Betty is ideal for those who love to get their sweat on at any point in their life. The bum-shaping styles lift and sculpt the booty, and the funky patterns are stylish enough for a Bikram session or a coffee date afterward. Some of the pieces include reflective detailing and multi-stretch fabric for a better fit and function.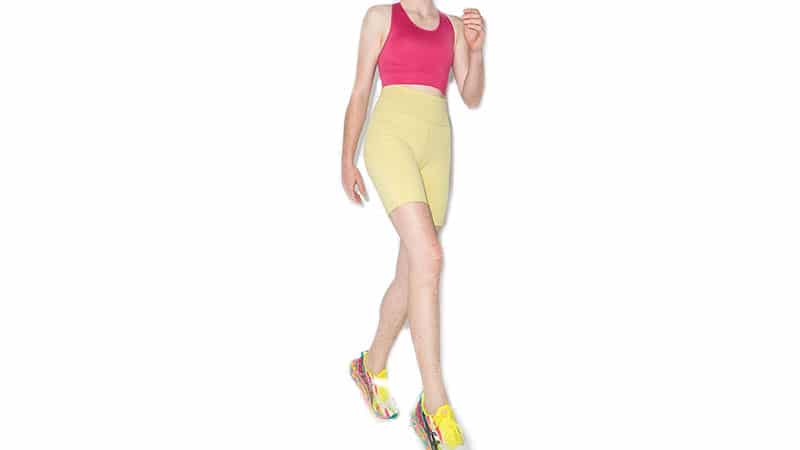 21. Paco Rabanne
You may know Paco Rabanne for its iconic 60s dresses, but did you know that this French designer also creates impressive activewear? These fitted and on-brand metallic colors are delightful to look at, and the shorts offer the perfect amount of control for your next yoga session. The stretch waist band is comfortable to wear, and you can style them with a cute sweater or running jacket for a post-workout ensemble.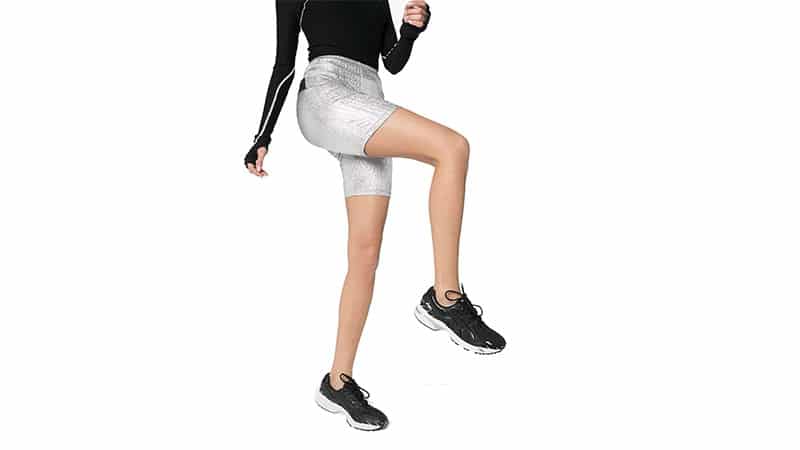 22. FP Movement
FP Movement will set you apart from everyone else in the studio. These stylish and functional shorts offer premium support to your body while keeping you feeling fresh as you move. With high-performance fabrics and compression waistbands, they will stay secure and feel as if you're wearing a second skin. You can find them in a huge range of colors and patterns, meaning you can choose something new for every class of the week.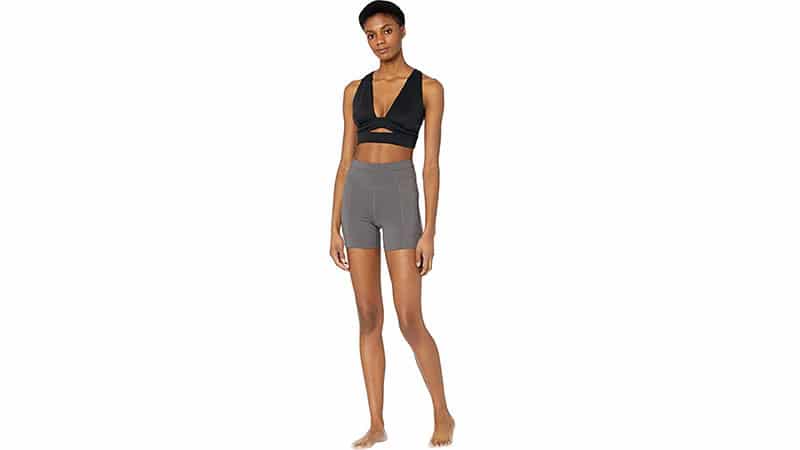 23. Splits59
These shorts were made to get sweaty. Perfect for those who love hot yoga, barre, or Pilates, you can move and stretch with comfort and ease of mind. Featuring high waistbands, a figure-skimming silhouette, and a plethora of funky patterns, you can reach new goals and feel cool, thanks to its moisture-wicking technology. Its AirWeight fabric is light to the touch and feels like nothing is there so that you can focus on your movement and technique.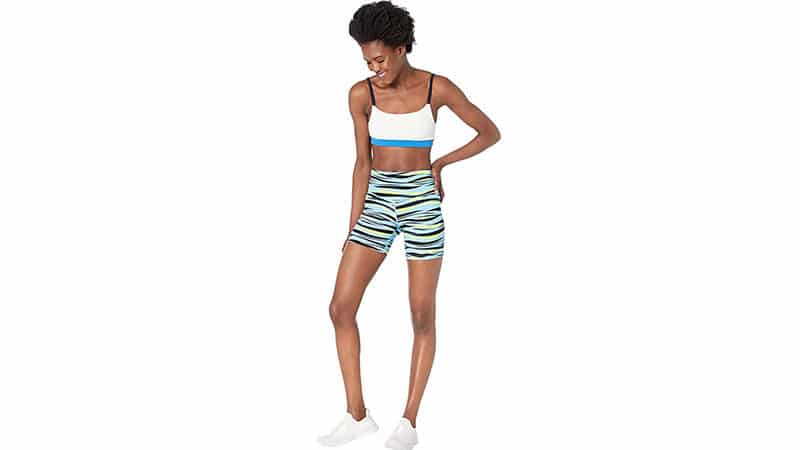 24. Jockey Active
Jockey is inventive and far-reaching, the brand continues to develop state-of-the-art technology to this day. Its Active shorts feature a high waistband, stretch material, and a non-constricting fit – this can help you move from one position to another with ease and pure comfort. Its blended fabric construction is moisture-wicking, making it an excellent accessory for Bikram yoga or other exercises that get you working up a sweat.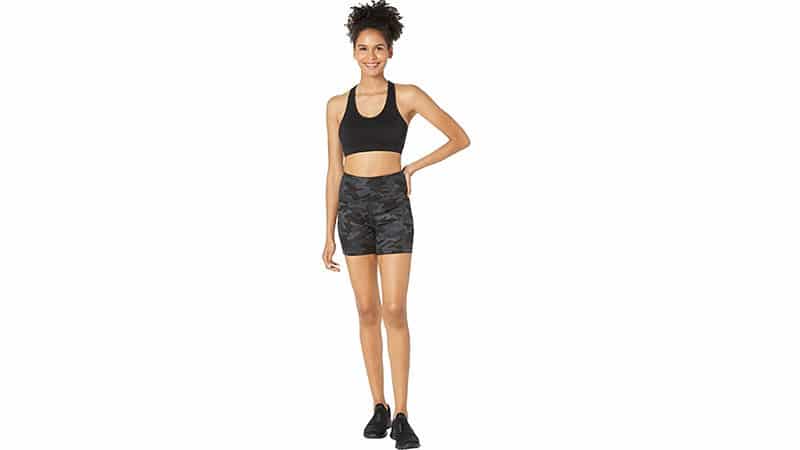 25. Hard Tail Forever
Empowering yourself with movement is a fundamental part of the Hard Tails Forever philosophy. Whether you're a yogi from way back or you're new to the experience, these shorts can help you along the way. They feature stretch cotton for unrestricted movement and breathable fibers for a fresh and dry workout. Its elastic waistbands lay flat across the skin, giving you extra support on your stomach, and prevents any folds while you bend over. You can find a great selection of styles that look fantastic from the studio to the streets and make for an awesome at-home workout getup.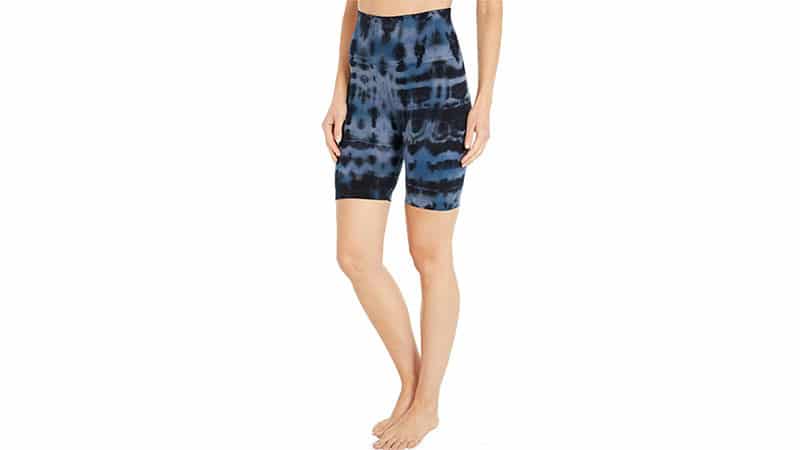 26. Spiritual Gangster
Why just look good when you can feel good and do your part for the community all at once? Spiritual Gangster combines its love for yoga, art, and giving back to the community all at once and inspires its wearers with every pair of shorts. You can find a great selection of wide waistband, snug-fit shorts that offer protection from sweat and keep you looking amazing as you work out. What's more, the brand will donate proceeds to its charity partner Feeding America for every item sold on its website.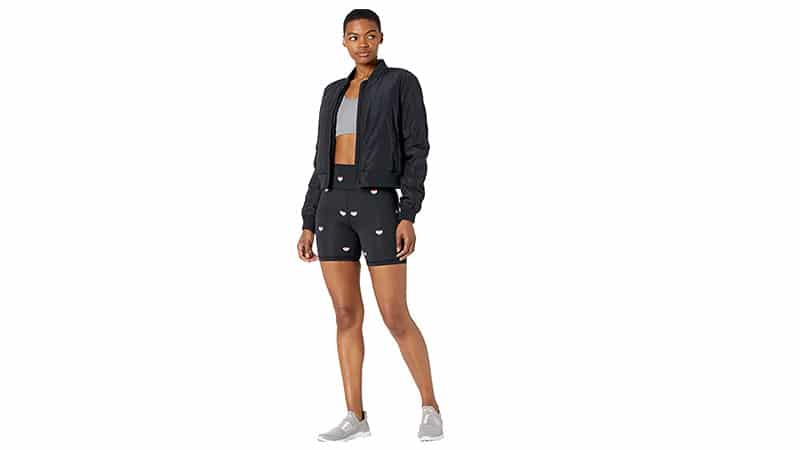 27. Smartwool
Whether you're working out in the middle of winter or you're working u a sweat, these shorts from Smartwool will have you feeling fresh and dry. With a lightweight polyester and durable water repellent coating, it rebuffs water droplets and is lightweight enough to allow optimum movement. The internal bikini liner adds extra comfort and its elasticized drawcord waist keeps you feeling secure and is adjustable to your preference.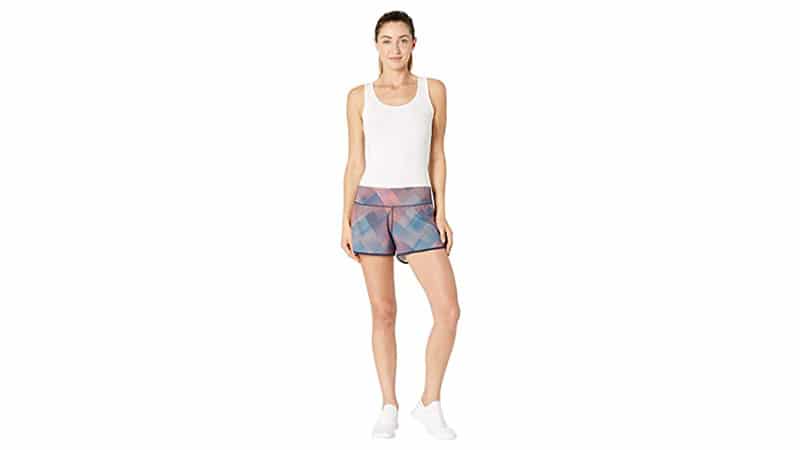 28. Heroine Sport
Even though it's only been around since 2014, Heroine Sport has established itself as a big name in the game. With bold designs and innovative craftsmanship, you will easily turn heads in a pair of these shorts. The trendy stretch faux leather designs are funky to wear and look great when you're practicing your Downward Dog or catching up with friends after a yoga class. Its effortless athletic style stays secure to your skin and offers stretch across the body so you can reach your goals faster.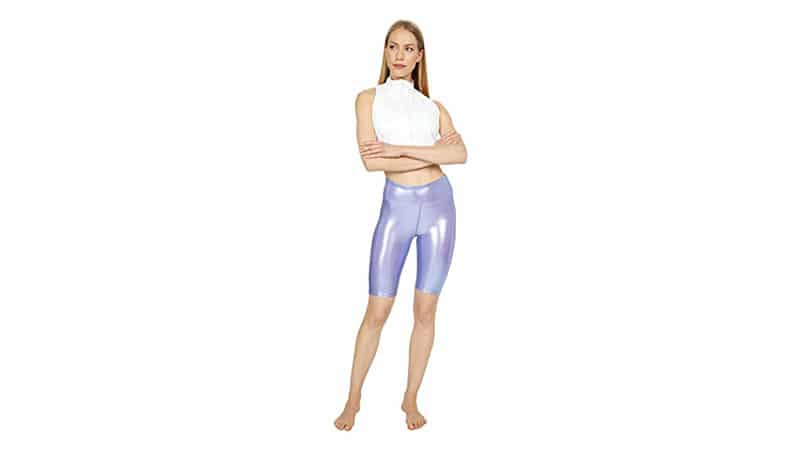 29. Always
From the studio to an at-home workout, you want to look good while you feel the burn. These cute yoga shorts from ALWAYS offer textured fabrics to lift the booty, and four-way stretch will have you moving with ease. Some pairs include the TikTok-famous scrunch bum seams, and others include a high waistband for more control as you move – there are plenty of styles to choose from. These are made with movement in mind to stretch and strike a pose while looking and feeling incredible.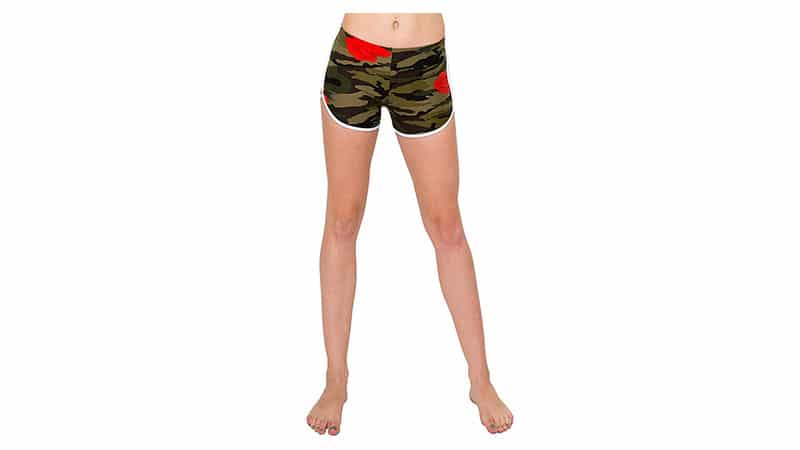 30. CRZ Yoga
Get the feeling that you're wearing nothing at all with the soft and buttery activewear from CRZ Yoga. Famous for its Naked Feeling shorts, they're designed for workouts such as yoga and pilates. Each pair features a seamless waistband and four-way stretch for optimum flexibility, plus they are lightweight and cool to the touch. You can also find Quick-dry running shorts for those on the go – no matter what you prefer, these are sure to become your next favorite.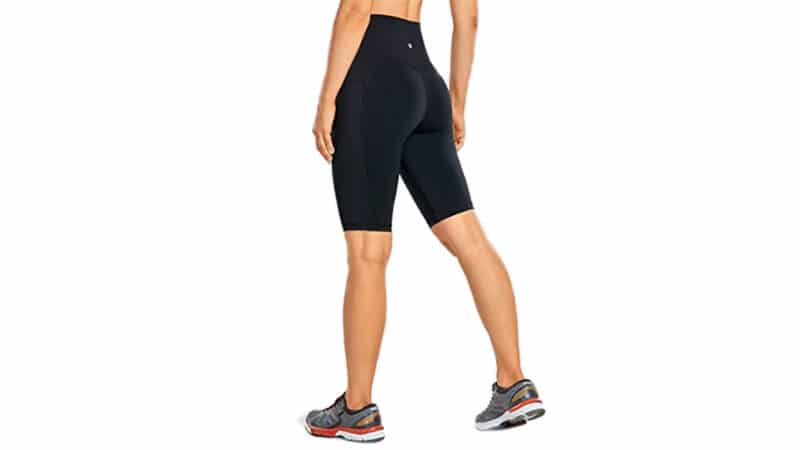 FAQs
What are the best yoga shorts?
Yoga is all about movement and connecting with your body, so you should find a pair of shorts that move with you. The perfect pair of shorts feature stretchy fabric and be made from lightweight materials - this is especially important if you are working out in a heated room or outdoors. Find fabrics that wick away sweat and keep you cool and dry, so prevent chafing and any discomfort. Ultimately, it's all about the flow, so find something that allows you to focus on the movement rather than what you're wearing.
Is it OK to wear shorts to yoga?
Yes, you can definitely wear shorts to your yoga class. But just like all physical activity, it's important that you feel comfortable when you're working up a sweat. It's probably best to avoid shorts that are too baggy or too small, so stick to something that is relatively tight-fitting but not too short. When choosing shorts, pick something that is easy to move in, and made from moisture-wicking fabrics to keep you feeling cool. Again, it's all about comfort, so having to constantly adjust the fabric on your bottom half can be distracting and lead you to focus on the wrong part of the movement.
What brand is the best yoga pants?
There are many brands that yogis swear by when they're moving. Opt for a brand that understands the importance of comfort and movement during your flow, such as Lululemon, Alo, The Upside and Splits59. These labels offer a myriad of styles that cater to all levels of performance, and truly understand how bodies work and flow. When on the lookout, be sure to search for the right fabric, four-way stretch and a high waist for premium comfort and durability to keep you in control.
What are the most comfortable yoga clothes?
No matter your skillset, finding comfortable clothes to work out in is imperative. Brands like Lululemon, Beyond Yoga and Alo specialize in clothing for a yoga workout of all types and are comfortable enough to wear for an after-class coffee. To ensure you are wearing something ultra-comfortable, be on the lookout for four-way stretch, moisture-wicking fabrics and a high waistband for optimum flexibility and a cool touch. Bonus points if they come in a cute color or pattern - you can't go wrong with a stylish set of activewear!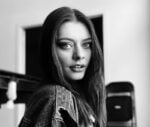 Alexandra Feiam is an experienced fashion writer who holds a degree in journalism. She has an impressive portfolio and expertise working as the Editor at Power Retail and Commercial Content Editor at Newscorp. Ally has been writing for The TrendSpotter since 2018, and her work has been featured in notable publications such as The Herald Sun, Arirang TV South Korea, Kidspot, The House of Wellness, and The Daily Telegraph.
SUBSCRIBE TO OUR NEWSLETTER
Subscribe to our mailing list and get interesting stuff and updates to your email inbox.