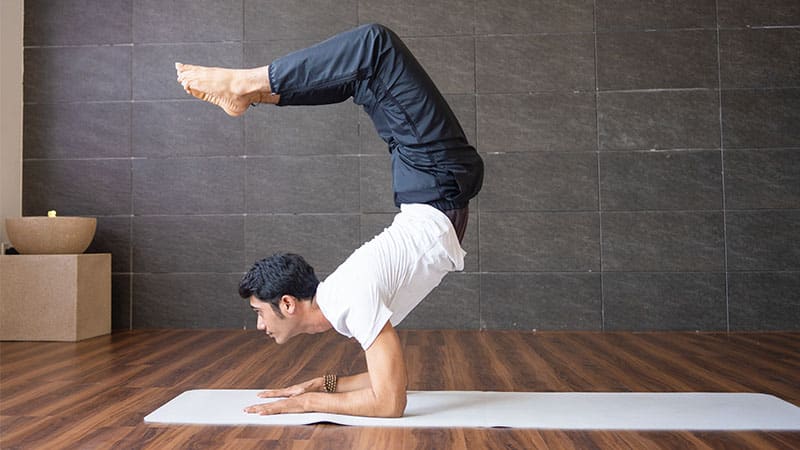 Take your yoga practice to another level with a new pair of extra comfy yoga pants. There's a range of styles available for men, from performance-enhancing compression tights to super-soft joggers that you'll never want to take off. Look for technical fabrics that wick away your sweat, keeping you feeling fresh and cool the whole way through your workout. The best part about many yoga pants styles for men is that you can wear them straight from the mat through the rest of your day running errands or lounging around the house.
1. Nike Dri-FIT Men's Yoga Trousers
Nike's Dri-FIT Men's Yoga Trousers let you move through your workout with ease and comfort. The fit features tapered legs, a roomy gusset, and an elastic waistband, which gives you plenty of space for unrestricted movement without the distraction of excess fabric. These yoga pants also make use of Nike's Dri-FIT technology. This innovative and high-performance microfiber construction wicks away sweat, directing it to the surface for quick evaporation. It keeps you cool and dry. Finally, enjoy the convenience of two slash pockets, plus an internal media pocket to store your phone.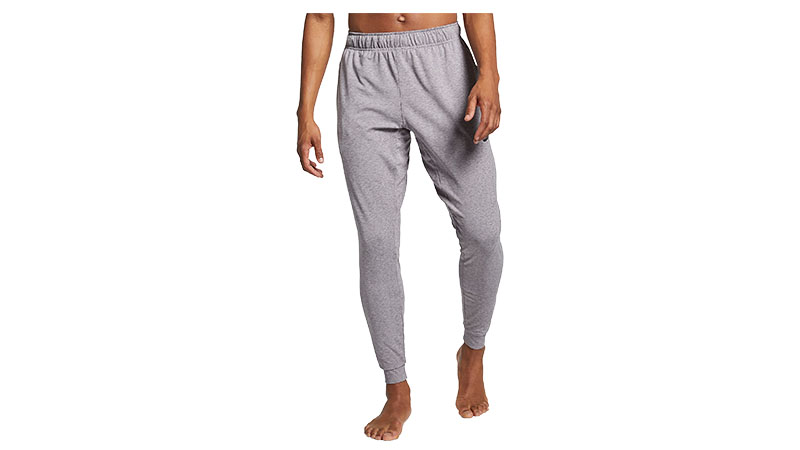 2. Nike Yoga Trousers
If you're looking for yoga pants made from more sustainable materials, then Nike's Yoga Trousers are a great option. Each product contains at least 75% recycled polyester fibers from used plastic bottles. They also feature Dri-FIT technology for its moisture-wicking and cooling features. Additional cooling comes from mesh panels at the back of the knees and calves for increased air-flow throughout your session. The fabric is lightweight and stretchy, so it doesn't inhibit any movement or stretches. Lastly, you'll enjoy the benefit of pockets to hold your phone or other essentials.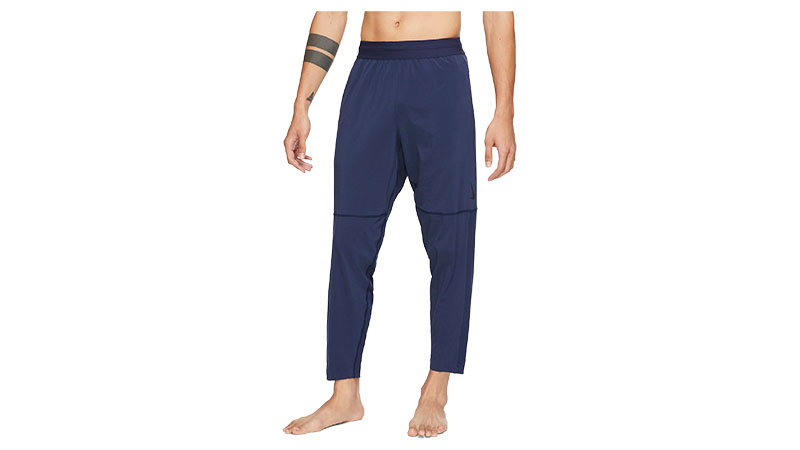 3. Alo Yoga Stability 2 in 1
Enjoy comfort and coverage with this pant and short combo from Alo Yoga. It features four-way stretch fabric for the ultimate movement and ribbed paneling for fit and comfort. The moisture-wicking technology will keep you feeling cool and fresh, no matter how rigorous your workout gets. Practical elements include an elastic and drawcord waist, so you can adjust as you need. There are also invisible zip pockets to keep your essentials safe. Lastly, you can choose from a range of colors. Opt for classic black, crisp white, black and grey, navy and grey, or blue and white.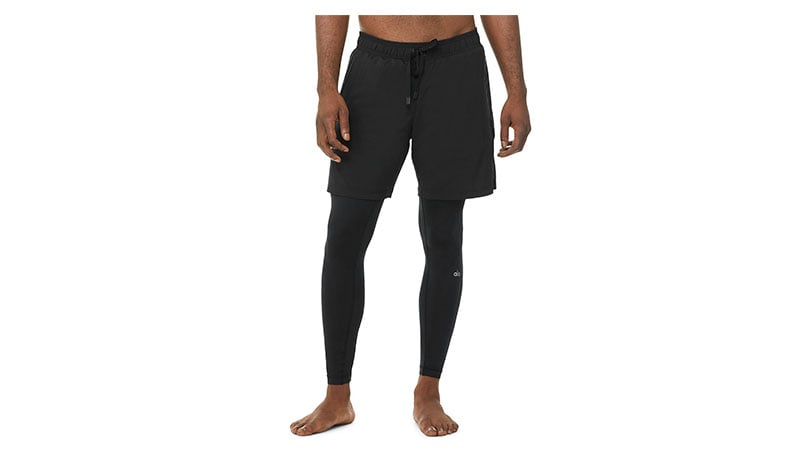 4. Willit Men's Cotton Yoga Sweatpants
The skin-friendly cotton blend in the Willit Men's Cotton Yoga Sweatpants wicks away moisture to keep you dry on the mat. It also uses Flatrock stitching, which reduces chafing and sits smoothly against your skin. The wide legs and four-way stretch maximizes the range of movement and ensures high levels of comfort. These pants are ideal for yoga and other exercises, as well as just lounging around the house on lazy days. You'll also appreciate the convenience of deep side pockets, giving you the ability to keep your essentials close by.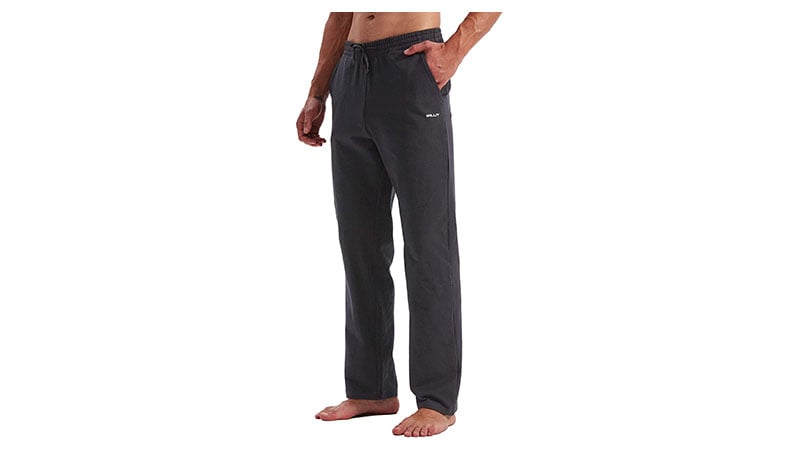 5. BALEAF Men's Cotton Yoga Sweatpants
Keep it loose and casual with these yoga sweatpants from BALEAF. While they're designed for yoga workouts, they're also perfect for recovery after intense cardio or weight sessions. The cotton-blend jersey fabric is exceptionally soft and low-friction. Meanwhile, the wide legs provide ease of movement for different stretches and poses. Keep your phone or wallet close by in the deep side pockets, and never worry about the weight of your belongings pulling down too much, thanks to the drawcord waistband. Lastly, select from a range of colors, including black, grey, charcoal, and navy.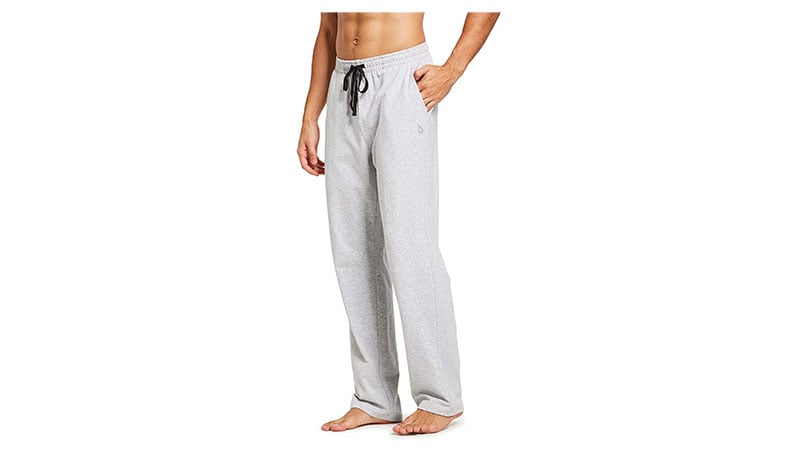 6. TSLA Men's Compression Pants
Compression tights are an excellent option for yoga, as they can help promote blood flow and muscle recovery. They're ideal for releasing heat, wicking moisture, and controlling your body temperature. The firm fit is also suitable for avoiding uncomfortable chafing. Four-way stretch in the fabric lets you move and extend your body how you want, without your clothing getting in the way. If you're self-conscious about working out in just the tights, they also make a great base layer for wearing shorts over the top.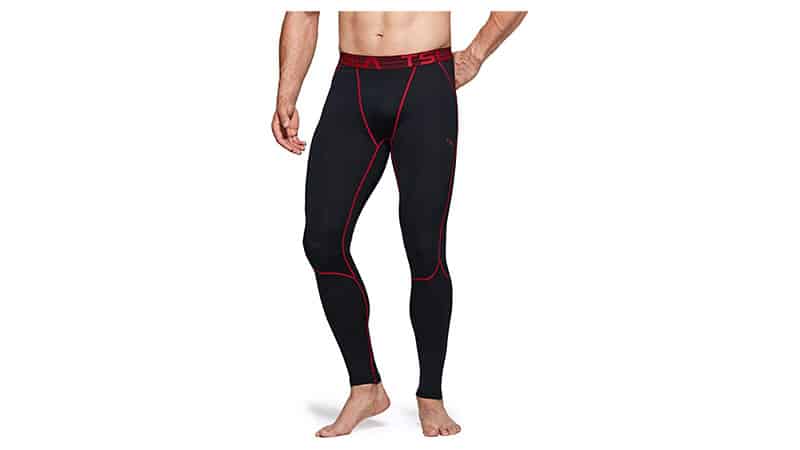 7. DRSKIN Men's Compression Pants
Move naturally and with ease in a pair of compression pants from DRSKIN. The lightweight, non-abrasive fabric is made with polyester and spandex for the ultimate stretch and durability. It wicks sweat away from your skin to the surface, drying quickly. There's also two-way air circulation to keep you cool in summer but warm in winter. Plus, these pants provide UV protection if you're working out outside. You'll also enjoy the benefits of improved blood circulation, muscle recovery, and reduced fatigue thanks to the firm but comfortable compression fit. Finally, there's a range of colors to choose from, and you can get multi-packs if you really love them.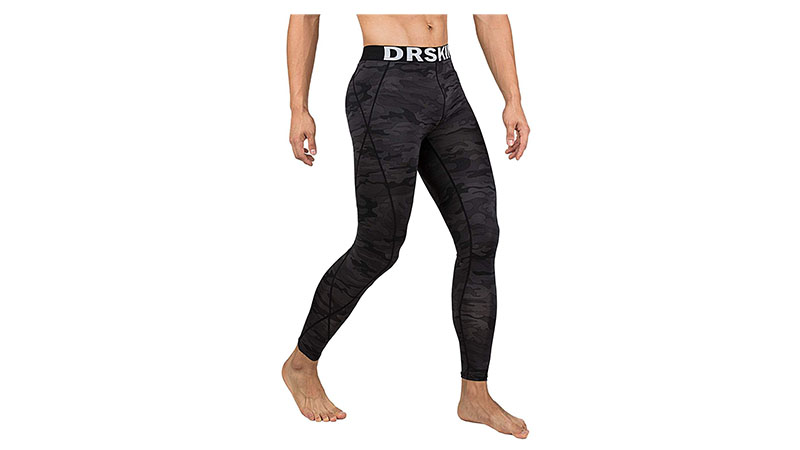 8. AvaCostume Men's Lightweight Loose Yoga Pants
Enjoy the soft, comfortable fit of these loose yoga pants from AvaCostume. While they are designed for your yoga sessions, they're so comfy you'll want to do nothing but lounge about in them! The blend of 95% cotton and 5% spandex gives an outstanding balance of natural breathability and flexible stretch. A soft elastic waistband ensures a good fit around your midsection. Choose options with or without pockets, depending on your needs. There's also a large range of shades to pick from, making it perfect if you want to inject some color into your yoga wardrobe.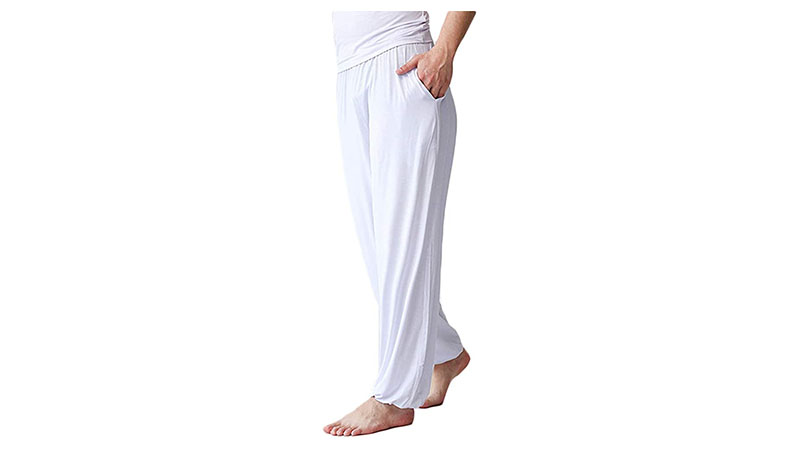 9. HDE Men's 3/4 Workout Joggers
Select yoga pants that can easily transition from your mat to everyday life. These cropped yoga joggers are a perfect choice. The relaxed fit and cotton-spandex blend make them super comfortable for all-day wear with maximum movement. It also features functional elements such as an adjustable drawstring, two side pockets, and ribbed cuffs to keep the legs in place. You'll enjoy the benefits of quick-dry moisture-wicking, ensuring your mat doesn't get too wet with sweat from an intense workout. They're also great for other activities such as running, soccer, or the gym.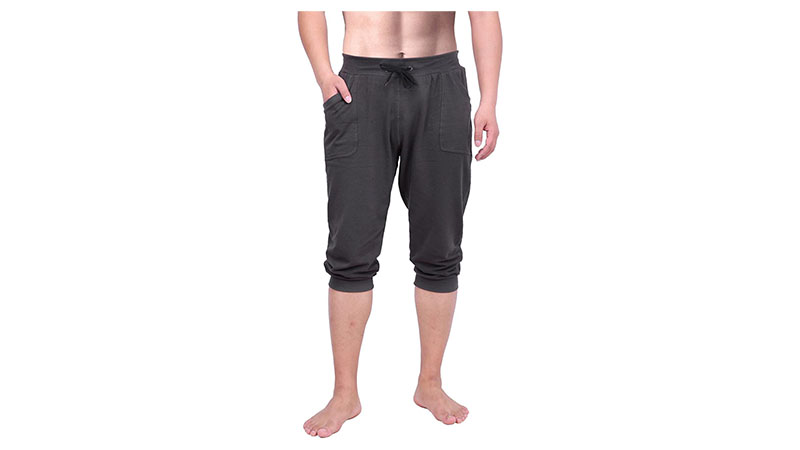 10. Amazon Essentials Men's Stretch Woven Training Pant
Amazon Essentials offer excellent, budget-friendly men's yoga pants. This design uses sweat-wicking, high stretch fabric, which keeps you comfortable throughout your workout, letting you hit peak performance. The interior drawstring keeps the waistband secure, yet the aesthetic minimal and unfussy. There are also side pockets and a back pocket, meaning you can easily wear these pants while running errands. Every detail has been fine-tuned based on customer feedback. Lastly, you can also choose from black, grey, and blue options to best fit your look.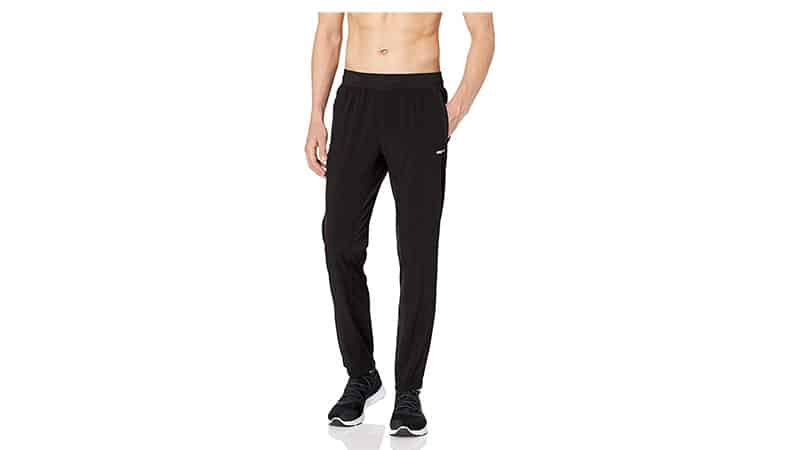 11. Kuhl Freeflex Pant
The Kuhl Freeflex Pant is the ideal choice for yoga, as well as warm-ups and exploring the great outdoors. The Freeflex fabric is specially designed to wick moisture away from the skin, driving it to the surface where it dries quickly. It also has stretch for comfortable mobility, which is further supported by a gusseted fit that allows better movement. The pants also come with zippered pockets, a stealth phone pocket, and even a back pocket. This makes them great for daily casual wear.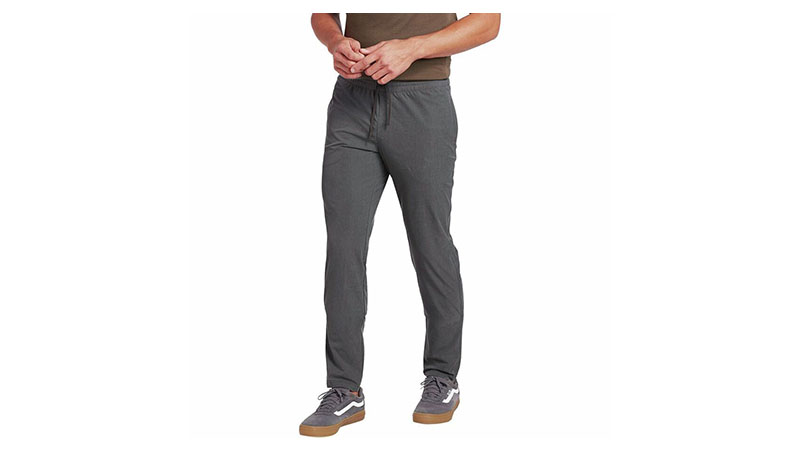 12. Vuori Ponto Pocket Performance Pants
Indulge in a pair of luxuriously soft performance sweatpants from Vuori. They're made with Vuori's signature DreamKnit™ fabric; a lightweight brushed jersey that boasts four-way stretch and moisture-wicking properties. It's also buttery soft, and ever-so comfortable. While they're perfect for the big stretches and dynamic poses of yoga, they're also brilliant for air travel and lounging around at home on lazy weekends. The tapered legs keep them looking stylish, and pockets add to the practicality of the design.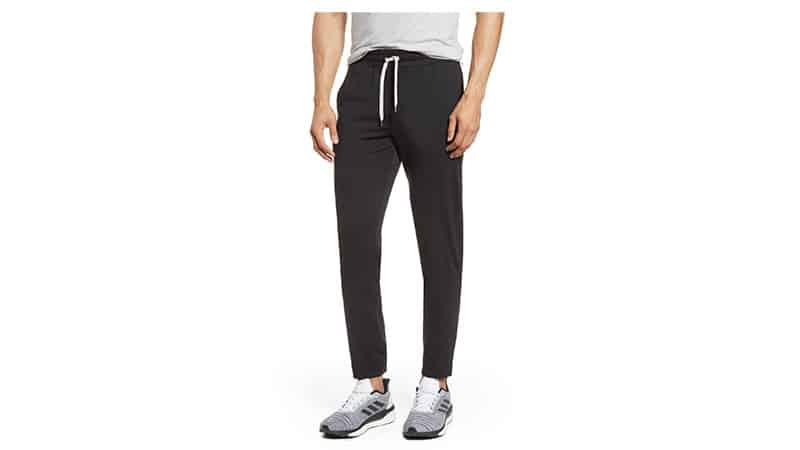 13. Prana Men's Vaha Pant
The Vaha Pant from Prana is the latest addition to the hemp collection. It uses Sutra®, a hemp/recycled polyester blend that's woven for stretch and movement. The benefits of this fabric, other than being planet friendly, are that it's naturally quick-drying, helps to prevent odors, and protects from UV rays. It's a relaxed yet stylish fit with plenty of room in the wide legs for a full range of movement. It's also great for other activities like bouldering, Tabata, or just relaxing at home. Make use of the handy pockets, while the knitted waistband has a drawcord for the perfect fit.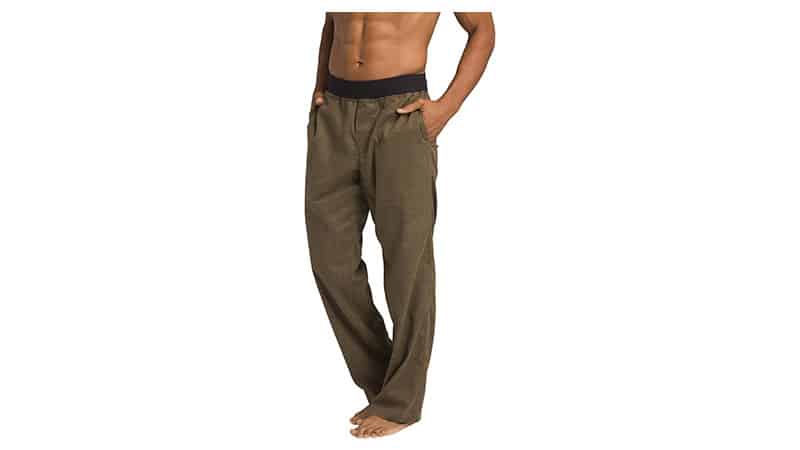 14. Alo Yoga Base Sweatpants
Choose a classic option for your next pair of yoga pants. The Base Sweatpants from Alo Yoga are so insanely soft, you'll never want to take them off. They're made from super plush fleece and are designed to take you straight from the studio through the rest of your day. Its slim fit is flattering, while the ribbed cuffs and waist are comfortable. Pockets also make it simple to keep your belongings on you. These pants are the ideal investment for practicing a yoga flow, hitting the gym, or just chilling in serenity.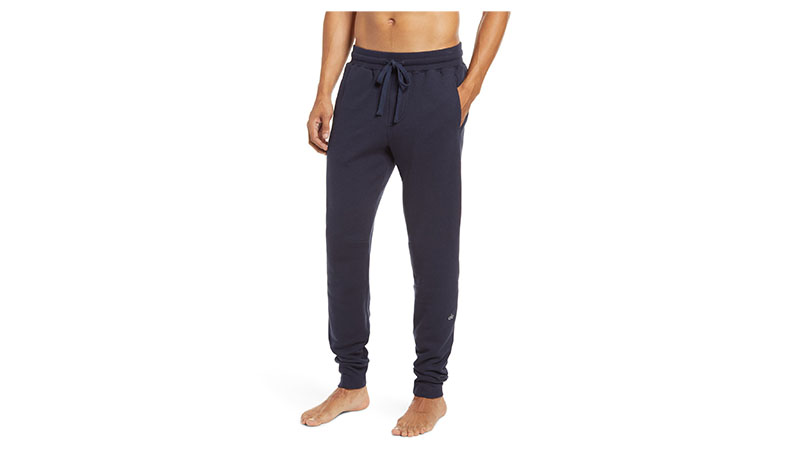 15. Marine Layer Performance Yoga Joggers
The incredible softness of these yoga pants from Marine Layer will have you saying "namaste-in-these-all-day"! They're made from the brand's heavyweight active fabric, a technical material that's perfect for cooler temperatures. It features four-way stretch, moisture-wicking, and cationic dye for a textured look. Plus, they're carbon peached on both sides for extra softness that feels wonderful against your skin. You can wear them practicing yoga or simply going about your day. The slim profile looks stylish, while two side pockets and one rear pocket make them practical for running errands and hanging out with friends.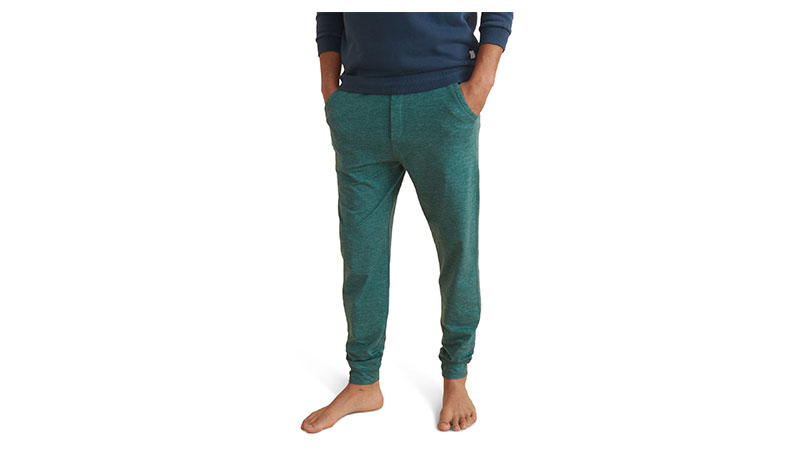 FAQs
Is it OK for guys to wear yoga pants?
It's absolutely ok for guys to wear yoga pants. They're designed to be stretchy, soft, and comfortable to facilitate the big, dynamic stretches and movements of yoga. They're also designed to stay in place when moving, and many have moisture-wicking technology to keep you feeling cool and fresh. 
Is there a difference between yoga pants and leggings?
The key difference between yoga pants and leggings is the material. Yoga pants are often designed using technical fabrics that support sweat-wicking and quick-drying so you stay fresh throughout your workout. Leggings, on the other hand, are often just made of soft, comfortable material. For men, yoga pant designs can also vary greatly, from compression leggings to jogger styles or wide-leg trousers. 
What should you wear under yoga pants?
You can just wear regular underwear under your yoga pants. It might be advisable to opt for sports designs that also use sweat-wicking fabrics to keep you comfortable. If you're wearing compression tights, you can opt to go commando, as, by design, they're already reasonably supportive. 
What is the male equivalent of yoga pants?
Joggers would generally be considered the male equivalent of yoga pants. They're just as versatile — you can do yoga in them (obviously), and they're a little more modest for the male anatomy than tights. They're also often made with similar technical fabrics that wick away sweat, dry quickly, and keep you at a comfortable temperature. 
SUBSCRIBE TO OUR NEWSLETTER
Subscribe to our mailing list and get interesting stuff and updates to your email inbox.