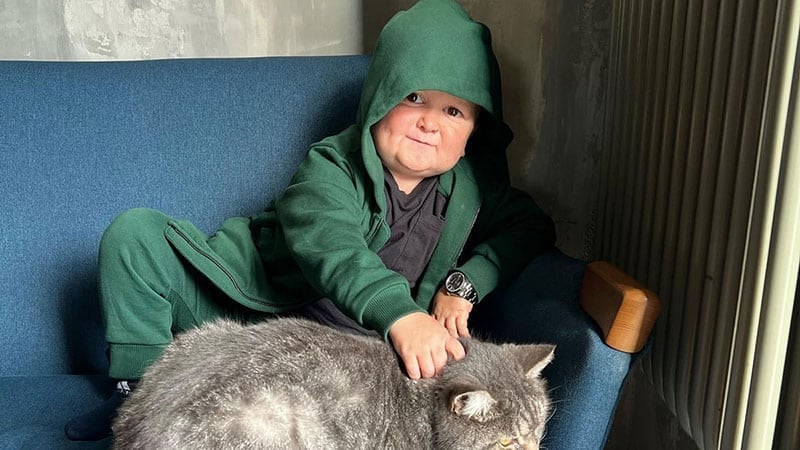 If you are familiar with social media then you would have likely seen a video clip or meme of Hasbulla. His optimism and laughter have endeared him to fans, but do you know about his personal life and the condition he has? There is no denying Hasbulla has become a viral sensation and fans are fascinated by him; he has 5.9 million followers on Instagram alone. But have you ever asked yourself where is he from and what his net worth is? These are good questions to which we have the answers. While Hasbulla's star continues to rise, we take a look at everything we know about him.

Who is Hasbulla Magomedov?
Hasbulla Magomedov is from Makhachkala in the republic of Dagestan in Russia. He started making online videos in late 2020. He is known for mocking mixed martial art content and is also sometimes referred to as Mini Khabib after UFC fighter, Khabib Nurmagomedov, who is also from the Republic of Dagestan. This is because he recreated Khabib's UFC weigh-in and the video went viral. The pair are now reported to have a friendship and have created content together.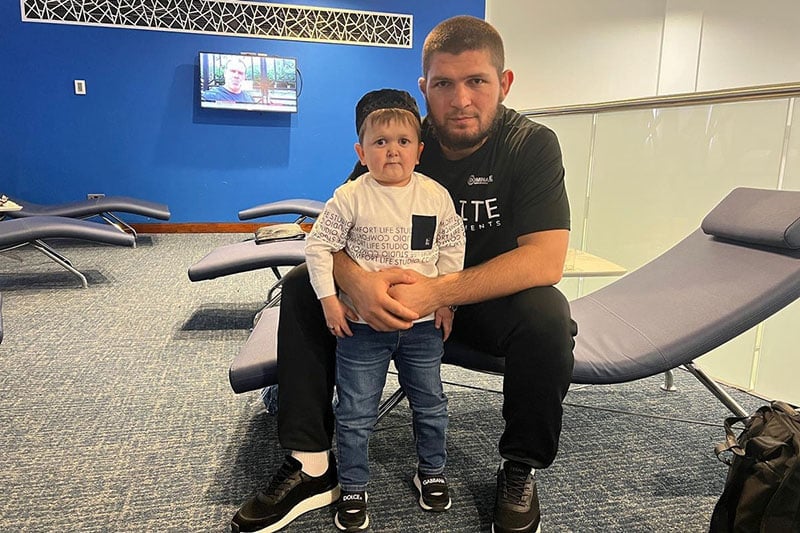 Hasbulla Quick Facts
Name: Hasbulla Magomedov
Age: 20
DoB: 2003
Nationality: Russian
Religion: Muslim
Height: 3 feet 3 inches / 99cm
Weight: 35 lbs / 16 kgs
Net Worth: $100,000 (Estimated)
Instagram: @hasbulla.hushetskiy 5.9m followers

How Old is Hasbulla Magomedov?
Hasbulla was born in 2003 and is 20 years old.
How Tall Is Hasbulla?
Hasbulla is reported to be 3 feet 3 inches. However, SportsKeeda claims he is 3 feet 3 inches.
Where is Hasbulla from?
Hasbulla Makhachkala is from the republic of Dagestan in the Russian Federation. He has previously mentioned how he comes from a " tiny town in Russia."
Why is Hasbulla Magomedov Famous?
Hasbulla started posting content on social media in 2020 and became a viral sensation soon after. He is popular for making mixed martial art content and showing videos of himself in fights. It also appears that he has set his sights on a career in fighting. In 2022, he signed a deal with the Ultimate Fighting Championship (better known as the UFC), The Sun reports. The deal is believed to be for five years.
Rivalry with Abdu Rozik
Abdu Rozik is also an internet personality and singer whose growth has been stunted. He is believed to be 3 feet and 3.37 inches, which is slightly shorter than Hasbulla who measures in at 3 feet and 4 inches. Rozik had rickets as a child. The pair are believed to have been involved in an organized fight, with SportsKeeda reporting that the fight took place on May 18, 2021, and was organized by Chechen MMA fighter Asxab Tamaev. It is unclear who claims to have been the winner of this fight and it mostly appears to be done for entertainment purposes. It was also called out for being "unethical and wrong."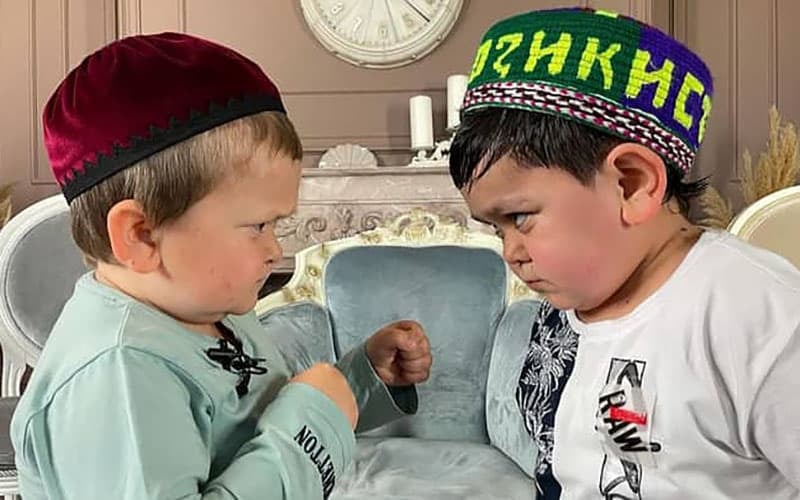 Revving Cars
For many, Hasbulla is an inspiring individual because he has not let his size restrict what he can do. This includes his love of cars. He has shared photos of himself on social media with an impressive car collection. In an interview with Barstool Sports for their Sundae Conversation segment in 2022, he addressed his love of cars, saying, "I like tuning them up. I like drifting. I like the noise they make." There are also videos of him driving cars and in the passenger seat in others. He loves speed.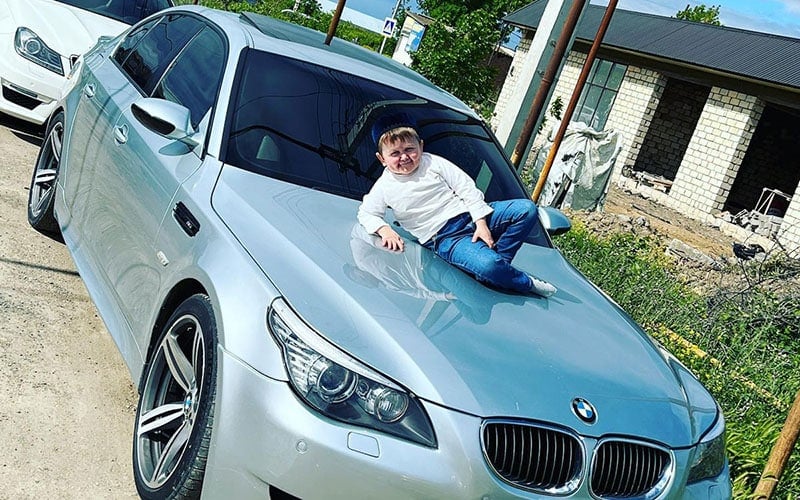 What Is Hasbulla's Net Worth?
Hasbulla's net worth has been challenging to calculate, but it has been reported that it is around $100,000. He has recently signed a deal with the UFC which will likely increase his net worth. In addition, his popularity continues to rise, which should result in his net worth increasing.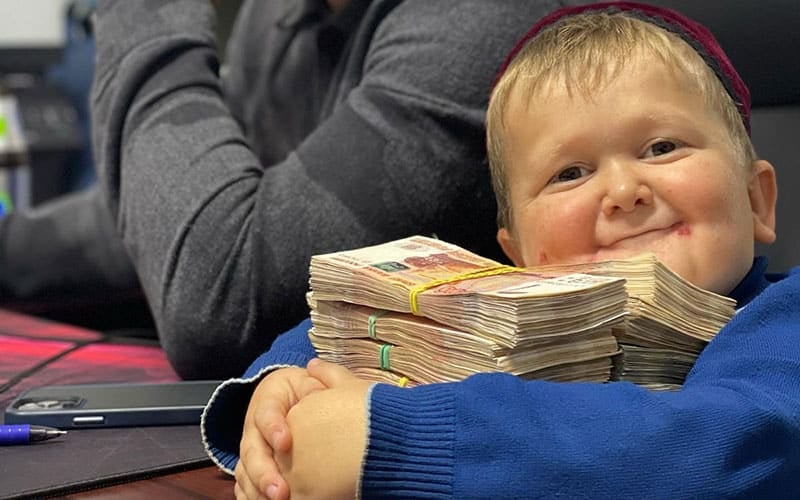 What Is Hasbulla's Medical Condition?
Hasbualla has child-like characteristics and is believed to have a rare genetic condition called Growth hormone deficiency (GHD) or dwarfism that makes him look much younger than his age, although his specific diagnosis has not been made public. However, Dr. Karan Raj stated on TikTok that this condition happens when the pituitary gland cannot produce Growth Hormone, LadBible reports. The symptoms for individuals with this condition can vary.
Hasbulla UFC Contract
Hasbulla has long shown an interest in UFC and it seems that he may soon become a fighter in his own right. In 2022 it was reported that he had signed a five-year deal with UFC, although the terms and conditions of his contract are currently unknown.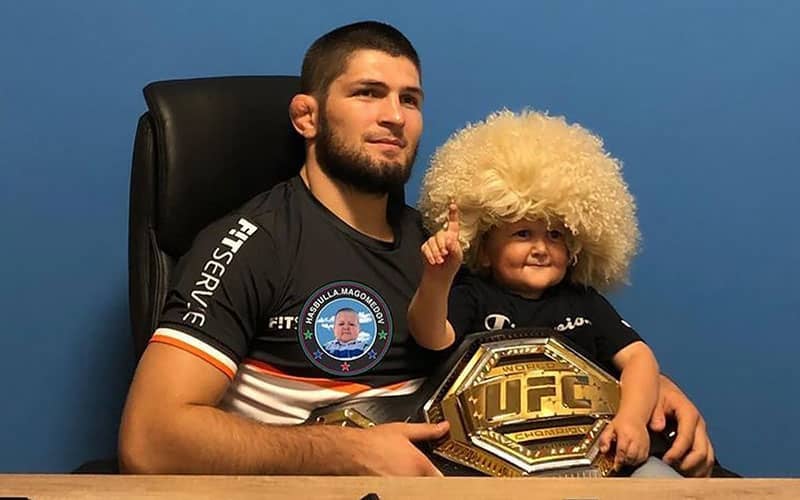 Hasbulla & The NFT Hustle
Tech-savvy individuals will be interested in this point! Are you a fan of the NFT world and do you want to own your very own Hasbulla? If so, then you can check out the Crypto Hasbulla Instagram account to see what is on offer. What is an NFT, you ask? It is a non-fungible token and a digital identifier with unique identifying codes. There have been NFTs released of Hasbulla, with the first set on April 14, 2022, Boss Hunting reports. They showed Hasbulla as different figures including one with a resemblance to Homer Simpson and Breaking Bad's Walter White.
Hasbulla Interview
Hasbulla has made many video clips of himself, but sitting down for an interview with Barstool Sports for their Sundae Conversation segment in 2022 was a big deal. It also gave fans a glimpse into his likes and interests, with him revealing several interesting facts about himself. A few highlights to take away are:
He loves weapons and carries one to keep himself safe. "It started when he became famous. But as long as you don't mess with me, I'm not going to mess with you."
When he was little he wanted to be "a truck driver or a trader." He also commented on his love for cars and how he "wanted to make money with them."
On why he loves cars: "I like tuning them up. I like drifting. I like the noise they make."
He does not watch cartoons.
He owns a cat named Barsik and is a cat guy. "I don't know why I like them so much, I just want to take them to parks or put them on a leash and show them the Burj Khalifa."
Hasbulla doesn't care what people think.
Hasbulla Magomedov FAQs
Why is Hasbulla called mini Khabib?
Hasbulla has been referred to as Mini Khabib after UFC fighter, Khabib Nurmagomedov. This is because he recreated Khabib's UFC weigh-in and the video went viral.
Is Hasbulla signed to the UFC?
In 2022, it was reported that Hasbulla signed a deal for five years with the UFC.
Does Hasbulla have a girlfriend?
Hasbulla's relationship status is unclear and there is no evidence to suggest that he has a girlfriend.
Is Hasbulla Russian?
Hasbulla is Russian and was born in a village in the republic of Dagestan in the Russian Federation.
Hasbulla and UFC fighter Khabib Nurmagomedov are not related, but they are believed to be good friends. Both men are from the republic of Dagestan in the Russian Federation. Khabib is a champion fighter and Hasbulla appears to have a keen interest in the UFC. The two have also made online content.
How many fights has Hasbulla been involved in?
It is unclear if Hasbulla has been involved in any fights, although there was a rumored fight that took place between himself and Abdu Rozik. His fight count might change significantly in the future though as Hasbulla is believed to have signed a deal with the UFC.
What is Hasbulla Life Expectancy?
While the exact nature of Hasbulla's condition is not clear, he is believed to have dwarfism or pituitary dwarfism. Individuals with this condition will have varying symptoms and their life expectancy is also vastly different. Some may live to their 40s, while others will have a normal life expectancy.
SUBSCRIBE TO OUR NEWSLETTER
Subscribe to our mailing list and get interesting stuff and updates to your email inbox.