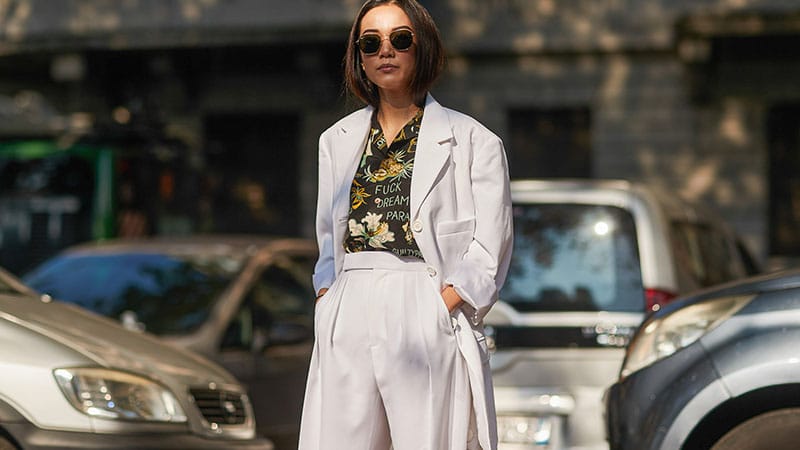 There's a lot to love about white pants. They're chic, they're stylish, and they make an excellent alternative to basic black pants. Don't believe us? We can prove it. Due to their neutral yet less conventional shade, white trousers are just as smart and versatile as black pants while being far more exciting. As such, they're a fantastic fashion-forward option that's easy to wear. Ideal for any season, white pants come in a range of materials, styles and designs. They can also work with almost anything, and we have the inspiration to back it up. Here's our selection of gorgeous white pants outfit ideas for women.
Casual White Pants Outfits
White pants can work for a variety of occasions, including casual outings and events. When wearing white pants casually, select a comfortable design in a simple fabric. In other words, ditch the silk flares and opt for jeans or track pants instead. For a stylish, sporty option, consider pairing white sweatpants with a pair of sneakers and a basic crew-neck T-shirt. Then, add a little contrast and fashion with a smart coat over the top.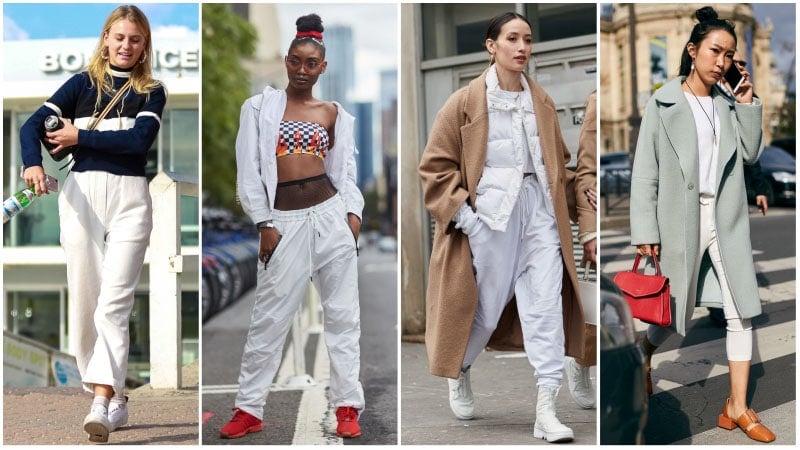 SHOP THE LOOK
Dressy White Pants Outfits
For special events and evening functions, white pants can make an excellent option. In fact, they can often appear even more sophisticated than black trousers. All you need to do is ensure you select the right style. In particular, wide-leg and flared designs in luxurious materials project an elegant and opulent appearance. As for the rest of your outfit, keep things clean with a monochromatic colour palette. Then, finish your look off with a bold lip and gold or silver jewellery.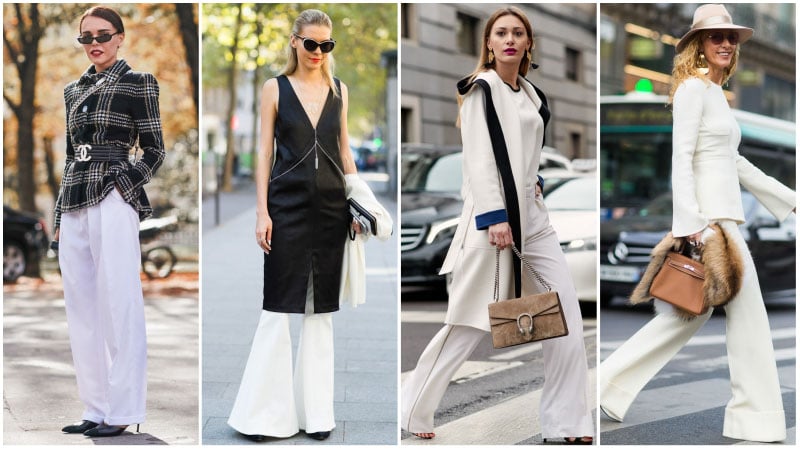 SHOP THE LOOK
Summer White Pants Outfits
White appears bright and refreshing in summer. So, it makes a perfect option for those hot, sunny days. While white jeans can work well during the season, sweltering days call for pants in a lighter fabric. Likewise, selecting a wide-leg style will allow for more airflow around your legs and help to keep you cool. For a casual look, partner your white pants with a loose T-shirt worn tucked in. For a chicer style, try a bandeau or crop top instead. Either way, be sure to add a pop of bold colour, such as orange or yellow, to enhance your summery ensemble.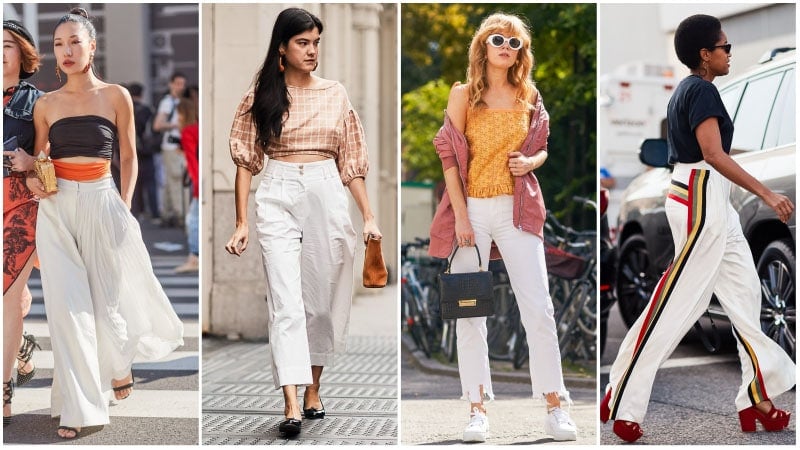 SHOP THE LOOK
Winter White Pants Outfits
Black may be your go-to colour in winter, but it isn't the only shade you should wear when the weather cools down. White pants can provide a stylish departure to the never-ending sea of inky trousers and dark blue denim jeans throughout the season. To rock the look, try opting for a pair of snow-white jeans. Then, partner them with seasonal staples, such as a turtleneck sweater and coat, in classic winter colours, like brown and burgundy.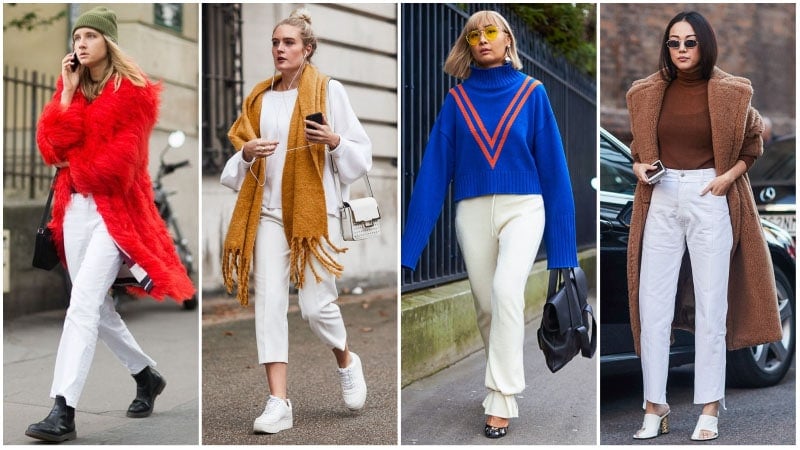 SHOP THE LOOK
White Jeans Outfits
White jeans can suit a variety of outfits. All you need to do is select the right style for the look you're trying to achieve. For instance, ripped boyfriend jeans project a stylish, casual vibe while simple, slim-cut jeans appear smart and classic. Once you've found your perfect denim option, just style accordingly. As for colour, choose between pairing your white jeans with pastels for a feminine look, bold hues for a statement style, black for a sharp monochrome appearance or soft neutrals, like grey and light brown, for an understated aesthetic.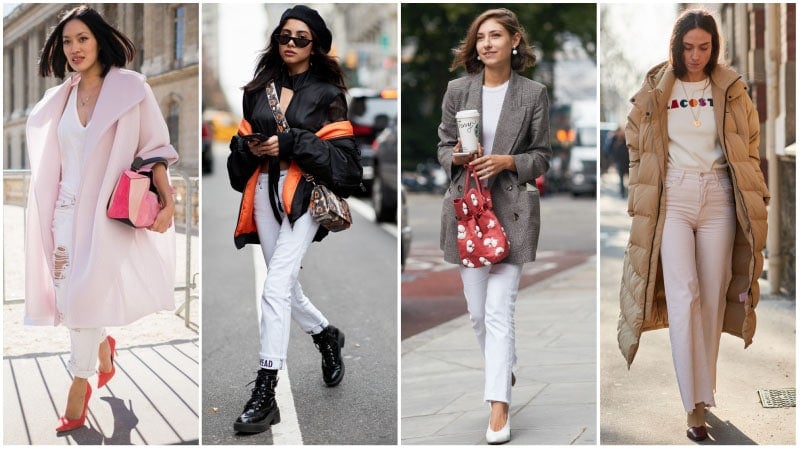 SHOP THE LOOK
White Linen Pants Outfits
White linen pants are stylish and perfect for summertime. Not only do they look the part, but they're also extremely practical for the season thanks to their lightweight and breathable fabric. As such, be sure to give them a try when the warm weather rolls around. For a gorgeous look, aim for an effortless style. To do so, pick up a pair of wide-leg linen trousers and wear them with a simple tank or bandeau. To keep your shoulders from burning, add an open white shirt over the top. Then, complete your carefree yet cool aesthetic with a pair of black slides or sandals.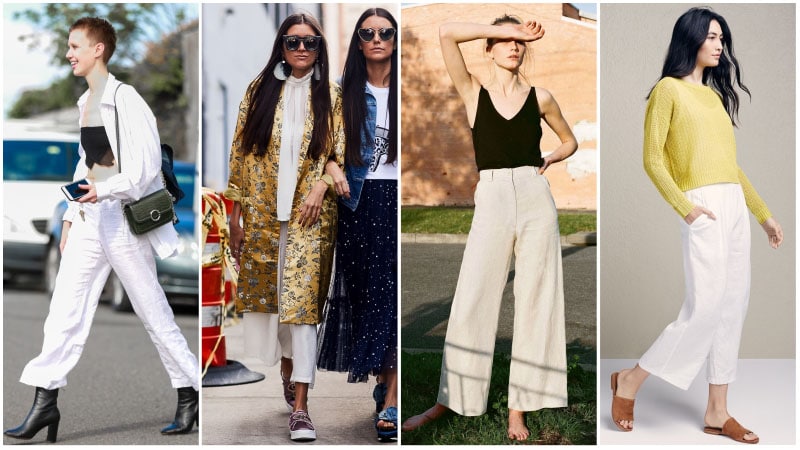 SHOP THE LOOK
White Wide Leg Pants Outfits
To make a statement with your white pants, opt for a wide-leg silhouette. If you're tall, select a full-length pair. If you're short, choose a cropped style and partner it with heels. No matter your height, be sure to style your pants based on the look you want to achieve. For a casual appearance, opt for a loose silhouette on top as well. For a sleek style, select a fitted top instead.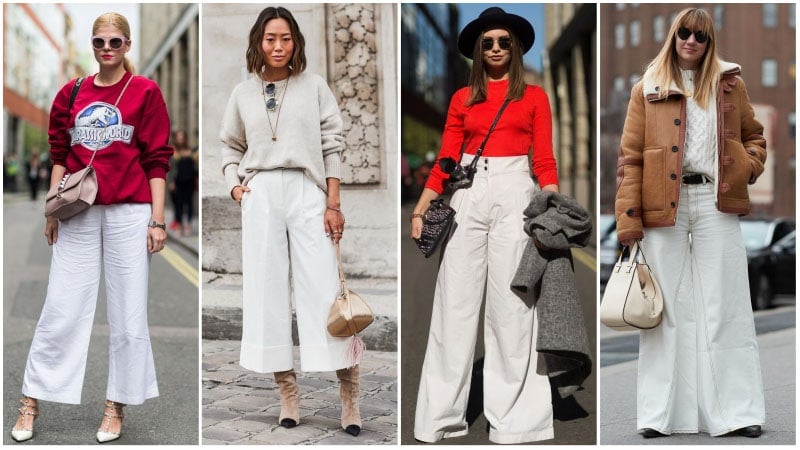 SHOP THE LOOK
White Yoga Pants Outfits
Feeling active? Forget the jeans and palazzo pants and pull on a pair of yoga leggings instead. Perfect for projecting a serene spirit, white yoga pants are as stylish as they are practical. To rock yours outside the studio, aim for a sports luxe aesthetic. To do so, try partnering your yoga pants with a matching crop top, monochrome sneakers and a statement silver jacket.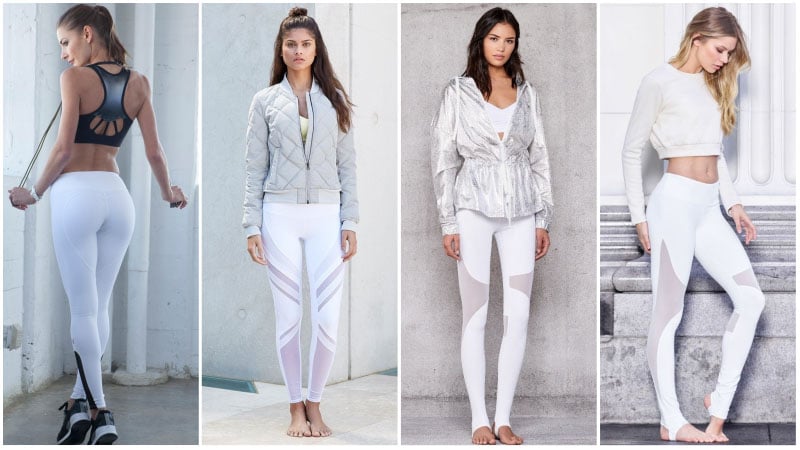 SHOP THE LOOK
All White Outfits
Who says you need colour to make a statement outfit? An all-white look can appear bold and stylish without any other hues. To nail the look, try breaking things up using different shades of white. Alternatively, add a little contrast with black details, such as buttons or accessories. Just be careful not to spill your coffee while wearing this clean look.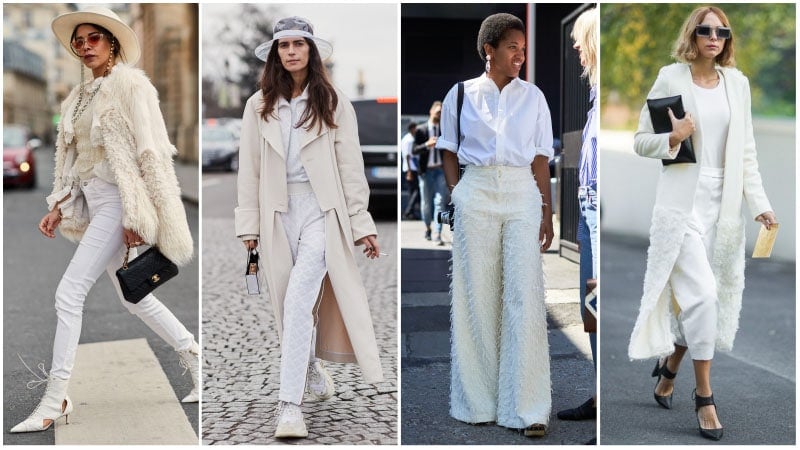 SHOP THE LOOK
White Pants Suit Outfits
A white pants suit is more versatile than you might think. In fact, the look can work for a range of occasions, so long as you select the right style. If you're off to a business event, choose a smart, tailored suit that appears sleek. You can also wear this suit for evening functions and parties. All you need to do is lose the shirt from underneath for a daring flash of decolletage. For an on-trend daytime outfit, on the other hand, try a slouchy option with oversized proportions.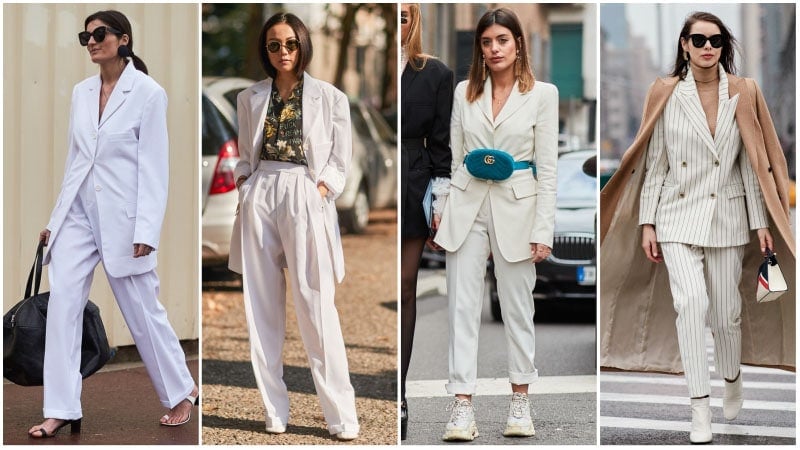 SHOP THE LOOK
SUBSCRIBE TO OUR NEWSLETTER
Subscribe to our mailing list and get interesting stuff and updates to your email inbox.