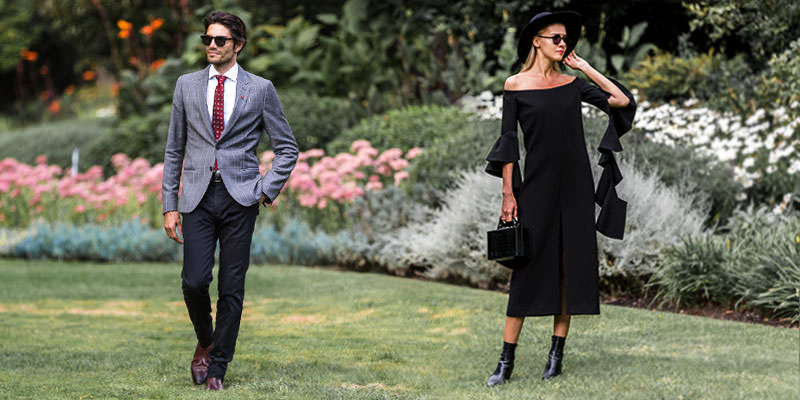 One of the most prestigious and stylish racing events is the Sydney Autumn Racing Carnival, which features both the Longines Golden Slipper Carnival, and The Championships at the Royal Randwick horse racing venue. The events are spread over six weeks and showcase Australia's finest thoroughbred horse racing as well as some of the best fashion in the world.
Because all eyes are not just on the races but also on the fashion, it's important to know the rules. Find the perfect Sydney Autumn Racing Carnival outfit by adhering to the dress codes set by the organisers – ladies and gents are required to be neatly dressed and groomed, with shoes and a shirt to be worn at all times.
When planning your day, it's important to note the types of attire that will not be deemed acceptable at the event. These include tattered clothing and shoes, thongs or barefoot, offensive prints such as those showing inappropriate language or imagery, and clothing that exposes the midriff.
Women's Style Tips
Off Shoulder Dress
Although you'll be watching your hemline on the day, a little skin can look sexy, and one of the most elegant ways to achieve this is by wearing an off-the-shoulder dress. The style highlights the part of a woman's body that is typically the smallest and therefore most flattering and is undoubtedly the classiest way to show off the skin. The style also works wonders for women with small or big busts. If you do have a small bust, then ensure you wear the right strapless bra and choose a style that has a frill – this is a subtle way to create an illusion of a fuller bust.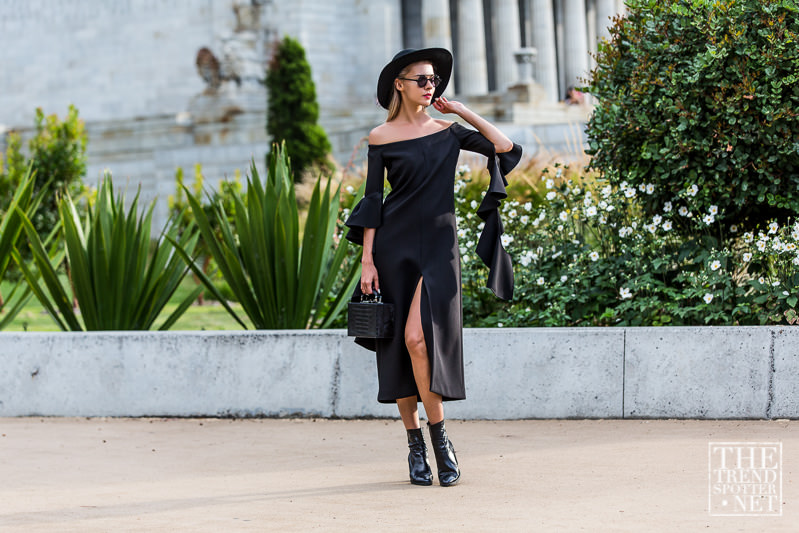 Get The Look
Burgundy Wine
Burgundy wine is a rich, luxurious colour that has enjoyed popularity this season. It's particularly flattering on most skin tones and is extremely versatile as well as luxurious.
While burgundy is great to incorporate into everyday wear and it pairs well with colours like white, black and slate grey, it's also an exceptional colour for more formal occasions as it is intriguing without being too bold, so, you can stand out of the crowd.
Burgundy wine is available in a wide selection of fabrics that has highlighted the importance of incorporating this colour into your wardrobe by offering fashion lovers a great selection of materials. In particular, burgundy wine lace adds another aspect to the tone, providing more volume and femininity.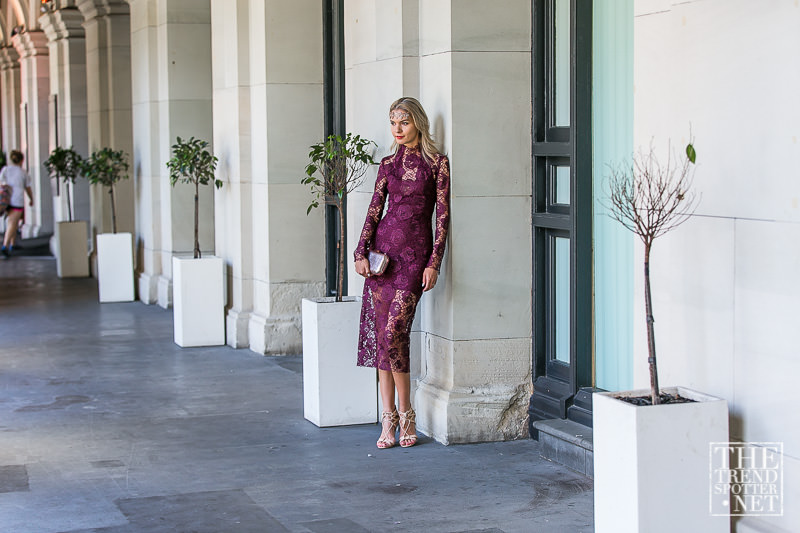 Get The Look
Layers
Layering is a great way to keep warm, but it also can make even the simplest outfit more interesting.
Layering can work in two ways: either with a neutral colour scheme and colours that tend to match and work well together, or the more daring person can colour-block. For inspiration on how to layer, consider pairing a dress with a stylish cape, a long top over a pencil skirt or a cropped blazer over a stylish jumpsuit, or a detailed shawl over your midi-length dress – all these looks will not only keep you cosy but also have you looking sophisticated.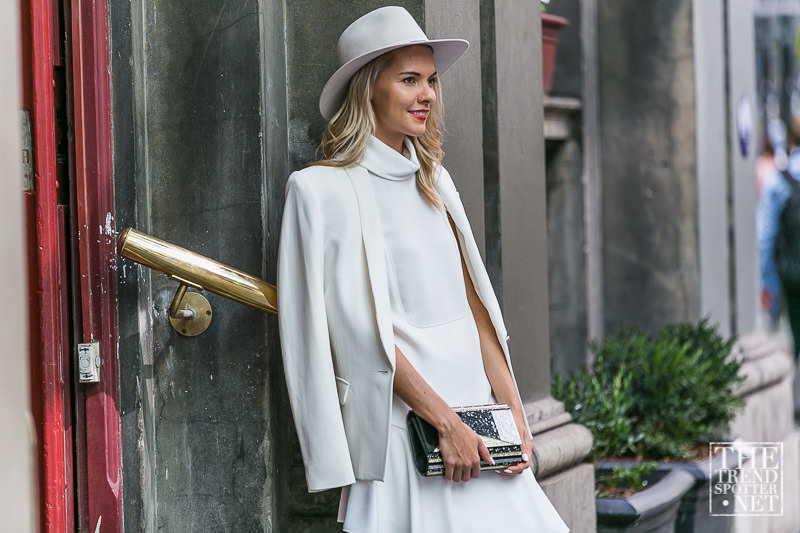 Get The Look
Hats
Hats are not only practical as they keep your face shade, but are also effortlessly chic and compliment almost every outfit. Some of the biggest hat styles for autumn racing events include the hard or floppy brim hat, which is both a great compliment to any outfit; and the classic fedora, which is for creating a beautiful balance of femininity and masculinity.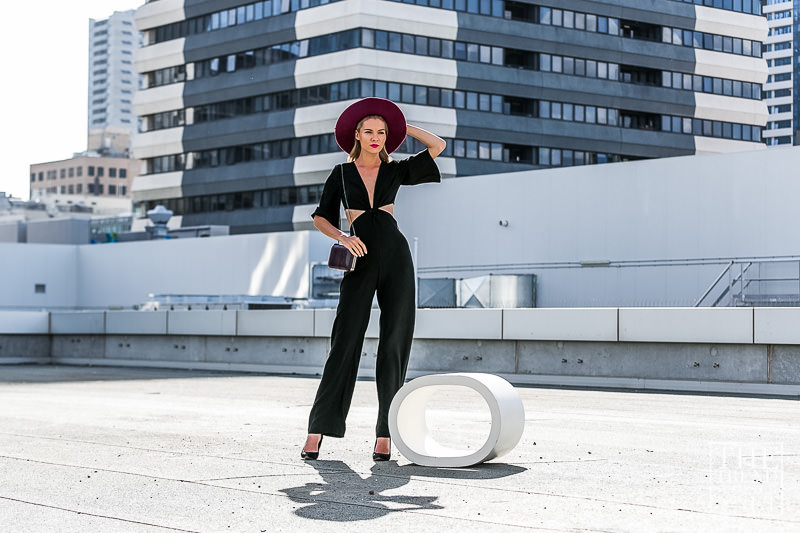 Get The Look
Jewelled Headpiece Detail
Accessories are just as important as your overall outfit choice, and one of the hottest accessories for this season is a jewelled headpiece. This stylish accessory has been seen on multiple celebrities and is perfect for creating a laid-back yet glamorous look. For a more sophisticated look style your hair sleek and straight, but if you want to achieve something a bit more romantic then you can lightly curl your hair.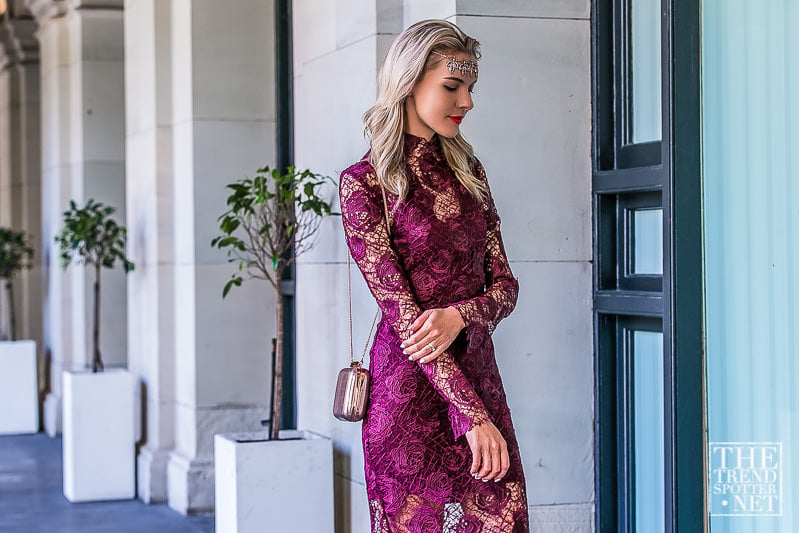 Get The Look
Monochromes
For any racing event elegance is key, and a classic monochrome look is a perfect way to achieve this. The black-and-white combination is timeless, flattering and incredibly versatile, but to modernise the traditional colour scheme be sure to pick different textured pieces, like a black leather pencil skirt and a white top, or a white lace dress paired with a black blazer.
However, texture is not the only important aspect of this look; play with interesting shapes like bell-sleeves, cut out details and embellishments like embroidery or crochet for an ultra chic ensemble.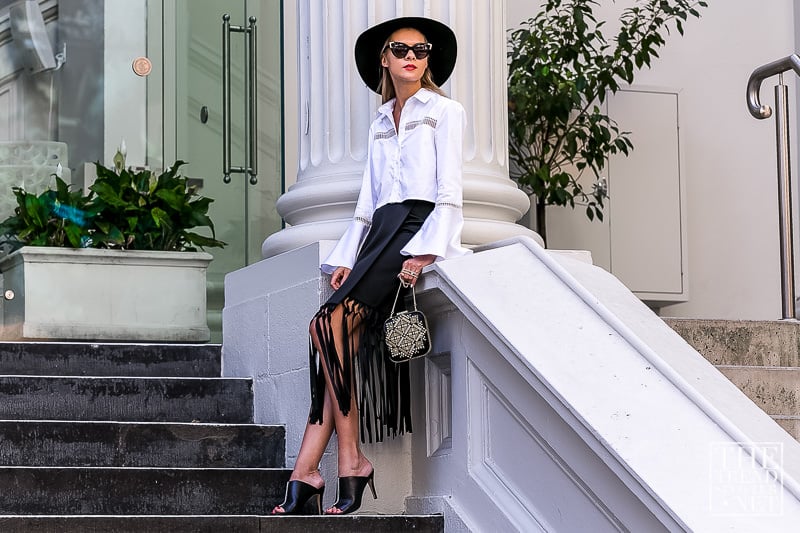 Get The Look
Pop Accessories
Never underestimate the power of accessories, and a way to ensure that your accessories are a standout feature is if you choose them in bright bold colours. Add a pop of colour to your look by picking an accessory that's interesting and bright – this will lift an otherwise neutral outfit and make the look more creative.
Try out a red oversized clutch with an all-white outfit (white reigns supreme for warmer months), or a statement yellow necklace paired with a monochromatic look – for the best results ensure the rest of your look is toned down and in muted colours.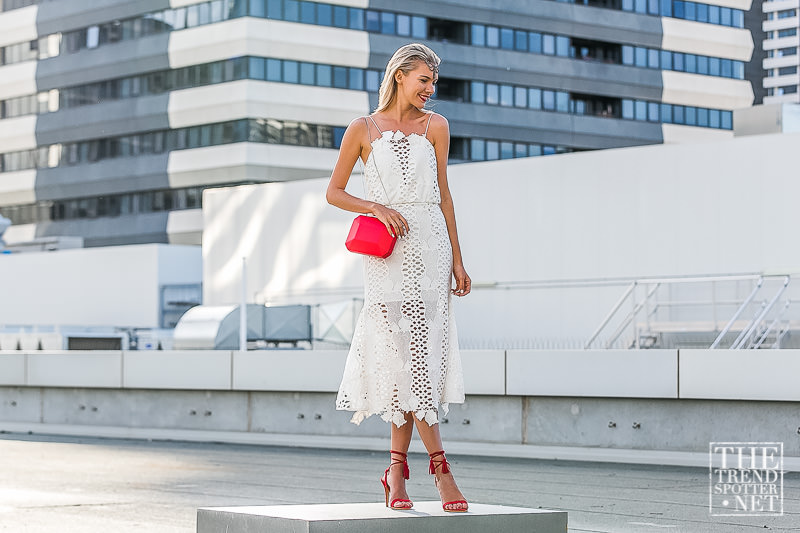 Get The Look
Raw Edge
It can be daunting offering up your clean lines and perfectly tailored hemlines for something edgier, but a raw edge finish on your garments creates an interesting texture, and the seemingly unfinished design adds to the softness of the fabrics, thus offering the wearer the perfect balance between sophisticated style and something a little more contemporary. If you're looking for a way to spice up a classic outfit, pick a garment with raw edge.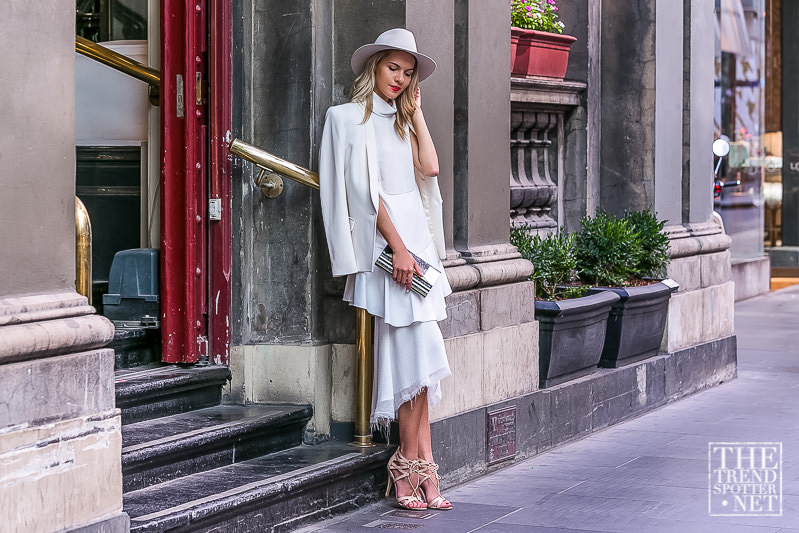 Get The Look
Men's Style Tips
Navy Classics Paired With Pop Colour Tie
Navy suit is a great classic option for an autumn racing event, and you can showcase your love of fashion by creating a pop of colour with your tie. The best thing about navy is that there is almost no colour that does not match with it – but do try pastel pinks and blues, as well as candy striped red.
Note: Your tie should always be a darker shade than your shirt (if you're opting for two coloured items) and always vary the shades. Of course, the easiest way to achieve this look is to combine your suit with a crisp white shirt and a bright tie. Shoes with brown hues look best with navy suits.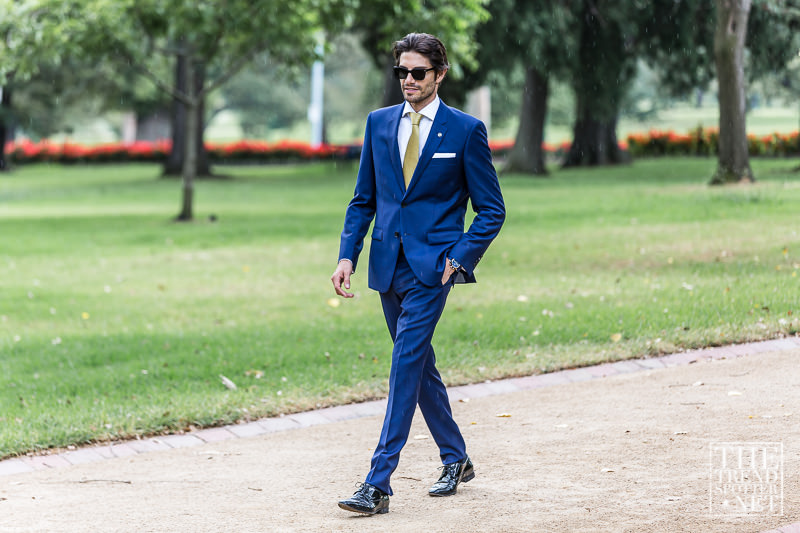 Get The Look
Play With Prints
Prints and pattern clashes are perfectly acceptable, in fact, they're encouraged. If you want to stand out from the crowd during Sydney Autumn Racing Carnival, then you may want to consider clashing prints.'
Three important things to remember when choosing prints:
1) Choose one print to dominate and one as the accent
2) Choose fabrics that are similar colour shades – a tonal colour palette works wonders
3) Play with size: for optimal results the prints should be different scales.
When in doubt, a favourite is polka dots with window check, both patterns are small and unassuming. An excellent example of how to wear this look is pairing window check shirt with polka dot tie. A major plus about mixing contrasting prints is that it's a look most men shy away from, which is all the more reason to try it out as you're bound to turn heads.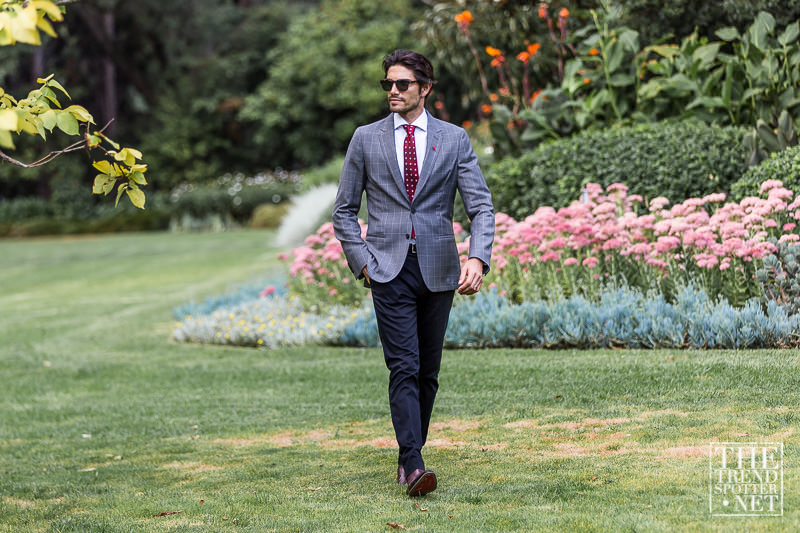 Get The Look
SUBSCRIBE TO OUR NEWSLETTER
Subscribe to our mailing list and get interesting stuff and updates to your email inbox.