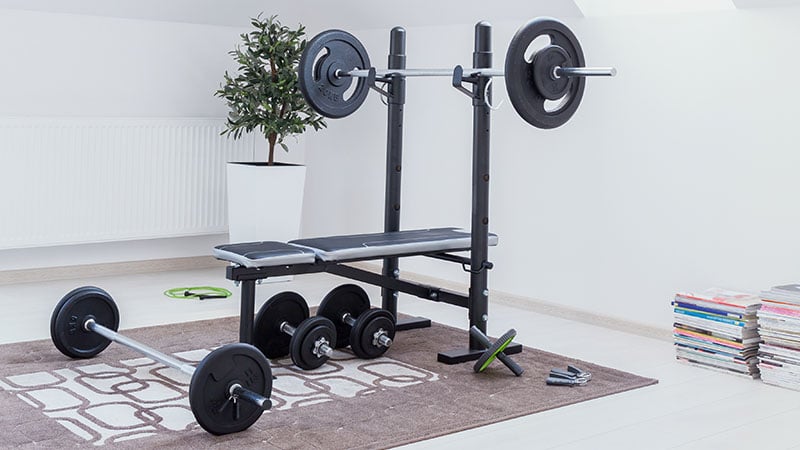 Weight benches are an excellent investment for any home gym that will help you reach your fitness and strength goals faster. While you can get a decent workout done without one, they provide an excellent way to increase the number and variety of exercises you can perform. Add moves like dumbbell presses, bicep curls, dumbbell rows, Bulgarian split squats, tricep dips, and even barbell bench presses to your regime. Choose from various styles to suit your needs, including flat, adjustable, and Olympic weight benches.
Best Adjustable Weight Benches
1. FLYBIRD Adjustable Weight Bench
Take your home workout to another level with the Adjustable Weight Bench from FLYBIRD. It holds a massive 700 pounds of weight, utilizing commercial thickness steel and a triangular frame for added support. Switch the backrest position between seven different locations, including two decline positions. Meanwhile, the seat also has three positions, while the foothold has two, so you'll stay secure no matter what exercise you're performing. The uppers use two-inch padding and PU leather for a comfortable and durable finish. Finally, when your workout is done, the unit folds up to a compact size, making storage simple and easy.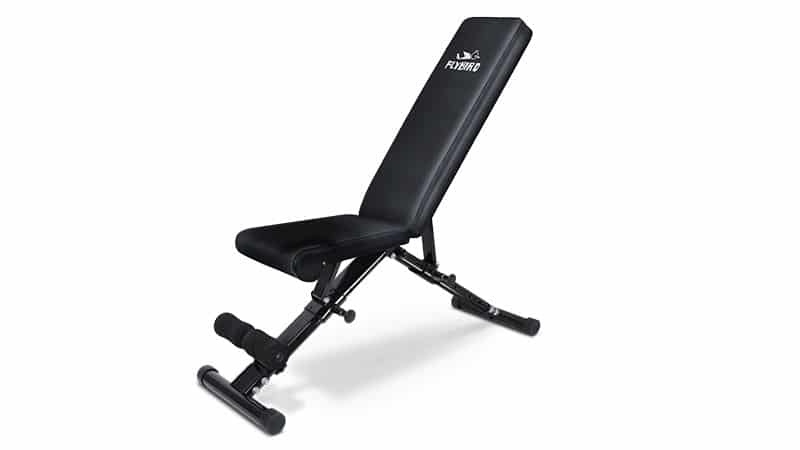 2. Pelpo Adjustable Weight Bench
Pick between flat, incline, and decline with this adjustable weight bench from Pelpo. It has six backrest options and three feet positions, plus it comes with two resistance bands that attach to the frame. That means it provides plenty of versatility for hitting every party of your body with an epic workout. The frame is made with commercial quality steel and only requires quick and straightforward assembly. Enjoy a weight capacity of up to 660 pounds, letting you lift heavier. Lastly, you'll stay comfortable with padded uppers covered in durable, tear-resistant PU leather.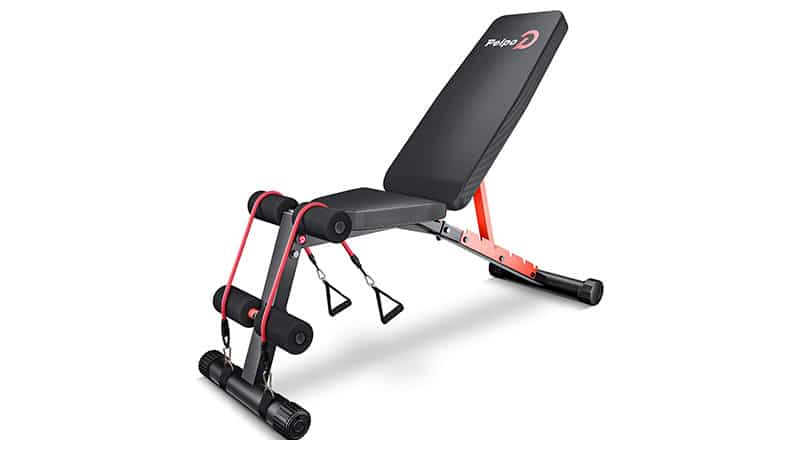 3. FLYBIRD Adjustable Utility Weight Bench
With 600 pounds of weight capacity, this versatile, adjustable utility weight bench is an excellent addition to any home gym. Choose from six back positions that vary from 104 degrees to a lie-flat 180-degrees. You can also switch the seat between four positions, which, combined with the footrests, keep you secure and comfortable. The brand's triangular design provides durable support, as does the heavy-duty steel frame. Plus, the backrest is just under eight inches wide and tall enough for users up to five-foot-nine. Save up to 70 percent space when it's not in use by folding it down to slide under the bed or sit in the closet.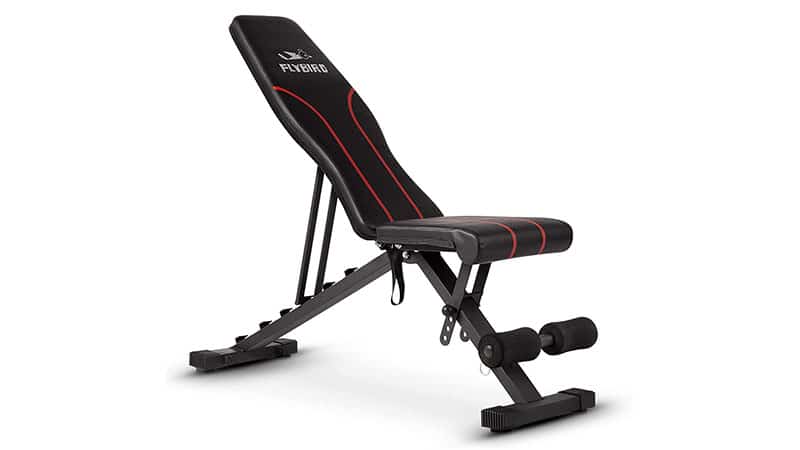 4. LINODI Weight Bench
Enjoy a full-body workout with the versatility of this adjustable weight bench from LINODI. Add curls, flies, rows, presses, sit-ups, and more to your repertoire, with seven positions for the backrest, including incline, flat, and decline. Meanwhile, the seat also has five options, and there are three leg bar positions. The capacity is a massive 660 pounds thanks to heavy-duty steel while supporting bars along the back create better balance without any wobble. If you don't have room to keep it out, the unit does fold up into a compact six-inch by 30.3-inch size. Finally, the sweat-proof PU leather uppers feature one-inch padding and double hem sewing for reinforced edges, ensure the bench lasts.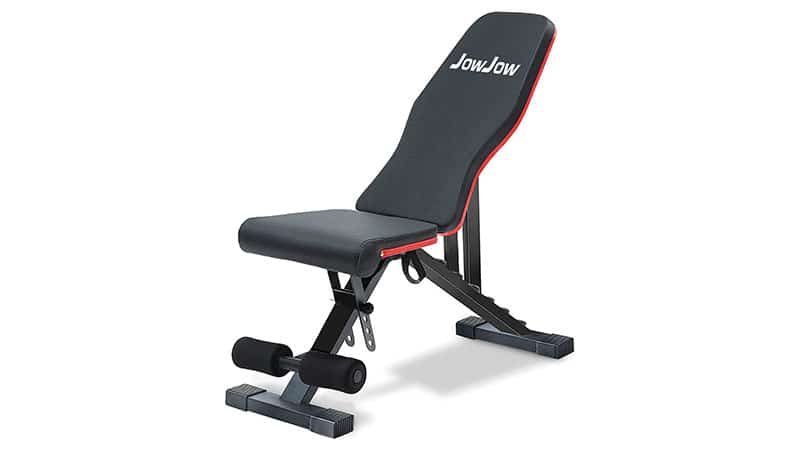 5. MCNBLK Adjustable Weight Bench
MCNBLK's Adjustable Weight Bench is a versatile addition to your home gym. It boasts seven backrest recline positions, foam foot pads to stabilize your legs, and it comes with two pairs of resistance bands. When the unit is not in use, you can fold it up and keep it stored out of the way. The breathable, sweat-resistant uppers mean it will last, while the 1.8-inch thickness is comfortable for even the longest workouts. It's perfect for all kinds of moves like dumbbell flies, sit-ups, dumbbell rows, reverse flies, and push presses.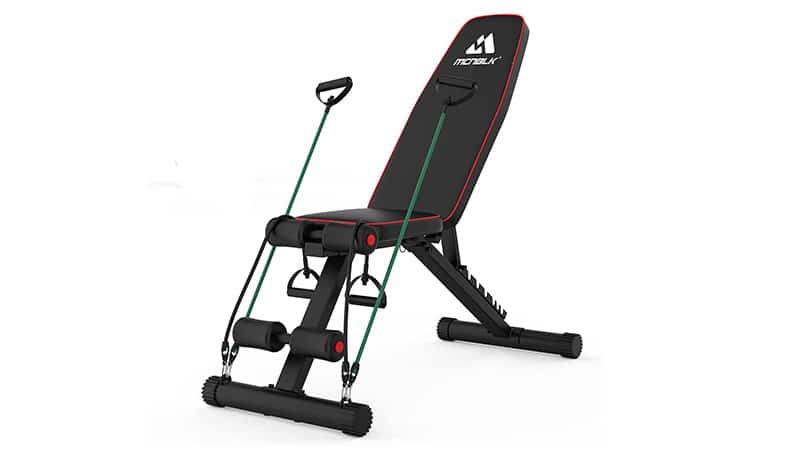 6. KOMSURF Workout Bench
Do more during your at-home workout using the KOMSURF Workout Bench. The latest design uses double thickened steel tubing for the frame, allowing for a maximum capacity of 400 pounds. Meanwhile, breathable, high-density padding on the seat and backrest ensure your comfort. Select from seven incline positions to suit all kinds of moves, from decline sit-ups and one-arm rows to push-presses and bicep curls. There are also foot holders made with thick foam to keep you anchored. The space-saving design folds up, so when you're not working on your physique, you can easily tuck it out of the way.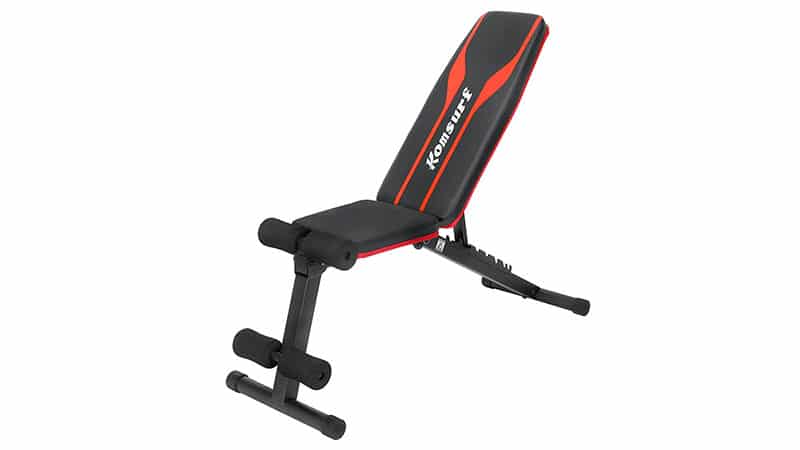 7. pelpo Strength Training Weight Bench
You'll be using your pelpo Strength Training Weight Bench for years to come, thanks to its sturdy construction. The frame uses heavy-duty steel and a triangular shape for extra durability and sturdiness. Meanwhile, the pads are made with high-density foam covered in tear-resistant PU leather. You can work out with heavy weights, thanks to a capacity of 660 pounds. Choose from seven back pad positions, including incline, flat, and decline angles, plus four seat adjustments that allow you to get into the perfect spot for every exercise. Plus, if you don't have a lot of room, the unit folds down flat for convenient storage.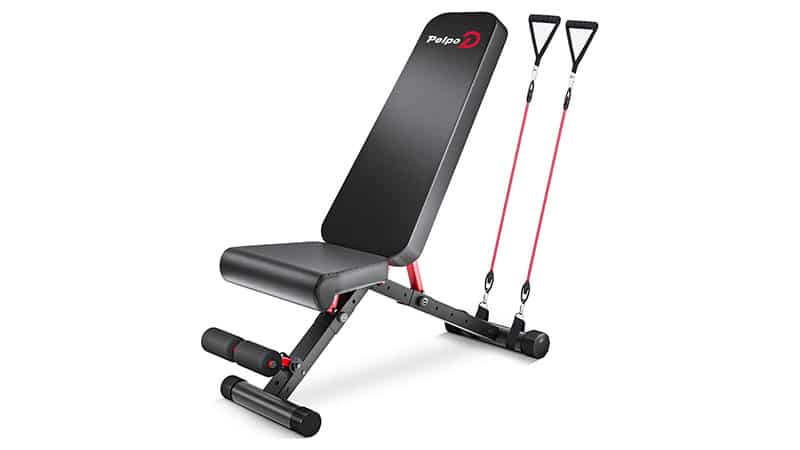 8. Ativafit Adjustable Weight Bench
Casual at-home workouts just got easier with the Ativafit Adjustable Weight Bench. The 330-pound capacity is ideal for toning exercises using lighter weights or even just your body weight. Find the perfect form with seven backrest positions that include flat, inclined, and declined angles. You can also use the detachable resistance bands for extra moves like bicep curls or side lateral raises. The thick padding uses high-density foam that's designed to provide comfort while withstanding the most epic workouts. Finally, fold the unit up into a compact size for easy storage if you're working with limited floor space in your home gym or apartment.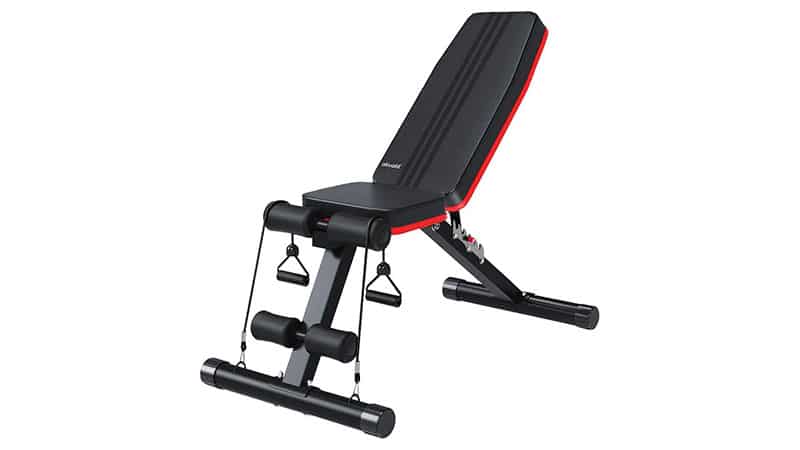 9. Finer Form Multi-Functional Weight Bench
If you're looking for even more versatility, then the Finer Form Multi-Functional Weight Bench is excellent. You cant target most major muscle groups for a full-body workout. The bench has one flat and two decline positions, while the thigh support cushions have eight, and the foot holder has four. A triangular frame made with powder-coated steel stands up to the most demanding routines with a maximum load of 660 pounds. Use this unit for hyperextensions, sit-ups, dumbbell rows, or dumbbell presses. Your order even comes with a handy chart of exercises you can try with your new unit.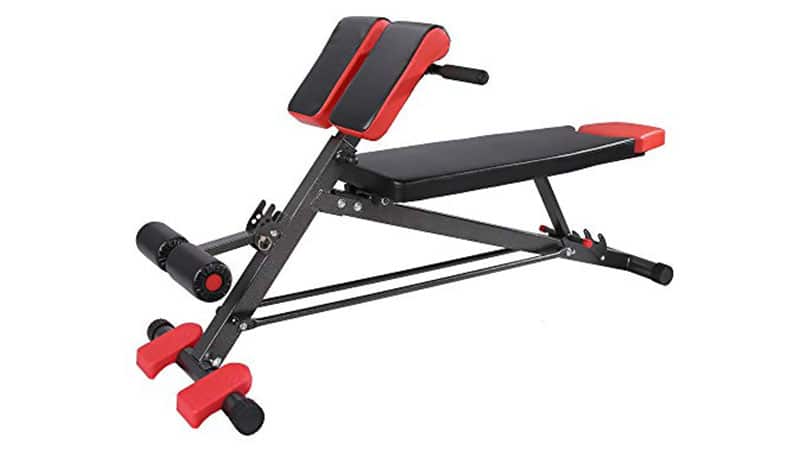 10. DERACY Adjustable Weight Bench
Target all the major muscles groups during a workout with the DERACY Adjustable Weight Bench. It features seven backrest angles and three seat positions, so you can find the perfect form or increase the resistance for your presses, sit-ups, and flies. Durable construction features a triangle structure and heavy-duty steel that can support up to 660 pounds. Plus, the dense foam padding is firm and supportive yet still comfortable. Wheels make it easy to move around, setting yourself up near your free weights or in a power rack, depending on your plan and goals.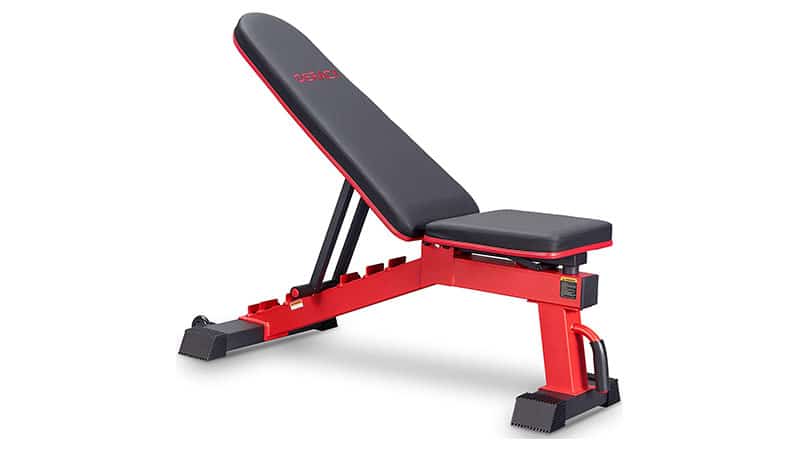 11. Body Champ BCB5860 Olympic Weight Bench
If you take your workouts very seriously, prefer barbells to dumbbells, or have body-building goals, then an Olympic weight bench like this one from Body Champ can be a great investment. It's designed to help you reach your fitness goals. Features include a seven-position backrest, dual-function leg developer, and built-in safety hooks. It also comes with a range of attachments, including a plate adapter to switch between Olympic and standard plates, a preacher curl pad, arm curl bar, and ab crunch with foam grip handles. The rack is built for seven or eight feet Olympic bars, letting you lift heavy and increase your mass.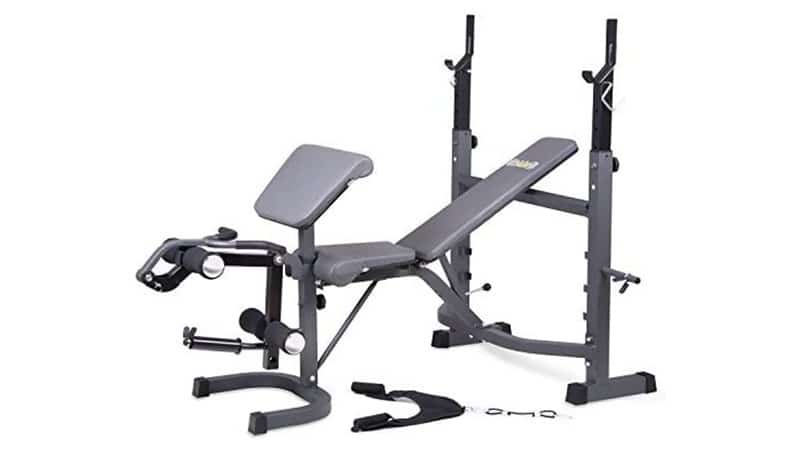 12. CEAYUN Adjustable Weight Bench
Enjoy comfort and stability while working out with the CEAYUN Adjustable Weight Bench. It uses thickened steel pipes, two-inch foam padding, and non-slip adjustable feet to get the bench position just right. The ergonomic design also has seven angles to choose from for the backrest, including inclining, flat, and declining. It's easy to assemble and folds up to a compact size for convenient storage. Make the most of your workout by incorporating various moves such as dips, raises, sit-ups, press-ups, push-ups, and kickbacks.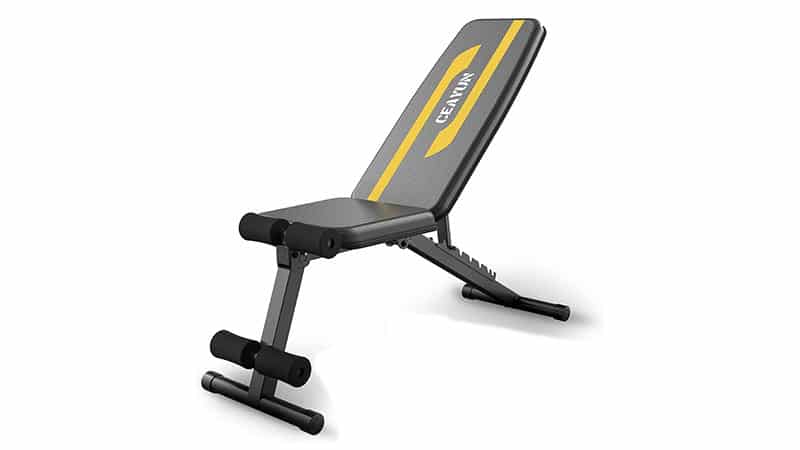 13. Figolo Adjustable Weight Bench
Multifunction convenience makes this adjustable weight bench from Figolo a great addition to your home gym. It has a maximum weight capacity of 600 pounds, with high-quality steel frames. The comfortable PU leather uppers are non-slip and wear-resistant and cover thick, high-density foam padding. You can choose seven backrest positions from incline to decline for a variety of workouts. Plus, the footrests are also adjustable so that you can anchor your legs appropriately. Lastly, if you only have limited space, you can fold it up to make storage easy when it's not in use.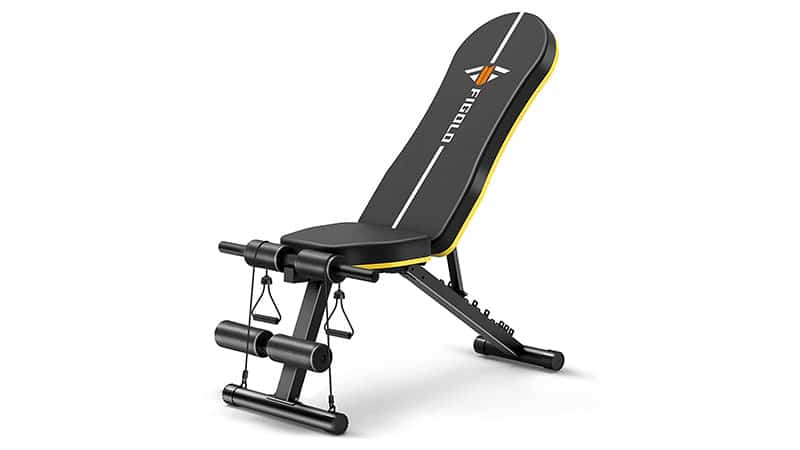 14. Marcy Adjustable 6 Position Utility Bench
While most adjustable weight benches have plenty of versatility, this design from Marcy takes it to another level with the addition of a leg developer. The dual-position system lets you easily incorporate moves like leg extensions and curls into your session. Of course, you can still do all the other great exercises that come with an adjustable weight bench. The backrest shifts between six positions, including incline, flat, and decline. Plus, the seat also has four positions. A total capacity of up to 600 pounds lets you lift heavy, while the padded surfaces keep you comfortable. You can also move the unit around with ease, thanks to wheels on one end and a carry handle on the other.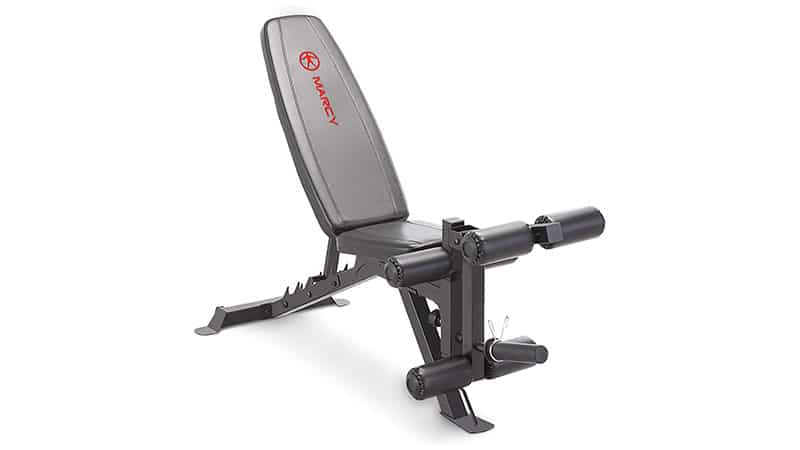 15. Marcy Adjustable Olympic Weight Bench with Leg Developer and Squat Rack
Get competition ready with this Olympic weight bench from Marcy. Nearly every aspect is adjustable, so you get the perfect workout. The barbell rack height, seatback position, and curl pad can all move. The squat rack unit is also separate, so you can shift the bench and use it for other exercises, adding to the flexibility of the design. Work out your legs with the leg developer, or target your upper body with some preacher curls. You'll sweat in peace knowing the sturdy construction that uses a 14-gauge rust-resistant steel frame is durable and long-lasting. The final great feature is plate storage so that you can keep any extra weights out of the way.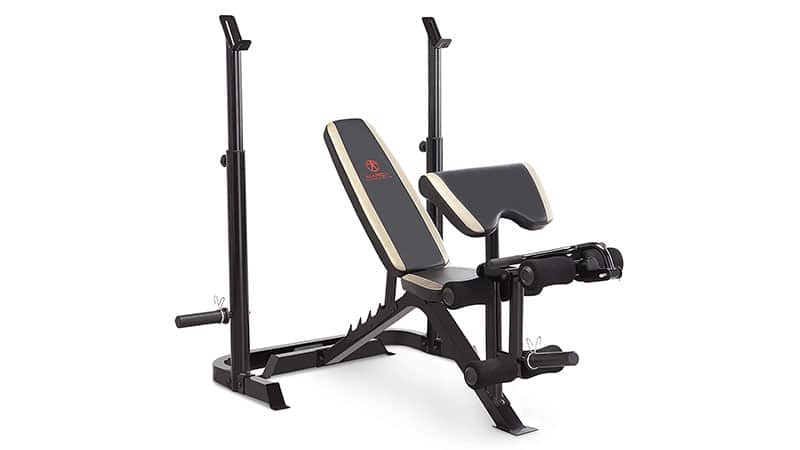 Weight Bench Buying Guide
Get the low-down on what to look for when buying a new weight bench. However, before you jump online or hit the shops, you do need to have an idea about a few factors. The first is your fitness goals – how do you want to use the bench, what kind of exercises do you want to do, and how much weight will you use? Secondly, space is also a significant consideration. You need room to not only fit the equipment but also to use it efficiently and effectively. Finally, how big are you? If you're an absolute unit, you'll need a larger frame than someone smaller, like women or teens. This is important for both comfort and safety.
Types of Benches
Weight benches, in general, can be divided into three main categories – flat, adjustable, and Olympic. Each serves its own purpose, and each has its pros and cons. What you choose will depend on your goals, intended use, space, and budget.
Flat Bench
Flat weight benches are essentially just an elevated platform. You can use them for various free weight exercises or in conjunction with a squat rack, Smith machine, or cable machine for more dynamic and heavier moves. Their simple, solid construction makes them very durable and long-lasting, plus they generally have a higher weight capacity. They're also great for beginners, are smaller, and a more wallet-friendly choice. However, they don't have the same flexibility that other designs have, so you are somewhat limited in the exercises you can perform during your workout.
Pros
Great for beginners
Stronger & more durable
Compact
Less expensive
High maximum weight capacity
Cons
Less flexible in the number of exercises you can perform
Need the assistance of a rack for barbell exercises
No back support for seated moves
Adjustable Weight Bench
Adjustable weight benches might also be referred to as FID benches, meaning Flat-Incline-Decline. These are an exceptionally flexible and versatile option that lets you perform a variety of exercises. Often the backrests have up to seven different positions, while the seat and footrests can also adjust so you're comfortable and set up with correct and safe form. You can increase your resistance with the different angles, getting a better burn, while the back supports your posture when you need it. However, more moving parts can make the machine less durable, create stability issues, lessen the weight-bearing capacity, and require more regular maintenance. They can also be larger and heavier, making them less ideal for smaller spaces.
Pros
Greate flexibility to perform a larger variety of exercises
Adjustability helps maintain proper form
Great for both beginners and more advanced people
Some designs fold up for convenient storage
Cons
Tend to be larger and heavier, so less ideal for compact spaces
Less durable
Less stability
Lower maximum weight capacity
Olympic Weight Bench
If you're really into strength training or are getting competition-ready, then an Olympic weight bench is a great option. Typically, they're much larger in both length and width but let you workout with barbells rather than just free weights. Most designs have bar holders and racks for your weights built-in, so you don't need to worry about extra storage. Some also have similar flexibility to adjustable benches, with moveable backrests to suit different exercises; however, others may not have this feature. Often they're built to use with Olympic bars that are longer than standard ones, so keep this in mind. Finally, you can usually get extra accessories and add ons, such as leg developers and curl pads that increase the unit's versatility.
Pros
Perfect for advanced users
Strong and durable
Ideal for heavy weights and barbells
Excellent stability
Cons
Large and require a lot of space
More steps to assemble
More expensive than alternatives
Most are suited only to Olympic bars and plates
What to Look for When Buying a Weight Bench
Once you've decided what kind of bench you want, there are a few other considerations before making your final decision. This will ensure you don't have buyer's remorse and can continue to reach your fitness and strength goals.
Weight Capacity
The weight capacity is important, especially if you plan on lifting big. It refers to the amount of weight (you combined with your intended lifting weights) that the bench can safely hold. Things like joints, locking mechanisms, and back support all play a factor in this amount, and exceeding it can cause the bench to break, causing significant injury.
Size
Size can be one of the largest determining factors in your purchase because you need room for the unit and to be able to use it safely and effectively. If you only have limited space, a flat bench is the smallest and best option. However, some adjustable benches can fold up for storage if required. Olympic weight benches take up the most amount of room and need a dedicated home gym space because you can't just fold them up and pop them in the cupboard.
Bench Weight
Bench weight is important for two reasons. The first is because the lighter the bench, the easier it will be for you to move it about. If you have a home gym set-up, then shifting it between a power rack and free weights area can be very useful. However, the second reason that it's important can be quality. A lighter bench can mean less solid construction, resulting in faster wear, more wobbling, and less weight capacity.
Back Support Width and Length
If you're a massive unit, you're going to need to look for a larger and broader backrest to ensure your workout is comfortable and safe. The surface area of the backrest can vary between designs, and some are built for taller people, while others are not. Ideally, you want both your head and lower back to be supported. You also want enough width to feel stable, especially when hitting those heavier weights.
Stability
Stability is critical, especially when heavy lifting. Any kind of wobble can impact your performance and potentially cause injury as you compensate for movement. Flat and Olympic benches are generally rock-solid, while the moving parts of an adjustable bench can cause less stability.
Upright Width
The upright width generally refers to the rack on Olympic weight benches. Most support Olympic bars only, which are longer than standard ones. This creates better positioning of the collars and makes it easier to change the plates. Standard bars are shorter, and while you might be able to make it work, it will be more challenging to change the plates.
Bench Height
Bench height is often not variable, so it's important to choose the right one. Ideally, your feet should be planted firmly on the ground for most exercises to ensure the best and safest form.
Pad Thickness/Comfort
Look for firm but comfortable padding on the bench. This means you can work out for longer without fatigue. Pads that are too soft can cause instability, especially when using heavier weights. Good quality pads won't compress or distort over time and with extended use.
Covering
The padded foam uppers should be covered in a durable, easy-to-clean material. This will help sweat wipe off easier and prevent deterioration over time. Ideally, manufacturers should reinforce stress points such as the edges and corners to ensure better longevity. If you can get a cover that can be removed and replaced, that's even better.
Frame Finish
The frame finish is both about aesthetics and longevity. Powder-coated frames are more expensive but are also more impact-resistant. On the other hand, painted frames are cheaper, might wear quicker, but are easier to touch up. Either way, keeping the finish intact will help prevent any rust or moisture damage from sweat or leaking water bottles.
Versatility vs. Speciality
Specialty benches like Olympic benches let you focus your workouts but don't have the same versatility and flexibility of styles like adjustable and flat benches. Consider your goals when making a decision, and if you have the room and budget, you could even consider two different kinds to get the best of both worlds.
Added Extras
Adjustable weight benches and Olympic weight benches can have the capacity to add on extra features and accessories. This could include things like leg developers, curl pads, and resistance bands. Some might even have built-in or added-on squat racks, dipping bars, and plate storage.
Adjustable Weight Benches FAQs
What muscles can I work on, using a weight bench?
You can really get a full-body workout using a weight bench, depending on the kind of exercises you do and what extra equipment you have. However, most people focus their efforts on upper body and core exercises like flies, curls, presses, and crunches.
Should I buy a flat bench or an adjustable one?
Whether you buy a flat or adjustable weight bench will depend on a few factors. Flat benches are great for beginners, take up less space, are very sturdy, and are generally less expensive. However, they don't offer as much flexibility in the kinds of exercises you can perform. Alternatively, adjustable benches have great versatility for a range of moves. They are less stable, need more maintenance, and can take up more room, although many designs can fold up for storage.
How much space do I need for a weight bench?
The amount of space you need will depend on the size of the bench. Ideally, aim for two to three feet of space around all sides of your bench to give you the ability to move freely without hitting walls, furniture, or yourself. Always check the dimensions of your chosen unit, and measure your space with a measuring tape (don't eyeball it) before committing to a purchase.
What is a foldable weight bench?
A foldable weight bench can be folded into a compact size for convenient storage. Most commonly, these are adjustable weight benches; however, some flat benches can come with fold-down legs.
How padded should my weight bench be?
Look for firm but comfortable padding around one-and-a-half to two inches. You don't want something too soft, as it can throw you off balance, but you do want enough padding to ensure you're comfortable for the duration of your workout.
How much does a weight bench cost?
A weight bench can cost anywhere from $80 to $800, depending on the style. Flat benches are generally the most cost-effective, while Olympic benches are the priciest.
Are weight benches worth it?
If you work out a lot at home, a weight bench can take your workout to another level. While you can get a decent sweat session done without it, a bench can dramatically increase the variety and types of exercises you can perform, as well as increasing your efficiency and efficacy. As such, if better, faster results are your aim, it's a good investment if you have the budget and space.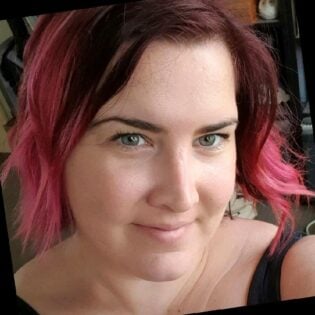 Alexandra Linde is an experienced writer holding a bachelor's degree in Journalism. She is the owner of Alexandra McKiterick Creative and has expertise in travel, fashion, fitness and lifestyle. Alex has previously written for Flightcenter, Travello, and Backpacker Deals.
SUBSCRIBE TO OUR NEWSLETTER
Subscribe to our mailing list and get interesting stuff and updates to your email inbox.