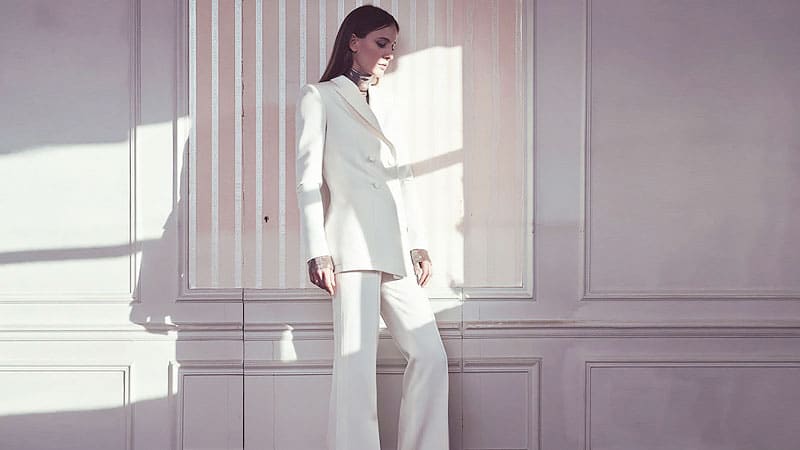 In 1840, Queen Victoria monumentally changed the course of bridal fashion when she wore a white satin and lace dress to her wedding. Bending the rules and moving away from the traditional, colorful wedding gowns of the time, the young Victoria kickstarted a trend that would continue to reign for nearly two centuries. Today, while the classic white wedding dress is still a favorite of many brides, times are changing. Consequently, the ideas surrounding bridal attire are evolving once more. As women across the world strive for equality, this push against the patriarchy and the redefinition of femininity is being expressed through fashion. Notably, many women are now opting to wear a statement-making, sophisticated, and ultimately alluring pant suit to their wedding. From bold colors and luxurious satin to delicate lace and traditional whites, the options for bridal pant suits are expanding each day. Therefore, to take some stress away from the planning of your special day, we're here to give the rundown on the gorgeous pant suits options for your wedding.
Wedding Pant Suits
White Pant Suits
Embrace the best of both worlds on your big day with a look that blends modernity with tradition. If you've always dreamt of wearing white to your wedding, but a dress just isn't your thing, a luxurious white pant suit may be your answer. Romantic yet sophisticated, this style is the perfect outfit for any time of the year. Whether your fantasy wedding destination is on a tropical beach in summer, under glowing lanterns and a blanket of snow in winter, or in a traditional, high ceilinged chapel, this color will seamlessly compliment any setting. For winter weddings, look for white wool or satin garments and accessorize with a gorgeous white faux fur shawl. In the warmer months, opt for light and airy materials such as silk, chiffon, cotton, or linen.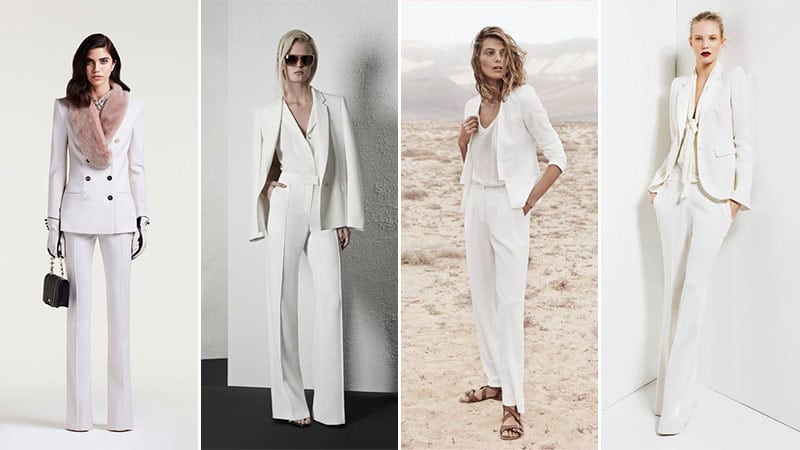 TOP BUYS
Coloured Pant Suits
For women looking to throw away the rule book' on their special day and express their individuality and style, a colored pant suit is a way to go. This stunning option will allow you to wear your favorite color down the aisle because after all, not everybody wants to wear white. So, if forest green brings out the golden hues in your hair or aqua makes your eyes shine, play to your strengths and pick a color that will truly highlight your unique beauty. To ensure everyone knows that you're the bride, it is best to focus on one color for your outfit. While mixing and matching colors can result in gorgeous outfit combinations, leave your color-blocking experimentation for another occasion. Choosing one, beautiful color will make a bold, fashion statement that will instantly distinguish you as the lucky bride. This season, we're loving dreamy blush pinks and icy eggshell blues as well as mystical forbidden forest greens. If, however, brighter colors are more your style, you can't go wrong with a seductive cherry red or a dazzling oceanic blue.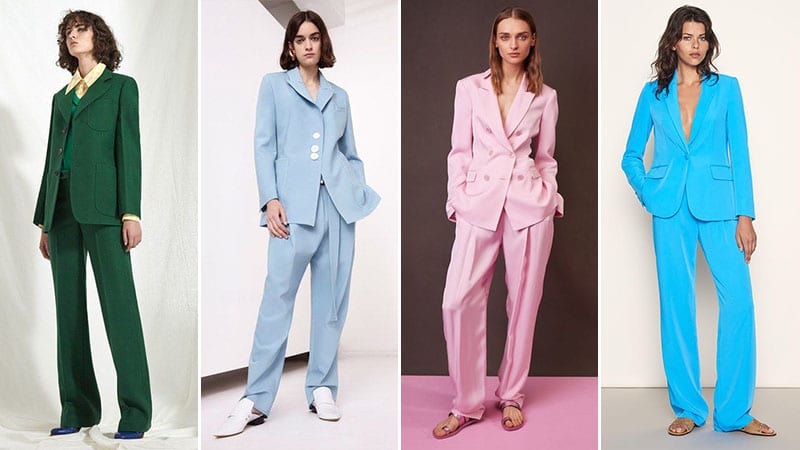 TOP BUYS
Dressy Pant Suits
Any woman planning her wedding will confirm that the beauty lies in the details. From the important details such as the flower arrangements and the location to the small nuances found in the canapes and the cutlery, there is a myriad of things to consider. Similarly, when it comes to selecting the perfect suit for your walk down the aisle, the little details can truly elevate your look. For a dressy, sophisticated suit, one thing to look for is luxurious fabrics. These may include pant suits in satin, silk, or brocade. Additionally, small finishes such as buttons and lapels or accessories including matching gloves or waist-cinching belts can truly transform your look. When it comes to colors, classic, sophisticated colors include cherry reds and smoky blacks. Dark, ornamental brocades, as well as blush shimmering pinks, will also create a truly classy ensemble.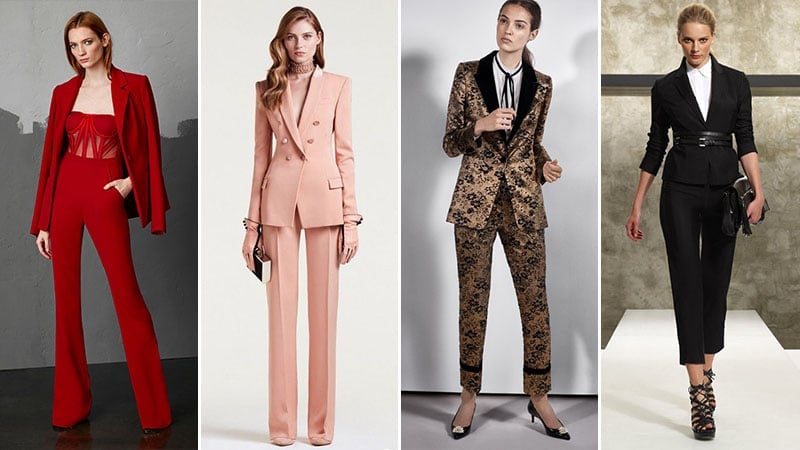 TOP BUYS
Sexy Pant Suits
Remind your partner that he or she is a lucky one, with a sexy pant suit that will break hearts as you walk down the aisle. Since the basic features of a pant suit result in the majority of your body is covered up, you can still remain classy while bearing a little skin. To take your bridal attire on a seductive new path, opt for a plunging neckline on your suit jacket. While this slightly revealing style may not be for everyone, it is particularly complimentary on women with smaller busts. As the main feature of this look is the low-cut neckline, there are no rules when it comes to color and fabric. If you like to challenge the norm, combine the notions of purity and seduction with a sexy white, low cut pant suit. Alternatively, dazzle with metallics or golds or select a hue to complement your skin, hair, or eyes.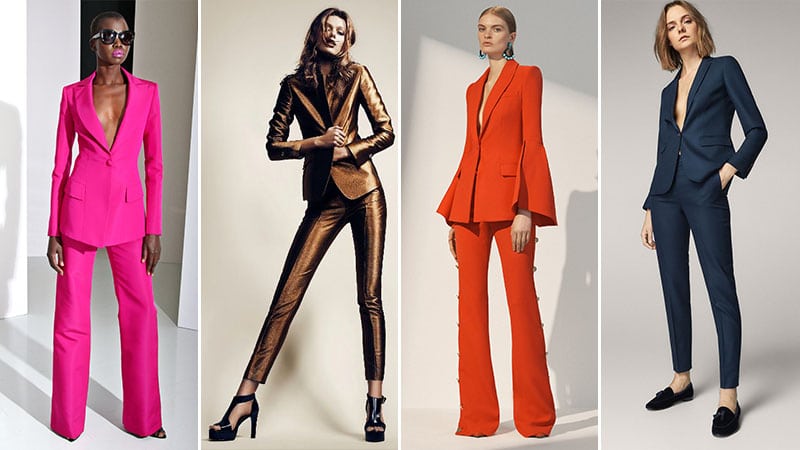 SHOP THE LOOK
Chiffon Pant Suits
If you envision your special day like a fairytale but you're not into the idea of a gown, then a chiffon pant suit will tick all of your boxes. This soft, lightweight fabric will have you gliding down the aisle looking and feeling truly luxurious. Perfect for weddings planned in warmer months, the delicate, floating nature of chiffon will look incredible in similarly light colors. As a result, if you're leaning towards wearing a chiffon pant suit, look for styles in dreamy pastels or elegant whites. To emphasize the flowing nature of this fabric, palazzo pants are a great option. Alternatively, if you're a fan of the slim cut, chiffon is an elegant choice as well. Essentially, it's hard to go wrong with this style and material.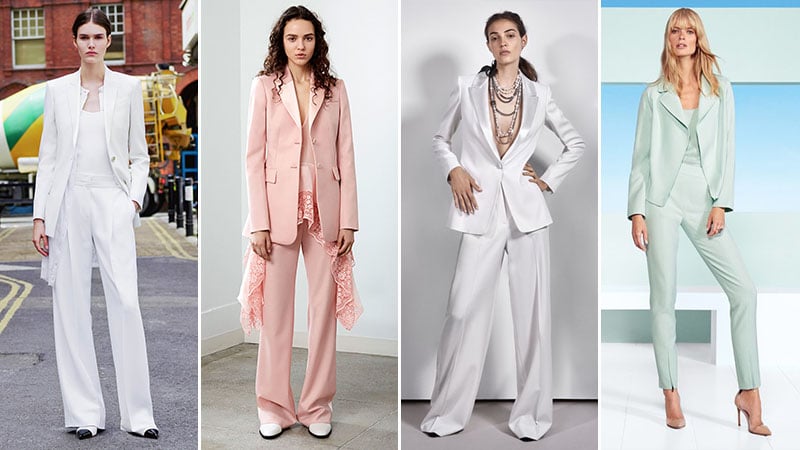 TOP BUYS
Lace Pant Suits
For centuries, lace has remained a favored fabric in the world of bridal wear. Feminine, intricate and romantic, it is often found in wedding gowns, gloves, and veils. For a fresh, modern take on this timeless trend, incorporate lace into your bridal pant suit. Whether you opt for lace pants, a lace jacket, lace details, or all of the above, this stunning material will ensure you are the center of attention on your big day. As this fabric is incredibly intricate by nature, we recommend letting the detail speak for itself, by selecting a pant suit in neutral colors such as black, white, or nude. If you're looking to incorporate a plunging neckline into your outfit, wearing white lace will create the perfect harmony of traditional purity and modern allure.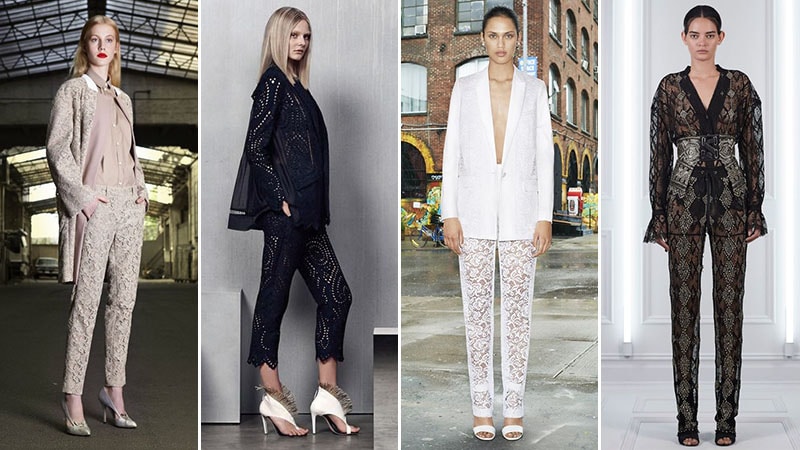 TOP BUYS
Satin Pant Suits
When it comes to satin, this is one material that truly looks as incredible as it feels. As a result, the elegant and luxurious fabric is a standout choice for wedding pant suits. With a naturally shimmering aesthetic, we recommend selecting a satin pant suit in romantic colors or patterns. Essentially, this includes pinks, reds, creams, and florals. These gorgeous, dreamy colors will shine as you glide down the aisle. Additionally, they allow for the possibility to match your flower arrangements to your outfit, to create a truly breathtaking wedding. If you're set on wearing a satin pant suit to your wedding, make sure to consider carefully the time of year. While satin pant suits are perfect for mild or cooler temperatures, you may feel discomfort if you wear this outfit in the hot midst of Summer. Therefore, if you're dreaming of a summer wedding, silk presents a similar look that won't have you sweating in the heat.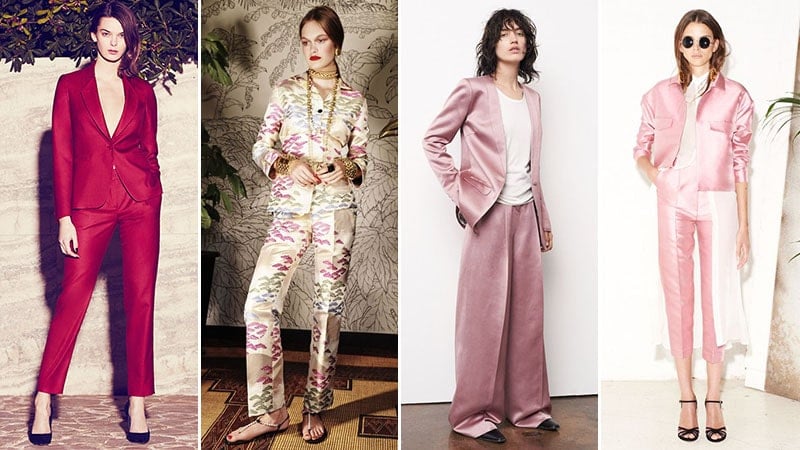 TOP BUYS
Sequin Pant Suits
Don't let your wedding ring be the only thing that sparkles on your special day. Look and feel like royalty with a shimmering, sequin pant suit that is destined to dazzle your guests and your partner. If you were born in the disco era or are simply a woman who loves a little sparkle, this is the wedding suit you were born to wear. Show off your confidence and your curves to your nearest and dearest with an outfit that will have you dancing into the late hours. To remain high fashion and dazzle, rather than blind your guests, opt for sequins in darker colors or classic golds or silvers. Finally, keep your accessories, hair, and makeup to a minimum and let your outfit highlight your natural beauty.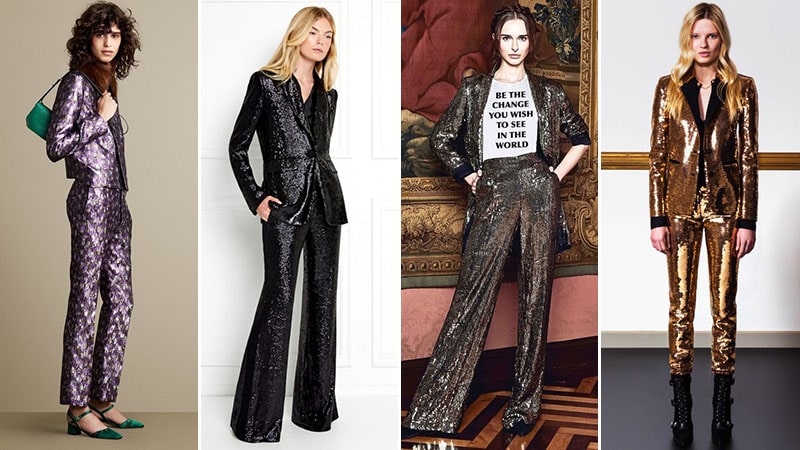 TOP BUYS
Palazzo Pant Suits
First made popular in the late 1960s and 1970s, the stylish palazzo pant is currently undergoing a fashion revival. These wide-legged pants are identified by the flattering way in which they flare out from the waist down to the ankles. As a result, this flouncing style is an amazing choice for summer weddings as it will allow you to breeze down the aisle without feeling constricted. Since the pants are all about the flare, a well-fitted, structured jacket will highlight your figure. Other than that, there are really no limits when it comes to colors and materials. Typically, lightweight, flowing fabrics such as silk will allow for easier wear.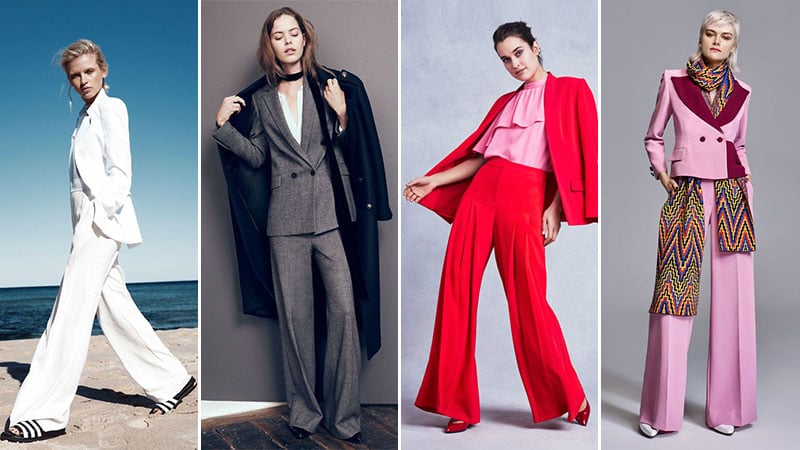 TOP BUYS
Summer Pant Suits
As Summer approaches and your special day draws nearer, the perfect pant suit for your wedding is waiting to be uncovered. For weddings in the sun, we're loving light, warm colors, and soft flowery prints. Soften the structured silhouette of your outfit by wearing pant suits in silky yellow, delicate peach, or playful, light florals. These choices will give you a unique look that blends beautifully with the warm air and the blooming bouquets at your wedding. To avoid any discomfort in the heat, it is best to opt for lightweight fabrics. As a general rule, try to avoid wool, satin, or any heavy brocade. Instead, stay cool by selecting a pant suit that is made of linen, silk, chiffon, or cotton.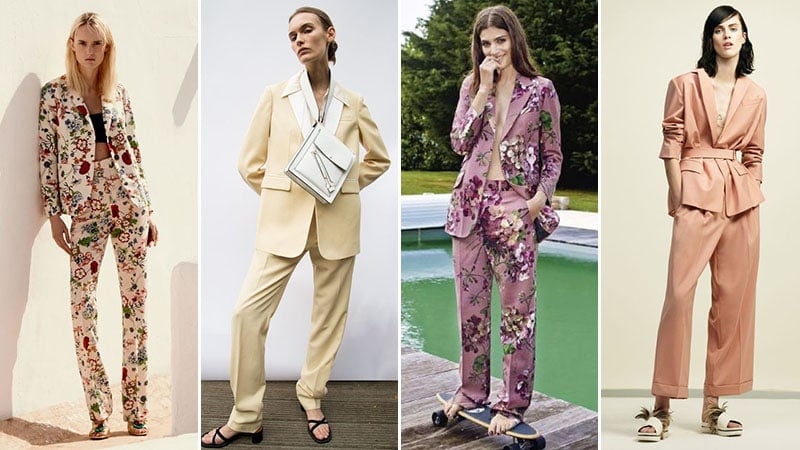 TOP BUYS
Plus Size Pant Suits
For women with curves, embrace your body with a stunning, fitted pant suit on your special day. To truly flatter your figure, opt for classic, neutral colors such as creamy whites, midnight blues, smoky blacks, or sophisticated greys. These simple, sophisticated selections will allow you to focus on a cut and fit that plays up your best features. If that's your waist, select a cinched-in jacket and palazzo pants to create a beautiful hourglass figure. If you love your legs, narrow, straight-cut pants and a pair of stilettos will make your partner swoon. As neutral colors will be your go-to for a bridal pant suit, elevate your outfit with gold, silver, or precious stone accessories.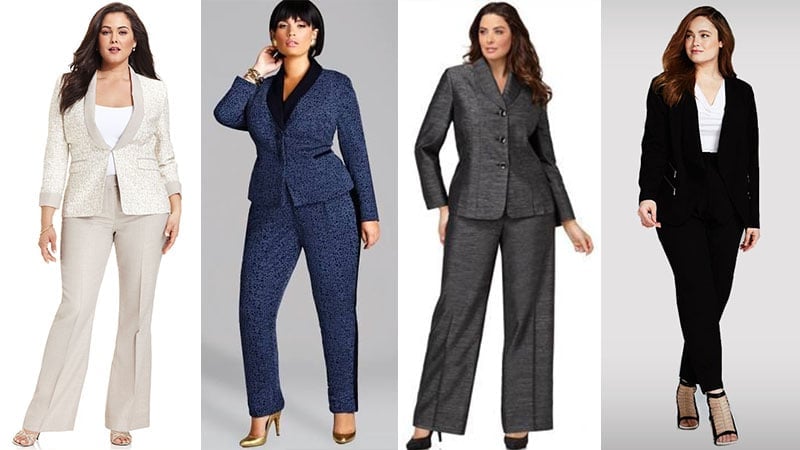 TOP BUYS
How to Wear Pant Suits Tips
Combine tradition and modernity by wearing a luxurious white pant suit on your special day.
For winter weddings, select a pant suit made with warmer materials such as wool or shimmering satin.
In the warmer months, stay cool with lightweight, airy fabrics such as silk, chiffon, cotton, and linen.
Express your individuality and unique beauty by wearing a color that complements your hair, skin, or eyes.
Match your suit jacket to your pants to ensure that your outfit makes a statement on your big day.
Challenge the norm of the innocent, white-wearing bride with a plunging neckline on your fashion-forward pant suit.
If you want to sparkle with sequins, keep your hair, accessories, and makeup neutral.
Complement a pair of palazzo pants with a structured suit jacket for a high fashion look.
Embrace your curves by selecting a cut, color and fit that will emphasize your best features.
FAQs
What should a guest wear to a winter wedding?
Winter can be a wonderful time to experiment with your look, and it is also the perfect time to accessorize. You will want to keep the wedding dress code in mind before picking out anything, but try to choose thick fabrics, styles with sleeves, or long lengths. In general, darker colors are favored for the cooler months, such as burgundy or navy.
Can you wear boots to a winter wedding?
If the weather is cold, you don't want to freeze by wearing sandals to a winter wedding, and it is best to opt for a closed shoe. Classic pumps are timeless and versatile, but boots are also great, depending on your outfit. If you are wearing a long dress and no one can see your footwear, feel free to wear whatever footwear you desire, while sock boots or ankle boots can look feminine and stylish with a midi dress.
Is it OK to wear black to a winter wedding?
Although black is a popular color to wear in winter, weddings are usually not the time or place for a black dress, unless otherwise stated on the wedding invitation. Some people find it acceptable to wear black to a winter wedding, so it really depends on the theme and location. Alternatively, you could opt for a rich, dark hue like burgundy or navy.
Can you wear pants to a winter wedding?
There is nothing wrong with wearing pants to a winter wedding, and there are many designs to choose from. A pantsuit can look chic and polished, while wide-leg trousers can create the illusion of a skirt but offer more warmth and comfort.
SUBSCRIBE TO OUR NEWSLETTER
Subscribe to our mailing list and get interesting stuff and updates to your email inbox.