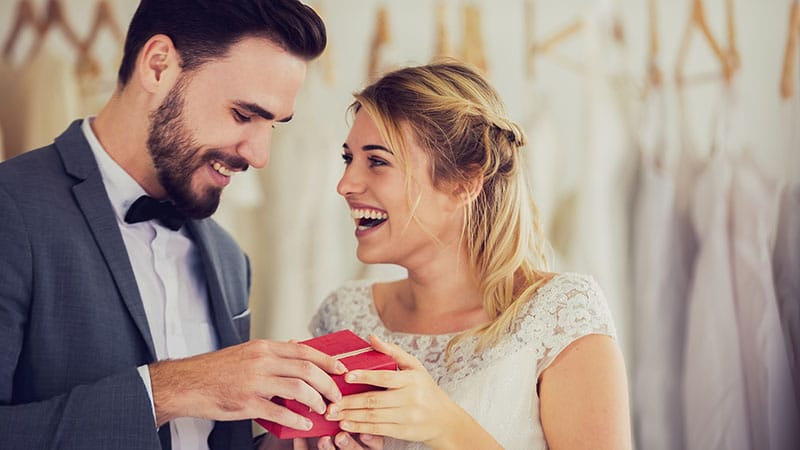 Starting life with someone is a time that is meant to be celebrated by all those who love them, and this occasion is often marked by gift-giving. If you have been searching for the ideal present for newlyweds, then look no further! Whether it is a small and simple gift to remind them of their big day, a present designed to let them take a break and reconnect with each other, or something great to let them unwind and refocus. There are many unique and fun gifts, depending on the couple's interests and your budget; you may even be tempted to buy a few for yourself. Whatever you choose, it will be appreciated, so keep reading to get inspired and make your giving a pleasant and easy experience.
1. DeLuxe Gifted Mr. and Mrs. Wine Tumblers
What could be more fun than reminding a couple of their new Mr. and Mrs. titles with a new tumbler? The DeLuxe Gifted Mr. and Mrs. Wine Tumblers feature one black and one white tumbler, Mr. and Mrs. beer koozies, and a diamond-shaped bottle opener. The tumblers are insulated and have BPA-free lids and a slider button; great for preventing spillage. This could be the product to sit outside and watch the sunset or to take with you on a little trip to the cabin. You can use them for hot or cold drinks and alcoholic or nonalcoholic. It also comes in a gift box, making it ideal as a present for your favorite newlyweds or even for yourself and your partner.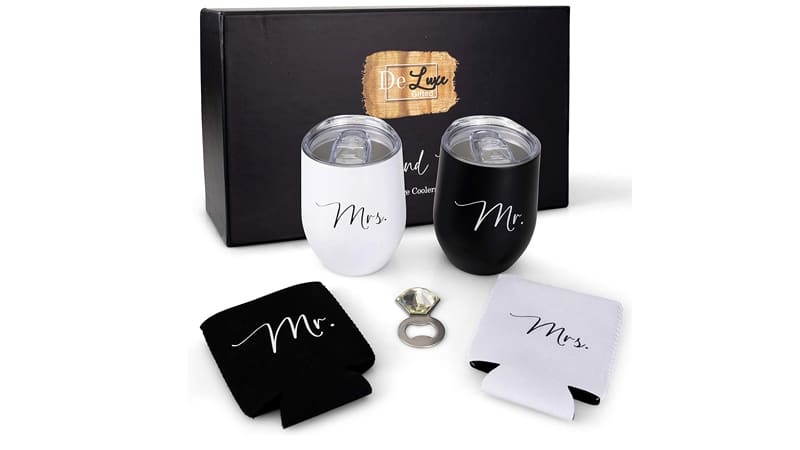 2. Personalized Picnic Table Wine Carrier
If you are looking for a gorgeous item to give newlyweds that is also different from the norm, consider a personalized picnic table wine carrier. What could be more romantic than having a picnic in a scenic setting? This item is handmade in the USA by Mike Blaschka and created using cherry wood. Each item will vary slightly because of the wood and the fact that it is handcrafted, but this is part of the appeal; each piece is special and unique, just like the relationship.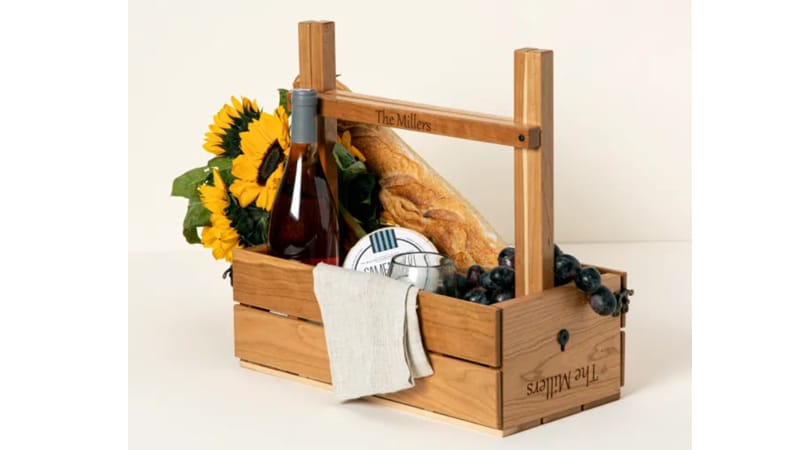 3. Intersection of Love: Photo Print
Celebrating milestones and memories has never been so easy; purchase an intersection of love print. It is a wonderful way to symbolize a couple coming together and is personalized to show your names and significant dates. This could be the moment you met and the year of your wedding, or the moment a couple got engaged and bought their first home. There are so many different combinations, making every option unique and special. The print is designed by Philadelphia artist Patricia Carlin and is made using acid-free matboard, plexiglass, archival pigment ink, Epson enhanced matte paper, and BonanzaWood. It is created in the United States, and you can purchase the print framed or unframed.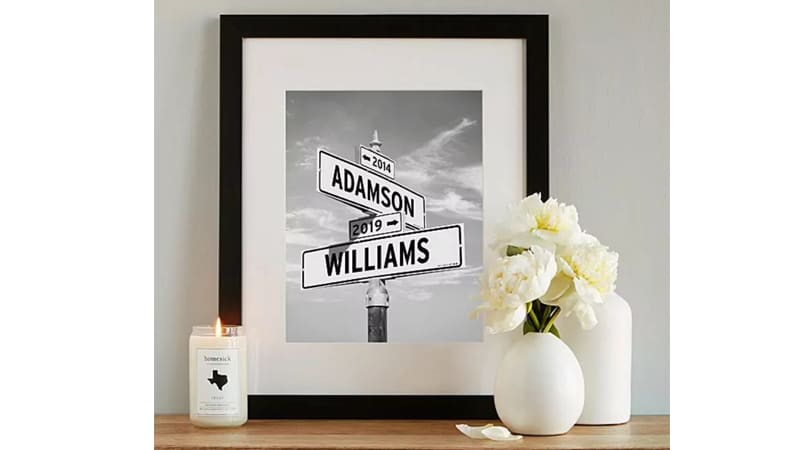 4. Personalized Faux Bois Vase
Joining your name with your loved ones and engraving it in a tree is something sweethearts have done for hundreds of years. It shows commitment and dedication to the relationship and is a way to celebrate their love. This concept is transferred into ceramics by ceramicist Laurel Begley who gives you a piece that you can keep forever; the Personalized Faux Bois Vase. The vase is made to resemble a tree's bark and features the couple's initials surrounded by a heart. The product is handmade in Santa Rosa, California, using stoneware clay. The results of each item can differ slightly because it is handmade; this makes it even more special and unique. Is there any better gift for newlyweds?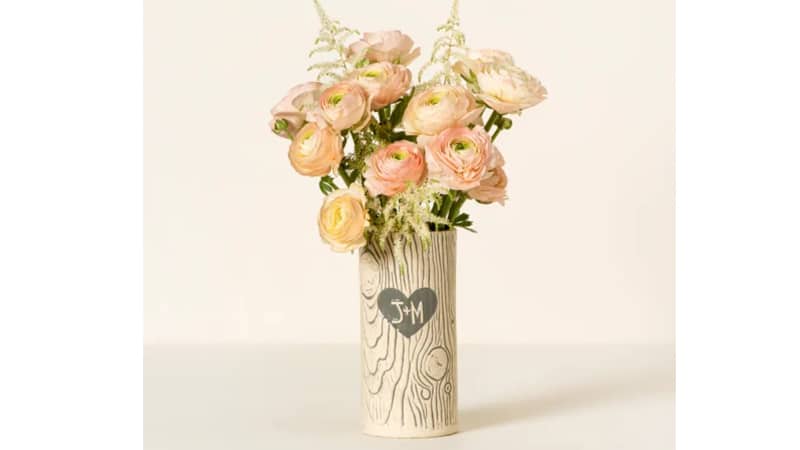 5. Personalized Hearts Four-Across Game
Why not make your love into a game with this fun, personalized hearts Four-Across Game? This is the ideal gift for the couple who has everything or prefers something different from the norm. It is handmade in Greensboro, North Carolina, by Kasey and Justin Pearson using maple plywood, and each line has seven characters. This allows you to include special names and words that reflect the relationship; it could also be an anniversary date, the location the couple met, or the song from their first dance.
6. Personalized LP Record
Music impacts us all in different ways; it can calm or uplift us, it can honor a relationship, or make you think back on a good memory. With this in mind, what better gift for a newly married couple than a personalized LP record? This custom wall art is a great way to remember their special first dance song or the track that played when the bride walked down the aisle. In addition, this product is upcycled and made from glass, ash wood, and a recycled record.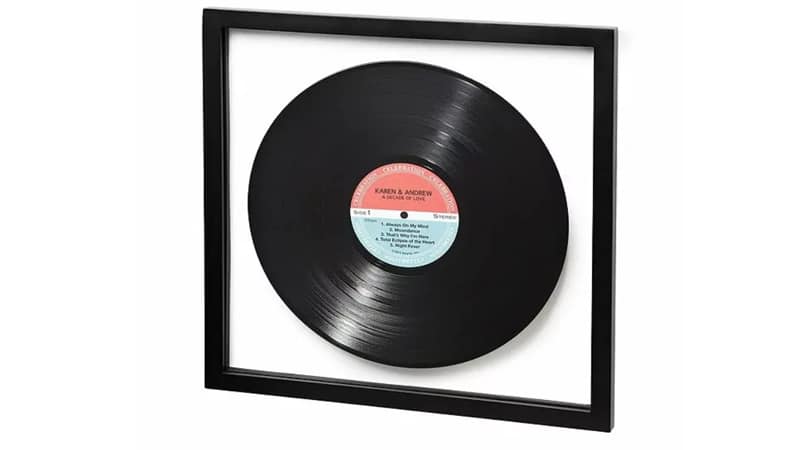 7. Topanga Organic Matelasse Throw
The Topanga Organic matelasse throw is the perfect item to transform a room and looks luxurious. It is reversible and created in gorgeous, muted colors, including hazel, rosehip, and washed indigo, allowing you to find the perfect option to suit any room. Inspired by the California coastline, the rippled texture creates a wrinkled finish that produces an airy shape that will expand and contract with time. It is made using 100 percent organic cotton grown in India and then woven in Portugal. The size and shape can be slightly different from product to product, giving it a unique finish.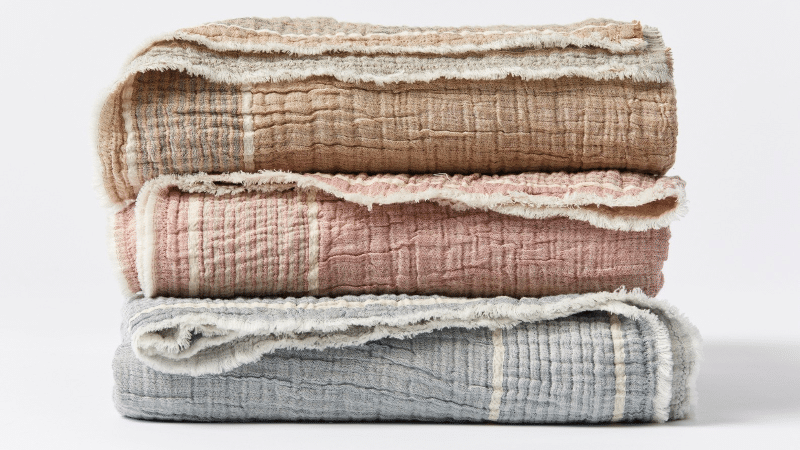 8. Silhouette Timeline Couples Pillow
A silhouette timeline couples pillow is an excellent way to remember a special time in your life. This is a perfect gift for newlyweds, letting them relive the memories of their wedding day by indicating special times. Therefore, each pillow is handmade and is available for personalization with lettering, including metallic and matte options. In addition, the pillowcase is 100 percent cotton, removable, and washable. Place it on your bed or in the living room as a feature piece that will grab guests' attention.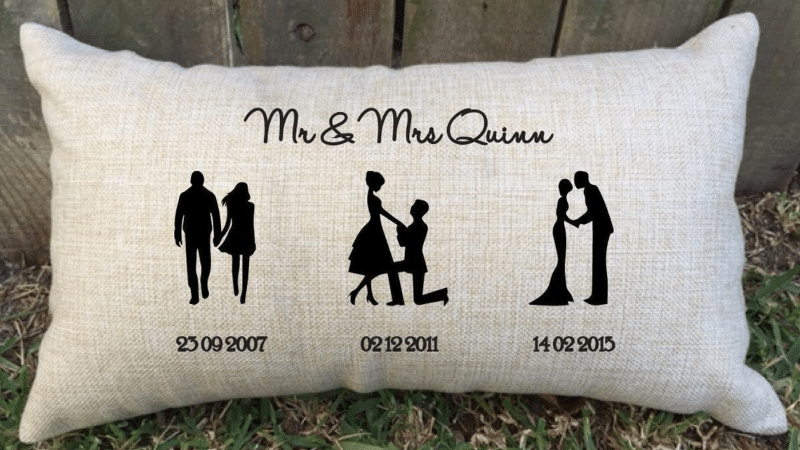 9. Masterclass
If a physical gift is not to your liking, why not opt for something out of the box? A gift to Masterclass could be what you have been searching for, and giving a friend or loved one an online class that could improve their lives and inspire them is a fantastic choice. The easiest way to give this experience is to choose an Annual Membership Pass, which is provided with eGift cards. Once you have completed the purchase, you will receive a confirmation email and receipt. You may be so impressed that you have to buy yourself a membership, too!
Masterclass Annual Subscription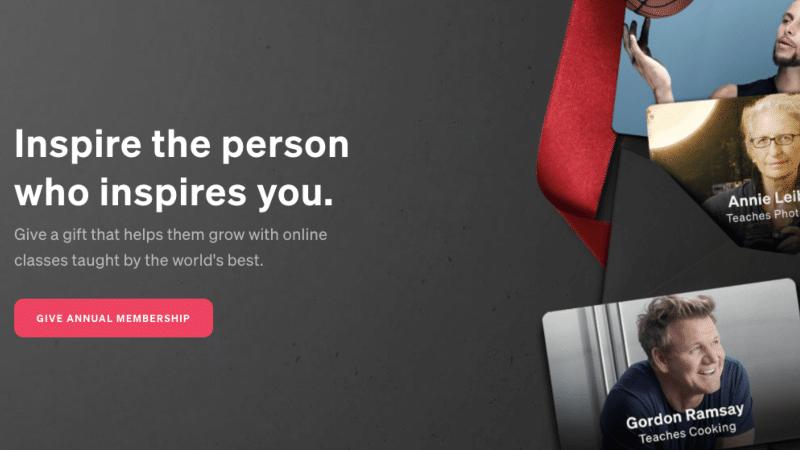 10. Dyson V11 Torque Drive Vacuum Cleaner
If practical gifts appeal to you, you may want to give your favorite newlyweds something that they will get a lot of use from; the Dyson V11 Torque Drive Vacuum Cleaner. This is not your standard vacuum cleaner; it is a super one, designed with more suction power than other cordless vacuums and even 40 percent more than the Dyson V8 cord-free model. It is portable, making it even easier to use, and is excellent for doing a quick or deep clean. The Dyson is also integrated with a clever system, Dyson's Dynamic Load Sensor (DLS). It will change the motor speed depending on the surface you are cleaning, from hard floors to carpets, giving you a better result.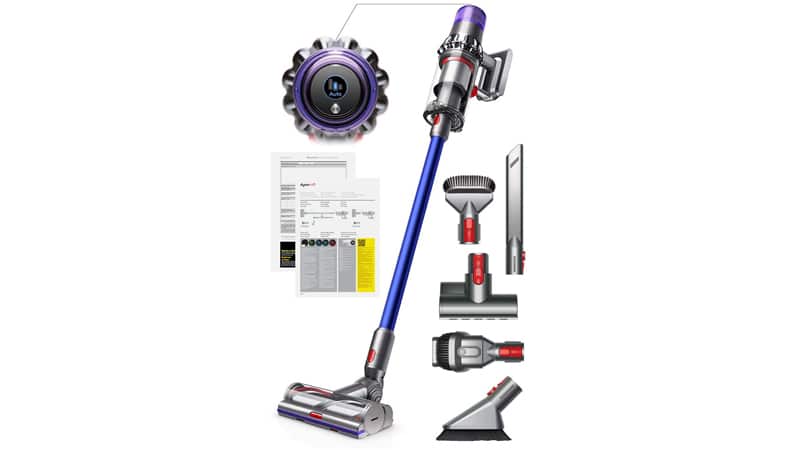 11. Engraved Wedding Gift Cheese Board
Next time you are having guests over or simply enjoying a cheese and charcuterie board at home, why not do it with an engraved board? This gorgeous handmade engraved product is the ideal gift for newlyweds and comes complete with a knife and fork, which, in addition to the board, are created from acacia wood. The piece is engraved in Brisbane, Australia, and can be customized to include the names or initials of the couple and even the wedding date. Simple and beautiful, this is also a practical gift.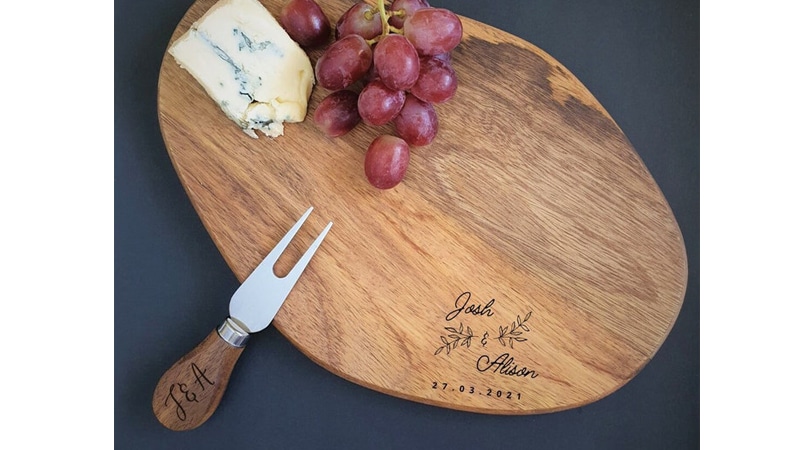 12. Global Knives 10 Piece Takashi Knife Block Set
What kitchen is complete without the Global Knives 10 Piece Takashi Knife Block Set? This is a fantastic gift for foodies who want to transform their cooking experience and create exquisite food. The products are expensive but are handmade and created to last. It is also designed to resist corrosion and stains, and each knife is weighted for ease of use and balance in the hand. The set comes in a bamboo block, making storage safe and easy, and includes a cooks knife, kitchen shears, bread knife, ceramic sharpener, boning knife, vegetable knife, utility knife, and an 8cm and 10 cm paring knife.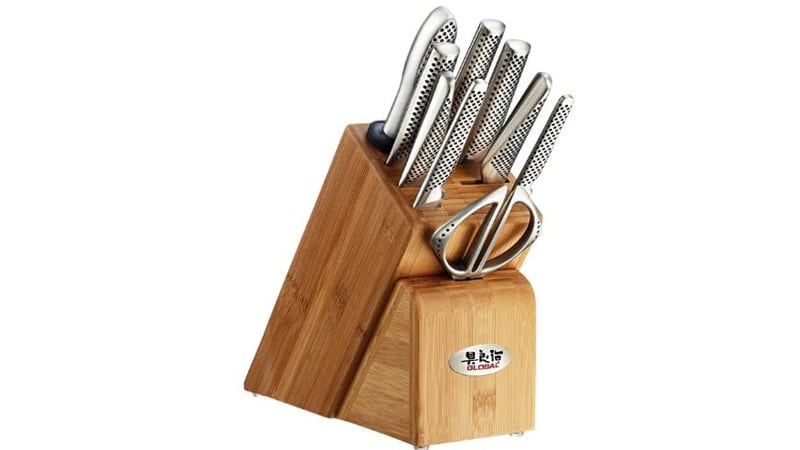 13. Fellow Stagg EKG Kettle
There is a kettle, and then there is the Fellow Stagg EKG Kettle! For starters, this is an incredibly stylish design that will look fantastic in your kitchen, but it is not just the aesthetic that is appealing but also the brewing experience you get from it. The pointed spout is designed to give you the optimal pour flow rate, and the handle provides a powerful grip; there is a perfect balance between these two. The water is quickly heated with this kettle, and it comes with a 0.9 liter boiling capacity which will stay hot for an hour. In addition, there is an LCD screen to allow you to set the temperature, and you can use the Brew Stopwatch to time your extraction. There is a wide range of colors to choose from, and each product has a one-year warranty.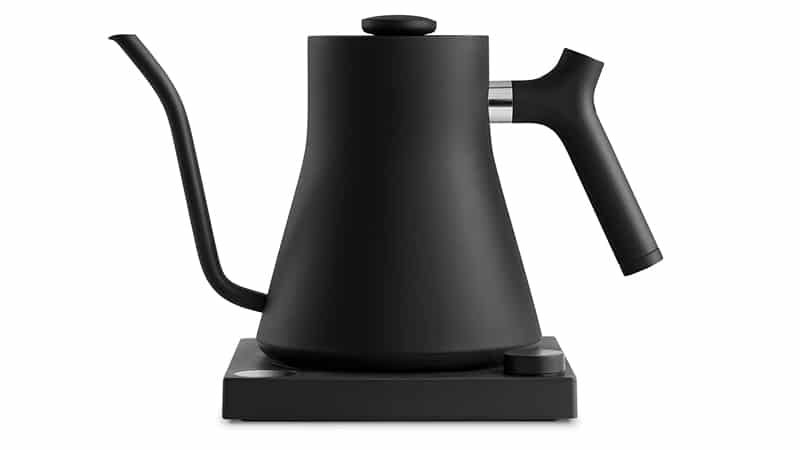 14. Personalised Watercolor Couple Painting
What better way to commemorate a special time in someone's life than with a personalized painting? This product is the perfect gift for a loved-up pair and is created from a photo of your choosing; this could be taken from their wedding day, the first day they met, or even celebrating an anniversary. Select a range of sizes, from A5 paper to a large canvas that you can hang above the bed or make it front and center in the living room. Or, if you want to avoid the hassle of sending it to someone who lives abroad, consider purchasing a digital print.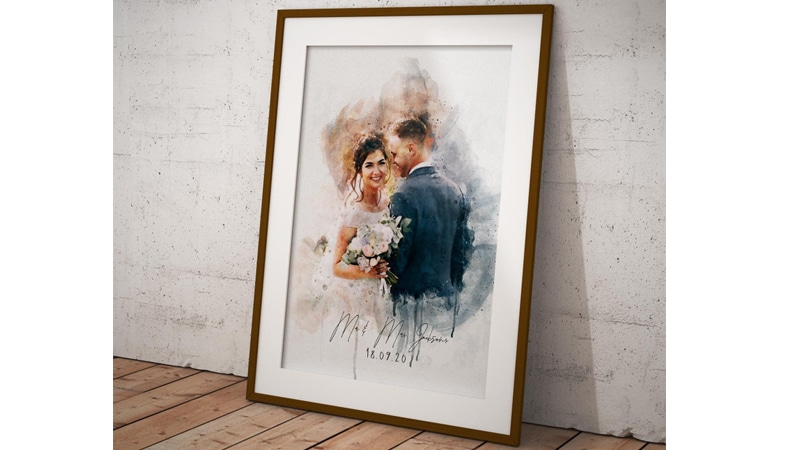 15. Coyuchi Organic Relaxed Linen Minimalist Set
We spend a significant portion of our lives in bed, so why not sleep comfortably? The Organic Relaxed Linen Minimalist Set is a way to achieve this. It is made from high-quality organic linen, woven in Portugal from flax grown in France; the production supports local farmers. The product is perfect all year round and comes in a range of gorgeous, muted colors, including laurel, slate, and natural chambray. This set includes a duvet cover, fitted sheets, and pillowcases and can be purchased in varying sizes.
$ prices vary on size | Coyuchi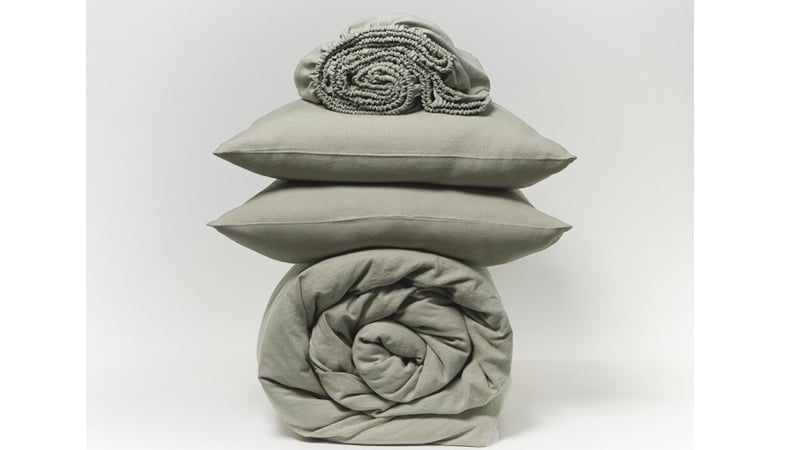 16. Airbnb Gift Card
The gift of an experience can be just as special as something physical, and if you know a couple who loves to travel and has a sense of adventure, there are few better options than an Airbnb Gift Card. This is also a present that will give them the freedom to choose where they want to go and when; maybe they have been dreaming about visiting a gorgeous beach house or prefer a rustic cabin in the middle of nowhere. This could be like giving a second honeymoon, and there are many options to choose from.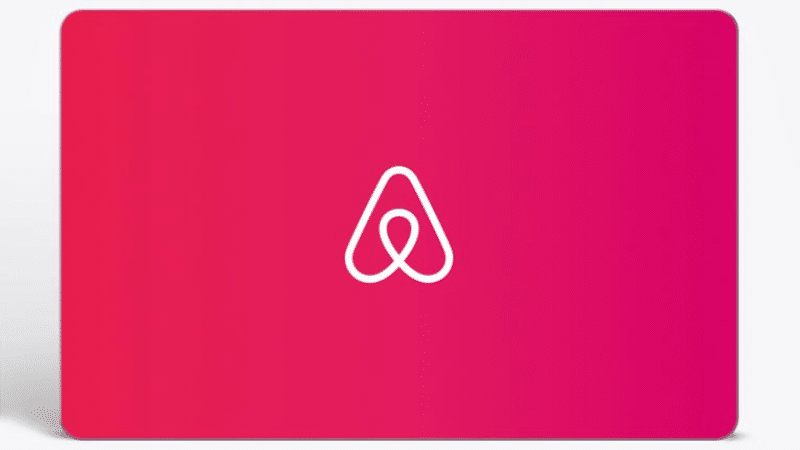 17. Tomales Organic Beach Towel
The Coyuchi Tomales Organic Beach Towel is the ideal gift for those who love spending time at the seaside. Made from yarn-dyed stripe organic cotton, which has been woven in Turkey, each towel features a blend of different color stripes and is available in a range of stylish colors, including shadow and indigo ombre, rosehip, deep ocean ombre, and walnut and hazel ombre. These towels are quick to dry and absorbent, making them ideal for after a swim or to lounge around the pool.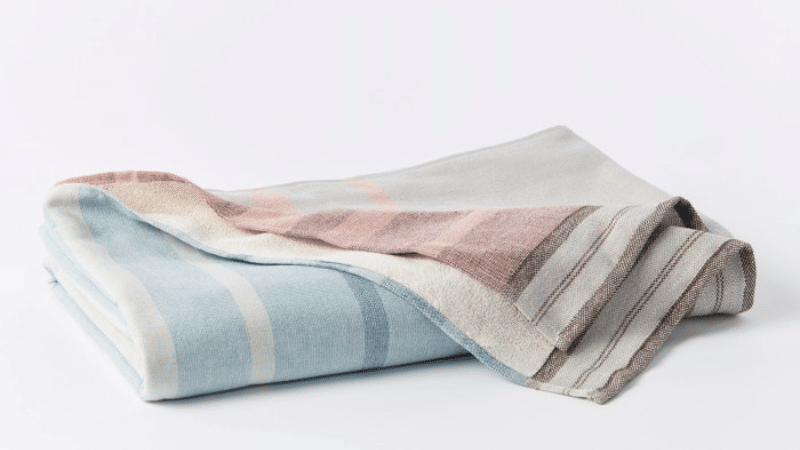 18. Smeg 2 Slice Toaster
SMEG is a brand that is recognized as one of the best. Founded in 1948, the company focuses on excellent quality kitchen appliances that are also incredibly stylish; just take the 2 Slice Toaster as an example. This exceptional product is functional and fashionable and available in a wide range of colors to suit your preference and match your kitchen color scheme, including mint and pink, to classics like white, black, and matte champagne. It features a metal base with PVD coating, a removable stainless steel crumb tray, and self-centering racks. Make breakfast even better with this toaster!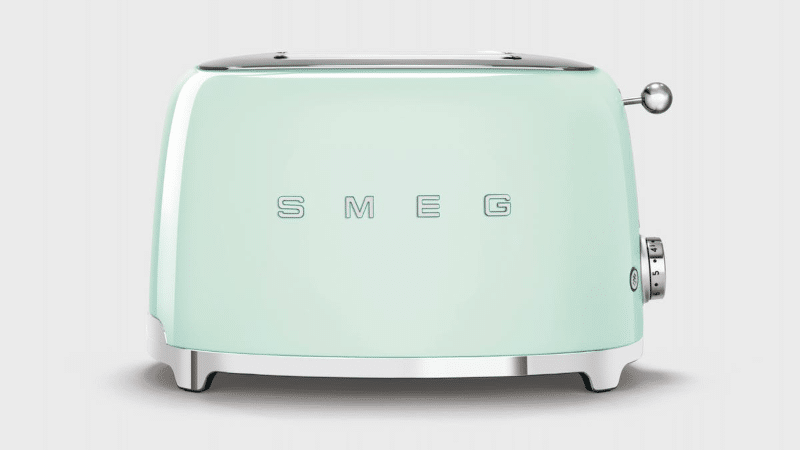 19. The Spice House
No foodies kitchen is complete without a collection of essential spices. Packaged beautifully and letting you find all the favorites in one place is The Spice House's Kitchen Essentials which includes Sweet Basil, Hungarian Sweet Paprika, Greek Oregano, Fine Ground Tellicherry Black Pepper, Cracked Rosemary Needles, Granulated Garlic, and Back of the Yards Garlic Pepper. It also includes a Butcher's Rub, Mediterranean Broken Leaf Thyme, Mild Chili Powder, Granulated White Onion, Ground Ginger, and Saigon Ground Cassia Cinnamon. These flavors will revolutionize your meals at home and are the perfect gift for newlyweds; or yourself!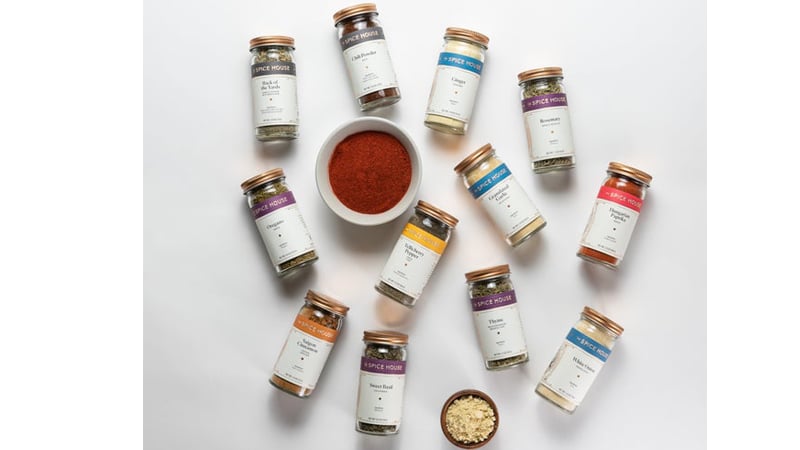 20. KitchenAid Pasta Press Attachment
KitchenAid's Pasta Press Attachment is ideal for those who want to make homemade pasta. This includes macaroni, bucatini, spaghetti, and fusilli. Authentic pasta tastes better, cooks faster, and the process of making it can be a romantic thing to do with a partner. If the newlyweds you intend to purchase for love cooking together or feel that this is a lovely way for them to slow down at the end of the day and reconnect, this is the ideal gift. The attachment includes a housing unit, six pasta plates, one pasta ring, one auger, one combo cool, and one storage case and cleaning tool. In addition, it is dishwasher safe, so you can have fun cooking without the hassle of cleaning up. There is also a one-year warranty.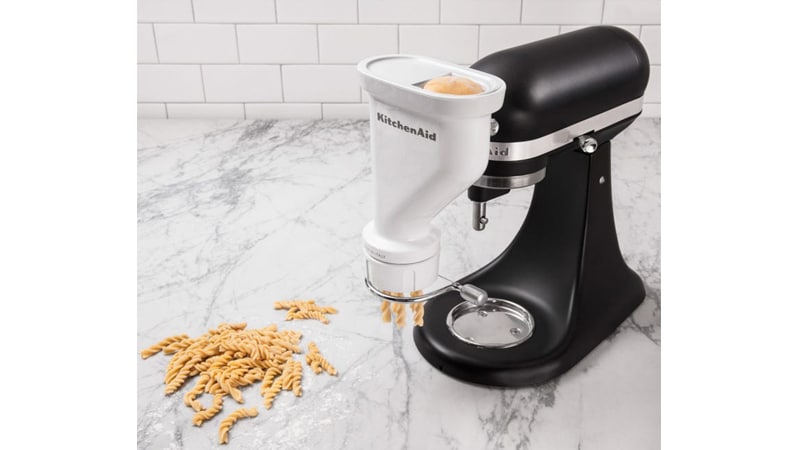 21. House of Staunton The Professional Series Chess Set
Chess is a fantastic game that can be played socially or competitively. House of Staunton has a chest set that is the real deal and is tournament-size, created with high-quality wood and packaged in a stylish and practical box. The chessboard includes pieces that are hand-carved by artisans. The overall look is beautiful and detailed and makes for a gift that can last a lifetime because of the exceptional quality.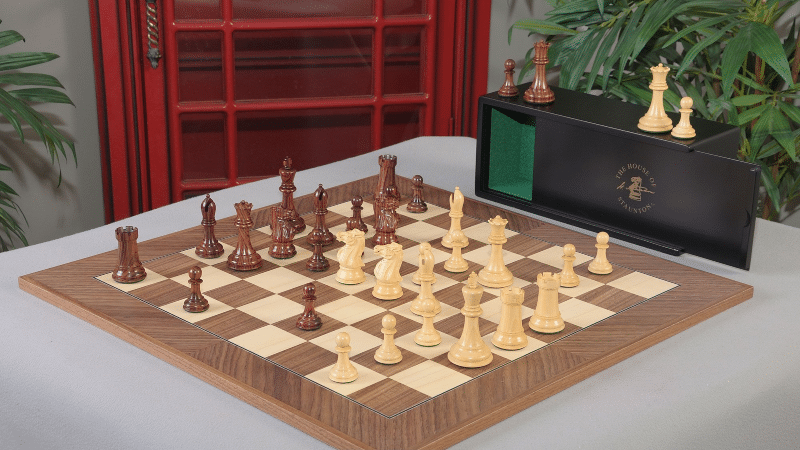 22. Pure Soy Candle
What better way to set the mood than by lighting a candle? PureSoyCandleCoAU is a company that creates handmade candles from soy wax and high-quality fragrance oil. They are completed with a wood wick and packaged in a glass jar that can be personalized to include the scent of your choice and the couple's name. There are multiple options to choose from, and they are available in two sizes; 110mL and 200mL. Buy the lovebirds one or multiple, but this is undoubtedly a gift they will be grateful for.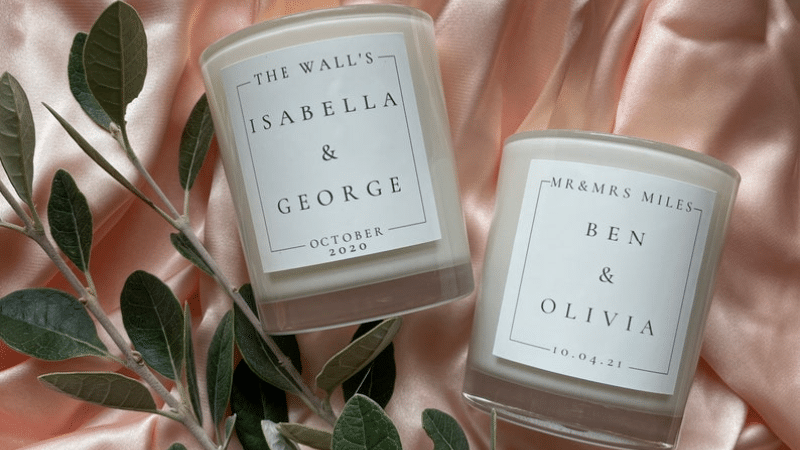 23. Picnic Basket for Two
There are few better dates than heading to a scenic spot with a picnic. It sets the mood for romance and is an excellent alternative to eating out and just getting a chance to connect with each other. The Zormy Picnic Basket for Two is the ideal product to do just that and comes with a large wicker basket that is secured and made with a polyurethane handle, making it easy to carry and transport. The basket is complete with an insulated compartment for hot or cold products and cutlery utensils. The set has everything a couple would need; two ceramic dinner plates, stainless steel forks, knives, and spoons, two ceramic mugs, salt, and pepper shaker, and a stainless steel corkscrew. It even comes with cotton napkins!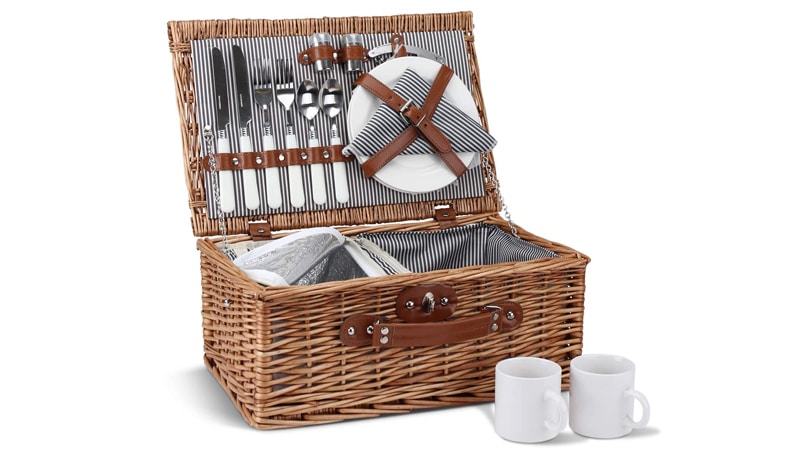 24. BubblyZone Mr. & Mrs. Wedding Gift Tumblers
BubblyZone has created these stylish and fun Mr. & Mrs. Wedding Gift Tumblers that are ideal for any couple. They make the perfect wedding gift or can be used to celebrate an anniversary or even for a special occasion. The tumblers are handmade and customizable, allowing you to add details to make them more special and unique. This could include a date. Plus, they are packaged in a square box, ideal for gifting.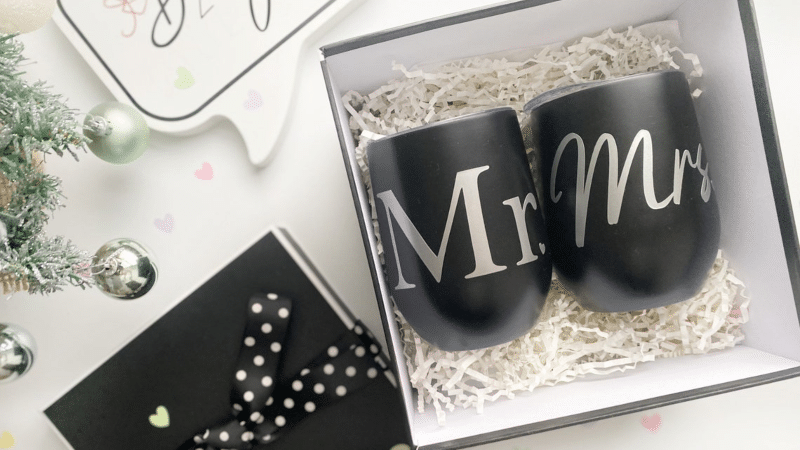 25. Stone Lain Stoneware Dinnerware Set
The Stone Lain stoneware dinnerware set is all you need to make dinner parties even more stylish. The 16-piece set is dishwasher and microwave safe and includes round dinner plates, salad plates, bowls, handled mugs and are available in a range of colors. Depending on your preference, there are four to choose from: red and black, blue and black, white speckled, and pink. This is great for finding the look that best compliments your kitchen color scheme and utensils. You can also opt for a dinner set for four or eight.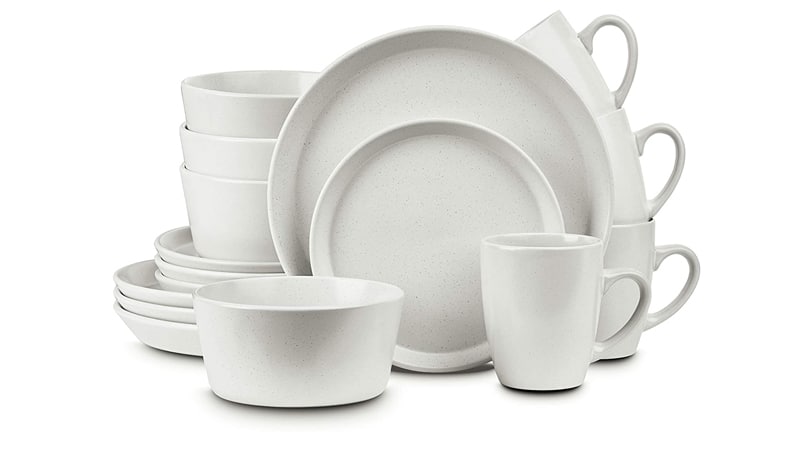 26. Time Since Launch Clock
If you are looking for a clock different from the norm, look no further; the Time Since Launch Clock. Instead of counting the hours in a day like standard clocks, this is a special countdown to a significant event. What a great way to get excited before a big day like a wedding, or it can even be used more regularly for date nights or the release of a movie you cannot wait to see. The product is assembled in Brooklyn and made from stainless steel, borosilicate glass, aluminum, and electrical components. It is not cheap, but it is money well spent!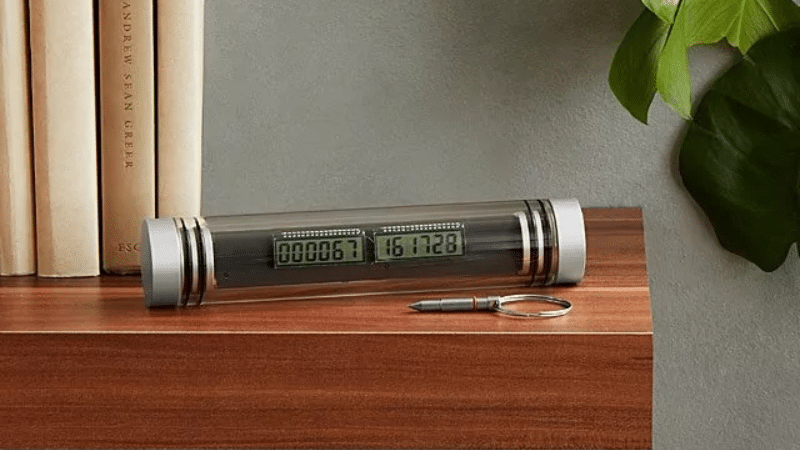 27. Long Distance Touch Bracelet Set
If you prefer presents that are creative and out-of-the-box, the Long Distance Touch Bracelet Set is what you have been looking for. These are not like standard pieces of jewelry that are only pretty to wear, but this can make a couple feel connected, even when separated by distance. The silicone jewelry connects to an app that allows the wearer to send a "touch" to their partner by activating a vibration and light on their bracelet; this lets them know that they are on their minds. You can also send multiple taps, which could send a message, and the newlyweds can create their own code. This is an ideal gift for those doing long-distance, or even if you just want to let your partner know you love them throughout the day. Bands come in various colors, including blue, emerald green, pink, and white.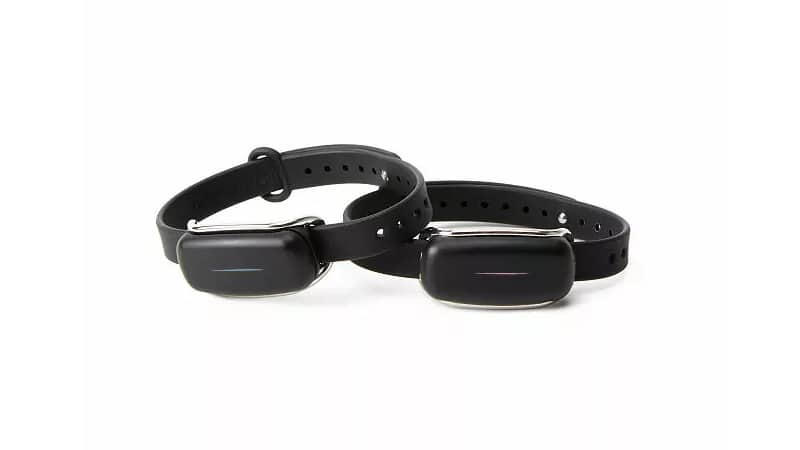 28. KANARS Old Fashioned Whiskey Glasses with Luxury Box
If you are looking for a great gift for whiskey drinkers, why not a glass? The KANARS old-fashioned whiskey glasses hold ten ounces and are created using high-quality crystal and have excellent refraction. They are also a timeless design that is practical, easy to use, and more break-resistant because of the production process. Dishwasher safe and designed to last with a 100 percent customer satisfaction guarantee, these products are ideal as a gift. They even come in a stylish prepackaged box.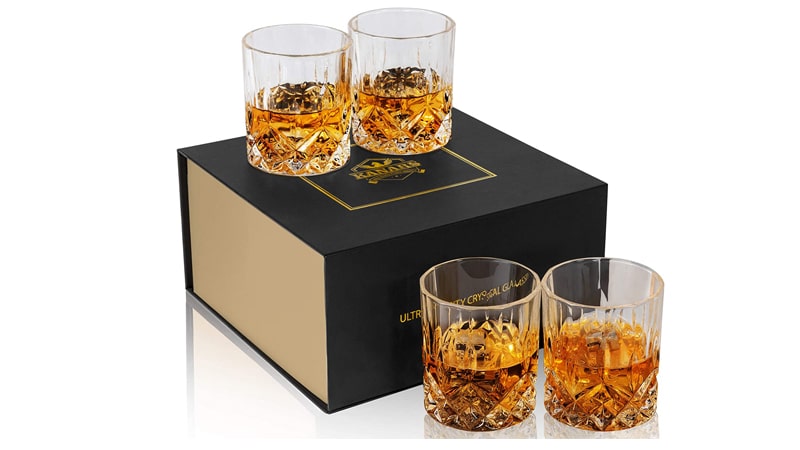 29. G.H Mumm Grand Cordon with Candy Bento Box
There is no better way to celebrate a special event than with a bottle of Mumm champagne. If you are looking for the perfect gift for champagne lovers, look no further; the G.H Mumm Grand Cordon with Sugarfina Cheers three-piece candy bento box. The champagne has aromas of ripe fresh fruit and tropical notes and comes in a bottle size that holds 750ml. The candies are presented exquisitely in a gold foil Bento Box. Inside, you will find a selection of Bubbly Bears champagne-infused gummies, Champagne Bears, and Champagne Bubbles.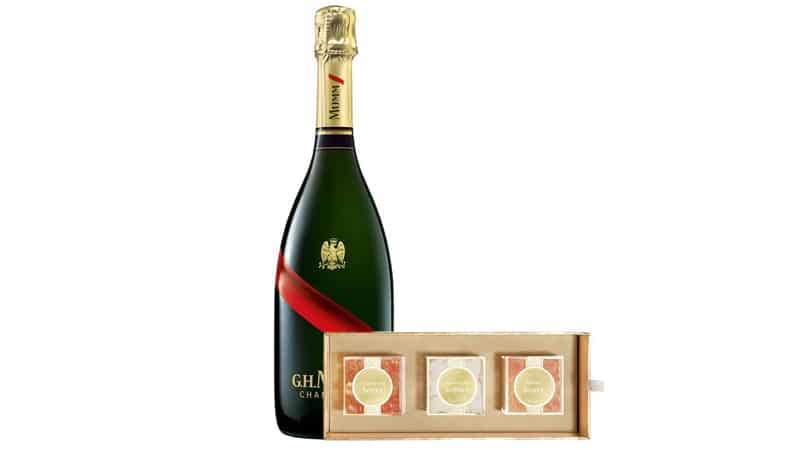 30. Do One Thing Every Day Together: A Journal for Two
Gifts do not need to be large or expensive to be impactful, and the Do One Thing Every Day Together journal is an ideal present. It is small and easy to take with you everywhere, but the best part is what is written within the 368 pages. This is an activity journal designed to improve communication between couples and get them to spend quality time together, despite the demands of daily life. It can be hard to focus on your relationship and take time for each other when work, kids, or just life in general, gets in the way. This book gives you several prompts and a section where you can respond, letting you share your answers and feelings and discuss them after.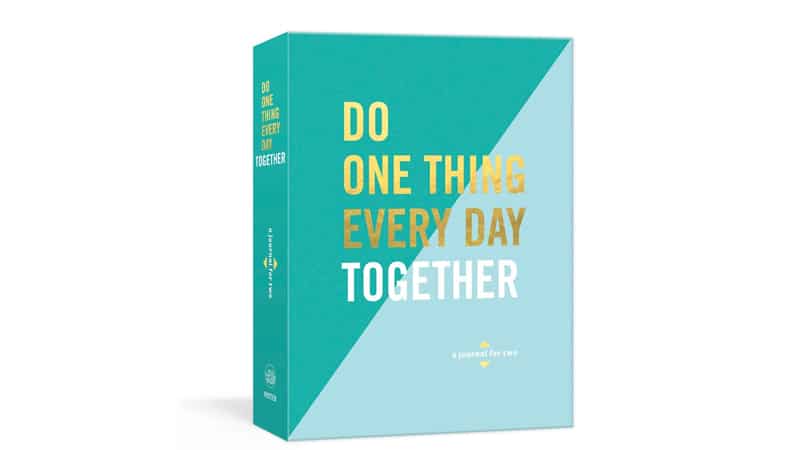 31. Hampton Bay Piedmont Fire Pit
For the couple who has everything, Hampton Bays steel fire pit could be the solution you have been looking for. The steel pit looks excellent and is practical, serving two purposes; outdoor heating and grilling. There is also a cooking crate and rotating grid for barbecuing and convenience and a deep bowl design to let you include more firewood and reach higher temperatures. The construction is sturdy and durable, there is also a mesh cover for safety, and it comes with a poker.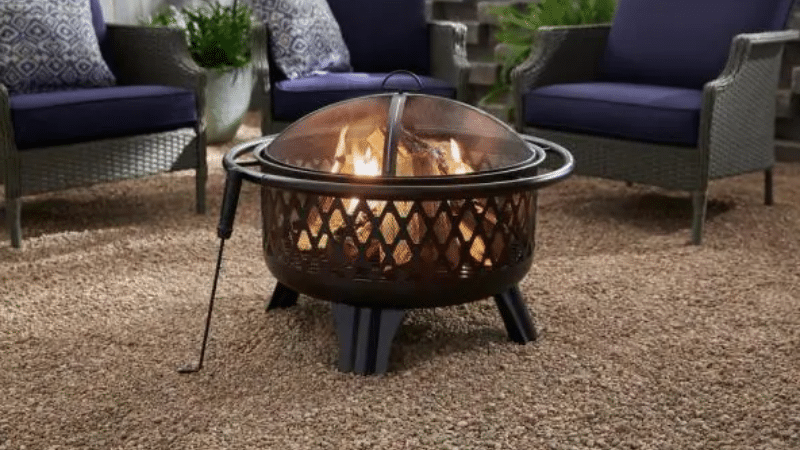 32. Vitamix Professional 750 Series Electronic Blender
Vitamix has an electronic blender that is going to change your smoothie game. This blender is great for making drinks, soups, sauces, and so much more. This particular product is a good gift and excellent addition to the kitchen because it can blend with ten different speeds and hold up to 64 ounces. The self-cleaning feature is perhaps the most appealing, and some of the parts are dishwasher safe. If this is not enough to convince you that you need this blender in your kitchen or that it would make an excellent gift for newlyweds, then consider that it has a seven-year warranty.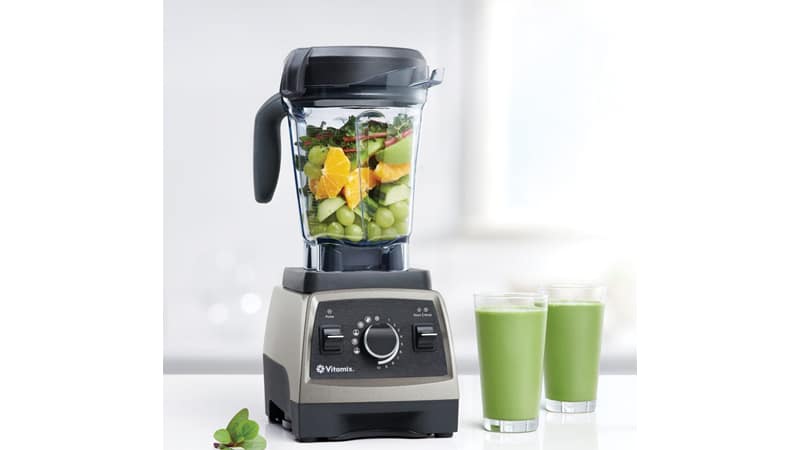 These days most of us spend a lot of time on our phones taking photos and recording moments. If you want to display them and make it easy to share and receive pictures from anywhere and anytime, consider the Simply Smart Home Photoshare. The product lets you transfer images to a frame, and you can also send them to family and friends who have the same device, letting you share multiple photos with people at once. The configuration is easy, and this product is a great way for sharing and keeping memories.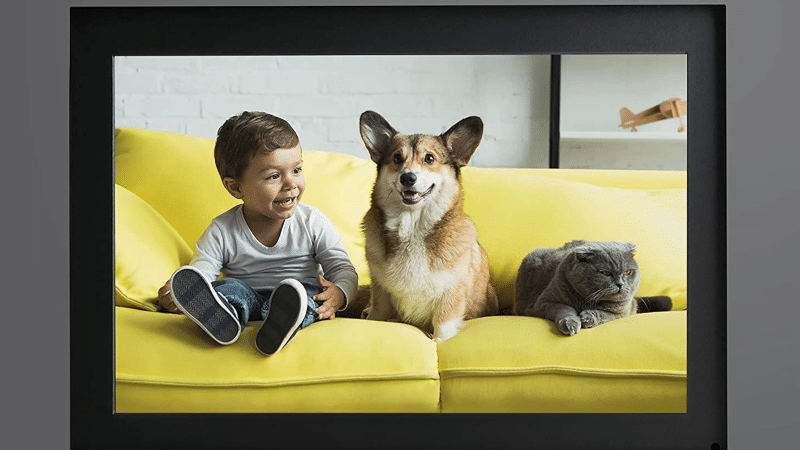 34. Vermicular Musui–Kamado
If the couple you are buying for is passionate about good food, then the Vermicular Musui–Kamado will make an ideal present. The cast iron induction cooker is set on an induction stove and works to control and evenly distribute the temperature. You can create many different dishes, including steam roasts and rice. The appeal of this product is that it helps make food rich in flavor and is typically more efficient in its use of energy consumption.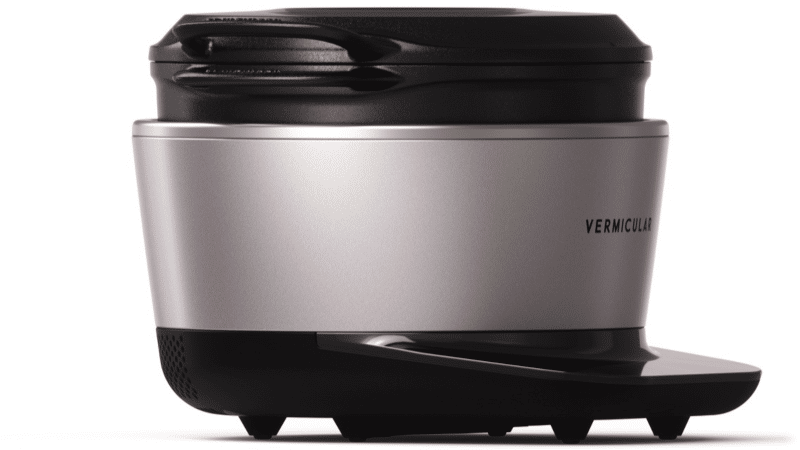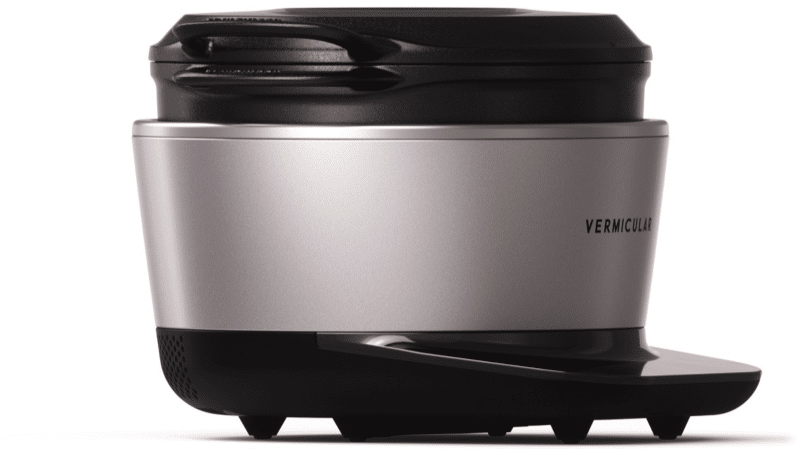 35. Anthropologie Marble Wine Rack
Wine lovers, rejoice. This is the product for anyone who wants to display their wine with an elegant and functional holder. The Anthropologie marble wine rack is available in gold or silver, allowing you to find the color scheme that best suits your home and preference. Or buy both, because why not?! It is also a great way to showcase your favorite bottles of wine and holds up to six. Each product is handcrafted, which adds uniqueness to it, as there are no two racks that are identical and will have slight variations in appearance. This is an ideal gift for newlyweds, and you can even include a bottle of the wine they served on their special day if you want to give your present a thoughtful touch.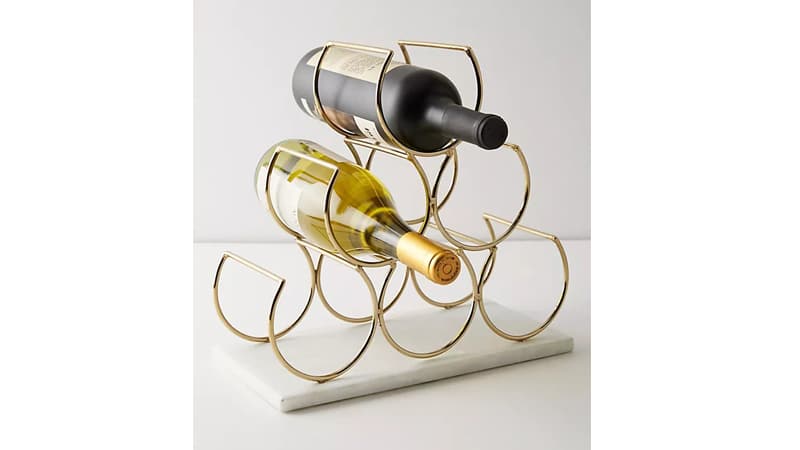 36. Couples Camera Set
Although most people use their phones to take photos and capture moments, a great way to inspire dates and experiences and capture them in the traditional way is with the Couples Camera Set. The set includes the Lomo'Instant Automat Camera, colored gel filters, photo stands and clips, a remote control lens cap, shooting tips, and a couples book. The appeal of using this instant camera is that you get one shot to capture the moment, making it more genuine and authentic than posing for several and choosing the one you love best. The idea is also to get out and do things together, connect, and maybe even go outside of your comfort zone. There are 50 dates to scratch off and complete, each a chance for spontaneity and discovery.
$235 | The Adventure Challenge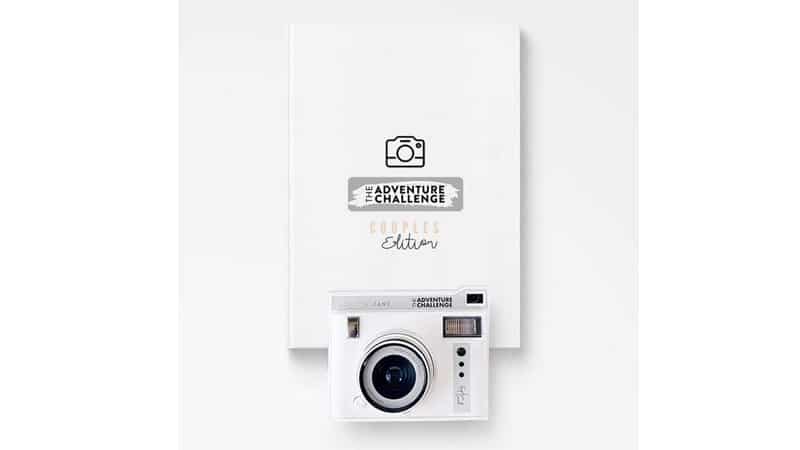 37. Anthropologie Reclaimed Wood Cutting Board
Anthropologie Reclaimed Wood Cutting Board is created by Mexican-based company Rasttro. It will be a welcome addition to your kitchen. Each board is constructed from reclaimed wood and given an olive oil finish; each piece has slight variations, making it unique because they are handcrafted. There are several sizes to choose from and varying wood colors from natural to chocolate hues. Depending on your price range and preference, you can also select a small board or an extra-large one. Who would love this gift? People who enjoy cooking, spending time together in the kitchen, and creating things.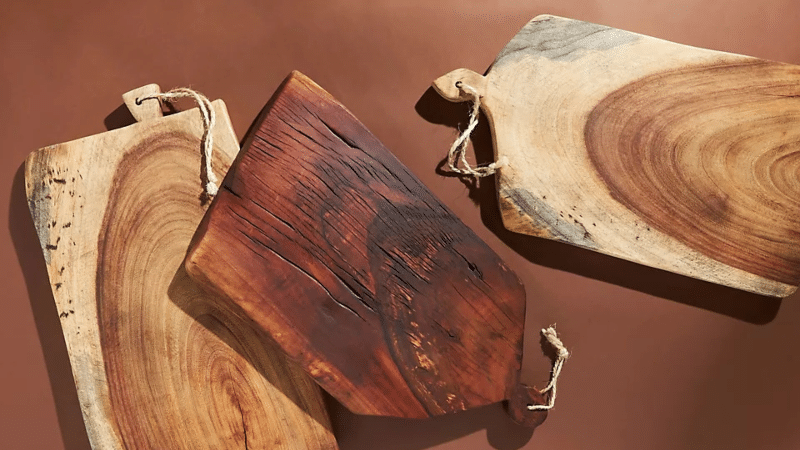 38. Away Travel Bags
Those who love travel and adventure will know that the process of taking a trip is made much easier when you have the right bags. Lugging around a heavy bag that does not fit into an airline's overhead storage or utilizes the space incorrectly can make your travels stressful. That is why Away provides a solution they are so passionate about that they offer a 100-day trial. There is a wide range of bags to choose from, from big to small, each designed with premium materials to last a lifetime. And to be taken anywhere! This is an ideal gift for someone's honeymoon. Prices vary depending on the product.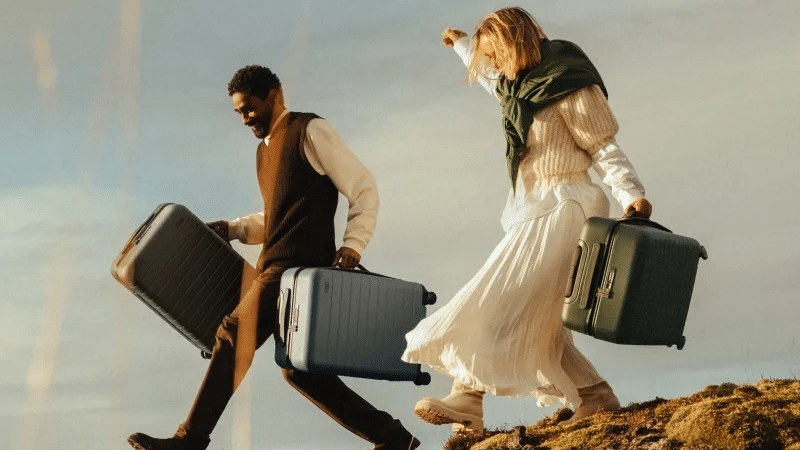 39. Folkulture Tea or Kitchen Towels with Hanging Loop
There is beauty in simplicity, and something like 100 percent cotton kitchen towels may be a basic product for everyday use, but it is also a great one. Practical and pretty, the prints on these towels will demand compliments from guests, but at the same time, they can work well with most kitchen colors and schemes. Also, who doesn't enjoy drying dishes with something that looks nice? They can be used to clean while cooking or to bake and are lightweight, absorbent, and quick-drying. The towel set is machine washable, and you can tumble dry on low heat.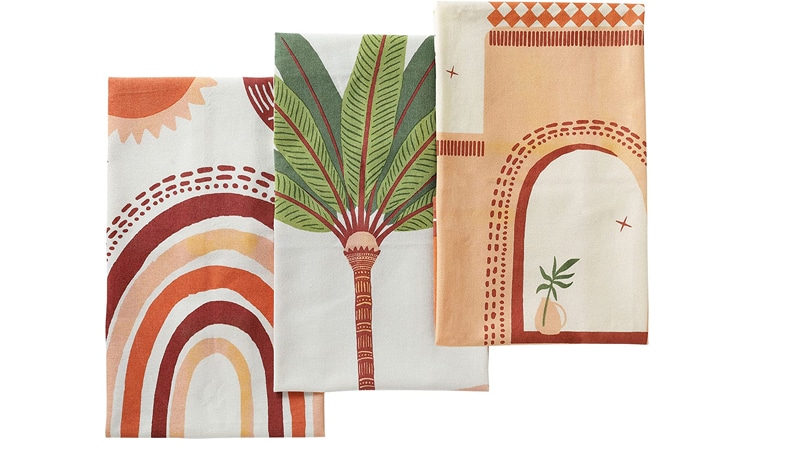 40. Aromatherapy Diffuser and Essential Oil Set
An aromatherapy diffuser can help you relax after a long and hard day and can boost your mood. It can also make you feel calm and help with focus, and there is a wide range of scents to choose from, depending on your preference. If you gift someone this aromatherapy set, it includes various ambient light modes, different light combinations, and timer settings. There are also ten essential oils, with scents including tea tree, peppermint, jasmine, and clove. The important thing about choosing essential oils is to find products that are good quality and do not have any additives, and this brand claims to be just that; no cheap additives or fillers. Relax, unwind, and enjoy.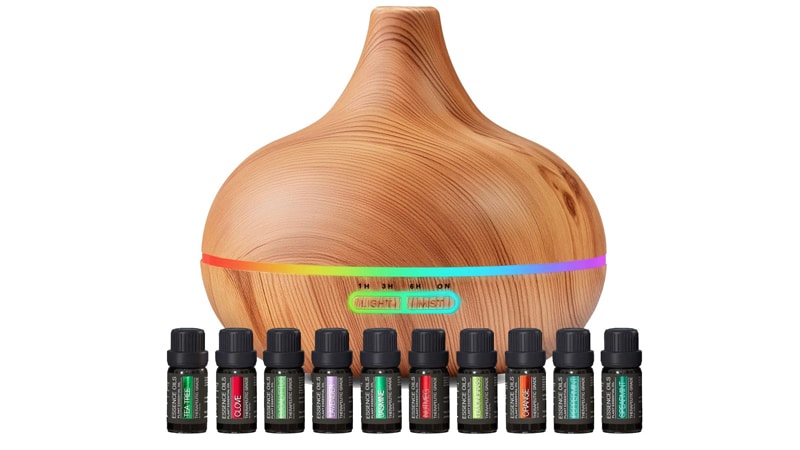 41. Push Pin World Travel Map
A great way to get inspired to travel, and to make a note of all the special memories you have already made, is with a push-pin world travel map. The idea is to keep track of the adventures you have been on by marking them with a pin. You can choose from a wide selection of push pin colors and canvas sizes; maybe you want to display this on your living room wall or choose a smaller placement in your office. You can also personalize it with the map color. This is a wonderful opportunity to decorate your house but also inspire yourself.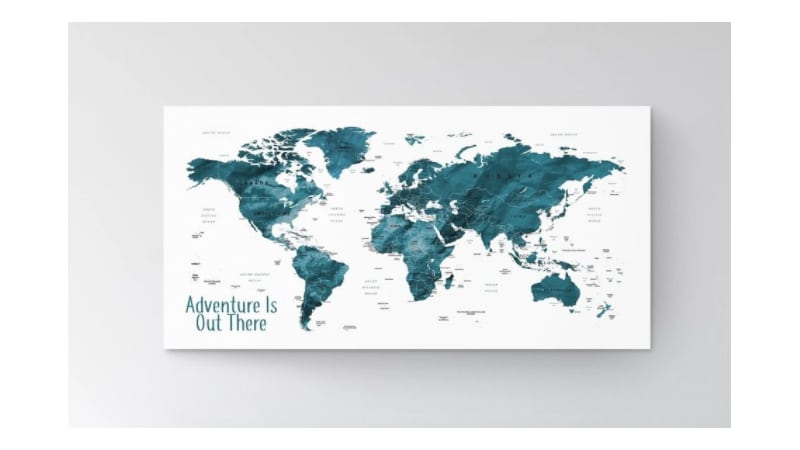 42. The Click & Grow Smart Garden 3
The Click & Grow Smart Garden 3 is designed to let you grow what you want from the comfort of your home and despite the weather conditions outside. Having fresh herbs can improve your cooking experience, and it can also make it more rewarding, knowing you grew them yourself. The plant pods are biodegradable and have seeds and nutrients inside them, and the product is calibrated for water and light. You can choose from four different colors, including white, black, beige, or illustrated, and each purchase comes with a bonus set of three basil plants.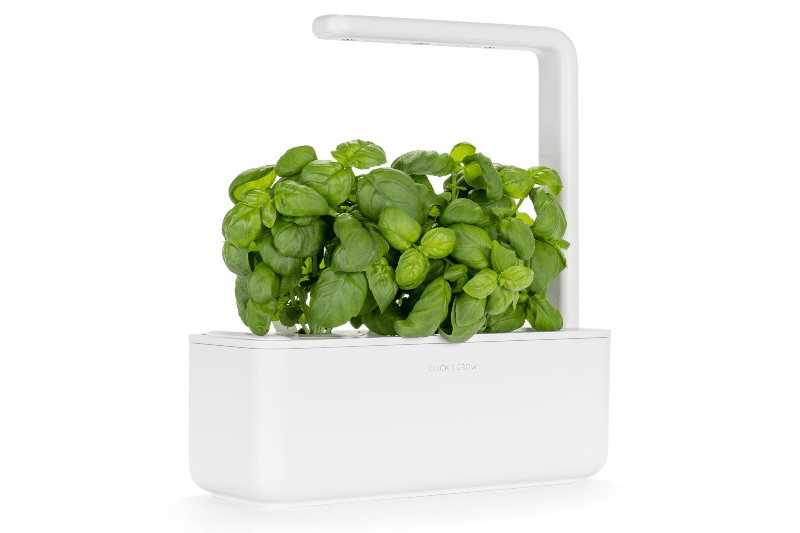 43. MFJUNS Chopsticks
Chopsticks are great for eating a range of foods, including rice bowls and sushi, and if you know someone who could use a gorgeous set of natural wood sticks, this is the ideal gift. It is also a unique present. The collection includes five pairs of sticks that are 22cm and are made from natural beech wood, sandalwood, pearwood, and Indonesian knife wood. Each stick is solid wood and easy to use because of the pointed tip and carved vein, which prevents slippage.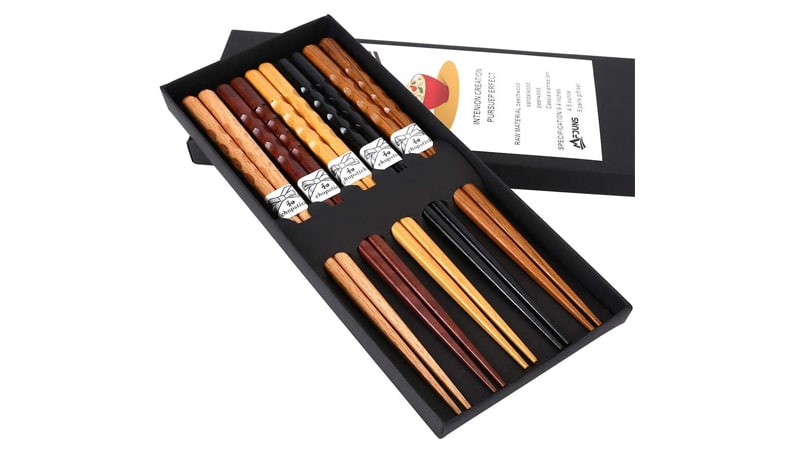 44. Pink Himalayan Bath Salt Gift Set with Rose Essential Oil
There are few things better than unwinding at the end of the day with a warm bath. This is made even better when you have the right bath products, and the Green Canyon Spas Pink Himalayan Bath Salt Gift Set with Rose Essential Oil may be just that. This is the ideal combination for relaxation with green tea, lavender, and rosewater scents. In addition, they are created using pure salt and essential oil to help moisturize the skin or even used at the end of the hair. There is also foot lotion to give your feet a little tender loving care.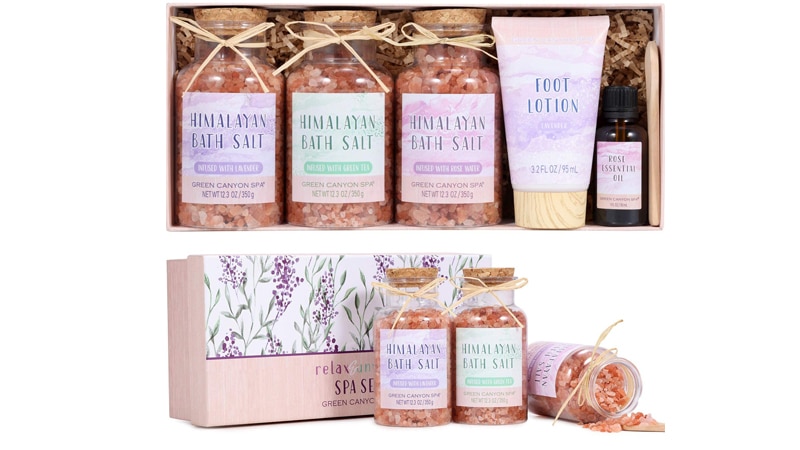 45. Aesop The Mentor
Aesop's The Mentor is a cleanser, toner, and hydrating serum set that can revolutionize your skincare regime. It is created using parsley seed formations which are rich in antioxidants and ideal for use every morning and evening. The cleanser comes in a 200mL bottle and can be massaged gently onto the face and neck. The toner is a 200mL bottle that is alcohol-free and will hydrate and refresh the skin, while the 60 mL serum provides hydration and protection against airborne particulates.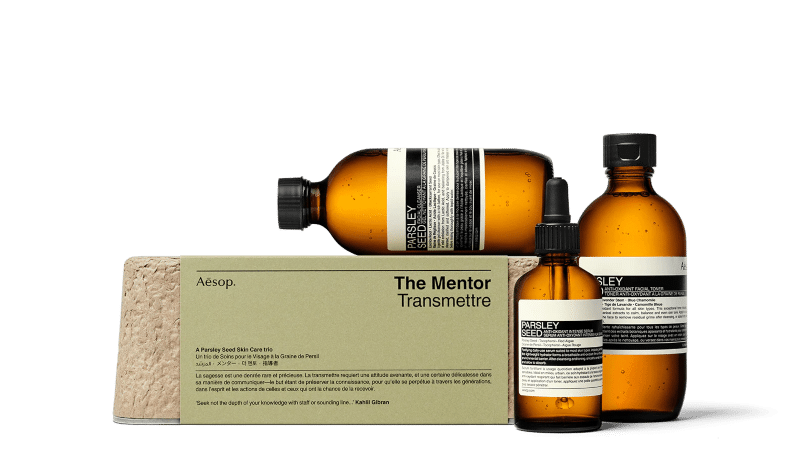 46. The White Company Lime & Bay Gift Set
The White Company has a wide range of products on offer, including the Lime and Bay gift. This set is ideal for anyone who wants to smell good and feel great. You can purchase one or two for the newlyweds to share or have their own; you may also want to find another of the brand's products to complement it. The set includes a scented candle with a burn time of around 28 hours, 250mL of bath and shower gel, 250mL body lotion, and a triple-milled soap. The scent of these products is infused with orange, blossom, and lime, which is refreshing and may make you think of summer, sunshine, and holidays. In addition, they are free from soy, alcohol, nuts, and gluten.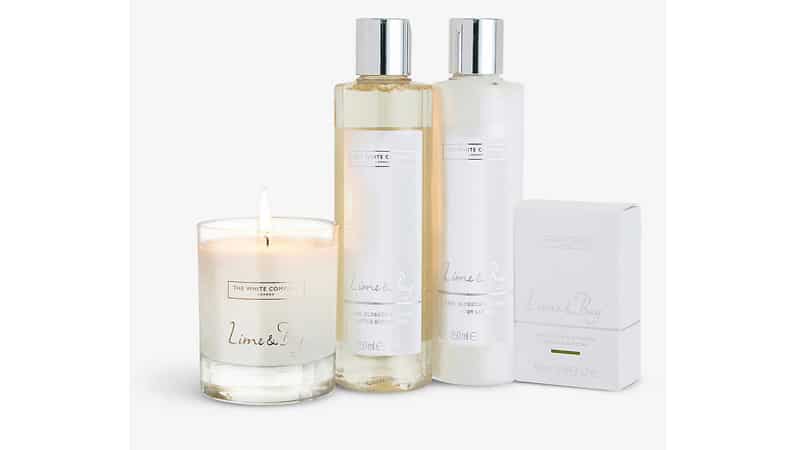 47. Breville Barista Pro Espresso Machine
Good coffee can make a world of difference. Getting up in the morning can be easier when you know you get to enjoy a cup of your favorite brew, and you can make it just like the professionals with the Breville Barista Pro Espresso Machine. It uses optimal water pressure, a conical burr grinder, a ThermoJet heating system for the best extraction temperature, and digital temperature control. The product also has an LCD with grinding and extracting animations and 2 liters capacity. Make espressos or lattes, this machine can do it all, and it is almost as easy as a click of a button.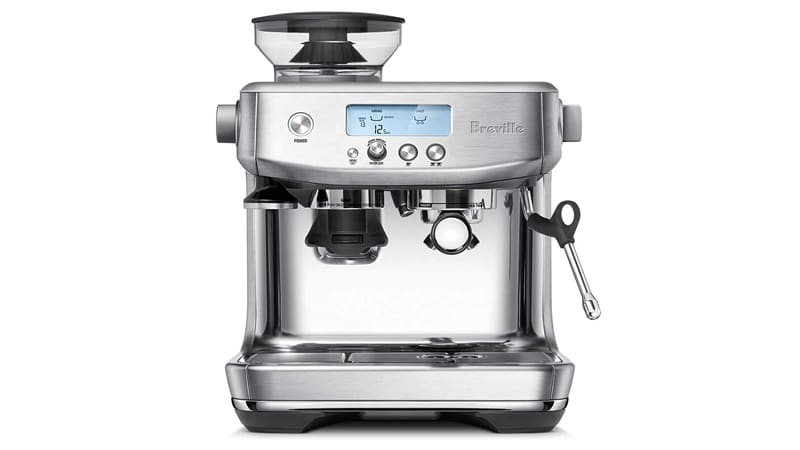 48. NLUS 2 Pack Adjustable Kitchen Aprons
The NLUS brand features a two-pack of kitchen aprons for him and her. The aprons are created using 60 percent cotton and 40 percent polyester blend, making them soft to touch and comfortable. They are also adjustable to fit most people and come in various color options and combinations. In addition, you can machine wash, tumble dry on low heat, and they are wrinkle-resistant. The designs also feature two pockets, which makes them practical and stylish, letting you store essential tools you may be using in the kitchen, such as recipes, spices, or a thermometer. This present will be well-received by newlyweds who love to cook together and make the experience even more fun.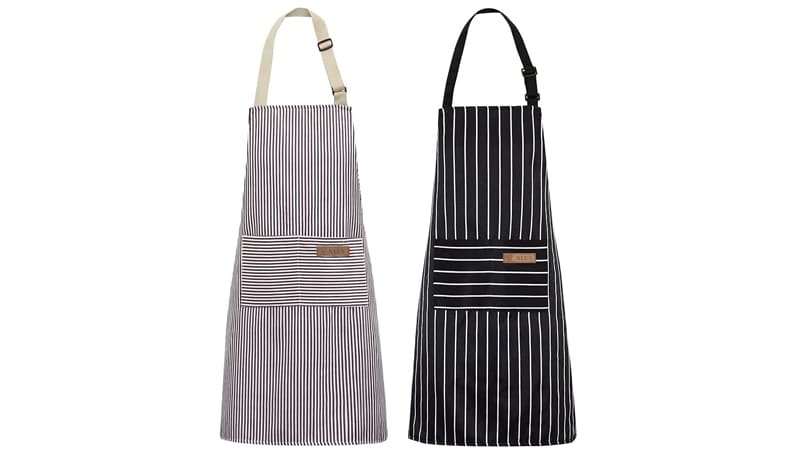 49. Folkulture Store Wooden Spoons Set for Kitchen
Every kitchen needs a stylish set of spoons, right? The Folkulture Store is known for its cool products, including this five-piece crockery set includes a slotted turner, fork, corner spoon, serving spoon, and spatula. These non-stick utensils are BPA-free and feature long handles for ease of use and practicality and will be great for baking or cooking. There is a range of colors to choose from, so you can find the perfect hue to complement the rest of the kitchen. Perhaps it is with classics like white or more adventurous options like blush and Azul. It is important to hash wash only.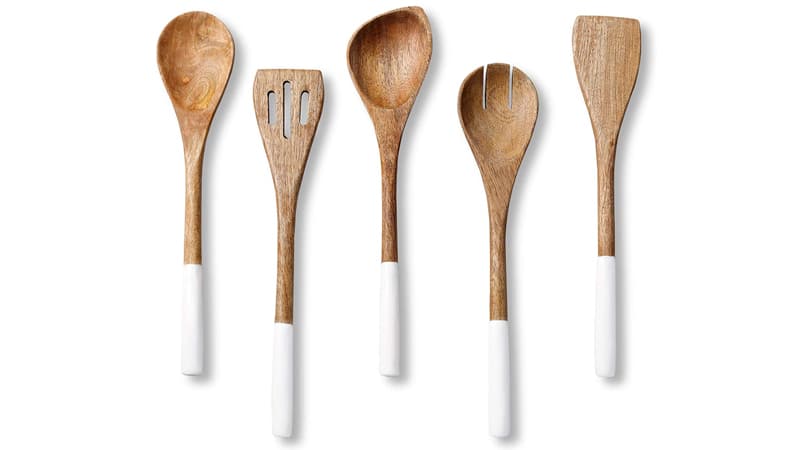 50. Acacia Wood Cake Dome with Lid
The Acacia wood cake dome with a lid is a stylish way to display your baking and is ideal for any couple who loves bonding in the kitchen. This is a thoughtful and practical present if you know a pair who loves to have guests over or who makes excellent cakes. It could also be a way to encourage them to connect in new ways. The product is constructed from acacia wood and is PTFE-free. The board can be wiped down with a towel, and the lid can be hand washed.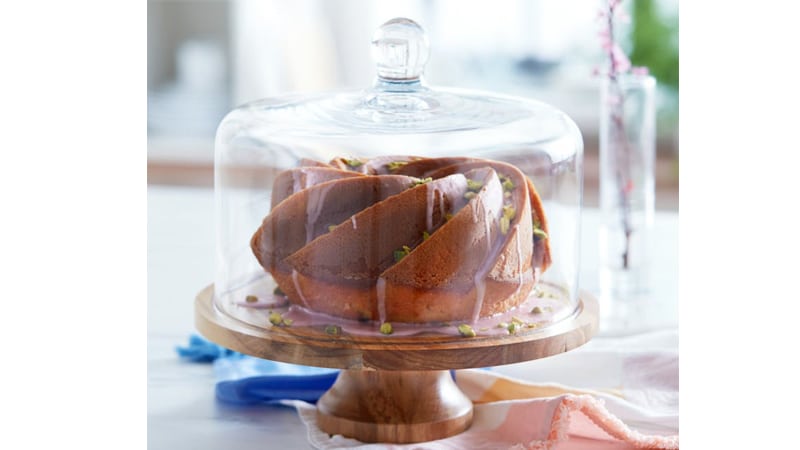 51. AW BRIDAL Couples Robes Set of 2
A monogrammed set of robes is a fun way to celebrate your newlywed status and will be a well-received gift. This set of two from AW BRIDAL is created from cotton and has an absorbent lining, a V-neck style, and full-sleeves. They also feature a tie closure, making them easy to wear. There is a wide range of sizes to choose from, with the exact specifications available online, so you can find a robe that looks good but also fits well. Finally, the different monogram options let you choose something that best reflects the couple's personality; this includes King and Queen, Mr. and Mrs., and Husband and Wifey. There is also a range of colors to choose from, including classics like black and white or blue or navy.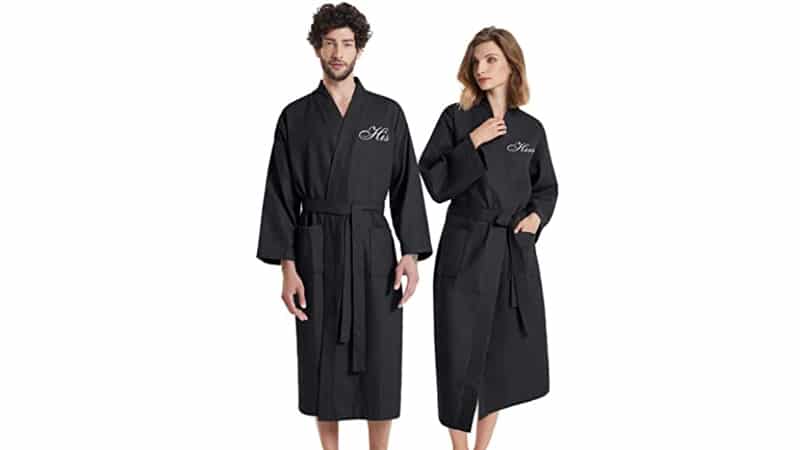 52. Coyuchi Cloud Loom™ Organic Towels
Coyuchi is the go-to brand for all home products, and their organic towels are no exception. If you want to give a newlywed couple a great set of plush, soft, and absorbent towels, these are them. Made from 100 percent organic cotton, grown and woven in Turkey, these towels come in a set of six. This includes two bath towels, two hand towels, and two washcloths. You can also pick from a range of pretty muted tones and natural colors, including slate, steel blue, alpine white, undyed, and fog.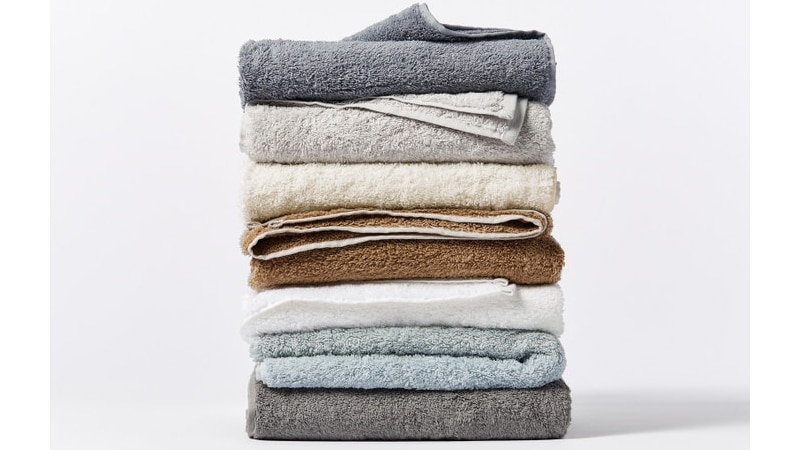 53. Personalized Wedding Keepsake Library
A couple's wedding day is one of the most extraordinary and memorable times of their lives, but the day is so busy and so much happens that it can be easy to lose track or forget the little details. Well, not with a personalized wedding keepsake library, which allows them to keep little mementos from the day; this could be anything from vows and polaroids to name settings and cufflinks. This box features acid-free drawers, files, fabric bags, and envelopes, letting the couple add all the special little things that made their wedding day so special. The front of the box can be personalized with their names or initials.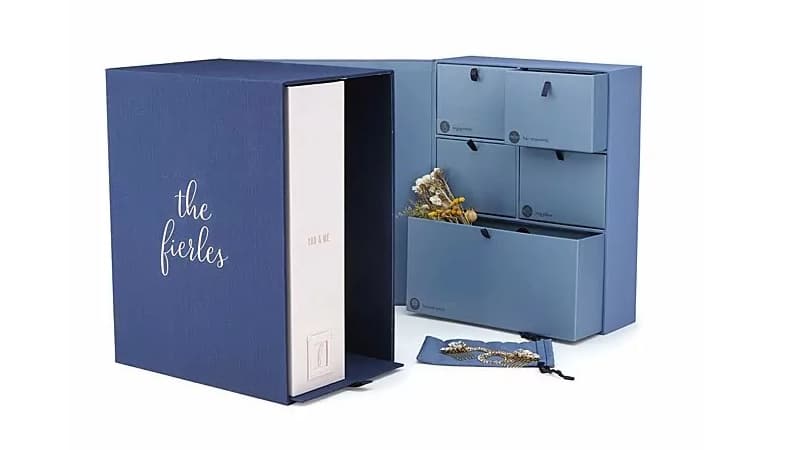 54. THENAMECO Personalized Wedding Gift Keepsake Box
Are you looking for a great gift that will let your favorite newlyweds reflect fondly upon their big day? Then why not choose a personalized keepsake box where they can keep all their special wedding-related items? THENAMECO has a fantastic option that is handmade using pine and can be personalized with the name of the couple and their wedding date or the year they got married. The product sizes range from Medium which is 30cm L x 22cm W x 11cm H, to Extra Large which is 45cm L x 30cm W x 17cm H.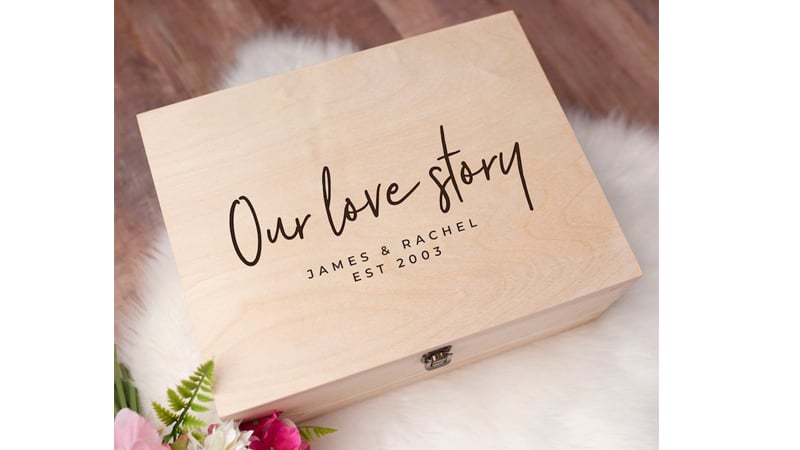 55. Kassatex New York Lima Alpaca Throw Pillows
If you are looking for gifts for the home, Kassatex New York's Lima Alpaca Throw Pillows are incredible. They are made using a combination of 89 percent Superfine Alpaca and 11 percent Polyamide, which has been sourced in Peru and are incredibly soft, comfortable, and stylish. The wool is sourced ethically from farmers who take care to abide by the highest standards of animal welfare when shearing and follow the guidelines and procedures set out by the International Alpaca Association. Each pillow is 20″ x 20″ and can be purchased with an insert or no insert. Colors include gray, ivory, and taupe; these soft, muted tones are perfect for any color scheme and look great on the bed or sofa.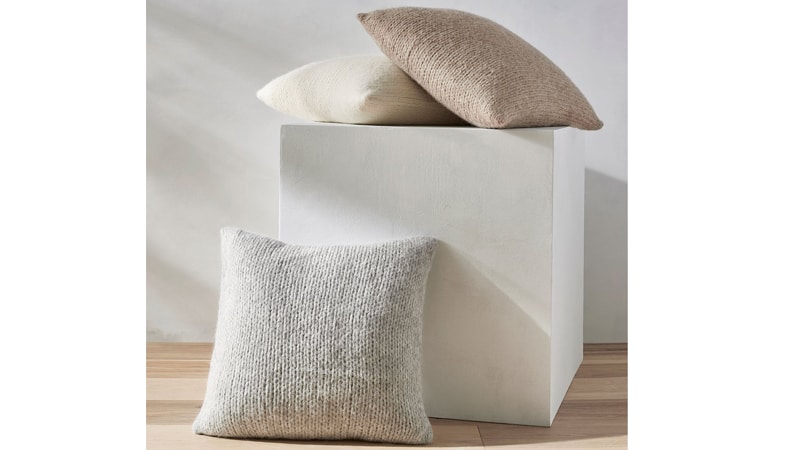 FAQs
What is a good wedding gift?
A good wedding gift can be a range of things, but it is usually an item that a lot of thought has gone into. The newlyweds may have created a registry for you to pick something, or you can think about their likes, hobbies, and interests and choose something that way. There is a product to suit every budget, and some are practical, like blenders and coffee machines, while others are creative and think out-of-box; this includes long-distance bracelets or a couples camera set.
How much should I spend on wedding gifts?
How much you spend on a wedding gift should depend on your budget. You do not need to purchase a large and expensive gift for it to be well-received, and sometimes thoughtful presents are the best. If you can afford to spend more, then do, but there should be no right or wrong answer about what you should spend. That said, there are some guidelines to follow, including how close you are to the couple. In general, it is recommended to spend around $100, but this can be more or less.
What is a thoughtful wedding gift?
A thoughtful wedding gift is something that you have put thought into. This is a present that you feel the couple will appreciate and related to their interests and hobbies. It could also be personalized with their names, the date of their wedding, and even a special quote. There are many presents to choose from, including a Do One Thing Every Day Together journal, a keepsake box, a push-pin world map, and much more. Your gift is also thoughtful if you know it is something that the couple wants or need, this could include a blender, aprons, or a coffee machine.
What are good personalized wedding gifts?
Personalized wedding gifts can be a wide range of things, including Mr. and Mrs. tumblers, matching robes, a keepsake box, a cheese board, and paintings and prints. Think about what the couple loves and use that for inspiration for your gift.
What are the top wedding gift ideas for same-sex couples?
Great ideas for wedding gifts for same-sex couples should be chosen based on their shared likes and interests. If they are a couple who love cooking together, focus your gift on this, or if they love to travel and adventure, you can find a present that reflects this. Personalized presents with their names and wedding date will also be appreciated, including photos and prints. If you opt for monogrammed robes or tumblers, choose ones that read Mr. and Mr., Wifey and Wifey, and Husband and Husband; or use their preferred titles.
SUBSCRIBE TO OUR NEWSLETTER
Subscribe to our mailing list and get interesting stuff and updates to your email inbox.