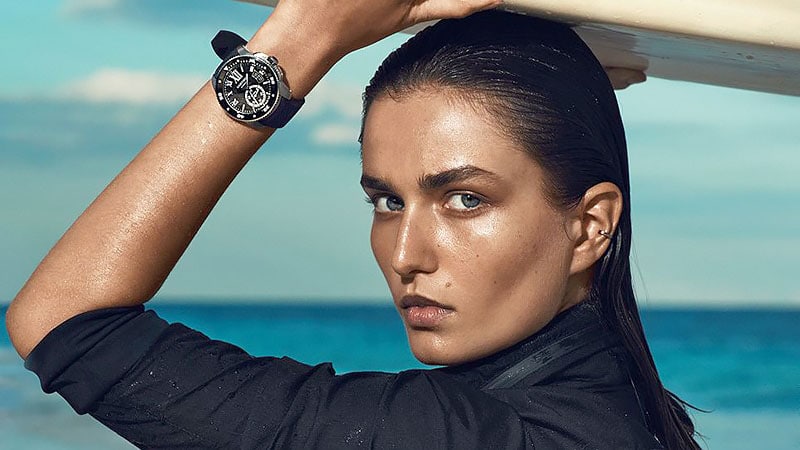 As life rushes by, keeping track of time can help to remind us to remain present in the moment while making every second count. As a result, whether you're in the boardroom, a ballroom, or at the beach, a watch is one accessory no woman should go without. To ensure, however, that your timepiece can withstand all of your adventures both above and below sea level, we recommend selecting a waterproof watch. Whether you're looking for something sporty or sophisticated, sparkling or subtle, there are a wide variety of options waiting to be uncovered. Therefore, to guide you in your quest to find your new favorite timepiece, we're here to reveal the best waterproof watches for women.
1. Invicta 8939 Pro Diver Women's Watch
There's a lot to love about the Invicta 8939 Pro Diver Watch. The stunning silver-tone timepiece features a black bezel and dial with luminous logo-inspired hands and indices. It harnesses a shock-resistant, Japanese quartz movement that will endure just about all of your undersea adventures with water resistance up to 200 metres. Aesthetic features include a stainless steel case with mineral dial window, a fold-over-clasp, stainless-steel band, and anti-reflective mineral crystal.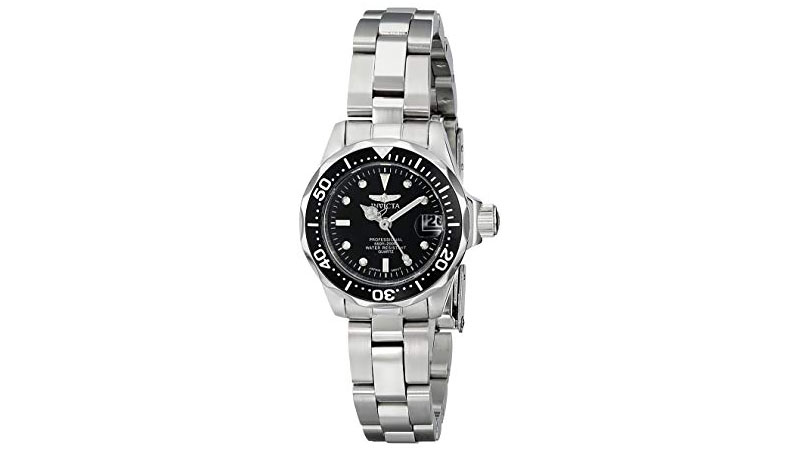 2. Casio G-Shock S-Series Tracker Women's Watch
When it comes to durable and tough timepieces, the Casio G-Shock Tracker Watch has got you covered. Sleek and sturdy, this watch is made specifically for women who want to accomplish their fitness goals while still looking stylish. As well as looking strong, this watch is also shock resistant. The timepiece counts daily steps and provides a comfortable fit for all-day use. Other noteworthy features include a 45.9mm resin case, water resistance to 200m and a double LED light.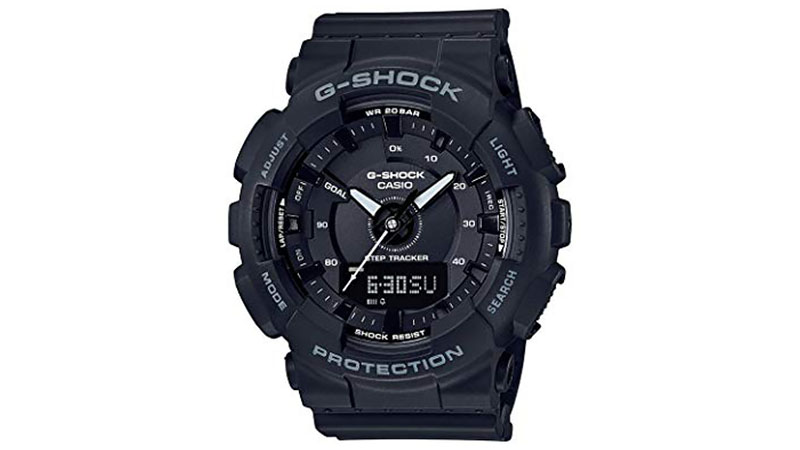 3. Citizen Eco-Drive EW1620-57X Women's Watch
From high teas to the high seas, this gorgeous stainless steel watch from the masters at Citizen is one accessory you won't want to take off. Powered by the brand's famous Eco-Drive technology, this sparkling timepiece harnesses a Japanese quartz movement and draws its energy from light. Dainty yet durable, it features a soft pink dial with luminous hands and hour markers and is water resistant to 100m. Finally, the 25mm stainless steel case, mineral dial window, and silver-tone band with a push-button clasp and safety closure ensure its survival through all of life's adventures.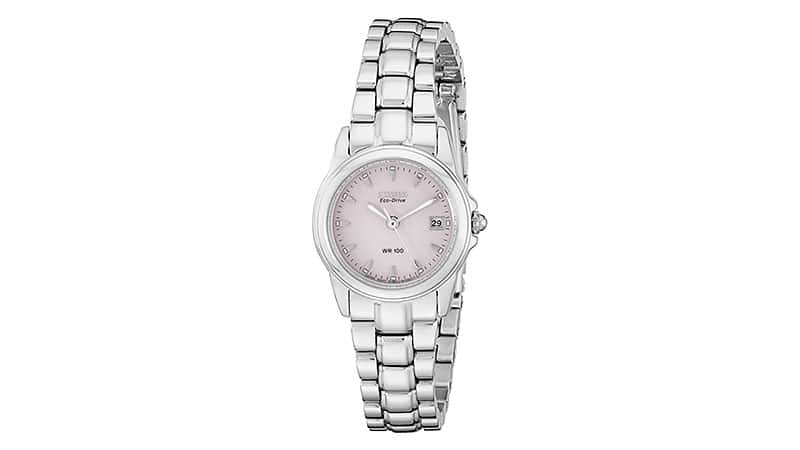 4. Victorinox Swiss Army 241305 Women's Watch
Perfect for the outdoors, the Victorinox Swiss Army 241305 Watch features a sporty and durable design. A durable, stainless steel round case protects the dial while an anti-reflective, sapphire crystal window provides the ultimate scratch resistance. The polished stainless steel bracelet is secured with a deployment clasp for added security. When it comes to functionality, this watch doesn't disappoint, offering water resistance to 100m, precise Swiss quartz movement, and luminous hands and hours markers.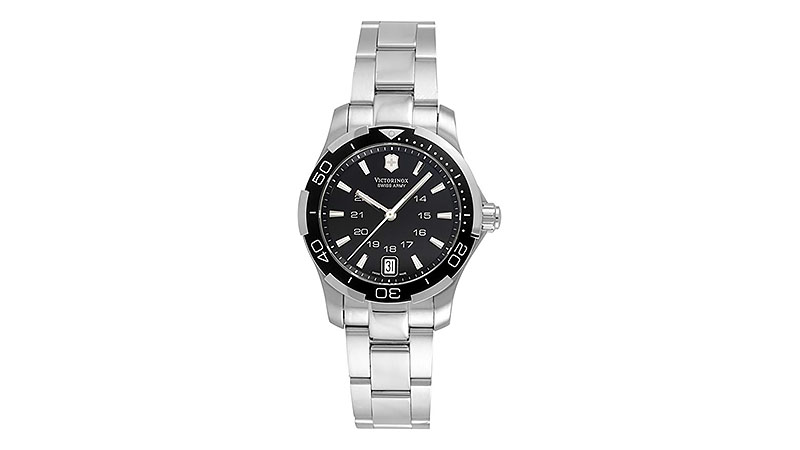 5. Fossil FSCE1036 Women's Watch
With trademark style and incredible design, the Fossil FSCE1036 Watch delivers a remarkable presence on the wrist. Harnessing precise Quartz movement, water resistance to 100m, and scratch-resistant mineral crystal, this tough timepiece is the ultimate in durability. These elements cradle a bold black dial and black ceramic case with a unidirectional blue-toned stainless steel bezel and a textured crown. But that's not all. The watch also features luminous index, Arabic numeral hour markers, and silver-toned luminous hands.
6. Luminox 7051.BO Colourmark Women's Watch
After a waterproof watch, that's as fashionable as it is durable? Luminox's 7051.BO Colourmark Watch is what you need. Harnessing Swiss quartz movement, a carbon case, and mineral crystal, this timepiece is built to last. Aesthetic features include a black dial, buckle clasp closure, and black rubber dial. With water resistance to 200m, the timepiece is suitable for recreational scuba diving. On top of that, it features glow-in-the-dark capability.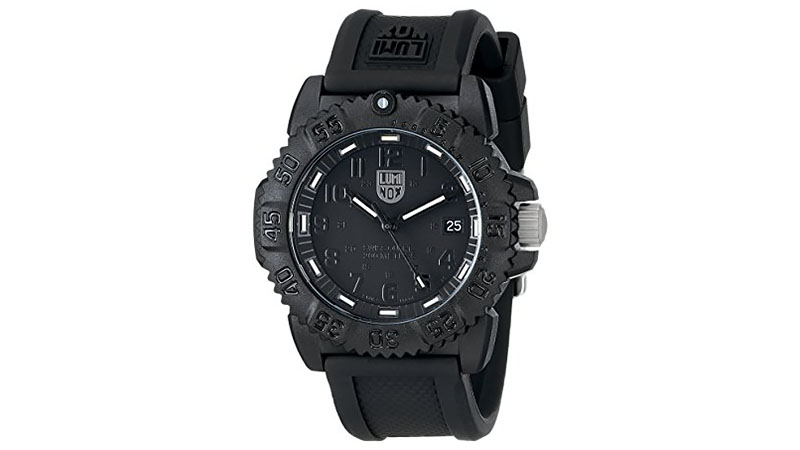 7. Orient FNR1H002B Combat Women's Watch
Featuring a sleek and functional design that is buoyed by world-renown craftsmanship, Orient watches boast only the best Japanese movements. Along with 100m water resistance, the Orient FNR1H002B Combat Watch features a 32mm stainless steel case and urethane band, ensuring ultimate levels of comfortability and durability. It also boasts a sapphire dial window, buckle clasp closure, analog display, and automatic self-winding movement.
8. Armitron 45/7053 Sports Women's Watch
If you're the kind of woman who lives for sport, then the Armitron 45/7053 Watch is for you. With water resistance up to 100m, this bold, durable timepiece is built to last. Aesthetic features include a 36mm metallic green resin case with digital display, a grey dial with an acrylic dial window, and a green resin strap with stainless steel buckle closure. Additionally, the timepiece features a dual time zone, 3 alarms, a lap timer, and backlight functions.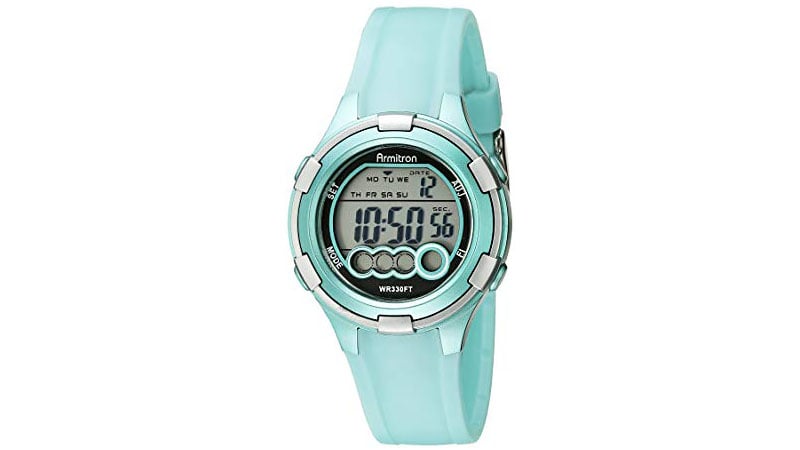 9. TAG Heuer Women's WAY1411.BA0920 Women's Watch
Explore sunken shipwrecks and underwater caves with this streamlined stainless steel TAG Heuer watch. Water resistant to 300m, this elegant piece is the perfect addition to your scuba diving gear. Since its inception back in 1860, TAG Heuer has pushed the boundaries of world-class innovation and precision. As a result, they have provided their watches for many of the world's greatest sporting competitions. This watch is no exception to that standard of excellence. A sophisticated stainless steel bracelet and case accompany a silver-toned dial, while a deployment buckle completes the watch's refinement. Finally, inside the 28mm stainless steel case, a scratch-resistant sapphire crystal dial window protects the mechanisms within, which operate by a battery and a sleek Quartz movement.
10. Casio G-Shock GMAS110MP-4A1 Women's Watch
For any adventurous woman seeking a fun, feminine, yet durable watch, Casio has created the perfect pastel pink companion. Built to survive the sun, the surf, the wind, and the rain, the Casio G-shock is shock resistant, magnetic resistant, and water resistant to 200m. Pretty in pink, the watch features a soft pink resin case, bezel, and band. These are complemented by bronze accents on the dial, which is encased within the mineral glass. Keeping you on track and on time, the G-Shock offers a countdown timer, speed indicator, stopwatch, world time, and several alarm settings.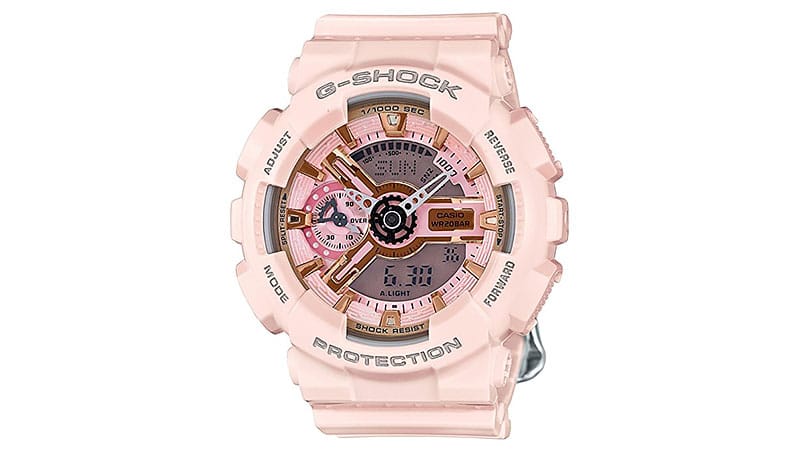 11. GUESS U0027L3 Stainless Steel Women's Watch
From the ballroom to the bay, this alluring, deep blue Guess watch invites wearers to conclude their evening soirees with a mystical midnight dip. Dually sporty and sophisticated, it features crystal accents, which dazzle against the iconic blue-plated stainless steel band and dial. As a result of being water resistant to 100m, this gorgeous, quartz-movement timepiece is as bold and adventurous as its wearer.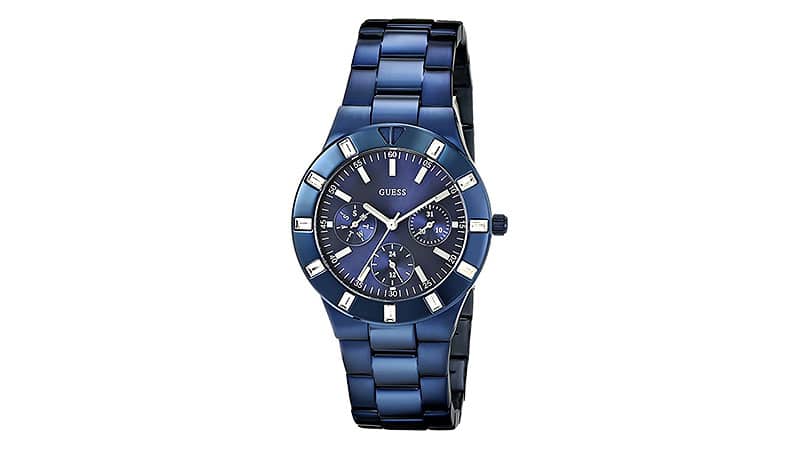 12. Tissot Women's Chronograph Women's Watch
Express your individuality with this bright, bold, racer black and popping orange Tissot timepiece. As a trailblazer in watch innovation since 1853, Tissot's unique, affordable pieces are frontrunners in the industry. Featuring a contrasting orange rubber strap, black chronograph dial, and a stainless steel case, this watch commands attention. Additionally, a Swiss quartz movement, anti-reflective sapphire dial and fold over push button clasp make it both functional and durable. Finally, the watch's luminosity and water resistance to 100 meters allow it to venture deep into the underwater world.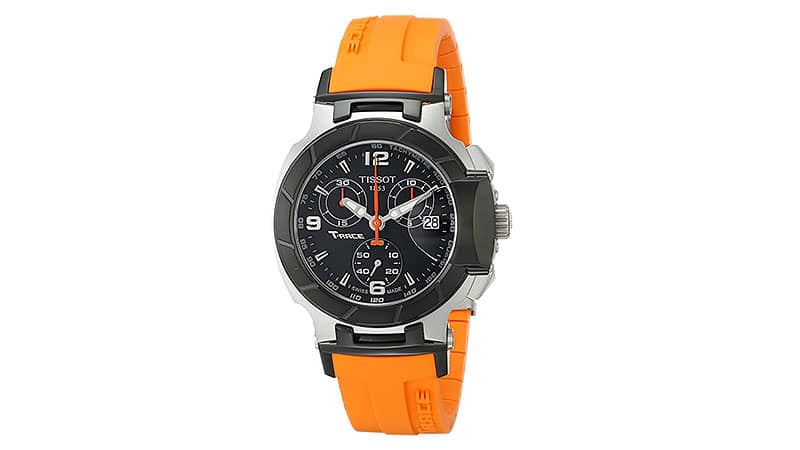 13. Armitron 45/7086 Chronograph Women's Watch
It may not be suitable for diving, but Armitron's Chronograph Watch will see you through just about every other situation. Whether you're doing a few laps in the pool or off on a weekend snorkeling adventure, this all-blue watch will be the perfect accessory. The timepiece features a 34mm resin case, acrylic dial window, and buckle clasp closure. When it comes to functionality, this digital chronograph style watch offers a Quartz movement.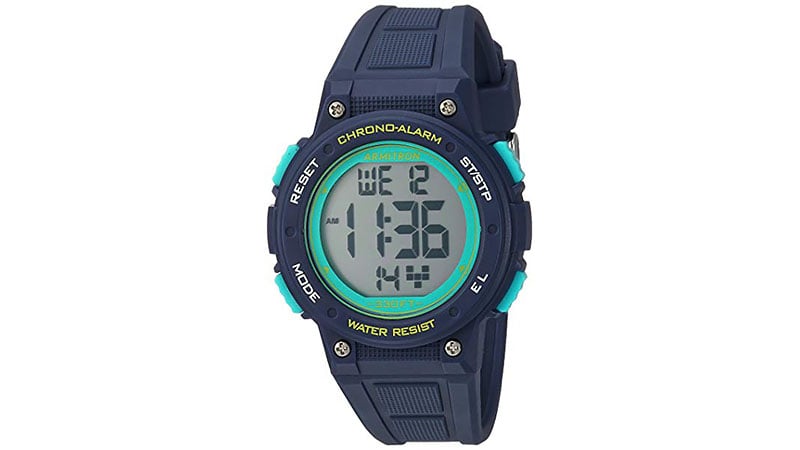 14. Seiko SUT222 Stainless Steel Women's Watch
Designed for the modern, sophisticated woman, Seiko's stunning SUT222 model features a round gold-toned and stainless case and a polished stainless steel bracelet. The finer details include gold tones inserts, hands, markers, and a crown. Emphasizing its luxurious aesthetic, this piece also pays tribute to the jewel of the sea, the pearl, with its sparkling, polished white dial. Although this elegant Seiko timepiece is water resistant to 100m, you'll be wanting to come up for air every once in a while to recharge it through the energy of the sun. Harnessing all types of light which are then used to generate energy, no battery charge is required to keep the Japanese quartz movement ticking smoothly. Finally, a Hardlex crystal dial ensures this watch is as durable as it is divine.
15. Invicta 9177 Pro Diver Women's Watch
Founded over a century ago and Latin for 'Invincible', Swiss brand Invicta is renowned for its expertise in crafting exquisite, durable timepieces. The Pro Diver, therefore, follows this long line of innovative design. Encapsulating the invigorating, cool sensations evoked by the ocean, this watch boasts a refreshing, stainless steel case and a deep, ocean blue dial. The finer details include luminous silver time markers and hands and an anti-reflective mineral crystal face. Built for bold women, this shock-resistant timepiece with a Japanese quartz movement is water resistant to 200m. As a result of this and it's diver's buckle with a safety clasp, it is the ideal accessory for recreational scuba diving.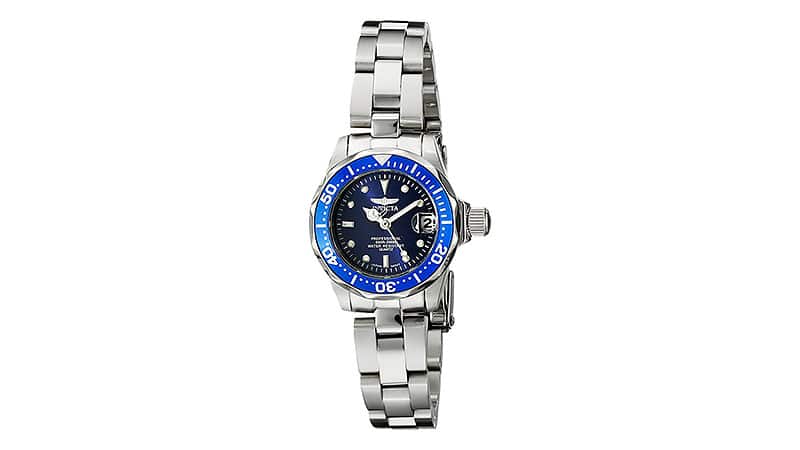 16. Nixon A399-897 Small Time Teller Women's Watch
Explore underwater realms as you dive deep below the surface with Nixon's small, rose gold Time Teller. Glistening beneath the waves like a sunken treasure, this golden timepiece features a mineral crystal face and a quartz movement. Water resistant to 100m, this watch is the perfect accessory for all of life's adventures, whether they occur above or below sea level.
17. Armitron Sport Women's 45/7045 Digital Watch
Attracting attention with its vibrant teal resin case, this Armitron watch is the ultimate piece for lovers of sport and the sea. Strive for success with the chronograph and lap time functions, which allow athletes to keep track of their fitness both on the track and in the pool. Additionally, whether you prefer to keep your head above or below water, the digital display with a bright backlight will allow you to easily stay on time. Operating on a quartz movement, this stylish, splash proof piece is water resistant to 100m.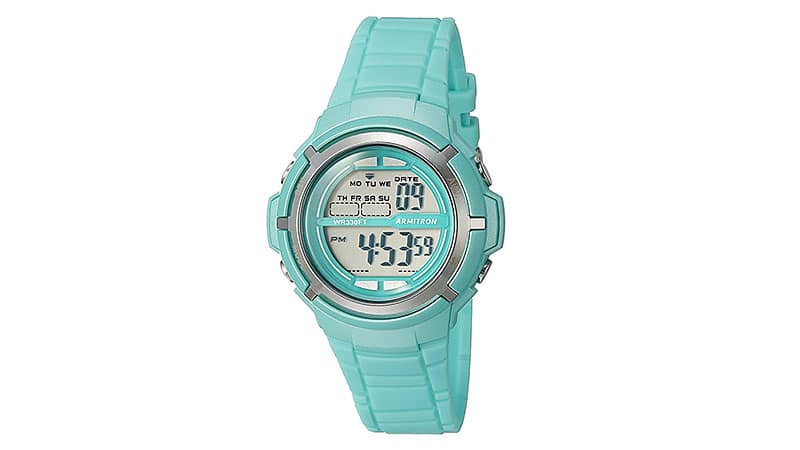 18. Victorinox Unisex 241581 "Infantry" Stainless Steel Watch
Refined, old-world elegance meets modern ingenuity and design in Victorinox's "Infantry" watch. The company itself is renowned internationally for its quality, functionality, versatility, and innovation. Additionally, it holds a reputation for creating durable, iconic designs. Modern elements of this timepiece include the crisp white dial, luminous sword hands, and 38mm stainless steel case. Meanwhile, the leather calfskin band is nostalgic in its allusion to tradition and the elegance of the past. Additionally, this watch is water resistant to 100m, uses a Swiss quartz movement, and features an anti-reflective sapphire dial window.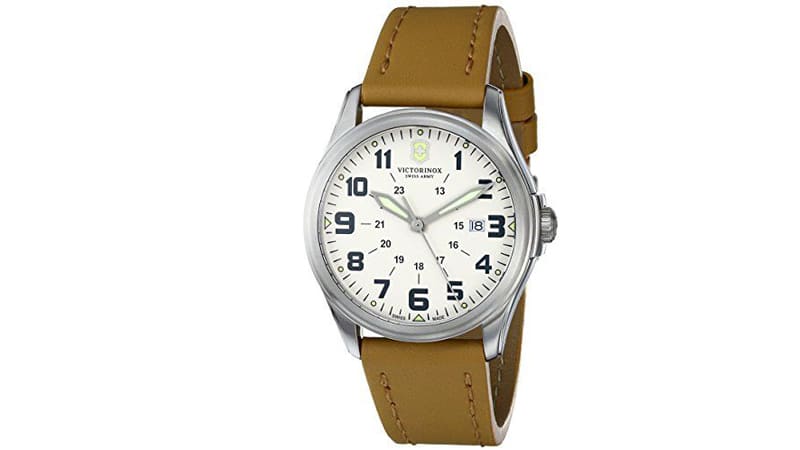 19. Adidas Originals Casual Women's Watch
The stunning black and gold design of the Adidas Originals Casual Watch isn't the only reason to add this timepiece to your collection. Along with being seriously stylish, it is also perfect for all of your sea adventures with water resistance to 500m. The classic watch boasts a laidback sporty aesthetic and analog quartz movement. Features include a unidirectional bezel function, mineral dial window, buckle clasp, and a 41mm stainless steel case.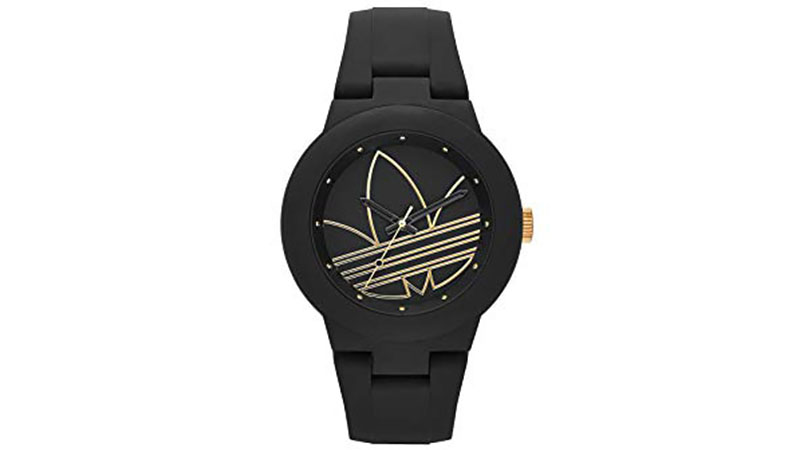 20. Timex Ironman 30-Lap Digital Women's Watch
Descendant of the first Timex Ironman watches introduced in 1986, the Ironman Classic 30-Lap Digital Watch is the undisputed favorite in sports watches. This incredible timepiece will be your dependable companion through all of life's adventures, from morning runs to laps in the pool. More than just a stopwatch, the Timex Ironman is built to be lightweight and sealed for water resistance up to 100m. The iconic five-button design gives you direct access to all timers, alarms, and an Indiglo night-light. Additional features include a durable resin grey strap with buckle closure.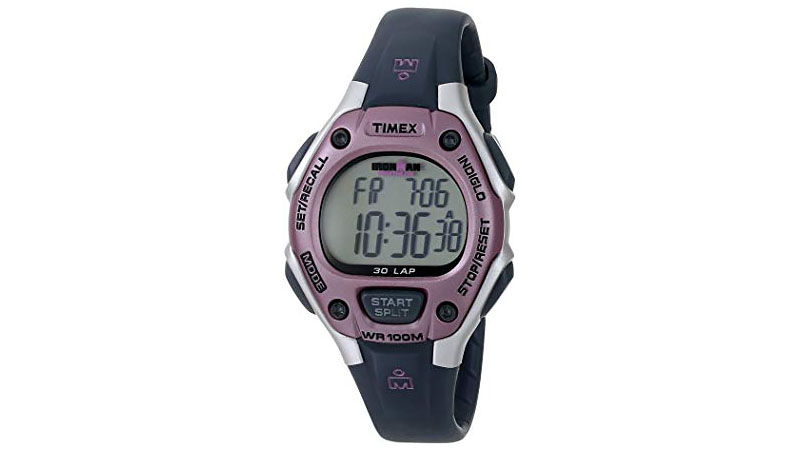 FAQs
What is the best waterproof watch?
If you're looking for a waterproof watch, you can determine the best one for you by considering how water-resistant it is, whether it is shock resistant and durable, your budget, if you want something sporty or sophisticated, and the brand. These factors will help you decide which timepiece you should own, which will, therefore, be the top pick for you.
Can you swim with a waterproof watch?
In general, waterproof watches do not mean you can go swimming and diving with them, and rather they are splash resistant and can endure some exposure to water. That said, some models can have a greater resistance of over 100 or 200 meters, and these pieces are good for most watersports, including swimming and snorkeling.
What smartwatch is waterproof?
Some smartwatch brands are water-resistant, and then there are others you can safely swim with, including the Samsung Galaxy Watch, Fitbit Versa models, and the Garmin Vivoactive 4. To determine whether your timepiece can be exposed to water, always review the specifications.
Can you swim Apple Watch 6?
The Apple Watch Series 6 is water-resistant up to 50 meters. This means you don't have to worry about taking it off when swimming, surfing, or engaging in various other watersports. It is also particularly useful if you intend to use it to track your swimming workout; for example, the screen can be locked to prevent accidental taps.
SUBSCRIBE TO OUR NEWSLETTER
Subscribe to our mailing list and get interesting stuff and updates to your email inbox.