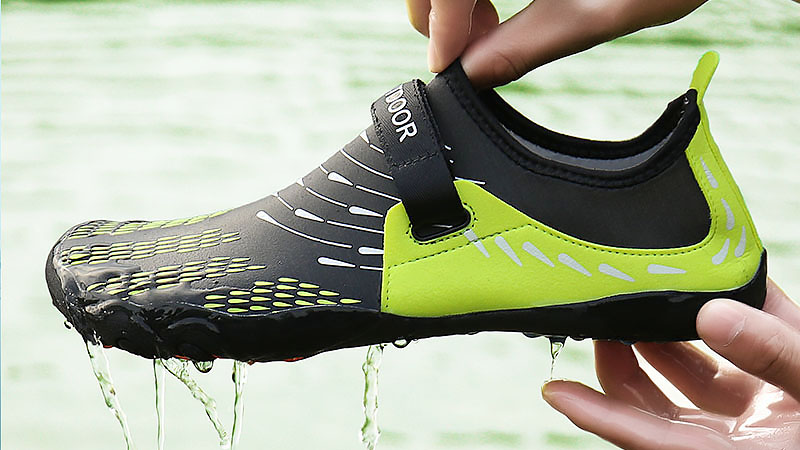 Whether you're taking a walk down the beach, snorkeling, or wading through rock pools, it's important to keep your feet at peak performance. These sandals, boots, and sneakers provide ultimate comfort for your next adventure while keeping you dry and secure. If you are looking for ease and protection for your next water activity, then you should invest in a reliable pair of water shoes.
Water Shoes for Men
1. Aleader Men's Quick Drying Aqua Water Shoes
Make a splash without a hassle in a pair of Aleader Men's Water Shoes. With a quick-drying and breathable mesh body and rubber sole, your feet will feel supported and stable as you wade through waves and surf through tides. The Water Grain and cushioned outsole provide excellent traction against slippery surfaces, which means you can go through puddles and stretches of water with ease.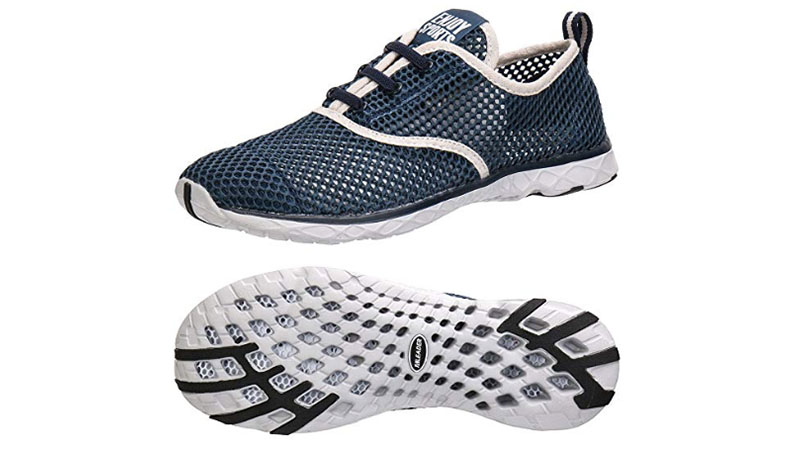 2. Alibress Men's Water Shoes
Whether you're running on the beach or doing water sports, the Alibress Water Shoes are a perfect choice. Featuring an air mesh upper and adjustable shoelace, they keep your feet feeling fresh and secure. The stylish design provides superior durability and quick drainage so that you can wear them during any season with pure comfort.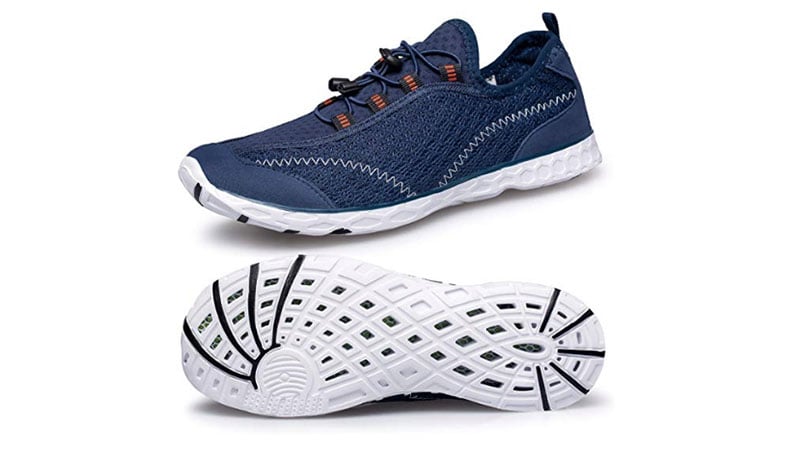 3. Mishansha Men's Water Shoes
Create a comfortable and stylish journey across most surfaces in Mishansha Water Shoes. They're easy to pull on and off with an ultra-breathable fabric for fast draining – no matter what you're doing, this footwear will protect your feet and offer prime flexibility. Featuring a Spandex Fabri upper and elastic straps, they're easy and quick to adjust to compliment the arch of your foot. From fishing to volleyball, this is the ideal footwear for your next adventure.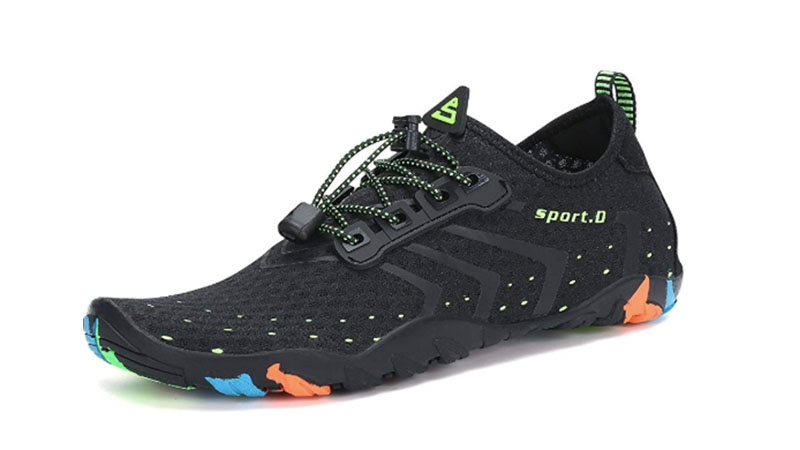 4. Barerun Barefoot Quick-Dry Water Sports Shoes
Run, fish, and do everything you've ever wanted in the Barerun Barefoot Water Shoe. Its thick sole provides ultimate protection from sharp objects but offers flexibility that suits all kinds of feet. The product is available in a range of colors and designs, you can wear them for almost any activity, and once you're done, fold them up and put them away. You can take these with you everywhere you go.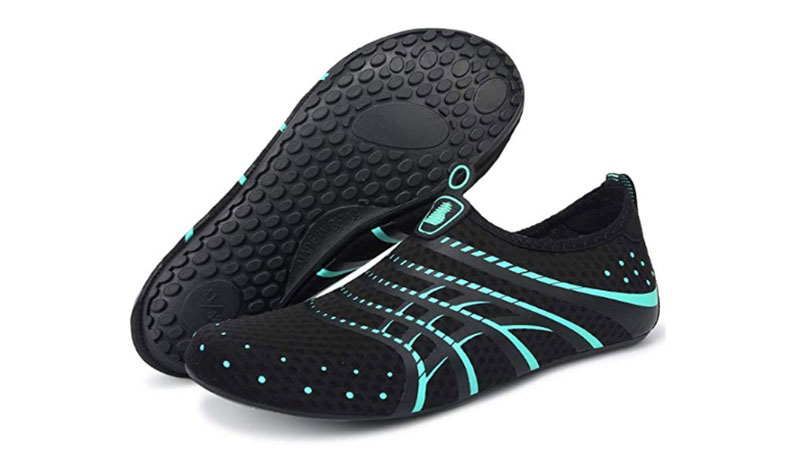 5. Fila Men's Skele-Toes EZ Water Shoes
Feel the world under your feet with the Fila Skele-Toes Water Shoes. Made to be worn without socks, they contour with the shape of your feet and keep you protected no matter if you're rock pooling or walking down the beach. The four-way stretch fabric allows for flexibility and comfort while you're in the water – the drainage holes and bungee strap keep you dry and secure on any surface.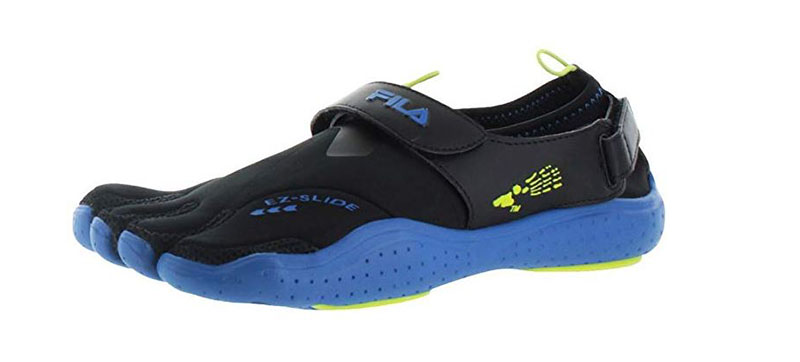 6. RAX Men's Water Hiking Shoes
Wrap your feet in secure and slip-proof hiking shoes by RAX. These multi-use sneakers provide comfort and endurance for any activity. Whether you're sightseeing by the lake or going for a run, your feet will thank you for the support you're providing. The quick-dry fabric in the footwear helps keep you dry and wicks away sweat after a long day. No matter where you're going, make sure you take these with you!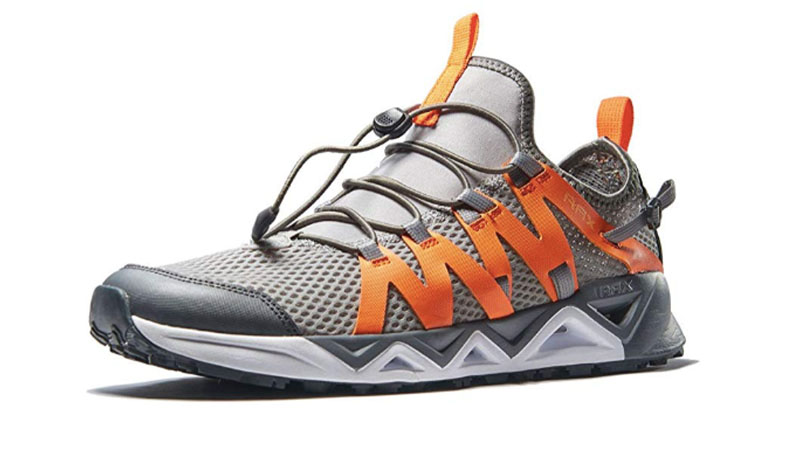 7. Quiksilver Men's Amphibian Plus Water Shoe
These Quiksilver shoes are molded specifically for the foot, so they're the perfect companion for any adventure you go on. Worn with or without socks, you can experience a supported sole and arch without feeling wet, thanks to the quick-dry fabric. The underlays provide an excellent performance fit and look stylish. You can wear them almost anywhere and be ready for your next big experience!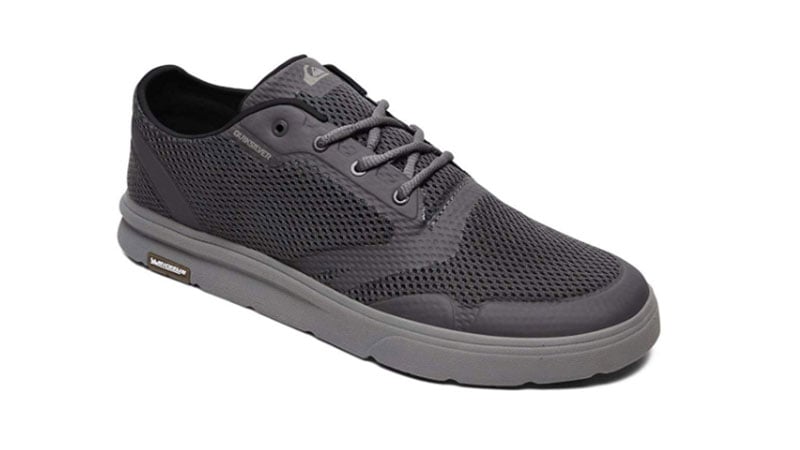 8. Adidas Climacool Jawpaw Water Shoes
Look sleek as you support your feet with the Adidas Climacool Jawpaw Water Shoes. These outdoor shoes are extremely breathable and provide superior comfort for the arch and toes. Walk through puddles or creeks easily thanks to its drainage holes and easy to wear design. Featuring a slip-on style, they're perfect to take with you everywhere – they're stylish too so that you can wear them with pride!

9. Speedo Men's Seaside Lace 5.0 Athletic Water Shoes
Mount your feet to the ground with the Speedo Seaside Water Shoes. Its non-slip sole is unmatched and provides superior comfort for your next adventure. With a bungee lacing system and breathable mesh upper that keeps you locked in place without feeling too tight – it's ideal for horse surfing, fishing, or just a walk in the park.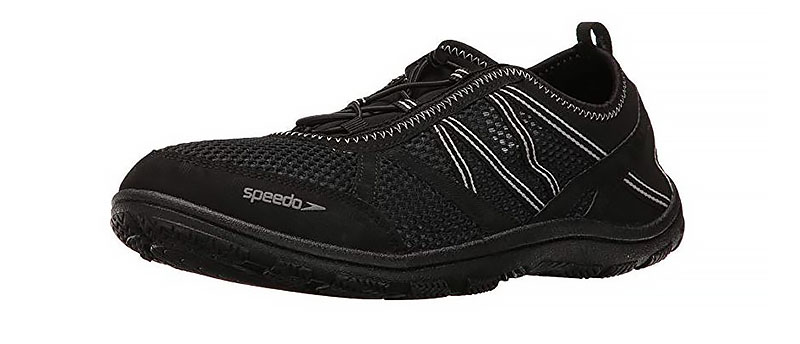 10. Crocs Men's Swiftwater Mesh Sandal
Take to the garden or the rockpools in a pair of Crocs Swiftwater Sandals. These tough and heavy-duty shoes feature a protective toe-cap for extreme conditions and keep your feet feeling fresh in all situations. Featuring an easy slip-on design and Croslite foam allows you to go anywhere without a hassle. You'll be ready for anything with these by your side!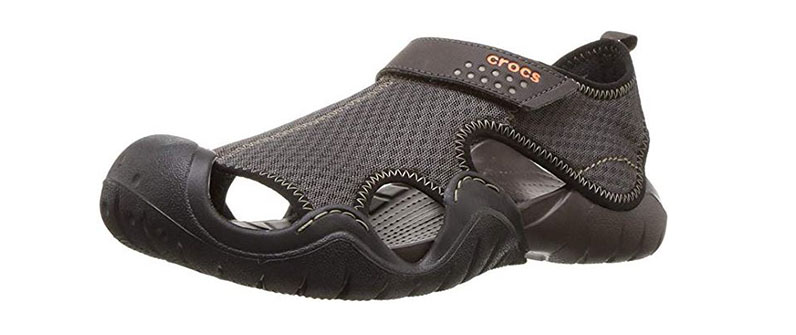 11. Under Armour Men's Kilchis Sneaker
Wick the moisture from your feet rapidly in a pair of Under Armour Sneakers. These shoes provide support for your arch, meaning you can climb, run, and stand for hours comfortably. Keep a grip on wet surfaces with the sturdy rubber outsole and feel secure from the ankles to toes with the welded overlays. It is the ideal footwear for any activity – get out there and have some fun.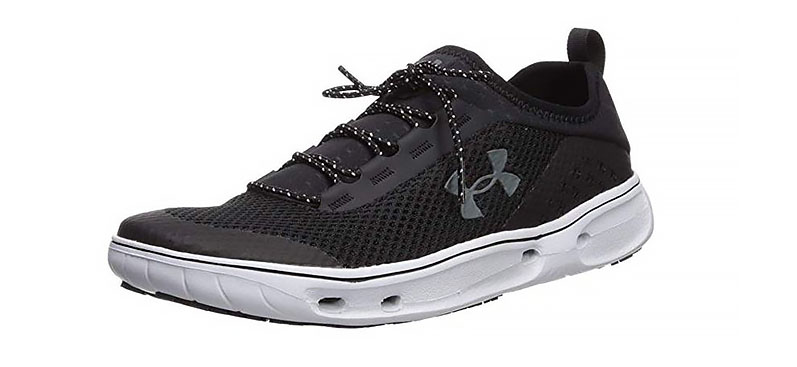 12. Keen Men's Evofit One Water Sandal
Engineered to provide ultimate comfort, the Keen Evofit Water Sandal is made for all adventures. Featuring the Metatomical Footbed, these support the arch of the foot and helps you splash, run, and do everything in between. Acting as a second skin, the fabric on the shoe maximizes traction both in and out of the water.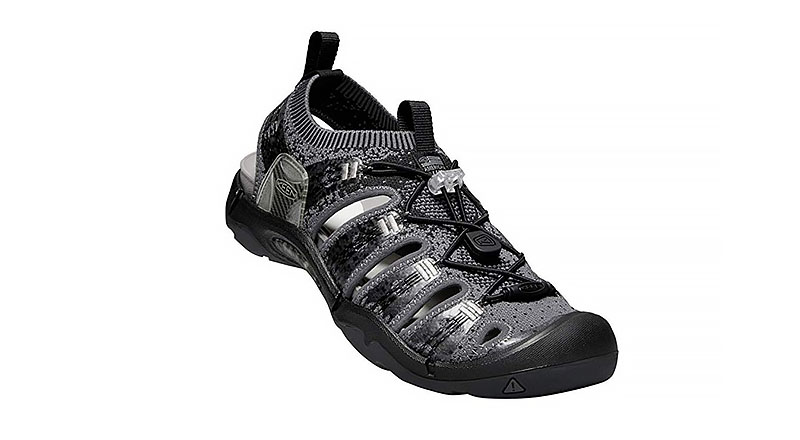 13. Doussprt Men's Water Shoes
Take your adventure to the next level with a pair of Doussprt Water Shoes. With support for the arch of the foot and breathable fabric, you can create a new experience every day with these water shoes. The open mesh upper allows your skin to breathe and wicks moisture away so that you can reach new heights with ease.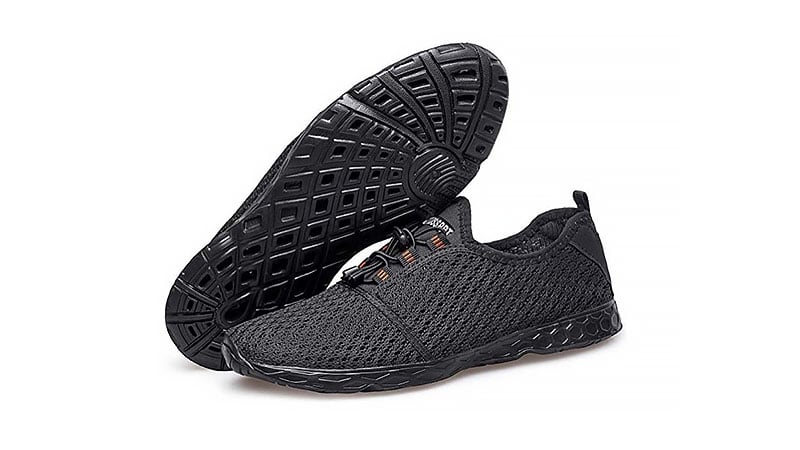 14. Neo Sport Premium Neoprene Men Wetsuit Boots
Feel the world under your step with a pair of Neo Sport Wetsuit Boots. The sleek material allows for optimum movement for your aquatic activities and terrains. From mud to sleet, these shoes are puncture-resistant and prevent water entry, so you can go on your next adventure without worrying about your feet!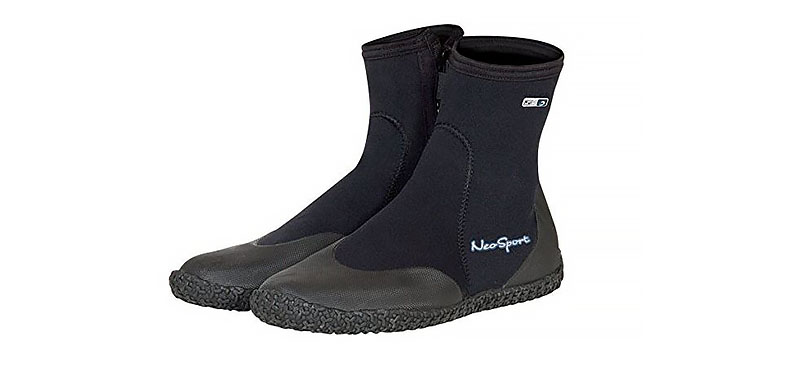 15. Vibram Men's Signa Athletic Boating Shoe
Feel the ground beneath your feet in the Vibram Athletic Boating Shoe. Featuring an abrasion-resistant sole and drainage holes, you can submerge yourself into the depths and feel safe and secure. The unique design also helps you maintain grip, no matter where you are. It is an excellent option for those who are ready for adventure and want to do it in style!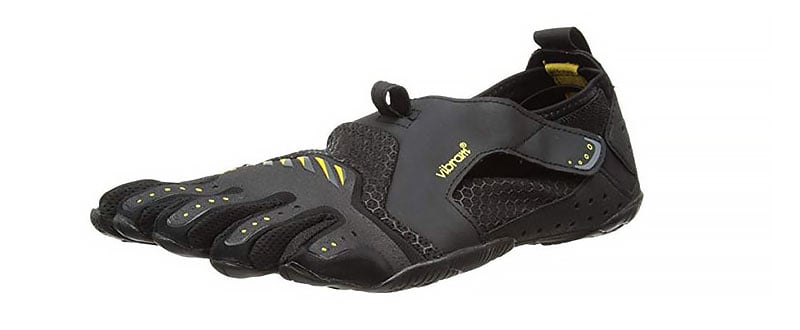 16. Keen Newport H2
Keen's Newport H2 is a jack of all trades. The water shoe bears a comfortable sole, quick-drying contours and supports foot and lower back structure. Fitted with a hydrophobic foam that doesn't absorb water — and is snug for the feet — the hallmarks of this aquatic kick are its rubber compound, which offers ultimate stability in moist environments, as well as its semi-exposed design that gives your feet a fount of fresh air. The tenacious toe-guard ensures more protection from bumps, scraps & pricks than other outdoor sandals.
17. Speedo Surferwalker Rush
The Speedo Surfwalker Slip-On water shoe will have you splashing with its pizzazz. Akin to a pair of suave Vans kicks, the aquatic sneaker is renowned for its quick-drying out-and-insoles. Its outsole and pull-tab are the centerpieces (for their easy wearability); to boot its water drainage design for peak performance. On offer in ceramic & black and heather black colors, the aquatic sneakers' quick-adjust bungee lace system ensures a comfortable fit and its specially-made sole maintains traction for any environmental affair.
18. Speedo Surf Knit Pro
The stalwart label continues to forge the finest of swimwear. Speedo's Surf Knit Pro water shoe is engineered for ultimate style and comfort. Swaggering pull tabs in the front and back like its upstairs neighbor — for made-easy wear and kick-off — the shoe's quick-drying rubber insole is one of the fabulous features that make it overly snug, lightweight and chic. And on the outside, the masterwork provides great feedback performance and traction via its finesse to disperse water.
19. Sketchers Go Walk 5
Who said Skechers is a label for the other half? The Cali Gear Go Walk 5 is a sumptuous casual-style kick with the perks of a snug sole, durability and a quick-drying interior and exterior. The easy slip-on aqua-sneaker retains a lightweight and highly cushioning frame for ultimate comfort and performance. Bearing a closed toe-guard for protection, perforations that give your feet elbow room to breathe and a dual-density outsole for added stability and support, the Cali Gear is a surefire showpiece of a water shoe.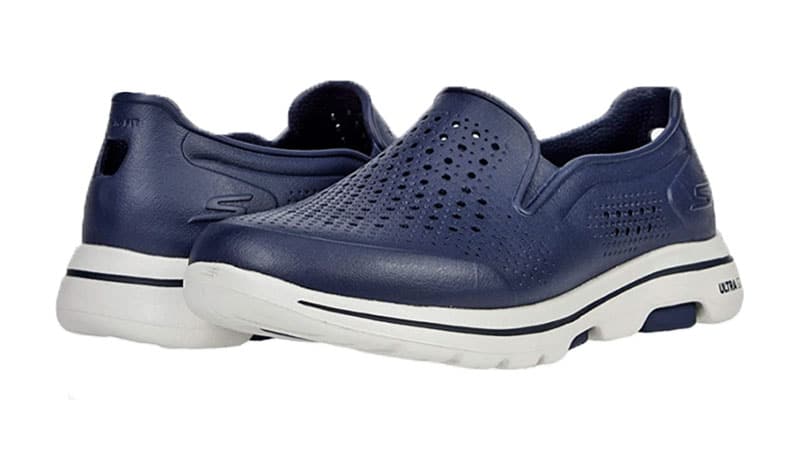 BUY

20. Xero Shoes Aqua X Sport
The Aqua X Sport will serve you well on the street, trail, beach or boat deck. Exhibiting a wide toe box, a breathable mesh with quick-drying lining and non-absorbent tongue and a flexible sole with just the right amount of protection and ground feedback, the water shoe has enough to spare for a niche saturated with common water kicks. The versatility of its sole is unmatched by any of the contenders on our listicle and bears the façade of an indoor sports shoe.
21. Yalox Water Shoes
Yalox is a quick-dry unisex water shoe retaining an inventory of fine features that boastfully writing on them alone, unfortunately, sells them short. The lightweight aqua-kick sports a breathable & smooth fabric with fine stretches on its uppers, a tenacious grip and perforations. It has a rubber sole with thick foam arch-support for comfort and exhibits flexible material that fits barefoot skin perfectly, and makes you feel like you're sporting flip-flops. Perfectly fit for aquatic activities and aerobic exercise.
22. Simari Water Shoes
Simari have fashioned a premium water shoe for the outdoorsy man and women. The upper part of the shoe is made of a breathable, quick-drying and lightweight material. It boasts an exceptional sole design that grants great ground feedback performance, cushioning as well as a drawstring shoelace for easies slip-on. Whether is a watery occasion or casual outings, Simari's perforations and top-grade rubber material will ensure that your feet are granted breathability and a sports sneaker-like experience.
23. WateLves Water Shoes
WateLves packs a punch. The water shoe is ultra-thin, flexible and snug — fit every man and his dog. The shoe provides great grip when in or out of the water and packs easily into a dry bag once playtime is over. Its rubber soles, thick foam arch-support and toe appearance give you a protective and more unique wearing experience. Bearing an anti-slip rubber outsole with a unique pattern that increases friction and adhesion to prevent slipping, the WaterLves is a multi-hyphenate that'll leave your water and on land adventures mirthful.
24. VifuurWater Sports Shoes
Vifuur is a professional aquatic label dedicated to creating fashionable, comfortable and durable water shoes. The Barefoot Quick-Dry Aquas flaunts thicker rubber sole pads on the bottom, providing your feet with enough elbow room and is snug enough to allow you to comfortably traverse any terrain. It also features a trim design that's easy to take on and off and bears a smooth neck design that prevents chafing; letting you go anyplace, wet or dry, knowing that your feet will receive 5-star foot treatment.
25. Racqua Water Shoe
Racqua's swim shoe is renowned for its weightlessness, supreme versatility and cushiness. The premium aqua kick is fitted for almost all in-water and out-water activities thanks to its anti-slip rubber outsole. The shoe's exceptionally wide toe design makes for a barefoot feel. Bolstering their expertise in design, the swim sneaker addedly bears an ultra-grip outsole that maximizes traction when walking in the water and on other moist surfaces. On offer in 33 iridescent and stirringly dark colors, the Racqua is the preferred swim shoe by flocks of folks worldwide.
Water Shoes Buying Guide
Material
Getting the right footwear for any sport or activity helps you perform at your peak while providing the appropriate level of protection. In this case, water shoes are typically fashioned from a smorgasbord of durable material; mesh, rubber, foam and other quick-drying, lightweight and stolid elements that cover the foot and have perforations. These features are essential for protecting your feet from bumps, scraps, pricks. So when making a pick on a water shoe, cinch out its protection, durability, breathability, flexibility and comfiness and you're good to go.
Traction
Almost all shoes provide some level of traction to minimize slipping and improve performance. The traction of a water shoe is a feature you should strongly consider before purchasing any pair. Without traction, you won't be able to walk stably in the rock pool, when fishing, by the bank of a river, when on wet hikes or runs. Traction can be the difference between a memorable outing or an avertable misfortune.
Breathability
Breathability is the underlying feature of the water shoe. The materials that allow air and water to escape from inside the shoe, while also allowing a fount of fresh air to enter prevent sweat from building up on the inside (that if let, can cause fungal or bacterial foot infection). When buying your pair of water shoes, check the material construction, and make sure it's not only breathable but also quick drying.
Comfort
When you're on the ball for new sneaks, you have certain expectations. So why not want a premium water shoe that boasts top-performance, comfort and a good amount of snazz. Since the shoes you wear have an impact on your posture, it's important to pick a water shoe that can help align your feet, ankles, knees, hips and back.
Support
While comfort, style, breathability and traction play a pivotal role in the flavor of water shoe your pinning to pick, the support is by far the most distinguishing feature. The level of cushioning inside the aqua shoe provides the ultimate relief and reduces impact when you take each step. So when making your pick, be sure the aqua kick it slightly firm, but not too snug, versatile and but also bears traction.
Benefits of Water Shoes
Foot Protection
Protecting your feet from the perils of the sea in no cinch. But with water shoes, nothing can be made simpler. Designed for aquatic and non-aquatic activities, these amphibious kicks ensure comfort, versatility and the ultimate stability in moist environments. Their uber-protective design also eliminates the fortuity of bumps, scraps, pricks thanks to their tenacious toe-guard.
Underfoot Traction
One of the hallmarks of the water shoe is its finesse to retain traction in moist environments. The rubber in-and-outsoles are the unsung heroes behind the comfort and traction of the water shoe. Some even bear greater arch support for added comfort and ground feedback.
Quick Dry
Relative to underfoot traction, the quick-dry feature of the water shoe enhances the comfort performance and durability of the aqua sneaker. Chiefly, it's the perforations and quick-drying, non-absorbent interior and exterior that grants stability and breathability for the wearer.
FAQs
Should water shoes be tight?
Water shoes should fit snugly, but shouldn't be so tight that they are uncomfortable. If the shoes are too loose, they could slip off and float away – so err on the tighter side. 
What are water shoes called?
There are three different names for water shoes – water socks, water shoes, and water sandals. Water socks tend to have a less rigid sole and be more lightweight and flexible, giving you an almost barefoot feel. Water shoes look the most like regular footwear; they can be worn outside aquatic environments and generally look like sneakers. Finally, water sandals are water shoes with holes and gaps to allow fast drainage of liquid and sand. 
What are water shoes used for?
Water shoes protect your feet from cuts and abrasions when walking or hiking in wet environments, such as the beach or a river. They are also worn during water-based activities like kayaking, scuba diving, and fishing.
Can you swim in water shoes?
You can swim comfortably while wearing some types of water shoes. Choose a lightweight and flexible pair with a snug fit rather than a bulkier type.
SUBSCRIBE TO OUR NEWSLETTER
Subscribe to our mailing list and get interesting stuff and updates to your email inbox.