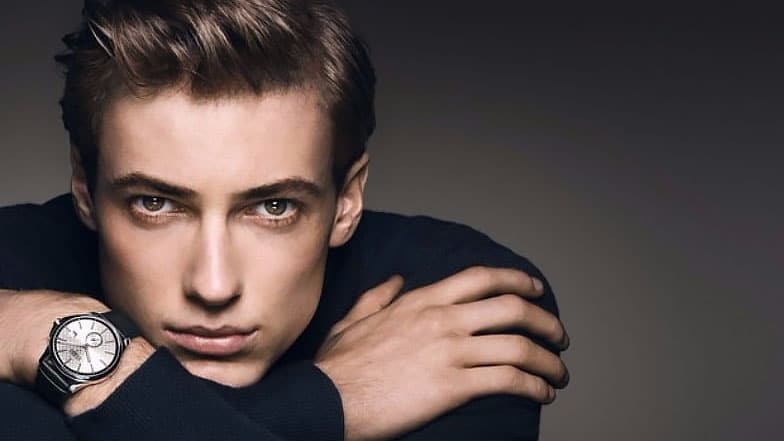 From gadgets to Gameboys, cars to computers, boys love their toys. As a result, we've compiled a list of the coolest watches for teenage boys. To determine the best of the best, we focused on precision, durability, added features, and, ultimately, the ability to make the wearer the envy of all his friends.
1. Nixon Regulus Stainless Steel Watch
The Nixon Regulus Stainless Steal watch pairs premier off-road features with opulent streetwear style. This all-metal build is designed to withstand any environment – shockproof brain, 100m water resistance, and 5-year battery included – while offering dual chronograph timers, adjustable LED brightness for low light scenarios, and a silent mode perfect for covert operations. With its custom digital LCD module enclosed in protective PU jacketing along with Poron foam padding,this watch will be sure to stay safe, whatever the mission may bring!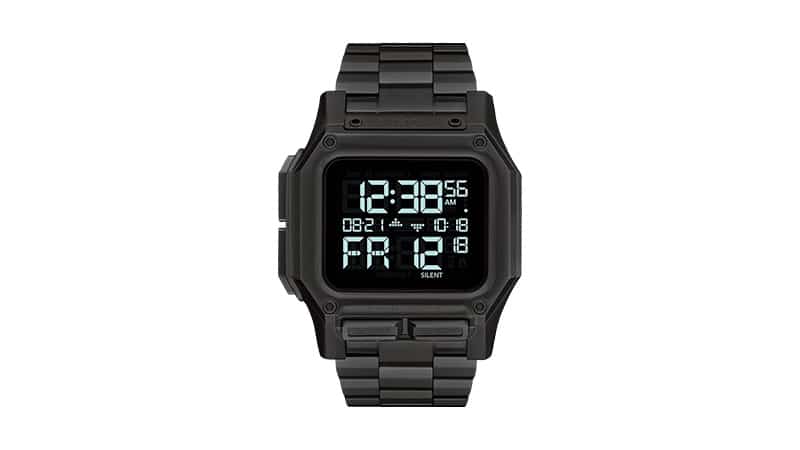 2. Fossil Men's FS4487 Machine Chronograph Watch
When it comes to creating bold, eye-catching watches, Fossil stands out from the crowd. Their Men's FS4487 Machine Chronograph with a black stainless steel case is no exception. This chronograph watch makes a statement with a no-nonsense black dial and black silicone strap. Steel index hour markers and black-toned, luminous hands sit behind a hardened mineral crystal dial window. Additionally, it features a date display and three subdials. This precise and resilient watch harnesses a quartz movement and is water-resistant to 50m.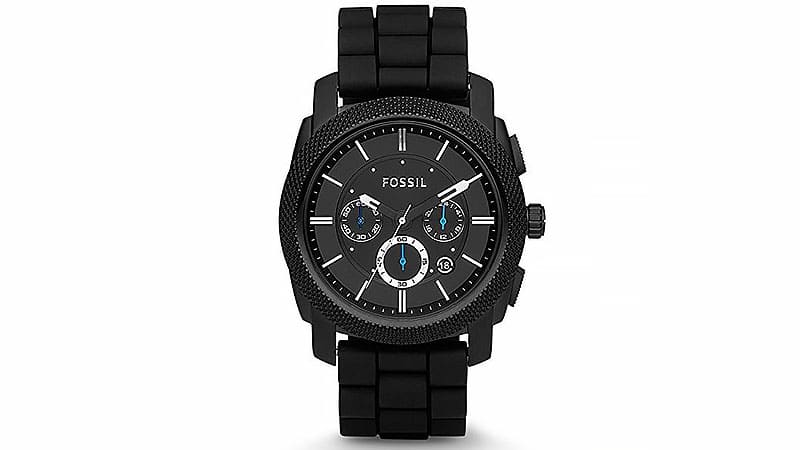 3. Daniel Wellington Men's Watch
Polished stainless steel shines against a nautical, navy, and white nylon band in Daniel Wellington's effortlessly cool 0204DW Glasgow watch. Minimalist stainless steel stick markers and elegant sweeping hands complement this timepiece's silver-tone 40mm case. A prominent white face sits behind a mineral dial window for a crisp finish. This watch is ideal for boys seeking a refined, casual watch. It uses a quartz movement and is water-resistant to 30m.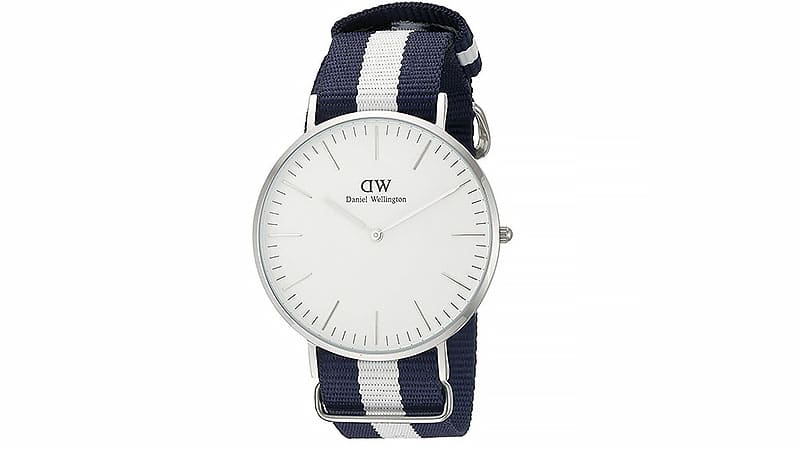 4. Casio Men's GA110RG-1A G-Shock Black Watch
For boys seeking a watch built for endurance, Casio's GA110RG-1A G-Shock will not disappoint. As the name suggests, this shock-resistant sports watch features a durable black resin band. This highly versatile timepiece is not only destined for adventures on dry land, but its water resistance of 200m makes it perfect for ocean lovers and explorers. Powered by a Japanese quartz movement, this chronographic watch excels in precision. An industrial black and copper-toned dial incorporates an LED light, timer, and stopwatch. Finally, for all travelers and jet-setters, this Casio G-Shock displays world time zones of 48 different cities and UTC.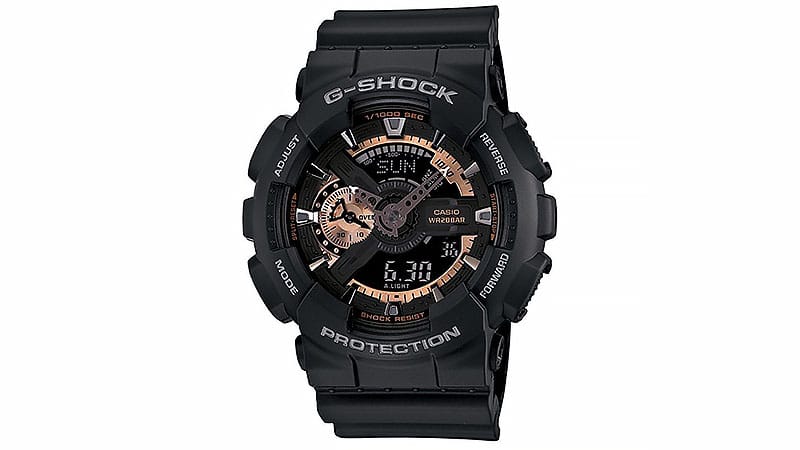 5. Stuhrling Original Men's 741.SET02 Aviator Watch
Don't let the subtle colors of Stuhrling's Original Men's 741.SET02 Aviator watch fool you. Far from blending in, this stylish watch is designed to capture attention. Enclosed by a sleek, 43mm stainless steel case, it features a round grey dial with prominent sword-shaped hands and large Arabic numbers. To increase versatility, the canvas band may be deftly switched from grey to black and, accordingly, day-to-night. Precise and resilient, this timepiece uses a Japanese quartz movement and is water-resistant to 50m.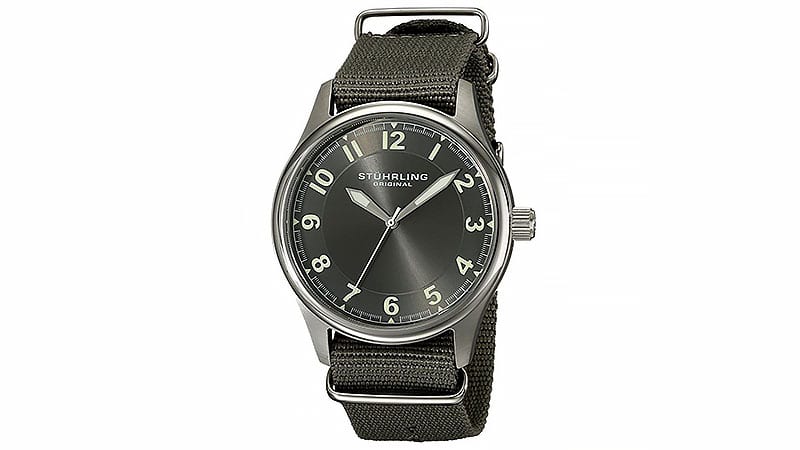 6. Nixon Men's Time Teller Watch
Look no further than Nixon's matte black Time Teller watch for a classic, minimalist timepiece. Designed for both work and play, it features a black stainless steel case and a custom-molded polyurethane band. Gold-tone accents in the form of stick markers, sweeping hands, and a triple gasket hand combine to elevate the sophistication of this timepiece. Although the Nixon Time Teller will make any boy the envy of his friends, its charm does not end there. With water resistance to 100m, a hardened mineral crystal dial, and a Japanese quartz movement, this watch is reliable, durable, and a must-have accessory.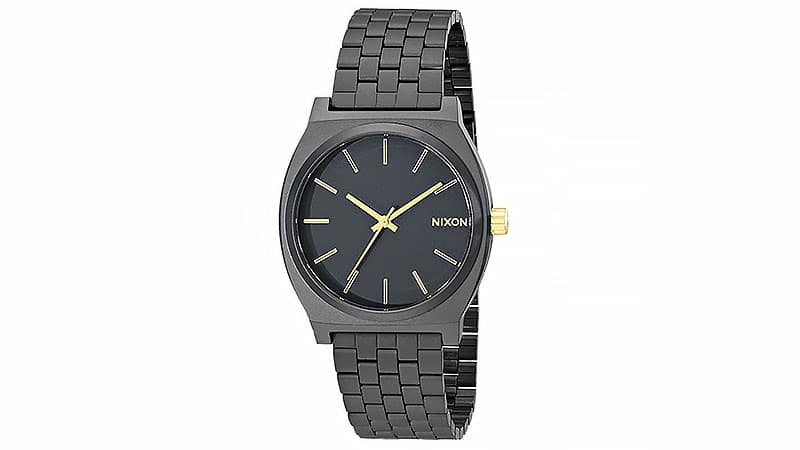 7. Stuhrling Original Men's Aviator Analog Swiss Watch
Elevating the wearer from a boy to a man, the Sturhling Original Men's Aviator Watch is both sleek and sophisticated. Polished stainless steel forms the watch's round case, creating a shining contrast against its black high-grade silicon rubber band and black dial. The simple yet classic color scheme ensures it is highly versatile and ready for any occasion. Harnessing a Swiss quartz movement, it also features multi-function day, date, and 24-hour subdials.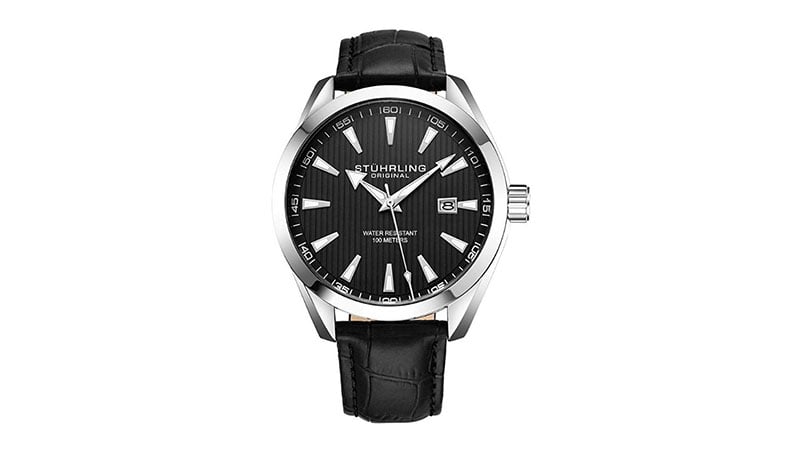 8. Timex Men's Ironman Classic 100 Full-Size Watch
Designed for athletes, Timex's Men's Ironman Classic 100 is ideal for the runners, swimmers, and cyclists of the world. It features a 100-hour chronograph with lap and split times and enables the wearer to review their best lap, average lap, and total time with a dated training log. Despite housing all of these abilities, this sporty watch will not slow you down. Built for speed, it is incredibly lightweight and is sealed for water resistance to 100m. This masculine watch is destined for the outdoors with a black resin band, grey acrylic dial, and exposed screws. Additionally, it features a quartz movement and digital display, as well as an Indiglo night light for boys who like to work out after dark.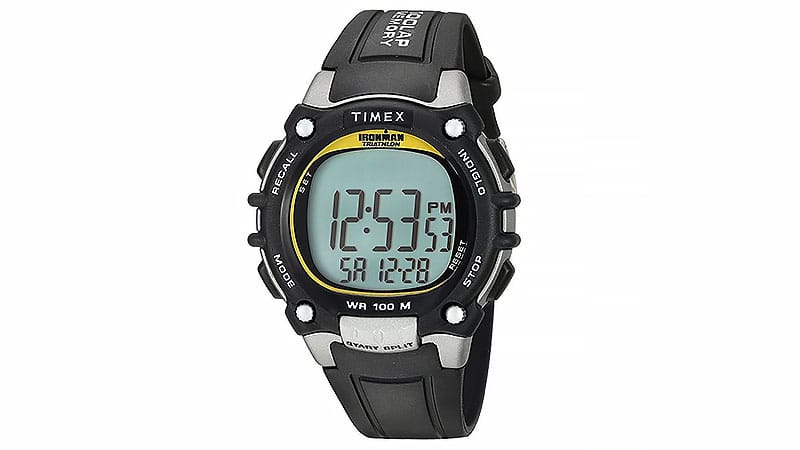 9. Samsung Gear S3 Classic
For tech-savvy teens, the designers at Samsung have created the ultimate, must-have smartwatch. The Gear S3 Classic offers the latest digital technology, allowing the wearer to text, answer calls and receive notifications through Bluetooth. It is compatible with Android smartphones and features a rotating bezel to provide easy access to apps, alerts, texts, and more. For boys who love adventure, the Gear S3 Classic also provides a built-in GPS and military-grade durability with resistance to water, dust, and extreme temperatures. This watch is suitable for any occasion with a silver case, a bold black dial, and a comfortable black strap. Silver stick markers, three subdials, and luminous sweeping hands also feature on the watch's sleek dial. Finally, for boys tired of carrying clunky wallets and annoying cards, the S3 Classic eliminates this hassle. With Samsung Pay, wearers can make credit card payments with a simple swipe of their cool new watch.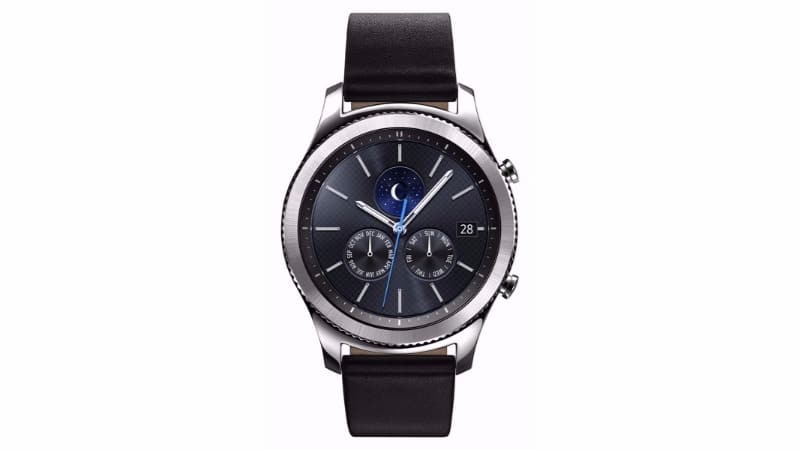 10. Seiko Men's SNK809 Automatic Stainless Steel Watch
With sword-shaped stainless steel hands and an exhibition case back, young watch lovers will admire the finer details within and upon this unique timepiece. A precise 21-jewel automatic movement ensures precision in this watch, which is powered by the kinetic movement of the wearer. Additionally, luminosity allows it to be worn from day to night. It is sleek and masculine and features a 37mm stainless steel case, enclosing a scratch-resistant Hardlex mineral crystal dial window. Its bold black dial contrasts against the silver-toned Arabic numeral markers, sweeping hands, and date display. The ultimate accessory, this watch is precise, versatile, and comfortable. A black canvas band makes this the watch that boys never want to take off.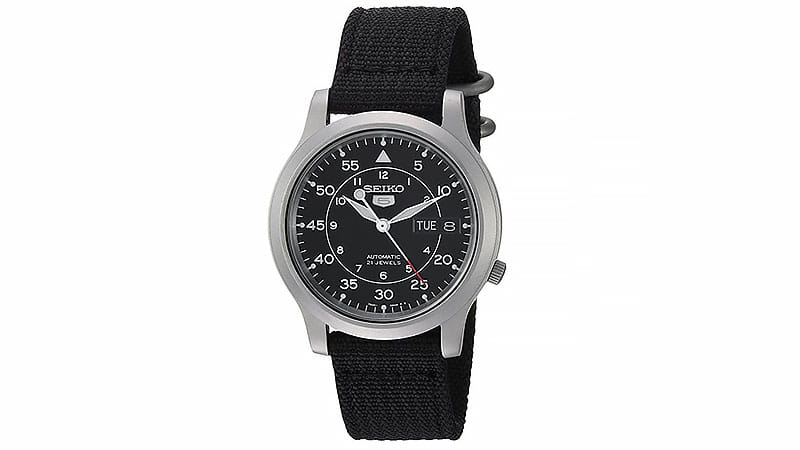 Watches for Tennage Boys FAQs
What is the best watch for a teenager?
Some of the best watches for teenage boys include the Fossil Men's FS4487 Machine Chronograph Stainless Steel Watch, Daniel Wellington Men's 0204DW Stainless Steel Watch, and Calvin Klein Men's K2V214D1 Swiss Quartz Watch.
What are the coolest watch brands for teenagers?
The coolest watch brands for teenagers include Fossil, Daniel Wellington, Calvin Klein, Casio, Stuhrling, Timex, Nixon, Samsung, and Seiko.
Should I get a smartwatch for a teenager?
Smartwatches are a great idea for teenagers, especially if they're active and into sports. The activity tracker functions can be a great way to give them insight into their health and performance, teaching them how to live a healthy life. Plus, anything high-tech and stylish will have immediate appeal. Smartwatches can also allow your teen to interact with friends, thanks to notifications and apps. If you have younger teenagers, it can be a good idea to get a device with some level of parental control, so you can keep your child safe while connected.
SUBSCRIBE TO OUR NEWSLETTER
Subscribe to our mailing list and get interesting stuff and updates to your email inbox.