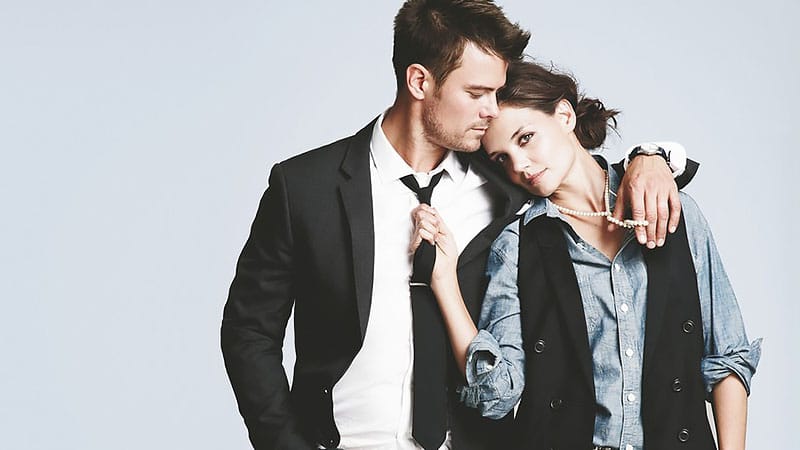 With Valentine's Day just around the corner, it's time to spoil the one you love. That means finding the perfect gift that shows just how much your significant other means to you. While finding that special something that conveys the level of your bond can be tricky business, we're here to make it easier. Whether you've been dating a month or married 20 years, we've got plenty of present ideas that are perfect for your partner. From personalised items and custom jewellery to romantic experiences and gorgeous accessories, there's a gift on this list for every lady and gent. All you need to do is pick the one she or he will love the most.
Unique Personalised Gifts
Unique and personalised gifts are always a great idea for Valentine's Day. Not only are they a testament to your love for the world to see, but they also show that effort and thought went into buying it. It wasn't just some random gift you picked up off a shelf in a store; it was hand chosen by you for your partner. While there are countless unique and personalised gifts available, it's best to get something that suits your partner's interests. Does he love a drink? How about an engraved scotch glass? Does she prefer dining outside rather than a fancy restaurant? Why not buy a personalised picnic hamper? Or how about a gift for the both of you? His and hers matching robes or coffee mugs is always a lovely idea.
Fashion Gifts
Let's be honest, who doesn't love getting a new outfit or buying a new item of clothing? If this sounds like your partner, why not get them what they really want this Valentine's? The gift of fashion. While choosing clothes for others is notoriously difficult for both size and style reasons, there is a way that you can be sure to get your significant other exactly what they want. A gift card to an online retailer, such as Asos, Net-a-Porter, Mr Porter or The Outnet, will ensure that your special someone gets just what they're after this year.
Classic/Statement Accessories
While jewellery is a traditional Valentine's Day gift, other accessories often get overlooked. This year, ditch predictable presents and choose something a little more unique instead. Leather goods, such as bags, wallets, and tablet cases, are a fantastic gift idea for both ladies and gents. Both practical and stylish, leather goods make for a present that's sure to be both loved and used. If your partner needs a bag for work or he is simply a minimalist at heart, buy a classic design and they'll be sure to cherish it for years to come. If, on the other hand, your significant other prefers their accessories a little bolder, pick a stylish statement design such as something with a unique print or pattern.
Gadgets
In our modern world gadgets can be just as romantic as any other gift. Perfect for Valentine's Day and beyond, today's tech can help you set the mood and capture the memory. By gifting the Philips Hue, you and your partner will be able to control and change the colour of the lights in your home to create the ultimate ambience. In the mood for a romantic movie? Amazon Fire TV will help you watch all your favourites from Netflix, Hulu and more with its portable USB. As for presents that'll help you remember February 14th forever? You can't go past the DJI Mavic drone, which will follow you and your partner taking photos, and the Polaroid ZIP Mobile Printer, which allows you to quickly and easily print pictures from your phone or tablet.
Gifts for Home
Whether you and your special someone live together or not, a gift for the home can be a great idea for Valentine's Day. Not only will it bring them joy on the day, but it'll bring them happiness every time they see it and think of you. To make the gift extra special and a little more V-Day specific, try a personalised gift. Everything from pillows and mugs to cheeseboards and candles can be personalised with your names or a message of love. For something a little more out of the ordinary, you can also try personalised artwork. While your best to leave the paint at home if you're not an artist, a customised picture, such as a sound wave print of your voice, can be an excellent present to purchase for your love.
Funny Gifts
If one of the things you love most about your partner is their sense of humour, why not choose a funny gift this year? After all, if they like a good joke, they're sure to appreciate a good laugh. Although they may not be traditionally romantic, funny gifts can be quirky and cute. While there are countless funny gift ideas around, it's hard to go wrong with a hilarious book. Dirty Valentine Hearts are also a cheeky treat that'll put a smile on your partner's face. If your special someone has been a bit cheeky themselves why not tease them a little with a hilariously tongue-in-cheek Grow a Boyfriend/Girlfriend?
Custom Jewellery
While jewellery is a great gift for Valentine's day, you can make it all the more special with customisation. Something specially made or engraved for your wife, husband, girlfriend or boyfriend creates a lasting impression and conveys all of your love. From a necklace featuring her initials to a bracelet engraved with the coordinates of where you first met him, custom made jewellery is something your partner will treasure forever. Just make sure you pay close attention to the spelling when specifying what you want to be inscribed.
Beauty and Grooming Gifts
Beauty and grooming gifts are an excellent way to treat your special someone this Valentine's Day. Providing a little bit of pampering right from the comfort of home, these presents will make your partner feel truly loved. For the gents, grooming kits, shaving gift packs, and high-quality shampoo and conditioners make an excellent choice that he'll appreciate. For the ladies, bath and body gift sets are a terrific idea along with the timeless gift of perfume.
Romantic Experiences
Valentine's Day is supposed to be romantic, and while gifts can be romantic, nothing competes with the special feelings and memories created with an experience. Although a candlelit dinner is always nice, there are so many options available now to do something a little more unique and extraordinary. No matter where you are in Australia, you can create an unforgettable occasion. Whether you and your partner fancy a Barossa Valley getaway in South Australia, an eco tent adventure in Broome, a self-driving boat cruise in Melbourne or a private helicopter flight with lunch in Sydney, you can find it all online.
SUBSCRIBE TO OUR NEWSLETTER
Subscribe to our mailing list and get interesting stuff and updates to your email inbox.