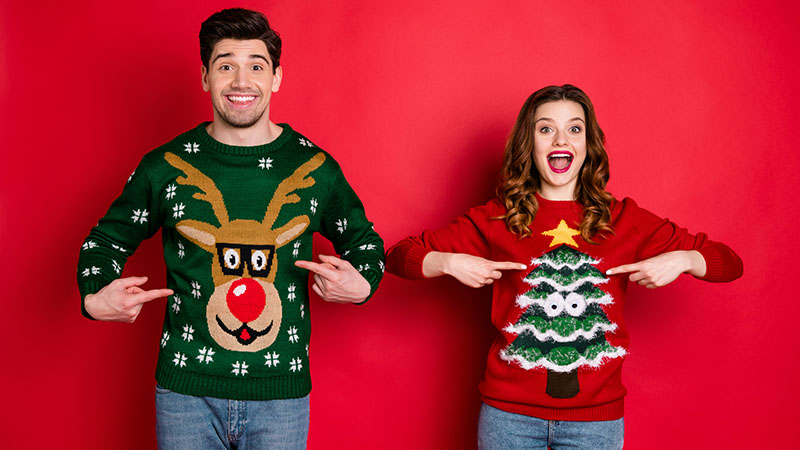 One of the best parts of the Xmas is the joy it brings everyone – take that level of happiness up a notch by wearing fully festive clothing. This tradition of horrible yet hilarious jumpers began in Vancouver and has since become a loved part of the jolly season. Whether you prefer classic designs or something with a pop culture twist, you're sure to find the best outerwear that will put a smile on everyone's face. It's time to check if you've been naughty or nice this year; we have put together a list of ugly Christmas sweaters that are so bad, they're good.
1. Blizzard Bay Men's Ugly Christmas Sweater
Christmas day is all about relaxing, so why emulate the iconic sloth by wearing it on your sweater? With a chunky knit style and the traditional red and green colors, you can feel the festive spirit as soon as you try it on. This is a great piece of clothing to rock at an ugly Christmas jumper party – it works well with jeans or chinos, so you can dress it up or down.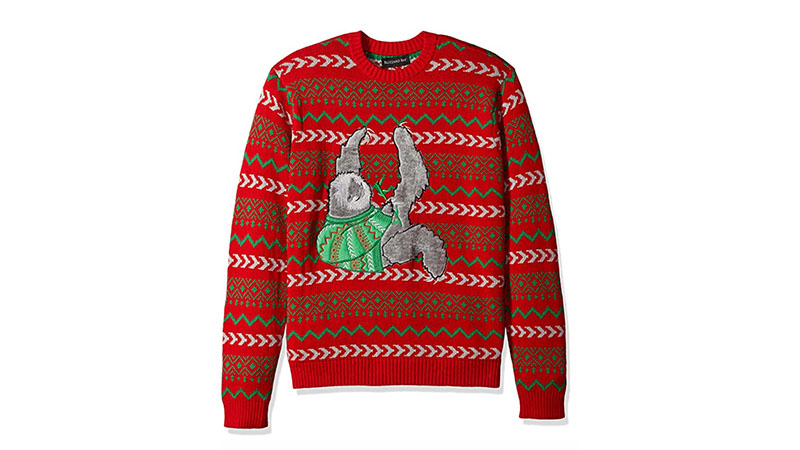 2. Hanes Women's Behave Yourself Sweater
Stay snug and feel the festive spirit with this funky sweater. The 'Behave yourself' jumper is navy in color, with mistletoe in the center and cotton construction. You can easily dress this up or down, so it's perfect for a work party or just a night out with friends. Eat as much as you like on Christmas day; this outerwear is roomy enough so you can feel comfortable all day long.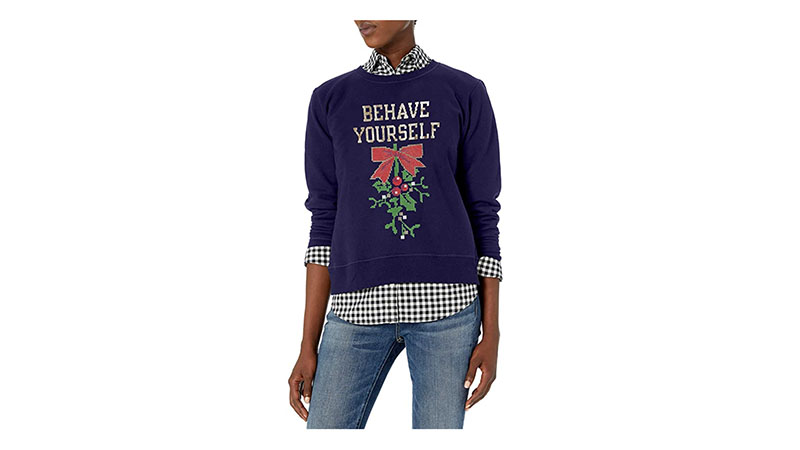 3. Pekatees Jolliest Bunch Sweatshirt
Speak your mind with this jolly Christmas jumper. The sweater's traditional design features a funny and cheeky message on the front, so you're sure to get a laugh out of the public when you wear it. It's super soft, so you will want to wear it even after the holidays have passed.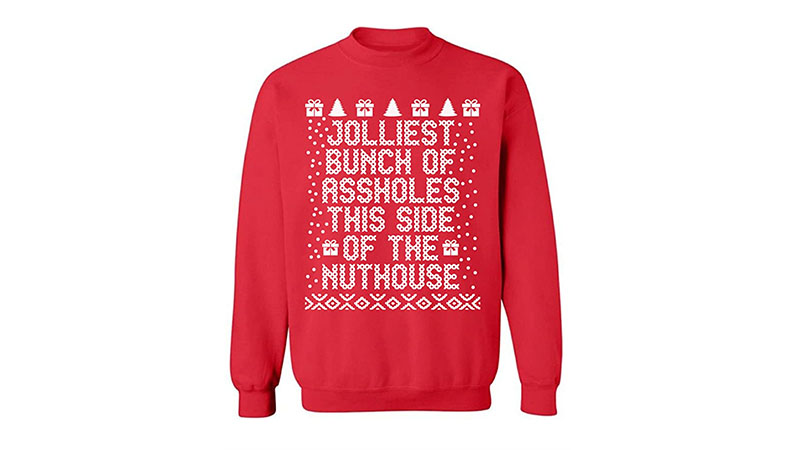 4. Men's Santa Big Package Christmas Sweater
Make everyone laugh at this year's Christmas party with this hilarious sweater. The horizontal stretch moves with you, even if you're dancing on the dance floor or reaching for your next drink at a virtual party. It's a super comfortable and stylish jumper and is sure to garner a few high fives and laughs.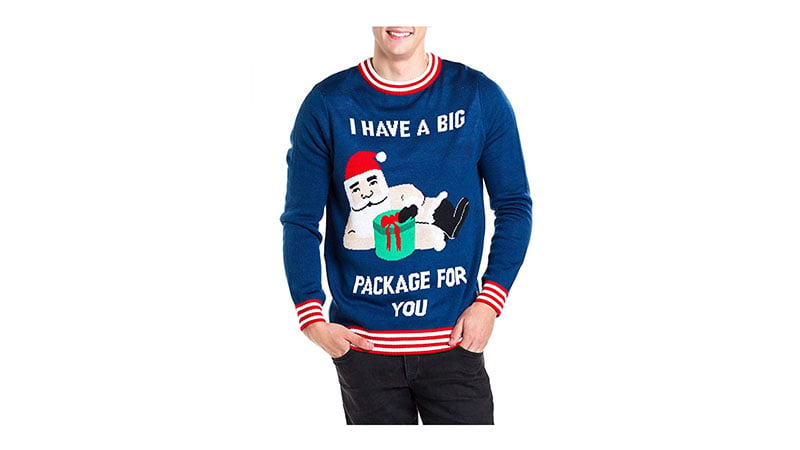 5. Tipsy Elves Men's Light Up Christmas Sweater
It's that time of year when you can wear the ugliest sweater and get away with it. The stripey black, red, and white outerwear feature a funky Christmas tree in the middle. When you think it can't get any better, you can take the outfit to the next level by turning on its in-built lights. This is a jumper that is sure to brighten up a room!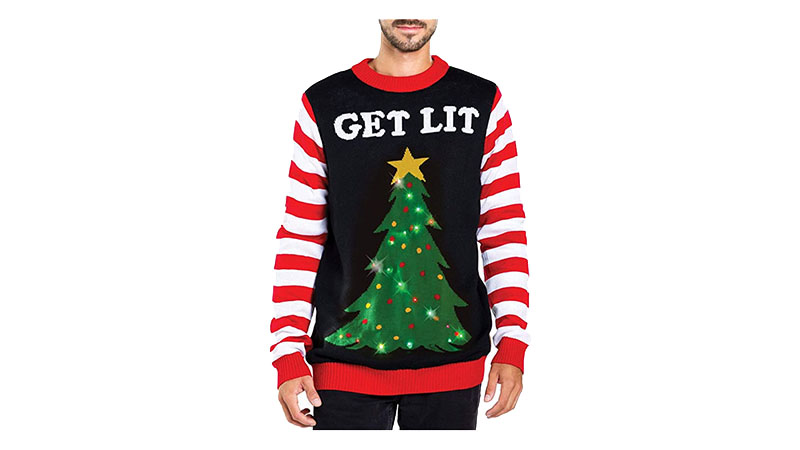 6. Ugly Let it Glow Christmas Sweater
Let it glow with this brilliant sweater. This ugly jumper features a funky reindeer with fairy lights across its antlers. The in-built lights inside are activated by movement and sure to add life to the party. You can wear this to almost any Christmas event, and it will keep you warm in even the coldest weather.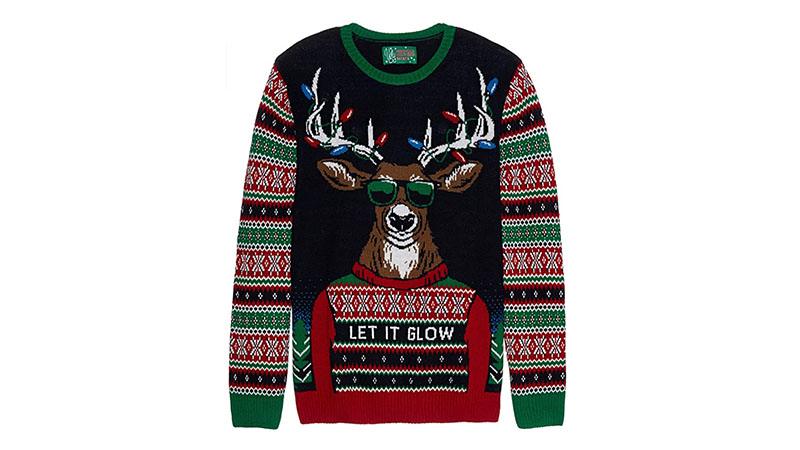 7. Men's Santa Unicorn Christmas Sweater
Send your love for Christmas beyond the stars with this hilarious sweater. Featuring Santa riding a unicorn in space, it's a wild and brilliant jumper that's sure to garner a compliment or two. The black and white background makes it the perfect option to wear to a party and feel a bit dressed up. Rock it with jeans, chinos, or trousers – you can wear it to your work get-together or a virtual party.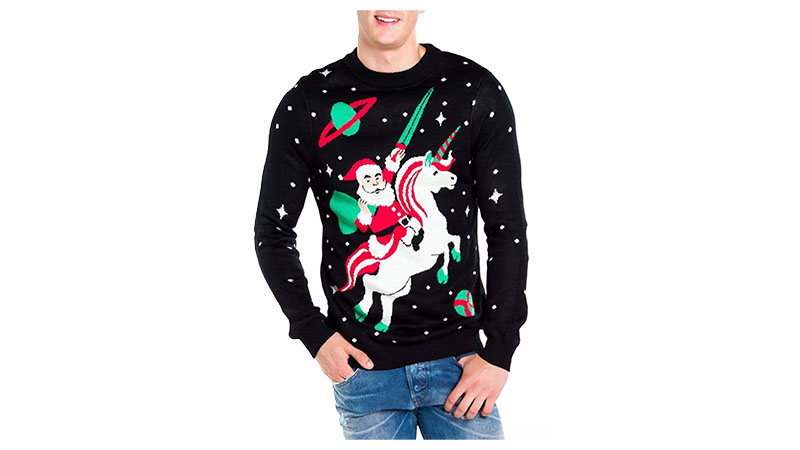 8. Idgreatim Ugly Christmas Sweater
If you're looking to make a statement at your next festive party, this sweater will do the trick. The fleshy jumper features a man's belly, covered in holiday lights, cheeky tattoos, and baubles. At first glance, it looks as if you've decorated your torso will jolly ornaments- it's perfect for a barbeque, catch up with friends, or Christmas day.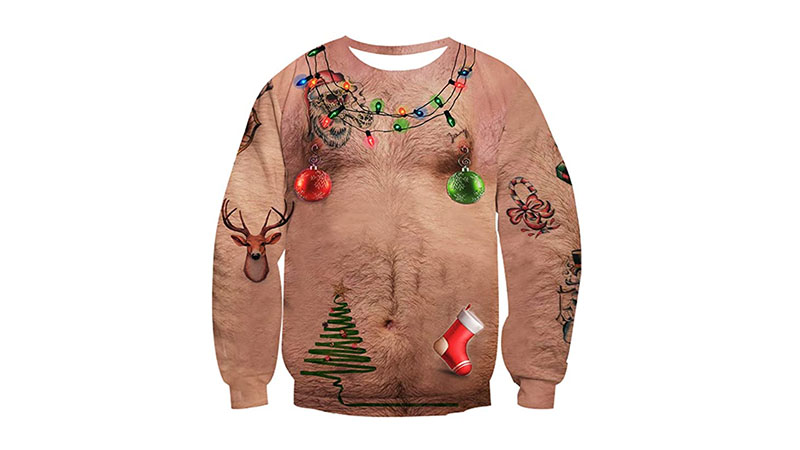 9. Naughty Santa Ugly Christmas Sweater
Make everyone laugh this Christmas, thanks to this funny sweater. Watch as Santa gets stuck in the chimney with 'Size Matters' printed on the front – the black and white background makes it the perfect color combo to rock anywhere. You can style this for a Christmas party or work event – you'll be the life of the party thanks to this jumper.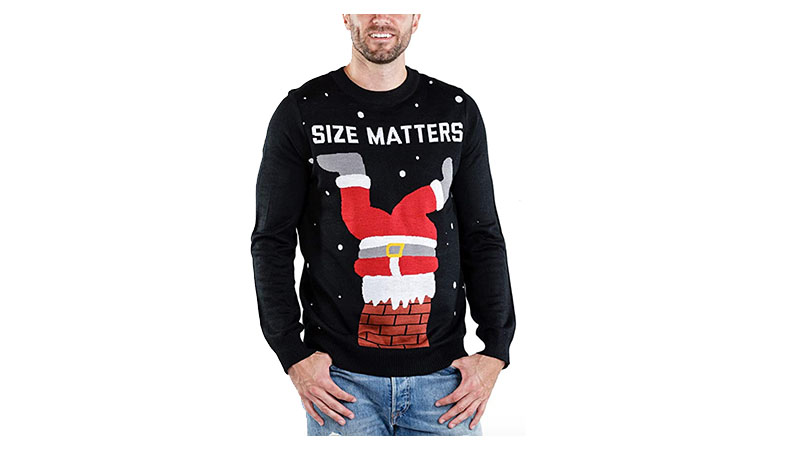 10. Llama Christmas Sweater
If you're an animal lover, this is the perfect sweater for you. This holiday season, you can wow the whole room with this hilarious jumper. It features a cute llama on the front, donning a scarf with real tassels at the bottom. The red and green color combination is traditional enough for a festive photoshoot but still ugly enough to win the competition.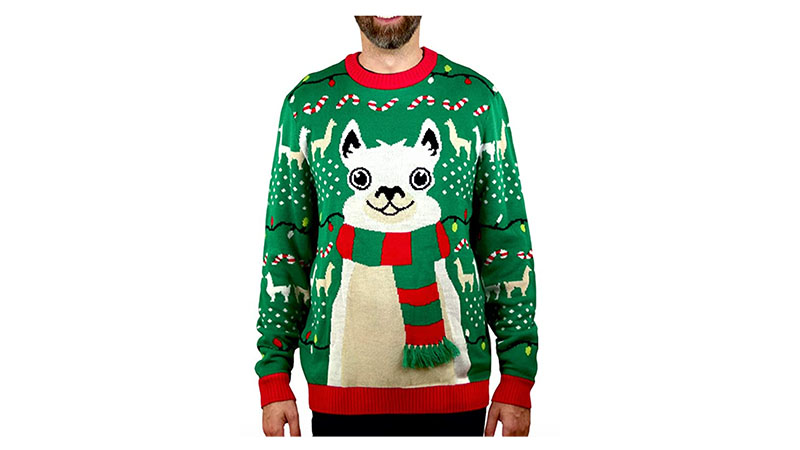 11. Ask Your Mom If I'm Real Ugly Christmas Sweater
You can prove to everyone that Santa is real with this naughty sweater. The ugly jumper features the jolly man in red with 'Ask your mom if I'm real' printed on the front. The neck and waistband are striped, giving you an extra pop of color for your party. The super-soft fabric will also have you feeling snug all evening.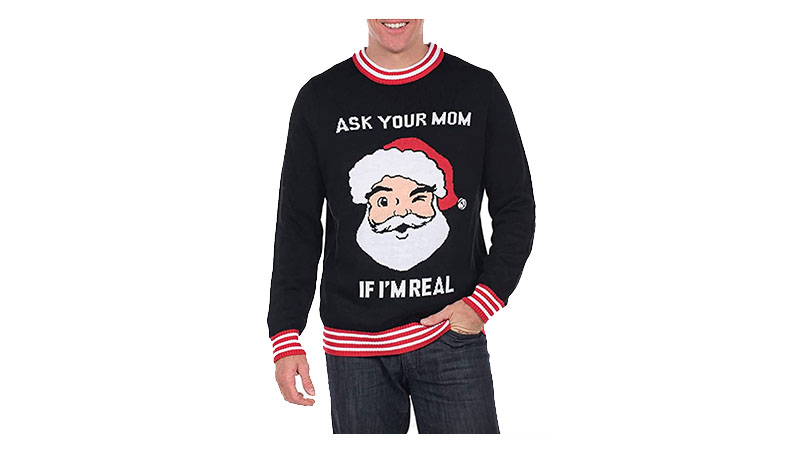 12. Men's Dinosaur Ugly Christmas Sweater
Have a rawr-some holiday this year with this hilarious sweater. The dinosaur print on the front is funny and festive – a great addition to any ugly Christmas jumper party or dinner. Featuring a traditional pattern in the background and the T-Rex sporting outerwear of its own, you're sure to reel in the compliments as soon as you arrive.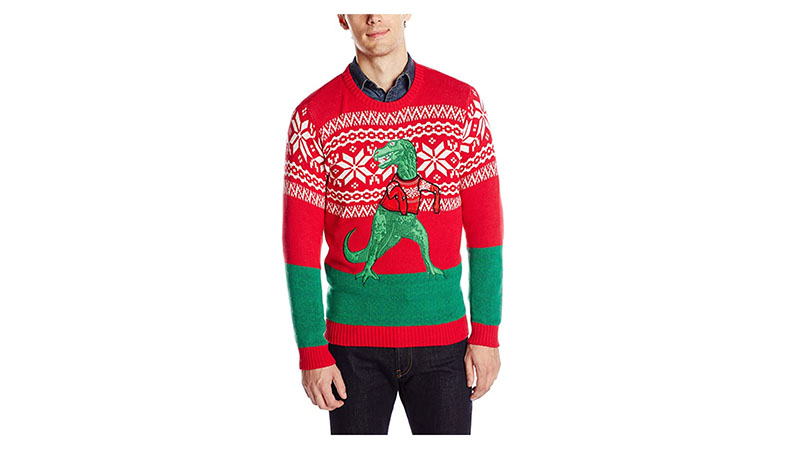 13. Numskull Unisex Pac-Man Knitted Christmas Jumper
Make the ultimate statement this Christmas with a jolly Pac-Man sweater. The bold purple color is a great alternative to the traditional ugly jumper, and the game characters are decked out in festive cheer. The blend of traditional patterns and retro styling will help you stand out from the crowd. It will be 'Game Over' for the whole party as soon as you show up in this masterpiece.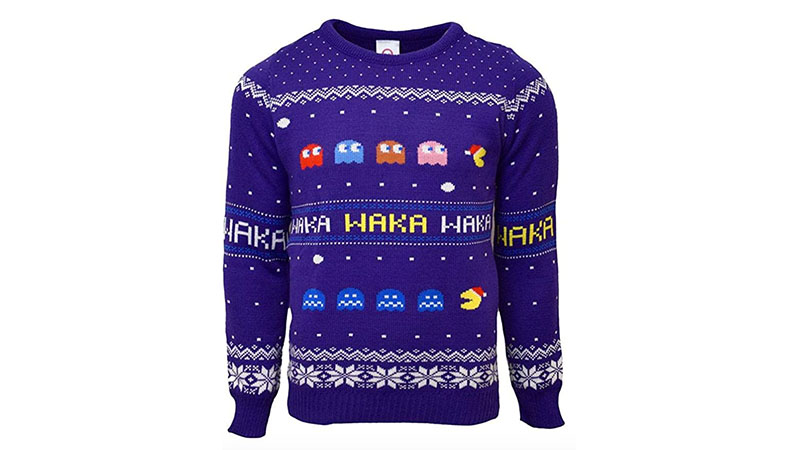 14. Women's Winter Whale Tail Sweater
Even Santa has a naughty side, too – show it off with this hilarious ugly sweater. This cheeky outerwear shows St Nicholas wearing a pair of high-waisted underwear under his suit – it's the perfect option for a fun night out with friends or colleagues.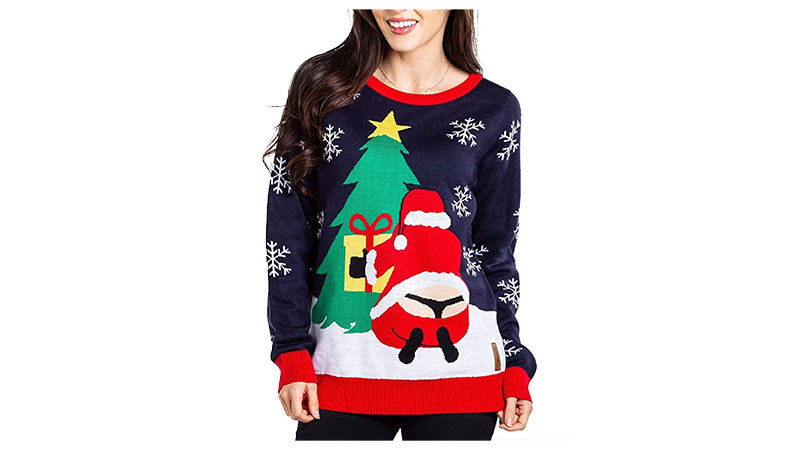 15. Disney Men's Ugly Christmas Sweater
Mix it up this year by adding a cute character to your Christmas jumper. Featuring the adorable Mickey Mouse with a Santa hat, this Disney sweater is sure to put a smile on everyone's faces. The iconic pattern in the background is the best blend of tradition and modern design. It's ugly enough to win the competition but cute enough for a fun photoshoot.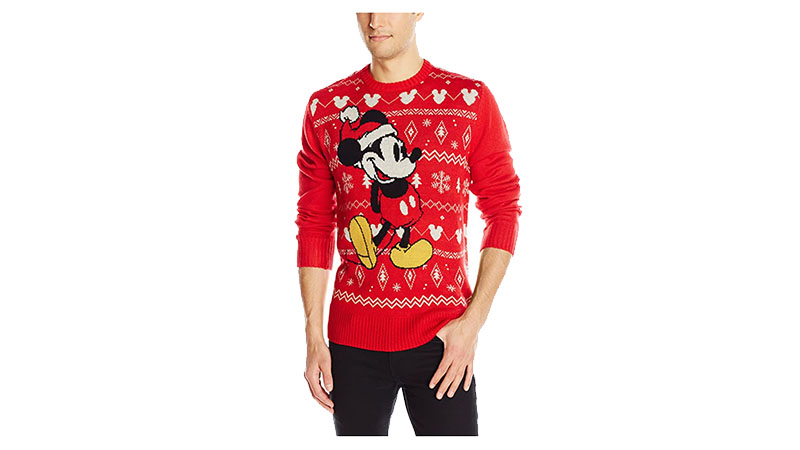 16. Reindeer Hooded Light Up Pullover Sweatshirt
Why wear a sweater when you can become a sweater? This pullover features a funky twist on the traditional ugly Christmas jumper – you can turn yourself into one of Santa's reindeer – Rudolph's red nose is not included. The light-up display will easily brighten up the room and is sure to make everyone grin for the whole night.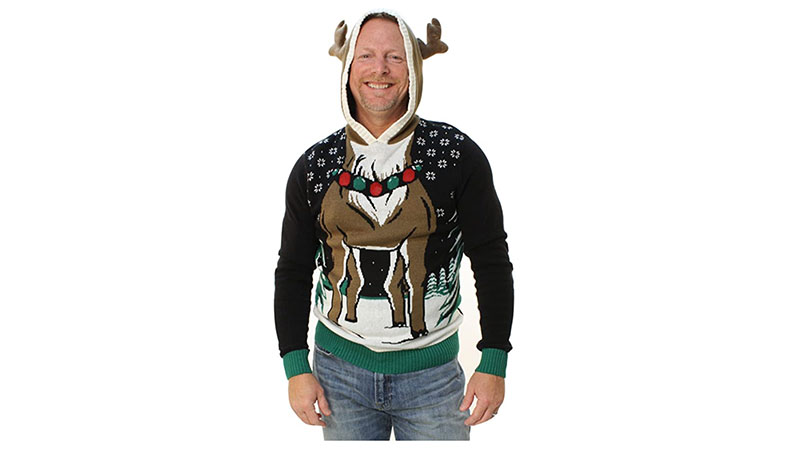 17. Rick and Morty Happy Human Holiday Christmas Sweater
Are you a true Rick & Morty fan? Show off your love for the Adult Swim TV show with this brilliant sweater. Even though you may not have a theme park inside yourself, this funny jumper features the iconic duo and Ruben dressed as Santa. You'll be having a very Happy Human Holiday thanks to this outerwear.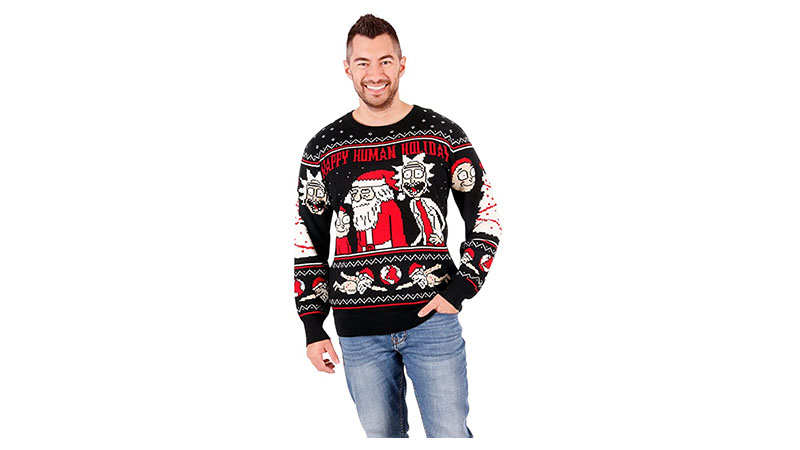 18. Disney Women's Ugly Christmas Sweater
Showcase your love for Minnie Mouse this Christmas with this ugly sweater. The combination of traditional festive patterns and a Disney twist is the perfect gift for someone who loves the franchise or if you're getting ready for your next big party. You can easily dress this up or down, and it is the best outfit idea for the holidays.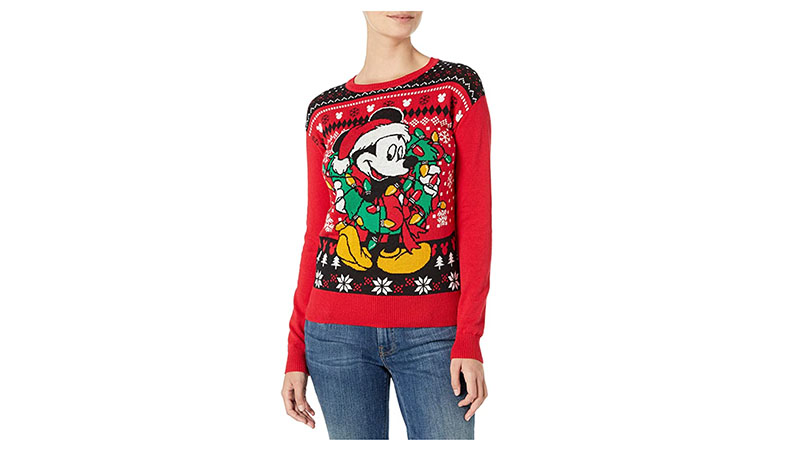 19. Too Lit Light Up Ugly Christmas Sweater
Let it snow all night long with this awesome Christmas sweater. With the phrase 'Too Lit to Quit,' a fun Christmas tree, and activated lights on the front, you'll exude festive cheer as soon as you try it on. The scoop neck is flattering for a wide range of occasions, and you can easily dress it up or down.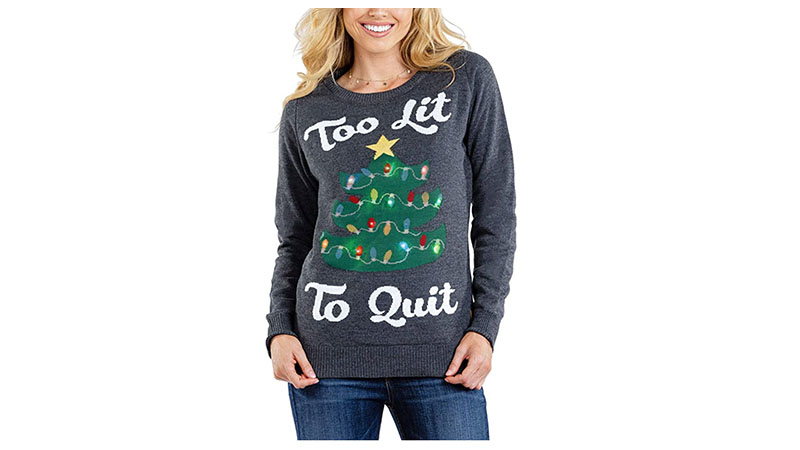 20. Grey Humping Reindeer Sweater
Get a giggle out of your friends and family this Christmas with this funny and ugly sweater. What looks like a traditional jumper actually offers a cheeky surprise and is sure to garner a gasp or two. You can get this outerwear in a cool grey color, which is perfect for the winter months and can be styled in many ways.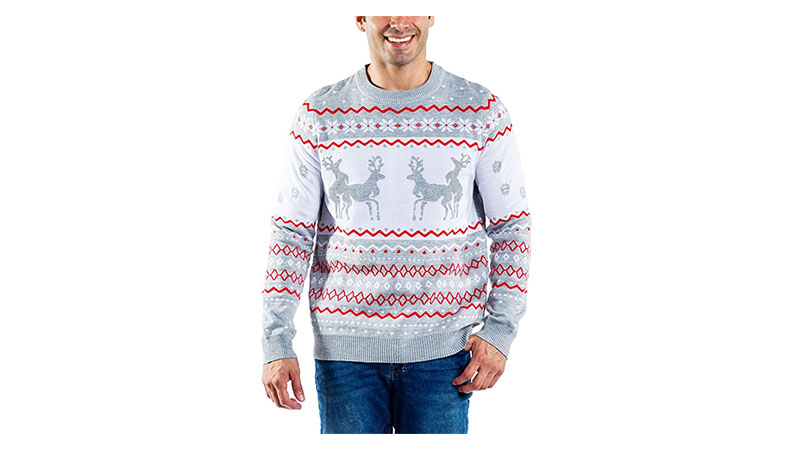 21. Christmas Fuzzy Reindeer Ugly Sweater
Feel fuzzy all night long with this warm and funny ugly Christmas sweater. With a giant reindeer on the front and a 3D scarf wrapped around its neck, you'll feel extra snuggly and still garner a laugh from guests at the party. Above his antlers, the mistletoe will bring the festive spirit, and the bright red nose will help guide Santa to everyone's house with ease. Watch as you grab the Ugly Christmas Sweater party award – it's a real winner!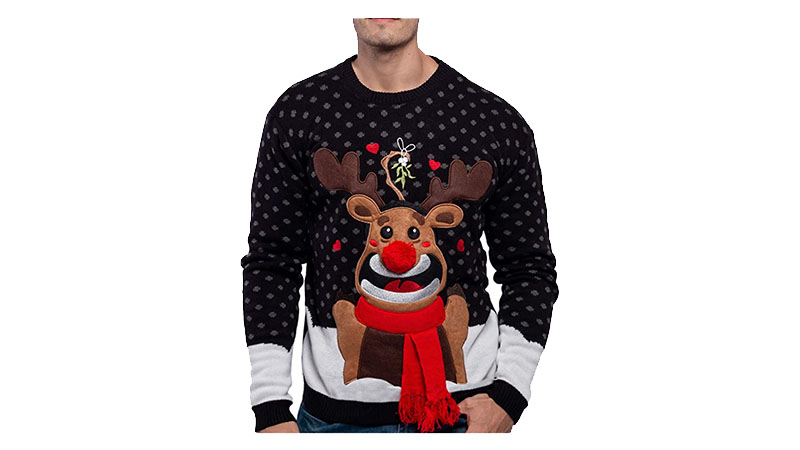 22. Men's Jingle Baller Sweater
Who knew Santa could slam dunks like this? Show off your love for the game with this funny and festive sweater. The blue jumper is a great alternative to the traditional red and green colors and is still appropriate for a work function or a day with friends. The cute design on the front shows Santa shooting hoops with gifts and his elves in the back lending a helping hand. This jumper is a great conversation starter and will put a smile on everyone's face this year, even if you're attending a virtual gathering.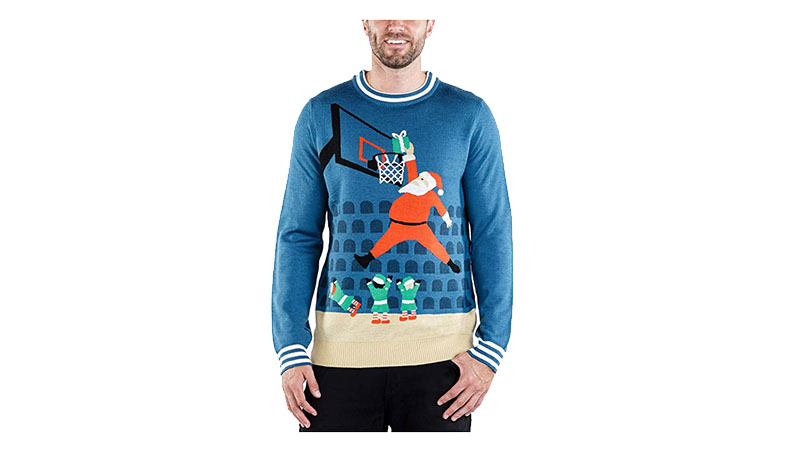 23. Fun Old Fashioned Family Xmas Ugly Christmas Sweater
You're sure to have the 'hap hap happiest Christmas' with this National Lampoon-inspired sweater. The design features iconic scenes from the movie and is sure to put a smile on the face of any Chevy Chase fan. If you're on your way to an ugly sweater party, this will be the winner for sure. Nobody will be walking out of this fun, old-fashioned family Xmas – it will start as soon as you walk in the room!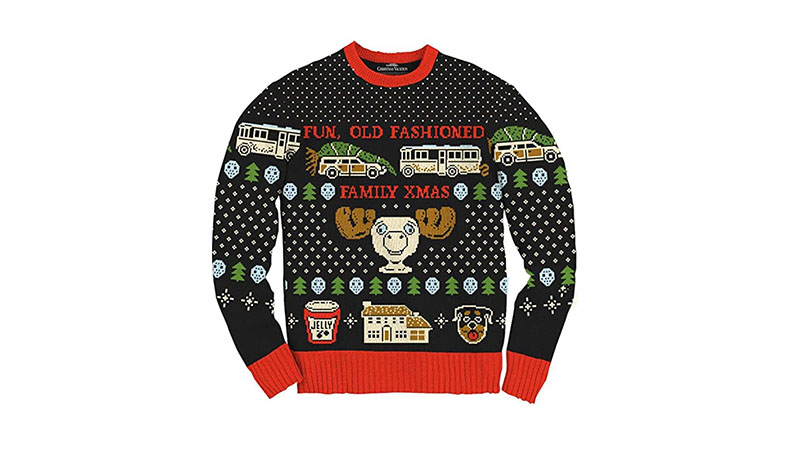 24. #followme Women's Ugly Christmas Sweater
For those who aren't afraid of landing on the naughty list this year, rejoice! This sweater is a cheeky alternative to the traditional ugly Christmas sweater and will certainly cause a giggle or two! This year, feel the joy with this hands-on sweater – the design is ugly enough to rock at a dedicated jolly party and will make for a brilliant outfit for gift-giving. This is best to avoid at work functions, but it's definitely one for the ages!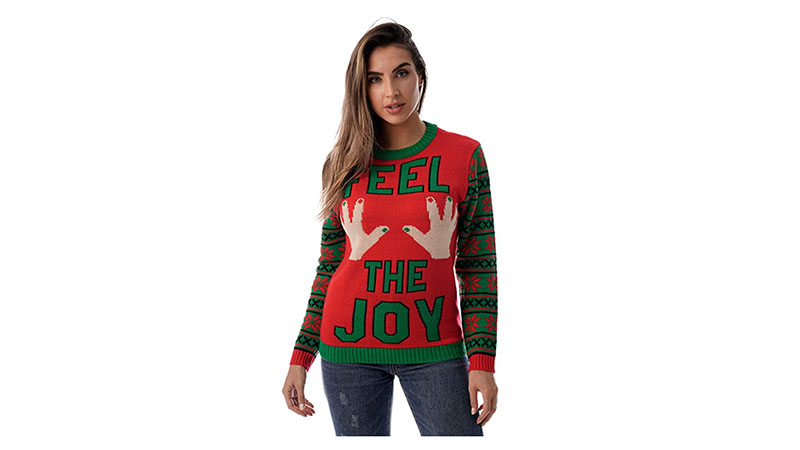 25. Functional Bottle Opener Christmas Sweater
Never go without a drink in your hand this festive season with this sweater. Not only does the jumper feature Christmas-inspired beer with decorations on the front, but it also doubles as a functional bottle opener. Use the lid under your chin to pop another bottle without struggling to find the utensil. This is the perfect option for the person who loves being the center of attention – all eyes (and hands) will be on you this season!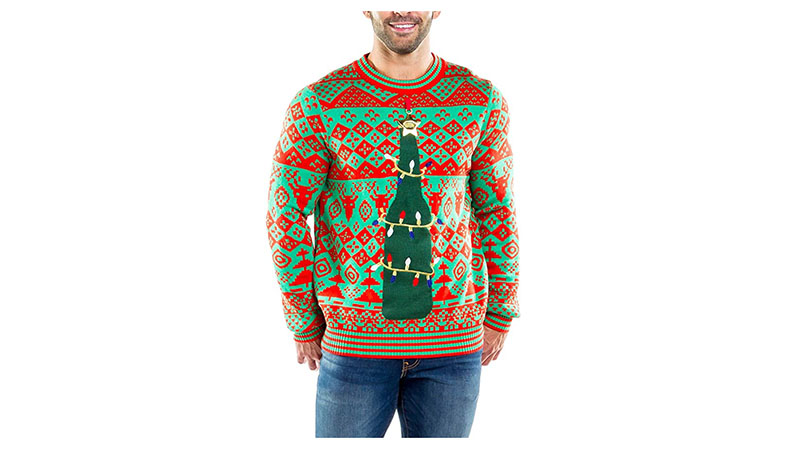 26. Family Matching Christmas Sweaters
Santa is coming to town, so you may as well get the whole family dressed up for the occasion! This matching set features a traditional ugly sweater design and will make for the perfect getup for an annual photoshoot for Instagram or cards. The cheesy pattern is timeless, so you can wear it over and over without having to replace it next year. Even when the temperature drops, you will feel snug and warm, thanks to its soft fabric.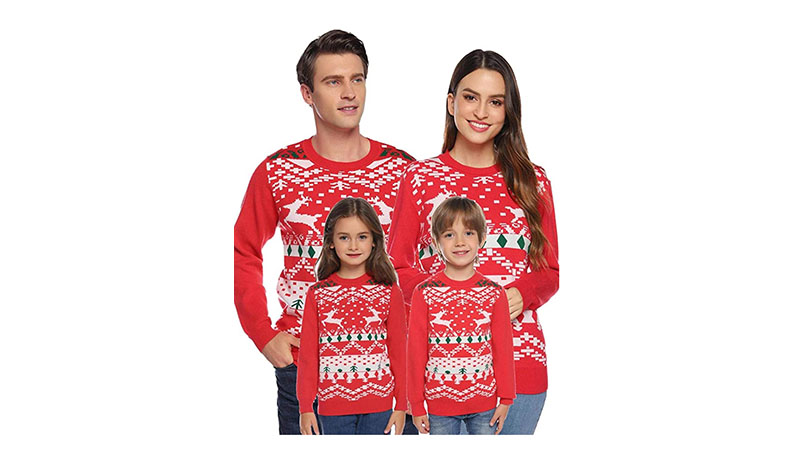 27. Ugly Christmas Sweater Llama
Spread the joy this Christmas with a llama sweater. It's got the perfect amount of ugly for a dedicated party and is cute enough for an Instagram photo shoot. With a classic background and a super cute little animal on the front, you'll wear it all the time. The red and green shades will inspire instant festive feelings – it's got the exact ingredients for a jolly holiday.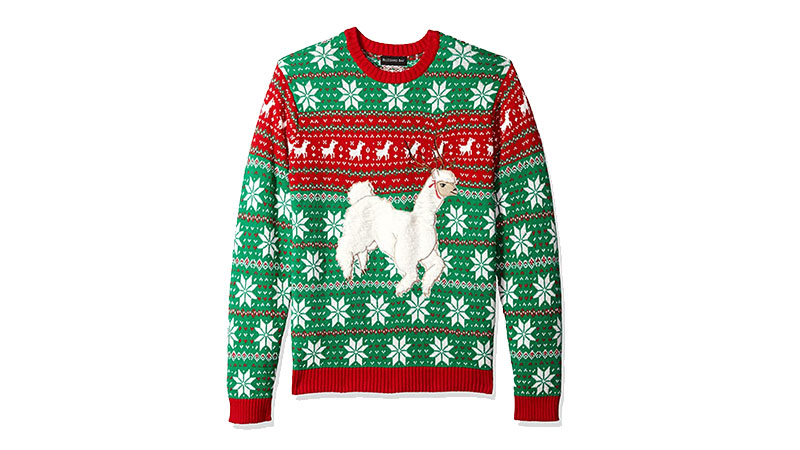 28. How We Roll Reindeer Off-Road Light Up Sweater
Enjoy modern Christmas traditions with this funny festive sweater. Watch as Rudolph the Red-Nosed Reindeer and his elf friend take on the snow in a pickup truck, with a quirky "How we roll' slogan beside it. This jumper is an instant classic, with the jolly shades of red and green covering the outerwear. You can rock this with jeans, chinos, or some comfortable pajamas as you open your gifts. This would also make for an excellent gift for a person with a great sense of humor.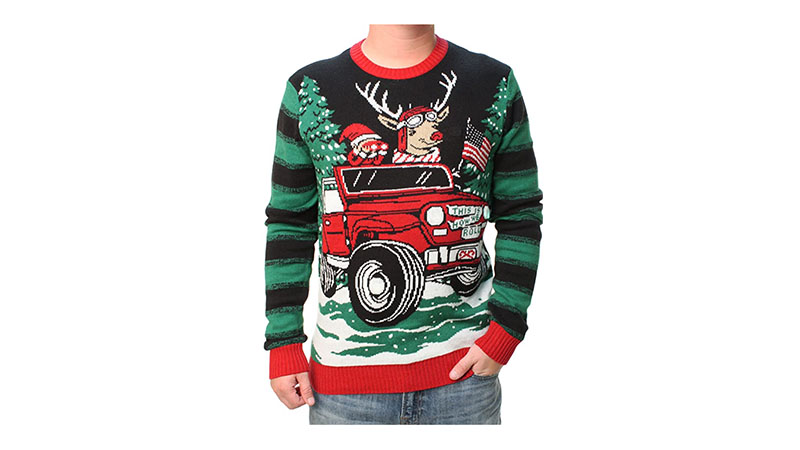 29. Christmas Reindeer Snowflakes Sweater
Pay homage to your favorite Christmas movie with this 'Filthy Animal' sweater. Inspired by Home Alone, you can rock this ugly jumper with confidence, thanks to its effortless design. The classic pattern and grey coloring is a winter treat, keeping you feeling snug all through the holiday period. Stay home and watch your go-to Xmas film, or grab a drink and celebrate the festive season, and do it in total style!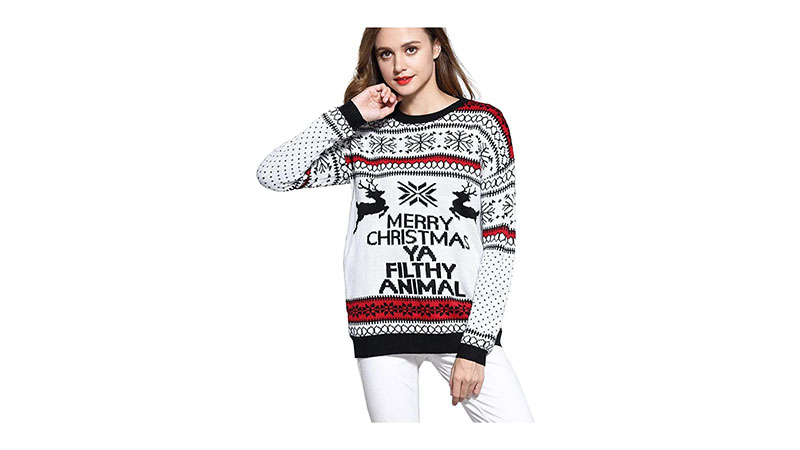 30. Llama Unisex Ugly Christmas Sweaters
For those who are heading to a holiday party, you may as well introduce a bit of Christmas cheer with a dash of llamas! This hilarious and over-the-top sweater is hideous enough to snag the top prize but cool enough to wear with pride. It's completely decked out with working fairy lights at the bottom and Santa hat-clad animals, and they're ready for a good time. Watch as you become the center of attention with this hilarious outerwear – you'll be the gift that keeps on giving.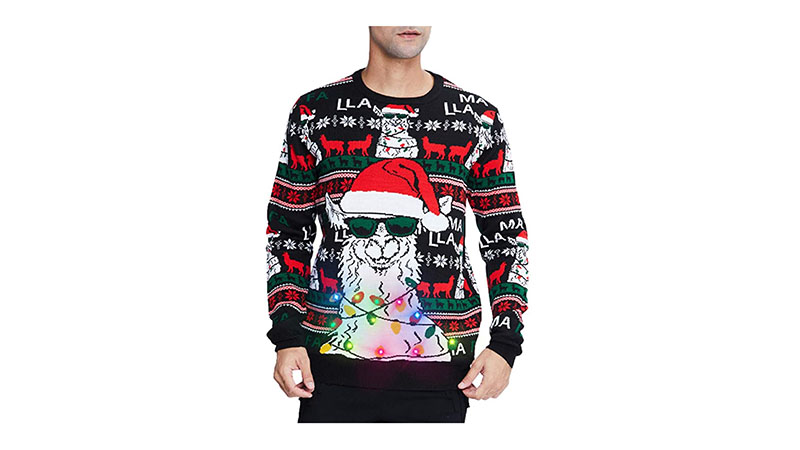 Ugly Christmas Sweaters FAQs
Where is the best place to buy ugly Christmas sweaters?
There are many places you can find the perfect ugly Christmas sweater, such as ASOS, Amazon, and Tipsy Elves. To find the best holiday jumper that suits your personality, be sure to check online, where you can find a wide range of pop culture-themed sweaters that are great for the festive season. You can pick up a traditional Christmas sweater in Nordstrom, or Target - feel free to experiment with quirky outerwear from Ugly Christmas Sweater or Etsy.
What does ugly Christmas sweater mean?
The Ugly Christmas Sweater is a modern tradition that's celebrated all over the world during the festive season. These jumpers are often touted a tacky, over the top, and gaudy, with Christmas-themed decorations and embellishments on the front. While the traditional ugly Christmas sweater often features at least three colors, has dangling ornaments or tassels, and is simply impossible to ignore. The uglier the sweater is, the better!
What do you wear with ugly Christmas sweater?
Depending on the temperature and location of your Christmas party, there is a lot of ways you can style an ugly Christmas sweater. To keep the focus on the jumper itself, opt for a pair of jeans or plain trousers in a neutral or dark hue. However, if you're ready to celebrate the holidays with full festive cheer, why not try out a pair of pants or a skirt in a traditional Christmas color, like red, green, or gold? You can even try this with a tartan skirt or dress and colorful tights.
What is the story behind the ugly Christmas sweater?
The ugly Christmas sweater is said to have originated in Vancouver, Canada. The traditional Christmas sweater design originated in the 50s, as the commercialization of the holidays went into full swing. In the 1980s, characters in famous TV shows and films often sported these ridiculous sweaters, such as the Griswold family in 1989's National Lampoon's Christmas Vacation. The idea of turning up to a party and celebrating the ugliness of the sweater didn't start until the 2000s. In 2002, the first Ugly Christmas Sweater Party took place in a ballroom in Vancouver and has since become a tradition all over the world.
SUBSCRIBE TO OUR NEWSLETTER
Subscribe to our mailing list and get interesting stuff and updates to your email inbox.