Admittedly the torn jean look is not for everyone. Many women will avoid this trend because they feel that the torn look is tacky, however, these jeans borrow inspiration from the grunge scene and create a look that is edgy, casual and cool.
Jeans act as a staple in every women's wardrobe because of their durability and versatility and torn jeans add trendiness and nineties rebellious glamour to that list. Whether they have ripped and torn through wear and tear or have been bought industrially, this look can be worn with floral bombers, blazers, classic white blouses and print tees.
For a more feminine look, pair your torn jean with heels, flats and cute sandals as well as colourful handbags and girly accessories. You need only take to the streets to be inspired.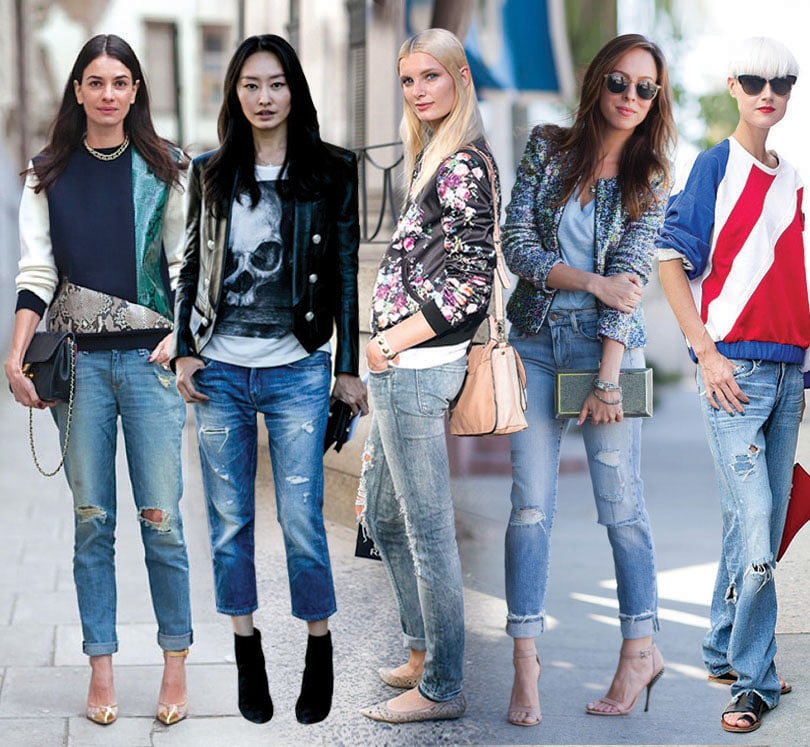 Colourfull Mirrored Glasses Trend
Coloured mirror glasses with matt, gloss or see through frames are the funkiest trend this year for the spring and summer months and we expect them to linger around for next year as well. These sunglasses originally started as just silver lenses back in the 80s but have evolved to include many different and very cool colours this season such as blue, orange, pink, green and even metallic gold to welcome in the season.
Accessories are one of the most important parts of an outfit and the gloss mirror-sunglasses are an incredible retro inspired addition to your looks. The reason that colourful shades have become such a trend is because they are fun yet at the same time add a pop of colour to your outfit.
Gloss mirrored lenses combine the right amount of modernity and 80s inspiration with the reflective shine finish, creating alook that is effortless yet voguish. If however, the trend is not for you then you can tone down the mirror effect by opting for matte frames. What this essentially means is you will still be embracing the coloured hues on your lenses, but they will have a solid colour finish– no reflective properties.
We have all seen the transparency trend become massive this year, so why not show off the trend in your sunglasses? These transparent frames make just as much of a statement as gloss and matte sunglasses. To stand out, the best transparent frames are thick and chunky.
The beauty of this look is that the frames come in a number of different styles, from the vintage glam of rounded shades, futuristic cat-eye, aviator to the classic wayferer. Few of these styles are limited to either gender, so you can buy this ultra-cool style for your man too.
We have seen them on fashionistas across the globe, including style icons such as Rita Ora, Blake Lively, Rihanna, Miley Cyrus, Hayden Panettiere and Alessandra Ambrosio, now which ones are you going to buy this summer?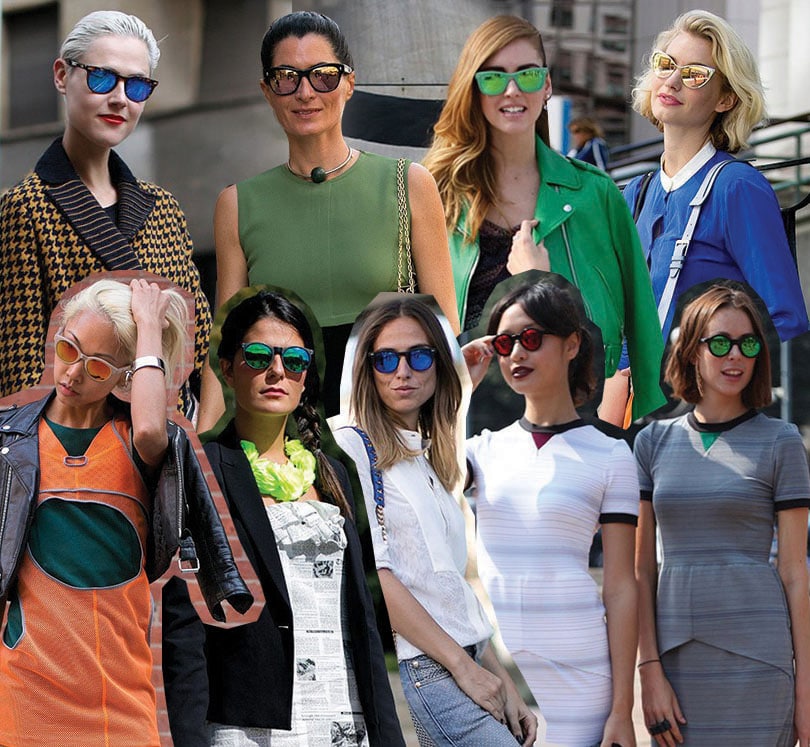 Tall Boots in Summer Trend
Many women would love to wear boots all year round and the tall boots in the summer trend gives them reason to do just that! Tall boots are comfortable, chic and super flattering on your legs and for these reasons and more wearing tall boots in the summer is becoming a growing trend.
While it may seem a little hot to cover your legs with tall boots, never fear. Global warming has played a big part in the temperature rise and the weather has become less changeable from season to season and boots have become perfectly acceptable to wear during the summer seasons. The hard and fast rule for tall boots is then really "wear them whenever you are comfortable to wear them."
You can counteract the heat of summer by wearing your boots with bare legs and swinging miniskirts, shorts and cut-off shorts and pretty summer dresses. Also opt for tall boots with a sense of lightness about them, both in colour and material, so leave the fully lined boots in your closet until winter comes again. There is a reason retailers are starting to sell tall boots all year round… and that reason is because consumers have realised just how comfortable and great they are!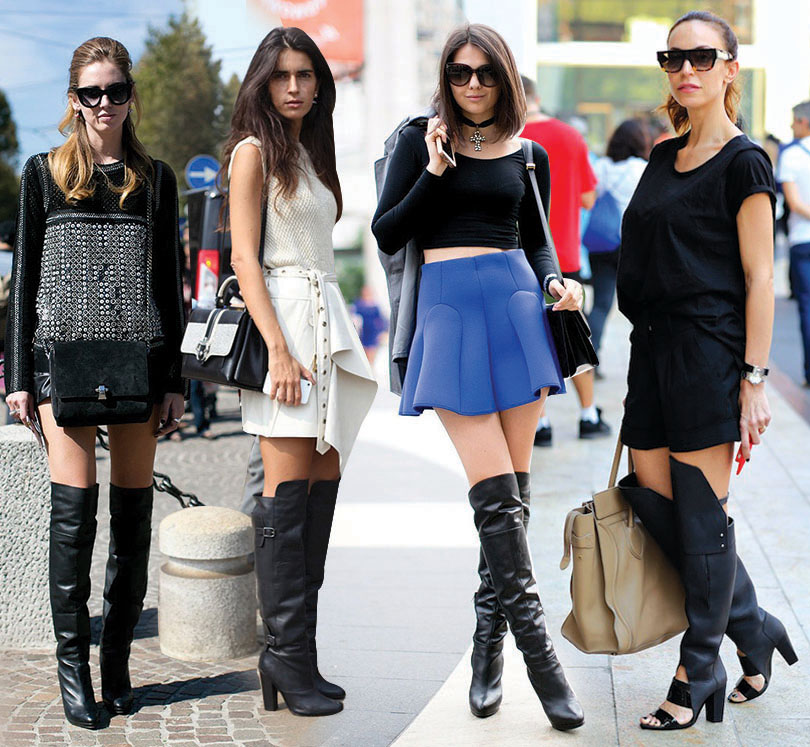 White Crop Tops Trend
Crop tops have been taking the catwalks and sidewalks by storm. Almost every woman has been embracing their bodies and showing off their mid-riffs and what better style is there for the warmer months.
These sexy separates look wonderful when paired with high-waisted midi and maxi skirts, as well as high-waisted jeans and cropped trousers. The crop top trend has not just gained popularity with some of the biggest names in the fashion industry, the trend has also become a street style favourite.
Accessorise your looks with oversized clutches and panama hats for a feminine twist. Finally, what colour works better than white for a contemporary cool look?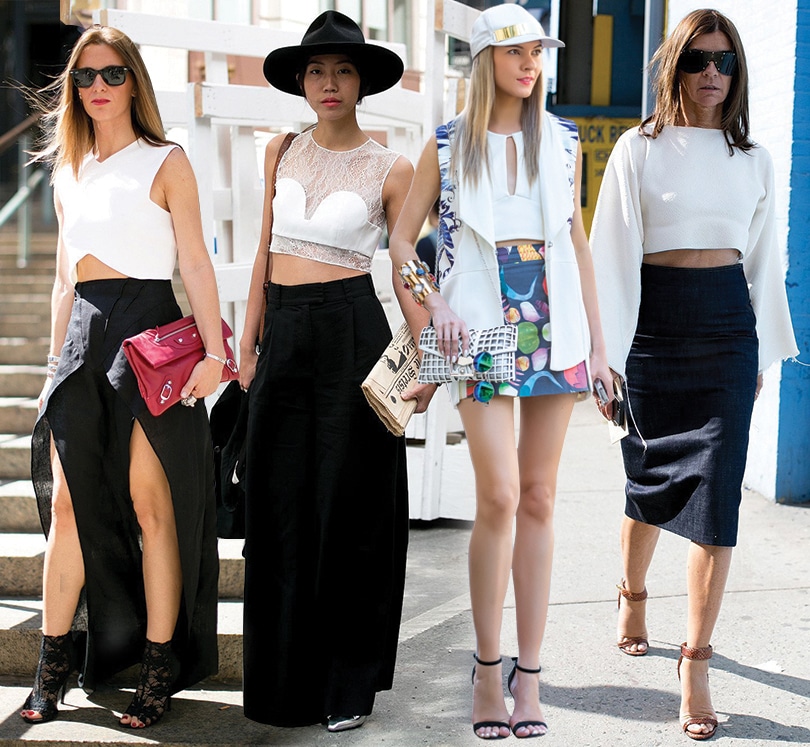 SUBSCRIBE TO OUR NEWSLETTER
Subscribe to our mailing list and get interesting stuff and updates to your email inbox.