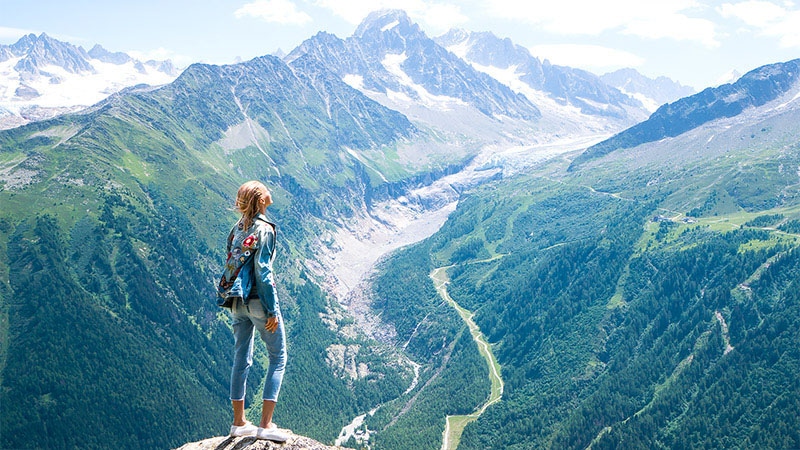 From mystical snowscapes and luscious forests to vast red deserts and sapphire lagoons, examples of the world's beauty are found in many corners of the globe. In the past, experiencing these wonders would require a plane or ship ticket, a map and a lust for adventure. Now, with the help of the internet and social media, we can travel across continents without ever leaving the house. Through travel blogging, these foreign landscapes, once so far away, are now shared with society via the power of imagery and words. Additionally, the nomadic men and women behind these stunning blogs are inspiring a whole new generation of travellers, seeking to experience similar wonders for themselves. To kickstart your wanderlust and inspire your next globetrotting adventures, we've searched high and low to compile this guide to the world's best travel bloggers.
1. Murad Osmann
Any aspiring traveller will instantly recognise the photography of Murad Osmann. As the creator of the renowned 'follow me' photography style, Murad's stunning images capture his wife Nataly leading him across the globe. As a pair, the husband and wife duo travel the world encouraging their followers to follow them to the exotic, surreal landscapes they encounter. From the streets of Venice to the temples of India, Murad's work is an endless showcase of the world's most beautiful sights. In addition to this, the impeccable fashion of Nataly complements her surrounding and enhances the story told by each photo.
Instagram: @muradosmann
Website: www.followmeto.travel
2. Nat Geo Travel
Renowned for capturing some of the world's most iconic images, National Geographic Travel's blog is followed and loved by millions across the globe. Their incredible photography and magical writing of their expert storytellers allows readers to learn about the world beyond their back door. As a result, a scroll through this feed will take you on the journeys across vast, mystical landscapes. In addition to this, this inspiring combination of photos and writing encourages the understanding of foreign societies, cultures and customs. For those who prefer good old fashioned paper and ink, National Geographic has been producing a beautifully curated monthly magazine for the past 130 years.
Instagram: @natgeotravel
Website: www.nationalgeographic.com.au/travel
3. Travel and Leisure
The breathtaking, expert photography of Travel and Leisure is destined to push your wanderlusting desires to the max. Capturing the colours of the world at their most vivid, this internationally loved blog will brighten your Instagram feed in an instant. In addition to this, the accompanying, inspiring website filled with comprehensive and unique travel guides will motivate all your journeys. As a result of their vast exploration of architecture, nature, landscape, cityscapes and culture, Travel and Leisure caters to every type of traveller.
Instagram: @travelandleisure
Website: www.travelandleisure.com
4. Loki the Wolfdog
If you're a lover of dogs and travel, this is one Instagram to follow now. Since 2012, the witty, photogenic Loki and his nomadic human friend Kelly have travelled through the mountains, forests, and seasides of the United States. As a result, one look at this spectacular photography will inspire you to pack your bags and hit the road with your own four legged friend. As the god of mischief, the adventurous Loki can also often be found playing in the snow, snoozing in a hammock or rocking his favourite sunglasses.
Instagram: @loki
Website: www.lokithewolfdog.com
5. Chris Burkard
Standing out from the crowd, Chris Burkard has captured the attention of millions across the globe with his incredible photographic skills and powerful storytelling. As a result of these talents, he has also given Ted talks, written books and held art exhibitions. Additionally, fans of this blog may now own a piece of Chris' expert photography. Through his website, these portraits of the world's beauty are sold as jawdropping prints.
Instagram: @chrisburkard
Website: www.chrisburkard.com
6. The Trend Spotter
With Dasha and Colin's impeccable wardrobe, photography skills and a shared love of travel, The Trend Spotter's very own Mr and Mrs Gold are amongst the world's best travel bloggers. In addition to stunning imagery, each post is complemented by inspiring, thoughtful prose. As a result, followers are invited to become a part of the couple's travelling experience. From dazzling glaciers and medieval castles to mountain summits in the clouds, their passion for adventure is showcased as they seek out the wonders of the world. Consequently, after exploring their beautiful feed, you'll be adding a round-the-world plane ticket and a drone to your birthday wish list.
Instagram: @thetrendspotter
Website: www.thetrendspotter.net
7. Gypsea Lust
Floral festivals, lush rainforests and sapphire beaches are just a few of the things you will find on Gypsea Lust. Before she was Gypsea Lust, however, the beautiful woman behind these posts was simply 24-year old Lauren from Northern NSW, Australia. Now, her job consists of travelling the world with her equally successful travel blogger partner, Jack Morris (@doyoutravel). Focusing her content on fashion, lifestyle and travelling, this blonde haired beauty can be found perching on sky-high canyons, exploring mystical snowscapes and enjoying a cup of coffee with giraffes.
Instagram: @Gypsea_lust
Website: www.doyoutravelxgypsealust.com
8. Tara Milk Tea
Meet Tara; the wide-eyed beauty from Sydney, Australia with a talent for creating expertly balanced, beautiful images. With an Honours degree in Design, her creativity consequently shines through her kaleidoscope of colourful photos. In addition to this, her unique fashion style complements the exotic worlds she visits. As a result, Tara is your personal passport to the beauty of Marrakech, Spain, Japan and beyond. In an extension of her clear love of travel, Tara's website also explores the genres of lifestyle and food writing, providing inspiration for all facets of life.
Instagram: @taramilktea
Website: www.taramilktea.co
9. Do You Travel
If you're familiar with our previously featured travel blogger, Gypsea Lust, then you will undoubtedly recognise her nomadic other half, Jack Morris, a.k.a 'Do You Travel'. Jack and Lauren's breathtaking Instagram profiles, therefore, form a 'his and hers' collection of picture-perfect adventures. Having mastered the art of photography and Adobe Lightroom editing, Do You Travel brings to life the vibrancy, colour and beauty of the world. Consequently, like the scenes from an adventure movie, these photos will transport you from the pyramids of Egypt to the mountains of Peru, before settling down on the sapphire waters and white sand beaches of Samoa.
Instagram: @doyoutravel
Website: www.doyoutravelxgypsealust.com
10. Tezza
Mixing designer accessories with affordable pieces, the stylish, carefree Tezza brings vintage vibes to the arena of top travel blogging. Dancing across the globe in a whirl of floral dresses and other playful outfits, a scroll of her gorgeous feed will have you booking a one-way flight to Europe in no time. Due to the popularity of her images, Tezza also sells her own Adobe Lightroom preset packages. From warm vintage tones to colour popping vibrancy, these filters will allow you to add her signature dreamy aesthetic to your photos. As a result of this exquisite editing, beautiful photography and covetable fashion, this tanned blonde is one of the world's best travel bloggers.
Instagram: @tezzamb
Website: www.shoptezza.com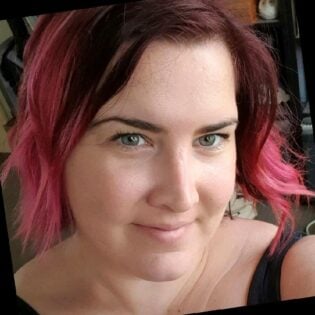 Alexandra Linde is an experienced writer holding a bachelor's degree in Journalism. She is the owner of Alexandra McKiterick Creative and has expertise in travel, fashion, fitness and lifestyle. Alex has previously written for Flightcenter, Travello, and Backpacker Deals.
SUBSCRIBE TO OUR NEWSLETTER
Subscribe to our mailing list and get interesting stuff and updates to your email inbox.