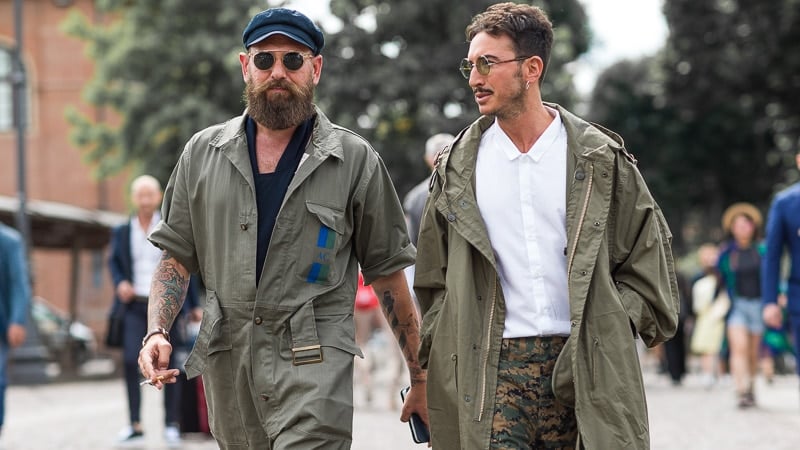 Pitti Uomo is the biannual fashion pinnacle for men's street style, the sartorial playground for style-savvy socials and fash pack locals and boy oh boy, this year it did not disappoint. Much like pasta, gelato and pizza, the street style of Florence is good for the soul and this time around Pitti's street style saw masculine militants, technicolour trimmings, badass bandanas and a flurry of florals. So, if you are starved for a little style inspiration, have a scroll through our breakdown of the top 10 street style trends from Pitti Uomo 90 Spring/Summer 2017.
Related: Top 10 Street Style Trends From Men's Fashion Week S/S 2017
1. Military References
Pitti showed us what it meant to soldier on with the flood of khaki and army silhouettes that proliferated the Florentine streets. In need of further inspiration? Think Tom Cruise in Top Gun. Channel this trend for everyday wear with great khaki coats or even experiment with a deep emerald soldier jumpsuit for a more attention-grabbing interpretation of the trend. Our most valuable style tip – don't be afraid to incorporate colour and build on the khaki colour palette that the military trend capitalises on. Team your green with bright whites, vermillion reds, bright cobalt and don't be afraid to try out other tones of green for a dimensional approach.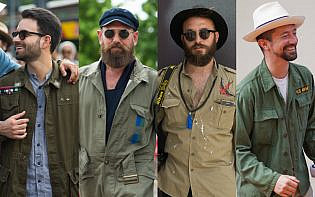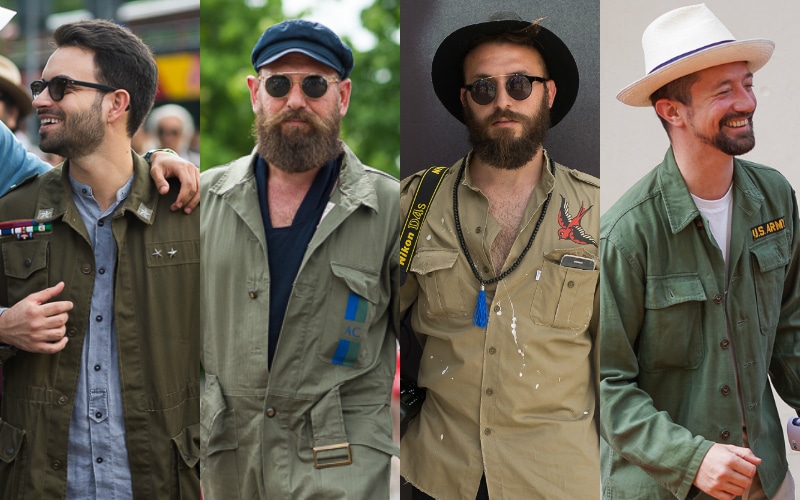 TOP PICKS
2. Stripes
No awards for guessing that stripes would be a staple at Pitti Uomo. Pinstripes, wide stripes and mixed stripes took over suiting and casual styling alike, and it was evident more than ever before that this Pitti essential would not be going anywhere. There was a predominant colour choice for stripes, however, with navy and blue versions earning the top spot. Stripes will always be appealing for casual wear, but for your corporate attire, keep your stripes subtle with understated versions of the trend.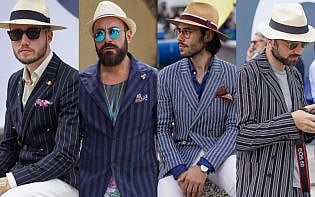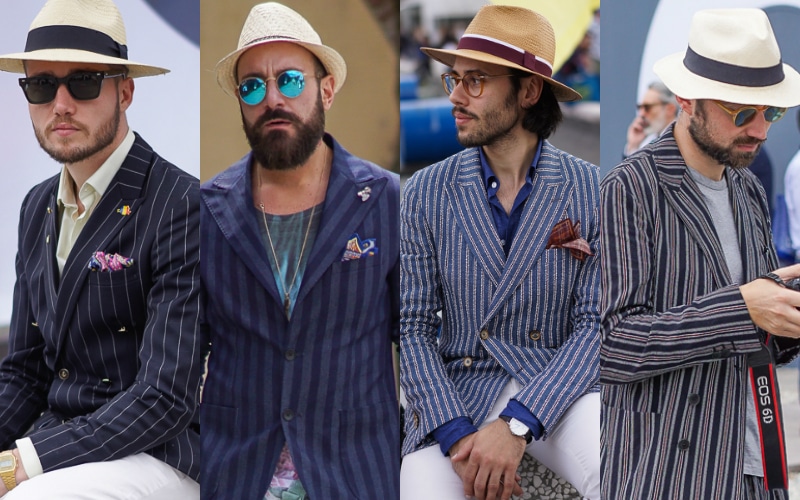 TOP PICKS
3. Camo
Duty calls with this extension of the military trend that featured on many Florentine invitees. Khaki wasn't the only colour camo featured in, with attendees rocking camo in aattention-grabbingbright blues. Reminiscent of the early noughties, camo needs to be done right for a contemporary style story. Channel your inner teen with camo print pants, shirts and jackets but keep your fit youthful for greater versatility for relaxed weekend looks.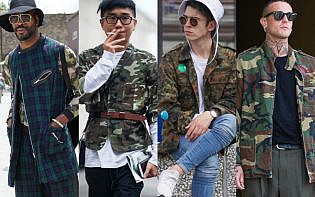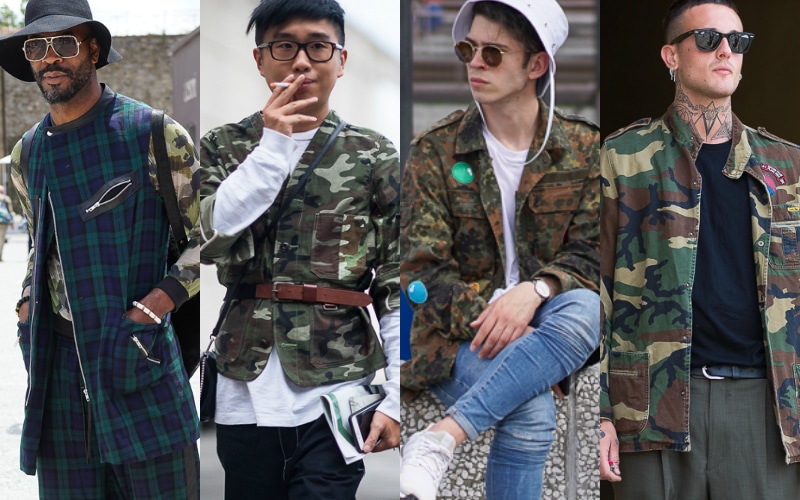 TOP PICKS
4. Round Sunglasses
Round sunglasses will always be big news at Pitti Uomo and why wouldn't they be? The eyewear answer to the Twenties aesthetic, round sunnies are flattering for most face shapes and will always remain classic. Try experimenting with different lens colours for a revived take on a traditionalist favourite. Tortoiseshell and light browns are the usual precedent for a great everyday frame that works well with most palettes.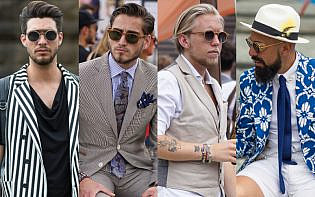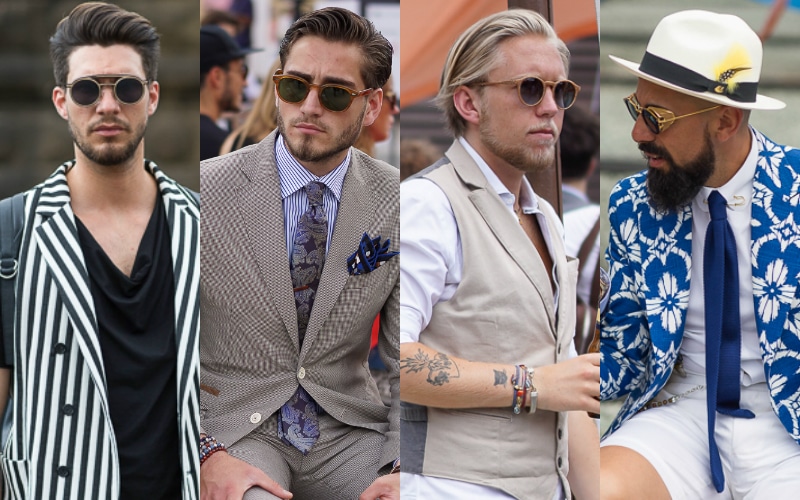 TOP PICKS
5. Natural Tones
Pitti also saw a sunny return to natural tones, in the form of subtle beiges, diluted tans and dusty ambers. These shades were featured predominantly in tailoring, with Pitti attendees rocking the typical uniform of a fitted suit in lighter, more wearable shades of beige. For your personal interpretation of the trend, try out linen suits in natural tones, and pay attention to your buttons. Buttons are always important but opt for natural toned pieces with gold detailing for a nice complementation to your palette.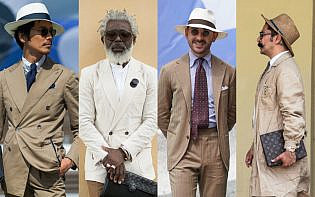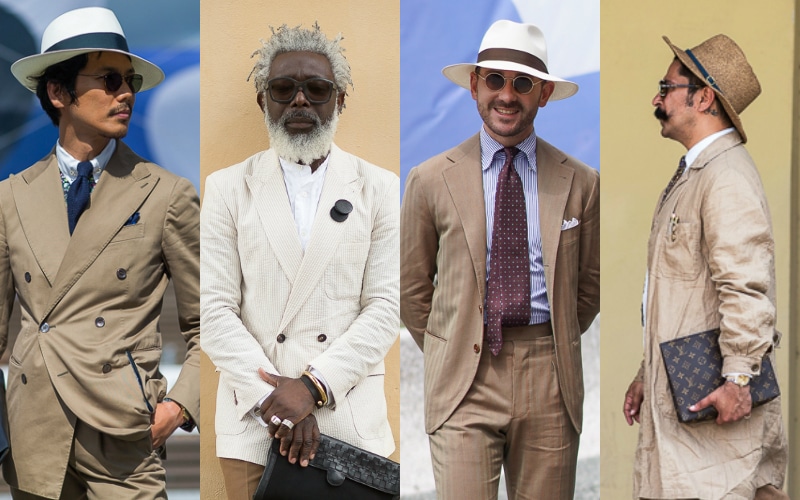 TOP PICKS
6. Floral Prints
Believe it or not, blooms can be badass. The street stars of Pitti also taught us that florals aren't just for girls, exemplified through the rockstar adaptations of florals in different clothing pieces. Suits, shirts and other pieces featured flowers, but not quite as you may have expected them. Geometric florals were camouflaged (not so subtly) in suits and bolder images of flowers also worked as statements in jumpsuits and button downs. Brave the floral trend with unexpected appropriation in your accessories – a statement pocket square in a great shade can bring an old suit to life.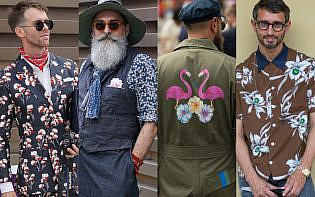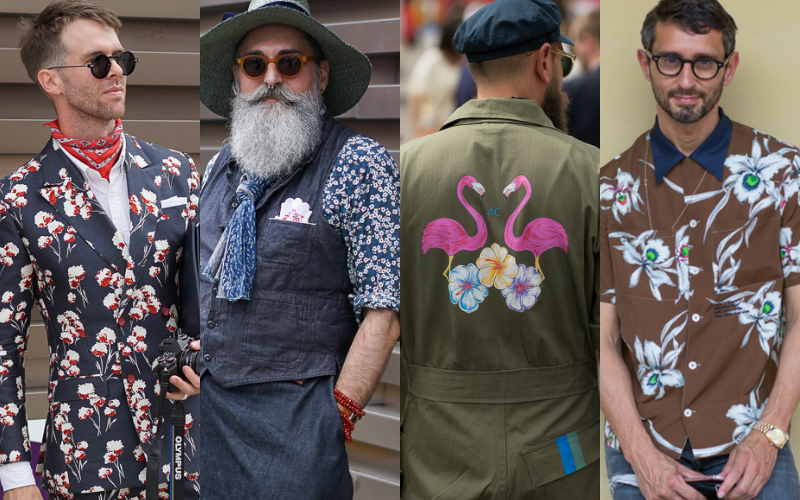 TOP PICKS
7. Bandanas
Bandanas have hit street style across the globe, but Pitti Uomo has cemented its return. Cool for scout-worthy neckerchiefs, playful armbands or the occasional forehead-band, bandanas can be a great dose of colour to even the simplest of palettes. Try a bandana neckerchief with a great suit and sweater combination or adapt the trend more casually with a minimalist black tee and jeans. To make bandanas feel like a fresher style trend, search for unexpected prints and colours.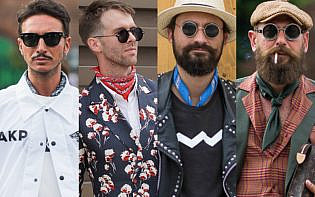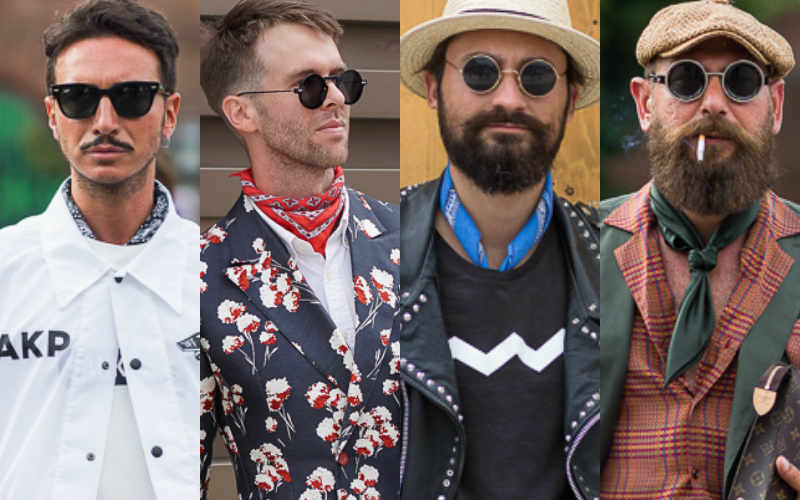 TOP PICKS
8. Boho Accessories
Pitti taught us this time around that you don't need pricey wristwear to impress; humble boho-inspired beaded bracelets and necklaces took centre stage. The biggest trend that emerged were the worn wooden pieces that gave us imaginary campsite vibes, complete with roasted marshmallows and chants of Kumbaya. Channel this trend with folk revived clothing choices. Loose fitting chambray shirts are true to this aesthetic, team them with great fitting denim to keep things more modern.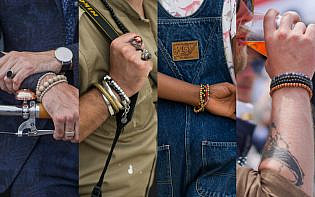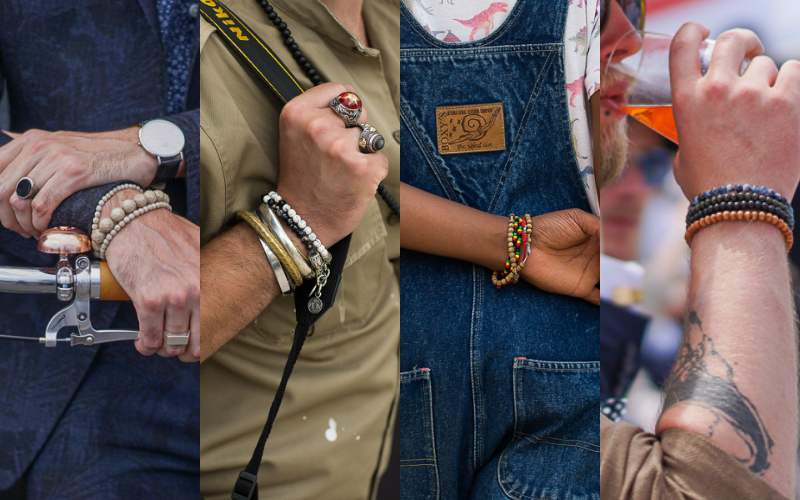 TOP PICKS
9. Slogans
Guests weren't afraid to make jumbo fashion proclamations with pieces incorporating slogans and bold statements. A typical essential for every street style aficionado, slogan pieces are bold and visually interesting, not to mention camera stopping. Colour always works well to allow your message to pop, but the slogan trend perfected in black and white is subtly alluring and still identifiable.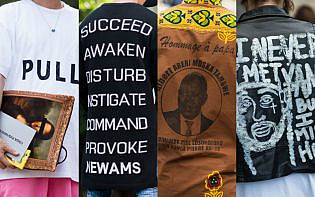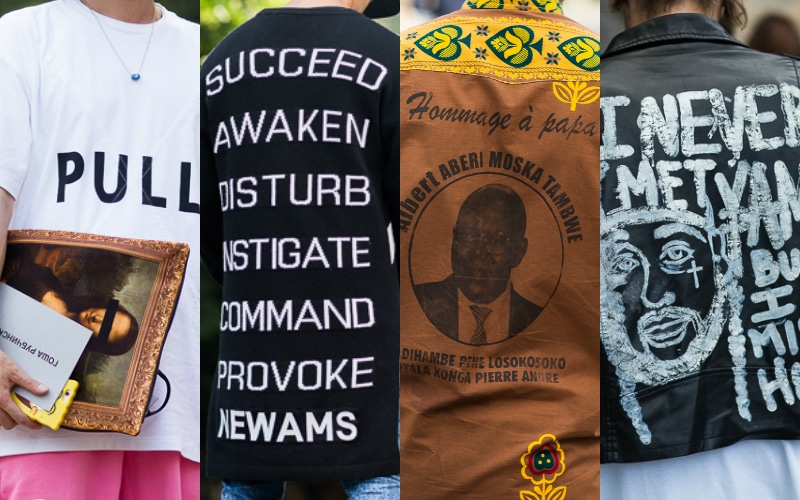 TOP PICKS
10. Neon
Fluorescent and candescent accessories and vests were the choices for Pitti's street muses. Highlighter yellow and glowing orange were the neon tones most favoured, yet we saw a total technicolour saturation with the return to bolder, brighter colours. Adapt this trend for your casual looks with novel neon touches, like watches, sunnies and scarves. For more earnest occasions, opt for subtle hints of neon in ties, pocket squares and socks, but don't go overboard.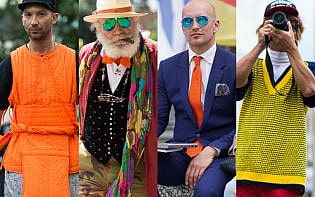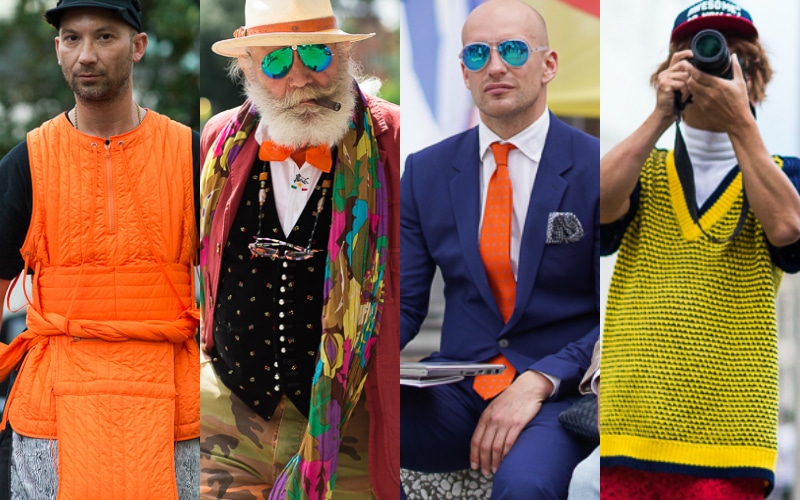 TOP PICKS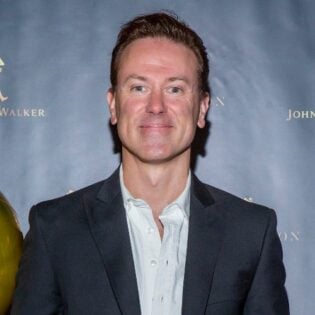 Roger Grinstead is a senior apparel designer for X2U with over 25 years of expertise in the fashion industry. He has expertise in menswear and womenswear trends and product development. When Roger is not designing the latest fashion garments, he enjoys writing about men's fashion, hairstyles, and grooming.
SUBSCRIBE TO OUR NEWSLETTER
Subscribe to our mailing list and get interesting stuff and updates to your email inbox.