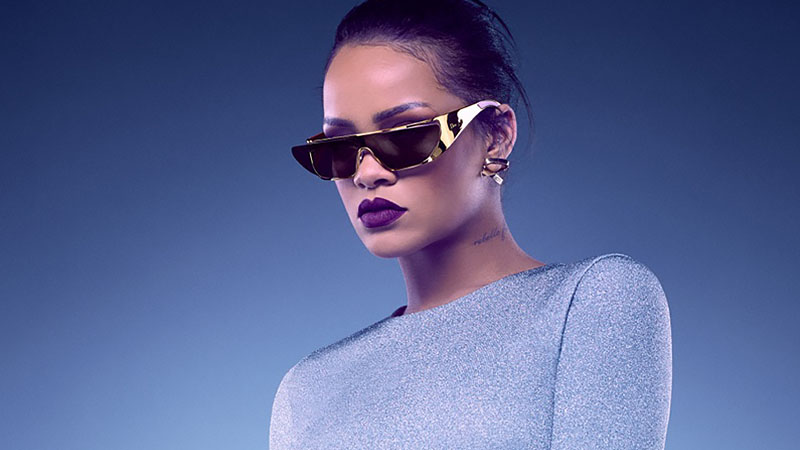 From H&M's new collaboration with Kenzo to Dior's new eyewear range with Rihanna, these are the top international fashion news stories of the week.
H&M to Collaborate with Kenzo on New Collection
H&M is renowned for its sell-out collaborations, has announced that it will now be partnering with Kenzo on a new collection. The Swedish retailer will be working with Kenzo creative directors Carol Lim and Humberto Leon on its 2016 designer collaboration, which is set to launch globally on November 3.
The collaboration, which is described as full of "creativity, fun and love of fashion" by H&M's creative advisor Ann-Sofie Johansson, will feature menswear, womenswear and accessories.
The partnership follows in the footsteps of other successful designer capsule collections for the retail giant, such as Balmain, Karl Lagerfeld, Isabel Marant and Alexander Wang.
Rihanna Teams up with Dior for Eyewear Range
Singer and all-around superstar, Rihanna, has further entrenched herself in the world of fashion this week with the announcement that she is teaming up with Dior. Rihanna, who is already a brand ambassador for the French luxury label, has now turned her hand to designing, collaborating with Dior on a range of eyewear.
The line of sunglasses, which is simply titled "Rihanna", is set to be released in June. Inspired by fictional Star Trek character, Geordi La Forge, the style is distinctly futuristic and features reflective lenses. Available in silver, pink, blue, green, red, and a pricey 24-karat gold-plated version, the glasses will be sold exclusively through Dior stores.
The eyewear range isn't Rihanna's first foray into design. The pop star has also previously collaborated with luxury shoe label, Manolo Blahnik, and creates a range for Puma titled Fenty.
Jonathan Akeroyd Appointed CEO of Versace
Jonathan Akeroyd, the former chief executive officer of Alexander McQueen, has been named CEO of Gianni Versace S.p.A. Until earlier this month, Akeroyd had spent 12 years at McQueen. He succeeds Gian Giacomo Ferraris in the role at Versace, who had held the position since 2009.
"Jonathan brings a proven track record in building global brands, steering growth and driving strategic development. Jonathan Akeroyd's industry expertise and vision will be key to advancing the next phase of Versace's development," said Donatella Versace, vice president and artistic director of Versace.
Although Akeroyd's appointment is said to be effective immediately, sources say that he will begin in the role early- to mid-June.
Gisele Bündchen Participates in United Nations Wild for Life Campaign
Gisele Bündchen has lent her support to the United Nations by taking part in its Wild for Life campaign. The supermodel took to social media earlier this week to promote the cause which aims to fight the extinction of endangered species by ending the criminal trade of poaching.
"Recently, I was made aware of the numerous challenges facing so many of our most beloved species because of the illegal trade in wildlife," Gisele wrote in a blog for the Huffington Post. "This shameful trade is pushing species to the edge of extinction."
In support of the campaign, Gisele has released an image on Instagram of herself blended with a sea turtle, which is explained in the caption to be her kindred species.
London's Top Modelling Agencies Accused of Price Fixing
London's top modelling agencies have been accused of price fixing and collusion by the UK's Competition and Markets Authority (CMA). Storm Model Management, Models 1, Premier Model Management, Viva and FM Models, have all been accused of working together to demand higher fees from retailers and other brands
"The CMA alleges that these five model agencies sought to achieve higher prices in negotiations with their customers by colluding instead of competing," said Stephen Blake, the authority's senior director of cartels and criminal groups.
As London's top modelling agencies, the group collectively represents high-end models such as Jourdan Dunn, Behati Prinsloo, Cindy Crawford, Dree Hemingway, Alessandra Ambrosio and Doutzen Kroes.
Puma Opens "Forever Faster" Flagship Store in Melbourne City
Puma has opened a new "Forever Faster" flagship store in the heart of Melbourne city. The opening was kicked off with a special launch event on Thursday night that saw Melbourne's premiere sports, media and fashion personalities rub shoulders.
Puma Oceania General Manager Paul Gautier was joined on the evening by Australian Football League members Scott Pendlebury, Brent Macaffer, Sam Mitchell, Sam Lloyd, Brandon Ellis, Neville Jetta, Jack Newnes and Jack Steven. Also in attendance was TV personalities Lawson Reeves, Tahan Lew and Felix Mallard, author Sarah Todd, Paralympic swimmer Sam Branham and TheTrendSpotter's own Colin and Dasha Gold.
Located in Melbourne Central Shopping Centre, the new store played host for the night with DJs setting an upbeat vibe and canapes circulating. Guests were treated to a preview of the new season Performance and Sportstyle collections while being entertained by creative live installations.
SUBSCRIBE TO OUR NEWSLETTER
Subscribe to our mailing list and get interesting stuff and updates to your email inbox.