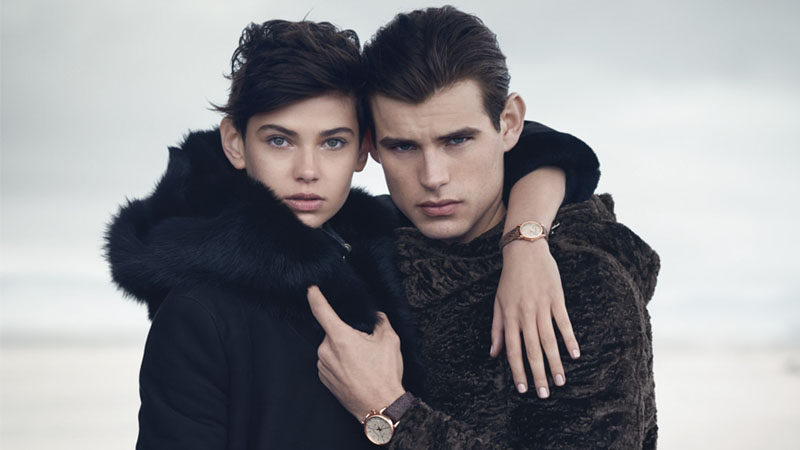 From Armani's pledge to go fur free to Brioni's new creative director, these are the top international fashion news stories of the week.
Armani Pledges to Go Fur Free
Armani has made headlines this week with the announcement of its new pledge to go fur free. The news is a victory for all animal rights activists and was first announced by the Humane Society. Giorgio Armani then confirmed the story in a statement, saying that the Armani Group, which includes Armani Privé, Giorgio Armani and Emporio Armani, will cease using animal fur in its collections.
"I am pleased to announce that the Armani Group has made a firm commitment to abolish the use of animal fur in its collections," said the designer. "Pursuing the positive process undertaken long ago, my company is now taking a major step ahead, reflecting our attention to the critical issues of protecting and caring for the environment and animals."
Last year, Hugo Boss made the same move to go fur free. And as faux fur is now more accepted by consumers and the fashion industry as a valid alternative, it seems likely that this trend of luxury brands opting to cease the use of fur will continue.
Justin O'Shea Appointed Brioni's New Creative Director
Former buyer and street style star, Justin O'Shea, has been announced as the new creative director of Brioni. His new role for the Kering-owned, Italian menswear house kicks off on April 1. O'Shea fills the gap left by former creative director, Brendan Mullane, in February.
Most surprising of this new appointment is O'Shea's lack of design experience. Although he has worked on the business side of fashion and has a penchant for styling, O'Shea has no official training as a designer. He does however, have experience as a buyer and is the former fashion director of e-commerce site MyTheresa.
"An unconventional profile for such a position, Justin brings a holistic approach and strong understanding of business," said Grita Loebsack, Kering's CEO of luxury couture and leather goods emerging brands. "I believe his vision will accurately translate into this role and add a distinctive signature to the House."
Behati Prinsloo x Juicy Couture Collection is Almost Here
Victoria's Secret model, Behati Prinsloo has turned her hand to design for Juicy Couture. Available on April 15, the collection will combine Prinsloo's laid-back, rock-inspired style with the classic Juicy Couture aesthetic. First looks at the collection have revealed graphic t-shirts, bomber jackets, Bermuda shorts and, most exciting, a reinvention of the iconic velour tracksuit
"Juicy Couture is so iconic so I wanted to bring a little bit of something different to the brand while still remaining true to who they are," said Prinsloo in an interview. "This collection is really for any active girl who wants to throw on an outfit that's comfy yet cute."
It seems to all be happening for Prinsloo at the moment as the news that she is pregnant with her first child also emerged recently.
Salvatore Ferragamo Creative Director Exits the Brand
Another week and yet another departure of a creative director from a luxury brand. This week, Salvatore Ferragamo's creative director has exited the brand. Massimiliano Giornetti has left Ferragamo after five years at the helm and 16 years with the company. The Italian fashion house announced designer's departure this week.
Giornetti started his career at Ferragamo in 2000 with the men's apparel design team. He was then handed the role of creative director in 2011 and begun overseeing both men's and women's collections. There is no word yet on what Giornetti's future plans may be.
Rent the Runway Offers New Unlimited Service
Rent the Runway has expanded its offerings to include a new Unlimited service which may challenge the concept of fast fashion. Founder, Jennifer Hyman, who champions access over ownership, says that thanks to Unlimited you'll now be able to have your own "closet in the cloud".
The new Unlimited program will allow subscribers to access Rent the Runway's entire inventory for a monthly fee of U.S. $139. Subscribers will be allowed to possess any three items at any time during their membership and keep them for as long as they like. The items will only need to be returned when users want to switch them out for new pieces or when their membership runs out. This means that you'll be able to wear the latest trends of the season without the need to purchase them or dispose of them when the season is over.
Rent the Runway began by only offering accessories but has since branched in to new apparel categories as the business has grown. The business now plans to update its inventory once a week to offer constant new choices to customers.
SUBSCRIBE TO OUR NEWSLETTER
Subscribe to our mailing list and get interesting stuff and updates to your email inbox.