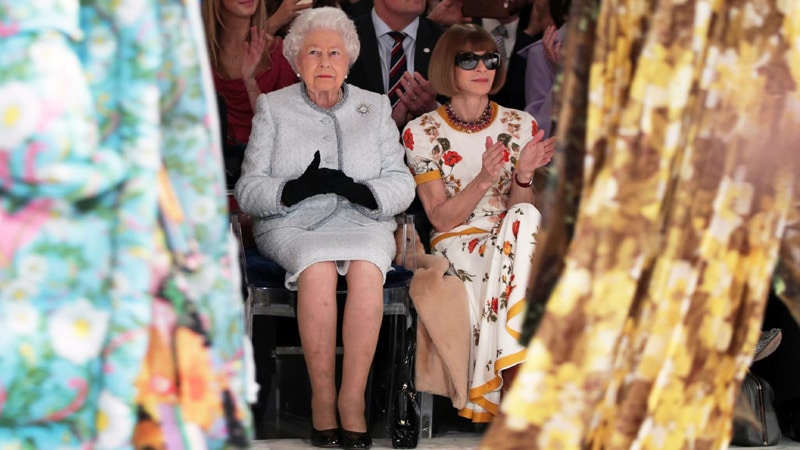 This week in fashion, The Queen sat front row at fashion week, Anna Dello Russo put her most famous outfits up for auction, and Gucci showed their support for gun control. Find these stories and more as we reveal this week's top international fashion news.
Gucci Donates $500,000 USD to the Gun Control 'March for Our Lives'
This week, Gucci's Fall/Winter 2018 runway show captivated the globe, as models marched the runway in knitted balaclavas, swathes of crystals and decadent embroidered pieces. Under the bright, clinical lights of the operating theatre catwalk, figures with lifelike eyes on their hands emerged carrying baby dragons and, in some cases, recreations of their own severed heads. This show, however, is not the only reason Gucci has captured international attention this week. In the wake of the tragic Marjory Stoneman Douglas High School massacre, Gucci has stepped up to take a stand against gun violence. The luxury fashion house is donating $500,000 (USD) to an upcoming gun-control march. Organised by survivors of the massacre and named, 'March for Our Lives', the protest will take place on March 24, with over half a million people currently expected to take part.
Speaking on the decision, Gucci's Creative Director, Alessandro Michele, commented that "I am truly moved by the courage of these students. My love is with them and it will be with them on March 24. I am standing with the March for Our Lives and the strong young women and men across the United States who are fighting for their generation and those to come.
This is not the first time Gucci has publically declared and demonstrated their support for social change. Most recently, their Pre-Fall advertising campaign drew upon images from the 1960's of student marches, rebellions and riots. In terms of activism, Gucci is a consistent advocate for change. Alongside consistent donations to UNICEF since 2005, Gucci co-founded the Chime for Change initiative, to promote gender equality and help the lives of struggling women and girls across the world. Additionally, last year, the brand made the public pledge to go fur-free in 2018. With this latest donation and show of support, Gucci continues to show why its impeccable clothing designs are not the only reason to love this timeless brand.
Anna Dello Russo Auctions Her Outfits for Charity
When it comes to street style, the name Anna Dello Russo immediately springs to the forefront of one's mind. And for those who don't know the name, you will know her outfits. Following an impressive 18 years working as Vogue Italia's Fashion Editor, Anna then spent 6 years as L'Uomo Vogue's Editor. Today, she reigns as Vogue Japan's Editor at Large and Creative Consultant. Despite being responsible for some of the Vogue empire's most famous editorials, it is on the streets that Anna Dello Russo truly unleashes her creativity. From Gucci to Balenciaga, Prada to Louis Vuitton, her closet of original, quirky and one-off designer pieces is extensive. Now, following a recent announcement by the fashion mogul, you too may own these items.
This weekend, Anna is holding an exclusive, fashion auction at a decadent Italian palazzo. The items on offer encompass 30 of her most memorable, treasured outfits. In a show of charity, all of the proceeds are being donated to the Swarovski Foundation Scholarship program, which seeks to aid design schools in supporting emerging talent. If, however, you are unable to score a seat at this invite-only event, don't worry. On Sunday 25th February, Net A Porter is selling an additional 150 pieces of clothing and accessories from Anna's private collection. Bringing fashion to the masses, prices will range from £15 to £700. With items bearing the luxury labels of Gucci, Balenciaga, Celine, Alaïa and more, shoppers will need to be quick to score at this sale.
Access to the auction may be found on Net-A-Porter's Instagram stories, so avid shoppers will need to keep their phones close. In case you weren't already sold, this deal is made even sweeter by the fact that these high fashion proceeds will be injected directly back into the fashion world. 100% of the proceeds raised from the Net-A-Porter auction will be donated to the British Fashion Council.
Model, Arizona Muse, Announces Plans to Launch Sustainable Fashion Line
In 2018, it appears that green is the new black. As technology rapidly moves forward, the fashion world seeks new ways to make clothing more sustainable and eco-friendly. As a result, more and more people are joining the fight to save Mother Nature. Now, the most recent famous face to promote green fashion is the model, Arizona Muse. This week, the stunning American announced plans to launch her own clothing brand in April. Focusing on sustainability, the brand will consequently see Arizona team up with friend and designer, Georgie Macintyre. The pair plan to design a range of beautiful, new party dresses made entirely from sustainable materials.
This is not the first time that Arizona has tried her hand in the world of design. Recently, she designed two jackets and coatdresses for the chic label Blazé Milano. Naturally, these items were all created from sustainable fabrics and processes.
In case this wasn't enough to earn Arizona her eco-warrior title, she also works closely with 'The Sustainable Angle'. Based in London, this organisation sources sustainable fabric from across the world to educate designers. Promoting their cause, the organisation recently displayed a collection at London Fashion Week. To prove that green fashion can still be luxurious, the garments were each created by a well-known designer. These included Temperley London, Edeline Lee and Roland Mouret, among others. With Arizona's material sourcing guidance, each designer presented one sustainable piece for the collection. After seeing the incredible pieces Arizona's expertise has already helped create, we can't wait for her new collection to launch.
The Queen Makes a Surprise Appearance at London Fashion Week
Throughout history, there have been a few, special figures who have earned the title of fashion royalty. Anna Wintour, with her trademark bob and dark shades, is one of those people. Designers such as Karl Lagerfeld, Coco Chanel and Alexander McQueen undeniably also make their way onto this list. However, when it comes to London Fashion Week, there is only one true royal: Her Majesty, The Queen. This week, Queen Elizabeth II surprised showgoers at the Richard Quinn fashion show with an unexpected appearance. Taking her place, naturally, in the front row, Elizabeth sat beside Vogue's own unofficial monarch, Anna Wintour, and the British Fashion Council's Chief Executive Officer, Caroline Rush.
Dressed in an icy blue tweed dress and coat, embellished with glittering Swarovski crystals, Her Majesty's appearance at the show was not merely for pleasure. Despite laughing with Wintour whilst gushing at Richard Quinn's catwalk show, the Queen had a special purpose for her visit. As the show finished, the 91-year-old monarch took to the runway to present the inaugural 'Queen Elizabeth II Award for British Design'. Commanding the stage, she announced, "It's a great pleasure to be here in London Fashion Week today. From the tweed of the Hebrides to Nottingham lace and, of course, Carnaby Street, our fashion industry has been renowned for outstanding craftsmanship for many years and continues to produce world-class textiles and cutting-edge practical designs. As a tribute to the industry and all those who have contributed to British fashion, I would like to present this award for new young talent."
As the first of its kind, this award shall, moving forwards, be bestowed annually to an emerging British fashion designer. The key criteria involve original talent and innovation, as well as dedication to the community and to sustainability. The first recipient, Richard Quinn, was selected on account of his innovative prints, and the creation of a print studio that is accessible to students and his peers.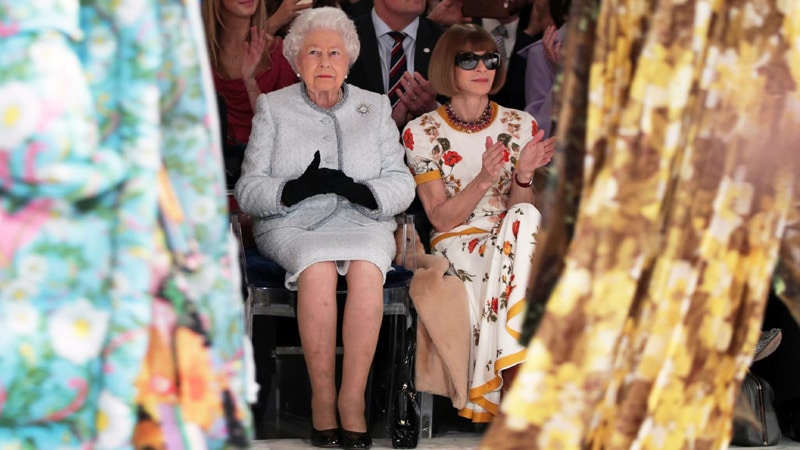 Louis Vuitton Unveils Time Capsule Exhibition in Melbourne
For over 150 years, Louis Vuitton has transported people across the world with the stories it weaves and moments it inspires. From the creation of the original, must-have travel trunk in 1858, to the fashion-forward collections and collaborations of today, the brand exists in a constant state of reinvention. Now, as a result, a new exhibition has landed in Melbourne, which explores the evolution of this historic fashion house.
From the 24th February to the 21st March, Melbourne's 'Fashion Capital' Chadstone will host the Louis Vuitton 'Time Capsule' Exhibition. The exhibit showcases some of the most important pieces and rarest documents from LV's archives. Demonstrating the brand's timeless elegance and craftsmanship, it seamlessly brings together the emblems of the past with the innovation of the future. To achieve this, the exhibit separates into six, distinct sectors. These spaces include a fascinating 'Artisan's Room', where guests can experience the house's craftsmen at work.
Located at Chadstone Shopping Centre on the Ground Floor, Louis Vuitton's 'Time Capsule' is free to the public. Opening hours include 9:00 am – 5:30 pm from Monday to Wednesday and 9:00 am – 9:00 pm from Thursday to Saturday. The exhibit is also open on Sunday from 10:00 am to 7:00 pm.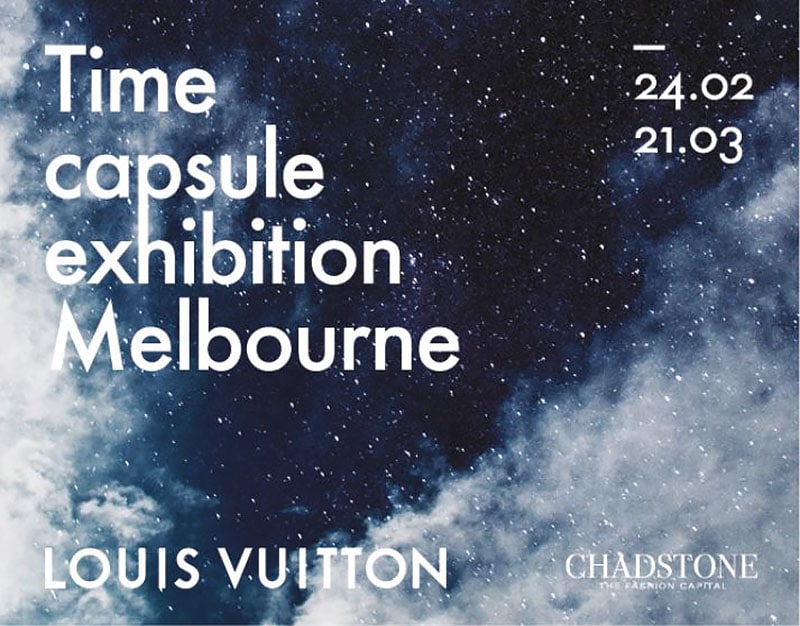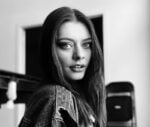 Alexandra Feiam is an experienced fashion writer who holds a degree in journalism. She has an impressive portfolio and expertise working as the Editor at Power Retail and Commercial Content Editor at Newscorp. Ally has been writing for The TrendSpotter since 2018, and her work has been featured in notable publications such as The Herald Sun, Arirang TV South Korea, Kidspot, The House of Wellness, and The Daily Telegraph.
SUBSCRIBE TO OUR NEWSLETTER
Subscribe to our mailing list and get interesting stuff and updates to your email inbox.