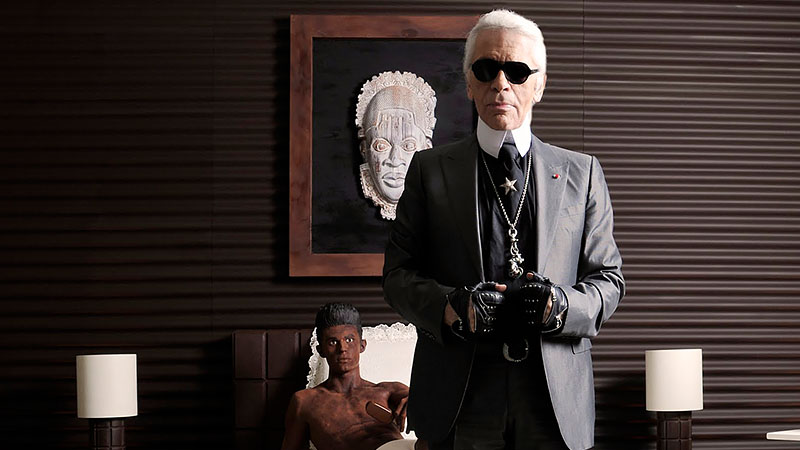 From Karl Lagerfeld's new range of hotels, restaurants and clubs to H&M's spectacular Kenzo collaboration launch, these are the top international fashion stories of the week.
Karl Lagerfeld is Expanding into Hospitality
Not content with just conquering the fashion industry, Karl Lagerfeld now has his sights set on the world of hospitality. Lagerfeld, who helms luxury labels, Chanel and Fendi, as well as his namesake brand, has partnered with Brandmark Collective BV for the venture. The longtime deal will see Lagerfeld join forces with the Amsterdam-based licensing platform to create Karl Lagerfeld Hospitality. Included under this banner is a planned range of hotels, residential properties, restaurants and private clubs, all featuring the designer's signature luxury aesthetic.
"Expanding our brand into the hospitality sector reflects our greater vision to broaden Karl Lagerfeld's comprehensive lifestyle experience," said Pier Paolo Righi, president and CEO of the Karl Lagerfeld brand.
Although the move is a significant step for Lagerfeld, it isn't his first one in the hospitality industry. As well as turning his hand toward hotel interior design from time to time, the 83-year-old also has his own 270-room hotel in Macau, China, set to open next year.
American Crime Story Season 3 to be Based on Gianni Versace's Murder
Following the massive success of American Crime Story's first season, The People v. O.J. Simpson, the series has been renewed for two more. While the show's second season will focus on the aftermath of Hurricane Katrina, the third will tell the story of the murder of legendary, Italian fashion designer, Gianni Versace.
Reportedly based on the book Vulgar Favors: Andrew Cunanan, Gianni Versace and the Largest Failed Manhunt in the US History, by Maureen Orth, the show will tell the story of Versace's murder at the hands of Andrew Cunanan. The fifth victim in Cunanan's spree, Versace was shot dead in 1997. An eight-day manhunt for Cunanan followed the designer's death, which ended with the killer committing suicided.
While it was reported earlier this year that Antonio Banderas is set to play Gianni Versace in an upcoming film, it is still unknown who will play the designer in this small screen story about his death. It is rumoured, though, that an A-list star is set to play the role of Donatella Versace, Gianni's sister who now helms the Versace brand.
H&M and Kenzo Throw Spectacular Fashion Show to Launch Collaboration
To celebrate the launch of their new collaboration, H&M and Kenzo hosted a spectacular fashion show this week. Filled with singing, dancing and plenty of energy, the show, which fashion legend, Jean-Paul Goude directed, wasn't your typical catwalk display. Taking place at Pier 36 in New York, the Kenzo x H&M launch brought together dancers, beatboxers, whistlers, musicians, and even rapper, Ice Cube, to celebrate the vibrant and playful collection.
"Tonight was a celebration of everything we love about Kenzo x H&M – it was a fun, vibrant and unexpected celebratory mix of different worlds coming together. It was a show we will never forget," said Carol Lim and Humberto Leon, Kenzo creative directors.
The collection will be available for purchase on November 3 at over 250 H&M stores worldwide.
Victoria Beckham to Create a Collaboration with Target
Victoria Beckham has announced that she will be the next designer to collaborate with US retailer, Target. The British designer will create a limited edition range for Target that will be release in April next year.
The range will encompass over 200 pieces of clothing and accessories for women, girls, toddlers and babies, making this Beckham's first foray into childrenswear. As for what the collection will look like, according to the designer, it's inspired by her Victoria, Victoria Beckham line.
"The timing just felt right," said Beckham, who has made no secret of her desire to create a collection that's more affordable to the average woman. With price points ranging from US$6 to $70, this highly anticipated collaboration looks set to be just that.
Banana Republic to Shutter All UK Stores
Following more than a year of disappointing sales, Banana Republic has confirmed that it'll close all eight of its UK based stores. According to a spokesperson for the brand, the majority of stores will shut by the end of the 2016 fiscal year. By pulling out of the area, the retailer moves to concentrate its efforts on markets most favourable to the brand's growth.
The decision forms part of a larger, long-term strategy by Banana Republic's parent company, Gap Inc, to improve overall performance. In addition to closing its UK locations, the retailer will also convert a number of its full-line New York stores into outlets.
Despite no longer being able to attend a bricks and mortar store, British customers will continue to be able to shop online in the region.
Michelle Obama Dazzles in Versace at Final State Dinner
Michelle and Barack Obama are determined to go out in style as they come to the end of their time in the White House. While hosting their final state dinner this week, Michele dazzled in a gorgeous, custom-made, rose gold, Atelier Versace gown.
"I am humbled and honoured to have the opportunity to dress the First Lady of the United States Michelle Obama," said Donatella Versace in a statement. "Thank you, Michelle, for all of the things you have done for America and for the rest of the world, for the women in the United States and the rest of the world."
The Italian dress was a fitting choice for the occasion, which honoured the Italian Prime Minister, Matteo Renzi, and his wife, Agnese Landini.
Cara Delevingne is About to Have Her Own Documentary
Model, actress and all-around superstar, Cara Delevingne is the subject of a new documentary to be released in coming months. The documentary will tell the story of Delevingne's quick rise to the top of the modelling world and subsequent transition into acting. Called, The Cara Project, the documentary has been acquired by Revolver Entertainment and is planned to be released on DVD and sold to broadcasters.
As well as modelling for top fashion brands, such as Chanel and Burberry, Delevingne has also starred in several films including Paper Towns and Suicide Squad.
SUBSCRIBE TO OUR NEWSLETTER
Subscribe to our mailing list and get interesting stuff and updates to your email inbox.