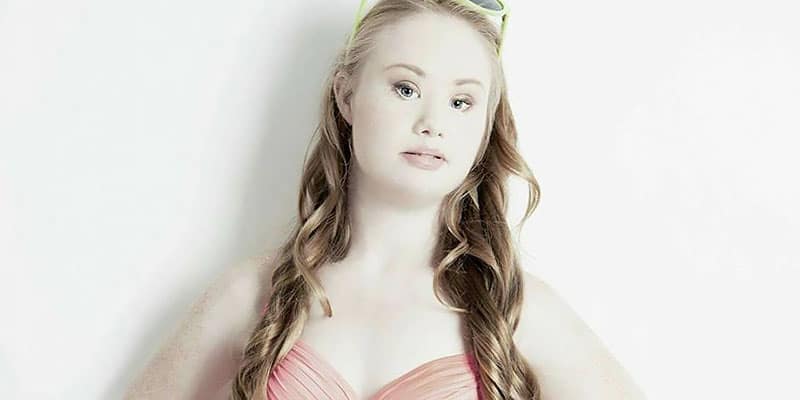 Below are the five fashion news stories and industry updates of the week that you won't want to miss.
Madeline Stuart is Changing the Face of Fashion
Earlier this week it was announced that Australian model Madeline Stuart would make history as the first Down syndrome model to walk the runways of New York Fashion Week.
Stuart will be strutting her stuff on the catwalk for FTL Moda in association with the Christopher Reeve Foundation, and she took to Instagram to inform her 71, 000 fans of the very exciting news.
The reaction to Madison's news has been overwhelmingly positive, with comments on the post including "Walk out there and show them, show them all that you are amazing, even though basically everyone knows it. Just be your natural, beautiful self".
Kylie Jenner Has a New Venture Up Her Sleeve
Kylie Jenner may be launching her very own lipstick line, and she hinted to this on one of her latest pictures. "Brown lips #KylieLipKit stay tuned," she captioned the shot. This move would make sense of Jenner since she's already notorious for her plump lips.
Lauren Conrad Will Debut Her New Fashion Line at NYFW
Lauren Conrad has long been praised for her incredible personal style, so the latest announcement that she will be teaming up with Kohl for her new line, LC Lauren Conrad Runway, has a lot of fans excited.
In a recent statement Conrad said "Designing and seeing this capsule collection come to life has been an incredible experience. The aesthetic follows the easy, whimsical style of my Kohl's brand, but we've elevated this collection through amazing fabrications, vintage-inspired pieces, and intricate detailing."
The collection, inspired by the "mystery and enchantment of the forest," ranges from $12 to $200. You can view a lifestream of the fashion show on Sept. 9 at 7 p.m. ET and shop the pieces immediately after on LCRunway.com and Kohls.com (or in stores through December).
Hervé Léger Exec Makes Offensive Comments About Who Should Not be Wearing Their Clothing
Hervé Léger's U.K. managing director Patrick Couderc made some highly offensive statements earlier this week, which swiftly led to him losing his job.
During an interview Patrick said "voluptuous women and those with very prominent hips and a very flat chest should not be wearing the brand's iconic bandage dress. If you're a committed lesbian and you are wearing trousers all your life, you won't want to buy a Leger dress. Lesbians would want to be rather butch and leisurely."
Let's all agree that women everywhere are pleased that he will no longer be an exec at the company.
Yep!#Bandagedress 's fit for the designer like you who has a small chest with narrow-minded on your heart. #Tryit!!http://t.co/qfRB6VbxZg

— Bee Keeratiya (@bkeera_th) August 17, 2015
One Website Has Been Removed Off the Internet for Fat-Shaming
Social media accounts of Project Harpoon were removed off the internet – and thank goodness because they are definitely not in line with Facebook's anti-bullying policy. The website has been accused of fat-shaming women, as it took pictures of people, including plus size model Tess Holliday, Melissa McCarthy, Rebel Wilson and Ashley Graham, and Photoshopped their bodies to make them dramatically smaller.
"It's abominable that this [Facebook page] is using my image without permission to promote themselves," Holliday told E! News. "This kind of hit piece is exactly why I started #effyourbeautystandards. I am asking my followers to boycott this [page] and any others like it. Loving yourself is the most powerful message we all need to stand behind."
SUBSCRIBE TO OUR NEWSLETTER
Subscribe to our mailing list and get interesting stuff and updates to your email inbox.