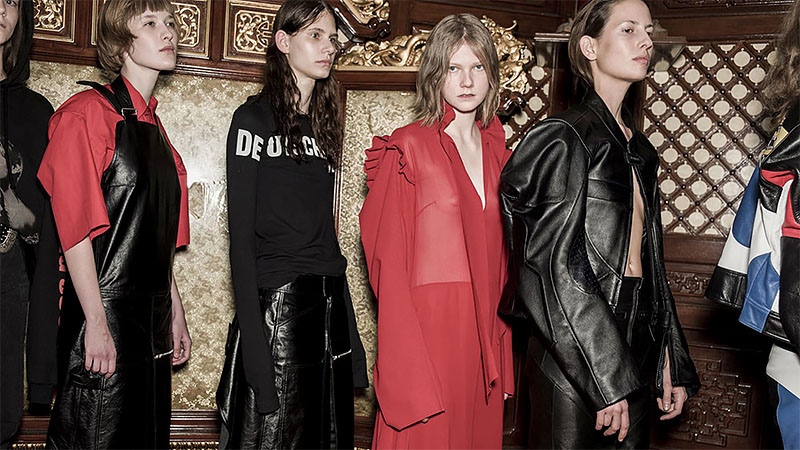 From Jonathan Saunders' new role at DVF to the inclusion of Vetements in Paris Couture Week, these are the top international fashion news stories of the week.
Diane von Furstenberg Appoints Designer Jonathan Saunders as Chief Creative Officer
Diane von Furstenberg has announced Jonathan Saunders as its first-ever chief creative officer. The Scottish designer will begin the role immediately and will be responsible for the creative direction of the brand.
"Jonathan's extraordinary passion for colours and prints, his effortless designs, and his desire to make women feel beautiful, make him the perfect creative force to lead DVF into the future," said von Furstenberg. "I could not have found a cooler, more intelligent designer and I cannot wait to watch him shine as our chief creative officer."
The appointment also takes Saunders out of the running for Dior creative director, a position that many speculated he was vying for after suddenly announcing in December that he was closing his eponymous womenswear label.
Vetements to Show During Paris Couture Week
Cult brand Vetements has been invited to show as a guest at Paris Haute Couture Week. The prestigious event kicks off on July 3 and will see leading fashion houses, such as Chanel and Dior, present their most expensive collections.
While Vetements, along with several other brands have been selected to show as guests during the week, only a select few labels make the official calendar each season. For their designs to be considered haute couture, fashion houses must be approved by the Chambre Syndicale de la Haute Couture on several requirements, including the ownership of an atelier in Paris and the construction of all garments by hand.
Including Vetements, which is known for its anti-fashion hoodies and denim, in couture week is a decision which will no doubt polarise the industry.
Beyoncé's Ivy Park Comes under Fire for Sweatshop Allegations
Beyoncé's activewear line, Ivy Park, has come under fire this week for sweatshop allegations. First reported by the British tabloid, The Sun, Ivy Park has been accused of employing a factory which uses sweatshop-like conditions to produce the label's range.
The workshop in question has been named by The Sun as an MAS Holdings facility located in Sri Lanka. Unconfirmed accusations claim that workers of the manufacturer are paid below a living wage with some working almost 10 hour days with 30-minute lunch breaks.
Ivy Park has been quick to deny claims, citing a "rigorous ethical trading program" and regular "factory inspections and audits" in its rebuttal.
Victoria's Secret Drops Swim, Shoes, Accessories and Apparel
After weeks of rumours, Victoria's Secret has confirmed the shuttering of its swimwear line along with its shoes, accessory and apparel ranges. The lingerie giant reportedly plans to push remaining stock before removing the categories from both in-store and online.
The move comes as part of the business's long-term strategy to save money, restructure its offerings, and synergise its in-store and digital ranges. Under the restructure, the remaining product categories of lingerie and beauty, along with the brand's Pink range, will each become distinct businesses with their own leadership.
The company has also planned to cut back on promotional spending, starting by significantly decreasing the circulation of its famous catalogues.
Ebay and Myer launch Virtual Reality Department Store
Australian retail giant, Myer, has joined forces with eBay to launch a new virtual reality department store. By using a virtual reality (VR) headset, smartphone and app, users can view and purchase items simply by sight.
The innovative shopping method works by allowing customers to choose between departments or categories of interest before building a custom store of 3D products. To then pick a product to view, users need only rest their gaze on the item. Once ready to purchase, shoppers stare at the "Add to Basket" icon. They will then be redirected to the eBay app to complete the checkout process.
"Our customers can now immerse themselves in the experience of shopping inside a Myer store from wherever they may be, with the product information updated in real time to ensure everyone can keep up with the latest offers from Myer,"  said Myer CEO Richard Umbers.
SUBSCRIBE TO OUR NEWSLETTER
Subscribe to our mailing list and get interesting stuff and updates to your email inbox.