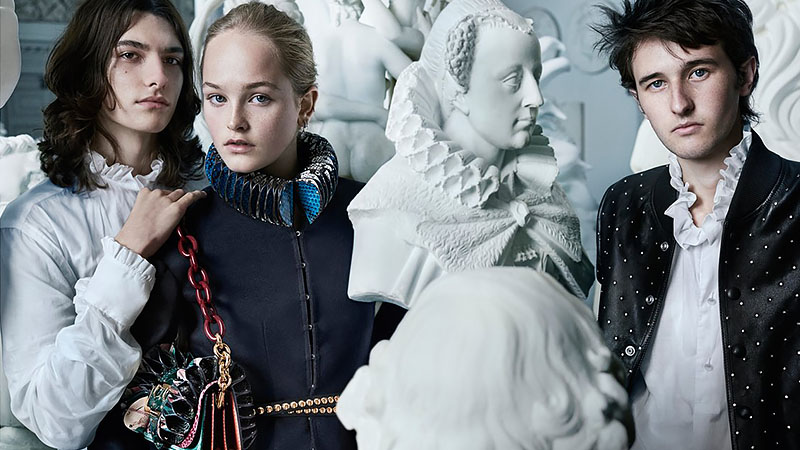 From Kanye's pop-up stores to Alexander Wang's counterfeiting case, these are the top international fashion stories of the week.
Kanye West Opens Pablo Pop-Up Shops Worldwide
Kanye West fans have found themselves cueing up around the world this week after the rapper/designer launched 21 new pop-up stores. The stores, which are only open for this weekend from August 19-21, are selling limited "The Life of Pablo" merchandise to promote Kanye's most recent album of the same name.
The new stores follow on from the major success of Kanye's original "Pablo" pop-up earlier this year in New York, which has since travelled to Los Angeles and Paris. The locations for this weekend's shops will once again include New York City and Los Angeles. Other U.S. locations include Philadelphia, Boston, Atlanta, Miami, Chicago, Dallas, Houston, Detroit, Portland, Las Vegas and San Francisco. Outside of the U.S., stores are also operating in Toronto, Singapore, Amsterdam, London, Berlin, Cape Town, Sydney and Melbourne.
The launch of the pop-up stores followed other Kanye fashion news this week. The rapper also revealed that he would debut his Yeezy Season 4 collection in New York on September 7, the first day of New York Fashion Week.
First Look at Tommy Hilfiger x Gigi Hadid Revealed
Gigi Hadid's long-awaited Tommy Hilfiger design collaboration has been revealed with the launch of a lookbook for the range. Naturally featuring Gigi as the model, the lookbook showcases numerous pieces of womenswear and accessories from the capsule collection.
The collection, which is due out in September, features nautical inspirations combined with all-American style. Cosy knits, distressed denim, and a touch of leather are combined with nautical stripes, navy-style design details, and a "GH" anchor logo to create a stylish range. The range will even have its own runway show during New York Fashion Week.
Burberry Previews its First 'See Now, Buy Now' Collection with New Campaign
The first campaign images for Burberry's first ever 'see now, buy now' collection have been revealed. Shot by Mario Testino, the images are the first look at the collection, which will become available for purchase immediately after its September 19 showing at London Fashion Week. (On the traditional schedule, collections are shown months before their campaigns are released and they become available for purchase.)
"This campaign reflects a collection inspired by Virginia Woolf's 'Orlando' and also sets out to honour the many skilled craftspeople who work on Burberry's iconic products," said Christopher Bailey, Burberry's chief creative officer and outgoing CEO.
The presentation of this new "seasonless" collection also marks the first time that Burberry will show its women's and men's lines together.
Alexander Wang Awarded $90 Million in Counterfeit Case
Alexander Wang has successfully sued over 45 defendants, who collectively operate 459 websites, for selling counterfeit Alexander Wang products. Despite being awarded $90 million in damages for the case, the brand is unlikely to see the money due to untraceable domain owners of the sites.
"The court system regularly awards very large amounts for the symbolic significance, as a means of deterring other individuals and parties. In other words, Alexander Wang is unlikely to receive $90 million," said a spokesperson for the label.
The case marks the first instance of counterfeiting that the brand has pursued with such legal action and is hoped to serve as a deterrent for others.
Katy Perry to Launch Footwear Collection with Global Brands Group
The creative industries of fashion and music are once again entwined this week with the news that Katy Perry is launching an eponymous footwear collection. The line will be created as part of an exclusive partnership between the pop star and fashion company, Global Brands Group.
"It's been a creative goal of mine to be a real contributor in the affordable fashion space," said Perry in a statement. "Launching a footwear collection felt like a natural first step for me."
Katy Perry Footwear will include a variety of styles, ranging from sandals and sneakers to stilettos, and will be available for purchase in February.  The range will sell globally through major department stores, speciality stores and e-commerce, and will range in price from $59 to $299.
Lily-Rose Depp Stars in the New Chanel No. 5 Campaign
Lily-Rose Depp is the latest star to be featured in a Chanel campaign. Lily-Rose, who is the 17-year-old daughter of Johnny Depp and Vanessa Paradis, posted the first look at the campaign to her Instagram account this week with the new official hashtag #youknowmeandyoudont. The campaign ad is for Chanel No. 5 L'Eau, the latest addition to the iconic perfume line, and features the model posing with a bottle of the fragrance.
It was originally announced back in May that Lily-Rose would be the face of the new fragrance, but it is only now that the campaign is starting to be revealed. The perfume itself will be available for purchase from September.
SUBSCRIBE TO OUR NEWSLETTER
Subscribe to our mailing list and get interesting stuff and updates to your email inbox.