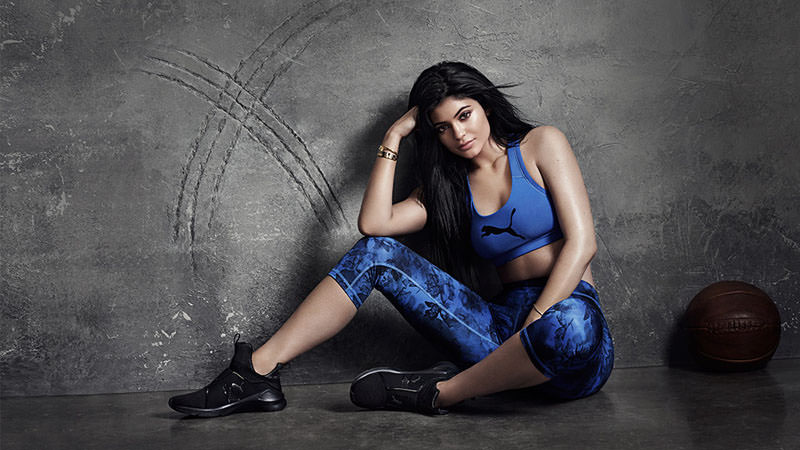 From new plus-sized male models at IMG to the return of a retired one for Chanel, these are the top international fashion news stories of the week.
Cara Comes Out of Modelling Retirement for Chanel
Cara Delevingne has come out of her modelling retirement to star in Chanel's latest eyewear campaign. The Spring/Summer 2016 campaign is the ex-model's first in quite some time after recently admitting that she had decidedly taken a step out of modelling. The budding actress has represented Chanel numerous times, both on the catwalk and in campaigns and is close to creative director Karl Lagerfeld. Evidently no one, not even Cara Delevingne, can say no to Karl.
Looking as comfortable as ever in front of the lens, the campaign features Delevingne looking urban chic in large shades and a cap.
Kylie Jenner x Puma Campaign Unveiled
The first official images from the upcoming Kylie Jenner x Puma collaboration have been released. Released via social media, on Instagram and Twitter, the images feature the 18 year-old celebrity advertising new Puma sneakers.
The Puma Fierce sneaker is described as a "lightweight trainer with zero excuses" and is set to launch on April 1. In the meantime, Jenner's dedicated fans and social media skills will no-doubt help build excitement in the lead up to the release. Although the sneakers are tipped to sell out fast, like Jenner's famous Lip Kits, they may not be as fast to fly off the shelves as brother-in-law, Kanye's Yeezys.
CFDA Fashion Awards Nominees Revealed for 2016
A full list of nominees and honourees has been announced for the upcoming 2016 CFDA Fashion Awards. The annual award ceremony, held by the Council of Fashion Designers of America, will take place on June 6 and see various American designers and brands recognised for their work in the industry.
Those nominated for the coveted Womenswear Designer of the Year award are; Joseph Altuzarra of Altuzarra, Marc Jacobs, Lazaro Hernandez and Jack McCollough of Proenza Schouler, Kate and Laura Mulleavy of Rodarte, and last year's winners, Mary-Kate and Ashley Olsen of The Row. Nominees for Menswear Designer of the Year include Thom Browne, Tim Coppens, Todd Snyder, Dao-Yi Chow and Maxwell Osborne of Public School, and Marcus Wainwright and David Neville of Rag & Bone.
David Bowie and Alessandro Michele will also be honoured at the awards. David Bowie will receive the Tribute Award while the Gucci creative director picks up the International Award.
IMG Launches Plus-Size Men's Division
IMG Models has introduced a new men's plus-size division. At a time when many are pushing for more diversity in the industry, IMG has listened and responded. While racial diversity is slowly increasing and plus-size female models are becoming more and more accepted, IMG are pushing things even further with plus-size male models. The new division was added to the business's portfolio this week and is titled "Brawn", the male answer to "Curvy".
"Brawn has a body positive message. Brawn is physical strength," said Ivan Bart, IMG's president. "In 2016 everybody has some vanity. Everyone wants to wear great clothes and everyone wants to look fashionable. We have to start asking for more options."
In addition to the new division, IMG has also named its first plus-sized male model. Zach Miko is an actor and comedian and has previously modelled for Target. Miko, who is 6 feet, 6 inches with a 40-inch waist, is the first Brawn model for the company and is pleased to be a part of IMG's push for acceptance.
High Performance Meets High Fashion: Nike and Riccardo Tisci Collaboration
A new collaboration has been introduced this week between Nike and Givenchy creative director, Riccardo Tisci. The new collection will mark the second collaboration between Tisci and Nike with the first being extremely popular.
Modelled on some of this year's Summer Olympics athletes, the unveiled collaboration offers men's and women's styles featuring Givenchy-esque prints and colours. Tisci drew on flowers native to three key locations which relate to the collaboration when creating his iconic floral prints for the collection. Flowers from Oregon, Nike's home, Italy, Tisci's home, and Rio de Janeiro, where the Olympics will be held later this year, all appear in the designs. The collaboration whilst being highly fashionable, also utilises Nike's signature high performance technologies to bring together style and function seamlessly.
Speaking of the design process, Tisci said, "It was interesting…a little bit of a difficult process because to make something that is very dynamic, to do sport and to do activity, and make it strongly recognizable — a fashion statement — is not easy. But we achieved something that's amazing."
The collection is due to be released in July.
SUBSCRIBE TO OUR NEWSLETTER
Subscribe to our mailing list and get interesting stuff and updates to your email inbox.