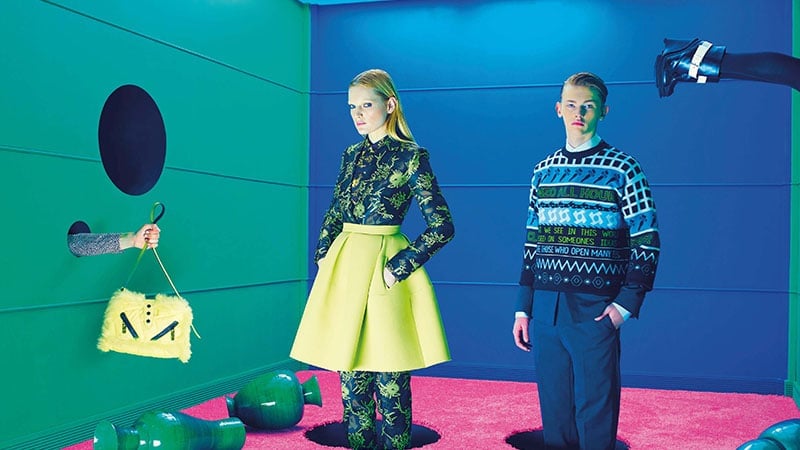 From Selena Gomez's $10 million deal with Coach to Philipp Plein's fight with D&G, these are the top international fashion news stories of the week.
Selena Gomez Signs $10 Million Coach Deal
Selena Gomez has signed a deal with the luxury label, Coach to the reported tune of $10 million. The deal names Gomez as a new face for the brand, meaning that she'll appear in several upcoming campaigns, beginning with the Fall 2017 season. The contract also includes a deal for a collaboration between the singer and the American label. Selena will design a single item together with Coach creative director, Stuart Vevers.
"I am so excited to work with Coach and I love the clothes and accessories designed by Stuart Vevers," said Selena in a statement. "I am especially looking forward to getting to know the Coach team as well as becoming involved in the Foundation's support of Step Up. On top of all that, collaborating on a piece with Stuart for next fall makes this beyond special to me."
The exciting news also comes hot on the heels of another big week for Coach. The brand's 75th-anniversary celebration and runway show took place last week drawing in an impressive A-list crowd.
Kenzo to Show Men's and Women's Collections Together in Paris
Kenzo is the latest brand to take its fashion shows co-ed. The label has announced that it will now show its men's and women's collections together, beginning with the Fall 2017 season. The brand will debut its new format in January, at the end of Paris Fashion Week: Men's.
Moving forward, Kenzo creative directors, Humberto Leon and Carol Lim, have decided to present all main collections during the traditional menswear schedule of January and June. As for what the brand has planned during the usual women's fashion weeks in March and September, it intends to keep its presence noted. The label has announced that it will put on a range of special surprise projects and events under the title Kenzo "Memento".
Kenzo is the latest in a series of brands to merge its men's and women's shows together. Burberry, Bottega Veneta, and Calvin Klein have all recently been linked to the new format.
Bella Hadid is Collaborating with Chrome Hearts
Although Bella Hadid has already had a massive year career-wise, it appears she isn't quite done with 2016 just yet. This week, the model had one more announcement for fans and it was a big one. Bella took to Instagram to reveal a new collaboration between herself and rock-chic label, Chrome Hearts. The collaboration will mark Bella's first time in the designer seat but surely won't be her last.
While Bella's sister Gigi's recent collaboration with Tommy Hilfiger was a tribute to her preppy style, we expect that Bella's team-up with Chrome Hearts will be a much darker and more sultry range to suit the younger sister's style. Although no styles have been officially revealed yet, fans may have already been given a sneak peek. In the same Instagram post where Bella announced her news, she also included a photo of herself wearing a white, Chrome Hearts T-shirt emblazoned with the brand's name and the letter 'B' in a gothic font.
As well as being a good fit for Bella's style, the collaboration is also a personal one. Chrome Hearts was founded by Richard and Laurie Lynn Stark, who are the parents of musician Jesse Jo Stark, one of Bella's best friends.
Philipp Plein Takes on Dolce & Gabbana
Philipp Plein has taken to Instagram to voice his anger toward Dolce & Gabbana. The designer posted a photo to his account this week of a letter from D&G's lawyers accusing him and his team of attempting to steal their employees. The alleged incident surrounds retail staff that Plein apparently tried to lure away from Dolce & Gabbana to work for his company instead.
Plein used his post to hit back at accusations, however, saying that "everybody can choose by themselves who they want to work for" and that if "people are happy at their job they don't think about leaving". He went on in his lengthy caption to also say that he wants to "apologise to absolutely NOBODY".
Dolce & Gabbana is yet to respond to Plein's comments.
Alexander Wang Merges Menswear Collections
Alexander Wang has announced that he will merge his menswear collections. Beginning with the Fall 2017 season, the New York-based designer will consolidate his ready-to-wear and T by Alexander Wang menswear ranges under one label.
The brand's new single menswear line will simply be known as "Alexander Wang" and is designed to accelerate growth. By streamlining the brand Wang aims to better respond to his menswear consumers.
"My goal with men's is really to align the offering with what our customer already recognizes," said Wang about the consolidation. "We've found that men do not perceive a distinction between ready-to-wear and T."
SUBSCRIBE TO OUR NEWSLETTER
Subscribe to our mailing list and get interesting stuff and updates to your email inbox.