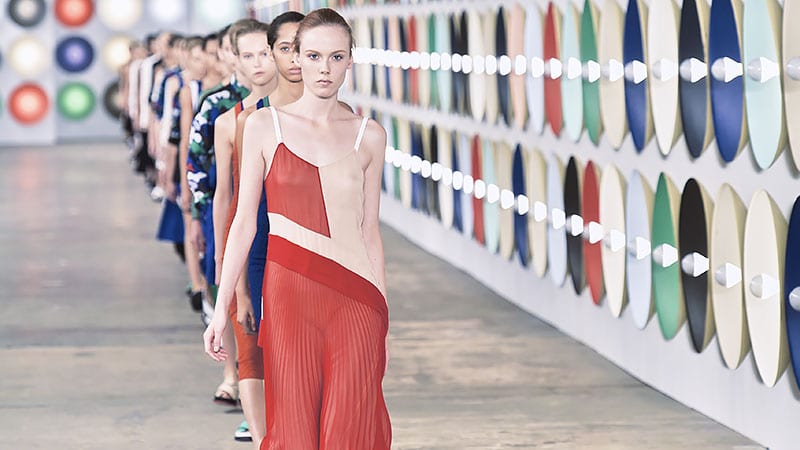 From Hugo Boss embracing virtual reality at New York Fashion Week to J.Crew's "real people" models, these are the top international fashion stories of the week.
Coach 1941 Takes Girl Gangs and Junkyard Cars to the Runway
While New York Fashion Week is over for another season, certain shows are sure to be remembered. One such show that won't be forgotten anytime soon is Coach 1941's Spring 2017 runway. Complete with an epic junkyard car installation in the centre of the runway, the show was a sartorial lesson in grunge and girl gangs. Executive creative director, Stuart Vevers, sent out his most rebellious collection for the show, focusing on gritty pieces with heavy trims. Biker jackets, studs, fringing, unique embroidery and chunky creepers all emerged as key trends for the show, as did T-shirts paying homage to music legend, Elvis Presley.
Hugo Boss Embraces Virtual Reality at NYFW Show
Hugo Boss is the latest brand to embrace technology in a runway setting. Helmed by Jason Wu, the BOSS Womenswear label utilised virtual reality for its recent Spring/Summer 2017 show at New York Fashion Week. With everyone at the show receiving a pair of virtual reality glasses, guests were given access to exclusive show content online. During the show itself, each look was also filmed in 360 degrees. Models passed through the unique filming room moments before entering the runway. (See it for yourself in the video below, using the arrows to look around!) As for the fashion, Jason Wu presented a vibrant collection for BOSS filled with relaxed tailoring, intricately crafted details and unique fabrics.
Lacoste Brings an Endless Summer to Spring 2017
Reflected in both the clothes and the runway design, Lactose brought a theme of "Endless Summer" to its Spring 2017 New York Fashion Week show. Complete with a backdrop of lush greenery, the show, which encompassed both womenswear and menswear, had the air of a tropical vacation. Creative director, Felipe Oliveira Baptista drew inspiration from Villa Malaparte in Capri for the collection. Dreaming of a rooftop tennis match, the designer redefined French chic with relaxed, athletic silhouettes, faded colours and a metropolitan edge.
Chanel Heads to Ritz Paris for Metiers d'Art Show
Chanel's runways are always extravagant events, and that includes the brand's annual Metiers d'Art show. This year, the show, while staying in Paris will head on over to the Ritz hotel for its proceedings.
The luxurious hotel, which reopened in June following a major renovation, has a long history with the French fashion brand. It's founder, Coco Chanel, actually made the hotel her home over 30 years. Today, the suite in which the legendary designer stayed still bears her name. Following its renovation, the hotel also now hosts the world's first-ever Chanel spa.
The Metiers d'Art show will take place on December 6 and, as always, will celebrate the fine craftsmanship of Chanel's atelier and its artisan partners.
Bella Hadid Takes a Tumble at New York Fashion Week
The 19-year-old model, Bella Hadid has taken a tumble at New York Fashion Week. Proving that she's only human and like the rest of us, Bella unfortunately tripped and fell while walking for the Michael Kors Spring/Summer 2017 show. The model/social media star was tackling her giant heels well until the fateful moment when she fell onto her hands and knees right in front of the photographers' pit.
Shaking it off like a professional, Bella got up with a smile and continued walking. She even took to Twitter shortly after the incident to joke about her fall.
"Guys I'm a professional breakdancer now I forgot to tell you," she wrote.
Gwyneth Paltrow's Goop Fashion Label is Now Available to Buy
Gwyneth Paltrow's Goop fashion label is finally available to buy. The blog-turned-lifestyle brand released the first pieces for the newly launched Goop Label this week with Gwyneth playing the role of model.
Each month the brand will release a new capsule range of products. The designs, which are intended to be "elevated basics", will all be made in Italy. Known as the "September Edition", this month's collection features a belted grey jacket with matching trousers, a chambray shirt and white tote bag.
"I wanted to create product that is incredibly high quality and delivered at a great value," said Gwyneth in a statement. "I think there's a huge white space in the market for luxurious ready-to-wear at a direct-to-consumer price."
J.Crew Casts "Real People" as Models for NYFW
At a time when many are calling for more diversity in the fashion world, J.Crew has found itself being praised for casting "real people" as models. The American retail giant staged an informal presentation-style show during this New York Fashion Week for which it swapped traditional models with regular people.
The show's cast included a diverse range of non-models who were aged between 13 and 72. Also varying in skin tone and size (one woman was seven months pregnant), the collection of "real people" achieved a highly praised presentation despite their lack of modelling experience. Made up of J.Crew staffers, friends and family, the group posed in their outfits for over an hour, occasionally breaking ranks to say hello and hug their own family and friends.
SUBSCRIBE TO OUR NEWSLETTER
Subscribe to our mailing list and get interesting stuff and updates to your email inbox.