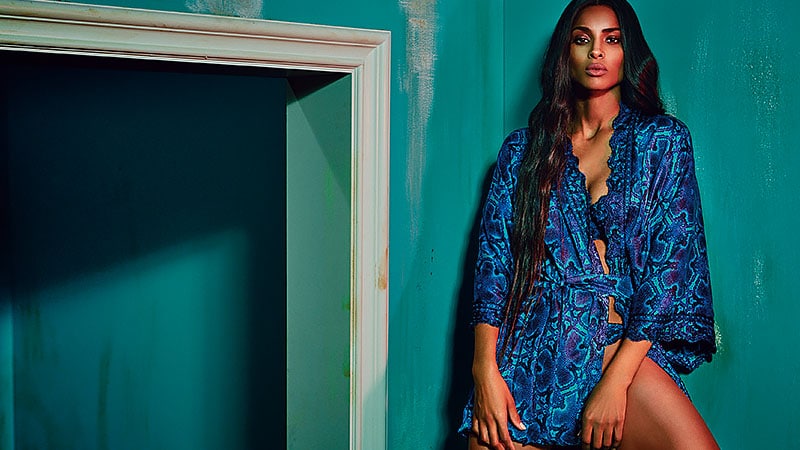 From David Beckham's new skincare range to Ciara's new modelling contract, these are the top international fashion news stories of the week.
Ciara Enters Modelling Industry with IMG Contract
Grammy award-winning singer and actress, Ciara is entering the modelling industry after signing a contract with IMG Models. The photogenic celebrity announced the deal this week taking to Instagram to share the news.
Ciara has had some previous modelling experience, including starring in Roberto Cavalli's autumn/winter 2015 campaign, but is yet to develop it into a larger aspect of her career. Through signing with IMG, however, the 30-year-old looks set to take her modelling to the next level.  She will join the likes of Gigi Hadid, Karlie Kloss and Miranda Kerr in being represented by the prestigious agency.
David Beckham is Collaborating with Biotherm Homme to Create a Skincare Range
The world of men's grooming looks set to change with the announcement of a new collaboration between David Beckham and Biotherm Homme. The partnership will see the soccer legend work with the L'Oréal-owned brand to create a range of men's skincare and grooming products which is set to launch in 2017.
"I've been thinking about developing a skincare range for a long time and it wasn't until I started speaking with Biotherm that it all came together," said Beckham.
The collaboration is but one part of a multiyear partnership that will see Beckham become the first global ambassador for Biotherm Homme. The new role also includes a campaign for the brand's Aquapower moisturiser which is set to be released in June.
Gucci Leaves Anti-Counterfeiting Coalition after Alibaba Joins
Gucci has left the International Anti-Counterfeiting Coalition (IACC) following the announcement that Alibaba has joined the group. The Chinese e-commerce giant was granted admittance to the group under the IACC's new membership policy for General Members.
Gucci joins fellow luxury brand, Michael Kors, which left the U.S.-based coalition last month after branding Alibaba its "most dangerous and damaging adversary." Accused of selling Gucci knock-offs, Alibaba has also been entangled in a legal battle with Kering, which owns numerous luxury labels including Gucci.
Julia Roberts Breaks Rules by Going Barefoot on the Cannes Red Carpet
Julia Roberts has shown her rebellious side by breaking strict dress codes and walking barefoot on the Cannes Film Festival red carpet. The actress was attending the premiere of her new film, Money Monster, which also stars George Clooney when she revealed the lack of footwear under her Armani Privé gown. The act is being considered a stand against sexist rules that reportedly mandate women must wear high heels to red-carpet screening at the festival.
The dress code originally came under fire last year when a group of women in their 50s were turned away from a film screening for wearing flats. Roberts was successfully able to evade any dress code enforcers this year by initially wearing black heels at the start of the red carpet before sneakily ditching them to ascend the stairs.
Calvin Klein Debuts Provocative New Campaign Images
Calvin Klein has released a series of provocative new images for the brand's spring 2016 advertising campaign entitled Erotica. Although well known for its risqué ads, the new images shot by female photographer Harley Weir may be the label's most daring yet.
Featuring overtly sexual images, such as Abbey Lee Kershaw with her hands in her underwear and Kendall Jenner squeezing a suggestive grapefruit, the images are garnering massive attention. One image, in particular, is seeing a lot of negative feedback and has even received a removal request from the National Centre on Sexual Exploitation (NCOSE)
The image in question is an up-skirt shot of actor Klara Kristin which contains the text "I flash in #mycalvins". While some viewers have no problem with the ad, the NCOSE believes that the photo normalises and glamorises sexual harassment.
SUBSCRIBE TO OUR NEWSLETTER
Subscribe to our mailing list and get interesting stuff and updates to your email inbox.