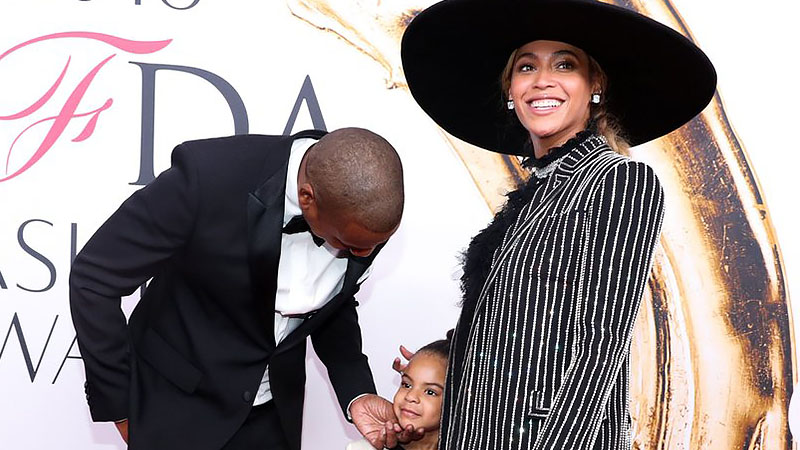 From Beyoncé's big win to Christopher Bailey's big loss, these are the top international fashion news stories of the week.
Calvin Klein Adds Heat to Speculations of Raf Simons as New Creative Director
Calvin Klein has added heat to the fire this week, fuelling speculations that Raf Simons is poised to become creative director of his former label. The former designer and owner of Calvin Klein recently took part in an interview on Sirius XM radio in which he addressed the departure and replacement of the brand's former creative director Francisco Costa.
"They just finally made changes in the design staff," said Klein in the interview. "They won't announce [who it is] publicly because it's under contract. But the whole industry knows."
While Klein didn't mention Simons by name, the industry is taking this as proof that the former Dior creative director will soon take over the American label. Simons, who left Dior in October of last year, is currently under a non-compete agreement with the brand's owner, LVMH. The deal is said to finish at the end of July, at which time it is expected that Calvin Klein will announce the designer's hire.
Beyoncé Wins 2016 CFDA Fashion Icon Award
Musical artist and global superstar, Beyoncé, has taken home the coveted Fashion Icon award at this year's Council of Fashion Designers of America (CFDA) awards ceremony. While the organisation generally reveals the winner of the award before the ceremony, this year's honouree was kept well under wraps until the night.
Beyoncé was presented her award by CFDA chairwoman and fashion industry legend, Diane von Furstenberg. Wearing a sparkling pinstripe suit and ultra wide-brim hat, the singer accepted her award with a meaningful speech about the impact that fashion has had on her life.
Other winners on the night included; Marc Jacobs for Womenswear Designer of the Year, Thom Browne for Menswear Designer of the Year, and Mansur Gavriel designers Floriana Gavriel and Rachel Mansur for Accessories Designer of the Year.
Burberry CEO Christopher Bailey Gets Hit with 75% Pay Cut
Christopher Bailey, chief creative and executive officer of Burberry, has been hit with a 75% pay cut following a fall in the company's retail sales and shares. The executive has seen his salary drop from £7.5m in the financial year ending March 2015 to £1.9m in the financial year ending March 2016, as announced in Burberry's annual report.
Bailey is not the only Burberry executive who has been hit with the drop in salaries. Chief financial officer Carol Fairweather has seen her pay go from £1.6 million to £683,000, while chief operating officer John Smith has experienced a £1.5 million to £813,000 cut. The business has said that the significant cuts are mostly due to directors not being awarded annual bonuses or "previous awards granted".
Gigi Hadid and Karlie Kloss Become Mothers in New Versace Campaign
Versace has teamed up with famed photographer, Bruce Weber and superstar models Gigi Hadid and Karlie Kloss for its new autumn/winter 2016. The new campaign, which has simultaneously received praise and sparked controversy, features the models as mothers, shown with fictional families.
The concept behind the campaign was to create a series of opposing images, some reality-based and some fantasy to connect the red carpet brand with its real-life consumers. The fantasy images show the models in slinky Versace dresses surrounded by hot men, while the "real-life" pictures show Hadid and Kloss as power mums, walking the street with their family, as any woman would.
While the campaign is receiving praise for its imagery of interracial couples, it is also receiving criticism for its depiction of the young models with children aged around 6 or 7, making them teen mums.
Uniqlo Hires Former Hermès Designer Christophe Lemaire as Artistic Director
Japanese retailer, Uniqlo has confirmed its hire of Christophe Lemaire as the brand's new artistic director. Lemaire will lead a new research and development centre in Paris, from where he will develop an original line of elevated basics named Uniqlo U. The new collection is expected to hit stores in the Fall
The appointment follows on from past Uniqlo and Lemaire collaborations that saw the creation of two highly-successful capsule collections. While taking on this new role, Lemaire is expected to split his time between Uniqlo and his namesake label, which he has been focusing on since departing Hermès in 2014.
SUBSCRIBE TO OUR NEWSLETTER
Subscribe to our mailing list and get interesting stuff and updates to your email inbox.