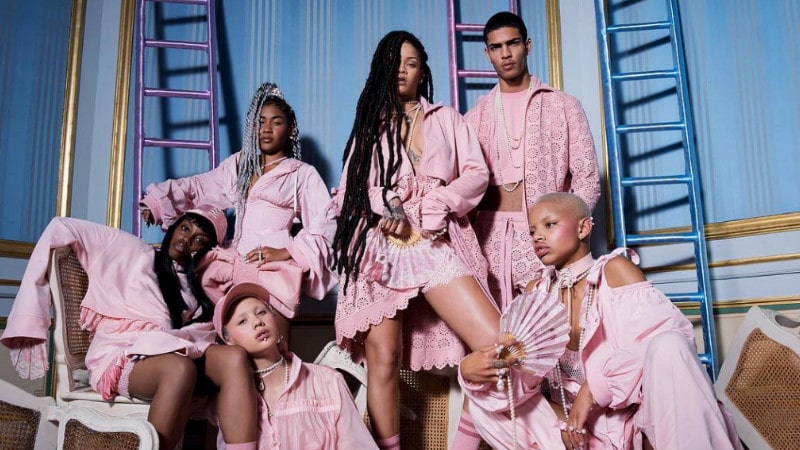 From Rihanna's rebellious back to school fashion show to Jourdan Dunn's exclusive new clothing line, these are the top international fashion news stories of the week.
Supermodel Jourdan Dunn Launches 'Ath-leisure" Clothing Line
Spreading her wings into a new role as a fashion designer, Victoria's Secret Angel Jourdan Dunn released her exclusive athleisure clothing line this weekend. In a playful tribute to the English city in which the supermodel was born and raised, Jourdan has titled her new range 'Lon Dunn'.
The collection was created in collaboration with online fast-fashion retailer Missguided, the 100 piece range features a variety of luxe apparel, including satin tracksuits and sports jackets, sporty bras, and hooded bodysuits. The glamorous yet affordable pieces were designed for versatility with Dunn branching into the new and growing category of athleisure in her mission to create clothes which allow women to feel "sexy and comfortable at the same time". Jourdan's goal to empower women through fashion extends into the campaign for the new brand, where she was featured alongside a diverse range of women including songwriter Rainy Milo, photographer Braina Laviena, model Georgia Palmer, singer Rina Sawayama, and founder of the fashion brand LAPP, which acts as a platform for bringing to attention to women's issues, Leomie Anderson. "I feel that by showcasing a group of women who are unique and different to each other says a lot and makes the brand more relatable. They are all beautiful women but also have a story to them," commented Dunn.
Fortunately, Jourdan's collection isn't designed for the confines of the gym. Suited for any occasion, the clothes may be paired with this season's newest sneakers for an everyday winner, or heels as the sun sets for a feminine yet edgy evening look. Regarding her choice to team up with Missguided, Jourdan has described her desire to offer reasonably priced products available for quick and easy online purchase. As for the future of Lon Dunn, she hasn't finished her work just yet, the avid sneakers collector is considering incorporating her favourite type of footwear into her next collection. Watch this space.
Lon Dunn is now available online at www.missguidedau.com
Yves Saint Laurent Removes "Degrading" Spring Campaign Following Public Outrage
As the world celebrated the social, economic, cultural and political achievements of women this week with International Women's Day, Parisians reacted in outrage over Yves Saint Laurent's new "degrading" Spring campaign. France's advertising watchdog, Autorité de Régulation Professionnelle de la Publicité (ARPP), was inundated with angered complaints regarding YSL's provocative images, which feature models in fishnet tights and high heeled roller skates, posing with their legs open.
The controversial images, created by Dutch photography duo Inez and Vinoodh in collaboration with YSL's chief designer, Anthony Vaccarello, have been reported by ARPP's director to "seriously contravene" the advertising codes relating to respect for decency and dignity, as well as those prohibiting submission, violence, or dependence. "Respect for creative freedom is one thing, but there is also respect for the consumer". He explained that the postures of the women which "presented them as offered to the passers-by, present the women as an object and suggest an idea of sexual submission." Despite public and media backlash towards the images, French fashion journalist Carine Bizet has defended the campaign, arguing that "unfortunately, there are much more important reasons to be angry than a willing model in a fashion photo shoot. To me, it is more degrading to pay a woman less than a man for the same job. What are we going to do about this?" Bizet channelled a recent hot topic of discussion in the fashion industry as she highlighted that diversity is about choice. "You want to wear short skirts or pose for Saint Laurent? Great. You choose to wear a hijab? Equally great. Everyone is talking about diversity, it would be great if it applied to female choices."
This is not the first time the high-powered fashion house has been in the spotlight for a questionable ad campaign. In 2002, YSL released an advertisement featuring male full frontal nudity, while in 2015, their advertisement was banned by U.K's Advertising Standards for using a model who was "unhealthily underweight." Following a decision by the ARPP, the 2017 Spring advertisements have now reported to have been removed from 250 billboards across France.
Chanel Releases Sneak-Peek Of Upcoming 'Gabrielle' Handbag Campaign
For an octogenarian, Mr Lagerfeld has been a busy man this week. Constructing a life-sized Chanel space ship inside the Grand Palais for the dazzling A/W 2017 show, releasing an exclusive set of Chanel inspired emojis into the digital world, and now unveiling a first look at the upcoming campaign for the highly anticipated Chanel 'Gabrielle' bag. As the brand strives to remain at the forefront of fashion, Karl Lagerfeld has chosen four of societies trailblazers to model the bag, notably including one man, Pharrell Williams.
As the first man is about to appear in a Chanel handbag campaign, 2017 may have been deemed as the brand's "Year of Gabrielle", however it is undeniable that it will be a big year for the talented singer, rapper and producer. The photos are set to feature Pharrell in his natural habitat, on stage, sporting a crocodile version of the Gabrielle bag. Alongside the musician, the campaign shall also feature Kristen Stewart, Cara Delevingne, and Caroline de Maigret. On his decision to include a man in his powerful quartet of stars, Karl Lagerfeld has commented that he wanted to showcase to the world that the bag can be worn "in many different circumstances". The advertisements, set to be officially released on April 3, will run as two double page spreads. The first will feature a close-up of the bag and a portrait; the second a lifestyle scenario. Kristen, Cara, Caroline, and Pharrell will each wear classic black Chanel jackets, and carry different versions of the Gabrielle.
With the coveted interlocking C's adorning the Gabrielle, it is already set to be a success. Ahead of the campaign release, the bag made its runway debut in Paris this week at Chanel's galactic AW 2017 show, where male models, including Lagerfeld's eight-year-old godson, Hudson Kroenig, sported versions of the bag. As for Pharrell, he's been converted into a handbag lover. "When I first started wearing it I didn't have anything in it. I was just so excited to have it."
Gigi Photographs Zayn For Versace
Taking a break from her usual role in front of the camera, Gigi Hadid sat behind the lens this week, photographing boyfriend Zayn Malik and British model Adwoa Aboah for Versace's Spring 2017 Versus campaign. Armed with an iPhone and digital camera, the candid, Hollywood grunge shots were taken by Gigi at the famed Chateau Marmont in Sunset Boulevard in Los Angeles. Joining a talented list of renowned individuals who have produced work inside the hotel's walls, including F. Scott Fitzgerald, Tim Burton, Terry Richardson, and Annie Leibovitz, Gigi displayed her "natural photographic talent", as praised by the brand. The campaign features signature pieces from Versus' new collection, that was styled by Patti Wilson. The range includes black leather jackets, faded denim, distressed jeans, and glittering mesh garments.
Established in 1989, Versus was created as a diffusion line of the Italian luxury fashion house, Versace, as a gift from founder Gianni Versace to his sister Donatella. Now entering its 28th year, the brand's image has been handed over to the rising new class of celebrities, Gigi, Zayn, and Adwoa, as Versus targets a growing demographic of fashionable, powerful young adult consumers.
Former One Direction star, Zayn Malik, is set to continue his collaboration with Versace throughout 2017. In June, the brand will debut a see-now-buy-now capsule collection, Zayn x Versus, designed in partnership with the singer. Zayn has nothing but praise for the brand, commenting on his venture into the fashion industry: "I think Versus has always been a very cool brand. It's a great brand for me and for people in my generation. I've always wanted to design clothes, and there's no brand I'd rather design for than Versus. The bonus is that I get to collaborate with Donatella, whom I love and admire. I know we'll create something amazing."
Rihanna Takes The Fashion World Back To School With 2017 Fenty Puma Collection
It is not often that the words "library" and "Rihanna" are used in the same sentence, however this week, the International ultimate bad girl took audiences in Paris back to school for her 2017 Fenty Puma collection. The third collection of the Fenty Puma line, this year's showcase rewound time to 1985's cult classic The Breakfast Club, as disobedient school girls, cool jocks, punks, and goths descended upon the runway.
Having received their 'detention card' invitation to the highly anticipated event, guests filed in for a class at the Bibliothèque Nationale de France, Paris, at 9 pm on the penultimate day of Paris Fashion Week. Guests were seated at long library tables adorned with classic green lamps, the crowds cheered as models emerged, throwing out the rule books and strutting past atop the tables. In case this wasn't enough to set librarians heart's racing across the world, model Hanne Gaby Odiele emerged on the makeshift catwalk, ripping the pages out of a book. Riri's bad-girl dress code included shrunken cropped tops, a stuffed teddy-bear backpack, basketball shorts, puffer jackets and oversized sweater dresses. Alongside the classic schoolyard tartan print, the collection's palette paid tribute to traditional school colours and stereotypes, with the Goths emerging to close the show in black and tan colours, wearing oversized faux-fur coats.
Rihanna's inspiration for her collections has resulted in three radically different shows over her three-time collaboration with Puma. The first collection was inspired by a Japanese-Goth aesthetic, and the second by the decadent French ruler, Marie Antoinette. This year, the idea for the collection emerged from Rihanna's desire to relive her school days, and to do all the things she wasn't allowed to do as a child. "In Barbados, we don't get to dress up in school," she explained, "It's strictly school uniforms. Every time I would come to America, I would see kids getting into dressing up…this was my way of expressing myself in that avenue, having fun, creating looks that blended with the different cliques and marrying that world with sport." The only question left to ask: How do we enrol?
Christian Lacroix Creates Ethereal Costumes For 'A Midsummer Night's Dream' Ballet
This week, Parisian audiences were transported to Shakespeare's mystical realm of fairy rulers and spellbound lovers as George Balanchine's 1962 ballet 'A Midsummer Night's Dream' once again took centre stage at the Paris Opera Ballet. Commissioned to create the otherworldly costumes worn by the ballerinas was master couturier Christian Lacroix, who collaborated with Swarovski to bring Balanchine's vision back to life.
Hardly a new addition to the ballet world, Lacroix has created the costumes for several renowned ballet productions over the last thirty years, including Vienna State Opera Ballet's 'Cinderella', The Paris Opera's 'Jewels', as well as 'Gâité Parisienne', and most recently 'La Source'. A love for the theatre and costume design grew from his own history with fashion. His namesake couture house opened in 1987, amidst a period where Lacroix reminisces, "fashion was very costume-like, with great eccentricity and characters such as socialite Marie-Hélène de Rothschild still hosting masquerade balls." For this latest production, the designer's vision blended the decadent with the delicate, as he conjured "big chiffon dresses with lots of draping, in peach and rose", as well as "tutus all white and classic" alongside "lots of gold, like Louis XIV at Versailles." In a delivery fit for royalty, Swarovski sent more than 200 different types of stones to the designer to create the stunning garments, including a newly created "special motif for the organza butterfly wings, which combines crystals in three blue hues", as described by Swarovski's communications head, Nadja Swarovski. As he set to work, Mr Lacroix had strict guidelines to follow regarding what type of materials to use to best suit the movement of the dancers and follow the composer's music. The George Balanchine Trust in New York held stylistic approval over the production, however Mr Lacroix has commented that he "did not find this confining at all. In fact, I found it inspiring. It harks back to my youth when I first learned of Balanchine. I love taking it all in and adding my own ideas."
A man of many talents, Lacroix also designed the sets for the ballet, inspired by the romantic pre-Raphaelite movement of late 19th century England. During the two-act performance, dancers pirouette through neoclassical palaces, and magical forests with green and blue trees, and "a tableau with giant flowers, like in Victorian books". If you happen to find yourself in Paris, a midsummer's night at the ballet is an event not to be missed.
SUBSCRIBE TO OUR NEWSLETTER
Subscribe to our mailing list and get interesting stuff and updates to your email inbox.