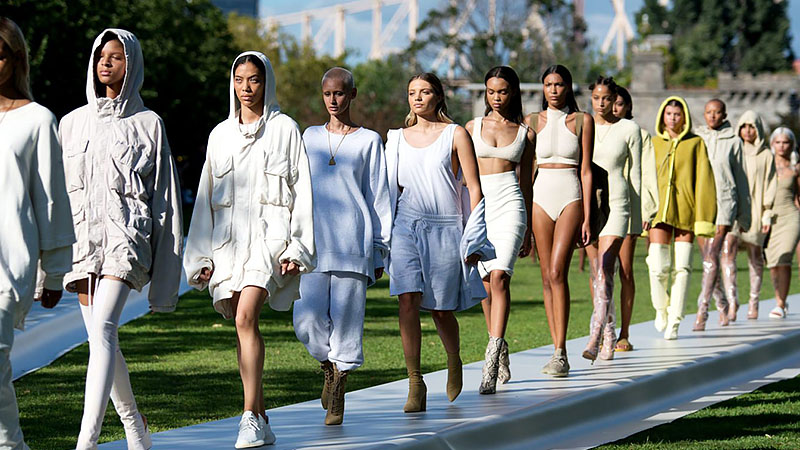 From a disastrous Yeezy Season 4 show for Kanye to a heartwarming New York Fashion Week tribute for Bill Cunningham, these are the top international fashion stories of the week.
Yeezy Season 4 Show Labelled a "Disaster"
Human headline Kanye West once again created a media buzz this week as his Yeezy Season 4 show was labelled a "disaster". The show, which took place on the first day of New York Fashion Week, saw a range of unexpected and unfortunate events, including a broken heel and models fainting.
The show took place at the previously undisclosed location of Roosevelt Island. The grassy lawn of an abandoned smallpox hospital was the exact site of the runway, which was revealed to guests only as they arrived by bus. Beginning approximately two hours late, the show then saw an army of models stand on the lawn as others walked a makeshift runway around the outside.  As temperatures began to swelter, however, the day took an unfortunate turn. While some models slumped or sat on the ground after standing in the unrelenting heat, two others actually fainted. Another model had the heel of her shoe break while walking, while yet another model had to remove her shoes on the runway.
Despite all that went wrong with the day, many have still applauded the show for its artistic nature and racially diverse casting.
Laura Kim and Fernando Garcia Return to Oscar de la Renta
Laura Kim and Fernando Garcia have been appointed the new co-creative directors of Oscar de la Renta. The design duo, who are also the team behind label Monse, will both return to their former employer whom they left last year. In the position, Kim and Garcia take over from Peter Copping who departed Oscar de la Renta earlier this year.
"For many years, Laura and Fernando worked here directing our design teams," said Oscar de la Renta CEO Alex Bolen. "Oscar respected their talent, and their work with him brought tremendous critical acclaim and success to the company."
As well as taking on their new creative director roles, Kim and Garcia will continue in their current positions at Monse, which will now enter into a strategic partnership with Oscar de la Renta.  The duo's first collection in their new roles will be Autumn/Winter 2017.
Kylie Jenner and Tyga to Star in Alexander Wang's Fall 2016 Campaign
Alexander Wang has released the first teaser for his new Fall 2016 campaign, revealing the models and stars who will feature in it. Topping the list of big names to appear in the campaign is celebrity couple, Kylie Jenner and Tyga. The duo, who are now officially #wangsquad members, will appear alongside other models, artists and musicians in the soon to be released campaign.
Along with Kylie and Tyga, set to appear in the campaign is: Big Sean, Tinashe, Zoë Kravitz, Anna Ewers, Hanne Gaby, Issa Lish, Lucien Smith, Lexi Boling, Black Atlass, Binx Walton, Curren Caples, Katie Moore, Alice Glass, Skrillex, Yana Bovenistier, Alice Metza, Vince Staples, RL Grime, A$AP Ferg, MØ, and Metro Boomin.
Paul Andrew Appointed Design Director at Salvatore Ferragamo
Salvatore Ferragamo has confirmed the appointment of Paul Andrew as the brand's first-ever design director of women's footwear. The British-born designer will debut his first collection for the Italian luxury fashion house for pre-fall 2017.
"It is a great honour to be invited to lead the creative vision for the future of [Salvatore Ferragamo's] women's shoe division, where the legend began," said Andrew in a statement. "I look forward to bringing a new perspective to the company in line with the demands of today's marketplace, marrying the power of its heritage and industrial force with high design and the latest innovations in material and make."
Andrew will also continue designing for his namesake label, which he founded in 2013.
ASOS Ordered to Pay £20 Million in Trademark Dispute
British mega e-tailer, ASOS has agreed to pay £20 million to settle trademark infringement disputes with two other retailers. The disputes are focused on the brand's name, which it changed from As Seen on Screen to ASOS in 2002.
On the receiving end of the money is German menswear brand, Anson's Herrenhaus and Swiss cycling apparel brand, Assos. Anson's and Assos, both of whom were already in business when ASOS changed its name, launched legal cases regarding the dispute in 2010 and 2011, respectively.
Through the settlement of these cases, ASOS will now be able to expand into the athleisure market, although the brand will still be restricted from selling cyclewear and opening stores in Germany.
Photographers Pay Tribute to Bill Cunningham at NYFW
As the first New York Fashion Week following the passing of Bill Cunningham takes place, photographers have banned together to pay tribute to the legendary man. Sporting replicas of Cunningham's iconic blue jacket, the group of photographers paid homage to the man credited with starting the concept of street style.
Cunningham, who was a photographer for the New York Times, sadly passed away in June, leaving the fashion world devastated. Though the man, along with his smile, camera, bicycle and, of course, blue jacket, will be missed, his legacy will clearly live on.
In addition to the photographers' display, an installation has also been erected to honour Cunningham at one of his favourite spots, Bryant Park.
SUBSCRIBE TO OUR NEWSLETTER
Subscribe to our mailing list and get interesting stuff and updates to your email inbox.