Hugo Boss Has a New Leading Man and He's Smokin' Hot
Hugo Boss has a new leading man, and it's none other than Divergent actor Theo James.
According to E! News, the actor is the new face of Hugo Boss fragrance and his first ad-campaign will be released in September.
Speaking of his excitement to be apart of the campaign – and follow in the footsteps of other gorgeous men including Ryan Reynolds, Gerard Butler and Orlando Bloom – during a press release James said, "I'm honored to be representing Boss Parfums as an Ambassador in their latest perfume campaign. I have for a longtime admired Boss for achieving the perfect balance between the classic and the contemporary. This campaign encapsulates the iconic spirit of the brand and reflects my own tastes and attitudes towards a truly unique fragrance."
Seriously, we cannot wait to see the ad!
Reese Witherspoon Launches Exciting New Lifestyle Website
Reese Witherspoon has long been celebrated for her charming and feminine sense of style, so it makes perfect sense that she's launching her own line entitled Draper James. Witherspoon is all hands-on-deck with the creation of her Southern-inspired and lifestyle line which will sell jewellery, home decor, purses, and clothing, among other things – and sell it did, because within the first few hours of going live some of the pieces were already sold out.
Just incase you were wondering where the Wild actress got the inspiration for the name of the line, it's named after her grandparents – Dorothea Draper and William James Witherspoon.
"My grandparents taught me everything I know about gracious Southern living. From them I learned to dress and act like a lady, to take pride in my home, to reach out to help a neighbor, and to always invite everyone in for a visit," the Draper James site states. Be sure to check it out!
Miu Miu's Controversial Ad Featuring Mia Goth is Banned
The spring/summer 2015 campaign for luxury Italian brand Miu Miu features 22-year-old model Mia Goth seductively laying on a bed, wearing minimal makeup and her clothes ruffled. However, according to The Telegraph, the Advertising Standards Authority (ASA) has officially banned the ad in the U.K, because they felt that the campaign was inappropriate and that Goth looked too young – even though she is well into her adult years.
"The model had a youthful appearance, was wearing very minimal make-up and clothes that appeared to be slightly too large," the ASA said, according to the publication. "We considered those elements contributed to the impression that she was younger than 16 years of age."
However, Miu Miu's parent company Prada has fired back at these claims, saying that it was part of an ad shot by famed photographer Steven Meisel which features three models (Goth, Imogen Poots and Marine Vacth), and shows "glimpses of the models through doorways and placed the viewer at the heart of a multidimensional, multi-room story," The Guardian reports.
They also defended the ad by claiming that Goth was pictured in a "sophisticated outfit, without a low neck-line, and nude make up."
There Were Two Women Who Really Stole the Show at the 2015 Met Gala
There has been so much talk about the Met Gala this week, but instead of focusing on all the incredible designs – and the bad ones – we decided to rather speak about the two women who've been stealing all the headlines.
The Met Gala is one of fashion's most prestigious events, and while there were countless impressive dresses on display – Rihanna's yellow, embroidered fur-trimmed cape by Guo Pei, that took one Chinese woman two years to make – it was Kim Kardashian and Jennifer Lopez who stole the show, thanks to their shapely derrieres.
Kardashian wowed in her skin-baring Roberto Cavalli gown – which looked strikingly similar to the lace Givenchy gown that Beyoncé wore in 2012 – while the "On the Floor" hit maker wore an Atelier Versace dress.
They look great, but then again JLo's bottom is insured for $27 million, so it's not all that surprising!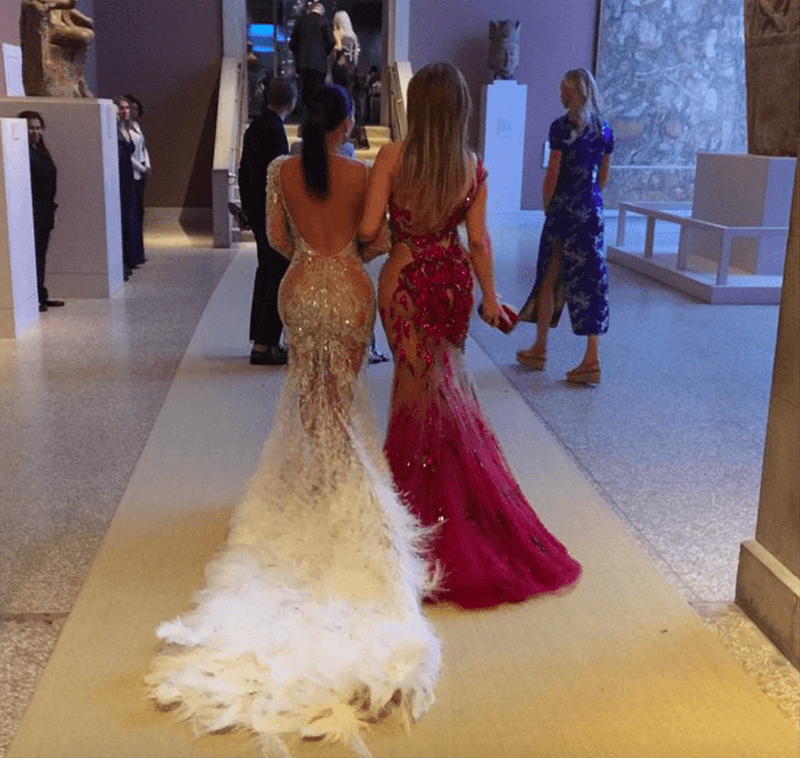 SUBSCRIBE TO OUR NEWSLETTER
Subscribe to our mailing list and get interesting stuff and updates to your email inbox.