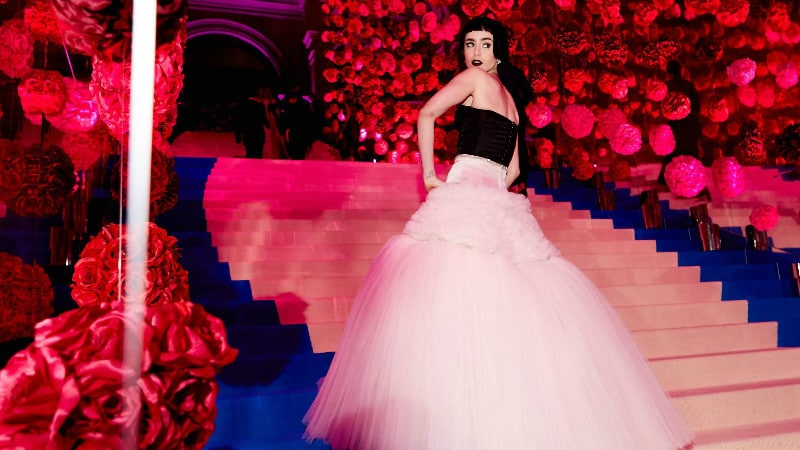 From Chanel's Ancient Greek catwalk to Palace's first New York store, these are the top international fashion news stories of the week.
Fashion and Art Collide at 2017's Met Gala
This week, the Metropolitan Museum of Art once again stole global fashion headlines by hosting their annual Met Gala. The theme of this year's Costume Institute exhibition and Met Gala celebrated Comme des Garçons' Rei Kawakubo. The event is renowned for pushing the boundaries of fashion to the extreme, and this year was no exception. Femininity reigned on the cobalt and cream carpet with feathered queens, pretty in red and pink goddesses, and seductive thigh-high splits.
As far as stand out looks, Bella Hadid, Cara Delevingne, and Rihanna shone for their creativity and boldness. Bella donned a daring Alexander Wang catsuit, constructed from black intricate beading and lace. The figure-gripping outfit ran from her bare shoulders all the way down over her stilettos. Cara Delevingne pushed the red carpet standards in a silver Chanel pantsuit and silver painted bald head that was recently shaved for her role in Life in a Year, while RiRi emerged as a floral Comme Des Garçons bouquet.
Kendall Features on Vogue India's 10th Anniversary Cover
To celebrate its 10th anniversary, Vogue India teamed up with Mario Testino and Kendall Jenner to shoot a series of decadent photographs for the magazine's May edition. Kendall features as cover girl, modelling in the exotic location of Jaipur's 475-year-old Samode Palace. The editor of the magazine, Priya Tanna, commented on her choice to employ Testino, "Seeing India through his lens offers a fresh perspective of the familiar. With over 100 pages of pure art, this collaboration has been so incredible that the May Issue of Vogue India is undoubtedly a collector's special."
Despite this, some readers have voiced their disappointment that an Indian celebrity or model did not feature on the cover. Furthermore, they suggested that Priyanka Chopra or Deepika Padukone would have been more suitable options. While Indian stars Sushant Singh Rajput and Katrina Kaif featured inside the magazine, neither appeared on the cover.
Chanel Takes a Cruise to Ancient Greece
The legendary Karl Lagerfeld transported audiences to a time of ancient mythology this week in Paris, unveiling Chanel's 2018 Cruise collection. Titled, 'La Modernité de l'Antiquité', the show was set in Grecian inspired marble ruins. For the show, Chanel recreated the Temple of Poseidon inside the Galerie Courbe of Paris' Grand Palais. The location itself has been a favourite for Chanel over the years, which has seen it transform into a space station, any icy glacier, and a neo-classical forest. For the latest instalment, modern day goddesses floated down the runway in Grecian-inspired dresses and colourful high-heeled gladiator sandals.
The inspiration for the show stemmed from Gabrielle Chanel's costumes for the 1922 stage play of 'Antigone' as well as Lagerfeld's visions of Ancient Greece. "I see Greece as the origin of beauty and culture, where there was a wonderful freedom of movement that has since vanished," Lagerfeld explained. The inspiration behind his collection also held deeper meaning on how to advance in today's complicated world, ""I'm suggesting going back to move forward," said Lagerfeld. "To create the future, you have to pay attention to the past."
Streetwear Label Palace Opens First New York Store
Coveted U.K. streetwear brand, Palace, opened its first store in New York this week. Located at 49 Howard Street, New York, the store launch correlated with the online drop of their Summer 2017 collection. As is typical for the brand, nearly all of the pieces on offer online sold out instantly. Ahead of the opening, Palace had teased their followers on Instagram with photos of the vast, minimal store layout. One photo, in particular, gained extra attention, as it captured a mischievous cherub wearing a colourful gore-tex jacket. The jacket did not feature in the official SS17 lookbook, and was accompanied by the caption "One off tings". This consequently foreshadowed the exciting news that the store would also be stocking exclusive New York only pieces.
Redken Celebrates 10 Years as the Official Hair Partner of MBFWA
For the 10th year in a row Redken 5th Avenue NYC creates hairstyle masterpieces for 2017's Mercedes-Benz Fashion Week (MBFWA). As the festival's Official Hair Partner, Redken has partnered with some of Australia's most iconic labels. This includes Dion Lee, Akira, Christopher Esber, Ginger & Smart, Michael Lo Sordo, Strateas Carlucci and more.
As a teaser of what's to come at this year's festival, Redken's Global Artist, John Pulitano, collaborated with Dion Lee to create a stunning hair look. The look was inspired by Dion Lee's upcoming Resort 2018 collection and incorporated the label's utilitarian aesthetic and signature detailing.
Diane Von Furstenberg Teaches Online Fashion Masterclass
Sometimes to be the best, you need to learn from the best. Online education company, Masterclass, has announced its partnership with iconic designer Diane Von Furstenberg. Masterclass is known for providing online classes led by world-renowned instructors. This has included classes by Christina Aguilera on singing, Kevin Spacey on acting, and Hans Zimmer on film scoring. Now, Diane Von Furstenberg is joining the extensive list of professionals and teaching viewers how to build a fashion brand.
Diane is renowned for creating the wrap dress in 1974, which became a symbol of power and independence for women. By the late 1970's she had sold over 1 million dresses, and today, her brand retails in 55 countries. As a result, her new, interactive online lectures give invaluable advice on all areas of building and marketing a fashion brand. "It's about the fashion of business, it's about trying, it's about being true to yourself — all lessons of life and everybody will take something different."
SUBSCRIBE TO OUR NEWSLETTER
Subscribe to our mailing list and get interesting stuff and updates to your email inbox.