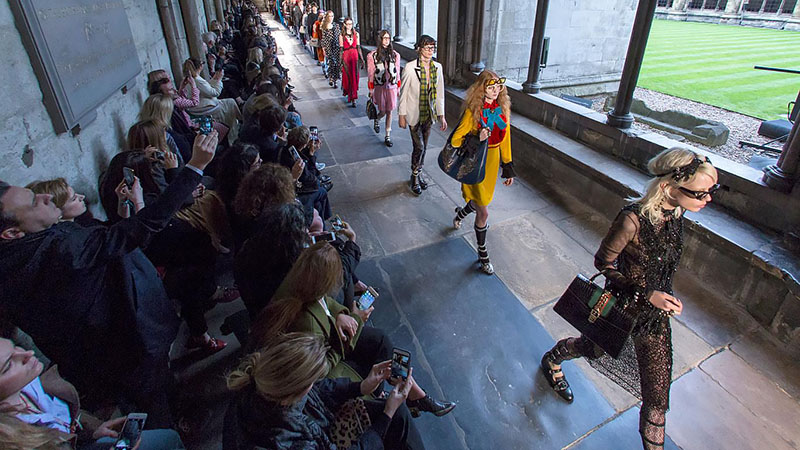 From Karl Lagerfeld's new range of engagement rings to the world's most expensive handbag, these are the top international fashion news stories of the week.
Hermès Birkin Bag Sells for Record $300,000 at Auction
The most valuable handbag in the world, the Hermès Birkin Bag, has created a new world record. One of the rare and highly sought-after bags was sold this week for the incredible price of US$300,168, making it the world's most expensive handbag.
The bag, which was auctioned off by Christie's Hong Kong, is 30 centimetres wide and fabricated from rare Himalayan crocodile skin. It also features hardware made from white gold and encrusted with diamonds.
The exotic bag was purchased by an anonymous buyer after a reported bidding war drove up the price.
Gucci Takes Over Westminster Abbey for Cruise Collection
Westminster Abbey, home to royal coronations and weddings alike, has just seen its first fashion show. The London church played host to luxury fashion brand Gucci this week for the brand's Resort 2017 show.
Models strutted through the 13th-century cloisters with guests looking on from rows of pews. Creative director, Alessandro Michele, found inspiration in everything British, from Union Jacks and school checks to Victoriana and punks. Of course, the traditional quirky Gucci look was still at the heart of the presentation with oversized glasses, unique prints and eclectic layering, reigning supreme.
While the show has since received good reviews from the fashion industry, not everyone in the religious community was happy about the use of the Abbey. Although the venue has been available for hire for quite some time, it seems something about a fashion show in a house of God has ruffled some feathers.
Karl Lagerfeld has Designed a Line of Engagement Rings
Karl Lagerfeld, one of the most talented and busiest designers in the world, has now added a line of engagement rings to his never-ending list of accomplishments. Alongside designing multiple collections per year for Chanel, Fendi and his eponymous line, Lagerfeld has found time to partner up with fine jewellery brand, Frederick Goldman, to create an exclusive range of rings for brides-to-be.
The collection of engagement rings, which is Lagerfeld's first ever, features three unique styles, each aimed at millennial brides. The rings will be available in platinum as well as 18-karat white and yellow gold.
"The rings had to express something that concerns the heart and real feelings," said Lagerfeld in an interview. "It has to be a symbol and a sign of a real wish of engagement. It has to be elegant but not bling-bling."
Michael Kors Bans Social Media from Resort 2017 Presentation
In the lead up to Michael Kors' June 7th Resort 2017 presentation, the designer has placed a ban on all social media at the event. Instead of the usual wave of Instagram photos, videos and Snapchat stories, the brand will release just five images from the presentation for the media to use in reviews and on social media. All other imagery of the show will be placed on strict lockdown until the collection goes to stores later this year.
"We feel our clients and fans will love getting a sneak peek of the collection as opposed to inundating them with too much imagery too soon," said Kors. "Ultimately, this is all about creating more excitement when the product is available."
The move also serves as an alternate option to the current changing of schedules that many brands are now choosing. While other labels are deciding to show collections as they are being released to combat the distance between the presentation and launch, Michael Kors will instead restrict consumer exposure to the range to keep it fresh.
Bella Hadid Announced as Dior's Newest Makeup Ambassador
Bella Hadid's modelling career has continued to skyrocket this week with the announcement that she is the newest ambassador for Dior Makeup. The announcement came straight from backstage at Dior's Resort 2017 show at Blenheim Palace, which Bella walked the runway for. The 19-year-old joins the likes of fellow Dior models Jennifer Lawrence, Natalie Portman and Marion Cottilard, in her new role.
In addition to her ambassadorship, Bella will also star in a series of beauty-focused web videos for the brand. She will be filmed alongside Dior Makeup creative and image director, Peter Philips, in the videos titled "Dior Makeup Live with Bella Hadid". The first episode, which is scheduled to be released June 6, will feature Bella preparing for the recent resort show.
SUBSCRIBE TO OUR NEWSLETTER
Subscribe to our mailing list and get interesting stuff and updates to your email inbox.