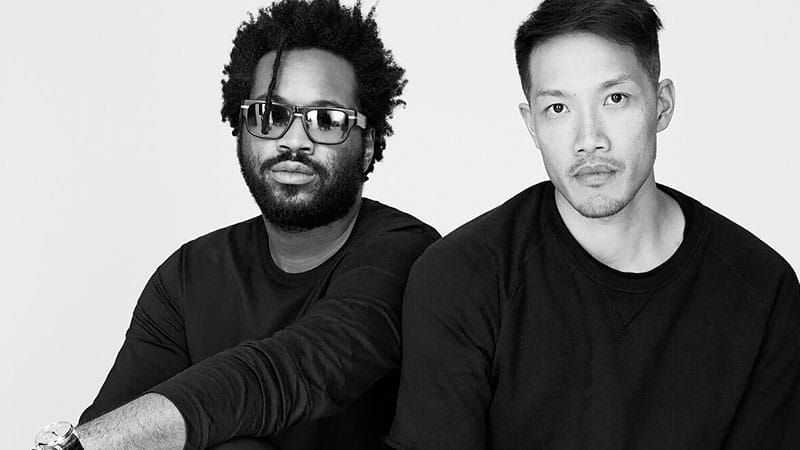 From the departure of Dao-Yi Chow and Maxwell Osborne from DKNY to the filming of the 2016 Victoria's Secret Fashion Show, these are the top international fashion news stories of the week.
Dao-Yi Chow and Maxwell Osborne to Exit DKNY
Joint creative directors, Dao-Yi Chow and Maxwell Osborne have announced that they are departing DKNY. The designer duo will soon leave the American label to focus on their own brand, Public School. The decision follows on from the sale of Donna Karan International to G-III Apparel Group and subsequent alterations to business strategy.
"Given the company sale and subsequent change in strategies, we have decided to step down and focus on our own business Public School," said Chow and Osborne in a joint statement. "It's been an unbelievable experience to work side by side with the wonderful people at DKNY, especially our amazing design team and atelier. We wish the company success in the future."
Also exiting the brand is Donna Karan International CEO, Caroline Brown. Brown originally took on the position in January 2015 and will now depart the label to "explore new possibilities".
Tommy Hilfiger Heads to Los Angeles for "See Now, Buy Now" Runway
Following the success of Tommy Hilfiger's first foray into "see now, buy now", the label has decided to take its next ready-to-wear show on the road. The brand has announced that, instead of its usual New York Fashion Week slot, it will travel to Los Angeles this coming February. As for specifics, the show looks set to take place on the 8th in Venice Beach.
"The casual, cool, chic look that is leading the fashion world this season was born and bred in LA and I knew this show would feel at home on Venice Beach," said Hilfiger of the move.
Not only will the show present Spring/Summer 2017 designs for the brand, but it will also include the second instalment of the designer's collaboration with Gigi Hadid. The hugely popular Tommy x Gigi range first debuted in September and saw an incredible 900% growth in website traffic for the brand following its "see now, buy now" show.
Victoria's Secret Films Annual Runway Show
It's almost here. The annual Victoria's Secret Runway show was filmed this week and is set to be aired imminently. Although the glamorous show is yet to be seen in its entirety, images have emerged for the taping to boost the excitement of would-be viewers.
This year's show was filmed in Paris and saw many regular faces return and some new ones make their debut. Amongst those making their debut was Bella Hadid, who ran into her ex-boyfriend, The Weeknd, on the runway. The Weeknd was performing at the show, as was Bruno Mars and Lady Gaga.
Other headlines to already emerge about the show include Irina Shayk reportedly hitting the runway pregnant and Victoria's Secret being accused of cultural appropriation.
First Look at 2017 Pirelli Calendar Revealed
The first look at the 2017 Pirelli calendar was revealed this week. Featuring some of the world's most renowned actresses, the annual calendar stuck with a similar aesthetic to the 2016 version, which featured substance over sex appeal.
Shot by influential photographer, Peter Lindbergh, the raw black and white images feature famous names, such as Julianne Moore, Uma Thurman, Nicole Kidman and Helen Mirren.
Lindbergh reportedly chose to give the project the title "Emotional" to emphasise his concept of creating "a calendar, not around perfect bodies, but on sensitivity and emotion, stripping down to the very soul of the sitters, who thus become more nude than naked."
Bottega Veneta and Calvin Klein Opt for Co-Ed Shows
This week, not one but two fashion labels revealed their decision to opt for co-ed style runways at upcoming fashion weeks. Come February, both Bottega Veneta and Calvin Klein will show men's and women's collections together on a single runway. Despite jumping on board with this newly favoured form of presentation, both Bottega Veneta and Calvin Klein will reportedly stick with the usual season schedule instead of switching to the increasingly popular, "see now, buy now" format.
The upcoming Autumn/Winter 2017 Calvin Klien show also marks Raf Simons' debut collection for the label. Set to show at New York Fashion Week on February 10 at 10am, the show will feature men's and women's Ready-to-Wear, as well as accessories.
While combining the runways means moving menswear into the womenswear schedule and slot, Simons will also show at New York Fashion Week: Men's to present his eponymous label.
Sarah Jessica Parker Set to Open First Standalone Store
Sarah Jessica Parker has announced the opening of her first-ever standalone store. Set to be launched on December 8, the store will surprisingly be located in Washington, D.C. instead of Parker's much-loved New York City.
"It's been very exciting to have been involved in all steps of the process, from on-site construction visits to the actual layout and design of our boutique," said Parker in a press release. "I'm honoured to be included in this massive undertaking and I'm very much looking forward to celebrating in December. Because perhaps then I will believe it's real."
The exciting venture will play host the actress cum designer's SJP Collection and other fashion ventures. Alongside providing shoppers with the brand's signature shoes, handbags, and accessories, the boutique will also stock the new SJP LBD collection of dresses.
Wes Anderson Directs Short Holiday Film for H&M
As the holiday season approaches more and more fashion brands are releasing their own short films designed to get everyone in the festive mood and hopefully shopping. This week's addition comes from Swedish, fast fashion giant, H&M, and is titled "Come Together".
The film is directed by none other than Wes Anderson and features the American's distinctive narrative and visual style. Set on a train, the film tells the story of a group of passengers who are delayed on Christmas Day. The film also stars Adrien Brody, who worked with Anderson on both "The Darjeeling Limited" and "The Grand Budapest Hotel". Brody plays the conductor on Anderson's imaginary "H&M Lines Winter Express" and tries to salvage the holiday for his passengers.
Watch the full film below.
SUBSCRIBE TO OUR NEWSLETTER
Subscribe to our mailing list and get interesting stuff and updates to your email inbox.