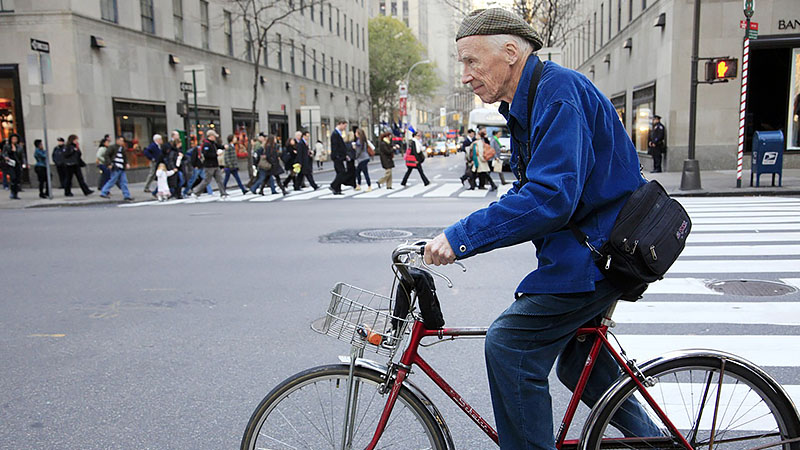 From the passing of Bill Cunningham to the birth of Adidas + Kanye, these are the top international fashion news stories of the week.
World Pays Tribute to Legendary Fashion Photographer Bill Cunningham
Following his tragic passing last week, countless individuals, businesses and brands have paid tribute to the legendary, Bill Cunningham. The beloved New York Times street style photographer passed away at age 87 after suffering a stroke.
Amongst an outpouring of social media posts and displays of affection, a petition to name a New York street corner after Cunningham has also begun. Started by one of Cunningham's friends, Nick Nicholson, the Change.org petition has already accumulated thousands of signatures. If successful, the campaign would see the corner of 57th Street and 5th Avenue renamed 'Bill Cunningham Corner'. Regarded as one of Cunningham's favourite places to shoot and, if not renamed, the location is speculated to host a future plaque or statue to the photographer.
Adidas and Kanye West Take Yeezy Partnership to the Next Level
Off the back of significant commercial success, Adidas has announced that it is furthering its partnership with Kanye West. The German sportswear brand and rapper have worked together for two years and are now expanding their relationship into "the most significant partnership ever created between a non-athlete and an athletic brand."
The deal will include an official long-term partnership between the pair, dubbed 'Adidas + Kanye'. It will feature an expansion of the highly-coveted Yeezy line across apparel and accessories for both genders. Also, new sport and performance pieces will be created for the range.
To execute this development, Adidas will dedicate a creative team to work under West's instruction. Speciality stores will also be established, serving as retail hubs for Yeezy goods.
Alexander Wang Takes Over as CEO of his Eponymous Company
Joining the multi-tasking ranks of Burberry's Christopher Bailey, Alexander Wang is taking over as CEO and Chairman of his eponymous company. The designer will continue to serve as creative director, taking on all three positions simultaneously. The change will take effect immediately and see Alexander replace his sister-in-law, Aimee Wang, and mother, Jing Wang, in the respective roles.
"The business side has always come naturally to me, and with my full-time return to New York, I want to focus on my brand's strategic growth," said Alexander. "Now is the right time to fully synchronise the creative and business aspects of the company and to continue strengthening the dialogue we have with our customers. It has always been my goal to create brand value, and to be a brand with integrity and purpose."
Other changes taking place for the business will include the appointments of former DKNY president, Mary Wang (no relation), to the role of Executive Vice President, and Caroline Wang (Alexander's aunt) to the position of Executive Vice Chairman.
Kering Ordered to Pay Hedi Slimane $13 Million
Luxury goods company, Kering, has been ordered by a Paris court to pay its former employee, Hedi Slimane, US$13 million. The decision follows on from reports last week that the ex-Saint Laurent creative director was suing the company over a waved non-compete clause. The designer was seeking to have the original agreement enforced by Kering, including the financial compensation that was set to accompany it, and has consequentially succeeded.
"We won," said Slimane's lawyer Herve Temime. "I'm happy because this is the natural outcome. The contract terms were absolutely clear."
Following the court's decision, Kering is reportedly preparing to appeal the outcome.
Willow Smith Stars in Chanel's Latest Eyewear Campaign
Willow Smith has finally debuted in her first campaign for Chanel, starring in the brand's latest eyewear advertisement. The 15-year-old daughter of actors, Will Smith and Jada Pinkett Smith, was announced as an ambassador for the brand back in March but up until now had not appeared in any campaigns. She did, however, attend the Met Gala back in May wearing the French label and made several best-dressed lists.
The new campaign, which serves to solidify Smith's "fashion icon in the making" status, was shot by Karl Lagerfeld for the brand's fall/winter '16/'17 range. It sees the teenager, photographed and filmed in black and white, wearing glasses and accessories with her usual edgy aesthetic.
SUBSCRIBE TO OUR NEWSLETTER
Subscribe to our mailing list and get interesting stuff and updates to your email inbox.