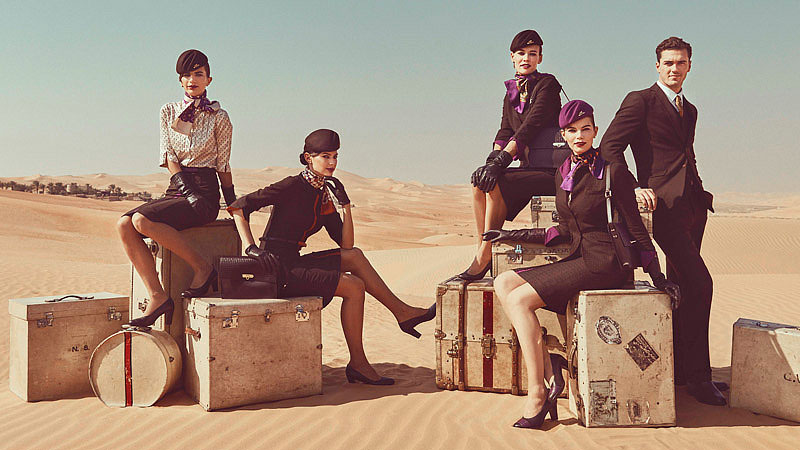 From a global deal between the fashion and airline industries to a Met Gala style makeover for the British Fashion Awards, these are the top international fashion news stories of the week.
Etihad Airways Partners with Mercedes-Benz Fashion Week Australia
Etihad Airways has signed on with global entertainment group WME/IMG to sponsor 17 fashion week events around the world annually. The deal, between the fashion and airline industries, will see Etihad support events at fashion weeks ranging from New York to Mumbai. The first initiative between the two parties will take place this month for Mercedes-Benz Fashion Week Australia.
Etihad has partnered with MBFWA to help bring international designer Oscar de la Renta to close the fashion week. The presentation will take place on May 20 at Carriageworks in Sydney and will showcase the brand's Summer 2016 collection. It will also mark the first time the American label has ever shown in the Australian city. The brand will be represented down under by Executive Vice President, Eliza Bolen.
Grace Coddington Signs on as Creative Partner of Tiffany & Co.
Grace Coddington – the former creative director of Vogue has signed on as Tiffany & Co.'s first outside creative partner.
Coddington's first task in her new role with Tiffany & Co. has reportedly involved seeking out celebrity talent and styling the jewellery brand's fall campaign.
"Tiffany — and its famed Blue Box — has always held special meaning for me," said Coddington. "To me, this is not just an ad campaign, but an opportunity to portray a legendary house of luxury through modern portraits of uniquely talented subjects."
Alexander McQueen Sued Over Royal Wedding Dress Design
Kate Middleton's famous wedding dress is now the subject of a lawsuit. Five years after the royal event occurred, a bridal designer has come forward to sue Alexander McQueen on the claim that creative director, Sarah Burton, copied her design.
The designer, Christine Kendall, alleges that she first sent her designs for the royal wedding dress to the Duchess and that they later served as inspiration for the final Alexander McQueen dress. Kendall also made such remarks about a year after the wedding but has only now filed a claim with the Intellectual Property Enterprise Court in London.
"We are utterly baffled by this legal claim," the brand revealed in a statement. "We do not know why Ms. Kendall has raised this again, but there are no ifs, buts or maybes here: this claim is ridiculous."
British Fashion Awards to Receive Met Gala Style Makeover
The British Fashion Awards are getting a full makeover this year with a Met Gala style revamp. The annual awards show, which is presented by the British Fashion Council, will undergo a number of changes, including the simplification of its name to The Fashion Awards.
Aiming for a greater audience, the council will sell more public tickets to this year's ceremony after securing the Royal Albert Hall as its new venue. Also wanting to attract larger international audiences, such as the Met Gala does, the council plans to make the awards a global television event. To further this cause, the awards will now be opened up to designers and businesses outside Britain.
Again channelling the Met Gala, which is due to take place tomorrow, the updated awards will also serve as a charity event, raising money for fashion education scholarships.
PETA Becomes Prada's Newest Shareholder
Animal rights organisation, PETA, has become the newest shareholder of luxury fashion brand, Prada. As a shareholder, PETA will be able to take its views on the Italian label's use of animal products straight to the source by way of Prada's annual meeting.
PETA representatives plan to use the event to state their case for ending "all exotic skin sales" with a particular focus on ostrich leather. The organization has been campaigning against the use of ostrich leather since February when it posted a video accusing Prada and Hermès of being indirectly involved with the cruel slaughtering of the animals.
PETA also became a small shareholder in Hermès last year when the organisation was fighting against the brand's use of crocodile and alligator skin.
SUBSCRIBE TO OUR NEWSLETTER
Subscribe to our mailing list and get interesting stuff and updates to your email inbox.