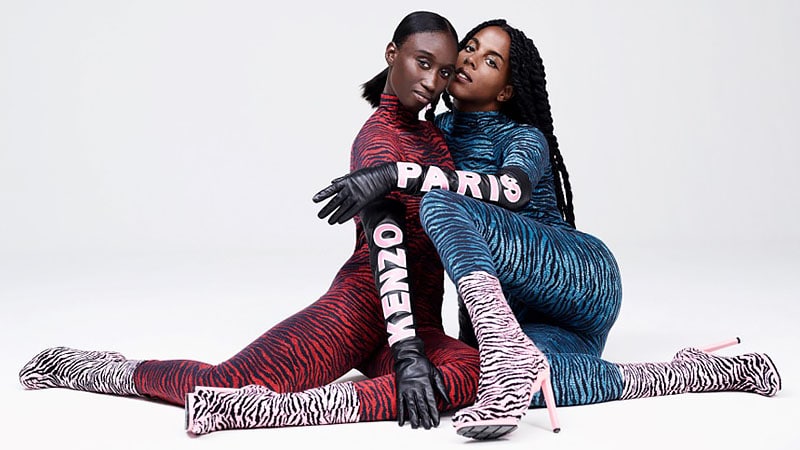 From Kanye and Kim's tears to Kenzo's collaboration with H&M, these are the top international fashion news stories of the week.
Armani to Show in Paris Instead of Milan for Spring 2017
Emporio Armani is headed to Paris this September to show the brand's Spring/Summer 2017 collection. The Italian label will give its usual Milan location a miss as it heads to France instead. Designer and label namesake, Giorgio Armani revealed his decision for the relocation this week.
Cited as the reason behind the move is one of the brand's retail spaces. Armani's Boulevard Saint-Germain-des-Prés boutique has just undergone a significant renovation and as a celebration of such will play host to the upcoming show. According to Mr Armani, the restyling of the retail space provided an "opportunity to rethink the location and timing of the show."
This show isn't the first time that Armani has planned to present in Paris instead of Milan. The legendary designer also intended to show a collection in the city in 1998. The show never took place, however, after Paris police shut down the venue that Armani had erected.
First Looks for Kenzo x H&M Collaboration Revealed
This week has played host to the first ever look at the highly anticipated Kenzo x H&M collaboration. In the lead up to the collection's release later this year, the global fast fashion retailer unveiled three images from the lookbook for the range.
The looks, which feature garments in Kenzo-style, boldly coloured, animal prints, were modelled by a group of artists, creatives and activists. Amy Sall, who founded SUNU: Journal of African Affairs appears in one image. Alongside her, Juliana Huxtable, an artist, poet and DJ, poses. Oko Ebombo, the frontman for band 19, and Isamaya Ffrench, a makeup artist and part of the Theo Adams Company, appear separately in the other two images.
The collection is set to be released on November 3 and will be available in over 250 H&M stores worldwide, as well as online.
Jennifer Lopez is Designing Footwear with Giuseppe Zanotti
Singing, dancing and acting superstar, Jennifer Lopez is teaming up with Italian luxury shoe designer, Giuseppe Zanotti to create a capsule collection of footwear and handbags. Called Giuseppe for Jennifer Lopez, J. Lo's personality and style are the inspiration behind the collection.
"The collection, like Jennifer, is sensual, sophisticated, modern but also playful with a bit of edge," says Zanotti. Lopez adds that the collection "is everything you would expect from the both of us — badass high heels with shapes that are fierce and of course, have some sparkle!"
Set to be released in January, the collection is said to include snakeskin gladiator heels, embellished wedge sneakers, crystal-encrusted open-toe booties and two leather handbags.
Kanye and Kim Shed Tears for Balmain Fall Campaign
Over the past week Balmain has released over 20 images for its new Autumn/Winter 2016 campaign and amongst them are pictures of Kanye West and Kim Kardashian West shedding tears. The emotionally-charged images are part of a series of black and white shots photographed by Steven Klein and directed by Pascal Dangin.
While Kanye and Kim may be garnering the most attention for the unusual images, they aren't the only ones crying in the campaign. The moody collection of photos also features a multitude of high fashion models, once again inciting the "Balmain Army" tag. Included in the list of names is Joan Smalls, Jourdan Dunn, Alessandra Ambrosio and Josephine Skriver.
This campaign, of course, isn't the first time that Olivier Rousteing has cast Kanye and Kim. The creative director, who has a close relationship with the Kardashian clan also featured the celebrity couple in the brand's Spring '15 campaign.
LVMH Confirms DKNY Sale for $650 Million
Following last week's rumours, LVMH has confirmed that it has agreed to sell Donna Karan International (including DKNY) for the price of $650 million. The buyer is American licensing and manufacturing company, G-III Apparel Group. Along with now owning Donna Karan the group also holds licensing deals with luxury labels, Tommy Hilfiger, Karl Lagerfeld and Calvin Klein.
The reportedly unsolicited purchase offer was apparently too good to refuse for luxury goods conglomerate, LVMH, who denies claims it sold DKNY due to poor performance.
"We were not looking to sell it," LVMH chairperson and chief executive, Pierre-Yves Roussel said in an interview. "We had moved the pieces in the right direction, and I think we were starting to move forward… But [G-III] came with a very high price."
Vans x Nintendo Collaboration Drops
Vans Australia has teamed up with Nintendo to launch a new collaboration that dropped in stores this week. The nostalgia-inducing range features footwear, apparel and accessories emblazoned with your favourite childhood Nintendo characters. Created with "exclusive graphic prints using 8-bit inspired artwork and characters from Super Mario Bros., Donkey Kong and Legend of Zelda", the range caters to both men and women.
Along with the traditional Vans footwear featuring the throwback prints, T-shirts, backpacks, bags, socks and hats are also on offer to create a head-to-toe Vans x Nintendo look.
SUBSCRIBE TO OUR NEWSLETTER
Subscribe to our mailing list and get interesting stuff and updates to your email inbox.