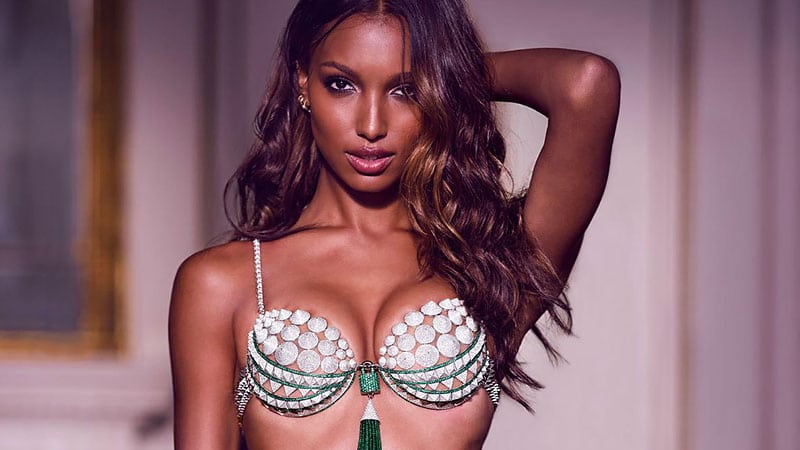 From what's in store for the 2016 Victoria's Secret Fashion Show to the actor cast as Alexander McQueen, these are the top international fashion stories of the week.
First Details for Victoria's Secret Fashion Show 2016 Revealed
The 2016 Victoria's Secret Fashion Show is just around the corner and the first details have been revealed. With little over a month to go before the December 5 air date, it's been announced that the show will take place in Paris for the first time. While the annual extravaganza generally takes place in New York, it has previously been held in cities such as London, Miami, and Los Angeles.
Following the location reveal, Victoria's Secret has also announced who will wear the coveted Fantasy Bra at this year's show. Jasmine Tookes has been given the honor of wearing the bra, which is known as the "Bright Night Fantasy Bra". Designed by Eddie Borgo, the bra is worth an approximated $4 million and took 7000 hours to make. Based on the shape of the Beautiful by Victoria's Secret bra, it features more than 9000 gemstones, including diamonds and emeralds.
As for who will join Jasmine on the runway, newcomer Bella Hadid has been named to walk for her first time. Bella will follow in the footsteps of her older sister, Gigi, who made her Victoria's Secret Fashion Show debut last year.
Gigi Hadid's Stuart Weitzman Boot Revealed
Hot on the heels of her collaboration with Tommy Hilfiger (which will now see its second installment), Gigi Hadid has revealed another design partnership. Created with Stuart Weitzman, the limited edition Gigi Boot was previewed for the first time this week. Based on a high fashion version of a hiker boot, the Gigi Boot is sleek with a subtle athletic appeal. The lace-up booties also feature a stacked heel and come in three colourways.
The new shoe was revealed to the public with the help of a short campaign film, titled "Do It Right". Directed by James Franco, the video features Gigi wearing the boots whilst boxing. Gigi, who is known as an avid boxer, often uses the sport to workout and was recently also shot in boxing gear for Reebok.
As well as looking good, the Gigi Boot also aims to do good. Part of its proceeds will go towards Pencils of Promise as part of the brand's commitment to building schools in Ghana, Guatemala, and Laos.
Jack O'Connell Set to Play Alexander McQueen in Upcoming Biopic
Since its January reveal, fashion fans everywhere have been waiting to see who would be cast in the leading role of the new Alexander McQueen biopic. That wait is now over as this week it was announced that English actor, Jack O'Connell will play the late designer.
Not only does O'Connell bear a resemblance to McQueen, he's also a talented actor with multiple projects under his belt. While he's appeared in well-known films such as Unbroken and Money Monster, O'Connell is best known for his role in the hit TV series, Skins.
O'Connell will work alongside director, Andrew Haigh on the biopic while Chris Urch writes the script. The still unnamed film will be based on Andrew Wilson's biography, Blood Beneath the Skin, and will center on McQueen's famous Plato's Atlantis collection.
Carven Artistic Directors Depart Label (and Other Designer News)
Carven is the latest brand to take its turn playing designer musical chairs as its co-artistic directors depart the label. According to a statement from the French fashion house, Alexis Martial, and Adrien Caillaudaud are leaving the brand as part of a "mutual agreement".  The duo joined Carven in March 2015, taking over from Guillaume Henry, who left to join Nina Ricci. According to the brand, a new artistic director will be announced in due course, although it's not yet known when that might be. Likewise, there is no word on where Martial and Caillaudaud might head following their time at Carven.
The news of Martial and Caillaudaud's departures comes just days after Consuelo Castiglioni's decision to depart Marni. The designer is exiting the brand, which she founded in 1994, and handing the reigns over to Francesco Risso, who joins Marni from Prada.
In other designer news, Raf Simons will show his eponymous label at New York Fashion Week: Men's while Rei Kawakubo will be the subject of the 2017 Met Gala.
Leandra Medine Launches First-Ever Man Repeller Footwear Collection
Starting this week, women everywhere are able to purchase a small piece of Leandra Medine's eccentric and fashion-forward style. The Man Repeller creator has teamed up with Net-a-Porter to produce her first-ever footwear capsule collection. Aptly named MR by Man Repeller, the collection of shoes is now available online exclusively at Net-a-Porter.
Featured in the collection is a range of bold and quirky styles, including rainbow platforms, velvet loafers, and metallic boots. In typical Man Repeller style, the shoes will each feature a unique name, such as "LOL If You Think I'm Walking" and "I'm Here To Party Boots".
Prices for the collection range from $460 for flats to $1047 for leather, over-the-knee boots.
Fashion Designer Richard Nicoll Dies Unexpectedly
Much-loved, British-born and Australian raised, fashion designer, Richard Nicoll has passed away unexpectedly. The 38-year-old suffered a suspected heart attack at his Sydney apartment last week, at which time an ambulance brought him to St. Vincent's hospital before his passing.
Nicoll graduated from Central Saint Martins in 2002 before beginning his own label, which he put on hold in recent years to focus on other projects.
SUBSCRIBE TO OUR NEWSLETTER
Subscribe to our mailing list and get interesting stuff and updates to your email inbox.