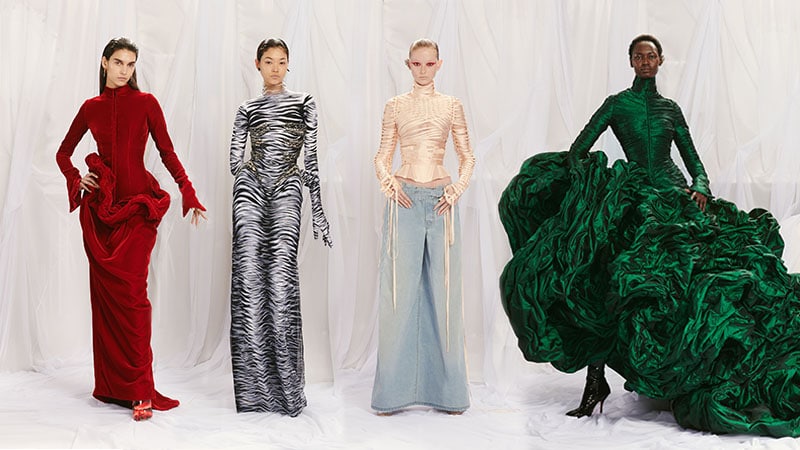 The fashion world mourns the passing of Thierry Mugler, and Paris Haute Couture Fashion Week returns with a bang. Stay up to date with the latest international fashion news stories of the week.
Thierry Mugler Passes Away at 73
Renowned and innovative fashion designer, Thierry Mugler, has died at 73. The French designer was born in 1948 in Strasbourg, France, studying in the School of Fine Arts before moving to Paris in 1966. He launched his brand in the mid-1970s but rose to fame in the '80s. Best known for his 'power dressing,' working with sculptural silhouettes, surrealist themes, and delicately placed jewels. Mugler was responsible for some of the most influential couture pieces in modern fashion history. As a lover of the 'Femme Fatale', his creations entered the world of sci-fi, nature, surrealism, and classical art. His pieces inspired many designers over the years, including Balenciaga, and Alexander McQueen, with looks directly inspired by '90s collections.
Mugler famously dressed a multitude of supermodels and celebrities over the years, including Grace Jones, Beyoncé, Irina Shayk, David Bowie, and Bella Hadid. He and his corsetmaker, Mister Pearl, created Kim Kardashian's 2019 Met Gala dress, Lady Gaga's outfit in Telephone, and Cardi B in multiple archival pieces. "Thierry Mugler was a defining force in fashion. Even his archive collection today seems futuristic," wrote Tracee Ellis Ross. "What an honor it is to have a small piece [of] history with a true fashion icon. Rest In Peace, Manfred Thierry Mugler."
View this post on Instagram
Paris Haute Couture Fashion Week
Paris Haute Couture Fashion Week has returned, with shows from Chanel, Schiaparelli, Dior, Jean Paul Gaultier, and many more. The week kicked off with Schiaparelli, which returned to the runway after two years. The pieces included a theme of three core colors: black, white, and gold. Delicate and exquisite ornaments decorated the arms, legs, heads, and bodies of the models, worn with bags, shoes, and elaborate headdresses. Chanel caused a stir by starting their show with Grace Kelly's granddaughter, Monégasque royalty, Charlotte Casiraghi, riding horseback down the runway.
The world was introduced to Glenn Martens' first Haute Couture collection for Jean Paul Gaultier, which infused inspirations from archival pieces and influences from his own artistic direction. Skin contouring fabrics, delicately gathered tulle and sculptural elements created a cacophony of architecture and historic elements. "This is a celebration of Gaultier. I've stayed close to the woman Jean Paul created in the past—pure diva goddess beauty, hips, whatever, all that drama he loved," Martens said. Maison Valentino's Anatomy of Couture focussed on the simplicity and elegance behind Haute Couture on a series of diverse models. Other shows included Fendi, Elie Saab, Viktor & Rolf, and Alexander Vauthier, and more that were showcased throughout the week.
View this post on Instagram
Tribute for ALT Scheduled for May
A tribute to the late Andre Leon Talley (ALT) will likely be held in May. The service will honor his life and work with the fashion industry, and will most certainly take place in Harlem's The Abyssinian Baptist Church, where he often frequented. The reason for this date is to avoid clashes with the Fashion Week schedules and the upcoming Met Gala. Not many details are available at the moment, but the event will celebrate the trailblazer's legacy in the industry.
View this post on Instagram
Hugo Boss Rebrands to Capture Youthful and Fresh Attitude
Hugo Boss is rebranding. The new two brands, HUGO, and BOSS are being presented with an accompanying campaign, featuring Hailey Beiber, Kendall Jenner, Chris Hemsworth, Joan Smalls, and Future. With a refreshed brand image, the designer will embrace a youthful, casual, and playful strategy across products, retail stores, and online. Despite this overhaul of the overall brand image, it will remain true to the core ethos of the designer. "We are absolutely thrilled by this amazing cast for BOSS. The talents and personalities of the campaign perfectly embody what a boss stands for today," said Daniel Grider, CEO of Hugo Boss.
View this post on Instagram
SUBSCRIBE TO OUR NEWSLETTER
Subscribe to our mailing list and get interesting stuff and updates to your email inbox.