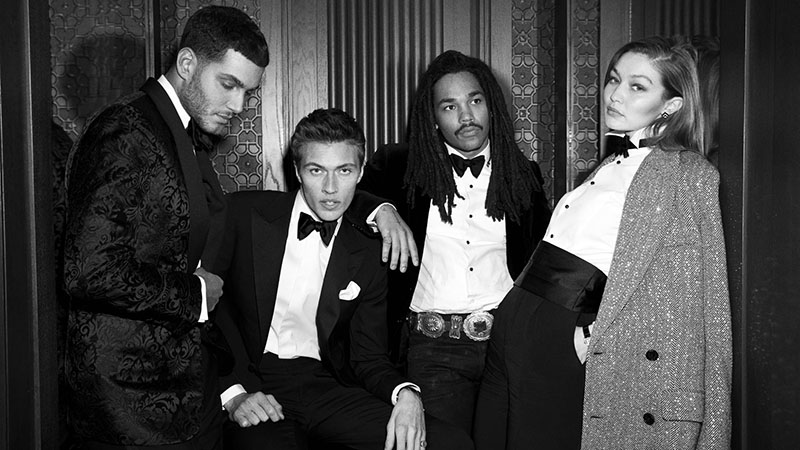 Travis Scott and Dior's collaboration is here, and RuPaul launches a Pride capsule collection with Balenciaga. Stay up to date with the top international fashion news stories of the week.
Saint Laurent Presents FW21 With James Brown Tribute
Saint Laurent is presenting the Men's FW 2021 collection – Night Train – with a 'dynamic' dance to the 1952 song, "Lost Someone" by James Brown. The collection features bright knits, shirts, leather jackets, and classic black tailoring, it is inspired by the 50s, and it launches in stores in July. The campaign was directed by Jean-Paul Goude and begins with a model blowing a whistle, followed by a series of models dancing to the Brown classic. Goude choreographed the video, which is described as "a frenzied yet perfectly synchronized routine".
View this post on Instagram
Ralph Lauren Launches VR Club 'Ralph's Club'
Ralph Lauren has unveiled its new fragrance and a VR club alongside it that is called Ralph's Club. The fragrance boasts notes of lavender, clary sage, and Virginia cedarwood, and is the designer's "biggest fragrance to date". The campaign features Gigi Hadid, Luka Sabbat, and Lucky Blue Smith, channeling the 2019 RTW collection. The virtual club that launched with the fragrance gives users an exclusive look at the behind-the-scenes of the shoot. The club is interactive and showcases its NYC theme.
View this post on Instagram
Dior is Teaming Up with Travis Scott
Dior Men's is teaming up with rapper Travis Scott on an exclusive collection. The pieces include suits with the label's iconic tailoring, t-shirts, knits, and accessories, with every item serving a 70s twist. "He's a cultural phenomenon, and culture is something that the young generation want to associate with, especially when they've been away from everything," said Kim Jones, the Creative Director of Dior Men's. "It'll be interesting to see how many young kids you see wearing suits now after this, because [Travis is] a big influence. I don't like doing things for hype, I like doing things for exciting the consumer."
View this post on Instagram
Louis Vuitton is Pledging $380k to UNICEF
Louis Vuitton is pledging $380,000 to UNICEF, alongside its Menswear Creative Director, Virgil Abloh, as part of its ongoing partnership with the charity. This year the label will participate in Generation Unlimited, an entrepreneurship program in Ghana, with Abloh leading a masterclass that will be live-streamed on social platforms.
"A member of the Ghanaian diaspora, Virgil Abloh is devoted to making a personal contribution to help accelerate results for children and young people in Ghana," LV's statement read. "A key ambition is to inspire African youth to develop creative projects, which link African art and culture to the global markets and create awareness of the Black canon." Currently, Louis Vuitton has raised more than $14 million for UNICEF.
View this post on Instagram
RuPaul and Balenciaga Collaborate on a Pride Collection
Balenciaga is celebrating Pride Month with a RuPaul collaboration. The world-famous drag queen and host of the reality show, RuPaul's Drag Race, features in the campaign sitting on the stairs wearing nothing but the t-shirt and fishnet tights. The collection is made up of cream and gray t-shirts, sweatshirts, and hats. All feature RuPaul's autograph and 'Balenciaga Music Limited Edition Merch' in typography above.
Other shots from the campaign include nightlife icon Suzanne Bartsch sprawled on the floor wearing a hoodie and thigh-high boots. Balenciaga has added to its ongoing partnership with Apple Music by sharing a new Pride Month-inspired playlist. Creative Director, Demna Gvasalia, selected curators for the Balenciaga playlist, which includes Sade, Barry Manilow, and Radiohead. RuPaul's included Pride favorites like Kylie Minogue, Madonna, and ABBA.
View this post on Instagram
SUBSCRIBE TO OUR NEWSLETTER
Subscribe to our mailing list and get interesting stuff and updates to your email inbox.