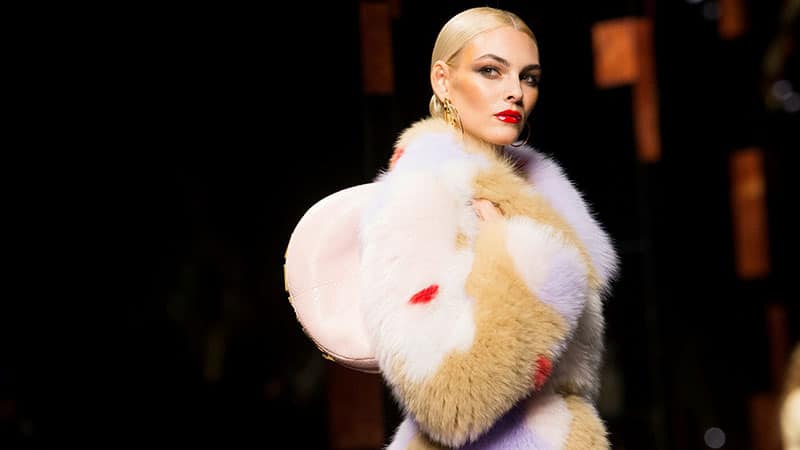 Milan Fashion Week has kicked off for SS22, Dua Lipa fronts the Versace runway, and stars mourn the passing of Richard Buckley. Stay up to date with all of the latest international fashion news stories of the week.
Milan Fashion Week Kicks Off
Just as London Fashion Week comes to a close, Milan Fashion Week has kicked off. There have been major inspirations saught from previous decades, from the '60s to the early '00s. Designers scheduled to present the collections this week include Max Mara, Etro, Act N°1, and Versace. The week began on Wednesday with Kim Jones' first RTW collection for Fendi, who showcased pieces inspired by Spanish artist Antonio Lopez, with bright splashes to counterbalance the brown, white, and black color palette. Mixes of fur, '60s patterns, lace kiss prints, and fur sandals dominated the runway. Prada broke boundaries by presenting its RTW 22 collection in two cities – Milan and Shanghai – simultaneously. Both runways exhibited the pieces, including miniskirts with trains, leather jackets, and elastic waist dresses.
Blumarine took us back to Y2K with its collection, championing butterfly motifs, hip-hugging silhouettes, and headscarves in various prints. Some of the key inspirations came from Missy Elliott, TLC, and Alicia Keys, said Nicola Brognano, Creative Director. "This season, I continued challenging the Aughts inspiration that I started approaching with my first show last year," she said. Missoni showcased its first collection under the Creative Direction of Alberto Caliri and blended sexy silhouettes with the '90s and '00s as its influences. Its iconic knitwear was the show's star, with low-slung trousers, geometric patterns, and micro mini skirts.
View this post on Instagram
Dua Lipa Fronts Versace SS22 Runway
Singer Dua Lipa was front and center at the Versace SS22 show in Milan Fashion Week. The 'Levitating' artist opened and closed the show, which also starred supermodels and celebrities, including Gigi Hadid, Irina Shayk, Emily Ratajkowski, and Precious Lee. The British singer is currently the face of Versace's latest campaign, but this is her runway debut. She walked alongside iconic faces and new attendees, including Naomi Campbell and Madonna's daughter, Lourdes.
Versace's SS22 runway featured color-blocked suits, sequin monochrome skirt sets, sheer gowns with safety pin motifs, and cut-out details. Of the collection, the brand explained: "The foulard has been with us since the very beginning of the brand, but this season turns everything on its head, it is no longer fluid or dreamy, the scarf is provocative, sexy, wound tight."
View this post on Instagram
SATC Star, Willie Garson, Dies at 57
Star of Sex and the City, Willie Garson, has passed away at 57. The actor, who played Stanford Blatch in the iconic series, was privately battling pancreatic cancer. "He was smarter and funnier than you ever would have imagined," shared co-star Kristin Davis, who plays Charlotte York. Co-Star, Sarah Jessica Parker, shared a heartfelt tribute to the actor on Instagram, alongside images of the two over the years. "Willie. I will miss everything about you. And replay our last moments together. I will re-read every text from your final days and put to pen our last calls," she wrote.
View this post on Instagram
Linda Evangelista Files Lawsuit Against Zeltiq
Linda Evangelista is filing a lawsuit for a CoolSculpting procedure that backfired. The supermodel is suing CoolSculpting parent company, Zeltiq, for a cosmetic procedure intended to freeze and reduce fat cells in parts of the body. Instead, the procedure resulted in a condition called Paradoxical Adipose Hyperplasia (PAH). This side effect expands the fat cells into a mass under the skin. She is seeking damages of $50 million for emotional stress and loss of income.
The supermodel shared on Instagram that the process left her "permanently deformed," staying out of public eyes for five years. "PAH has not only destroyed my livelihood, it has sent me into a cycle of deep depression, profound sadness, and the lowest depths of self-loathing. In the process, I have become a recluse," she explained. "I have been left, as the media has described it, 'unrecognizable.'" Members of the fashion community have rallied behind her, including Naomi Campbell, Cindy Crawford, and Edward Enninful.
View this post on Instagram
Fashion Editor, Richard Buckley, Dies at 72
Fashion Editor and husband to Tom Ford, Richard Buckley, has died at 72. The journalist appeared in magazines like Vanity Fair, WWD, and Vogue Italia before becoming the Editor in Chief of Vogue Homme International from 1999 to 2005. "It is with great sadness that Tom Ford announces the death of his beloved husband of 35 years, Richard Buckley," explained a statement issued to Vogue. "Richard passed away peacefully at their home in Los Angeles last night with Tom and their son Jack by his side. He died of natural causes after a prolonged illness."
Tom Ford and Richard Buckley met in 1984 and tied the knot in 2014 after the US legalized same-sex marriage. The pair welcomed a son, Alexander 'Jack' John Buckley Ford, in 2012. When they met, Ford said that it was love at first sight. "I went to a fashion show, and this silver-haired guy was staring at me with these piercing water-blue eyes," Ford said in an earlier interview. "We had three dates. We were living together four weeks later. He gave me the keys to his apartment, and we have lived together ever since."
View this post on Instagram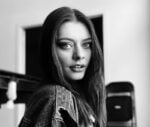 Alexandra Feiam is an experienced fashion writer who holds a degree in journalism. She has an impressive portfolio and expertise working as the Editor at Power Retail and Commercial Content Editor at Newscorp. Ally has been writing for The TrendSpotter since 2018, and her work has been featured in notable publications such as The Herald Sun, Arirang TV South Korea, Kidspot, The House of Wellness, and The Daily Telegraph.
SUBSCRIBE TO OUR NEWSLETTER
Subscribe to our mailing list and get interesting stuff and updates to your email inbox.