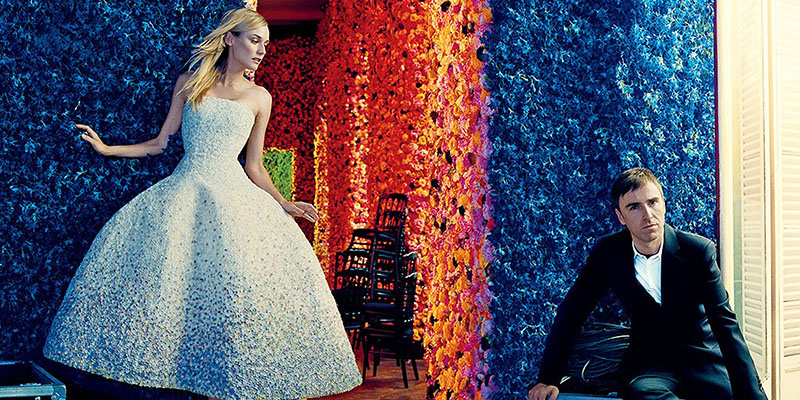 From Forever New's exciting new collaboration to Raf Simons stepping down as creative director for Christian Dior, these are the top fashion news stories this week – and you definitely don't want to miss them.
Raf Simons Reveals His Decision to Step Down From Christian Dior
It's been just over three years, but Raf Simons has announced his decision to step down as creative director of Christian Dior. With the designers Spring 2016 collection that showed during Paris Fashion Week his last for the brand.
Speaking of his decision to part ways with the French luxury group, Simons explained to WWD that it was a "decision based entirely and equally on my desire to focus on other interests in my life, including my own brand, and the passions that drive me outside my work." Before going on to thank the design house and Mr. Bernard Arnault for the incredible opportunity.
Dior will no doubt be sad to lose Simons, as under his direction their sales enjoyed a dramatic increase.
Kendall and Kylie Collaborate with Forever New
If you're a fan of retailer Forever New, then you will be excited to learn of their latest capsule collection with Kendall and Kylie Jenner.
The famous sisters have collaborated with retailers like TopShop and PacSun in the past, but now it's the Australia's chains turn. The limited-edition collection has been designed by the reality TV stars and offers buyers 19 different looks that are both sophisticated and feminine. The collection features mostly solid, neutral tones and consists of crop tops, shift dresses, bandage dresses and playsuits which will be available to shop online and in-store on Nov. 17.
"We've created a collection that reflects our personal style and we are excited to be partnering with Forever New to bring these pieces to Australia," Kendall and Kylie said in a press conference.
"Our focus was on designing versatile pieces in great silhouettes, colours and prints. It's a really unique collection and we can't wait to see how Australians incorporate our style into their everyday wardrobes," they continued.
Kendall and Kylie Jenner are visiting Australia next month to launch the exclusive Kendall + Kylie collection, watch this space for event coverage.
Burberry is Proving They're Really Techno-Savvy with Latest Campaign
Burberry decided to make use of technology and launch their new campaign in a very unique and exciting way; via Snapchat. The brand, with the help of famed photographer Mario Testino has become the first ever to shoot and post a campaign live via Snapchat and features models Hayett Belarbi McCarthy, Eliza Fairbanks, Liam Gardner, Misha Hart, May Bell, Louie Johnson and Ruth Bell.
Zendaya Coleman Calls Out Modeliste for Their Overly Retouched Photos
This is not the first time that fashion publications have been called out for heavily Photoshopping pictures of a celebrity or a model, but Zendaya Coleman was not willing to allow herself to become another statistic and promptly called out Modeliste magazine for slimming down her legs and torso.
Taking to social media, the young star posted a before-and-after picture, which she captioned, "Had a new shoot come out today and was shocked when I found my 19-year-old hips and torso quite manipulated. These are the things that make women self-conscious, that create the unrealistic ideals of beauty that we have. Anyone who knows who I am knows I stand for honest and pure self-love. So I took it upon myself to release the real pic (right side) and I love it Thank you @modelistemagazine for pulling down the images and fixing this retouch issue."
Reactions from fans include, "That's why i love you. You're real and beautiful," "I think your real body is SOOOOOO much better than the photoshopped [sic] version. Thank you for being an inspiration" and "you are amazing! Thank you for posting both pics so everybody can see how unreal can be an expectation."
The publication's editors were quick to rectify the problem, which Zendaya made mention to in the caption, but that didn't stop her from shedding light on the fact that she was digitally altered in the first place; reminding others that society sets unrealistic standards of beauty.
100 Years of Halloween Costumes Look Like This
Halloween is fast approaching and it's the day when the ghouls and ghosts come out to play, but it's also a time for us to let out our inner child and dress up. Is your preference scary? Sexy? or maybe just silly? Well, Mode has created a very amusing, and educational video which depicts 100 years of Halloween – showing how our costumes have changed (and been influenced by fashion and current times) over the last century.
It's fascinating to see how things have changed, and how even Halloween clothing has become more scarce over the years. The video starts with 1915, which shows a woman wearing a long dress and scary mask, to 2015, which shows a costume inspired by Kim Kardashian's Paper magazine shoot — the one that broke the internet.
SUBSCRIBE TO OUR NEWSLETTER
Subscribe to our mailing list and get interesting stuff and updates to your email inbox.