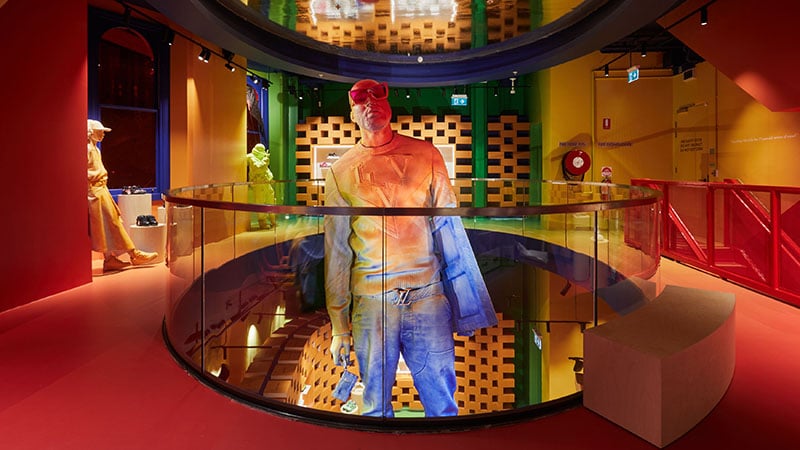 Guram Gvasalia is the Creative Director of Vetements and Louis Vuitton launches Temporary Residency in Sydney. Find these stories and more as we uncover the top international fashion news of the week.
Louis Vuitton Debuts Temporary Residency in Sydney
Louis Vuitton has unveiled a Temporary Residency in Sydney – Walk in the Park. The show has traveled from Paris to New York and Shibuya before settling in the Australian city. The French fashion house debuted the space in the city's center, featuring an immersive look at the Louis Vuitton Men's universe. The space includes more than 40 styles of sneakers and sunglasses from collections spanning from 2019 to 2022. Guests are invited to explore the designs by the late Creative Director, Virgil Aboh, who passed away in late November.
The LV Trainer in Louis Vuitton's latest collection features upcycled materials- a concept idealized by Virgil Abloh, and is available exclusively at the Temporary Residency, with over 100 pairs available. The 1.1 Millionaire sunglasses are also close to Abloh's heart, featuring the paper kite shown in his first and final runways. The Temporary Residency will be on display for three months.
View this post on Instagram
Guram Gvasalia is Vetements' New Creative Director
Vetements has named Guram Gvasalia as its new Creative Director. He and his brother, Demna, founded the brand in 2014, where he worked as CEO. His brother left the label in 2019 when he became Creative Director for Balenciaga. His role is immediate, starting with the Fall 22 collection, which debuted in November.
"The truth is, creativity is a part of human nature. We all have it. Some are just too scared to channel it 'cause of the society and the boxes most of us are put in since we are kids. We all have our own sensibilities and if they are calling to you—just let them out!" said Gurman in a statement. "I want to make sure that all the young people out there know—you do not need to have rich parents, you do not need an investor, you do not need to sell your soul to big evil corporations—you can make it on your own. You can change your life with your own creativity and passion."
View this post on Instagram
Chanel Names Leena Nair as New Global CEO
Ex-Unilever Chief, Leena Nair, is the new Global CEO of Chanel. The former Human Recourses Chief was born in India and has worked with Unilever for more than 30 years. She will begin her role as Chief Executive of the French luxury brand in January 2022. The current CEO and co-owner of Chanel, Alain Wertheimer, will continue as Global Executive Chairman. Described as a fashion 'outsider,' she will "further ensure long-term success as a private company," a statement read. In a pos share on Twitter, Nair said she was "humbled and honored to be appointed the Global Chief Executive Officer of [Chanel], an iconic and admired company."

View this post on Instagram
Vogue Runway Didn't Cover Celine SS22 Show
In an unusual series of events, Vogue Runway did not share the latest collection from Celine. The Spring Summer 2022 collection did not appear on the screens of the publication, which has sent the fashion world into overdrive. Rumors began circulating that Hedi Slimane, Creative Director of Celine, is unhappy with the departure of Emmannuelle Alt, friend and former Editor-in-Chief of Vogue Paris (now Vogue France). A spokesperson for Celine has denied these claims. Similarly, Vogue has responded to the buzz, sharing a statement. "It was not our decision to not cover spring 2022, but we look forward to covering the brand's next show," said a spokesperson from Vogue.
View this post on Instagram
Kylian Mbappé Named Dior Global Ambassador
French soccer star, Kylian Mbappé, is the new global ambassador for Dior Men's. The athlete will star in fashion and fragrance campaigns, including Sauvage. In September, the fashion house's subsidiary, LVMH, entered a two-year contract with Mbappe's team, Paris Saint-Germain. "The French world champion will lend his image to the creations by Kim Jones, Artistic Director for Dior men's collections," read a Twitter post from Dior.
View this post on Instagram
SUBSCRIBE TO OUR NEWSLETTER
Subscribe to our mailing list and get interesting stuff and updates to your email inbox.